Chocolate Banana Muffins are made with a ripe banana and cocoa base and loaded with crunchy pecans and sweet chocolate chips!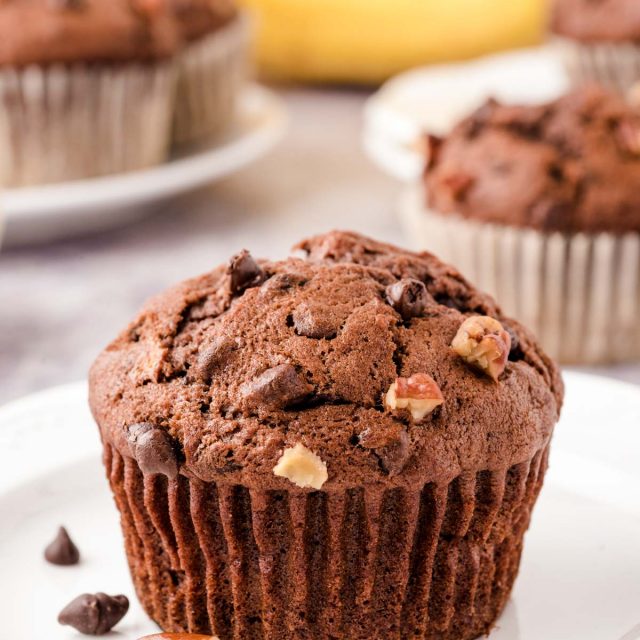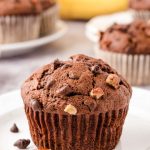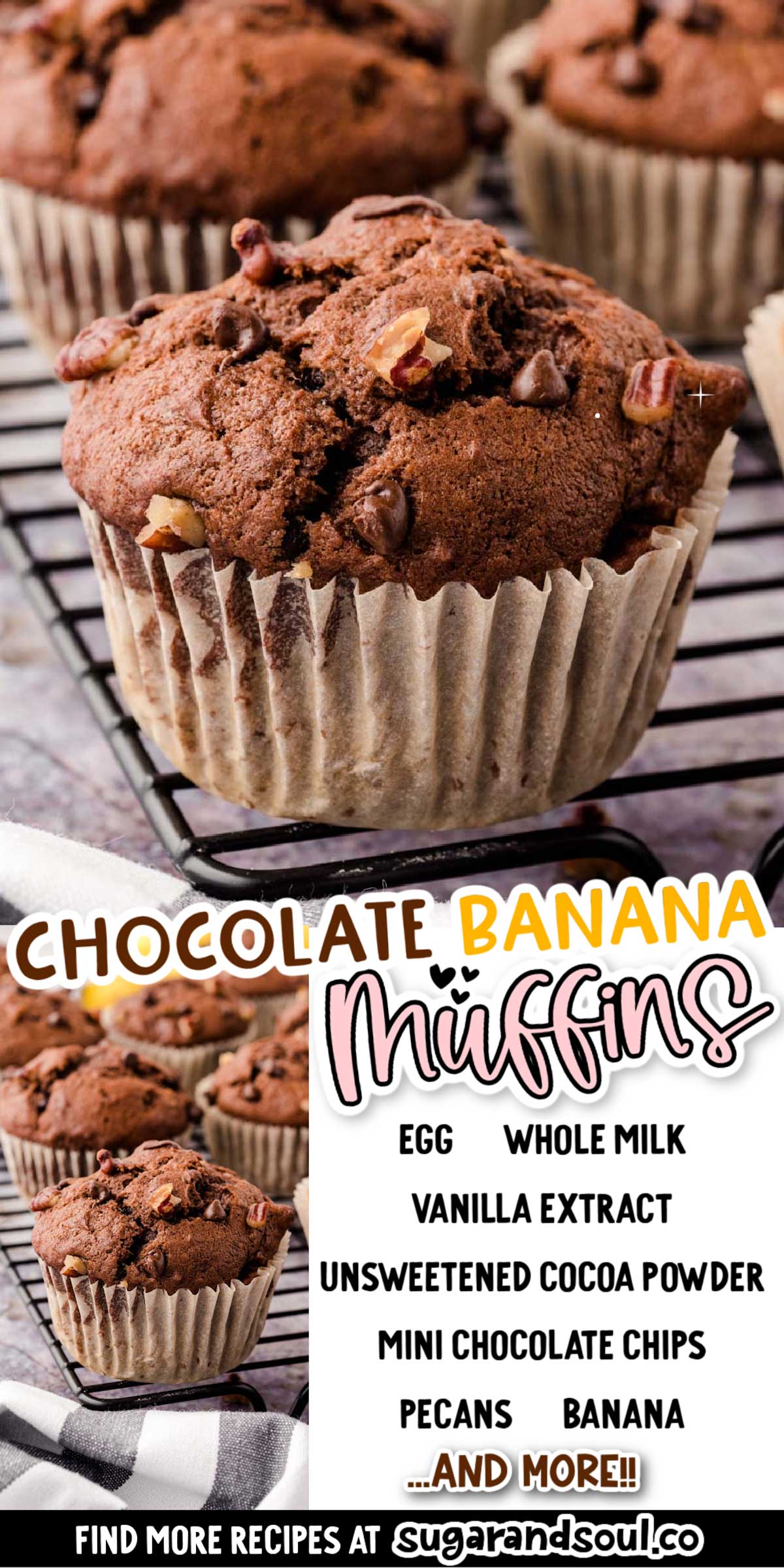 Chocolate Banana Chocolate Chip Muffins are made with crunchy pecans, sweet chocolate chips, ripe bananas, and pantry staple ingredients! Bake up a dozen of these delicious muffins in just 30 minutes!
For another recipe that's filled with sweet banana flavor, check out these Banana Berry Muffins or Banana Bread Cookies! Both would make a delicious breakfast treat that your family would love!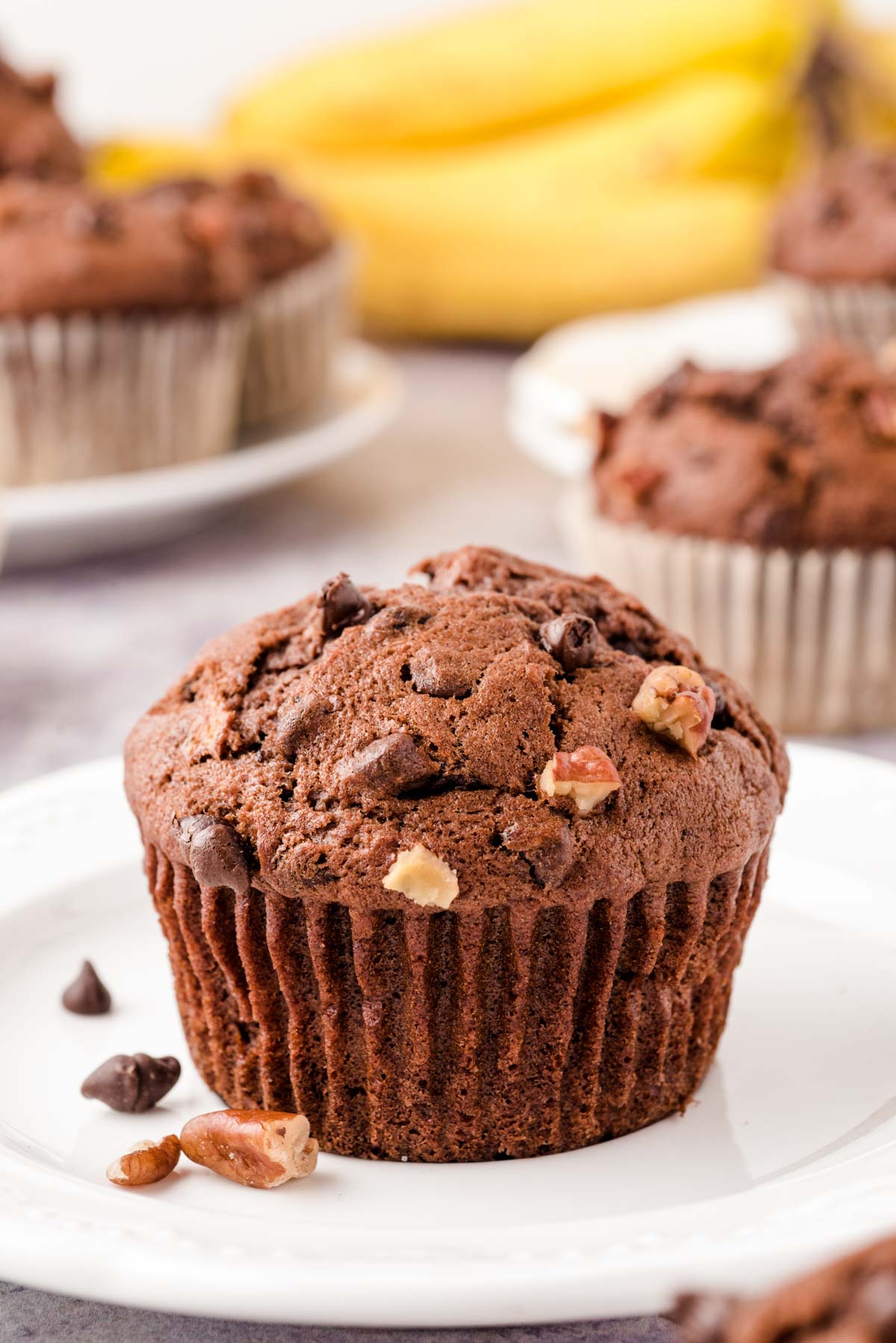 Boost breakfast time with these Chocolate Banana Chocolate Chip Muffins! Their chocolaty, sweet banana goodness will get everyone's day off on the right foot!
While these are perfect for breakfast, they also make a great mid-day pick-me-up or wind-down snack when paired with a cozy cup of coffee or tea! I also highly suggest enjoying them warm to give them the ultimate moist, melty chocolate chip texture!
All About These Chocolate Banana Muffins
Taste: With ingredients such as unsweetened cocoa powder, mini chocolate chips, and mashed ripened bananas, you can count on a sweet, chocolaty muffin! The addition of pecans gives them a pleasant nutty taste that compliments the chocolaty banana flavor well!
Texture: These Chocolate Banana Chocolate Chip Muffins are amazingly tender and moist with crunchy bites of pecans and chocolate chips throughout! A satisfying texture to match its scrumptious flavor!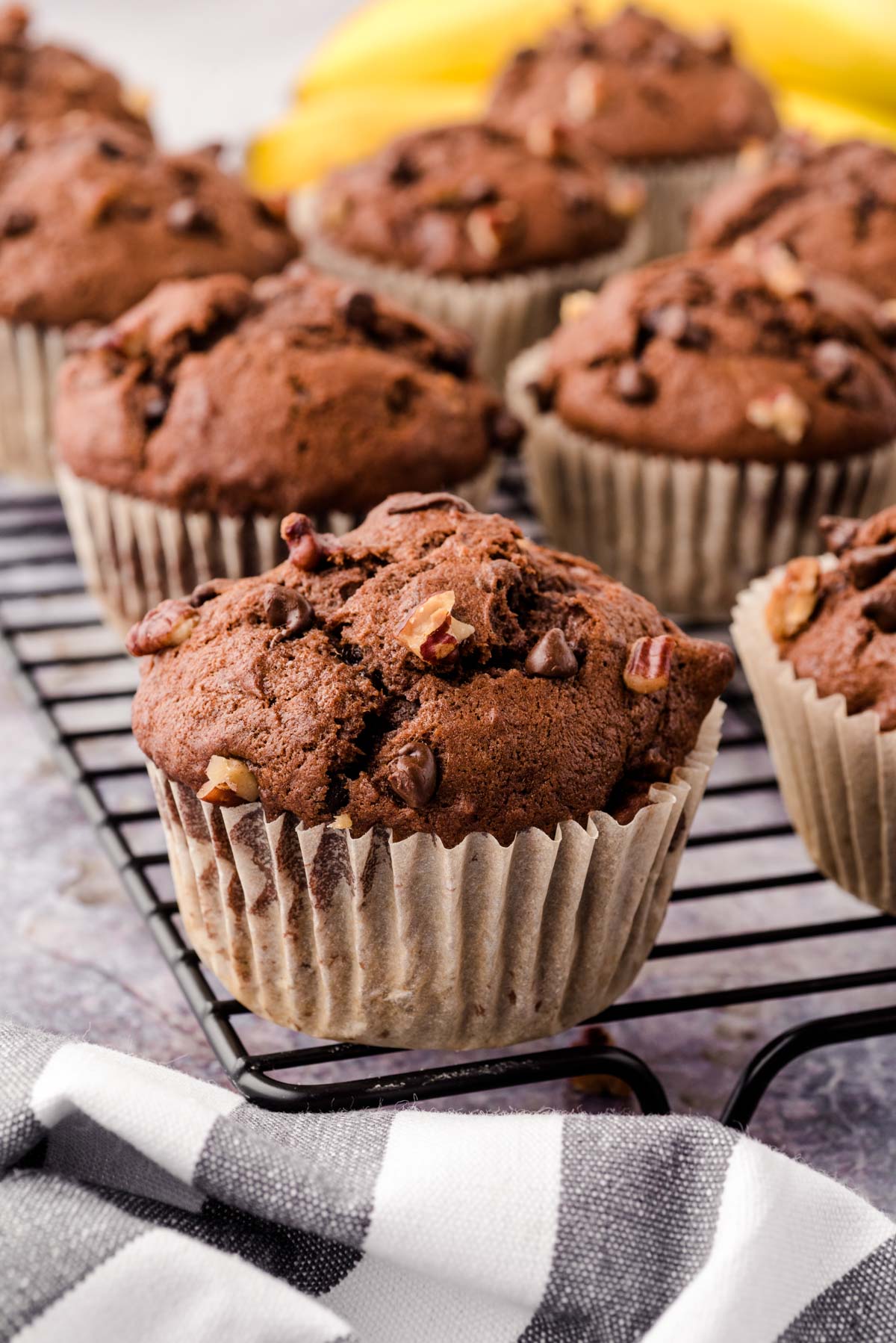 Bananas For Baking
Choosing bananas to use in recipes can either fill the baked treat with sweet banana flavor or cause the treat to fall flat. For the banana flavor to shine through in baking, they need to be ripe and ready!
You don't want to use bananas that are firm and yellow, as those won't add much taste to the muffins. Instead, you want to use up those bananas that have been long forgotten about on the counter.
This is because as bananas ripen, the starches in them turn to sugar, making for a sweeter, more flavorful banana. Therefore, you want bananas whose skin doesn't have much yellow left but instead is covered in dark brown spots.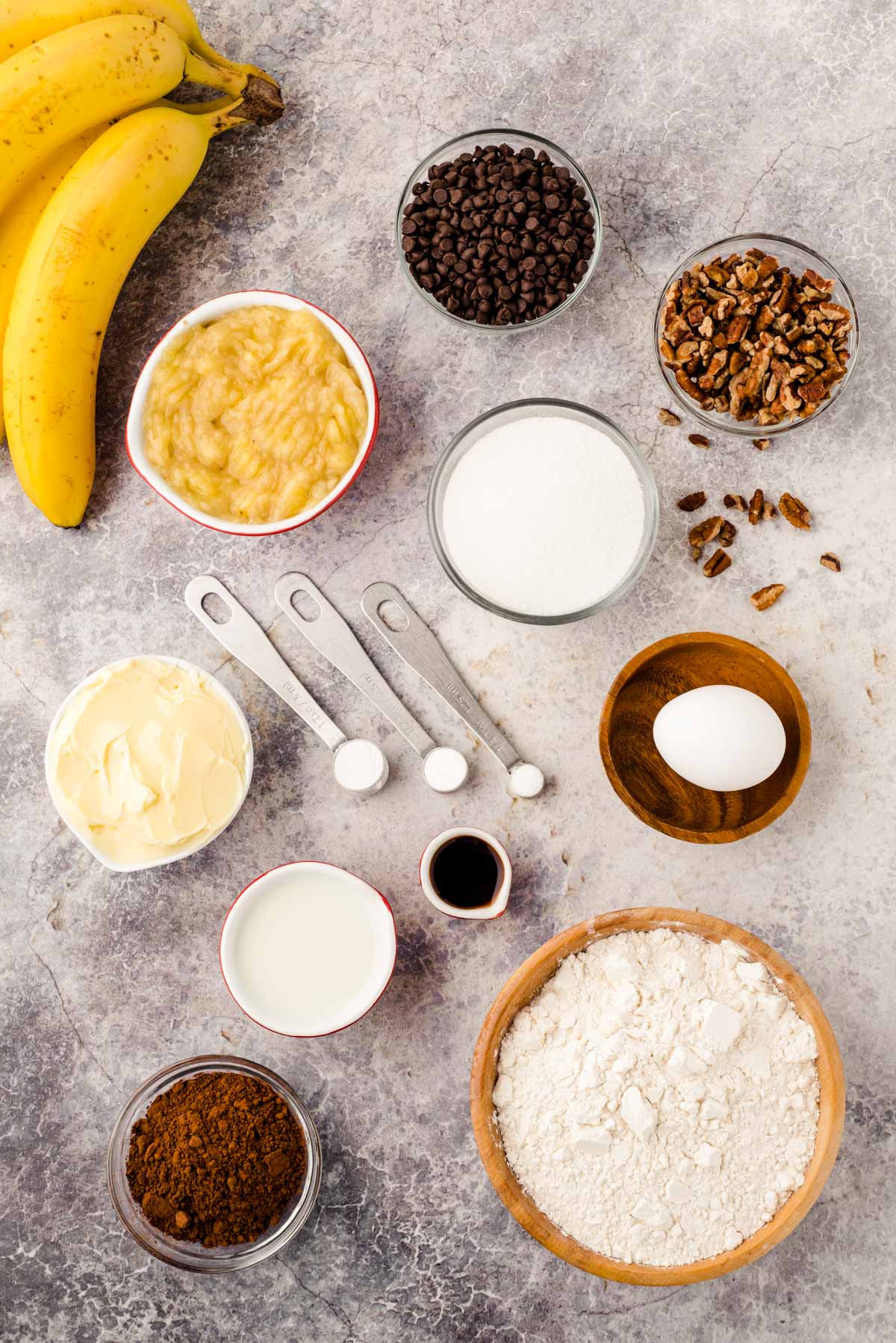 Kitchen Tips To Make The Best Chocolate Banana Chocolate Chip Muffins!
Cocoa Powder – Since cocoa powder has a fine consistency, it tends to clump up. Therefore, you want to sift the cocoa powder before adding it to the bowl. Doing so will ensure that the cocoa powder is distributed evenly throughout the batter to prevent any dry spots in the finished muffins.
Measuring Flour – Learning how to measure flour correctly will change all of your baked goods for the better! Usually, flour is added to a recipe after it's been scooped straight from the bag. However, this method often packs the flour into the cup resulting in too much flour, creating dry, crumbly muffins! Whereas measuring flour correctly using 1 of 2 easy, quick methods will deliver those tender, moist baked goods that we love!
Muffin Liners – I like making my muffin recipes using muffin liners for effortless removal and easier cleanup! If you don't have any cupcake liners on hand, you can coat the wells of the muffin pan with non-stick cooking spray.
Finished Look – If you want the muffins to have a more finished look, you can add a few extra chocolate chips and pecans to the top of each muffin before baking.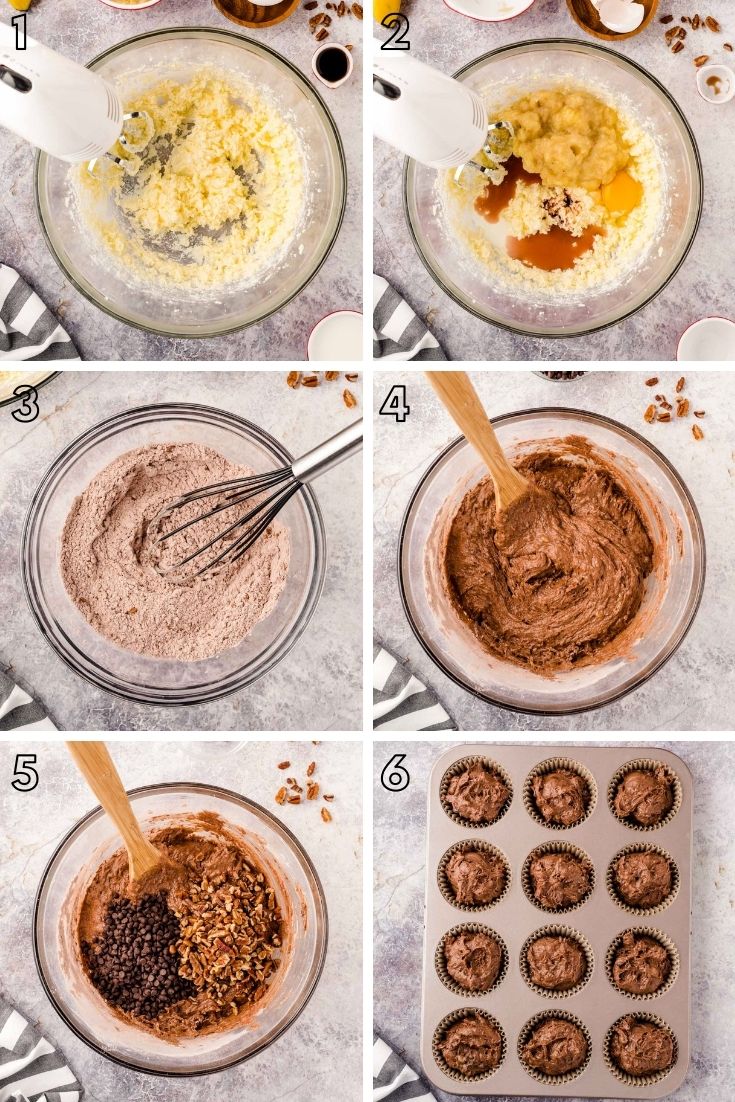 Homemade muffin recipes such as this one make breakfast time a whole lot tastier! And as much as I love a chocolaty muffin to start my day with, I also love fruity muffins like these Strawberry Coffee Cake Muffins!
They're made in just 30 minutes using fresh strawberries and pantry staple ingredients!
To bake up more quick and easy muffins, try my Bran Muffins or Jumbo Blueberry Muffins!
Storage Instructions For These Banana Chocolate Chip Muffins
Place any leftover muffins into an airtight container or Ziploc bag with the excess air squeezed out of it. Afterward, store them at room temperature and enjoy the muffins for up to 3 days.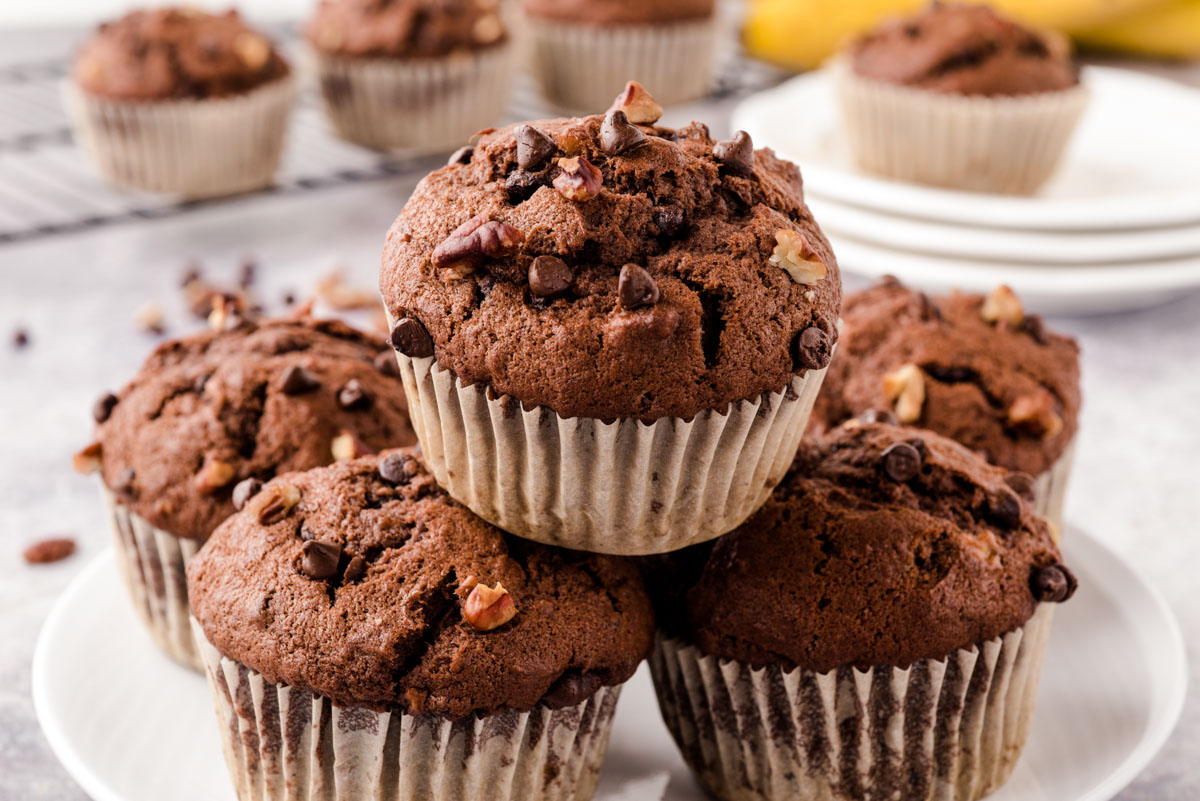 Chocolate Banana Muffins FAQs
Is The Batter Supposed To Be Thick In This Muffin Recipe?
Yes, rest assured that you haven't missed an ingredient or gotten an amount wrong because the muffin batter in this recipe is quite thick!
What's The Best Way To Mash Bananas Up?
You can mash bananas up by using a fork, potato masher, or by using your hand mixer.
Do I Have To Use Whole Milk In This Recipe?
No, it doesn't have to be whole milk. Instead, you can use 2%, skim, or whatever milk that you have on hand.
Can I Use Walnuts Instead Of Pecans In These Muffins?
Yes, you can replace 1/2 cup of chopped pecans with 1/2 cup of chopped walnuts if you'd like!
What Type Of Mini Chocolate Chips Should I Use In This Recipe?
I prefer using semi-sweet chocolate chips as it cuts the overall sweetness of the muffins down. However, you could also use milk chocolate chips or even white chocolate chips!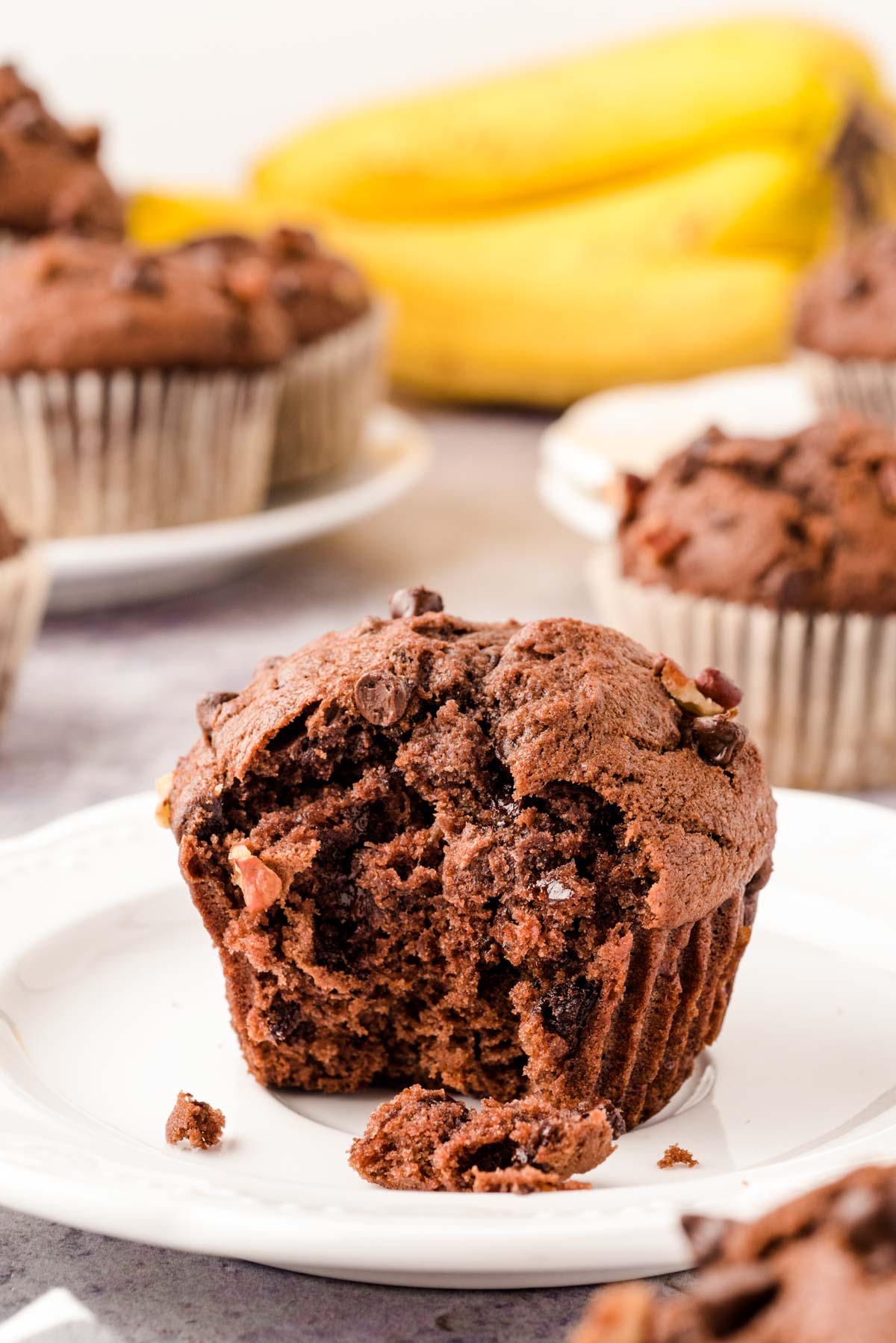 👋 Let's Connect!
If you've tried this recipe, please let me know how you liked it in the comments below and leave a review; I love hearing from you! And don't forget to tag me – @sugarandsoulco – on Instagram and Pinterest with your photos or join our Sugar & Soul Show-offs Community and share them there, where you can join our recipe challenges and win prizes!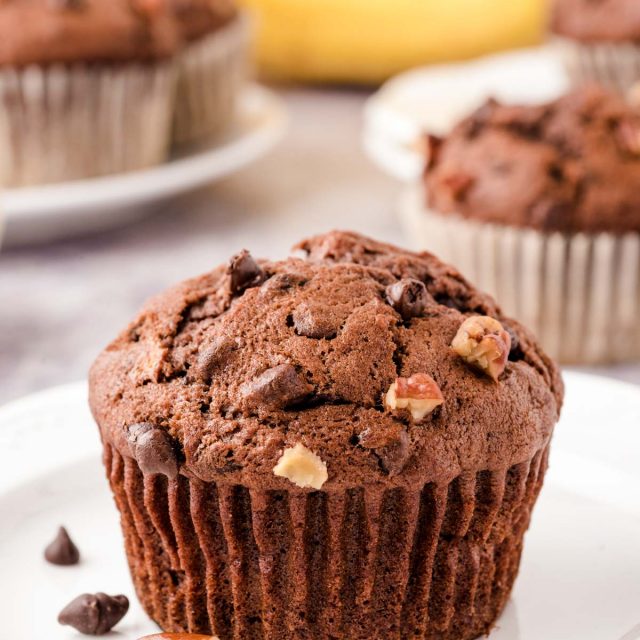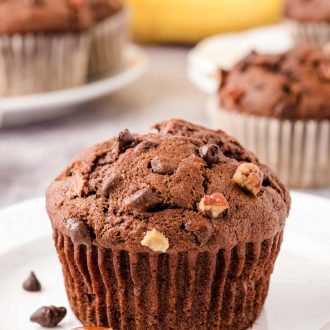 Chocolate Banana Chocolate Chip Muffins
Chocolate Banana Muffins are made with a ripe banana and cocoa base and loaded with crunchy pecans and sweet chocolate chips!
Equipment
Large mixing bowl

Medium mixing bowl

Muffin tin

Muffin tin liners

Whisk

Electric mixer

Wooden spoon
Instructions
Preheat the oven to 400°F and line a muffin tin with liners; set aside.

In a medium bowl, whisk together the flour, cocoa, baking powder, baking soda, and salt. Set aside.

1½ cups all-purpose flour, 3 tablespoons unsweetened cocoa powder, 1 teaspoon baking powder, ½ teaspoon baking soda, ¼ teaspoon salt

In a large mixing bowl, cream together the sugar and butter with an electric mixer on medium-high speed.

¾ cup granulated sugar, ½ cup salted butter

Add the egg, mashed banana, milk, and vanilla and beat on medium speed until fully combined.

1 large egg, 1 cup mashed ripe banana, ¼ cup whole milk, 2 teaspoons vanilla extract

Add the flour mixture to the banana mixture and stir with a wooden spoon until just combined. The batter will be quite thick.

Fold in the chocolate chips and pecans.

½ cup mini chocolate chips, ½ cup chopped pecans

Portion the batter out into the muffin cups filling them ¾ full.

Bake for 20 minutes or until a toothpick comes out clean from the center.
Notes
If your cocoa has lumps in it be sure to sift it before adding it to the bowl.
You can add a few extra chocolate chips and pecans to the top of each muffin before baking them to make them look extra delicious.
Store your muffins in an airtight container at room temperature for up to 3 days.
Nutrition
Calories: 268kcal | Carbohydrates: 34g | Protein: 3g | Fat: 14g | Saturated Fat: 7g | Cholesterol: 37mg | Sodium: 176mg | Potassium: 145mg | Fiber: 2g | Sugar: 19g | Vitamin A: 301IU | Vitamin C: 1mg | Calcium: 40mg | Iron: 1mg