This Birthday Cake Milkshake is ready in 5 minutes and made with just 4 ingredients - ice cream, milk, frosting, and sprinkles - and is perfect for when you want a quick sweet treat.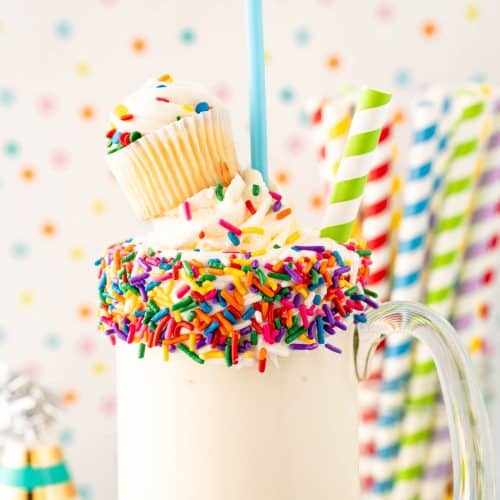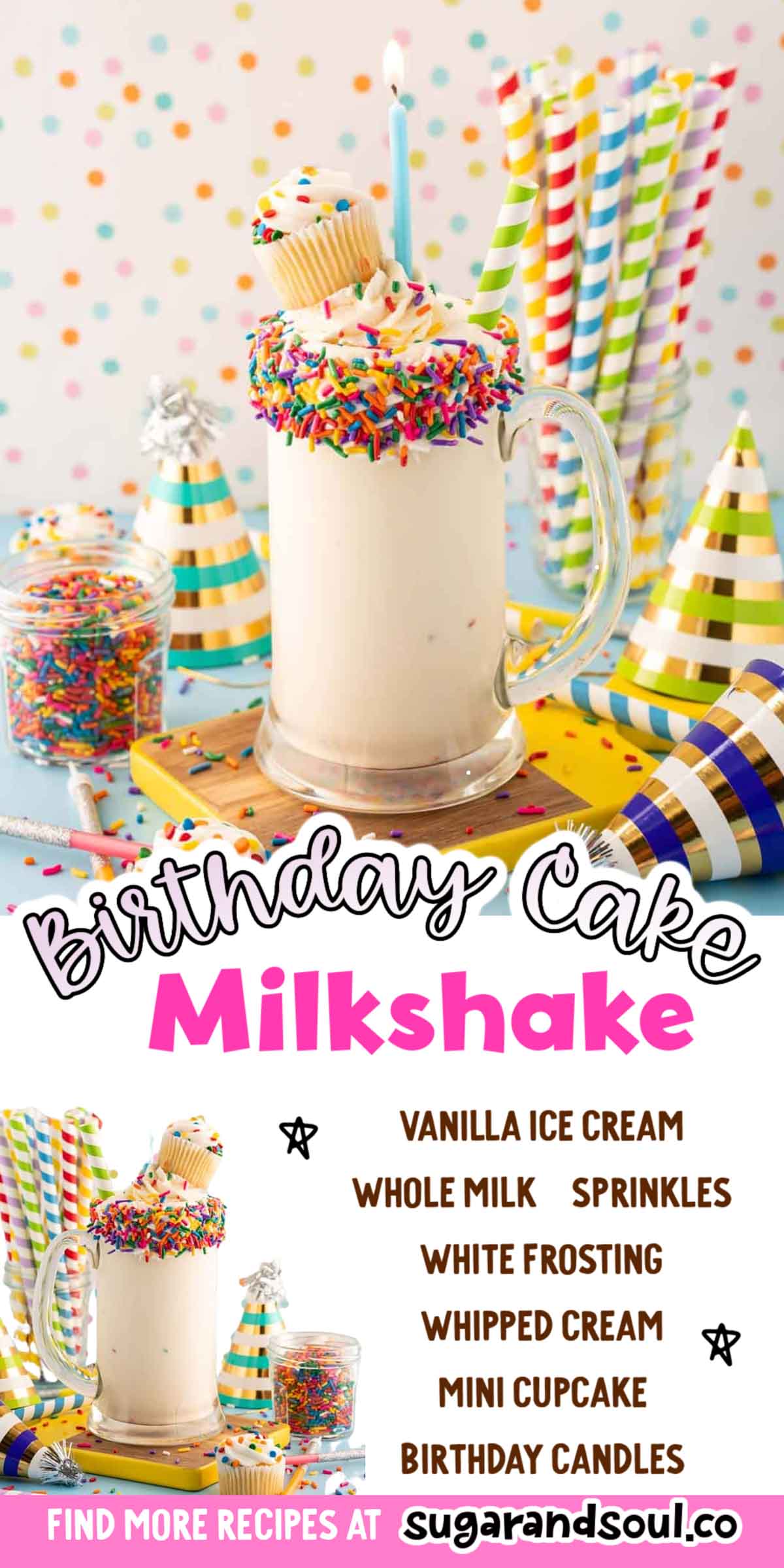 This Birthday Cake Milkshake blends ice cream with milk and frosting before stirring in sprinkles, it's then finished off with fun and tasty garnishes! Ready to sip on in just 5 minutes!
Enjoy another birthday cake-flavored dessert, such as my Birthday Cake Blondies which are made with a cake mix! Or this Funfetti Birthday Cake Dip that's made with four ingredients in just 5 minutes!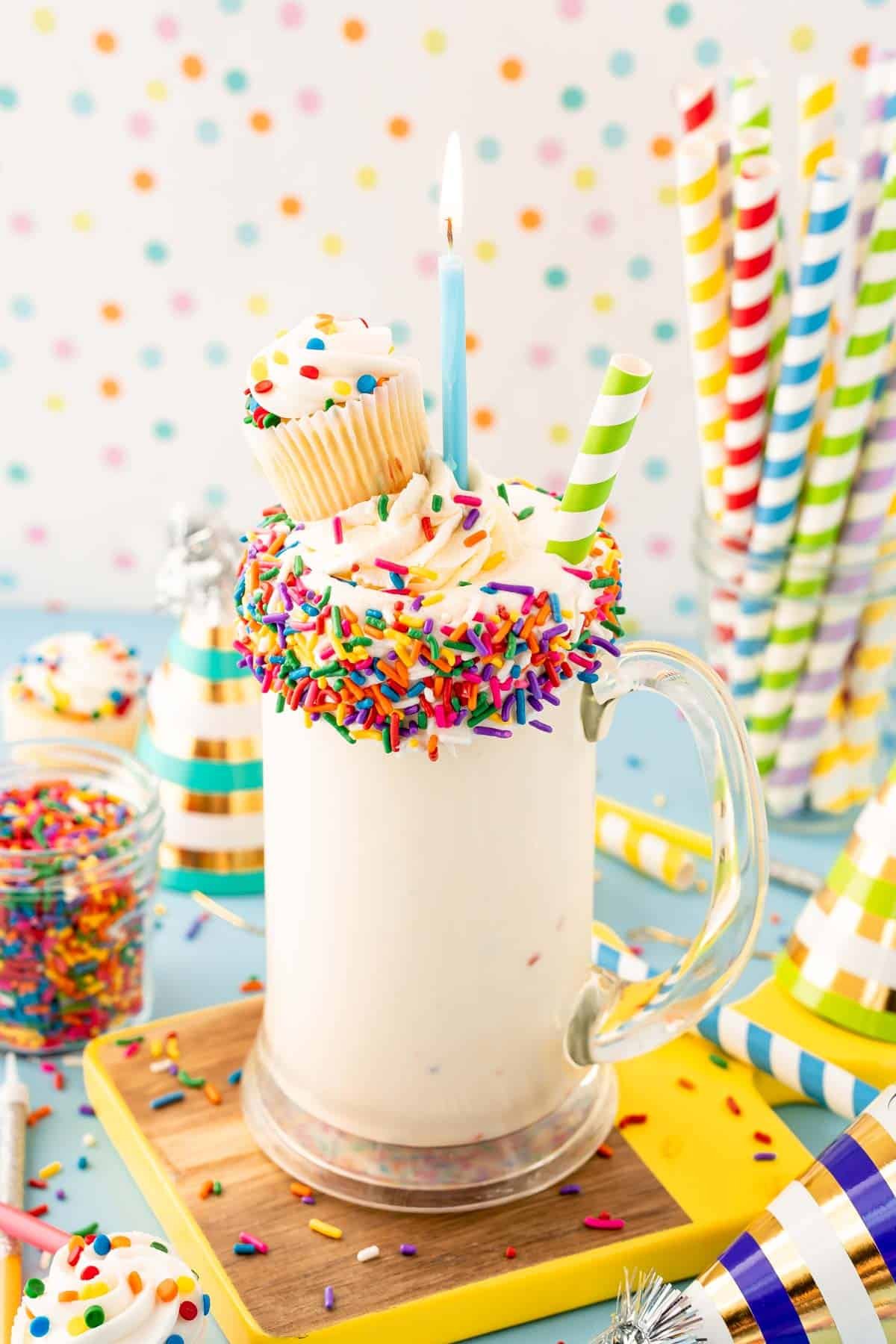 This Birthday Cake Milkshake Recipe is worth running to the kitchen to blend up right now! Even if there isn't a birthday to celebrate because we all know birthday cake-flavored desserts should be enjoyed all the time!
It also helps that this milkshake recipe is made in only 5 minutes using just four ingredients! Making it so you can truly whip one up whenever your sweet tooth strikes!
All About This Delicious Birthday Cake Milkshake
Taste: This shake is filled with delicious birthday cake flavor from the combination of vanilla ice cream and vanilla frosting! This also means you can count on this chilled treat being perfectly sweet!
Texture: Each sip of this shake is satisfyingly creamy and thick! But you'll also enjoy the sprinkles that are studded throughout this smooth shake, giving it a little extra texture!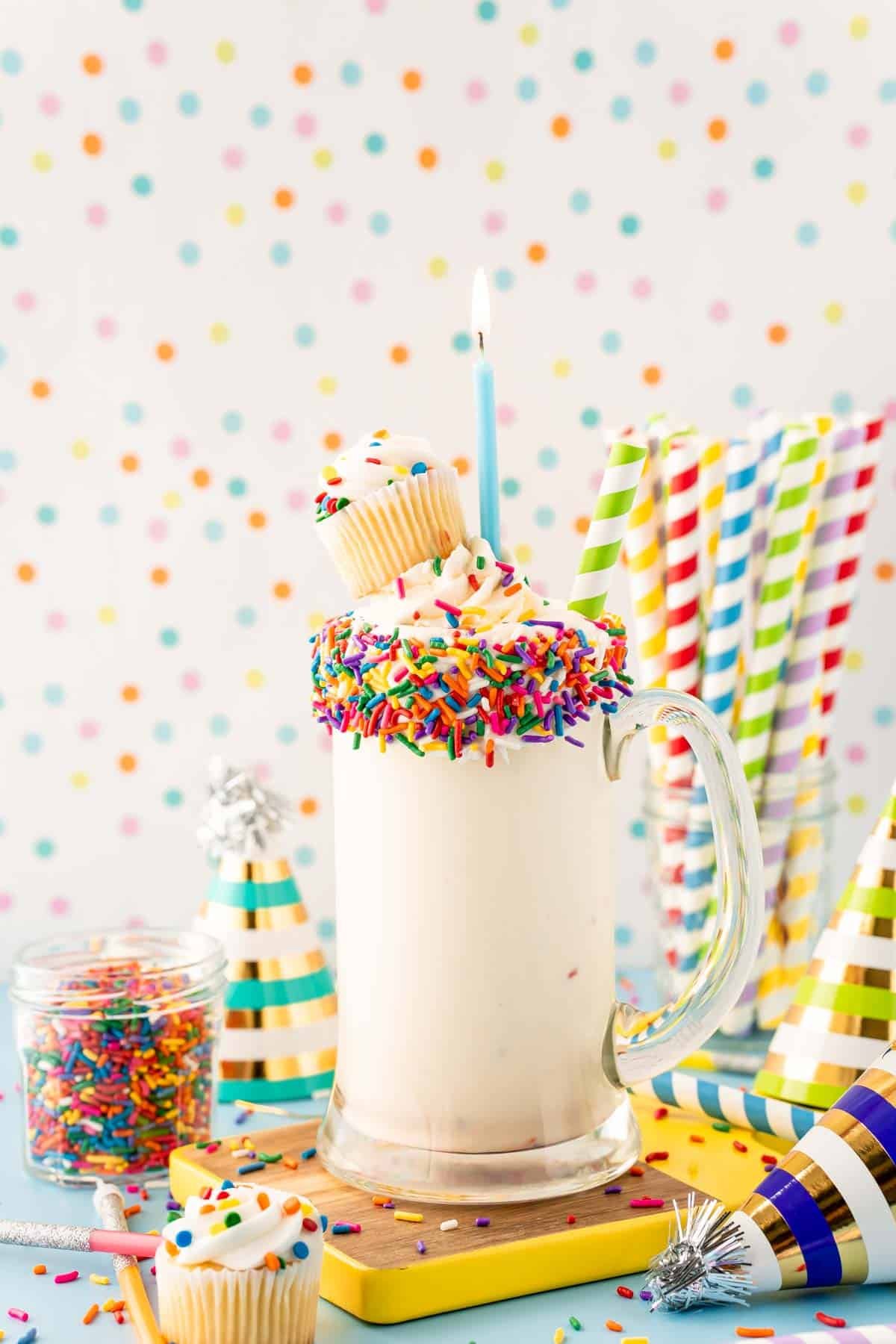 A Cake Shake For Everyone!
To me, a birthday cake is delicious regardless of if it's chocolate or vanilla! However, I realize some people do have a preference, and that's totally fine!
For that reason, it's important to know that you can make this shake recipe vanilla or chocolate flavored! That way, there's a birthday cake shake for everyone to enjoy!
To make this recipe into a chocolate birthday cake version, just swap the vanilla ice cream out for chocolate ice cream. Then exchange the vanilla frosting for chocolate frosting.
Lastly, add a 1/4 cup of chocolate syrup and blend it all up. Afterward, stir in the sprinkles, add toppings, and then enjoy your Chocolate Birthday Cake Milkshake!
Tips For Making The Best Homemade Birthday Milkshake
Chill The Glass – Pop your milkshake glasses in the freezer for 15 minutes! I prepare the milkshake recipe while the glasses chill. That way, the milkshakes will stay chilled for longer!
Stir In Sprinkles – Be sure to stir the sprinkles in after the milkshake mixture has been blended. We want those fun sprinkles to be whole, not in tiny pieces!
Dress The Rim Up – Spread some frosting out onto a plate and dip the rim of the glasses in it. Then roll the frosting-covered rim in sprinkles to give the shake glass a dressed-up rim! An easy yet fun touch that everyone will love!
Toppings – Milkshakes can (and should!) be dressed up with all the tasty, fun toppings just like an ice cream sundae! Pile on whipped cream, maraschino cherries, more sprinkles, a mini cupcake, or even pieces of crumbled-up cake!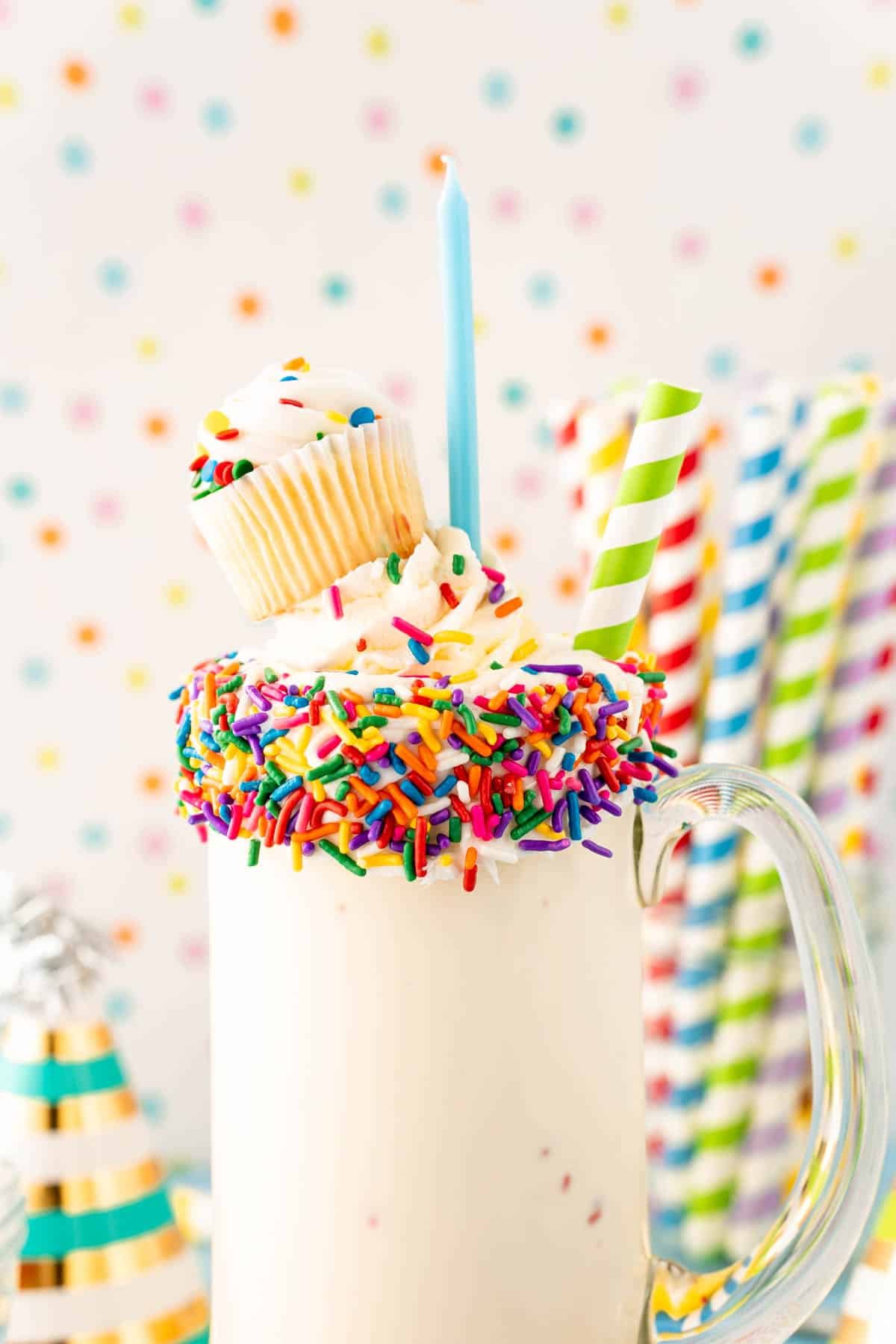 Going out to your favorite ice cream parlor is always a treat, but nothing beats this homemade birthday cake milkshake! I love making milkshakes at home, so I can play with the ingredients to make them exactly how I like them!
If I'm not sipping this birthday cake one, then you can bet I'm enjoying a thick and rich Chocolate Milkshake instead! Though I also turn to this 2 ingredient Irish Cream Milkshake that has a splash of alcohol when I need a dessert that also helps me unwind!
And when you want a decked-out milkshake, there are Coffee Milkshakes and this Peanut Butter Milkshake! They're also called freak shakes since they're piled high with garnishes like donuts, candy bars, and cookies!
How Many Birthday Milkshakes Does This Recipe Make?
This recipe yields one milkshake. However, since you'll already have the ingredients out, it's no problem to whip up as many as you need when serving family or friends!
Where Can I Get Mini Cupcakes To Garnish These Shakes With?
Check the bakery at your local grocery store, Walmart, Costco, or even Sam's Club. They often have plastic trays of mini cupcakes near the birthday cakes.
Can I Make This Milkshake Recipe With Homemade Ice Cream?
Yes! Making this shake with homemade vanilla ice cream would be great!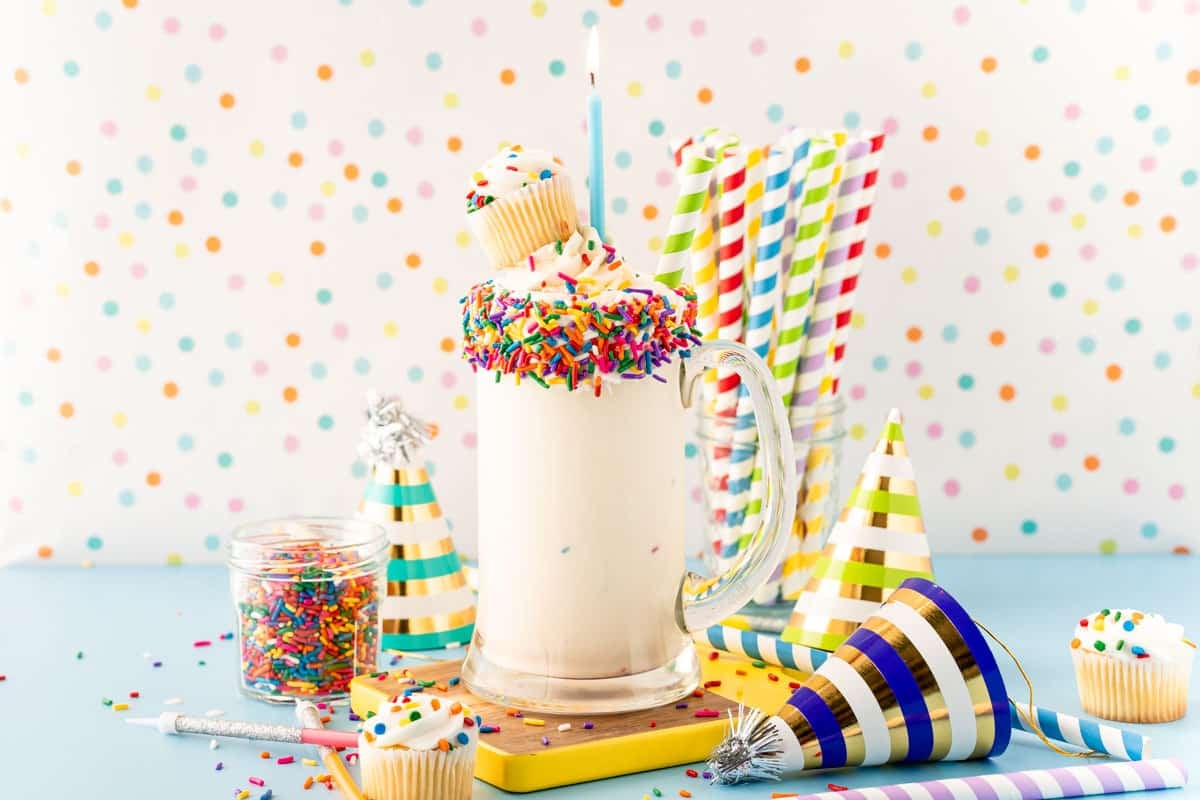 👋 Let's Connect!
If you've tried this recipe, please let me know how you liked it in the comments below and leave a review; I love hearing from you! And don't forget to tag me – @sugarandsoulco – on Instagram and Pinterest with your photos or join our Sugar & Soul Show-offs Community and share them there, where you can join our recipe challenges and win prizes!
This recipe was originally published in April 2017 and was updated in January 2023 with a fresh recipe and photos.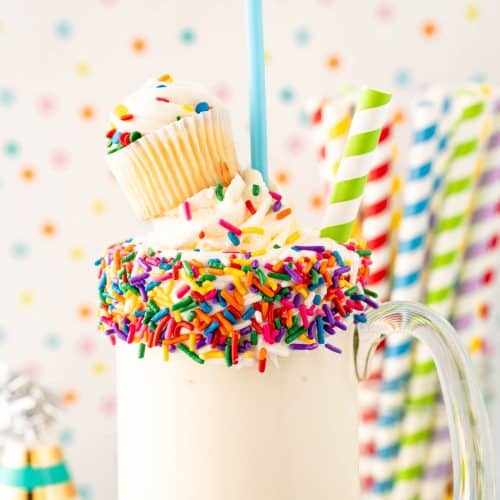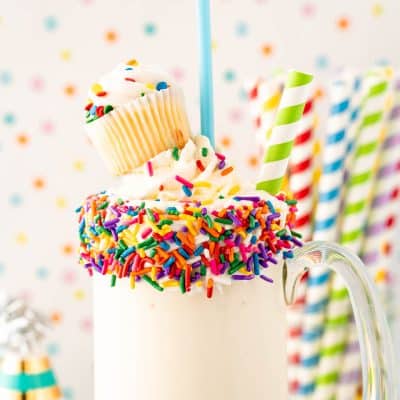 Birthday Cake Milkshake
This Birthday Cake Milkshake is ready in 5 minutes and made with just 4 ingredients – ice cream, milk, frosting, and sprinkles – and is perfect for when you want a quick sweet treat.
Ingredients
5 scoops vanilla ice cream
½ cup whole milk
½ cup white frosting plus more for rim
2 tablespoons sprinkles plus more for garnish
Whipped cream for topping
1 mini cupcake for garnish
Birthday candles for garnish
Instructions
If using whipped cream, prepare before the milkshake.

Add the ice cream, milk, and frosting to a blender and pulse until smooth. Fold in the sprinkles.

5 scoops vanilla ice cream, ½ cup whole milk, ½ cup white frosting, 2 tablespoons sprinkles

Pour the mixture into a chilled milkshake glass.

Top with whipped cream, additional sprinkles, and a mini cupcake.

2 tablespoons sprinkles, Whipped cream, 1 mini cupcake

Don't forget a birthday candle on top of the mini cupcake!

Birthday candles
Notes
Place your milkshake glass in the freezer for 15 minutes while you prepare the recipe in the blender.
You can spread 2 tablespoons of frosting around the edge of the glass or beer stein and coat in sprinkles if desired.
Regular whipped cream (page XX) or canned whipped cream may be used instead of pudding whipped cream for topping.
Make a chocolate cake version by using chocolate ice cream and frosting, and adding ¼ cup of Chocolate Syrup.
Nutrition
Calories: 1313kcal | Carbohydrates: 179g | Protein: 16g | Fat: 60g | Saturated Fat: 29g | Polyunsaturated Fat: 11g | Monounsaturated Fat: 16g | Cholesterol: 160mg | Sodium: 518mg | Potassium: 878mg | Fiber: 2g | Sugar: 165g | Vitamin A: 1587IU | Vitamin C: 2mg | Calcium: 576mg | Iron: 0.5mg