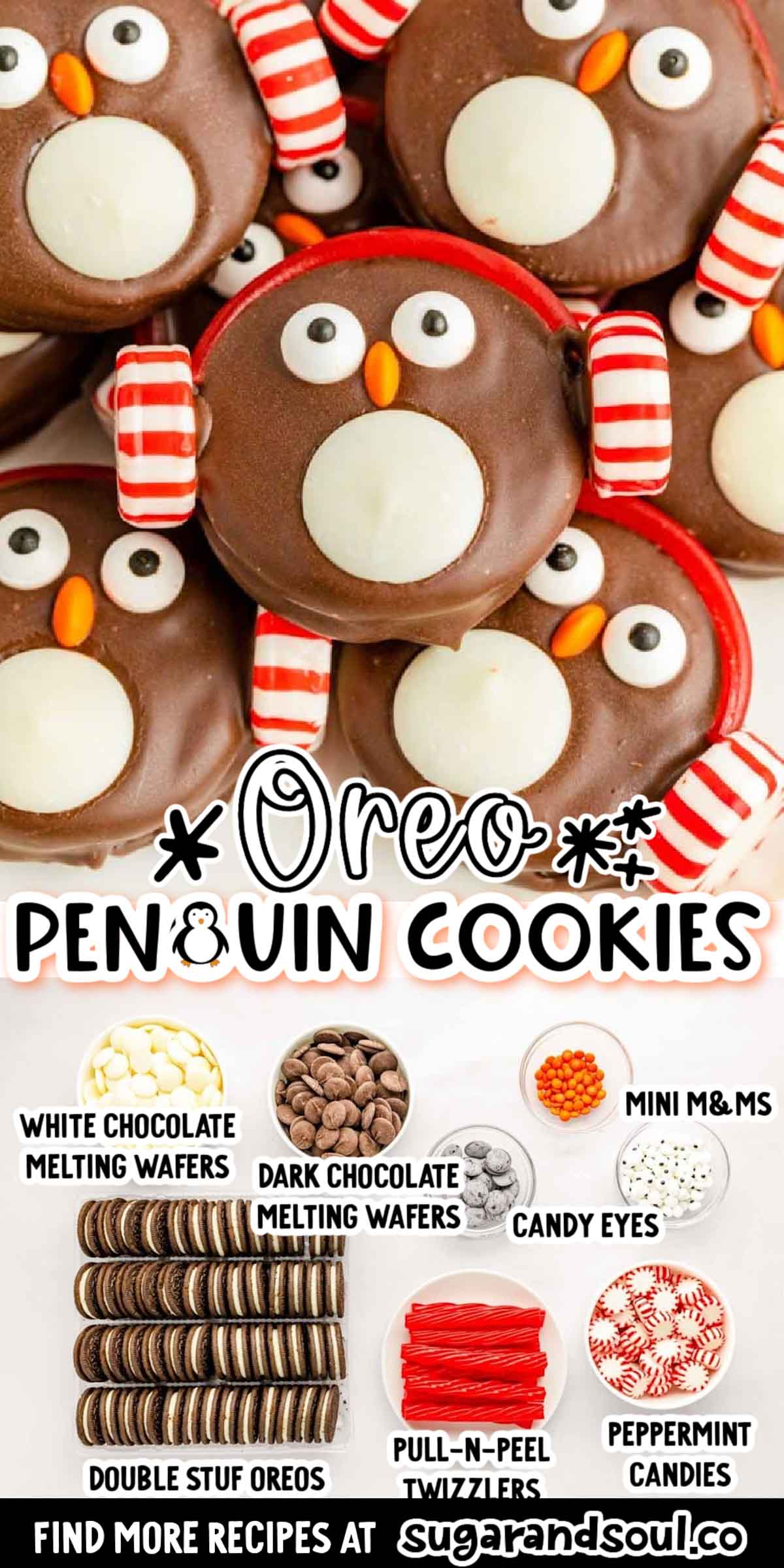 Oreo Penguin Cookies are dipped in dark chocolate and brought to life with candy eyes, M&Ms, candy melts, peppermint candies, and Twizzlers!
Spend time with family doing another fun edible craft by also checking out these Easy Christmas Wreath Cookies or Reindeer Christmas Bark! Both are easy and fun no-bake recipes just like this one!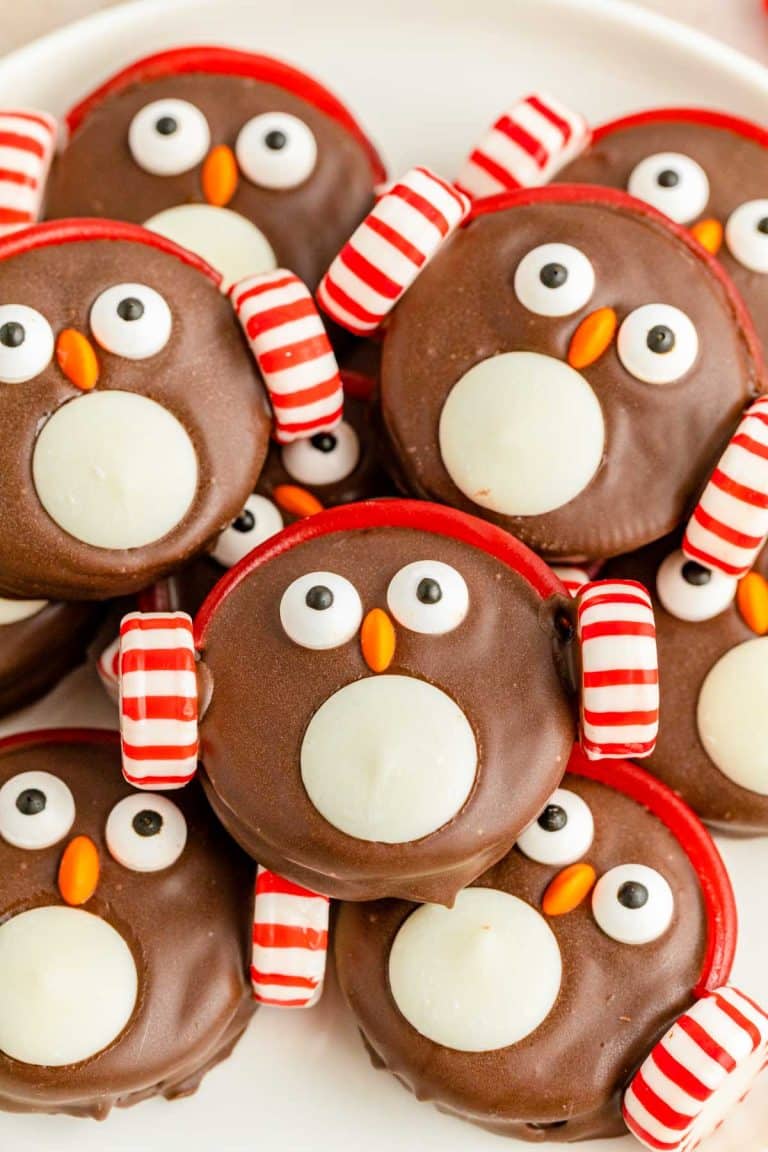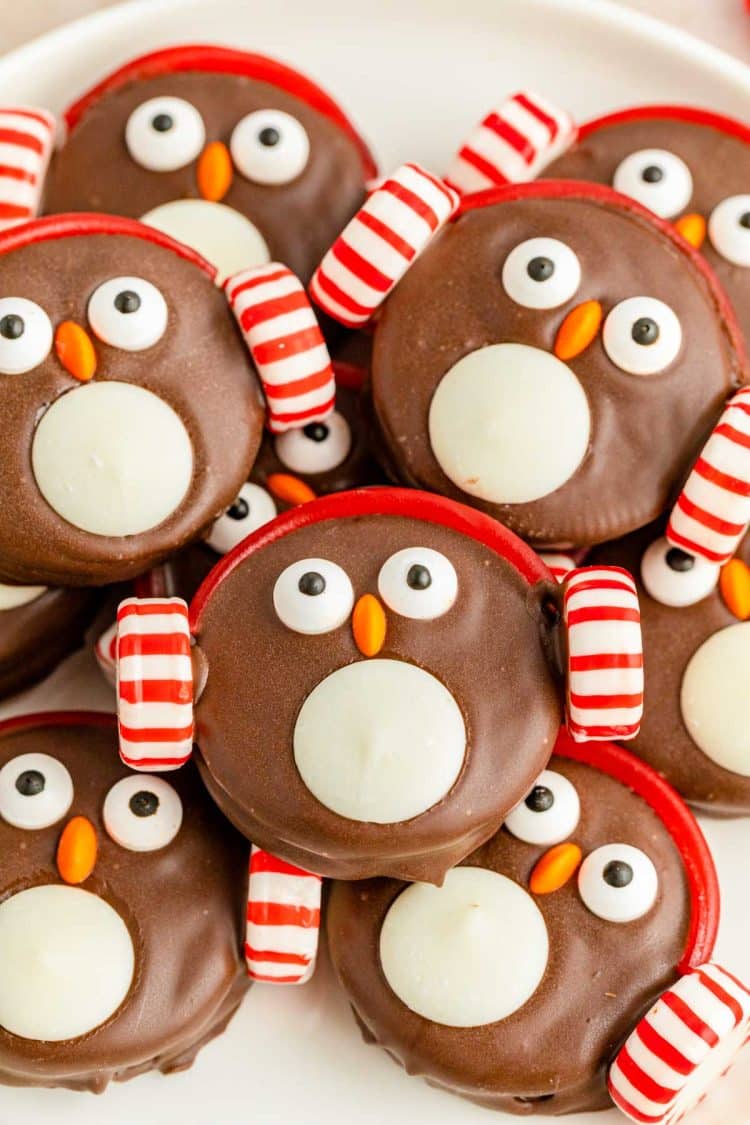 These Oreo Penguin Cookies are a fun and delicious treat that's perfect to make through the holiday season! And all through winter, after all, penguins love the snowy, cold weather!
This inexpensive no-bake recipe is the perfect choice for family night! Kids will love decorating their penguins and you'll appreciate the very minimal mess and effort that's required on your part!
Making these Penguin Cookies a win all around!
All About These Oreo Penguin Cookies
Taste: Milk's favorite cookie gives these treats a vanilla cream filling sandwiched between chocolate cookies! Their dark chocolate coating enhances the sweet taste while the candy adds a variety of flavors from the peppermint and Twizzlers!
Texture: Each bite brings a crunch that gives way to the creamy Oreo filling! From there you'll enjoy the hard peppermint candies, chewy Twizzlers, and soft chocolate melts!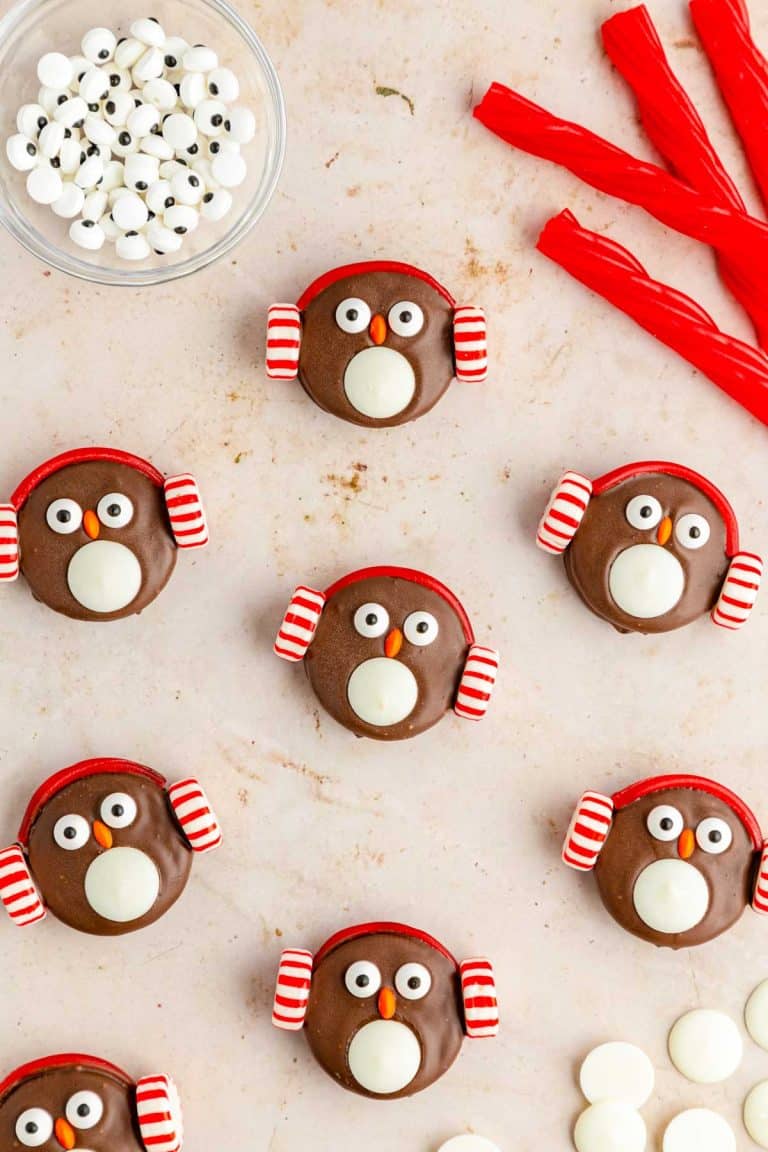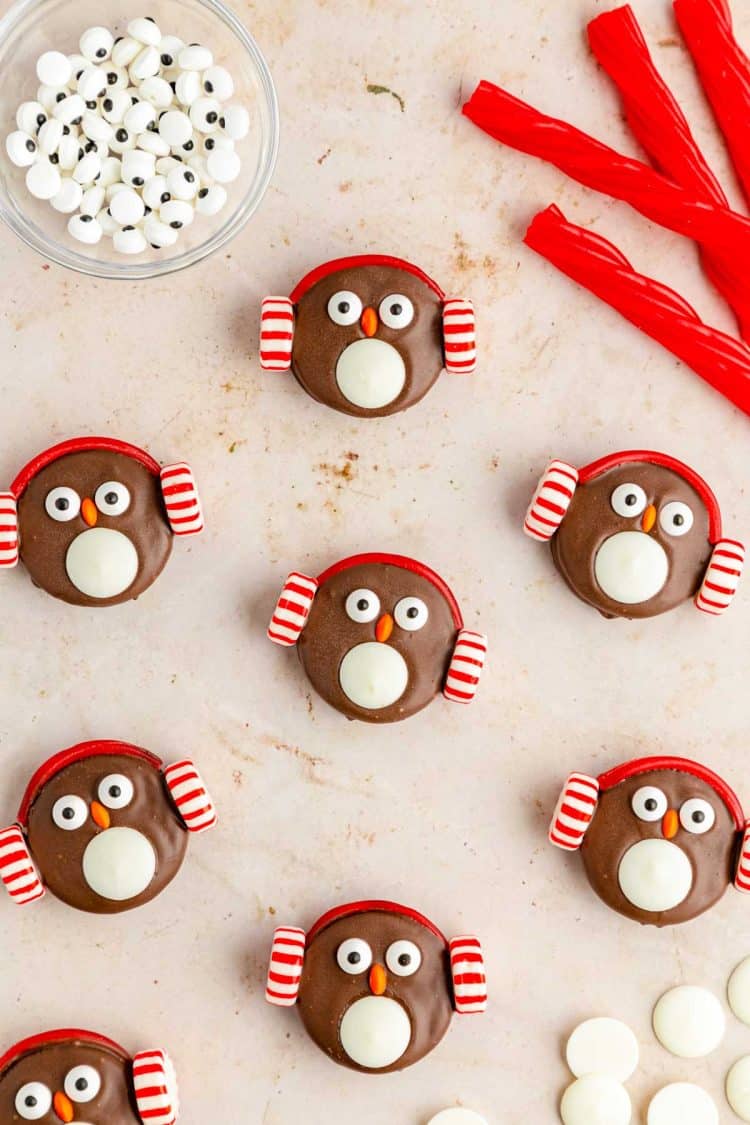 Nothing gets kids excited for the holidays like a themed treat such as these Penguins! Heart-Shaped Grinch Cookies are another cookie recipe that adds a touch of holiday fun!
For more fun Christmas treats that use storebought ingredients check out my Easy Reindeer Cupcakes and Cute Mini Yule Logs!
Though if you're looking to cut back on the sweets my Magic Reindeer Food Recipe and Poem and Christmas Coloring Pages still bring the fun without the sugar rush!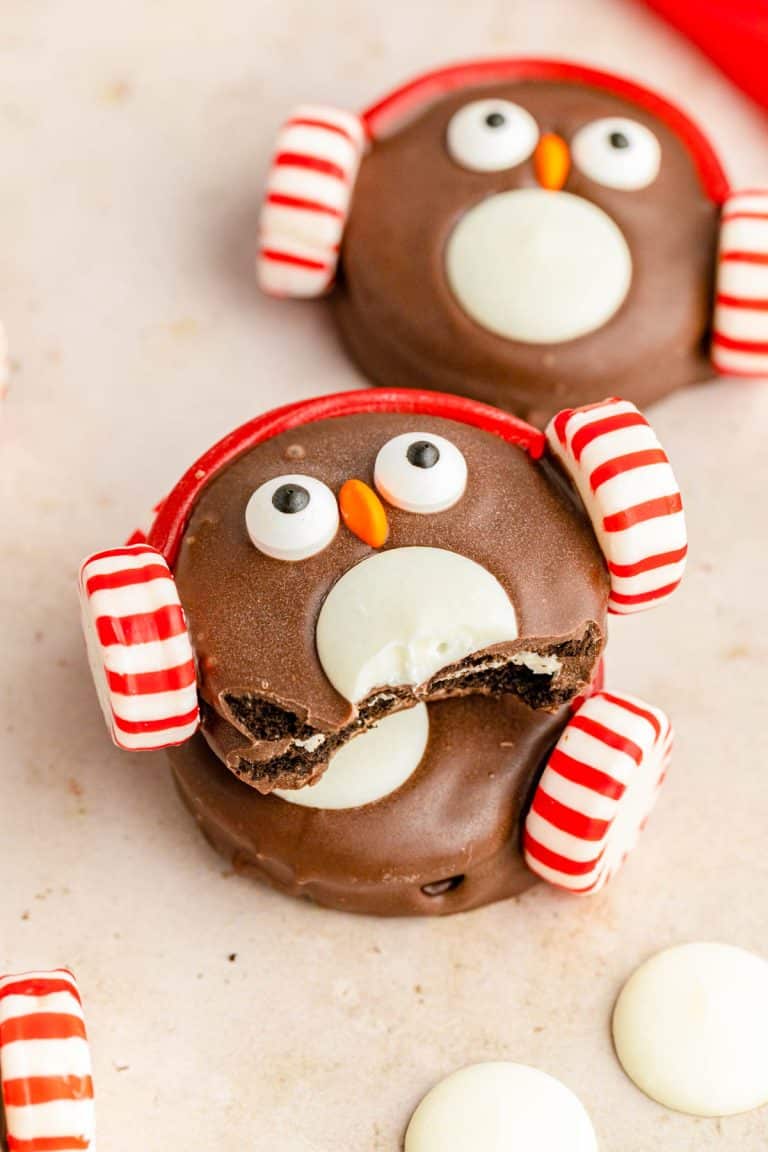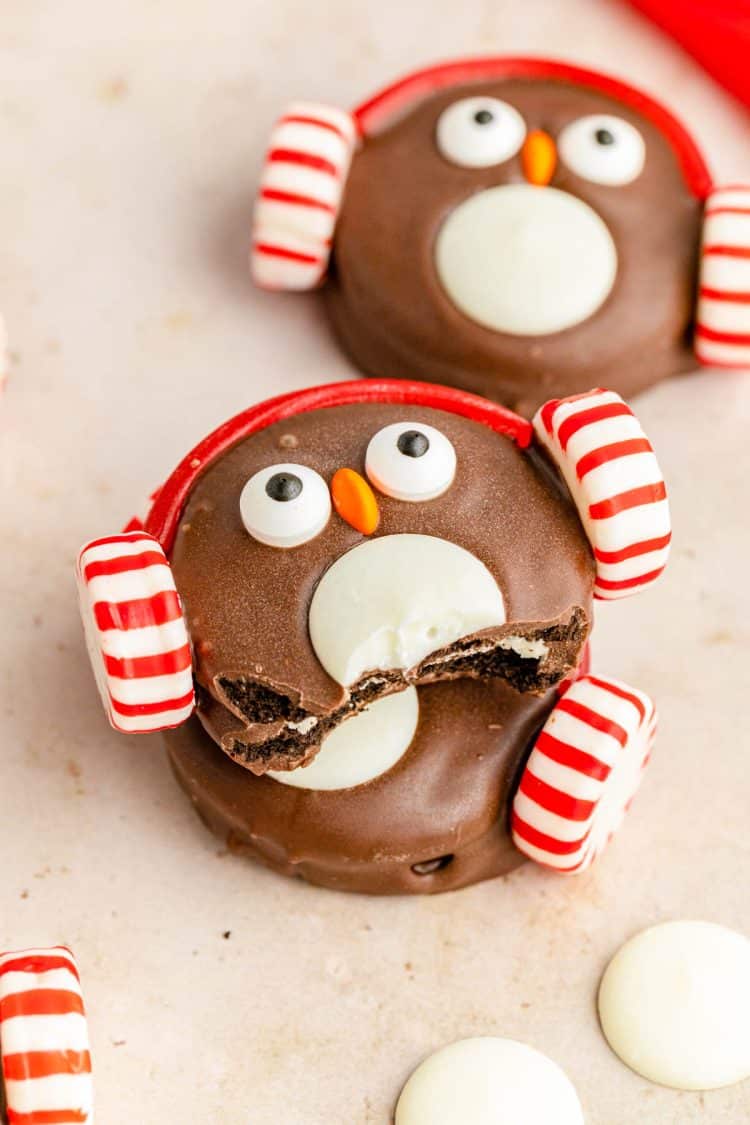 Oreo Penguin Cookies Recipe Ingredients
This fun cookie recipe allows you to skip the messy pantry ingredients! Instead, all it takes is a quick trip to the store or a convenient grocery delivery to get your ingredients for these treats!
The foundation of these penguins is a package of Double Stuff Oreos. This recipe yields 24 penguins so 15.35oz of Oreos is all you need.
From there the Oreos take a dip in Ghirardelli dark chocolate melting wafers. Afterward, the penguins get dressed up with M&Ms, candy eyes, Pull-n-Peel Twizzlers, and peppermint candies.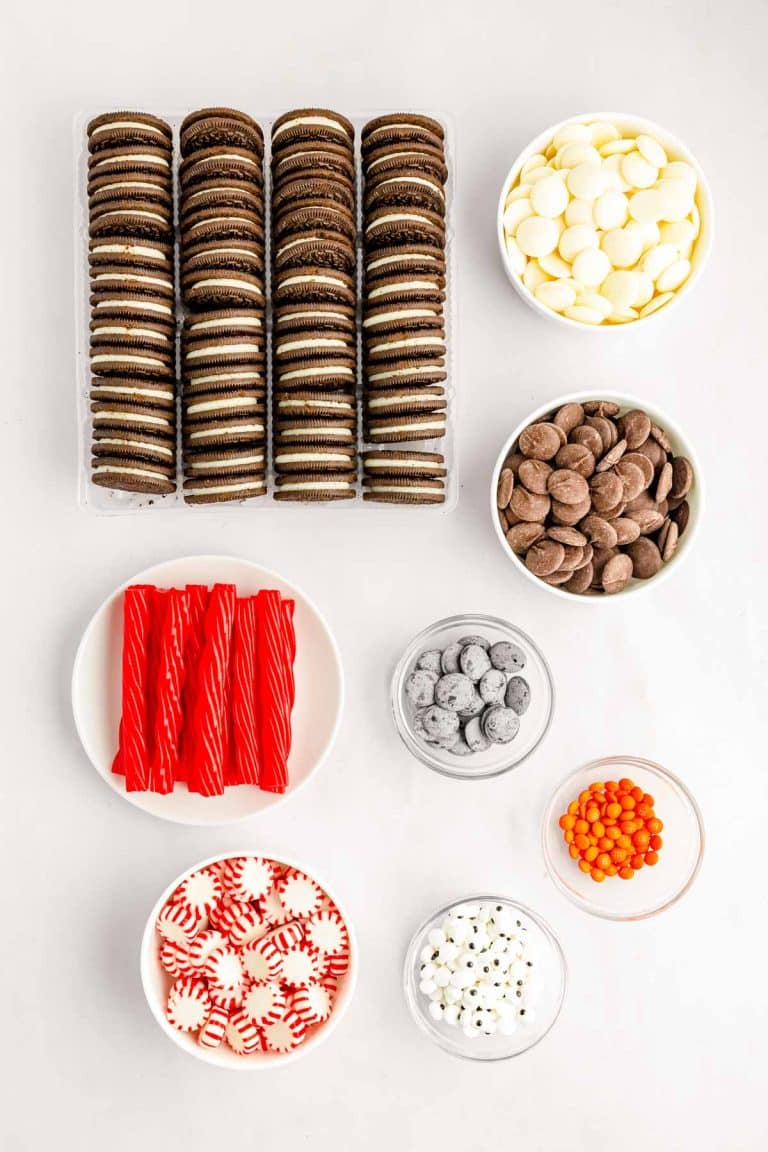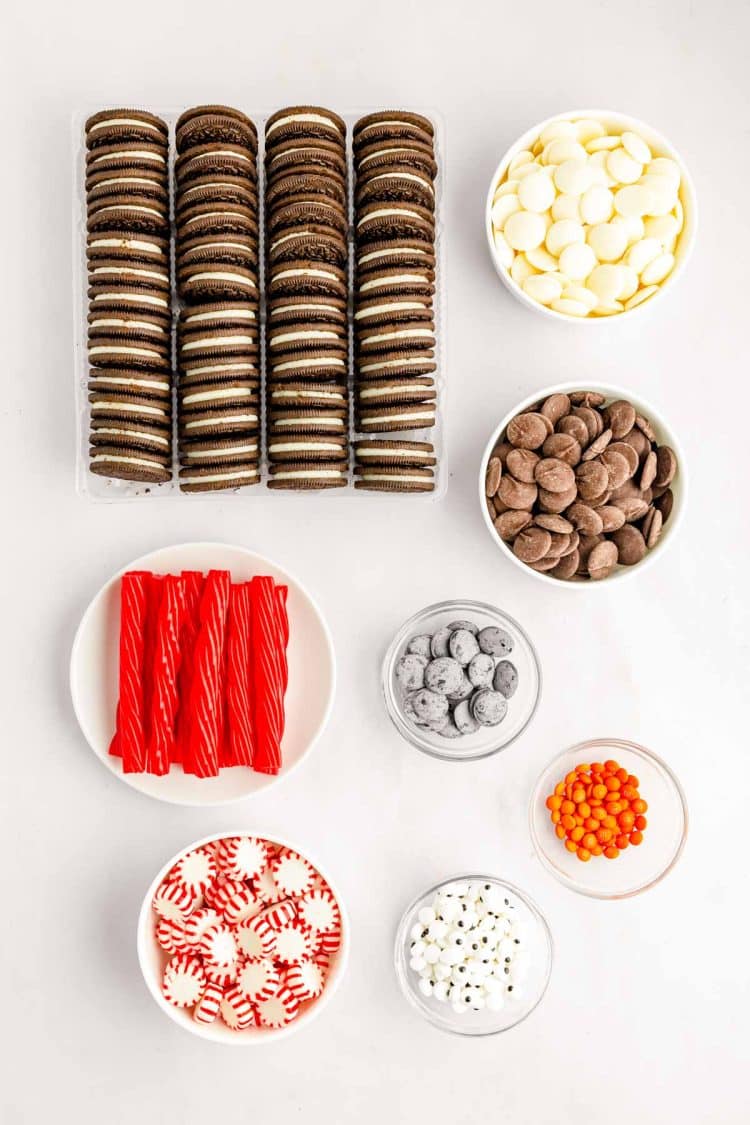 Helpful Kitchen Tricks & Tips
Melting The Chocolate – I used a double boiler to melt the chocolate when making these cookies. However, you can also melt the wafers in the microwave according to the instructions on your package.
Dipping The Oreos – A fork, spoon, or a kitchen dipping tool all work great to dip the Oreos in the melted chocolate. Be sure to fully submerge the cookies and that they each take on an even coat of melted chocolate. I like to lightly tap the utensil I'm using for dipping on the edge of the pot a few times while it's holding the cookie. That way any excess chocolate is encouraged to drip off!
Assembling – Once the cookie is fully coated in chocolate set it onto the parchment-lined baking sheet. Then add one white melted wafer to the bottom half of the Oreo and an orange M&M centered right above. Then, add the candy eyes on the front and peppermint candy on each side of the penguin. Press on the Twizzler strap and admire your penguin!
Chill The Penguins – Place your penguins in the freezer to allow the chocolate to set up. This step is important so that the edible decorations adhere securely to the chocolate.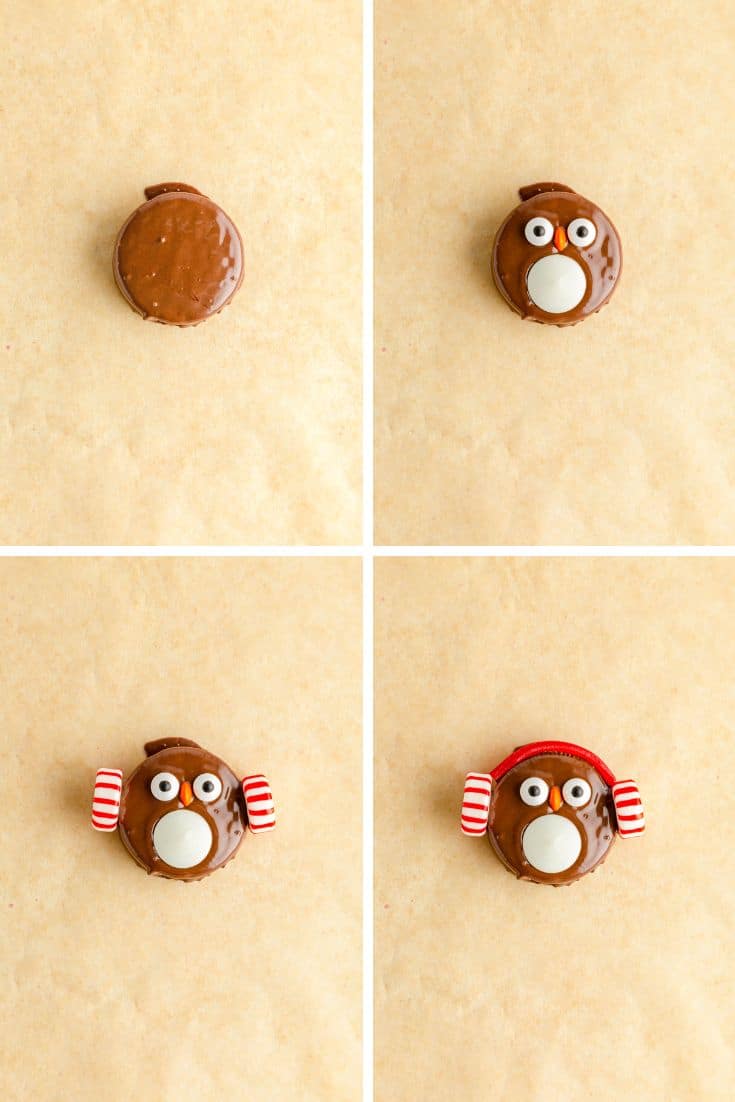 Fun And Delicious Variations To Try!
More Cream Filling! Swap the double stuff Oreos out for mega stuff. After all, you can never have too much cream filling!
Choose Your Oreo! There are so many flavors of Oreo cookies so be sure to choose and use your favorite. Hazelnut, chocolate, or peppermint would all make for very tasty penguins!
Add Some Detail! Melt black melting wafers to draw on little bow ties and buttons onto the penguin's belly.
Add A Stick! Use a lollipop stick to place the Oreo penguin cookies on. Kids will love holding their cookies on a stick while they enjoy their edible creations!
How Do I Store These Penguin Oreo Cookies?
Place the penguins in an airtight container with parchment paper separating each layer. This way the cookies and their decorations don't stick to each other!
Afterward, store these cookies at room temperature for up to 2 weeks.
Can I Use Fudge Covered Oreos To Make These Penguins?
Yes, that should be fine. If you use fudge-covered Oreos, you'll only need one bag of dark chocolate melting wafers. This is because the cookies already have their chocolate coating, so you'll only need enough melted chocolate to adhere the edible decorations.
What Can I Use To Make Penguins Instead Of Oreos?
If Oreos aren't your favorite, you can make these with any sandwich cream cookie or cookie that you'd like to dip in chocolate.
These can also be made with cookies that are already dipped in chocolate such as Chocolate Covered Mint Cookies or Fudge Covered Nutter Butter Peanut Butter Cookies.
If you use cookies already dipped in chocolate, the decorations will need to be adhered to with a dab of melted chocolate.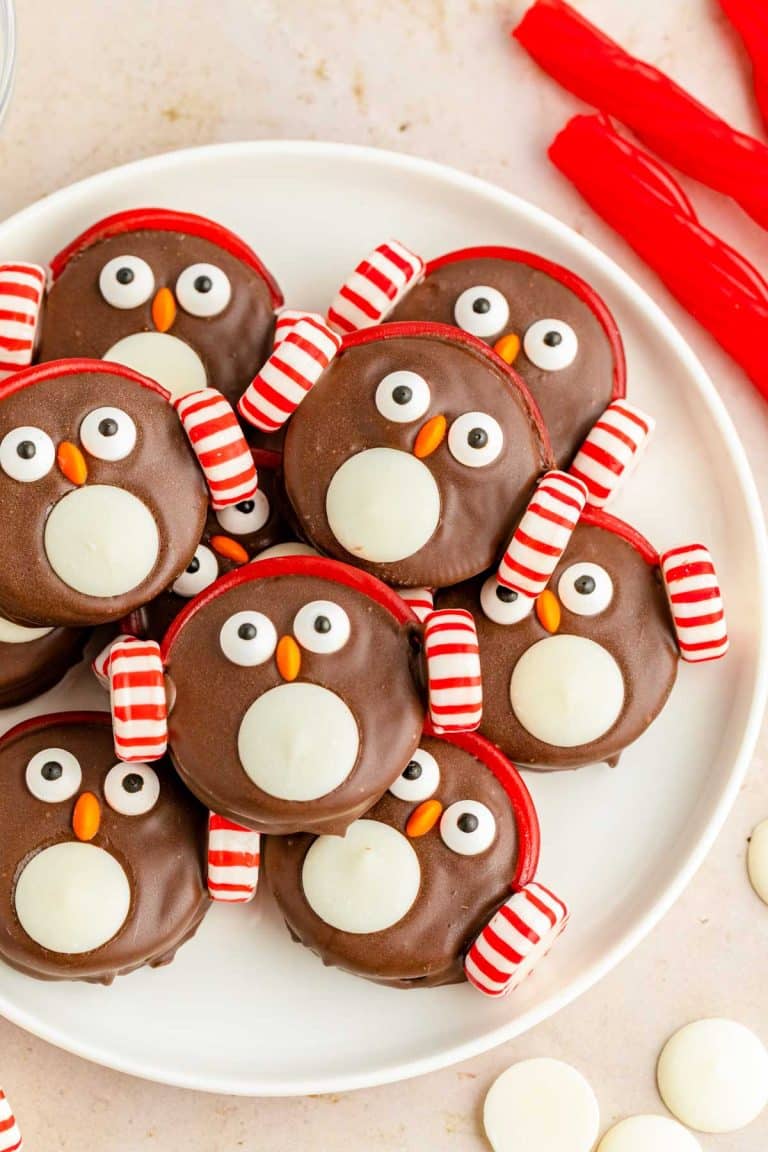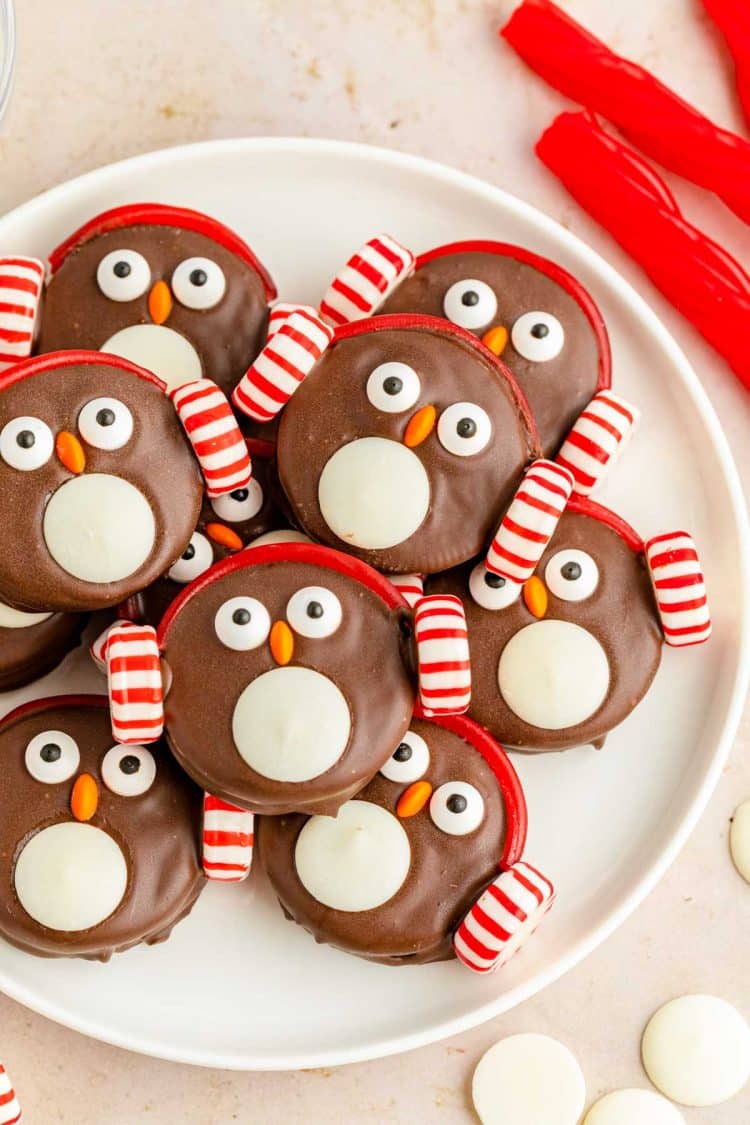 Penguin Oreo Cookies
Pin For Later
CLICK THE BUTTON ABOVE TO SAVE THIS DELICIOUS RECIPE TO YOUR BOARD!
👋 Let's Connect!
If you've tried this recipe, please let me know how you liked it in the comments below and leave a review; I love hearing from you! And don't forget to tag me – @sugarandsoulco – on Instagram and Pinterest with your photos or join our Busy Family Recipes Facebook Community and share them there!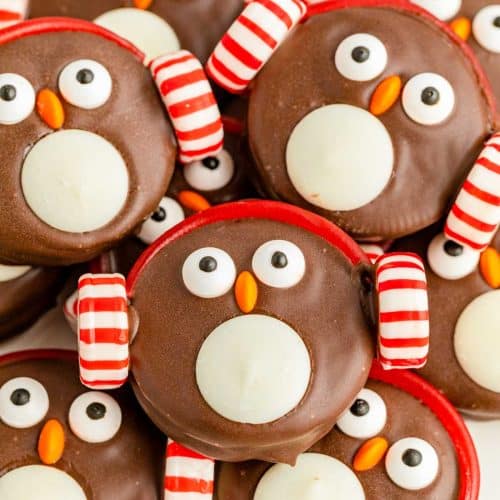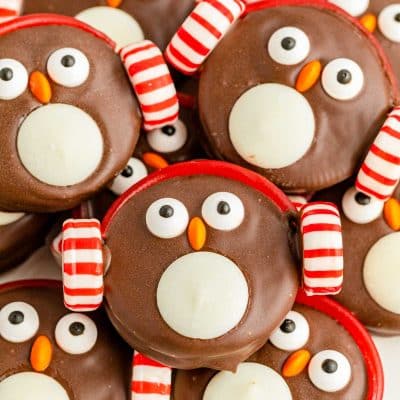 Dark Chocolate Covered Oreo Penguins
Oreo Penguin Cookies are dipped in dark chocolate and brought to life with candy eyes, M&Ms, candy melts, peppermint candies, and Twizzlers!
Equipment
Two baking sheets

Parchment paper
Ingredients
2

(10oz.) bags

ghirardelli dark chocolate melting wafers

24

Double Stuf Oreos

24

pieces

Ghirardelli white chocolate melting wafers

or white candy melts

12

orange mini M&Ms

cut in half

48

candy eyes

48

round peppermint candies

2

pieces

Pull-n-Peel Twizzlers

pulled apart and cut into 2" long pieces
Instructions
Line two baking sheets with parchment paper and set aside.

Add the melting wafers to a bowl and microwave at 30-second intervals, stirring between each one, until melted and smooth.

2 (10oz.) bags ghirardelli dark chocolate melting wafers

Fully submerge the Oreo cookies one at a time into the melted chocolate and make sure it is evenly coated. Lift it out with a fork and lightly tap it on the edge of the bowl a few times to remove the excess chocolate. Transfer it to the prepared baking sheet.

Add one white chocolate wafer on the bottom half of the oreo. Add one halved orange mini M&M centered right above it to create the beak. Then add the two candy eyes right above it.

24 pieces Ghirardelli white chocolate melting wafers,

12 orange mini M&Ms,

48 candy eyes

Add peppermint candy on each side of the penguin. Then attach a 2-inch piece of the twizzler for the strap. It's best to add the twizzler last after adding the rest of the decorations. This allows the chocolate to set a bit and will help the twizzler stay in place.

2 pieces Pull-n-Peel Twizzlers,

48 round peppermint candies

Repeat the steps with the rest of the oreos. Then place the penguins on the baking sheets into the fridge for 10 minutes or until chocolate is set.
Notes
Instead of peppermint candies for the earmuffs, you can use regular-sized M&M's or even mini marshmallows.
Instead of Twizzlers for the straps, you can use sour punch straws and just cut to size.
Substitute the double stuf Oreos for mega stuff or another flavor like hazelnut, chocolate, or peppermint. You can also use fudge-covered but will still need some melting wafers to stick all of the decorative ingredients on.
You can use a double boiler instead if desired.

You can melt some black melting wafers and draw on little bow ties and buttons onto the penguin's belly.
Nutrition
Calories:
58
kcal
Carbohydrates:
9
g
Protein:
1
g
Fat:
2
g
Saturated Fat:
1
g
Polyunsaturated Fat:
0.4
g
Monounsaturated Fat:
1
g
Trans Fat:
0.01
g
Sodium:
47
mg
Potassium:
28
mg
Fiber:
0.3
g
Sugar:
5
g
Vitamin A:
0.2
IU
Calcium:
3
mg
Iron:
1
mg