Mini Yule Logs Cakes add lots of delicious holiday fun yet are super easy to make using Little Debbie Swiss Rolls, store-bought frosting, and sprinkles! A quick and simple recipe that kids will love helping you with!
For another easy dessert that's also made with store-bought cakes try out my Christmas Tree Cake Dip! A sweet, tasty dessert dip perfect for enjoying with strawberries, cookies, or pretzels!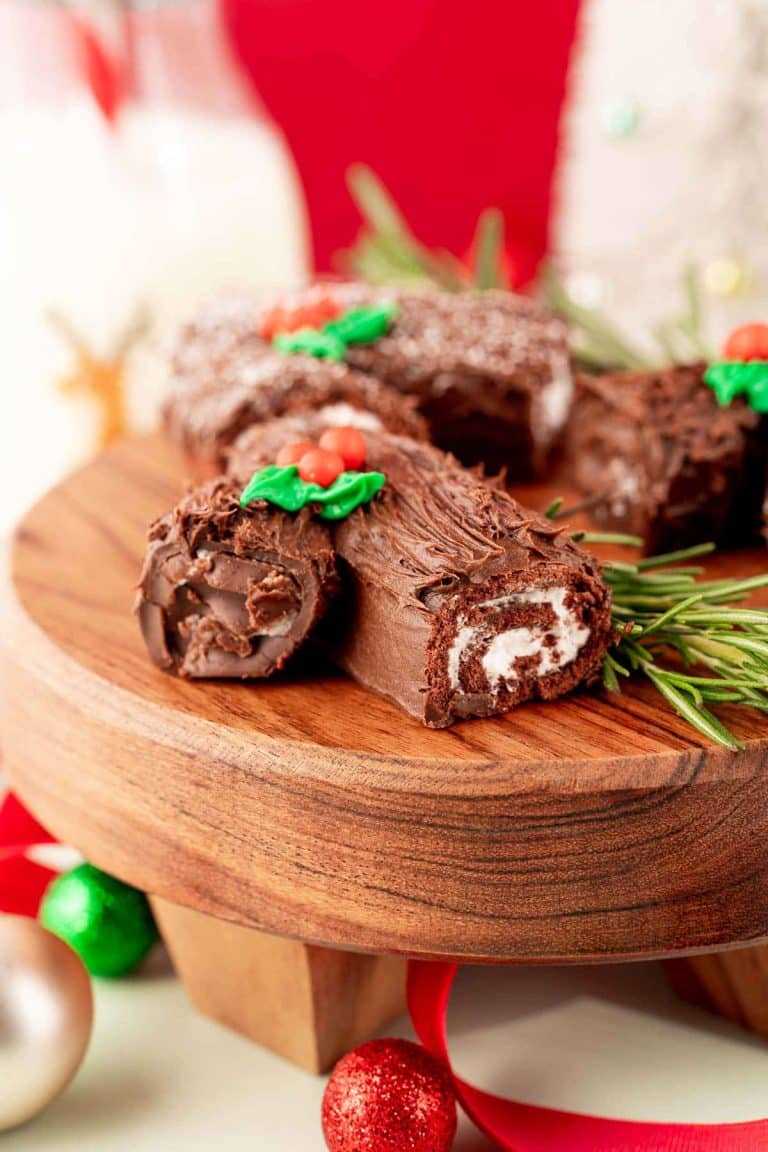 Welcome in the holiday season with these Mini Yule Logs Cakes! Complete with the traditional branch shape, green frosting leaves, and red sprinkles!
If you find yourself eyeing the classic Buche de Noel Chocolate Yule Log Cake every year, then you'll love these mini cakes! They provide you with that similar festive log look without a ton of time in the kitchen! And everyone gets their own!
All About These Mini Chocolate Cakes
Taste: If you've never experienced a Swiss roll before, you're in for a real treat! They're chocolate cakes that have been rolled up with white cream filling and coated with chocolate fudge frosting.
This recipe then coats them with more chocolate frosting, sprinkles, and powdered sugar making for a sweet dessert!
Texture: Spongey cake, creamy filling, and smooth frosting combine on these mini cakes! Delivering a dessert that has an irresistible texture with lots of delicious chocolate flavor!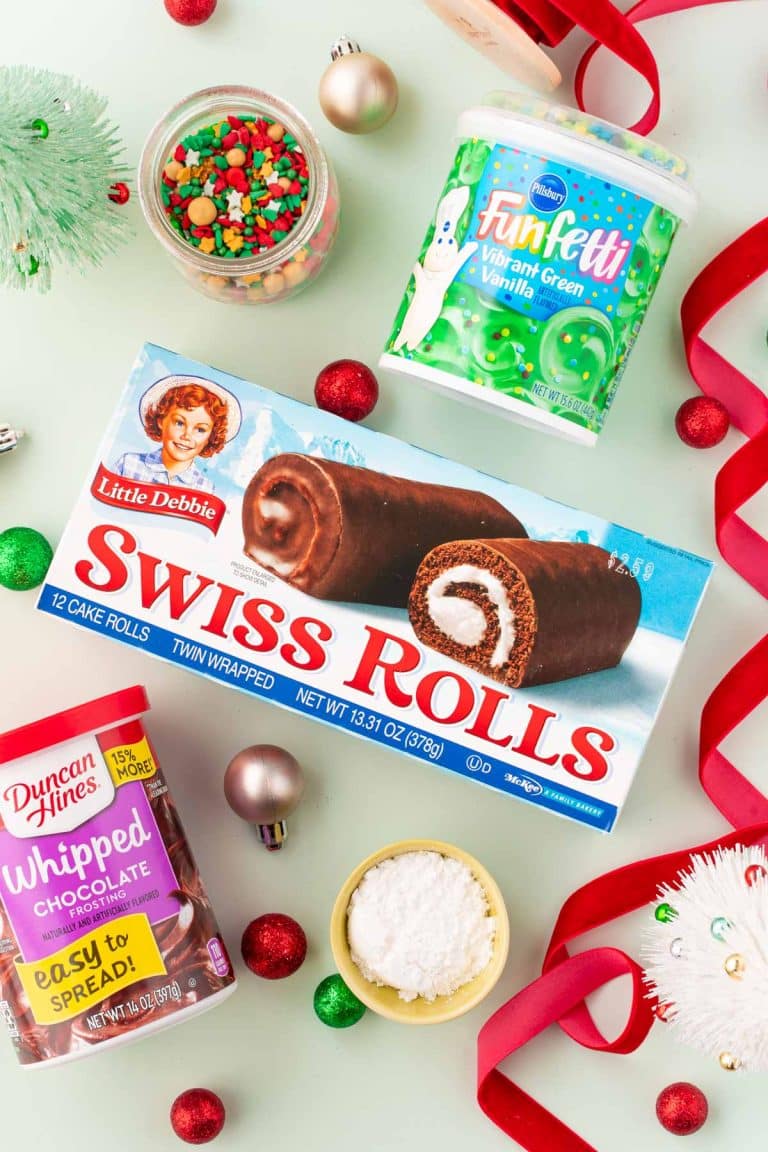 Helpful Suggestions When Making This Mini Yule Logs Recipe
Cutting The Cakes – Using a chef knife to slice the ends off and cut the branches worked best! Anything smaller such as a paring or butter knife squishes the rolls and doesn't give a clean cut.
Frosting The Rolls – I found that an offset spatula made frosting the Swiss rolls an easy task. Then I just used the tines of a fork to give them their tree bark look!
Branches – Feel free to just make single yule logs without the traditional branch! This would actually make it easier for kids to help and take less time to prepare a batch.
Assembling – Prepare these mini yule logs on a baking sheet lined with parchment paper. Once they're completely assembled let them set for 10 to 15 minutes to get a bit of a crust and firm up. Afterward, transfer them to your serving platter!
Serving – I'd suggest serving these with plates and a fork since they're a bit too messy to be handheld treats.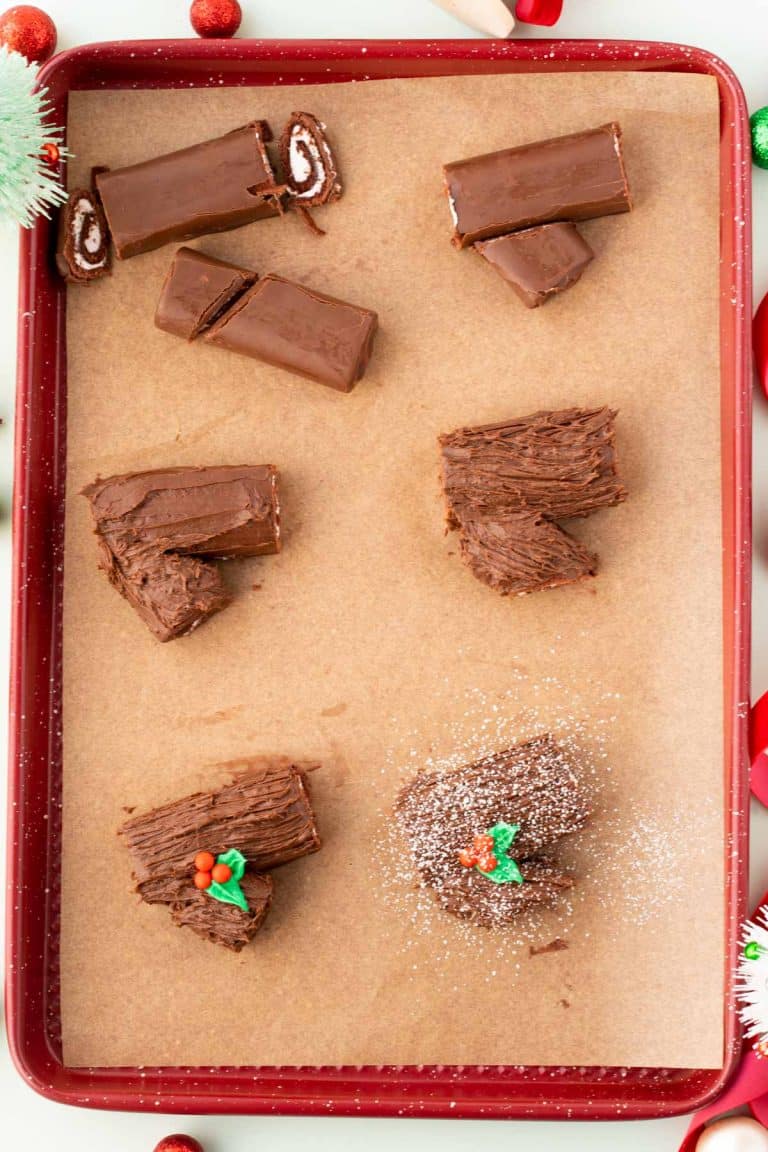 Mini Yule Log Cakes Vs. Buche de Noel
These Mini Yule Logs are a much simpler recipe than the showstopping French Christmas Cake Buche de Noel. Though they both have a similar appearance with their frosting and decorations.
This recipe is made of store-bought ingredients like Swiss rolls, canned frosting, and sprinkles. Whereas, the classic Buche de Noel is made from scratch, a labor of love that's well worth the homemade results!
Both have their place in the Christmas line-up though! Maybe these Mini Yule Logs are for the kids while the homemade yule log is for the adults to savor.
Or you could be in a pinch and need a festive treat for a holiday party! Then again, these are also great as some kitchen fun that the kids can help with!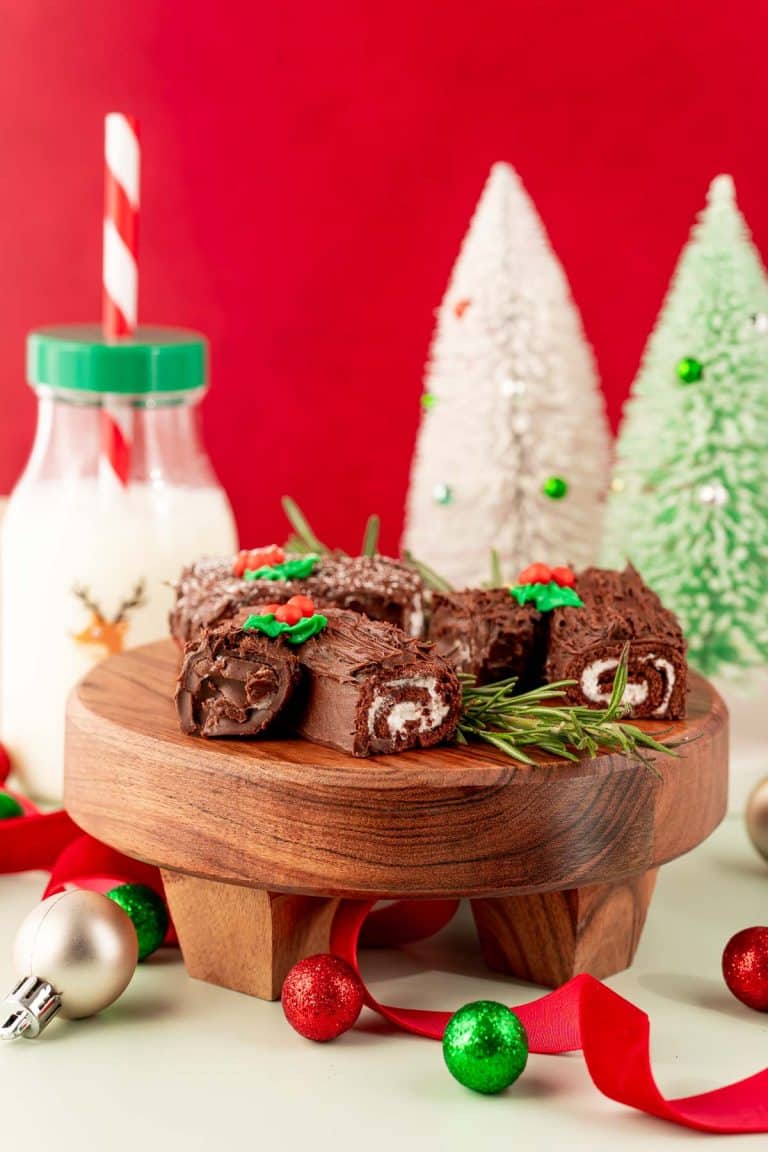 My kids love helping in the kitchen, especially around the holidays! So, they'll love making these Mini Yule Logs after we throw together a batch of Christmas Popcorn.
We also never let the holiday season pass without making and decorating Classic Christmas Sugar Cookies! Their creativity (and excitement!) really comes to life with all the frosting and sprinkles!
More kid-friendly Christmas recipes include Reindeer Cookies, Brownie Christmas Trees, and Melted Snowman Cookies!
How Do I Store Leftover Mini Yule Logs?
You can store them in an airtight container at room temperature. Just be sure not to layer them on top of each other or they'll get stuck together.
Enjoy the leftovers for up to 2 days!
Is There A Way To Prevent The Chocolate Shell From Breaking Away From The Swiss Roll As I Frost Them?
No, unfortunately not. However, it's really not a big deal! Just discard the broken shell pieces and continue frosting.
The layer of frosting will cover any imperfections from the shell breaking away, so you won't even notice!
What Can I Use Instead Of A Piping Bag?
If you don't have a piping bag you could just use a Ziploc bag with a little bit of a corner cut off. But I still recommend using a small leaf piping tip (affiliate link) if possible.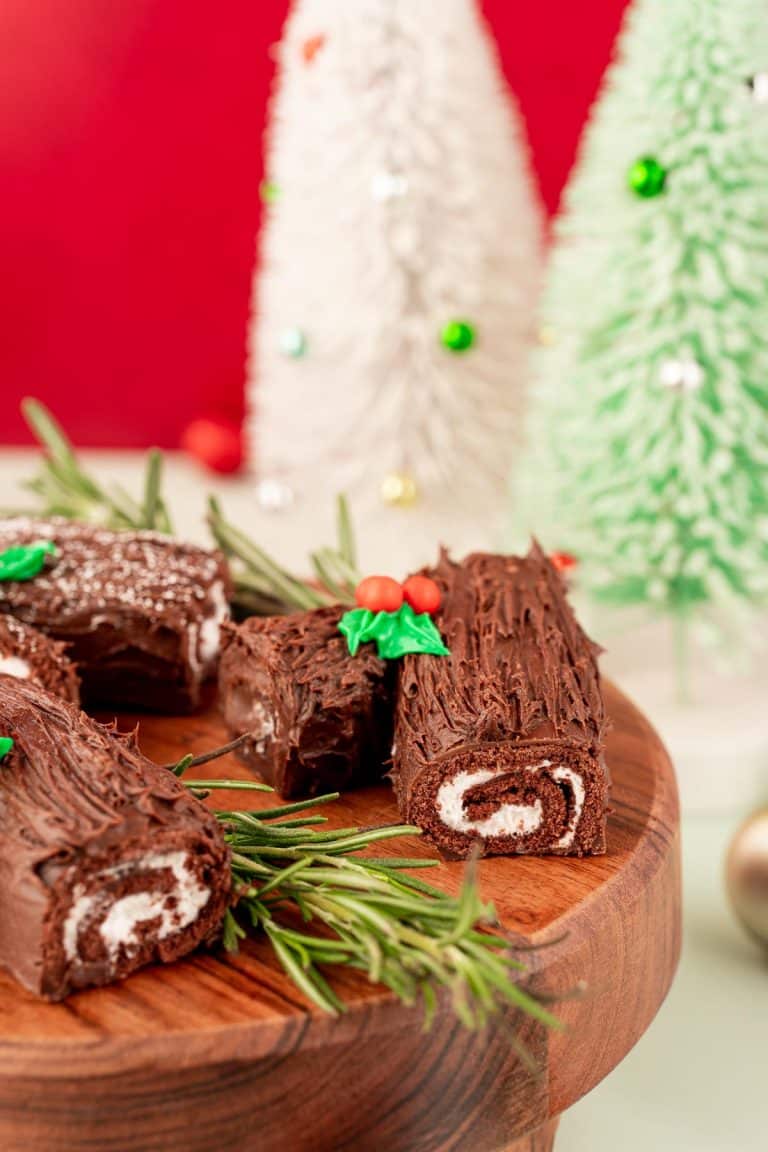 👋 Let's Connect!
If you've tried this recipe please let me know how you liked it in the comments below and leave a review, I love hearing from you! And don't forget to tag me – @sugarandsoulco – on Instagram and Pinterest with your photos or join our Busy Family Recipes Facebook Community and share them there!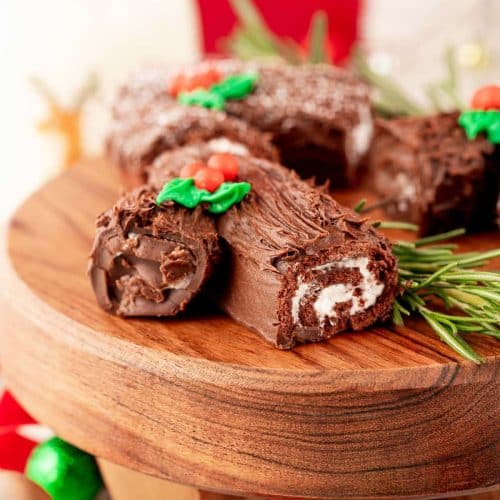 Mini Yule Log Cakes
Mini Yule Log Cakes add lots of delicious holiday fun yet are super easy to make using Little Debbie Swiss Rolls, store-bought frosting, and sprinkles! A quick and simple recipe that kids will love helping you with!
Equipment
Parchment paper

chef knife

Piping bag

small offset spatula

fork
Ingredients
8

Little Debbie Swiss Rolls

½

cup

chocolate frosting

I used canned

2

tablespoons

green frosting

I used canned

18

red pearl sprinkles

or sixlets

1

tablespoon

powdered sugar

optional finish
Instructions
Unwrap the swiss rolls and place 6 a few inches apart on a piece of parchment paper. Cut the other two rolls at an angle to create three pieces from each one.

8 Little Debbie Swiss Rolls

Use a chef knife to slice a thin piece off each end of the 6 larger rolls.

Use an offset spatula to gently spread the frosting over the outside of the swiss rolls and add a dollop of frosting to one end of the cut piece to secure it to the large roll. Use extra frosting to create a seamless transition between the two pieces. Some of the chocolate shell may break away from the roll, this is okay, just discard it and refrost it.

Run the tines of a fork lightly all over the frosting to create a bark look.

Add the green frosting to a piping bag fitted with a small leaf tip and pipe two leaves on each log.

2 tablespoons green frosting

Add three red pearl sprinkles to each pair of holly leaves.

Dust with powdered sugar if desired for a snowy finish.

1 tablespoon powdered sugar
Notes
I recommend serving these with a plate and fork as they can be a little messy for a handheld treat.
Use a spatula to transfer them to a serving platter once the frosting has set for 10 to 15 minutes and has started to get a bit of a "crust".
You can skip the traditional branches yule log look and just to single long yule logs using one roll each – those would be easier if you are making them with kids. It also takes less time to prepare them this way.
You want to use a chef knife to slice the ends off because anything smaller such as a paring or butter knife will squish the roll and not give a clean cut.
Nutrition
Calories:
112
kcal
Carbohydrates:
20
g
Protein:
0.4
g
Fat:
5
g
Saturated Fat:
2
g
Polyunsaturated Fat:
1
g
Monounsaturated Fat:
2
g
Cholesterol:
1
mg
Sodium:
55
mg
Potassium:
39
mg
Fiber:
0.2
g
Sugar:
17
g
Vitamin A:
0.2
IU
Calcium:
2
mg
Iron:
0.3
mg