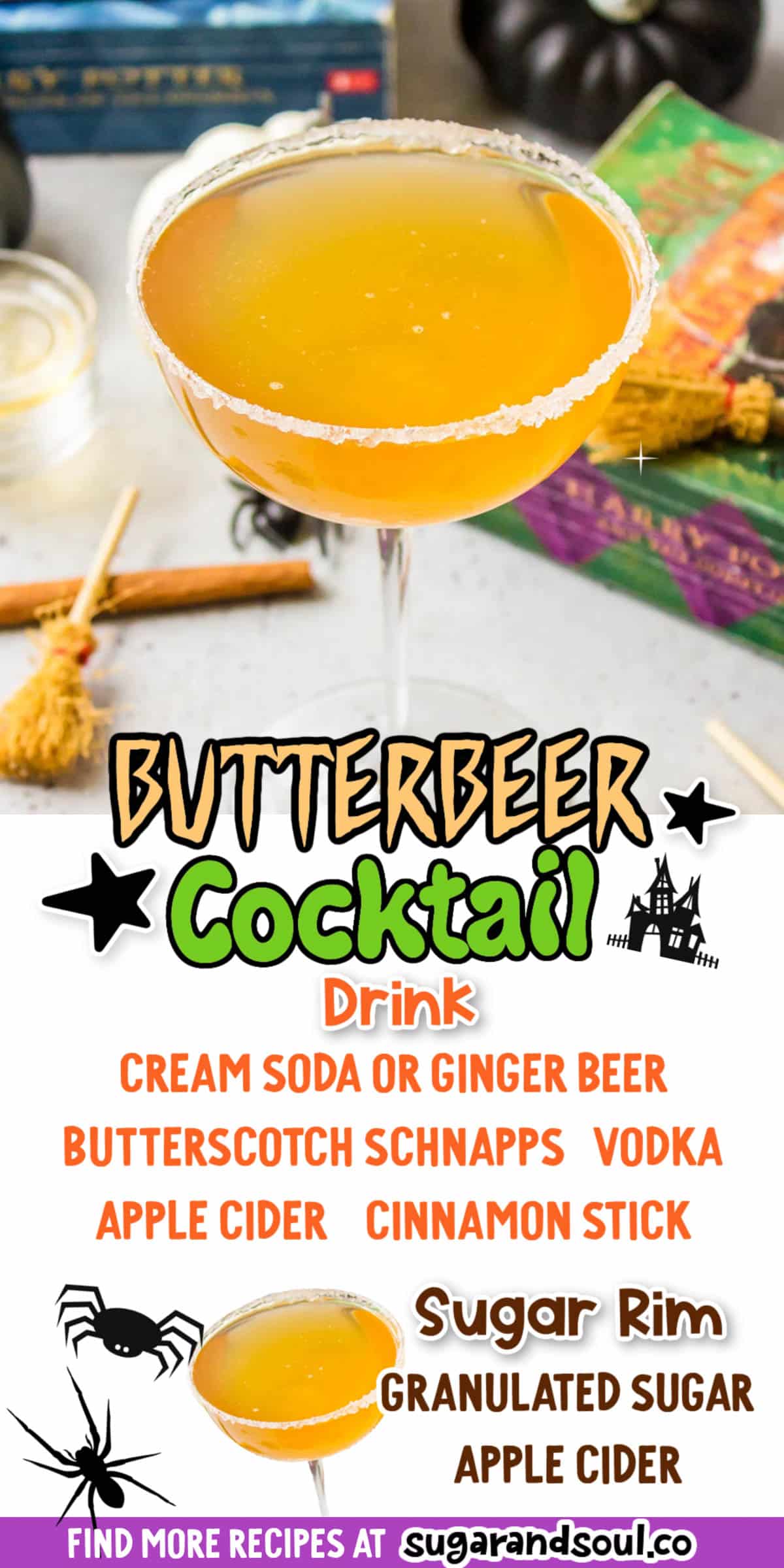 This Butterbeer Cocktail is a 4-ingredient drink that's a fun, tasty twist on the iconic Butterbeer that every Harry Potter fan knows and loves! Made with apple cider, cream soda, butterscotch schnapps, and vodka.
Put more of that jug of apple cider to use by also mixing up an Easy Apple Cider Martini or a Cozy Apple Cider Bourbon Cocktail!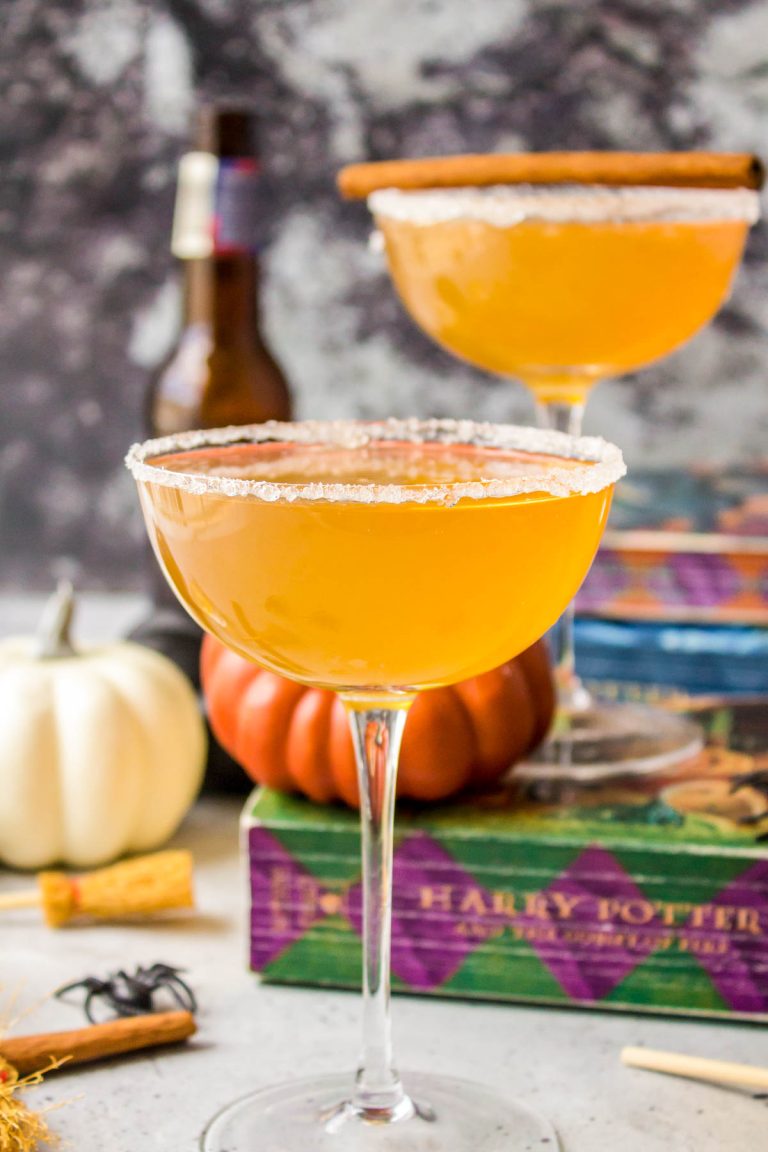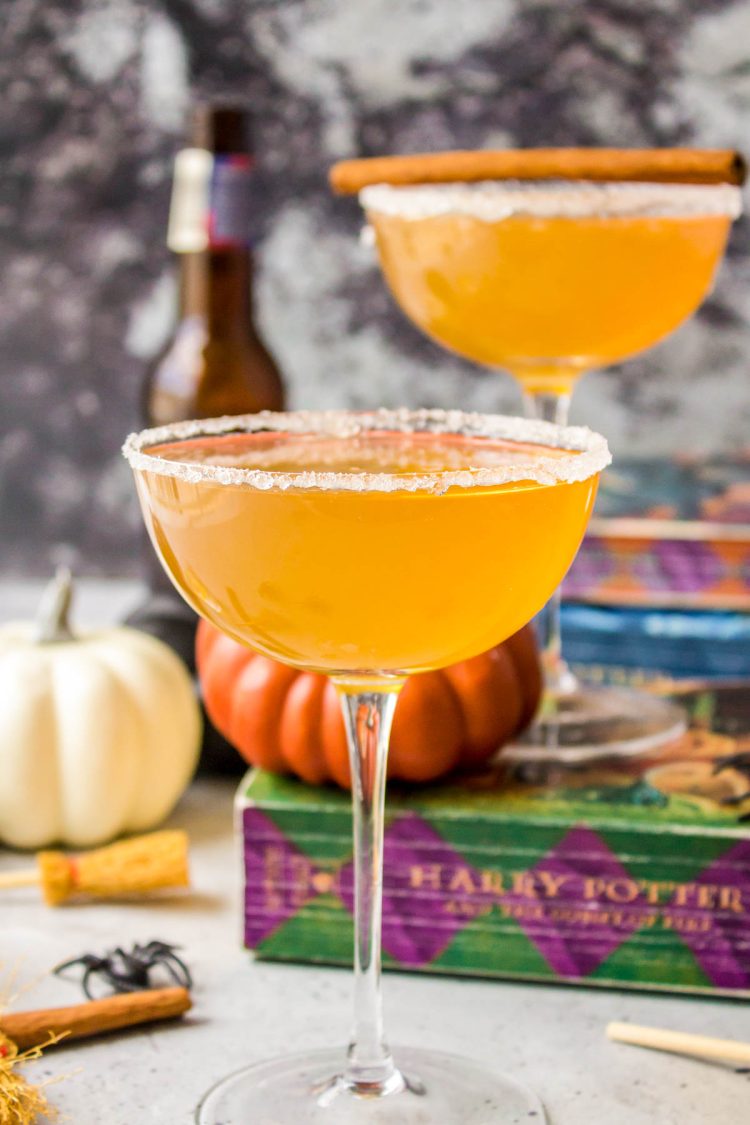 Pour yourself a Butterbeer Cocktail and grab your favorite Harry Potter book or movie! Or enjoy a few of these fun cocktails with friends for Harry's Birthday or Halloween!
Since we can't always be at the Wizarding World of Harry Potter enjoying a mug at The Three Broomsticks, I needed to find a way to enjoy the flavors right at home! And I'm confident that I nailed it with this alcoholic butterbeer recipe that's made with apple cider, vodka, butterscotch schnapps, and cream soda!
I'll let all of you witches, wizards, and muggles decide for yourselves though! But be prepared, this butterbeer cocktail is perfectly sweet AND strong!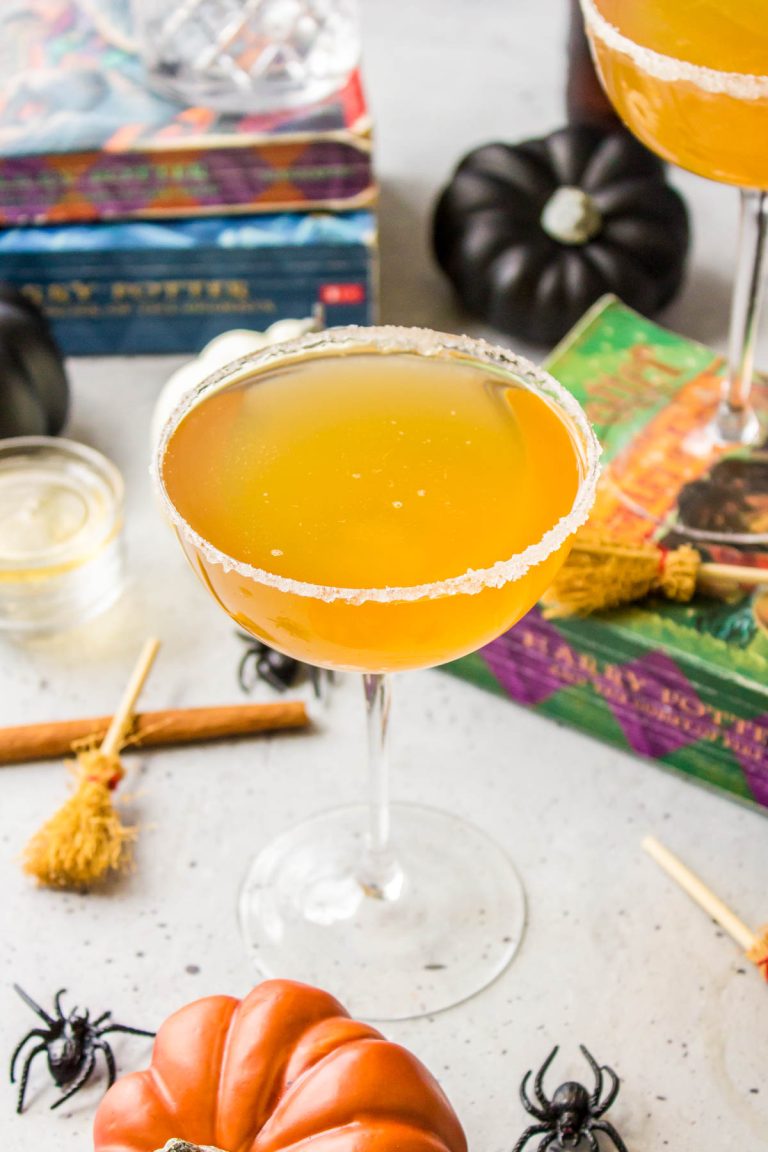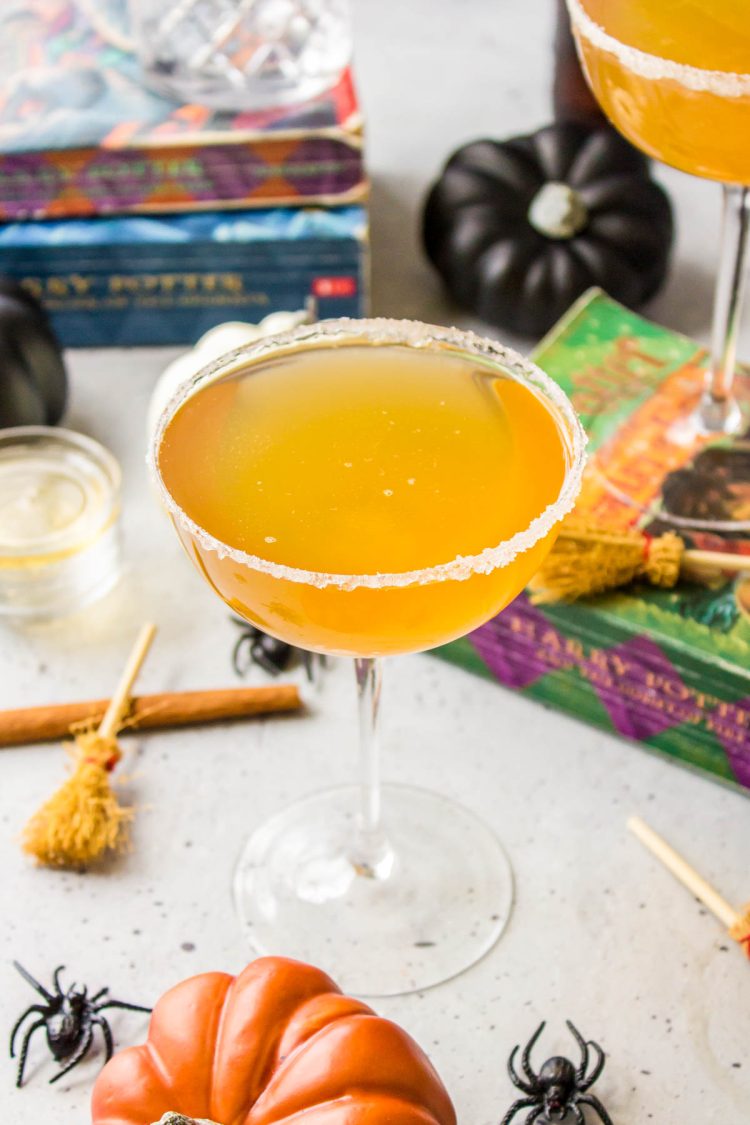 Mixing Up This Harry Potter-Inspired Recipe!
Cider – This might seem like an odd ingredient to add to this Boozy Butterbeer recipe, but I promise, it works! The cider helps to brighten the sweetness of this drink and add a bit of acidity to balance out the alcohol.
Alcohol – This recipe calls for butterscotch schnapps and vodka. Use what you have on hand or grab your favorite brands!
Ice – The apple cider and alcohol are added to a cocktail shaker with ice. Allowing the ingredients to thoroughly combine while giving them the perfect chill!
Soda – You choose the overall sweetness of the cocktail with the amount of cream soda you choose to add. I think anywhere between 2 and 4 ounces is perfect.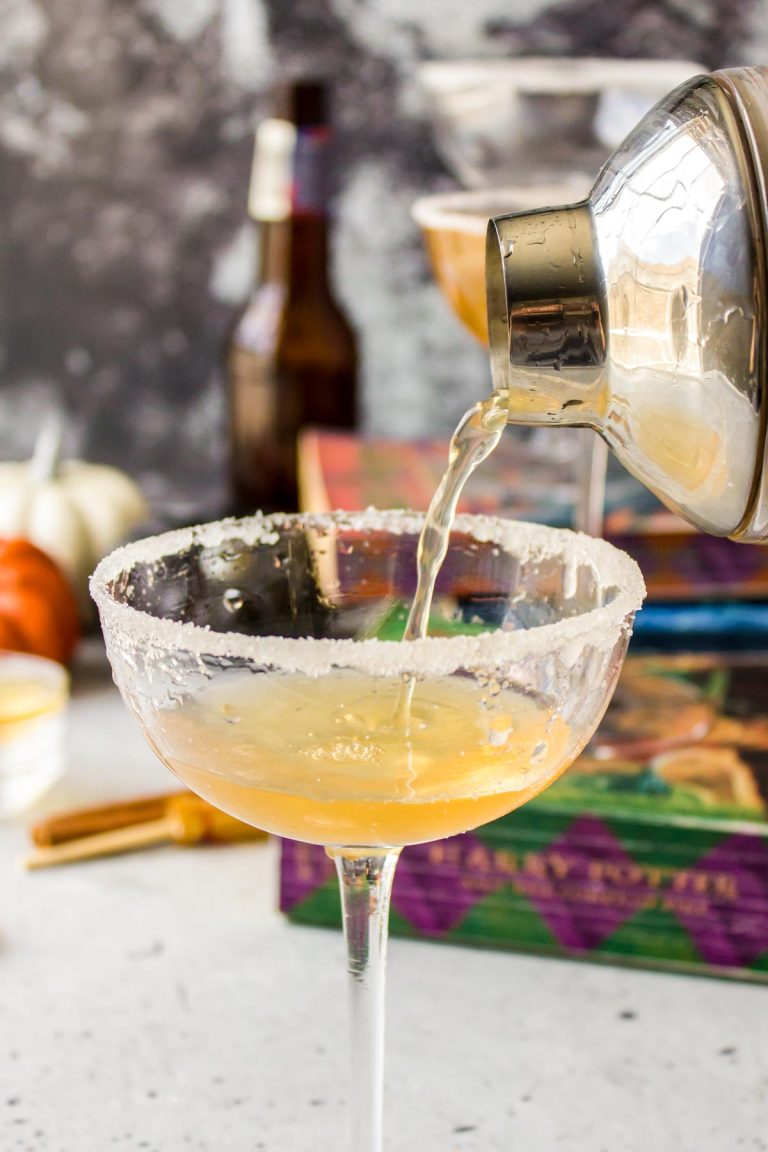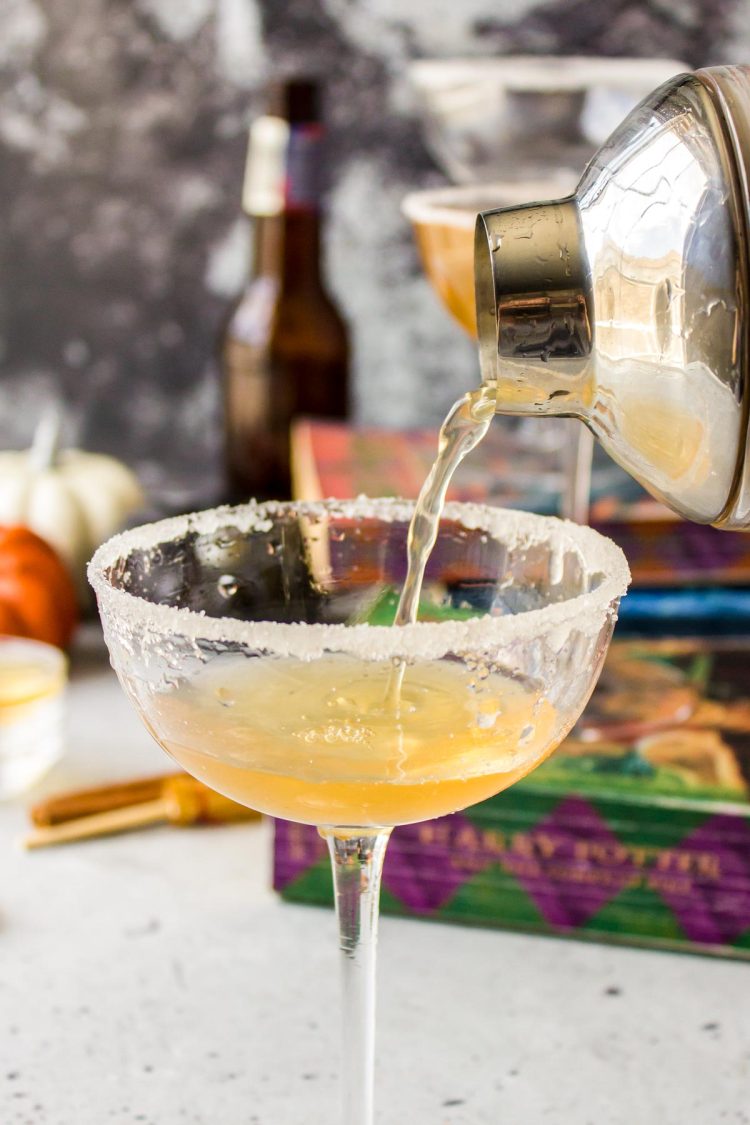 Dressing Up The Rim!
Nothing makes a cocktail more fun than dressing up the rim! It's such a simple touch yet shows that you've gone the extra mile!
For this butterbeer cocktail, I used apple cider and granulated sugar. This step will be done before the cocktail is poured into the glass.
I first pour the apple cider into a lipped plate that the rim of the glass would easily fit in. Then I dip the rim into it before heading to the sugar!
I like to spread the sugar out onto a plate too for easier dipping and quick clean-up! Once the sugared rim is complete, I pour the tasty drink in, and garnish it with a cinnamon stick!
A brown sugar rim would also be delicious with this drink!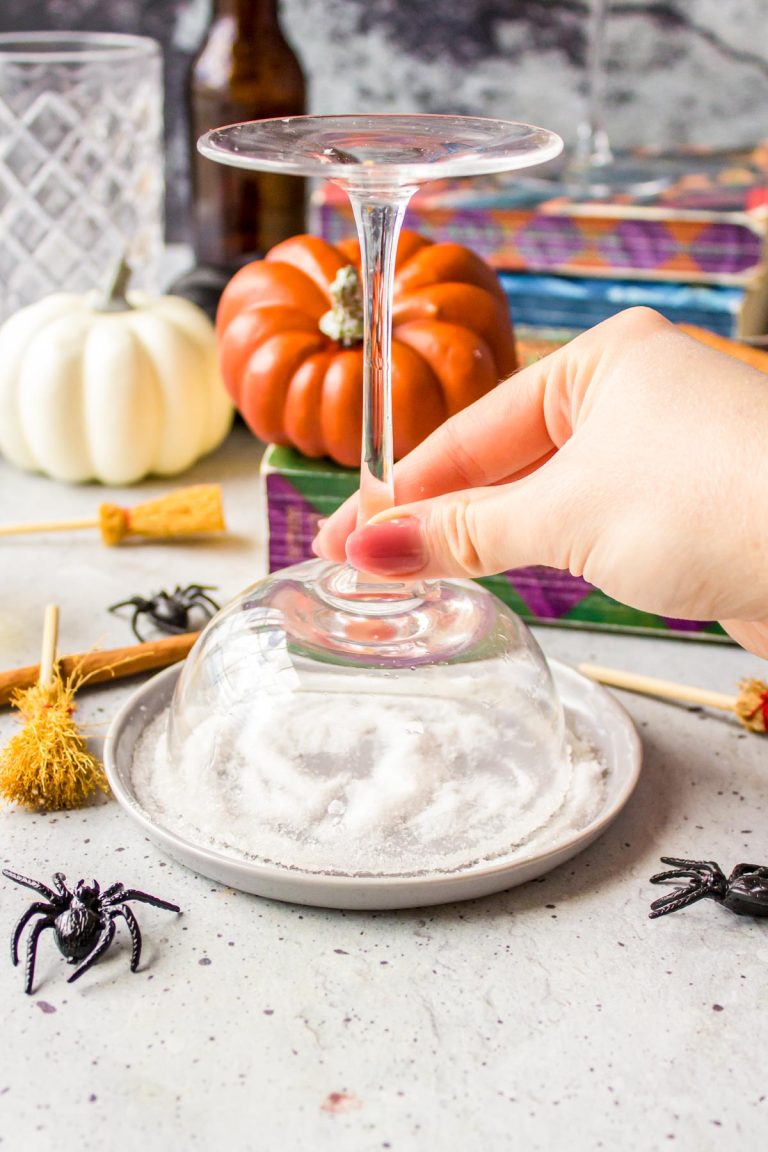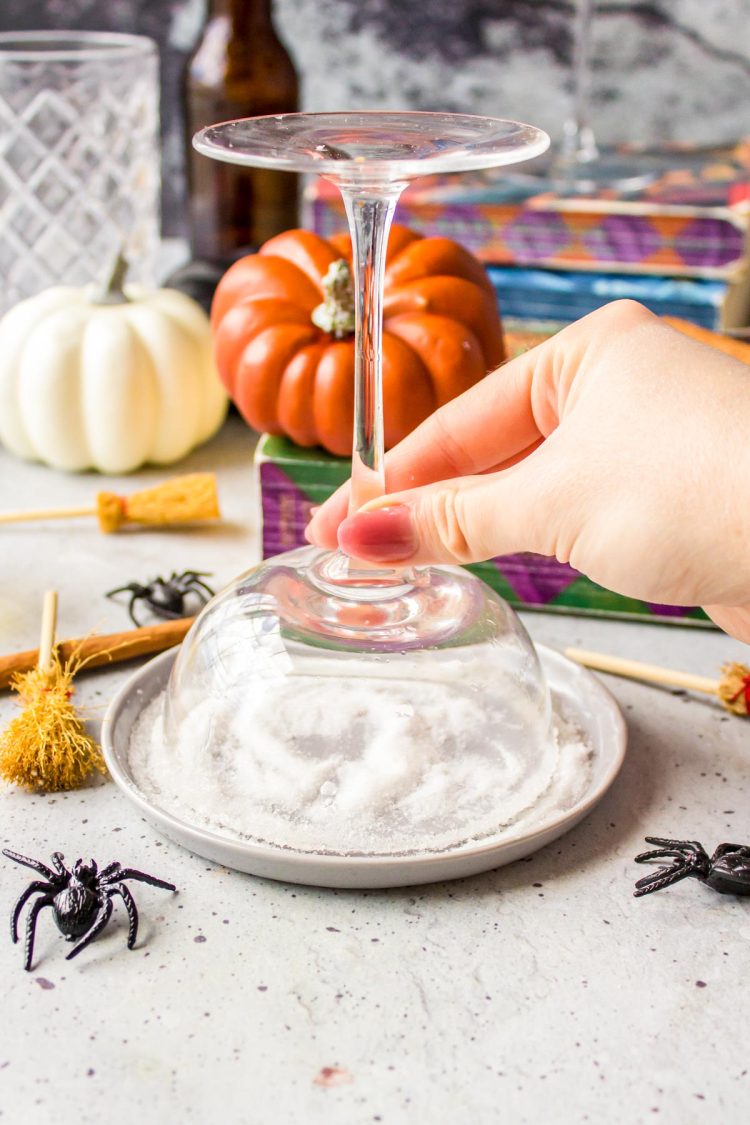 It's no secret I'm a big Harry Potter fan! So, therefore, you can count on me having multiple butterbeer recipes to enjoy!
My butterbeer collection includes Harry Potter's Butterbeer Cookies, Harry Potter Butterbeer Muddy Buddies, and even Butterbeer No Bake Cookies!
Our family really enjoys a tall stack of Harry Potter Butterbeer Pancakes! Obviously, because it's loaded with caramel, vanilla, and butterscotch flavor – making it taste more like dessert than breakfast!
What Can I Use If I Don't Have A Cocktail Shaker?
If you don't have a cocktail shaker, you can just use a jar with a tight lid such as a mason jar. A blender bottler or protein shaker would also work in a pinch!
Can I Make This Butterbeer Cocktail Stronger?
Yes, this recipe can be adjusted based on preference. This cocktail is already a bit on the stronger side, but you can certainly still add vodka to increase the alcoholic content.
On the flip side, you can take away some of the vodka for a more tamed cocktail!
What Can I Use Instead Of Vodka?
You can make this cocktail using bourbon instead of vodka for a nice flavor as well. Or try vanilla vodka for a slight variation.
Could This Butterbeer Cocktail Recipe Be Made Into A Large Batch?
You could make a large pitcher of apple cider, butterscotch schnapps, and vodka ahead of time. Then when ready to serve, pour the soda in.
If you mix the soda in too early or allow it to set in a punch bowl the fizz will dissipate.
Can This Butterbeer Cocktail Be Topped With Whipped Cream?
Absolutely, my butterbeer whipped cream would be the perfect addition to this cocktail! To make it you'll need to combine 1 cup of heavy cream, 1/4 cup of powdered sugar, and 2 tbsp of butterscotch instant pudding mix (dry).
Then whip the ingredients until light and fluffy!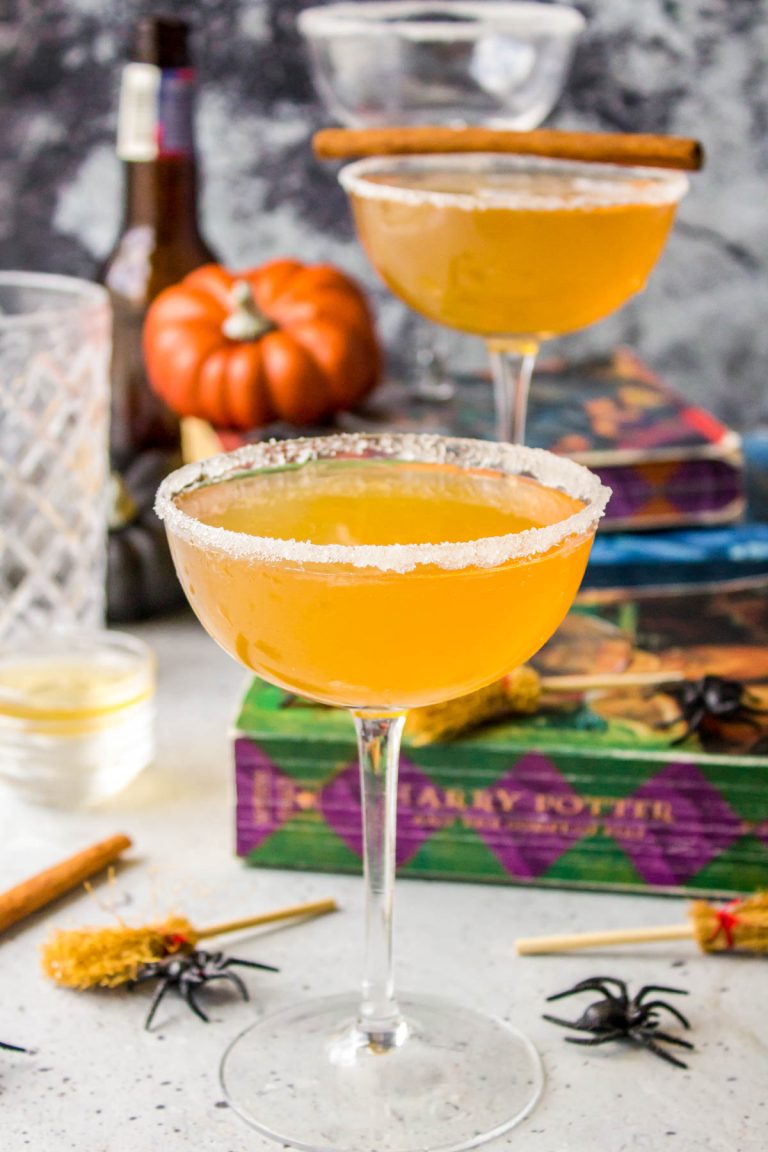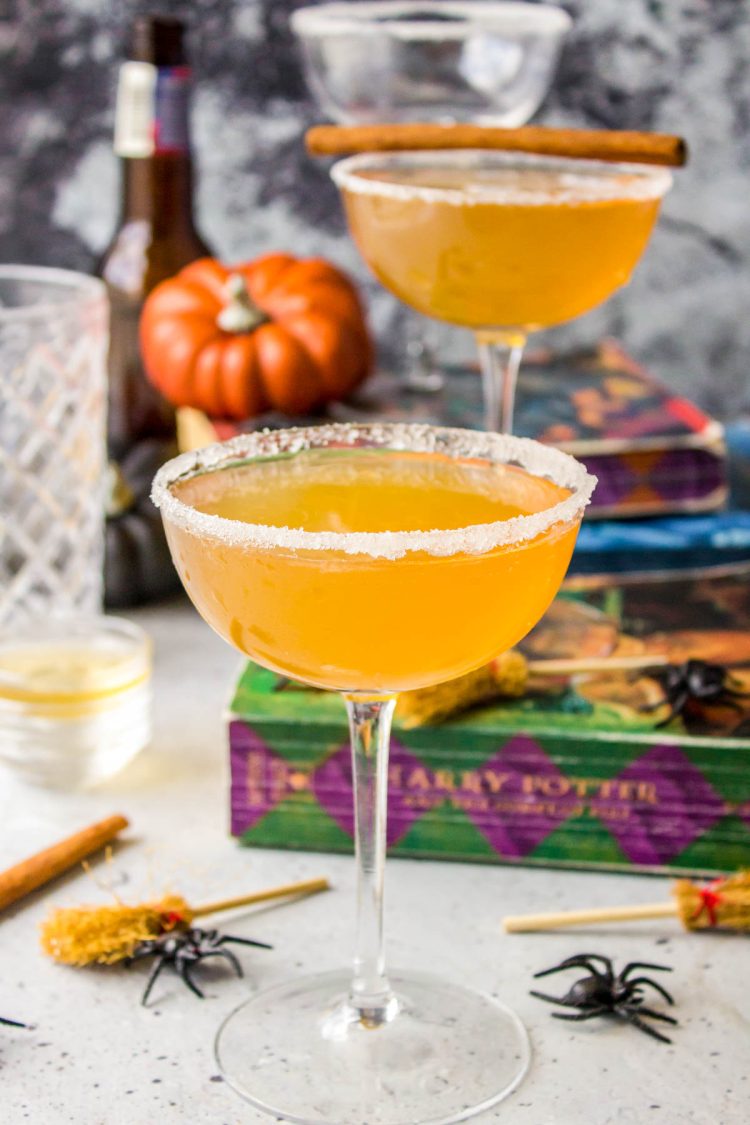 Butterbeer Cocktail
Pin For Later
CLICK THE BUTTON ABOVE TO SAVE THIS DELICIOUS RECIPE TO YOUR BOARD!
👋 Let's Connect!
If you've tried this recipe please let me know how you liked it in the comments below and leave a review, I love hearing from you! And don't forget to tag me – @sugarandsoulco – on Instagram and Pinterest with your photos or join our Busy Family Recipes Facebook Community and share them there!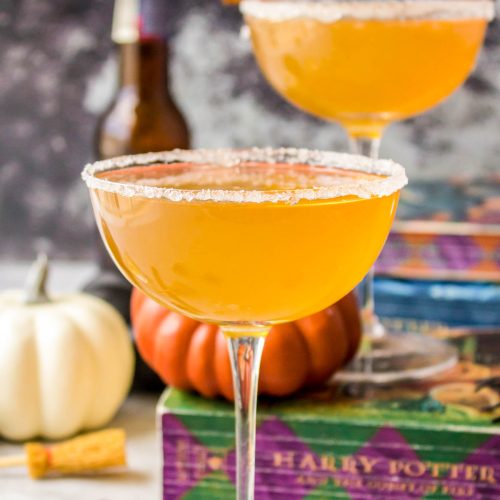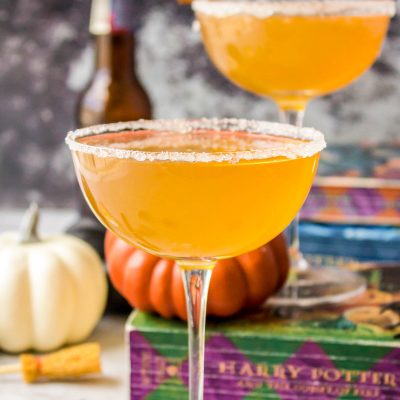 Butterbeer Cocktail
This Butterbeer Cocktail is a 4-ingredient drink that's a fun, tasty twist on the iconic Butterbeer that every Harry Potter fan knows and loves! Made with apple cider, cream soda, butterscotch schnapps, and vodka.
Ingredients
Drink
2

ounces

apple cider

1½

ounces

butterscotch schnapps

1

ounce

vodka

2-4

ounces

cream soda

Cinnamon Stick

for garnish
Instructions
Dip the rims of your glasses into apple cider and then into sugar.

2 tablespoons granulated sugar,

1 ounce apple cider

Add apple cider, butterscotch schnapps, and vodka to a cocktail shaker with ice.

2 ounces apple cider,

1½ ounces butterscotch schnapps,

1 ounce vodka

Shake vigorously for 15 seconds and strain into the prepped cocktail glass.

Top drink with cream soda or ginger beer.

Garnish with a cinnamon stick.
Notes
Substitutions: You can also try it with bourbon instead of vodka to give it a nice flavor.
Nutritional information is an estimate that does not include the sugar rim.
Nutrition
Calories:
277
kcal
Carbohydrates:
31
g
Protein:
0.1
g
Fat:
0.1
g
Saturated Fat:
0.01
g
Polyunsaturated Fat:
0.02
g
Sodium:
9
mg
Potassium:
58
mg
Fiber:
0.1
g
Sugar:
30
g
Vitamin A:
1
IU
Vitamin C:
1
mg
Calcium:
7
mg
Iron:
0.1
mg