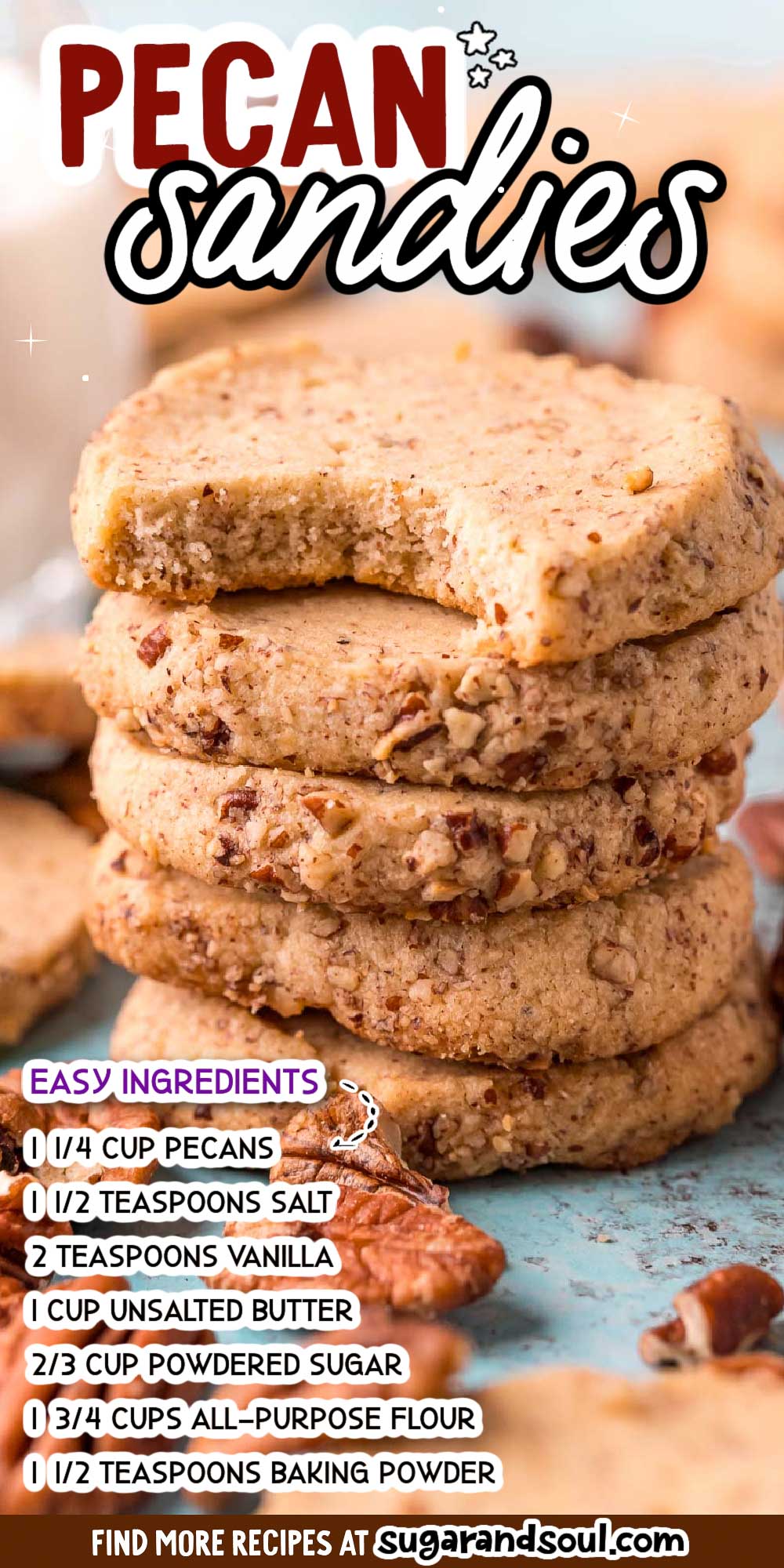 The Best Pecan Sandies Ever are buttery, perfectly golden brown, and packed with toasted pecan flavor, made using simple ingredients!
Searching for a tasty pecan treat to enjoy? Try my sweet, easy-to-make Best Pecan Sticky Buns, or serve yourself up a slice of Pecan Pie! Neither of them will let your pecan craving go unmet!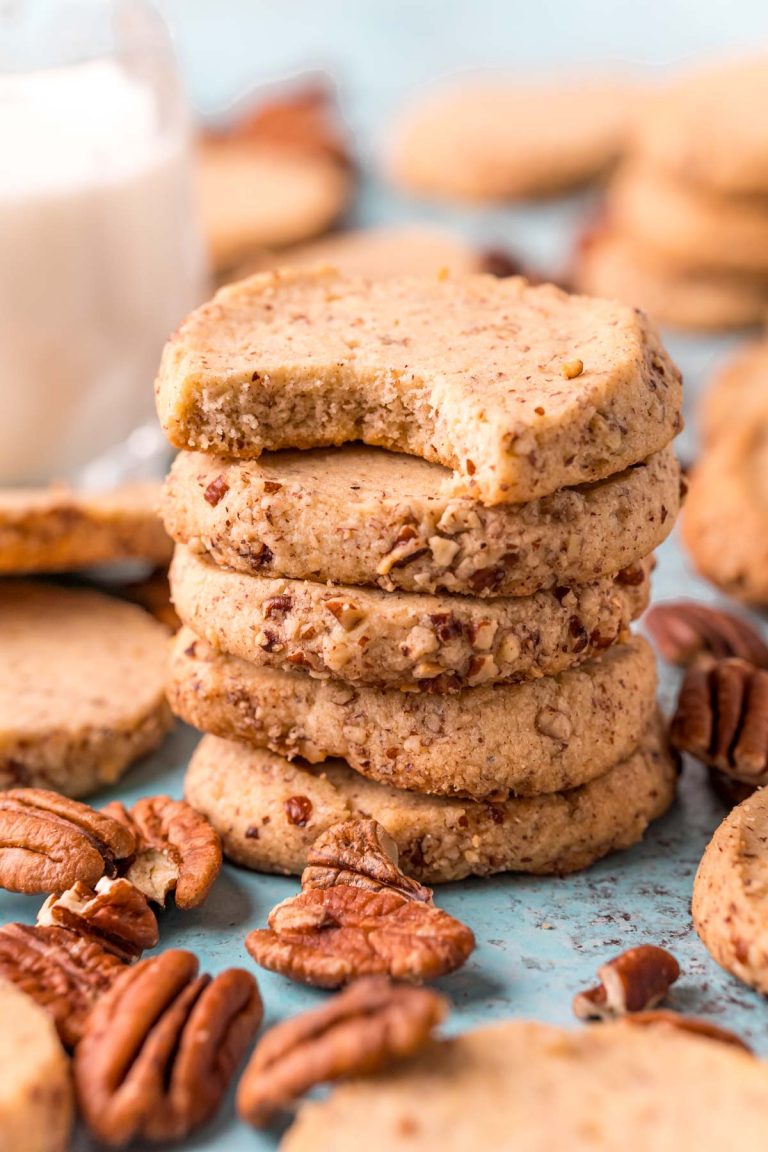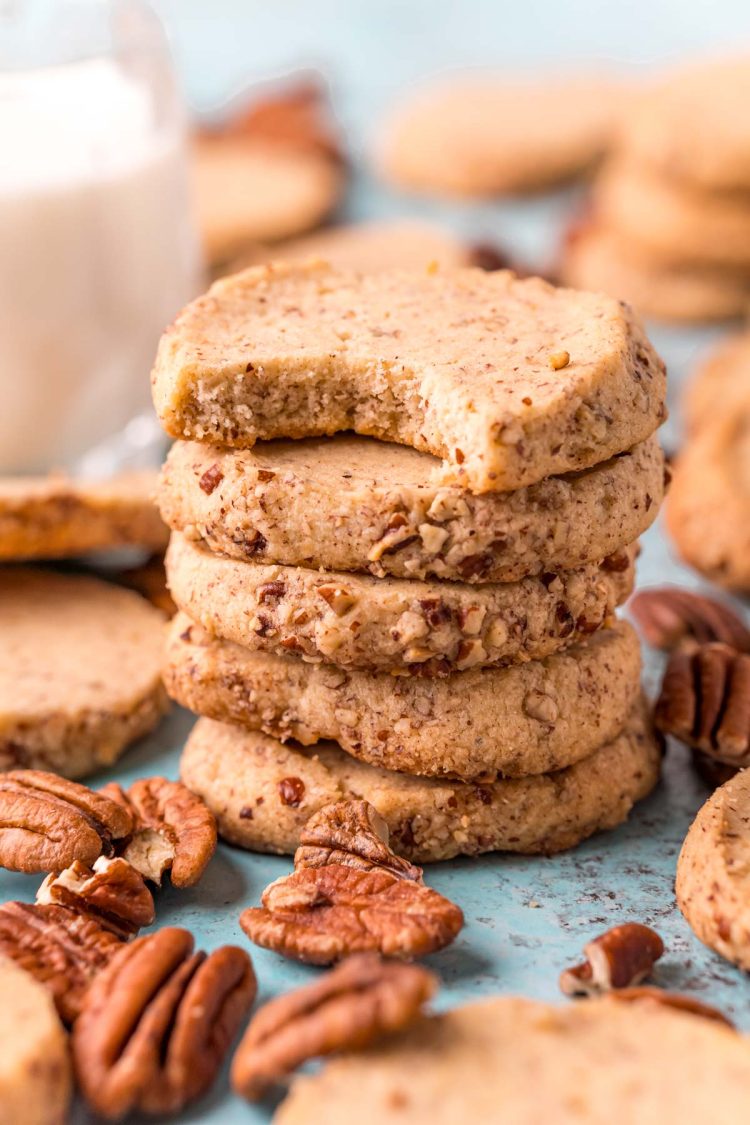 This Pecan Shortbread Cookie recipe pairs pecans with pantry staple ingredients to create incredibly delicious cookies that you'll be making over and over again! These melt in your mouth cookies will be a hit with everyone, which means you'll want to double this recipe!
The good news is that it's no problem to do since it uses simple, on-hand ingredients. Making up that second dough is easy, and after just one cookie you'll find it's a necessity!
Why This Recipe Works!
Easy To Make! This recipe walks you through how to easily make absolutely delicious pecan cookies every time!
Simple Ingredients! With the exception of pecans, these cookies are made from ingredients you likely have tucked right inside your pantry! This means there's no excuse not to mix up a batch!
Flavor! I do love chocolate, peanut butter, and all things frosting, but these pecan cookies break up that monotony nicely! So nicely that they've become a monthly must make in our house!
Makes A Ton! The final result is about 30 cookies! That's enough to feed a large crowd and your own family for a couple of days! Pecan Sandies for everyone!
Quick! Aside from the dough chilling, these cookies take under 30 minutes to make between prep and baking time!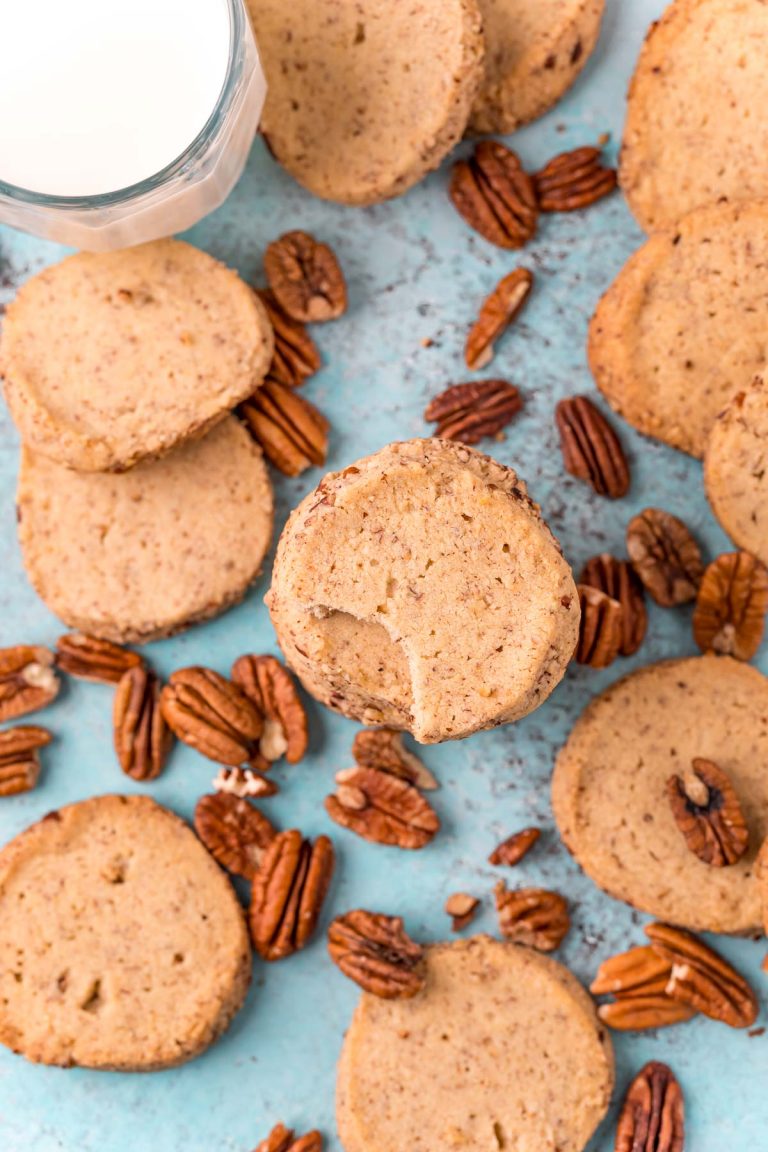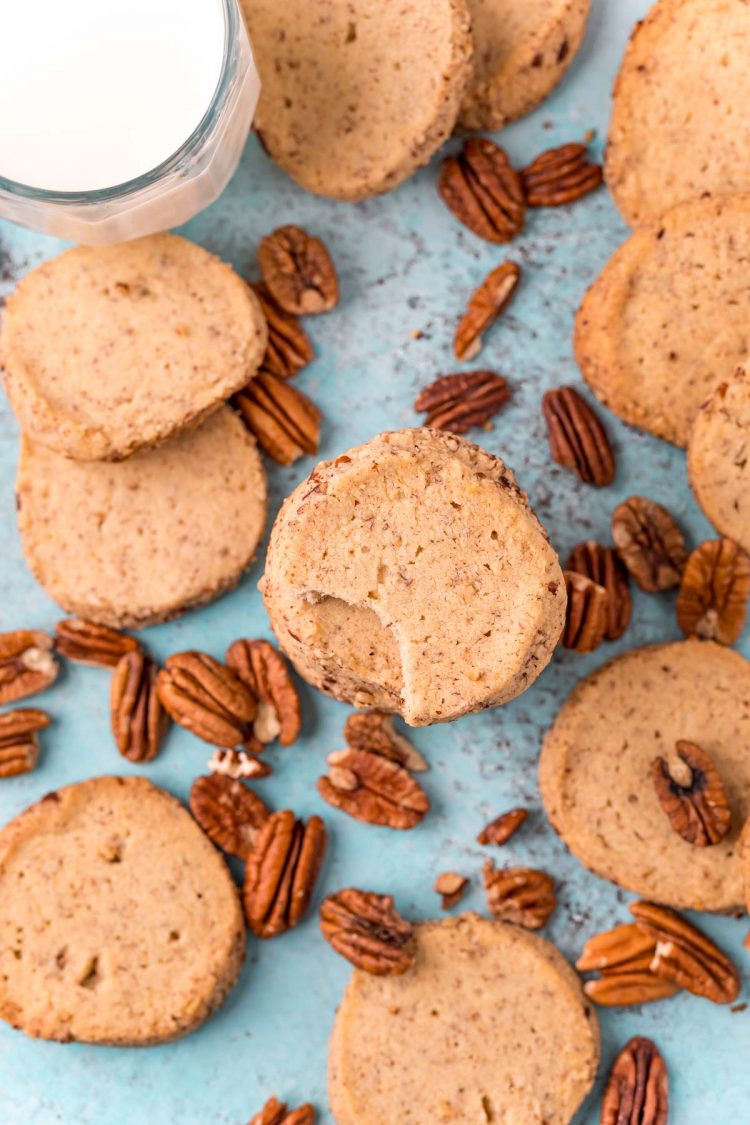 Ingredient Notes
Grab some pecans on your next grocery shopping trip and open up your pantry to pull out the rest of the ingredients!
For this recipe, you'll also need flour, unsalted butter, baking powder, powdered sugar, vanilla, and salt. You could also sprinkle on some sea salt before baking to add another tasty dimension of flavor!
Don't you love when an ingredients list is short and sweet? Me too!
To make these cookies you'll want a couple of kitchen items to make the process go smoother! First, a food processor. This is used to finely chop the pecans that go in the dough as well as to roll the dough in.
I find parchment paper is also super handy to have when making these pecan sandies! I like using it to easily shape the dough since it's soft!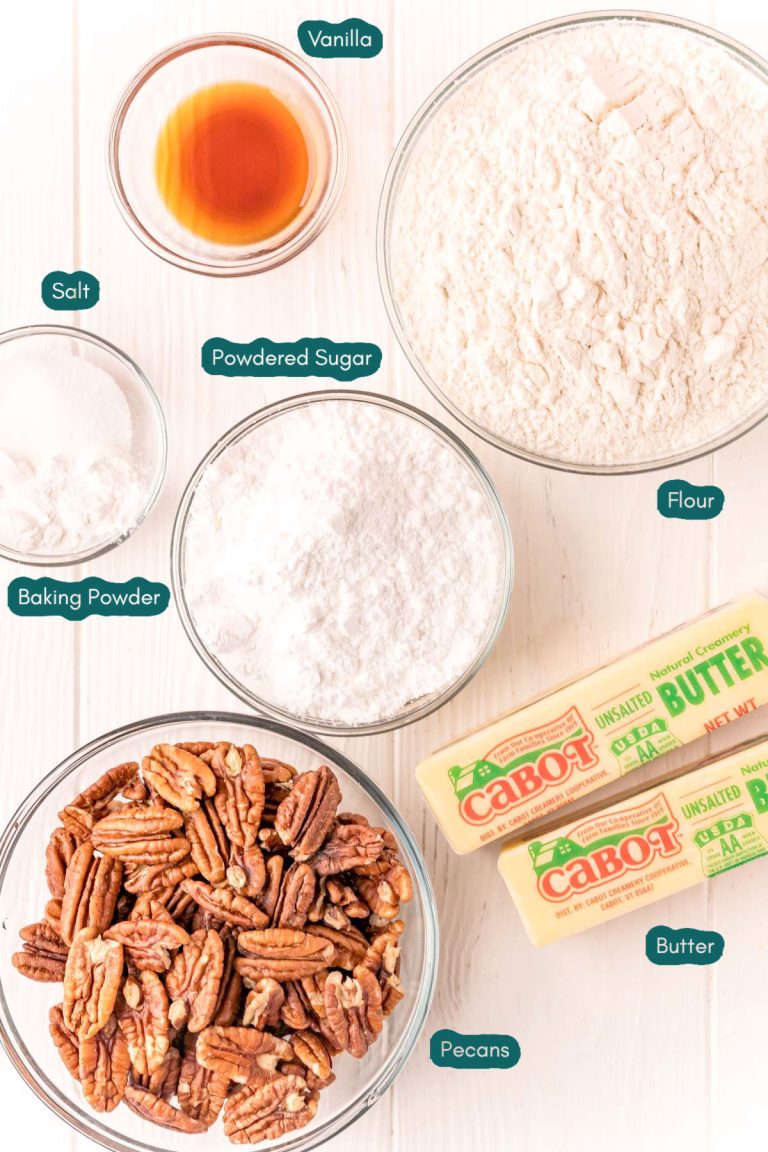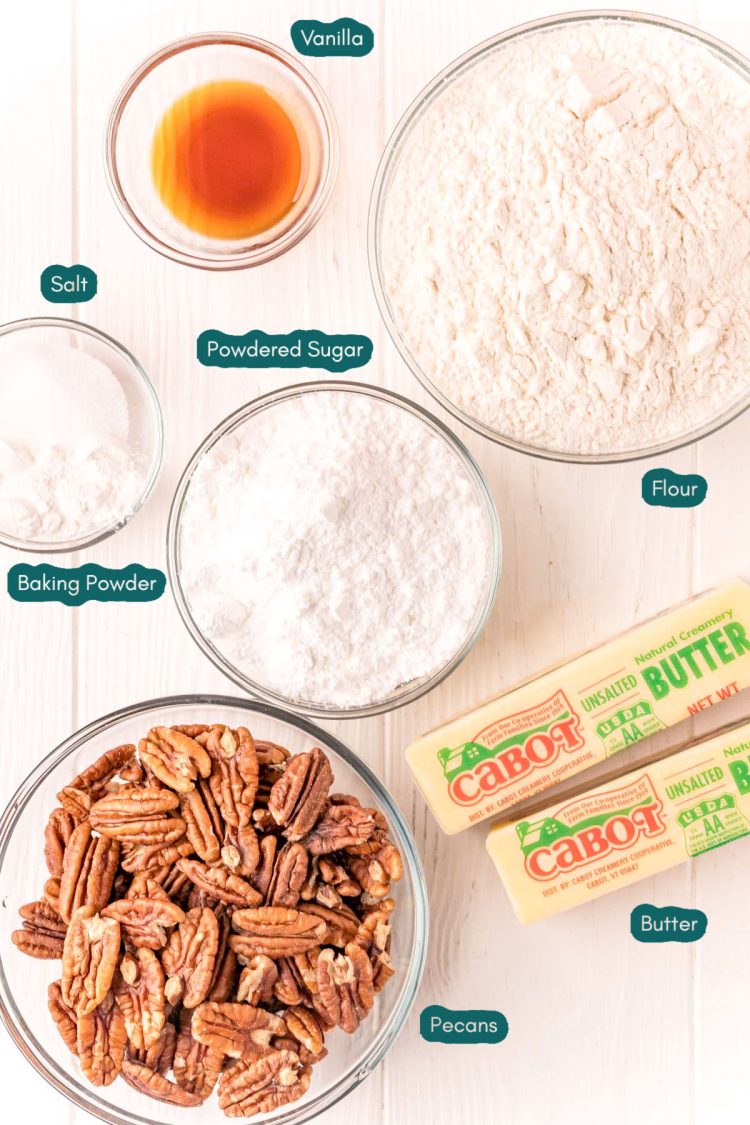 How To Make Pecan Sandies
Toast the pecans and allow them to cool. Then add them to a food processor and pulse until they become tiny pieces, set aside 1/4 cup of pecan pieces.
Add 1/4 cup of flour to the remaining pecans in the food processor and blend until a flour-like texture forms.
Beat the butter and sugar in a stand mixer fitted with a paddle attachment.
Mix the vanilla extract, baking powder, and salt with the butter mixture.
Add in the remaining flour and nut mixture and beat together.
Shape the dough into a log on parchment paper and chill.
Roll the dough log into the reserved pecan pieces.
Slice the dough into half-inch thick pieces.
Bake the pecan cookies on a baking sheet in the preheated oven and enjoy!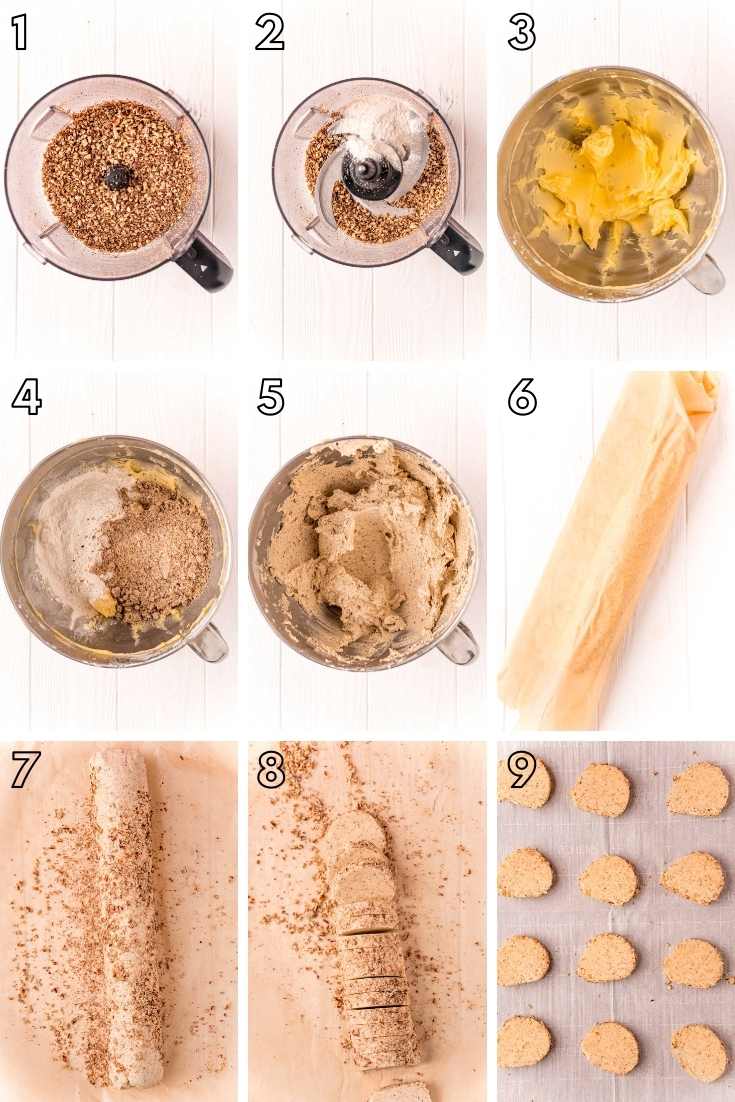 Frequently Asked Questions
How To Store Pecan Sandies
These cookies will keep for up to one week in an airtight container at room temperature.
You can also keep the dough in the refrigerator for up to four days before baking or in the freezer for up to three months. If storing in the freezer make sure the cookie log is placed in a freezer bag with any excess air removed.
Add More Flavor!
For a bigger boost of vanilla flavor, you can use vanilla bean paste instead of vanilla extract!
Can I Use Salted Butter For This Recipe?
Yes, you can use salted butter instead, just omit the salt and unsalted butter from this recipe.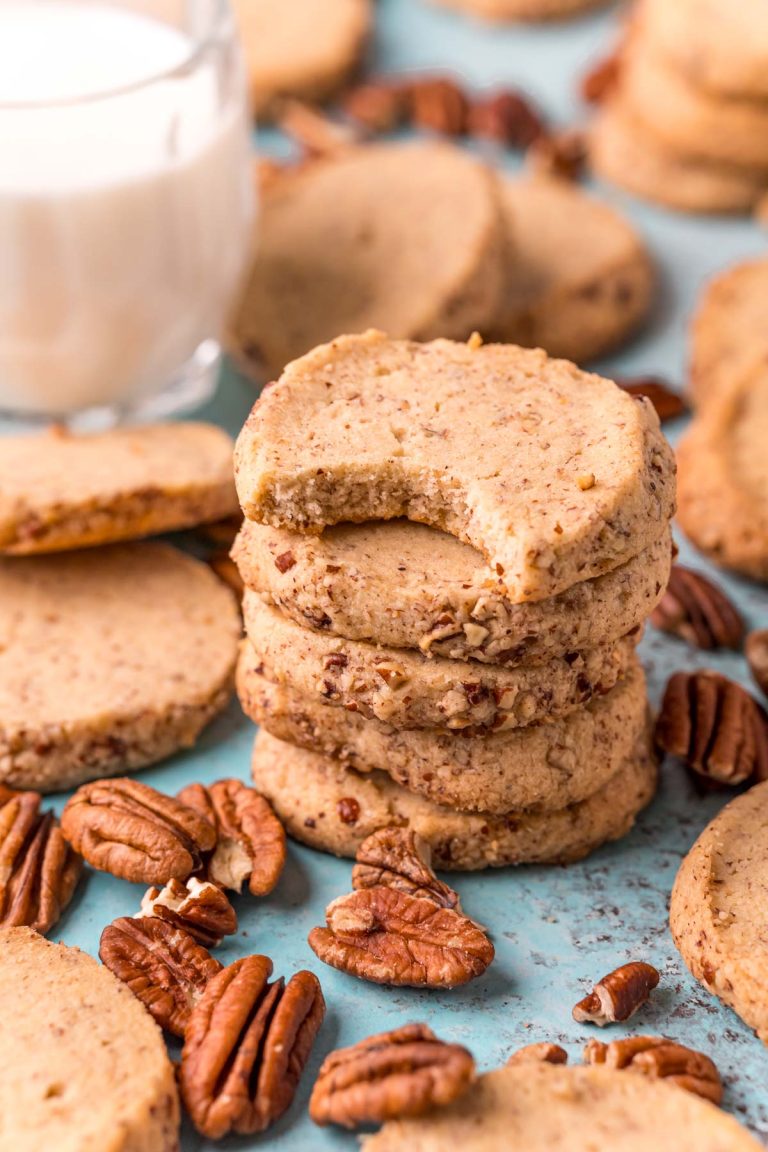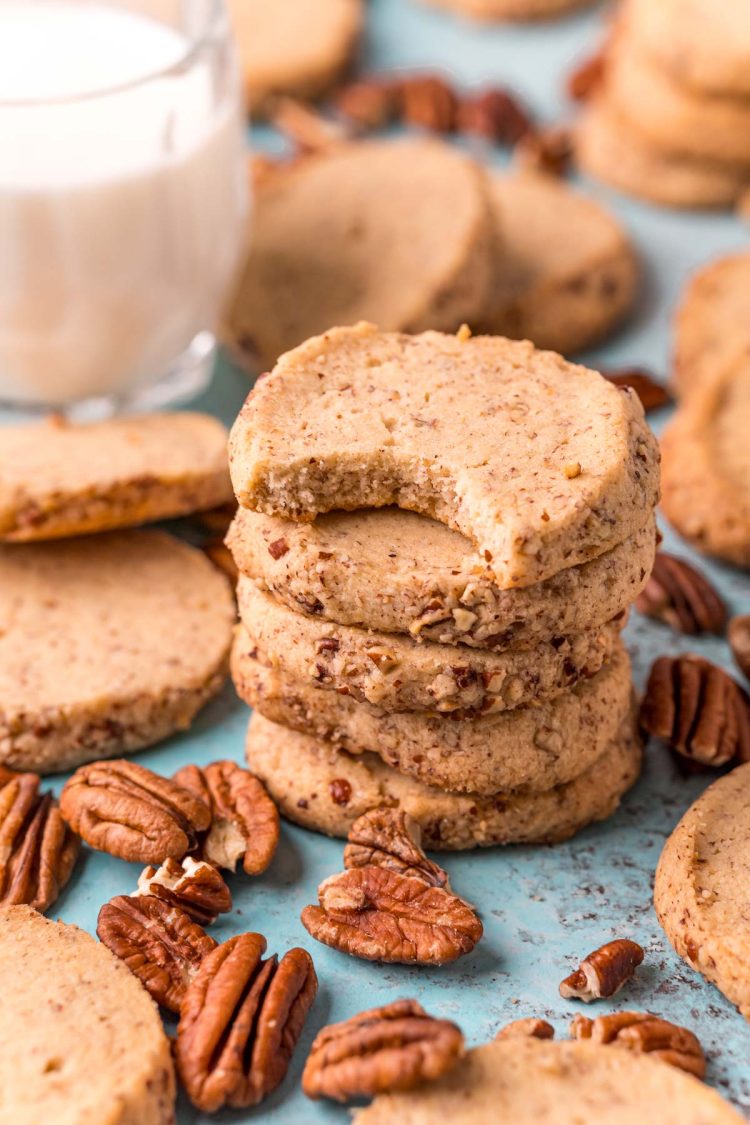 These Pecan Sandies are a great way to mix up the usual cookies and desserts you serve by binging a fun new flavor to the table! Try another pecan recipe that I think you'll love as much as these cookies!
Pecan Sandies Cookies
Pin For Later
CLICK THE BUTTON ABOVE TO SAVE THIS DELICIOUS RECIPE TO YOUR BOARD!
👋 Let's Connect!
If you've tried this recipe, please let me know how you liked it in the comments below and leave a review; I love hearing from you! And don't forget to tag me – @sugarandsoulco – on Instagram and Pinterest with your photos or join our Busy Family Recipes Facebook Community and share them there!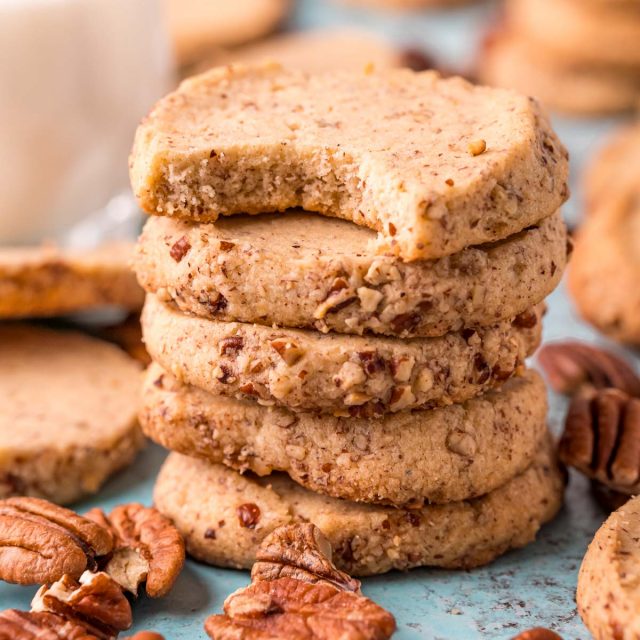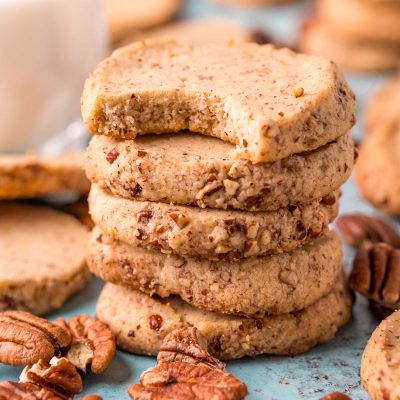 Pecan Sandies
Made with simple ingredients, these buttery shortbread slice and bake cookies are packed with toasted pecan flavor and crunch!
Instructions
Preheat the oven to 350°F.

Spread pecans out on a baking sheet and roast for 8 minutes. Let cool. Turn oven off.

Add the pecans to a food processor and pulse until tiny pieces form. Set aside ¼ cup of pecans pieces.

Add ¼ cup of flour to the food processor with the remaining pecans and blend until the pecans have a flour-like texture.

In a stand mixer fitted with a paddle attachment, cream together the butter and sugar for 2 minutes.

Add the vanilla, baking powder, and salt to the butter mixture and mix, scraping down the sides of the bowl as needed.

Add the remaining flour and the nut mixture and beat for 1 more minute.

Shape the dough into a log on parchment paper and chill in the refrigerator for at least 4 hours. The log should be 2 inches in diameter and about 18 inches in length. The dough is very soft so I recommend using parchment paper to help you roll and shape it.

After chilling, preheat the oven to 350°F and line a cookie sheet with parchment paper.

Remove from the refrigerator and roll the dough log in the reserved pecan pieces.

Slice the dough into ½-inch thick pieces and place 1 inch apart on the prepared cookie sheet. If your dough slices aren't perfectly round, you can use your fingers to gently reshape them.

Bake for 10 to 12 minutes.
Notes
Recipe adapted from Flour Bakery.
Salted butter can be used in place of unsalted butter and salt.
Vanilla bean paste will add a boost of vanilla flavor if used instead of extract.
This dough can remain in the refrigerator for up to 4 days before baking. It can also be frozen for up to 3 months. Make sure the log is placed in a freezer bag and any excess air is removed.
These cookies will stay good for up to 1 week in an airtight container at room temperature.
Nutrition
Calories:
121
kcal
Carbohydrates:
9
g
Protein:
1
g
Fat:
9
g
Saturated Fat:
4
g
Polyunsaturated Fat:
1
g
Monounsaturated Fat:
3
g
Trans Fat:
1
g
Cholesterol:
16
mg
Sodium:
118
mg
Potassium:
47
mg
Fiber:
1
g
Sugar:
3
g
Vitamin A:
191
IU
Vitamin C:
1
mg
Calcium:
15
mg
Iron:
1
mg