These Easy Pecan Cinnamon Rolls are everything you could hope for and more in a morning sticky bun!
I know I'm not alone when I say that Nicholas Sparks books are a bit of a guilty pleasure. They tend to be fast and entertaining reads and they hit the spot when I'm not up for my usual historal fiction or fantasy. After seeing previews for the new Nicholas Sparks movie, The Choice, a couple times, I started to question whether or not I'd actually finished the book.
I picked up The Choice at the grocery store – yes, they have a book section – back in 2008 at the beginning on my freshman year of college. Until seeing the trailer, I would have told you that I devoured it within a couple days, so I decided to pick it up again and reread it, I needed some inspiration for a Food & Fiction post anyway. As I was reading along it was all very familiar:
Confrontation – Check
Puppies – Check
Boat Day – Check
Kiss – Check
And then things stopped jogging my memory. Apparently I hadn't ever finished the book! Which would make sense seeings as how I would have bought it in September or October and by the end of October I was working about 60 hours and week with a full course load. There wasn't much time for reading in those days unless it had to do with Sociology or European History.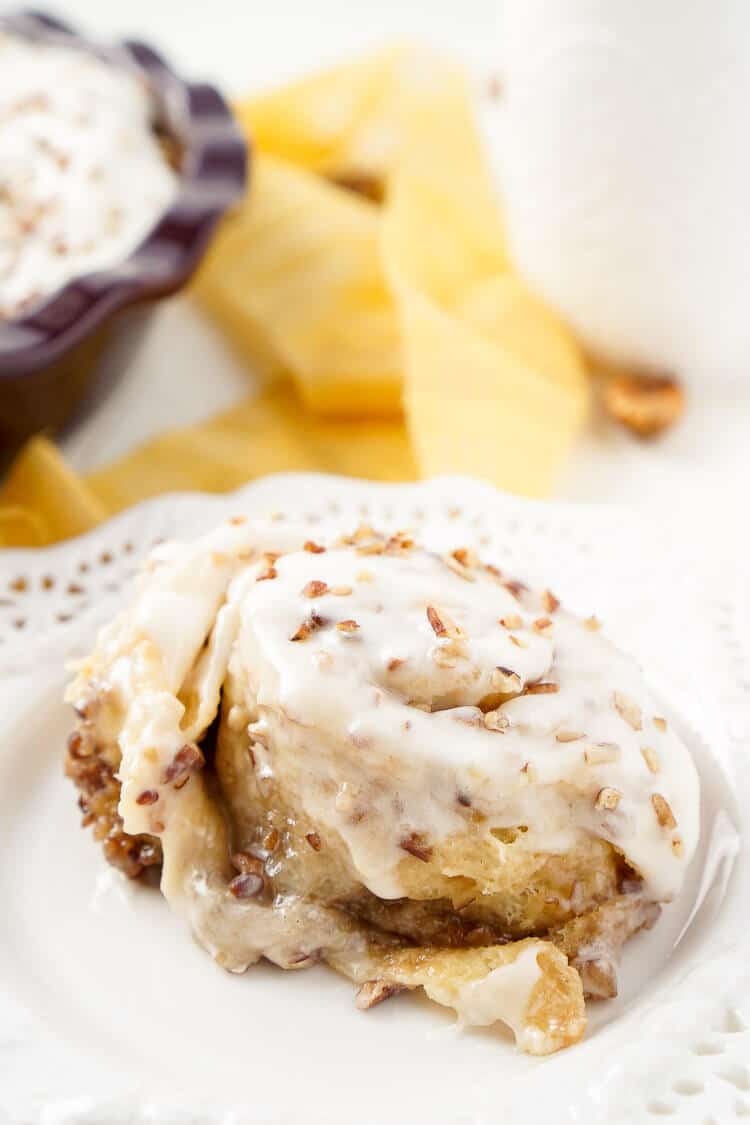 But even so, I'm glad I picked The Choice back up, because I was immediately sucked back in! You see, The Choice, the actual choice itself, is one that Matt and I have talked about a few times. It's always one of those "if something ever happens, but you shrug it off because it won't" kind of conversations. I know Matt feels the way Gabby did in the book, but as for me, I think I'd have a really hard time honoring the agreement, just like Travis did. But the story was a reminder that the unthinkable can happen, it can happen to any of us, and we should make the most of our time together and be prepared for the worst.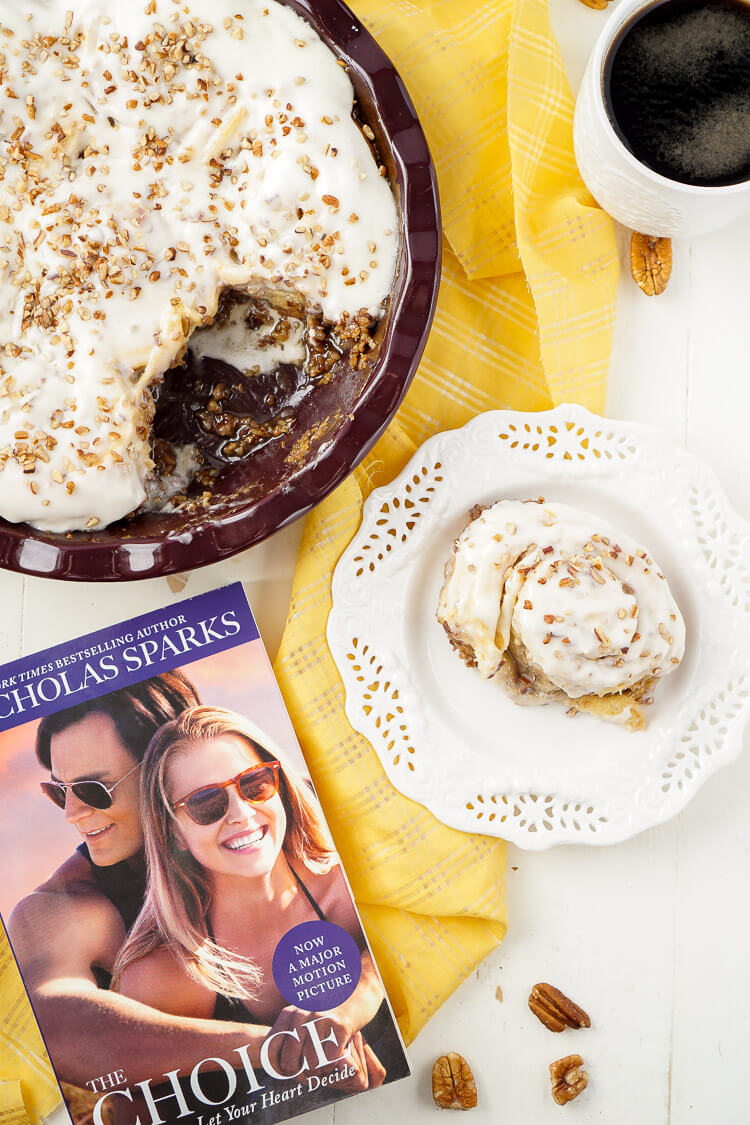 Now, I'm not going to ruin how it ends and I don't want to give anything away, but I am going to share this recipe inspired by The Choice with you! In chapter fourteen, Travis surprises Gabby with a cinnamon roll and coffee for breakfast, and I thought, you know what, this blog needs more cinnamon roll recipes and so do you guys. So it's almost like Travis gave all of us a cinnamon roll, am I right? Have you seen the actor that plays him, he can bring me cinnamon rolls and coffee anytime 😉
Like most Nicholas Sparks stories, The Choice takes place in North Carolina, and I wanted to add a Southern twist and make some pecan rolls. However, I'm not a fan of traditional pecan sticky buns because most of the time they don't come with glaze, and let's face it, glaze is pretty much the most important thing when it comes to cinnamon rolls, minus that center bite! So I made a pecan sticky bun and cinnamon roll mashup – and it's heavenly!
These cinnamon rolls are made with crescent roll sheets for a no-yeast ease that just can't be beat! A combo of granulated and light brown sugar with cinnamon and pecans make for the ultimate filing and then they're baked up in a heavy cream, brown sugar, and pecan mix. Finish them off with a thick glaze made with heavy cream and confectioners' sugar and we're in business!
Nichols Sparks new movie, The Choice, is in theaters on February 5th! And while it's about making difficult choices of the heart to find you destiny, there's no difficult choice when it comes to making this recipe, you simply just must!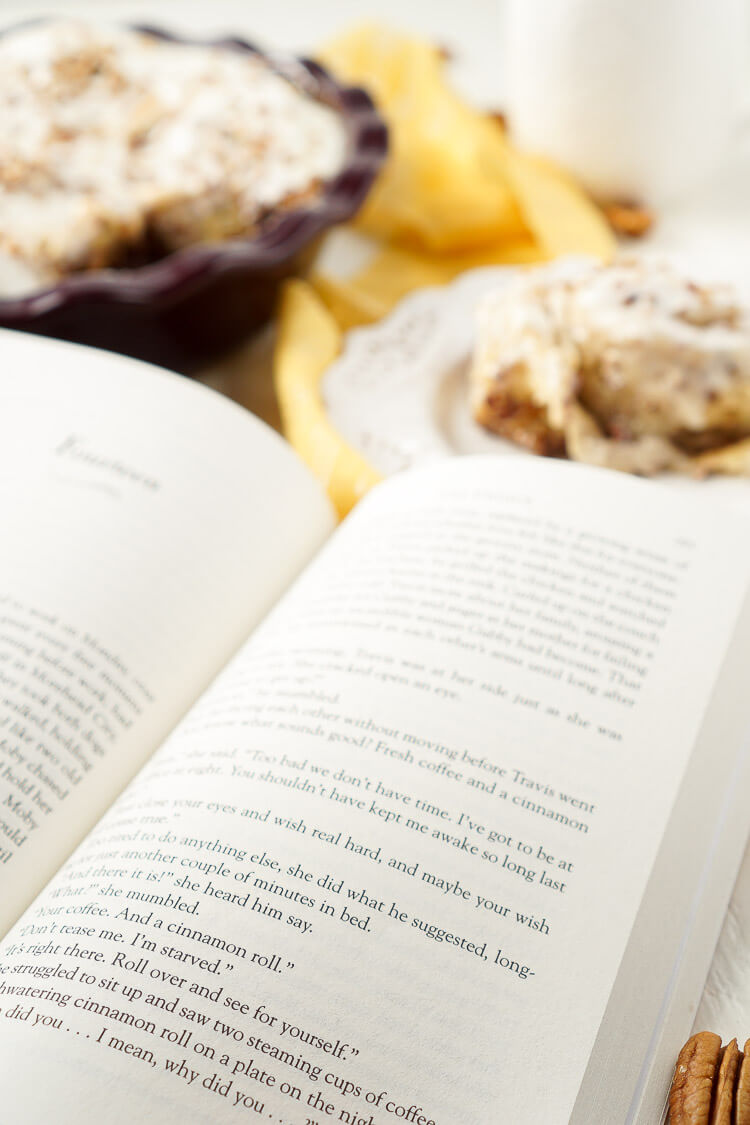 You might also enjoy my Sugar Cookie Sweet Rolls or classic Easy Cinnamon Rolls!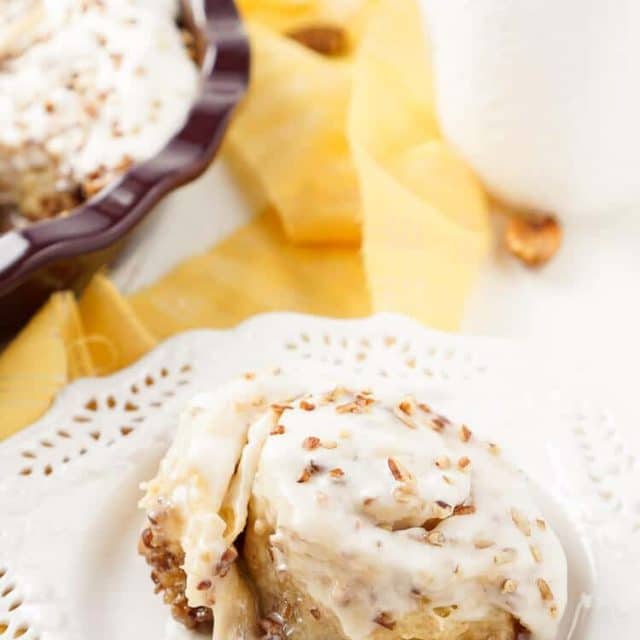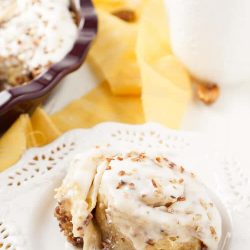 Easy Pecan Cinnamon Rolls
These Easy Pecan Cinnamon Rolls are everything you could hope for and more in a morning sticky bun! Made with premade crescent roll dough, this sweet breakfast treat is ready in just 45 minutes and loaded with pecans, sugar, and cinnamon!
Ingredients
Rolls:
2

Crescent Roll sheets or rolls with the seams pinched together

2

tbsp

unsalted butter

melted

1/4

cup

granulated sugar

1/4

cup

light brown sugar

divided

1/4

cup

finely chopped pecans

1

tsp

cinnamon
Icing:
2

cups

confectioners' sugar

2

tbsp

heavy cream

more if needed for desired consistency

3

tbsp

finely chopped pecans for topping
Instructions
Preheat oven to 350 degrees F.

Whisk together base ingredients and pour into a 9-inch pie pan and set aside.

Roll out one crescent roll sheet on a clean surface and brush with melted butter.

Combine remaining fillings ingredients in a small bowl and use a spoon to sprinkle half of the mixture evenly over the buttered dough.

Roll the other sheet out and place it on top of the first sheet, press together using a rolling pin. Sprinkle remaining ingredients on the second sheet.

Roll the sheets up starting with the short side so you end up with a nice fat roll, the only kind we welcome 😉

Slice the rolls into 7 rolls about an inch thick and place them in the prepared pie pan, 1 roll in the center and 6 around the edge.

Bake for 25-35 minutes until bubbly in the creases and rolls don't wiggle too much. You want tops to be a golden brown, if they are starting to brown but not done <g class="gr_ gr_179 gr-alert gr_gramm undefined Grammar only-ins replaceWithoutSep" id="179" data-gr-id="179">cooking</g>, gently place a loose sheet of aluminum foil over the top until the finish baking.

Remove from oven and let set for 15-20 minutes.

Whisk together confectioners' sugar and heavy cream until desired consistency is reached, spread on cinnamon rolls and sprinkle with remaining pecans.