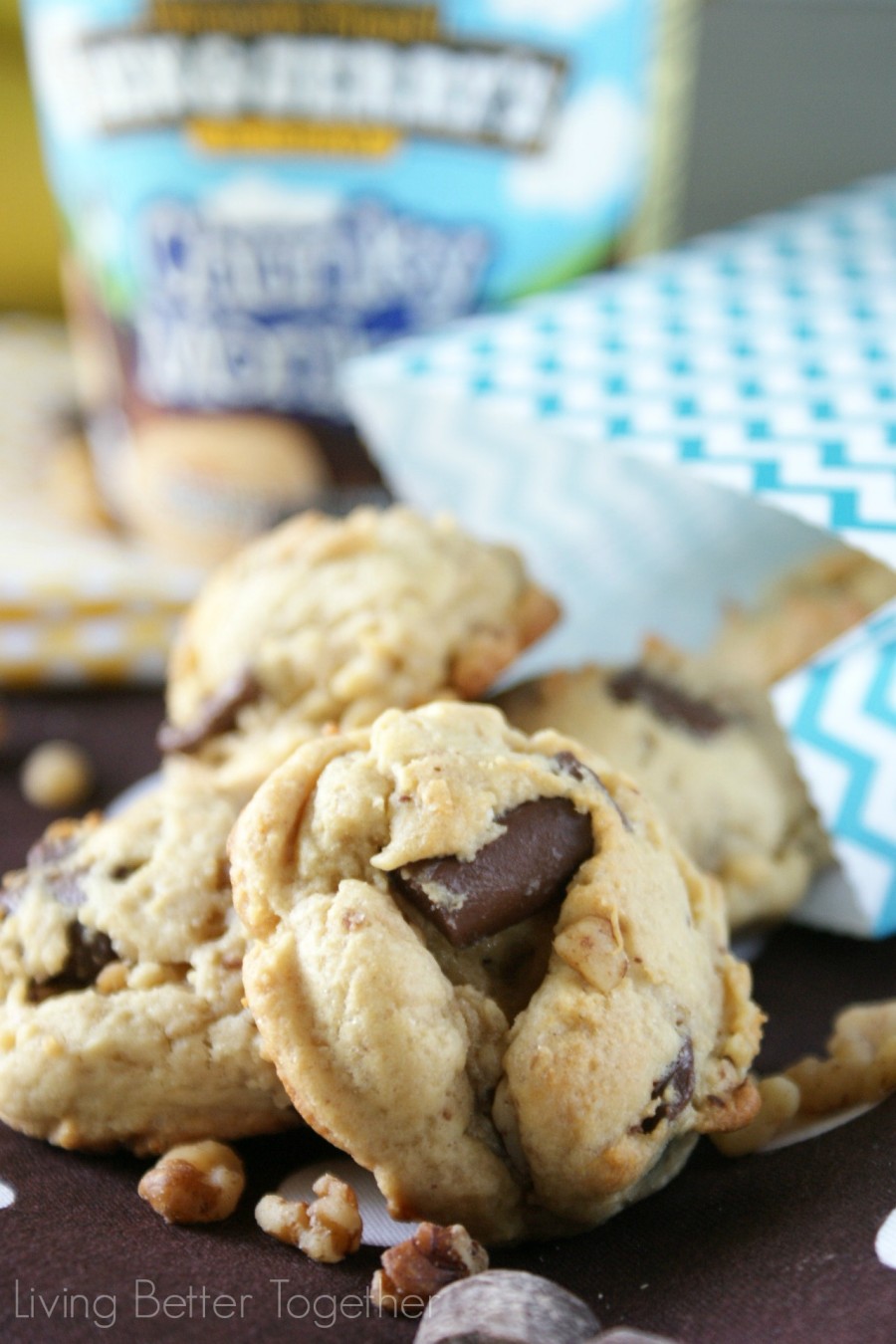 This weekend we took an impromptu road trip to New Hampshire and Vermont. I'm almost ashamed to admit that this was my first visit to Vermont even though it's only a few hours away. We've just never had a reason to go there in the past, but family time for Father's Day and my mother in law's birthday seemed like a good reason to go exploring. Let me just tell you, Vermont is BEAUTIFUL! It's so picturesque with quite little farm towns and the Green Mountains are a gorgeous drive! We stayed in Stowe and ventured into Burlington on Saturday night where we legit ate the best meal of our lives at The Farm House Tap & Grill, seriously amazing food! I got the Baller Beef Burger, house ground dry aged beef, crispy pork belly, cheddar, maple jalapeño BBQ sauce, onion ring, coleslaw…boom, it was seriously the best thing I've ever put in my mouth! And Matt got the most amazing House Made Ricotta Gnocchi with beet puree, herb pistou, lemon crème fraîche; it literally melted in your mouth. So I think you get the idea, if you're ever in Vermont, you've got to stop!
Of course we couldn't go to Vermont without touring the Ben & Jerry's factory! Matt wouldn't let me get a Vermonster, I guess he didn't want me to spend $35 on a gallon of ice cream he was going to have to eat most of. However, I did get to try two of their newer flavors, Cotton Candy and Coconut Seven Layer Bar, both delish! It was fun to learn about how the company started and how it's grown to what it is today. Did you know that Ben & Jerry's is GMO Free and that it supports Fair Trade Farmers all over the world? Pretty amazing stuff, huh? So it seemed like the perfect time to share this awesome recipe for Chunky Monkey Pudding Cookies I've been sitting on for a couple of weeks!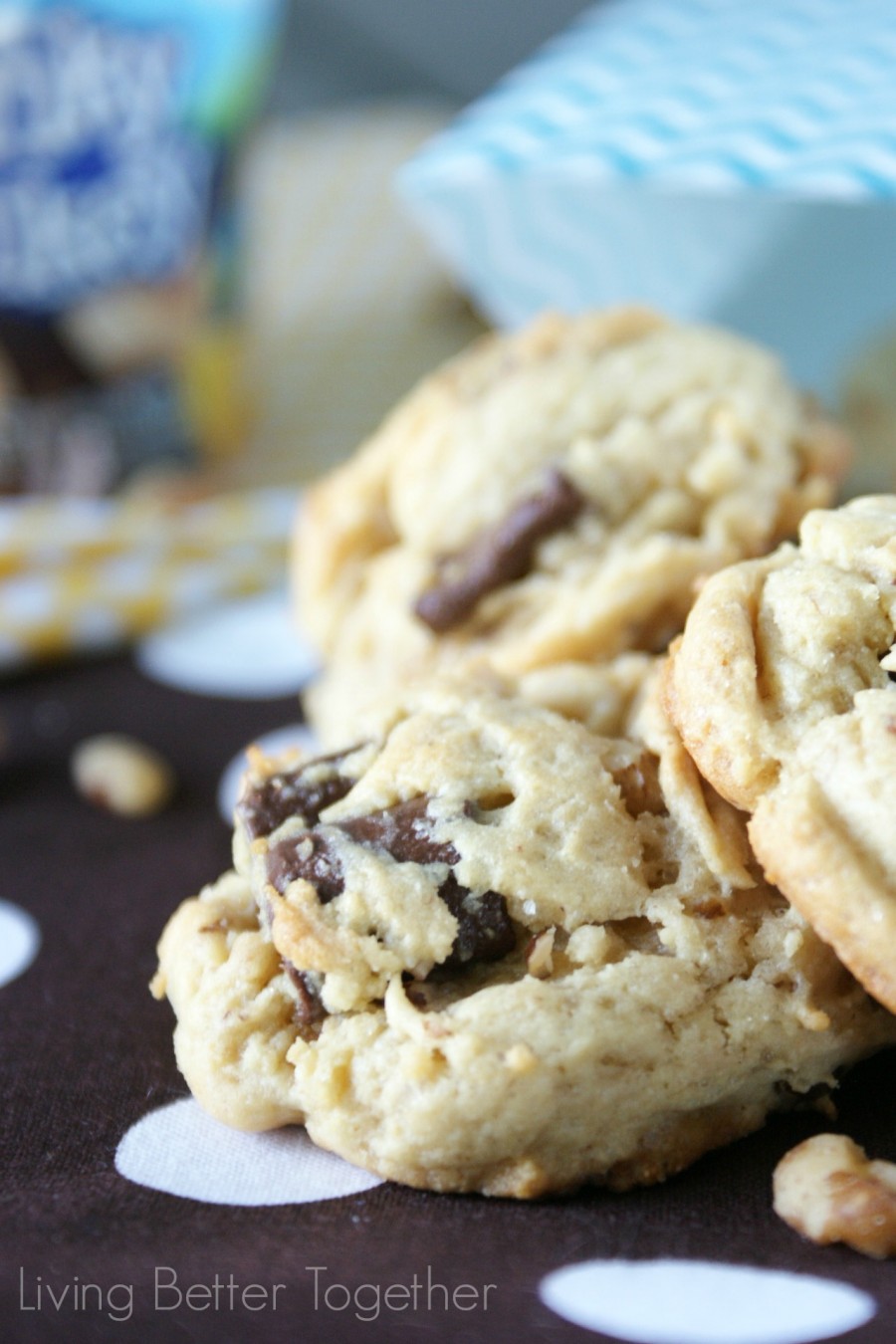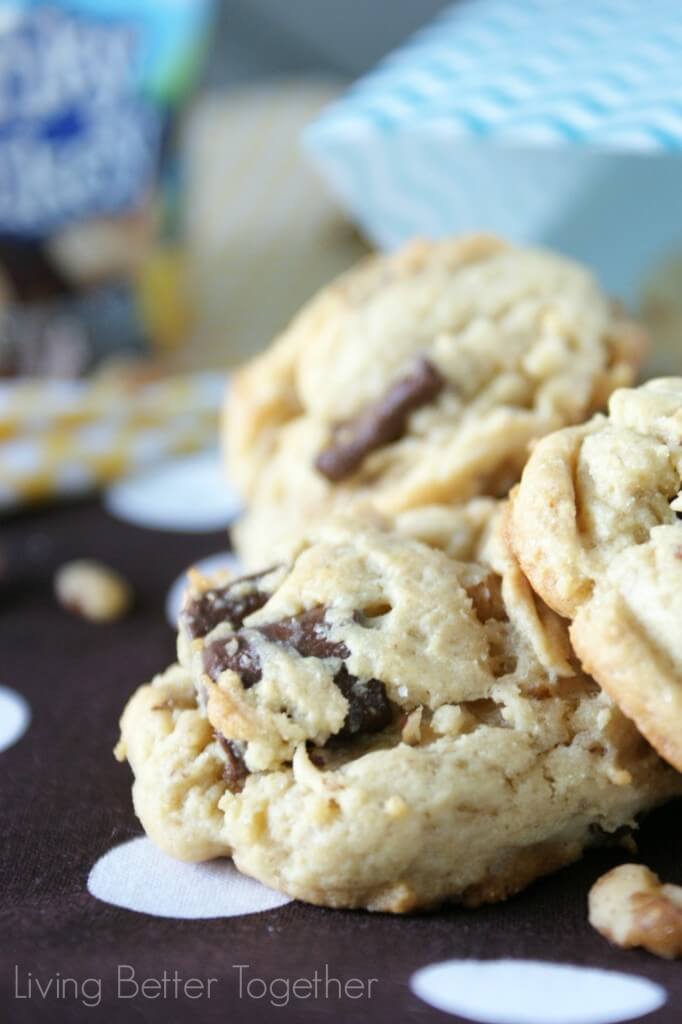 You might remember from my Chunky Monkey Cupcakes that Chunky Monkey is one of my favorite Ben & Jerry's Ice Creams! It's also the company's third most popular flavor. Once I made those cupcakes, I knew I couldn't stop there, and so these cookies were born! They're super chewy just like my Double Chocolate Chip Pudding Cookies and loaded with chocolate chunks and walnuts just like the ice cream! The smell like Banana Bread when they're baking in the oven and they taste like heaven. I love pudding cookies because they are super easy to make and I love how chewy they are with a light crisp shell, the best part is they'll keep that texture for almost a week <not that they'd last that long!
Have you ever been to the Ben & Jerry's Factory? Do you have a favorite flavor?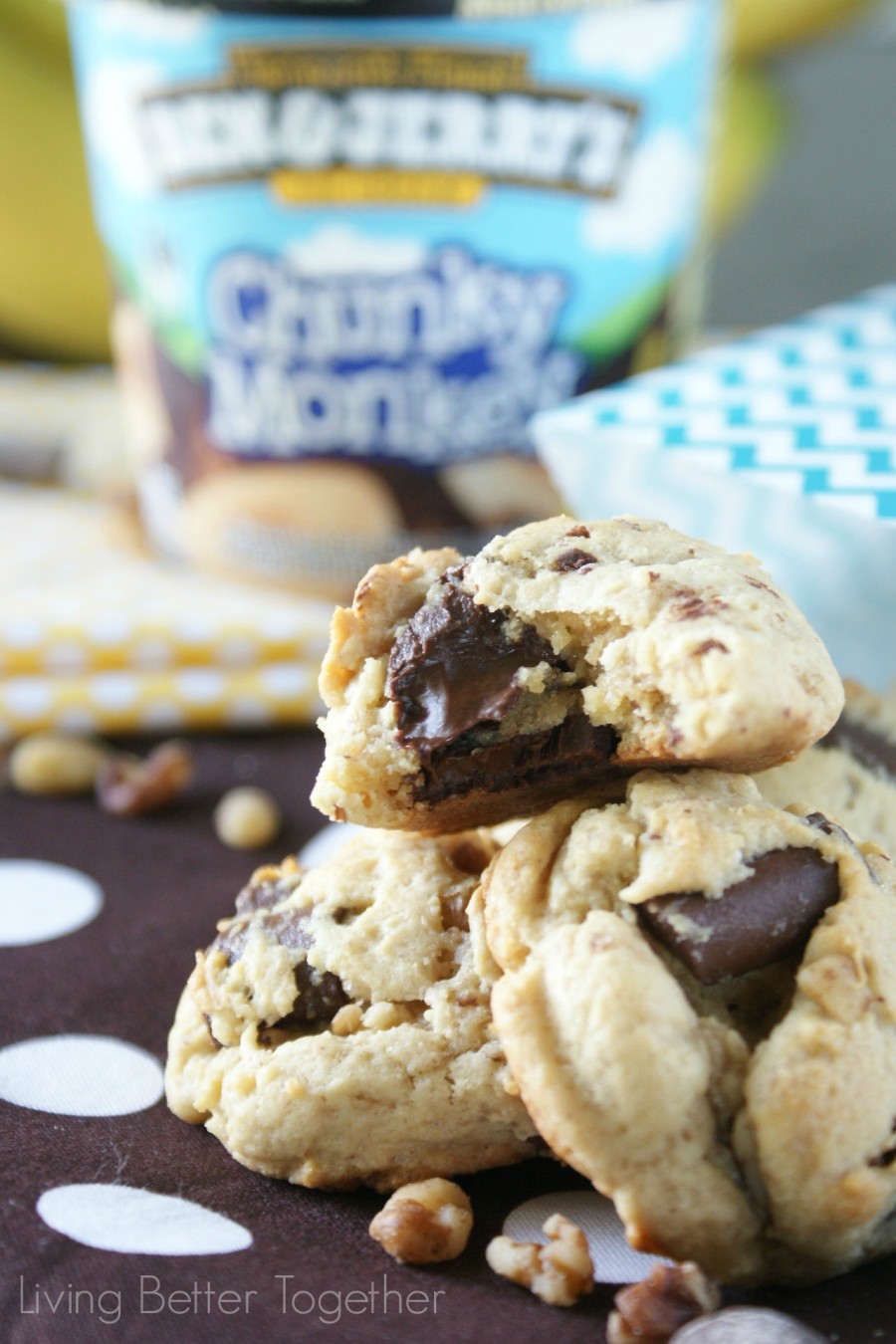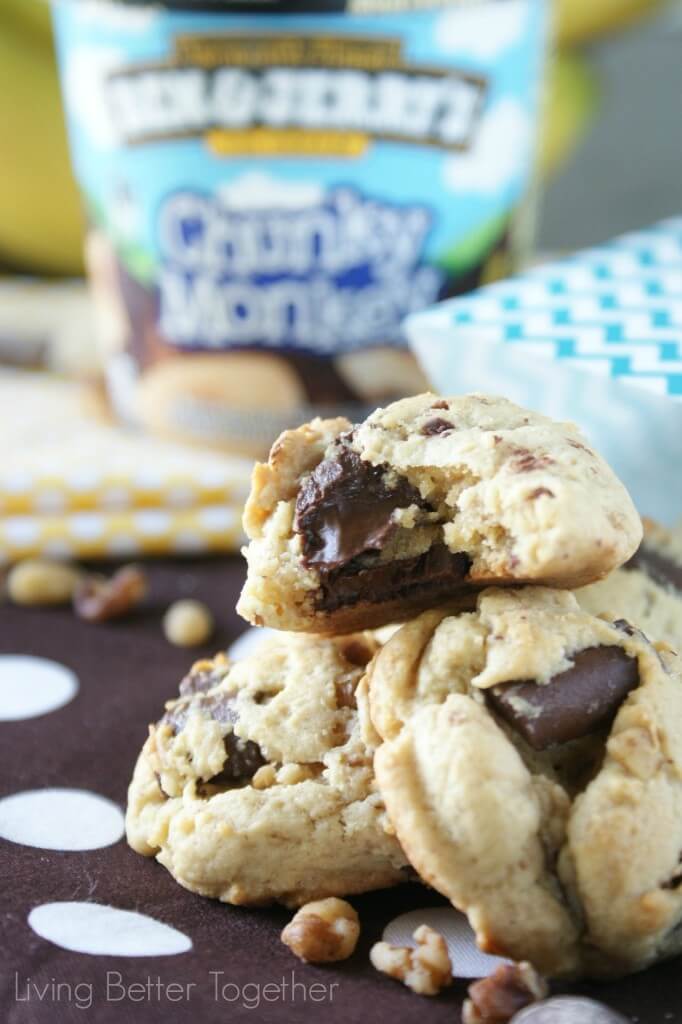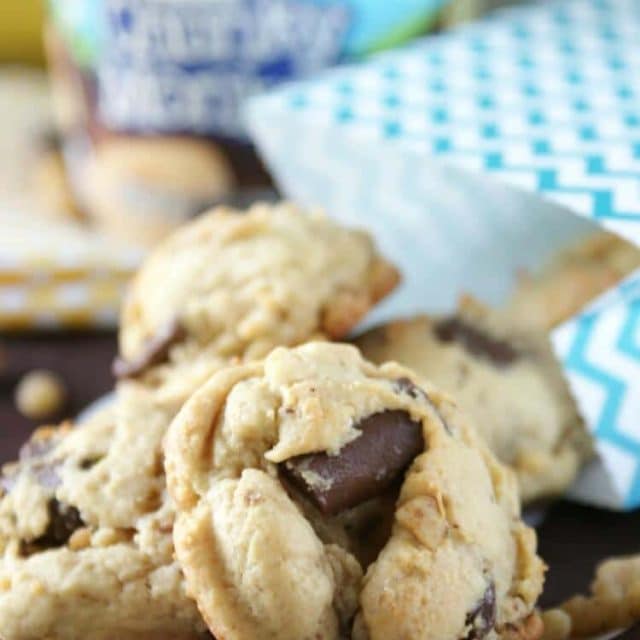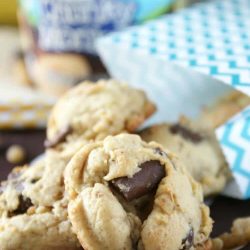 Chunky Monkey Pudding Cookies
A chewy and delicious cookie inspired by Ben & Jerry's Chunky Monkey!
Ingredients
3/4

cup

Brown Sugar

1/4

cup

Sugar

1/2

cup

1 stick Unsalted Butter (room temp)

1 - 3.4

oz

Package Instant Banana Cream Pudding

2

Eggs

1

Additional Egg Yolk

1

tsp

Homemade Vanilla Extract

2 1/2

cups

All Purpose Flour

1

tsp

Baking Soda

1/2

tsp

of Salt

1

cup

Chopped Walnuts

1

cup

Semi-Sweet Chocolate Chunks
Instructions
Cream butter and sugars together until smooth.

Add pudding, eggs, additional egg yolk and vanilla. Beat for about one minute on medium speed.

In a separate bowl, combine flour, baking soda, and salt.

Add dry ingredients to the wet ingredients a 1/2 cup at a time and mix until combined.

Fold in chocolate chunks and walnuts.

Mold into a giant ball and wrap tightly in plastic wrap.

Chill for at least two hours, overnight is best.

Scoop 1 1/2 tablespoon sized scoops onto a nonstick baking sheet about two inches apart. I use this kind of scoop.

Bake at 350 F for 10-13 minutes.

Cool on pan for a couple of minutes before transferring to a cooling rack.
Enjoy!