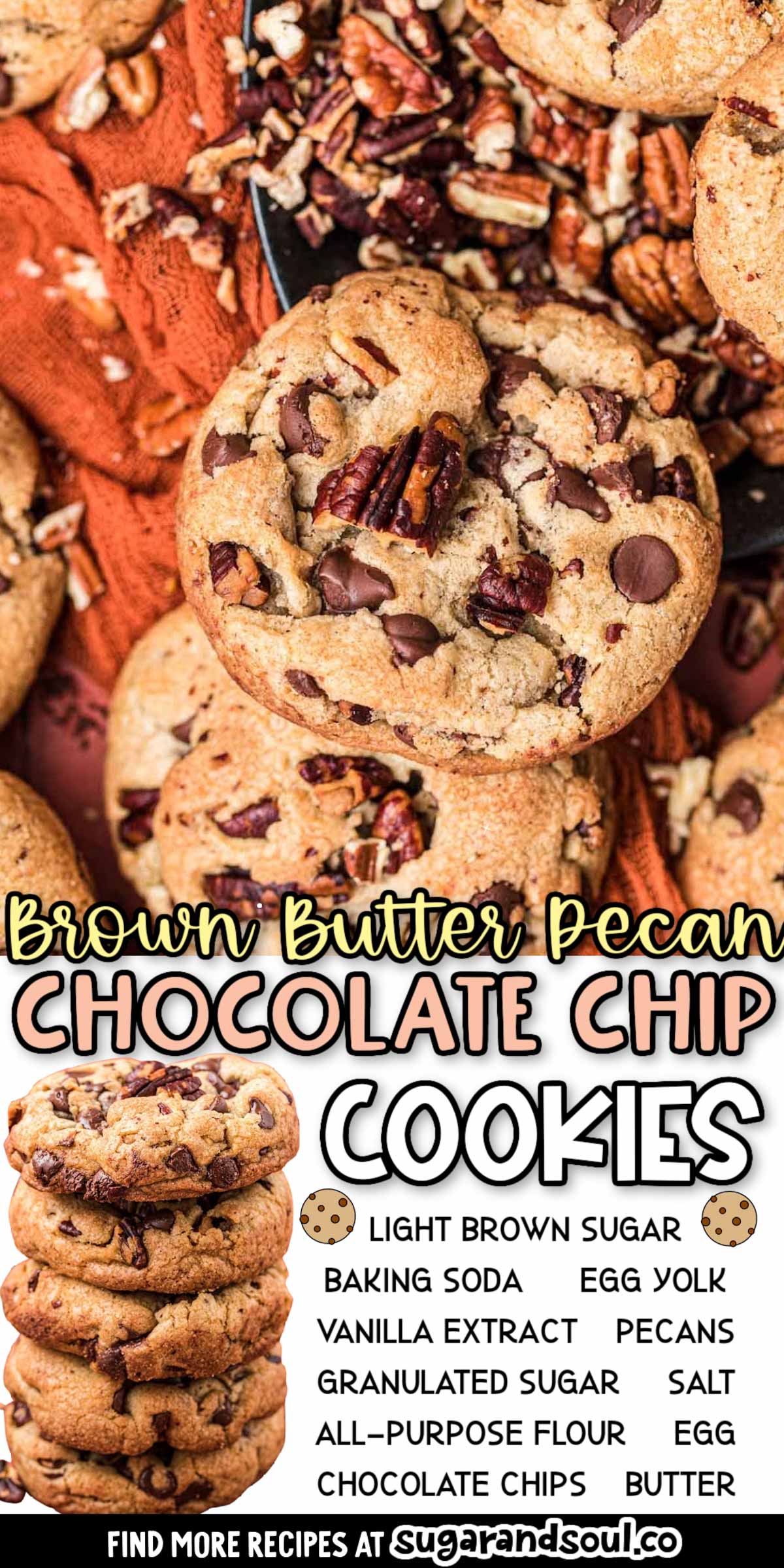 These Brown Butter Pecan Chocolate Chip Cookies are a crisp, chewy treat that's made with pantry staple ingredients and toasted pecans! Prep these jumbo cookies in just 30 minutes or less!
I love the way pecans give cookies like these a sweet yet nutty flavor! If you love a good pecan cookie you won't want to miss The Best Pecan Sandies EVER! either!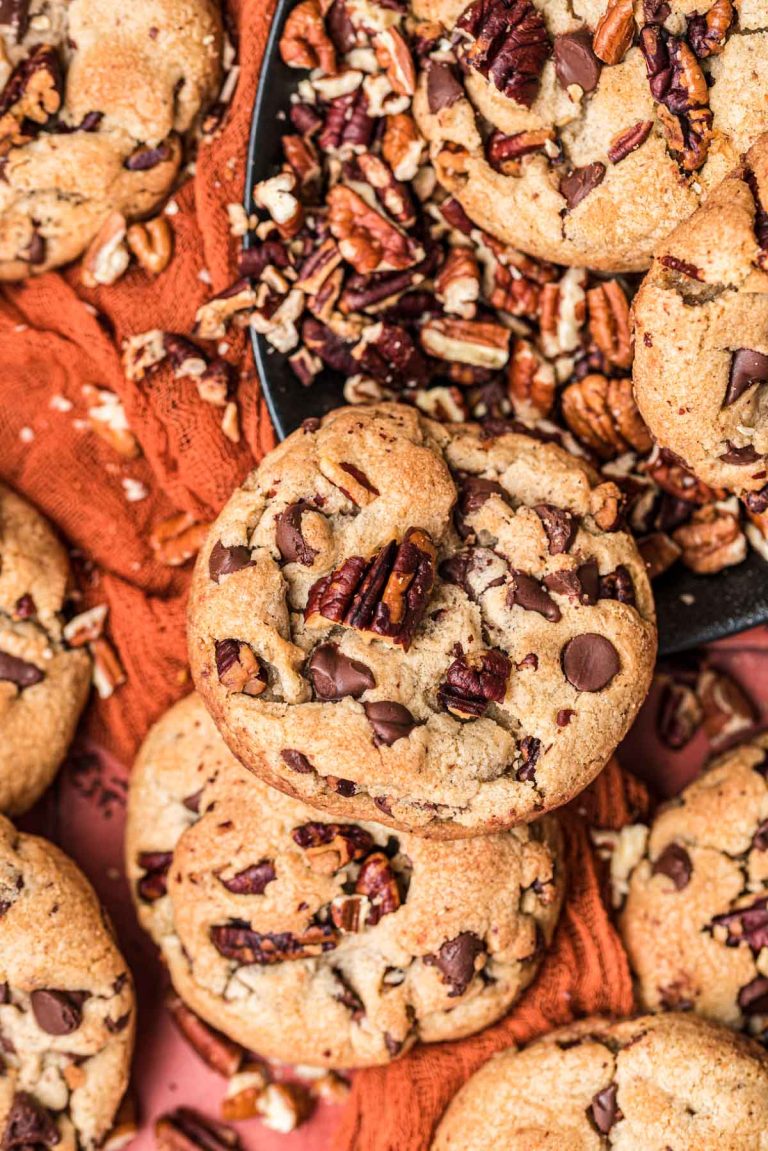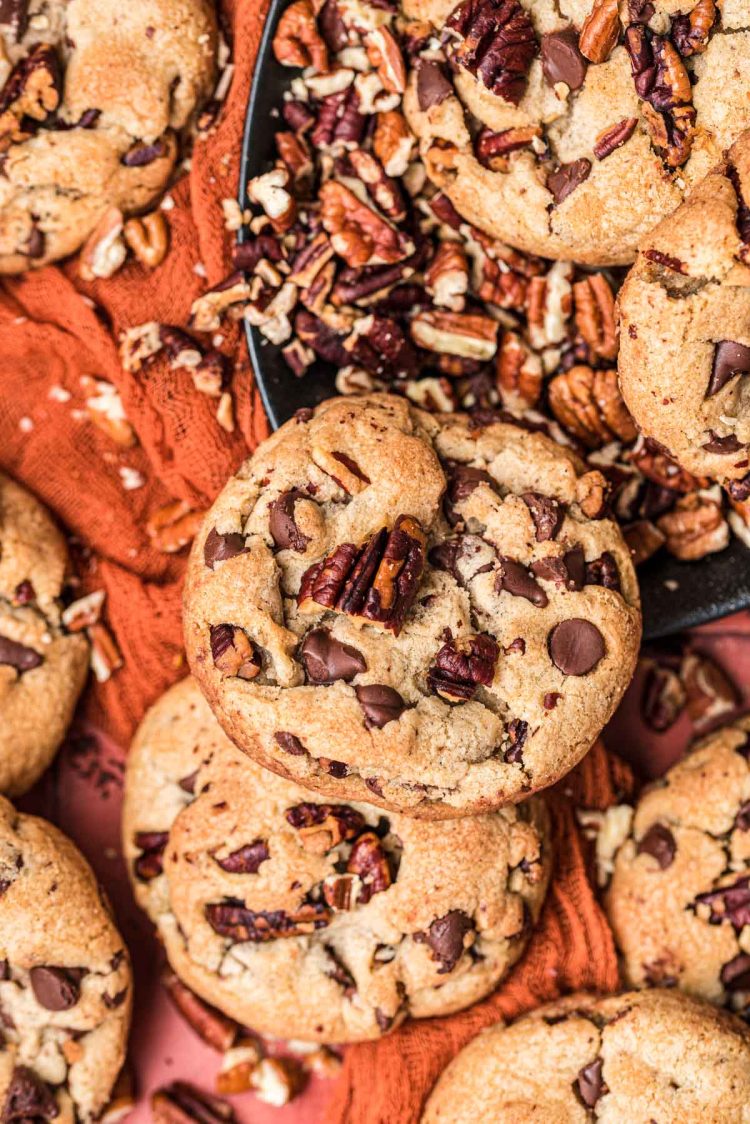 If you're a fan of chocolate chip cookies then be prepared to LOVE these Brown Butter Pecan Chocolate Chip Cookies! The toasted pecans take the classic cookie to a new tasty, crunchy level that will have you grabbing seconds!
The cookies don't just stop at the 'next level' though, the brown butter pushes them into a whole league of their own! The brown butter taste increases that mouthwatering nutty flavor while also bringing a distinct richness and flavor to the cookies!
All of this happens right in your kitchen in an hour… or less!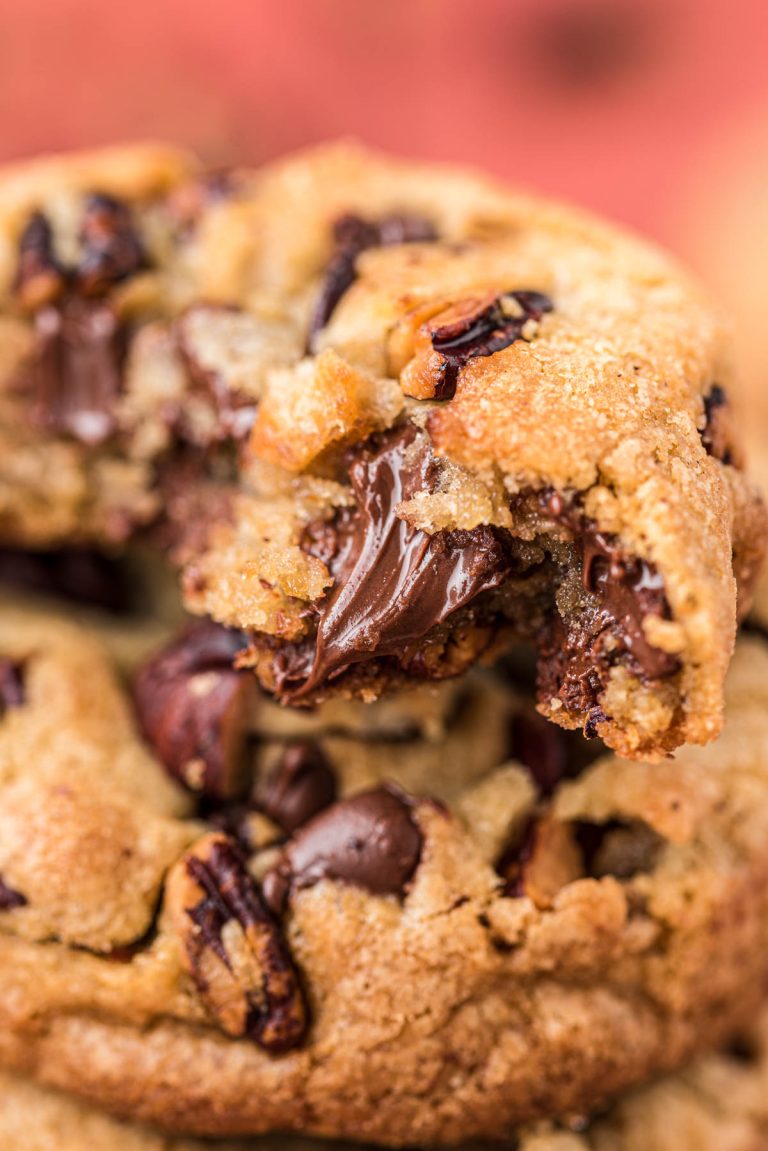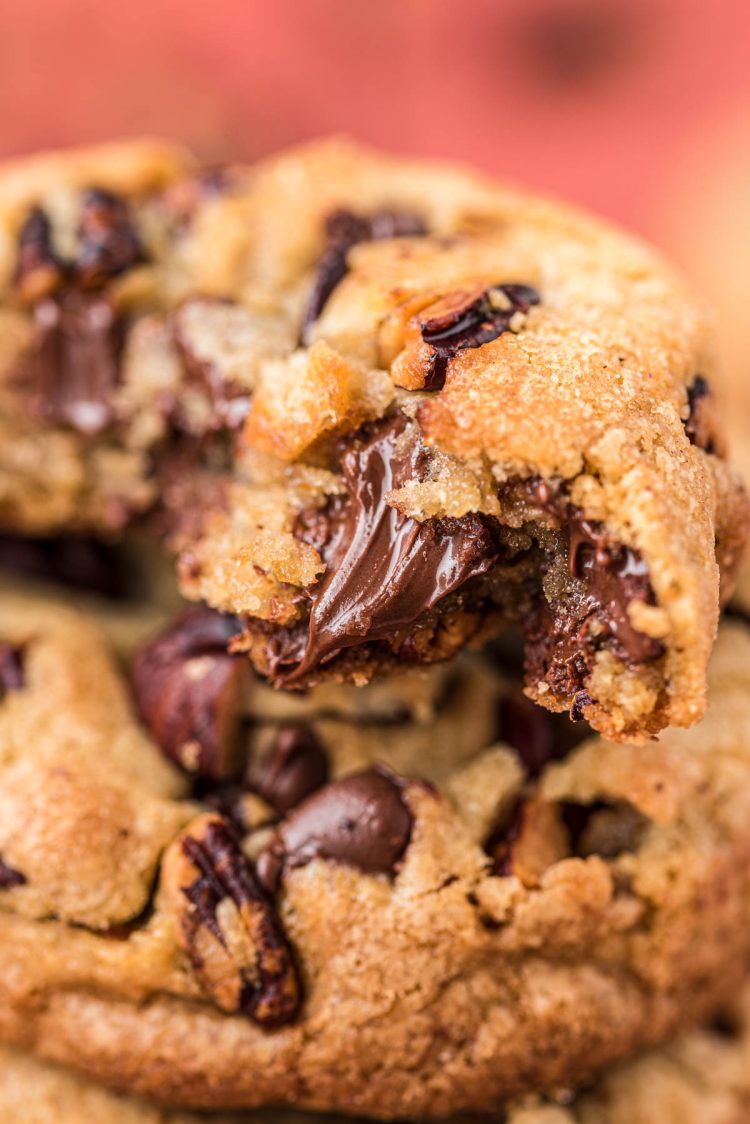 About These Pecan Chocolate Chip Cookies
Pecans! For this recipe, the pecans are toasted in the oven! This quick and simple step boosts the nutty flavor while also giving the cookies a wonderful crunch!
Chocolate Chips! Balances out the nutty flavor from the pecans with their chocolaty, sweet flavor!
Brown Butter! If you've never browned butter before, it's super easy! This recipe walks you through the process to ensure your cookies turn out the best! When mixed with the toasted pecans, the caramel flavor of the butter gives these cookies a pecan pie sort of flavor.
Pantry Staple Ingredients! The base of this cookie recipe is found right inside your pantry! Who doesn't love a homemade recipe that uses what you already have on hand?!
JUMBO! This Pecan Cookie Recipe delivers over a dozen JUMBO chewy yet crunchy cookies! And even though they're jumbo, I'm willing to bet you still reach for seconds and thirds since they're THAT good!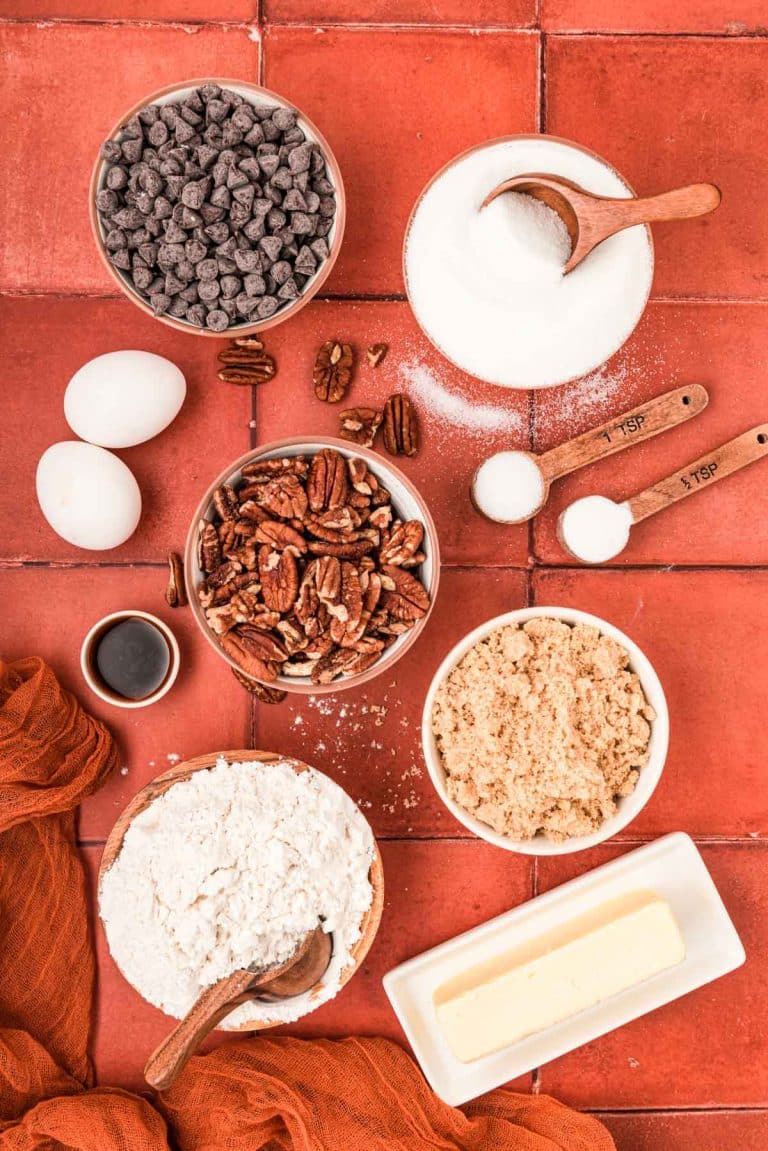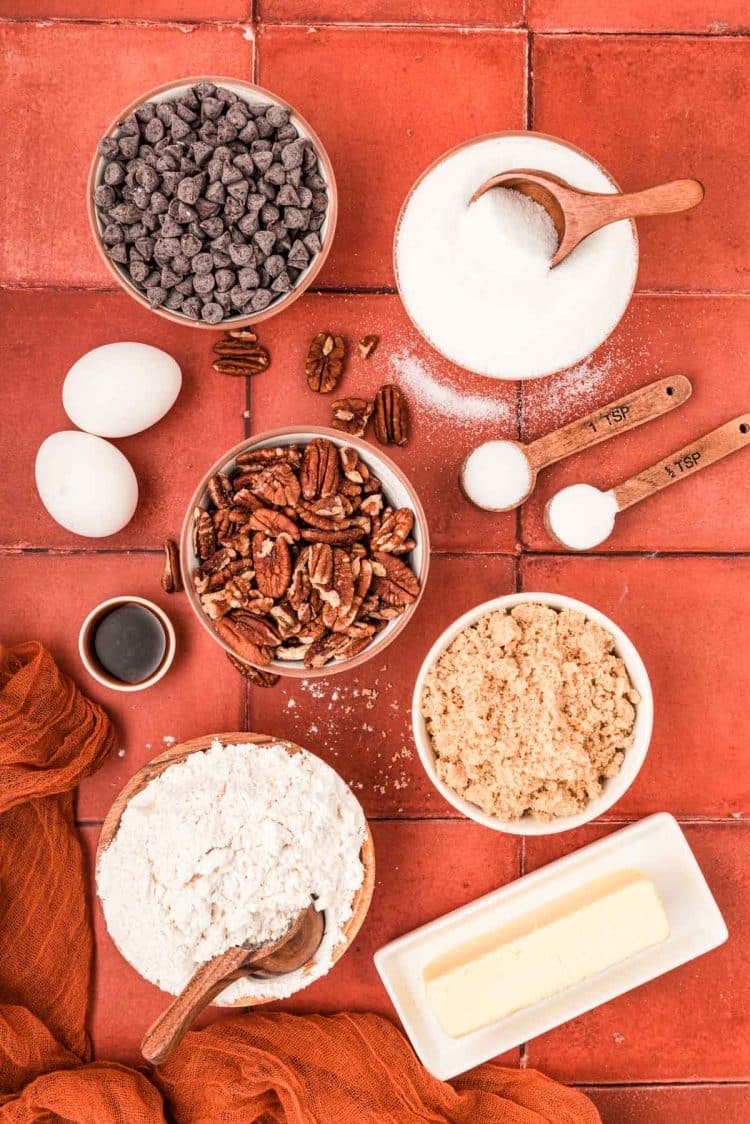 Tips For Making The Best Brown Butter Pecan Chocolate Chip Cookies
Use Multiple Baking Sheets – Rotating baking sheets while baking the batches allows a sheet to cool before use. If not, the structure of the cookie will slightly change, as the dough starts cooking when placed onto a hot baking sheet.
Browning The Butter – Browning the butter is done on the stovetop! Brown bits will start to form in the bottom of the saucepan while the top becomes foamy. The brown butter will also begin to have a nutty aroma. In the end, fresh butter is added to the browned butter.
Batter Consistency – Once the eggs have been added and the batter goes through the mixing process it should have a smooth, thick, and shiny appearance. Towards the end when the wet ingredients meet the dry, the consistency becomes very soft! However, this batter does not get chilled!
Portioning Out The Dough – For jumbo cookies, I'd recommend using a large cookie scoop to drop the cookie dough balls. If you prefer smaller cookies you can just use a medium cookie scoop!
Dress Them Up – Give the cookies a more finished look! To do so, top each cookie with additional chocolate chips and pecans before transferring the baking sheet into the oven.
Rotate While Baking – Carefully rotating the baking sheet halfway through ensures that the cookies will get a more even bake!
You can also make these with a mix of chocolate chips or use all milk chocolate chips or all dark chocolate instead of semi-sweet.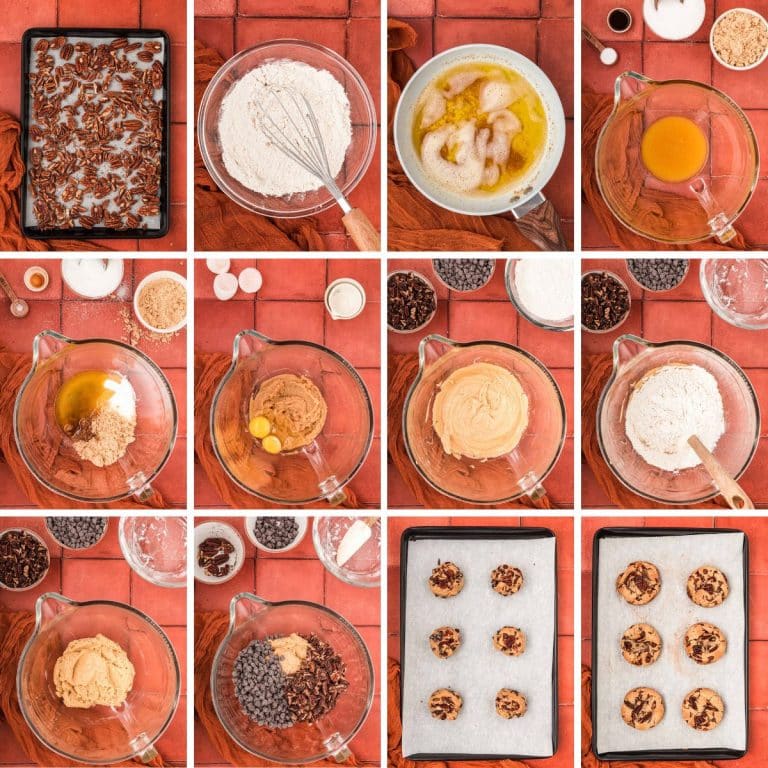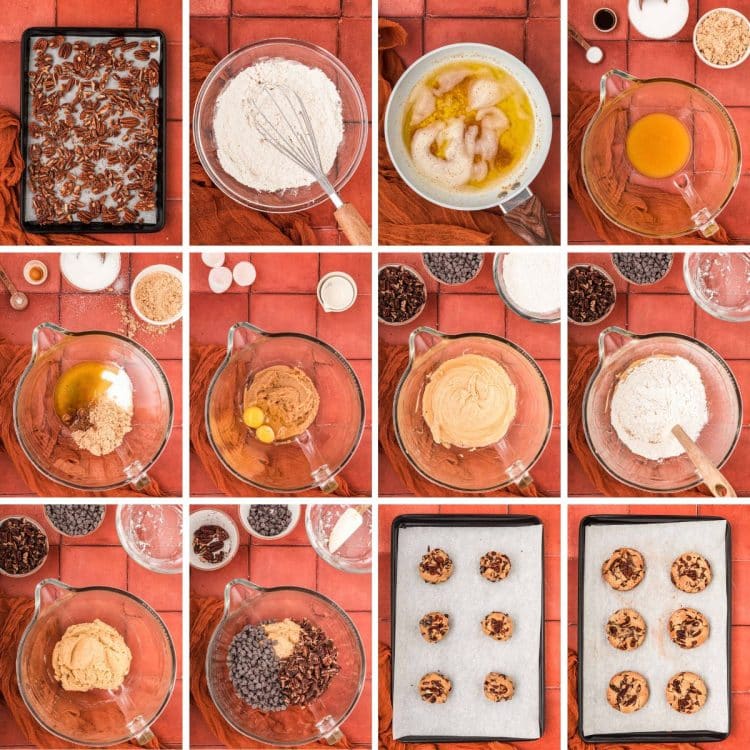 Save Some Cookies For Later!
Your future self will thank you for saving some for later! If you can't resist the temptation to devour them all at least it's easy to whip up a second batch!
Store any leftover Pecan Chocolate Chip Cookies in an airtight container at room temperature. The cookies are best enjoyed within 3 days.
You can freeze the raw cookie dough or the fully baked cookies. I recommend portioning out cooking dough and flash freezing it in the freezer for 1 hour before packing them up into freezer bags. You will need to add an extra minute or two to the bake time when cooking from frozen.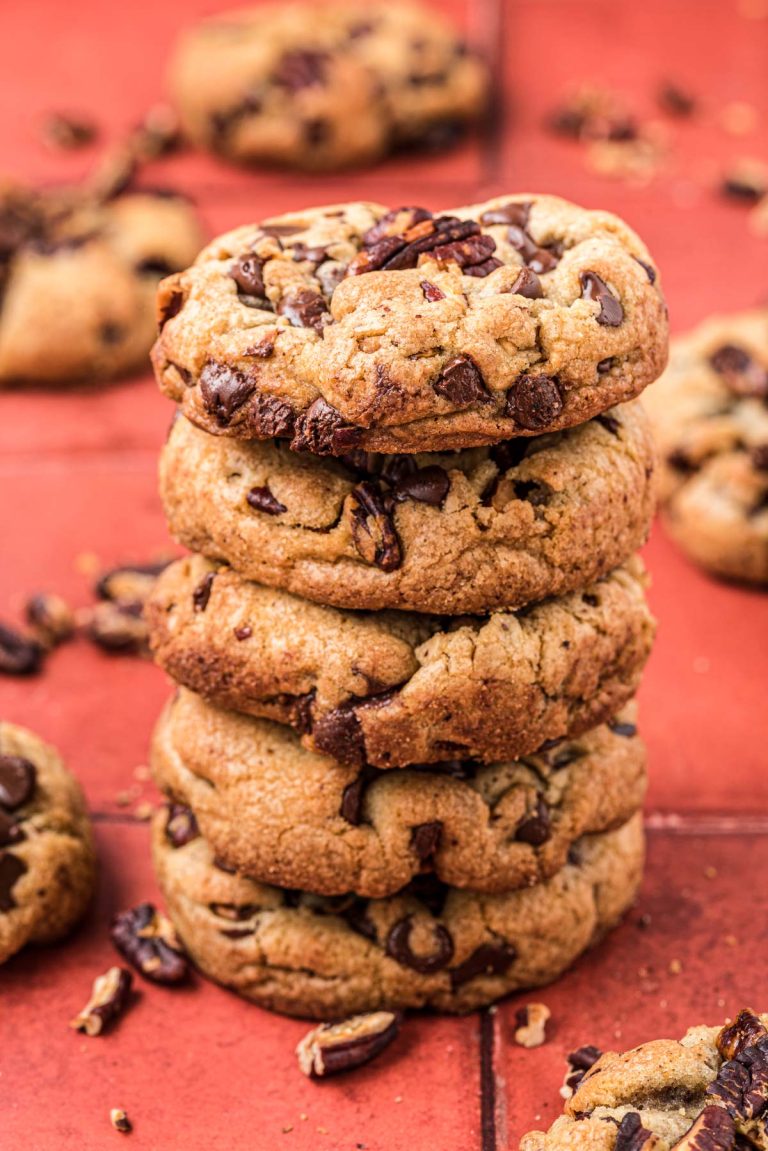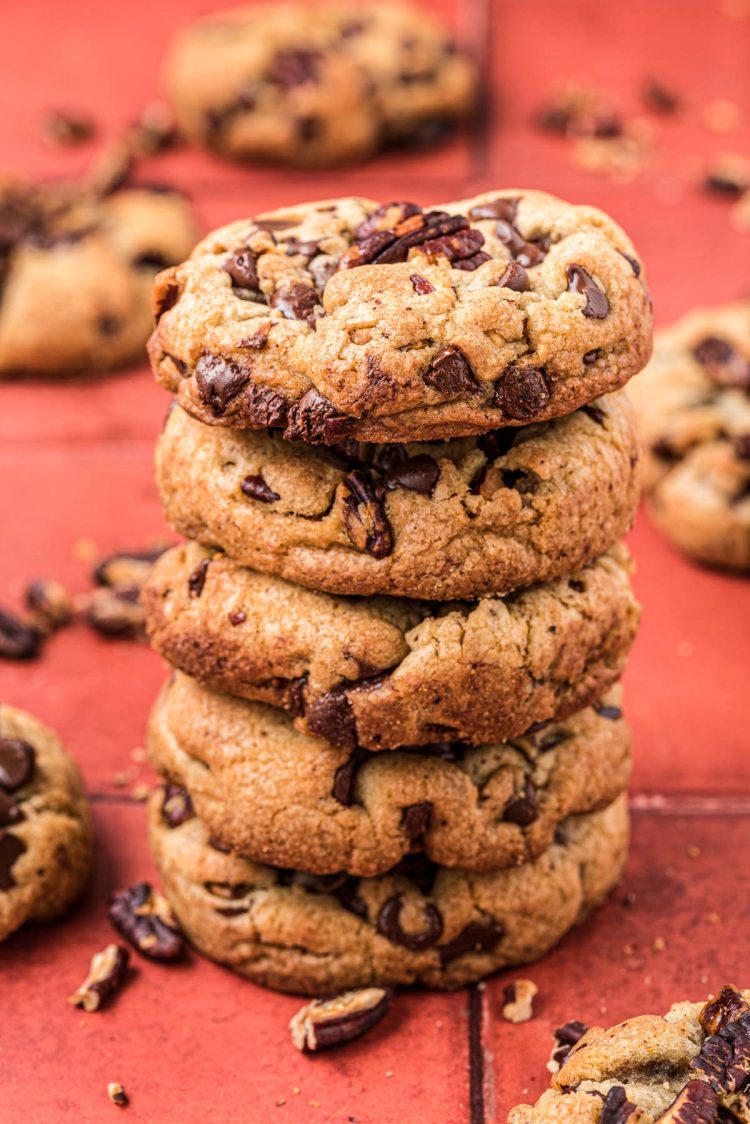 Crunchy pecans take these Brown Butter chocolate chip cookies deliciously over the top! Here are more chocolate chip cookie recipes that also have a tasty twist to them!
Brown Butter Chocolate Chip Pecan Cookies
Pin For Later
CLICK THE BUTTON ABOVE TO SAVE THIS DELICIOUS RECIPE TO YOUR BOARD!
👋 Let's Connect!
If you've tried this recipe please let me know how you liked it in the comments below and leave a review, I love hearing from you! And don't forget to tag me – @sugarandsoulco – on Instagram and Pinterest with your photos!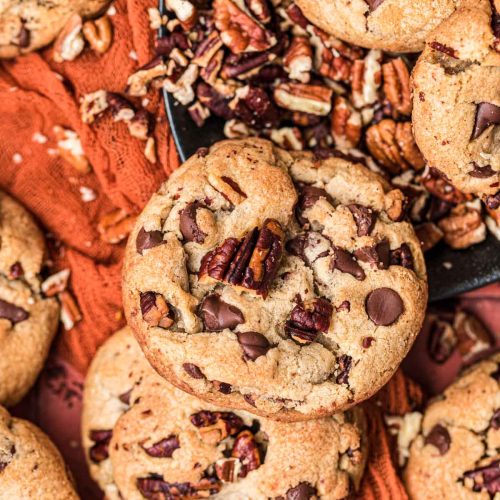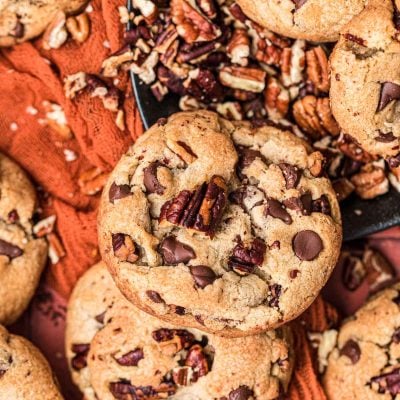 Brown Butter Pecan Chocolate Chip Cookies
These Brown Butter Pecan Chocolate Chip Cookies are a crisp, chewy treat that's made with pantry staple ingredients and toasted pecans! Prep these jumbo cookies in just 30 minutes or less!
Instructions
Preheat oven to 375°F and line a baking sheet with parchment paper and set aside. It is best if you use two baking sheets and rotate them for the batches. Dropping the second batch of dough on the hot cookie sheet will slightly change the structure of the cookie.

Pull the butter out of the refrigerator to sit at room temperature 15 minutes before using.

Add pecans to a separate baking sheet and bake for 5 to 6 minutes, stirring halfway through to toast them.

1 cup chopped pecans/pecan pieces

In a medium bowl, whisk together the flour, salt, and baking soda, and set aside.

1¾ cup all-purpose flour,

½ teaspoon baking soda,

1 teaspoon salt

Add 10 tablespoons of butter to a skillet and cook over medium heat until melted. Continue cooking and stirring frequently for 2 to 3 minutes until brown bits start to form in the bottom of the pan, the top is foamy, and it has a nutty aroma. Remove from heat and stir in the remaining 4 tablespoons of butter until melted. Transfer the butter to a large heat-safe bowl or stand mixer bowl fitted with a whisk attachment.

14 tablespoon unsalted butter

Add the sugars and vanilla to the butter and mix to combine.

½ cup granulated sugar,

¾ cup light brown sugar,

2 teaspoons vanilla extract

Add the egg and additional egg yolk and mix for 30 seconds. Let rest for 3 minutes, then whisk again for 30 seconds. Repeat the resting and whisking for 2 more rounds. The batter should be smooth, thick, and shiny when done – almost like caramel sauce.

1 large egg,

1 large egg yolk

Use a rubber spatula or paddle attachment to mix the dry ingredients into the wet ingredients for 1 minute. The dough will seem very soft, this is normal and you do not need to chill it.

Fold in the chocolate chips and toasted pecans.

1¼ cup semi-sweet chocolate chips,

1 cup chopped pecans/pecan pieces

Portion the dough out with a large cookie scoop and drop dough 3 inches apart on the prepared baking sheet. Top the dough with additional chocolate chips and pecans if desired for a more finished look.

Bake for 10 to 12 minutes, rotating halfway through. Remove from oven and allow the cookies to cool for 3 minutes on the baking sheet before transferring to a wire rack.
Notes
Adapted from Cook's Illustrated.
Do not brown all of the butter, it will alter the recipe. It's important that the 4 tablespoons are only melted and not cooked to the point of clarifying or browning.
Pecans can be omitted and substituted for additional chocolate chips or another nut variety if desired.
Slicing the butter before melting will give it a fast and more even melt.
This recipe makes large cookies, about 4 to 5 inches. If you want to make small cookies, use a medium cookie scoop and bake for 7 to 9 minutes.
I like to use a mix of chopped pecans and pecan pieces but you can use whichever you'd like. You can use some pecan halves but I would recommend not using them for the full cup as the distribution isn't as even.
Nutrition
Calories:
271
kcal
Carbohydrates:
22
g
Protein:
3
g
Fat:
19
g
Saturated Fat:
12
g
Polyunsaturated Fat:
1
g
Monounsaturated Fat:
5
g
Trans Fat:
1
g
Cholesterol:
34
mg
Sodium:
225
mg
Potassium:
120
mg
Fiber:
2
g
Sugar:
7
g
Vitamin A:
440
IU
Vitamin C:
1
mg
Calcium:
17
mg
Iron:
2
mg