These Vanilla Chai Muffins are the essence of a cozy breakfast. Made with chai, cinnamon, brown sugar, a crunchy topping, and a sweet glaze, they're absolutely delicious!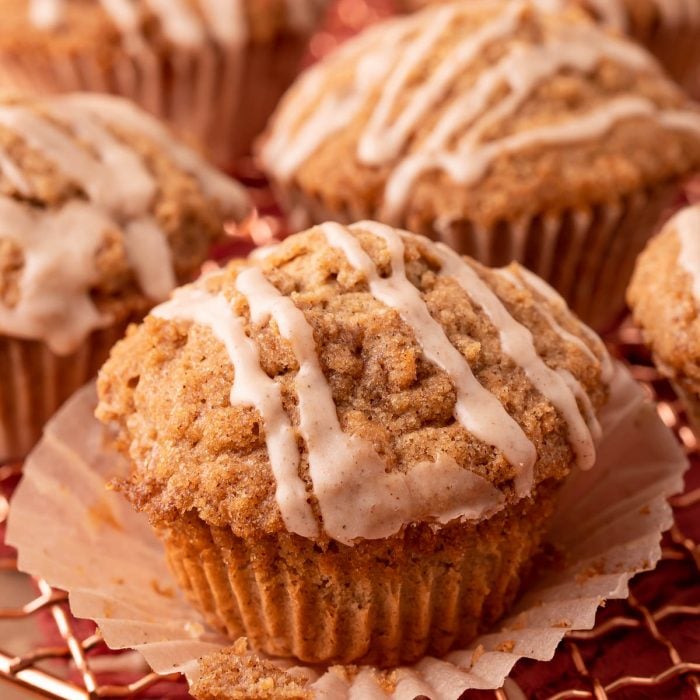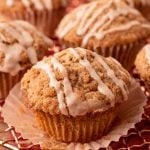 These Vanilla Chai Muffins are the essence of a cozy breakfast. Made with chai, cinnamon, brown sugar, a crunchy topping, and a sweet glaze, they're absolutely delicious!
Can't get enough of desserts that are filled with chai tea flavor? Then be sure to also put these Chai Cupcakes and Easy Vanilla Chai Shortbread Cookies on your list of things to make!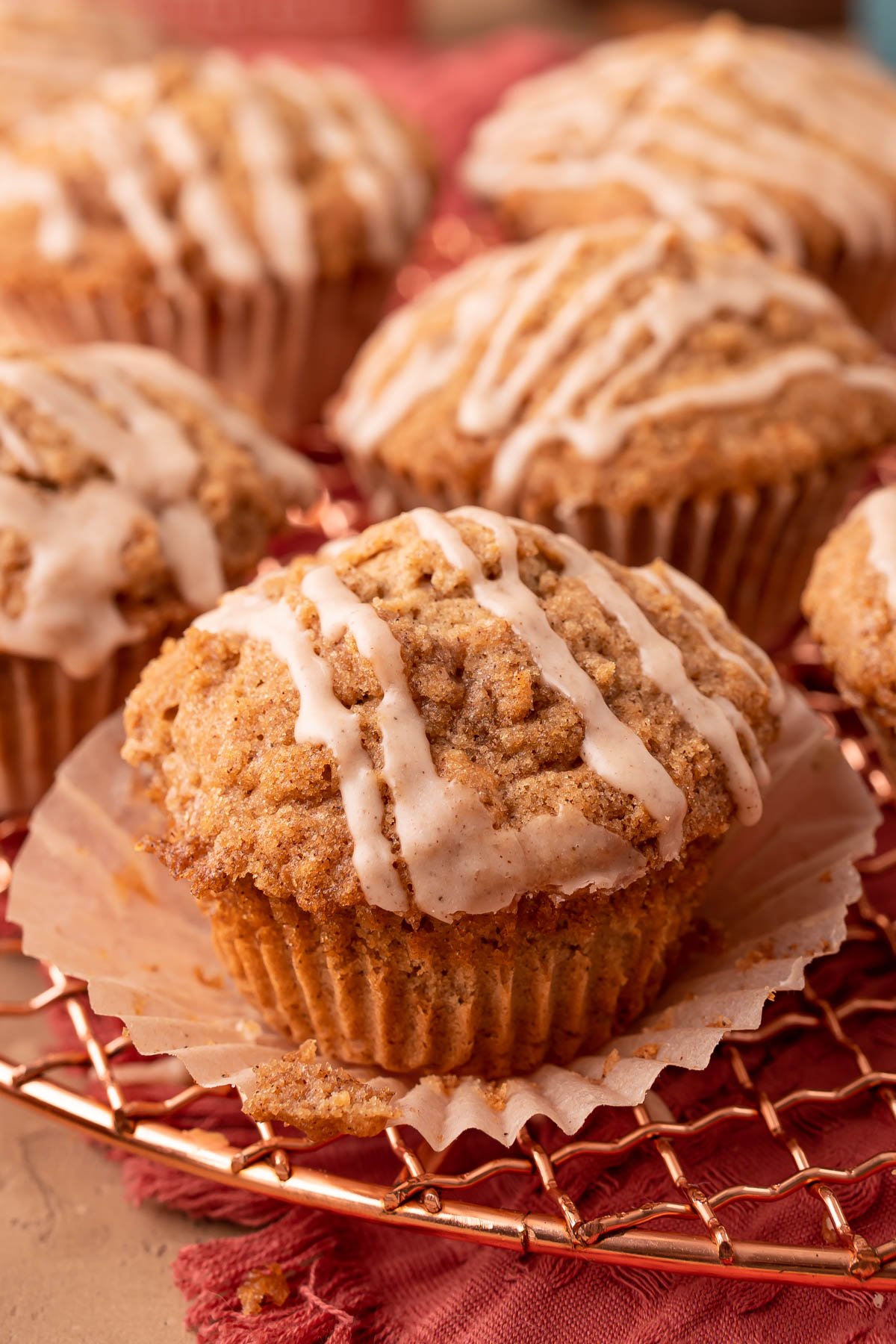 Look forward to your mornings again by baking up a batch of these Vanilla Chai Muffins! Their sweet latte flavoring, cinnamon sugar crumble topping, and sweet chai tea glaze sets a delightful tone for the day.
Though these are easily an essential to start off any busy day, they're also an amazing choice for lazy days as well! Their deep vanilla flavor combines with classic spices to create such a cozy flavor and aroma that will make you want to curl up with a good book!
And you get ALL of this deliciousness in a homemade muffin recipe that's ready in UNDER 30 minutes! Now that's a treat in itself!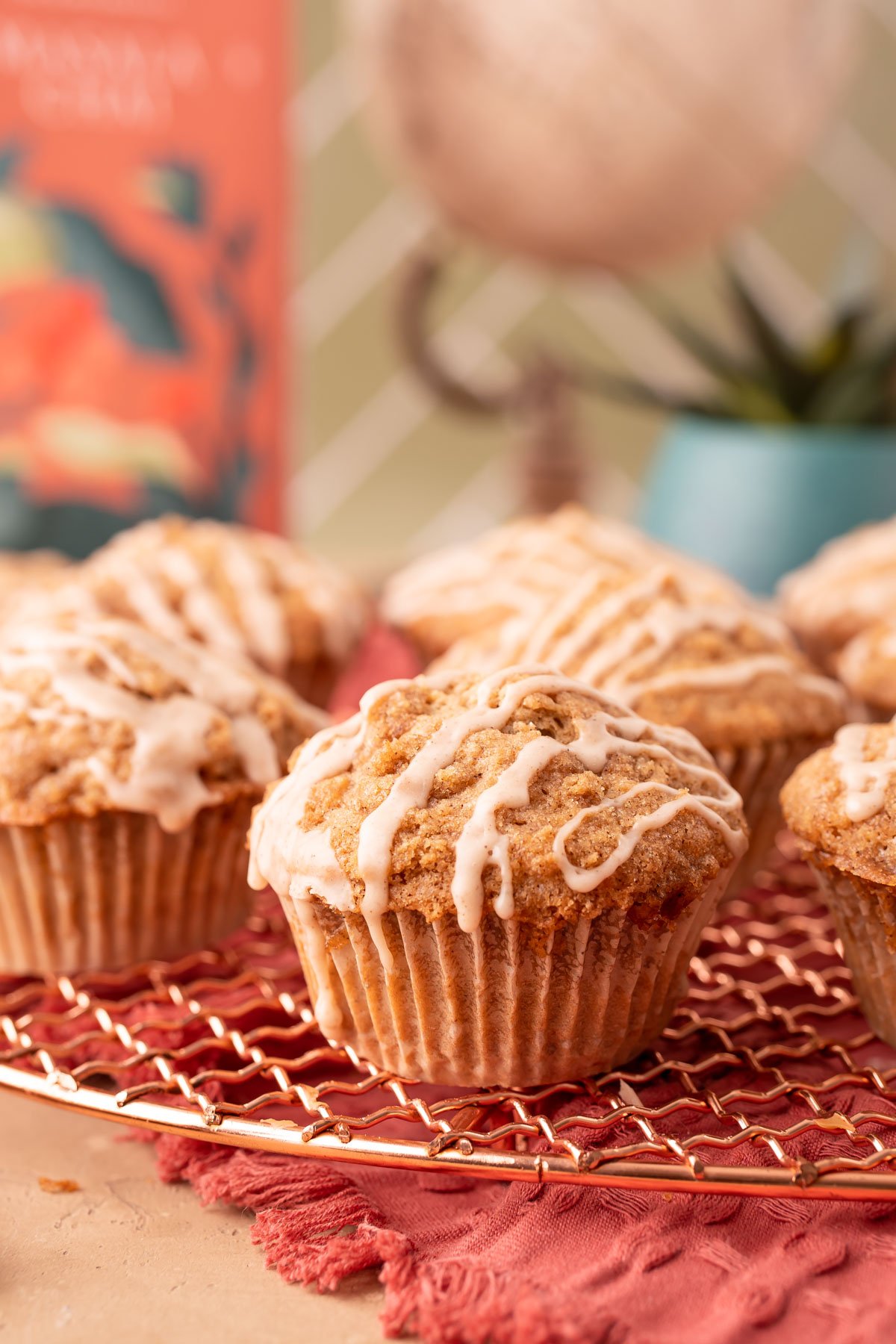 All About These Vanilla Chai Muffins
Taste: These muffins are loaded with chai tea flavor and hints of cozy spice thanks to spices like cinnamon, cardamom, and nutmeg. Lots of tasty flavoring can also be found in the cinnamon sugar crumble topping as well as the sweet chai tea icing that's drizzled over their tops!
Texture: Nothing beats a warm glazed muffin straight out of the oven! These soft tender muffins have a crunchy crumble topping with a smooth glaze that make for real texture filled treat!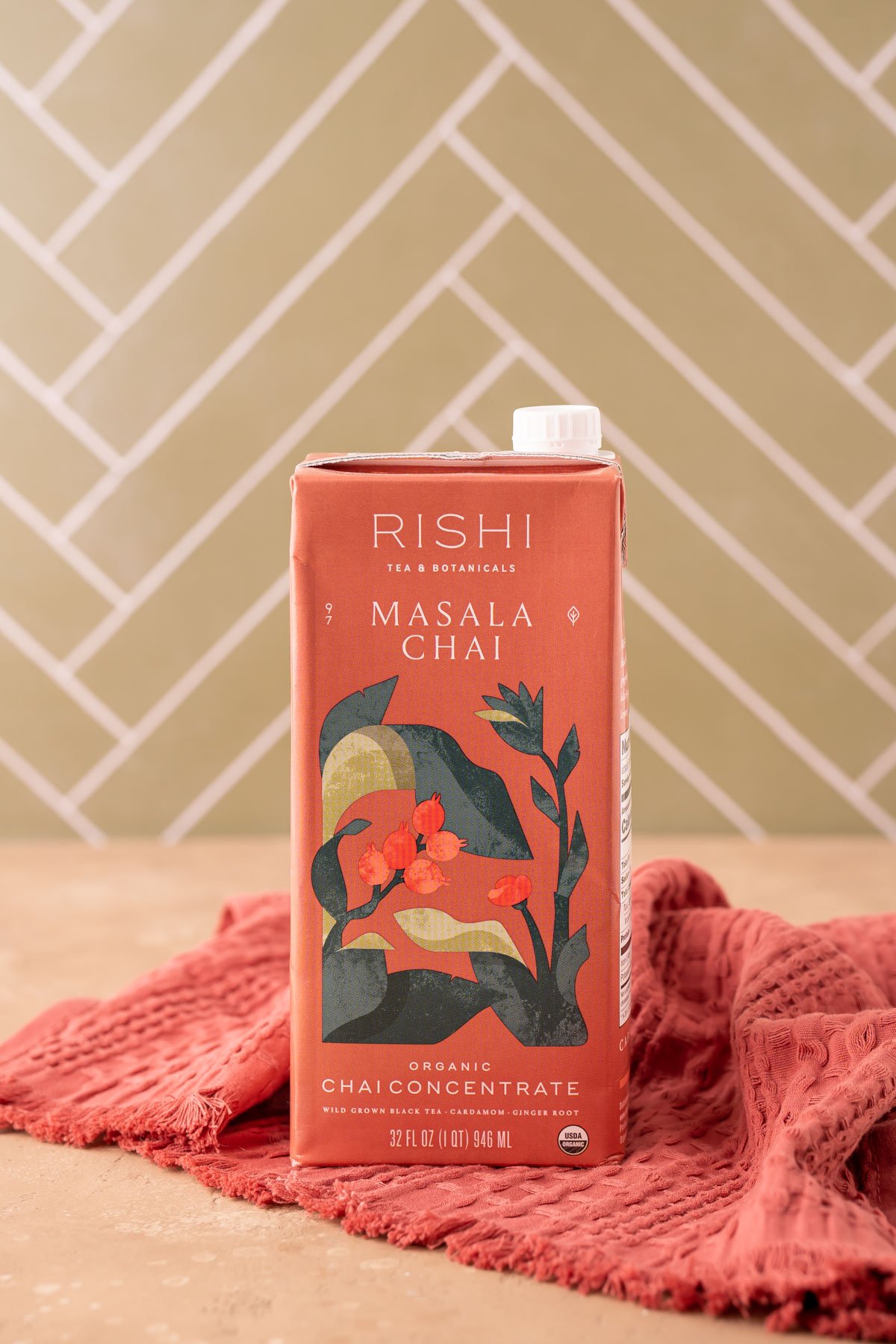 Key Ingredients
The foundation of these muffins is made with common baking ingredients such as flour, granulated and brown sugar, vegetable oil, and unsalted butter. However, the flavor comes in with the help of a handful of key ingredients, most of which you may also have on hand as well!
Chai Tea Concentrate – The standout flavor in these muffins comes from the chai tea concentrate. This spiced tea has a blend of black tea, honey, and vanilla. I prefer to use the organic chai concentrate that the brand Rishi Tea & Botanicals carries. This can be found at Walmart, Target, Thrive Market, as well as on Amazon.
Vanilla Bean Paste – Using vanilla bean paste instead of extract allows for deep, delicious vanilla flavoring in these muffins! The paste also gives them their signature speckled inside since the paste carries real vanilla beans in it.
Spices – Pantry staple spices such as ground cinnamon, cardamom, nutmeg, ginger, and cloves combine to bring a cozy, spiced flavor that compliments the chai tea.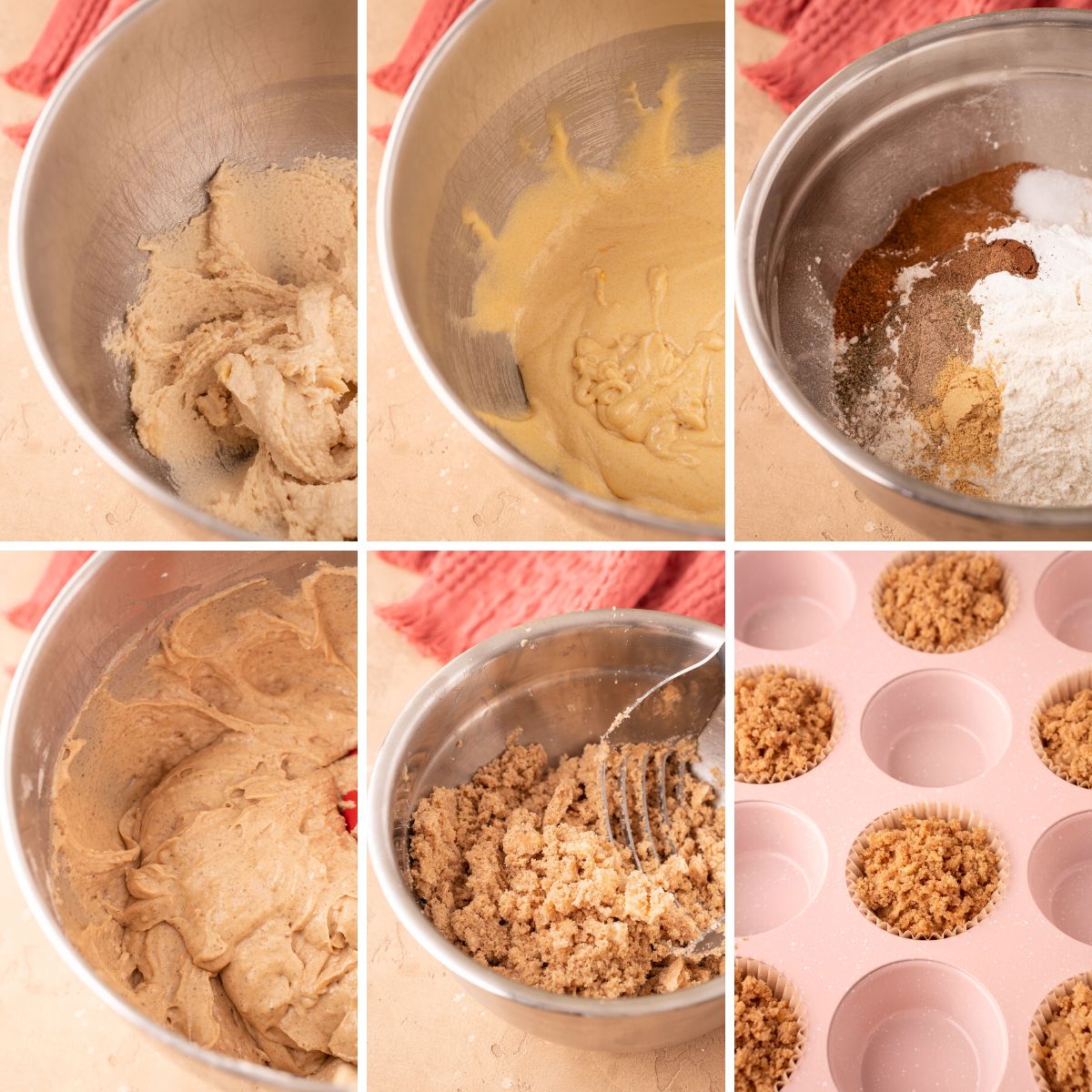 Recipe Tips & Tricks To Make The Best Chai Muffins
Rice Trick – Sometimes when baking muffins and cupcakes the butter or oil that's used in the recipe can create a greasy or oily residue on the bottom of the baked goods. This causes the bottoms of the liners to be sticky and greasy. To avoid this from happening, sprinkle rice into the muffin tins and then set your liners on top. As the muffins bake the rice will absorb any grease that occurs, leaving you with perfectly dry bottoms!
Resting Time – Rest the muffin batter for 15 minutes before portioning it into the muffin liners. This rest time allows the gluten in the batter to develop which creates muffins with a tender, fluffy inside!
Portioning – I found that 3 tablespoons of muffin batter in each liner produced full muffins without spilling over while baking. This portioning will also ensure that you come out with 18 muffins from this recipe!
Reduce Heat – Take note that these muffins bake for just 5 minutes at 425 degrees F. Afterward, the heat is then reduced to 350 degrees F for the remaining of the baking time. This baking method encourages the muffins to rise quickly so that they take on their domed shape early while creating a crisp exterior. Once the heat is lowered the focus becomes on baking the insides of the muffins up to their soft, tender texture.
Doneness – These muffins are done baking when they're golden brown. To double check doneness you can insert a toothpick into the center of one. If the toothpick comes back clean the muffins are ready to come out of the oven.
Icing – Create an icing consistency that's to your liking by adding additional powder sugar for a thicker glaze or additional chai latte concentrate for a thinner icing.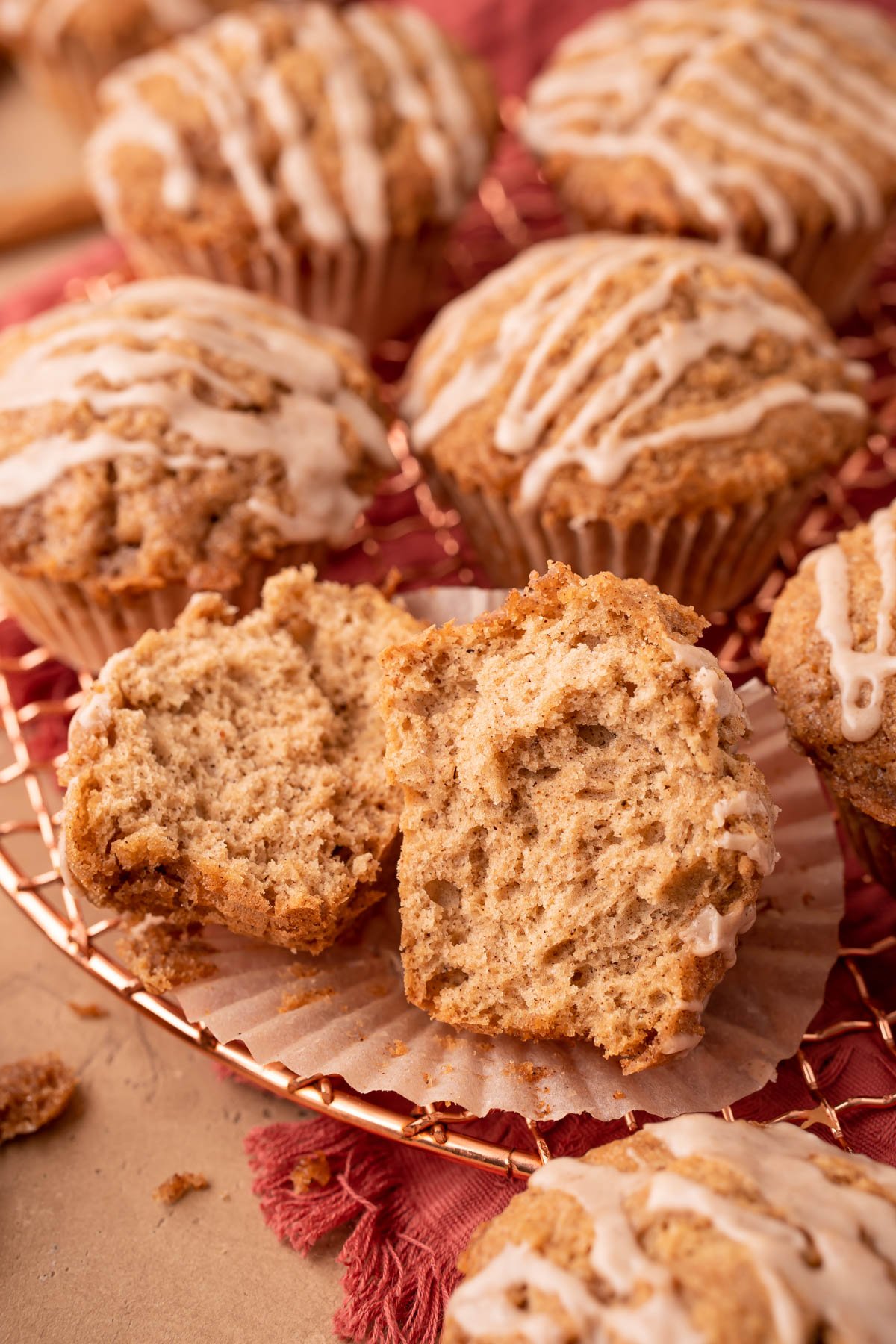 Delicious homemade muffins like as these Vanilla Chai Muffins are always a hit at any breakfast or brunch occasion! Their cozy, spiced flavor would even make for a great mid-day pick-me-up as well.
Though if you're like me you may also love a bit of chocolate with your muffins! In which case I'd suggest checking out my Chocolate Banana Chocolate Chip Muffins or the good old classic Chocolate Chip Muffins!
How To Store These Vanilla Chai Muffins
Store these muffins at room temperature in an airtight container or Ziploc bag with the excess air squeezed out of it. Enjoy them for 2 to 3 days.
Can I Just Use Salted Butter In The Muffin Recipe?
Yes, to use salted butter instead of unsalted butter just omit the 1/2 teaspoon of salt the recipe calls for.
Do I Have To Add The Crumble Topping To These Vanilla Chai Muffins?
The crumble texture adds a nice texture and sweet cozy flavor however if it's your preference you can make these muffins without it! They'll still turn out absolutely delicious either way.
Can Vanilla Extract Be Used In Place Of Vanilla Bean Paste?
Yes, one tablespoon of vanilla extract can replace the tablespoon of vanilla bean paste.
Can These Muffins Be Frozen To Enjoy Later?
Yes, these muffins can be frozen for up to 3 months. To freeze, save icing them for when they thaw.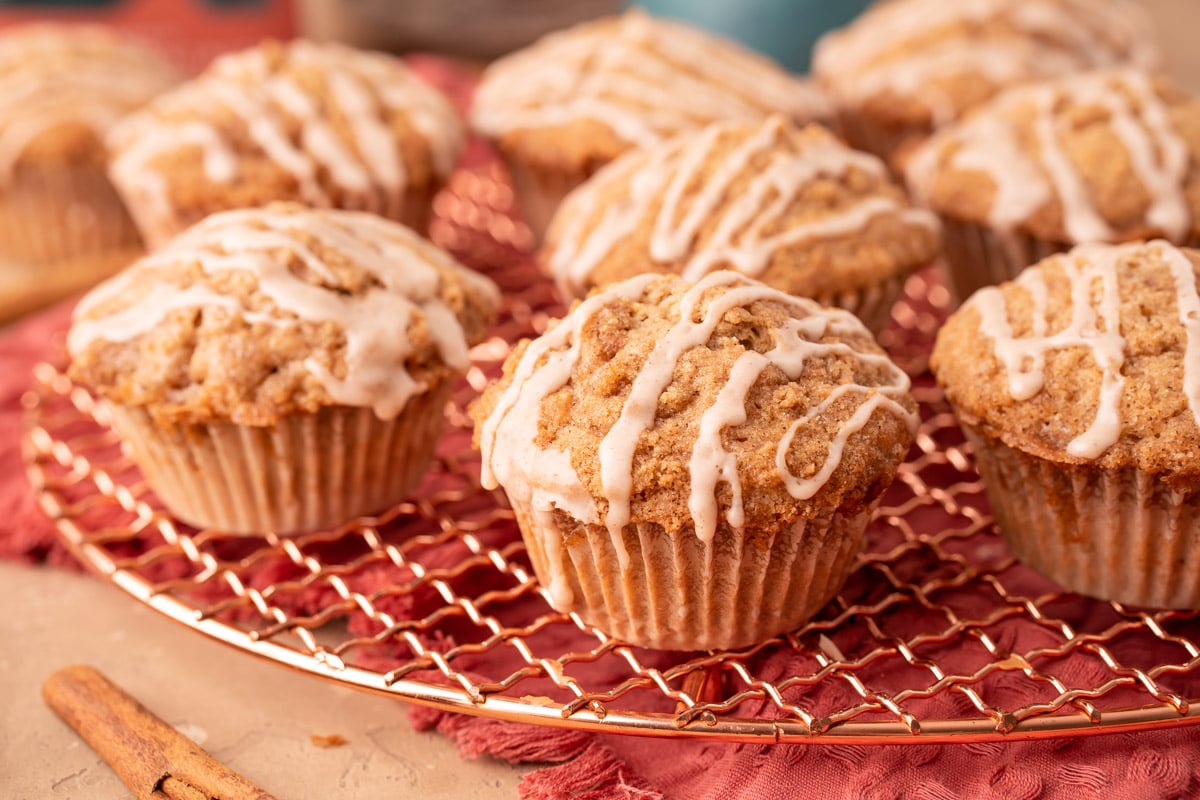 👋 Let's Connect!
If you've tried this recipe, please let me know how you liked it in the comments below and leave a review. I love hearing from you!
Don't forget to tag me – @sugarandsoulco – on Instagram and Pinterest with your photos or join our Sugar & Soul Show-offs Community and share them there, where you can join our recipe challenges!
This recipe was originally published in March 2015 and was updated in April 2023 with fresh photos and a slightly adapted recipe.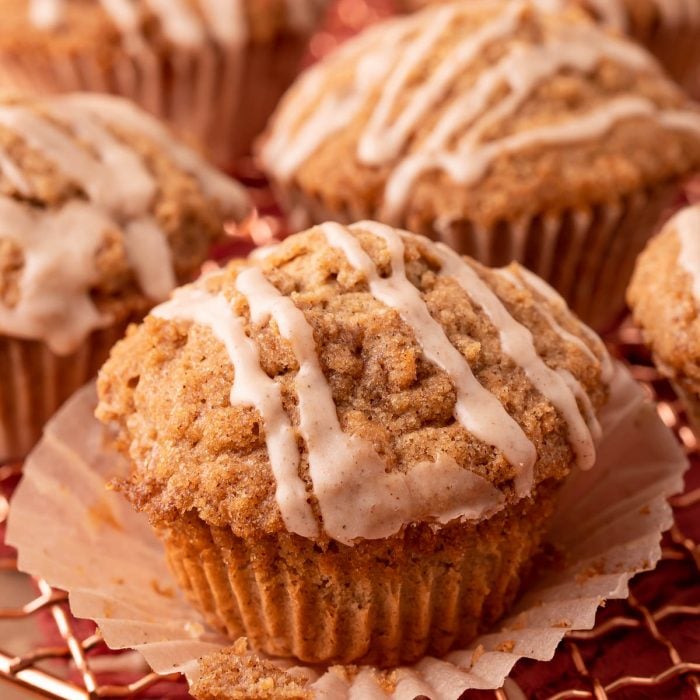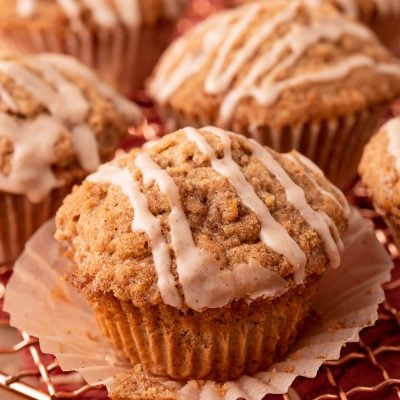 Vanilla Chai Muffins
These Vanilla Chai Muffins are the essence of a cozy breakfast. Made with chai, cinnamon, brown sugar, a crunchy topping, and a sweet glaze, they're absolutely delicious!
Instructions
Preheat the oven to 425°F and line a muffin tin with baking cups. Add a teaspoon of rice to the bottom of the muffin tins before adding the liners if you'd like to prevent greasy bottoms.

In a stand mixer or large bowl, cream together ¼ cup unsalted butter, ¼ cup vegetable oil, ½ cup granulated sugar, and ½ cup light brown sugar until smooth.

Add the 2 large eggs one at a time, beating after each addition just until incorporated.

Add in 1 tablespoon vanilla bean paste and mix until combined.

In a separate bowl, whisk together 2⅔ cups all-purpose flour, 1½ teaspoons baking powder, 2 teaspoons ground cinnamon, 1 teaspoon ground cardamom, ½ teaspoon ground ginger, ¾ teaspoon ground nutmeg, ½ teaspoon salt, ¼ teaspoon ground cloves, ¼ teaspoon ground black pepper, and ¼ teaspoon baking soda.

Add the flour mix to the sugar mixture, alternating with 1 cup chai latte concentrate and mixing until fully combined.

Cover the bowl with a kitchen cloth and rest for 15 minutes to allow the gluten to develop.

While the batter rests, cut together the 5 tablespoons salted butter, ¾ cup light brown sugar , 2 tablespoons all-purpose flour, and 1 teaspoon ground cinnamon in a medium bowl until a crumble forms.

Add about 3 tablespoons of batter to each liner.

Sprinkle about a tablespoon of crumble on top of the batter in each muffin.

Bake muffins for 5 minutes at 425°F, then reduce the oven temperature to 350°F and bake for 15 minutes until golden brown.

Remove the muffins from the pan and allow to cool on a cooling rack.

Once cooled, whisk together 1 cup powdered sugar, 3 tablespoons chai latte concentrate, and ½ teaspoon ground cinnamon until smooth and drizzle over the top of the muffins.
Nutrition
Calories: 239kcal | Carbohydrates: 43g | Protein: 3g | Fat: 7g | Saturated Fat: 4g | Polyunsaturated Fat: 0.4g | Monounsaturated Fat: 2g | Trans Fat: 0.2g | Cholesterol: 34mg | Sodium: 118mg | Potassium: 89mg | Fiber: 1g | Sugar: 27g | Vitamin A: 216IU | Vitamin C: 0.1mg | Calcium: 40mg | Iron: 1mg