Raspberry Iced Tea recipe is a refreshingly sweet drink you'll want to sip all summer long! Made with just 4 ingredients, you can have a large party pitcher ready with minimal ahdns-on prep work.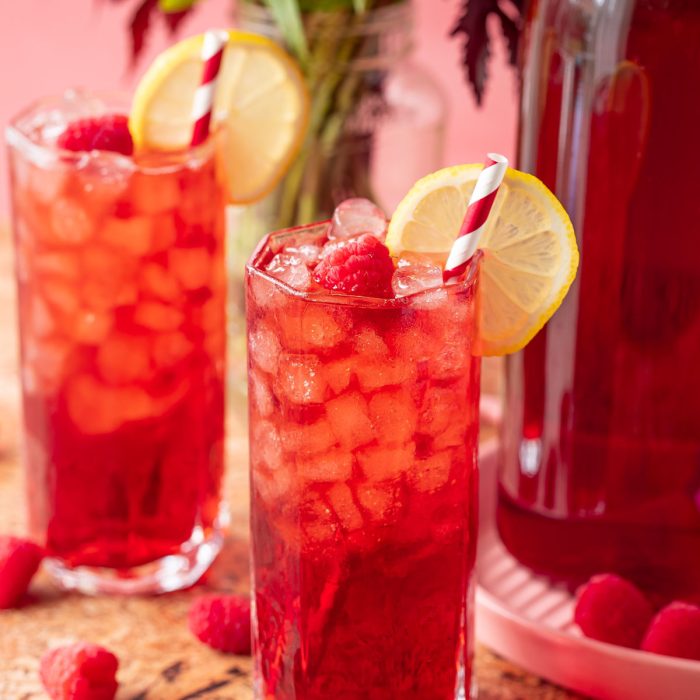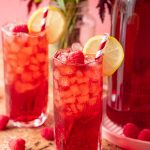 This Easy Raspberry Iced Tea recipe is a refreshingly sweet drink that's made with only 4 ingredients! The perfect drink to sip on in the spring and summer sun!
Fill your cup up with another sweet raspberry drink, such as this Sparkling Raspberry Lemonade! Another large batch recipe that can serve a crowd!
Pack your glass full of ice and then fill it to the brim with this fruity, sweet Raspberry Iced Tea! The crisp layers of unsweetened iced tea collide with the sweet flavor of raspberries, making for a refreshing drink that's sure to cool you down on any warm day!
Since this recipe fills a pitcher, it's perfect for sharing! Friends and family will be thrilled to enjoy this homemade drink as they sit poolside, on the porch, or while soaking up the sun.
Homemade Iced Tea Recipes such as this raspberry tea always taste better than anything you can find in a store! Especially since they're sweetened with homemade fruit syrups!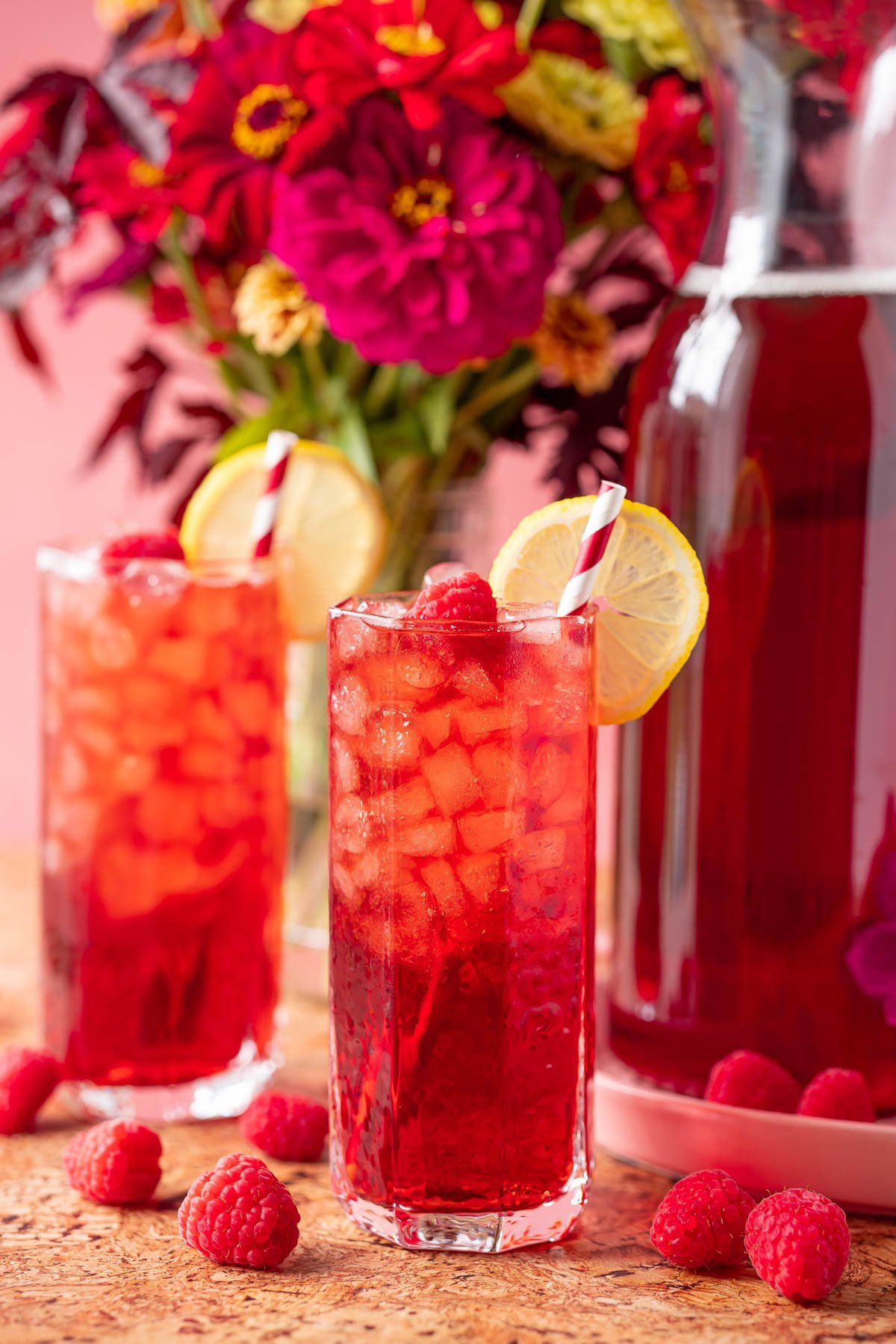 Raspberry Iced Tea Ingredients
All you need is four simple ingredients to make a big batch of this fruity raspberry tea recipe right at home!
Raspberries
Water
Sugar
Tea
Find the full amounts and instructions in the recipe card at the end of the post.
Raspberry Simple Syrup
The key ingredient to this crisp, refreshing drink is the homemade raspberry simple syrup! Hear me out on the homemade part, though, because it's actually super simple to make yet adds a burst of flavor to this iced tea that will make you fall in love with it!
The raspberry syrup is made on the stovetop using only 3 ingredients: water, granulated sugar, and fresh or frozen raspberries. The three are then combined in a saucepan, where they simmer for only about 10 minutes.
Afterward, the berries are strained out, and you're left with a fruity, sweet syrup that you'll want to put in every single beverage you make! Homemade but super simple to make, right?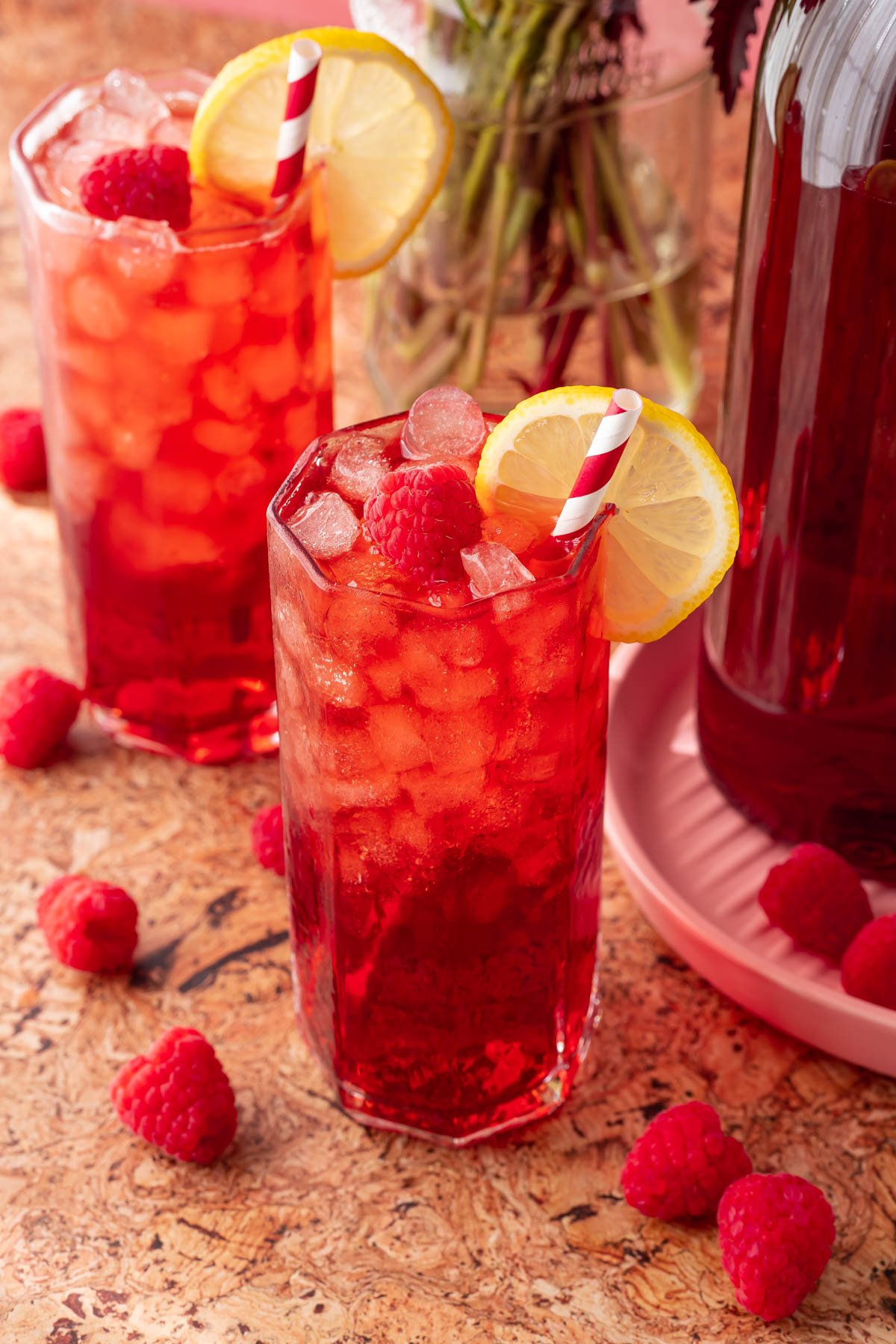 Recipe Tips For The Best Homemade Raspberry Iced Tea
Crush The Berries – Be sure to crush the raspberries as they simmer in the pot. Doing so will release more of their juices, infusing the syrup with as much raspberry flavor as possible.
Straining – The goal is to have a smooth, pulp-free tea! Therefore, you'll want to use a fine-mesh sieve or a cheesecloth to strain the syrup and separate the berry pieces once it's set for 30 minutes. This will remove pulp and large pieces we don't want to find in our iced tea!
Filtered Water – It's best to use filtered water when making tea because it lets the true flavor of the tea develop.
Choosing Tea – Feel free to brew your unsweetened iced tea using black tea bags in this recipe. However, you can also keep it convenient by grabbing your favorite bottle of store-bought unsweetened iced tea to use (I like Pure Leaf Unsweetened). Do what works best for you, as the drink will be absolutely delicious either way!
Steeping – I highly recommend boiling and steeping your tea in just 25% of the water and then adding the rest of the cold water after to help cool it down. When you discard tea bags, it's important not to squeeze them too much, squeezing could cause additional tannic acid which could make the tea bitter.
Garnishes – Easily make this a drink that not only impresses with its flavor but with its appearance as well! To do so, toss a few fresh raspberries into the glass, place a lemon slice on the brim, and stick a fun straw in it! Fresh mint is a nice touch too!
Try another easy-to-make, refreshingly sweet drink recipe, such as this Peach Iced Tea or Iced Strawberry Tea! Both are also made with homemade simple syrups, adding that delicious splash of flavor! I also love a batch of classic Homemade Sweet Tea!
Lemon Raspberry Iced Tea
If you love lemon in your iced tea, add a bit of freshly squeezed lemon juice to this recipe for extra flavor and zestiness! This version is absolutely perfect for hot summer days!
Raspberry Iced Tea FAQs
How Many Servings Does This Drink Recipe Yield?
This recipe delivers 9 cups of raspberry iced tea! If you plan to make a larger batch, just double your raspberry simple syrup recipe!
Can This Recipe Be Made With Decaffeinated Tea?
Yes! Just brew the tea right at home with decaffeinated tea bags, or grab a jug of unsweetened decaffeinated tea. You Can also make it with herbal tea or green tea too!
How Can I Make This Tea A Little Sweeter?
For a sweeter tea, go ahead and double the cup of sugar in this recipe to make a rich simple syrup. You can also keep plain simple syrup, honey, or agave nectar sweetener on the side for people to add their own to their liking.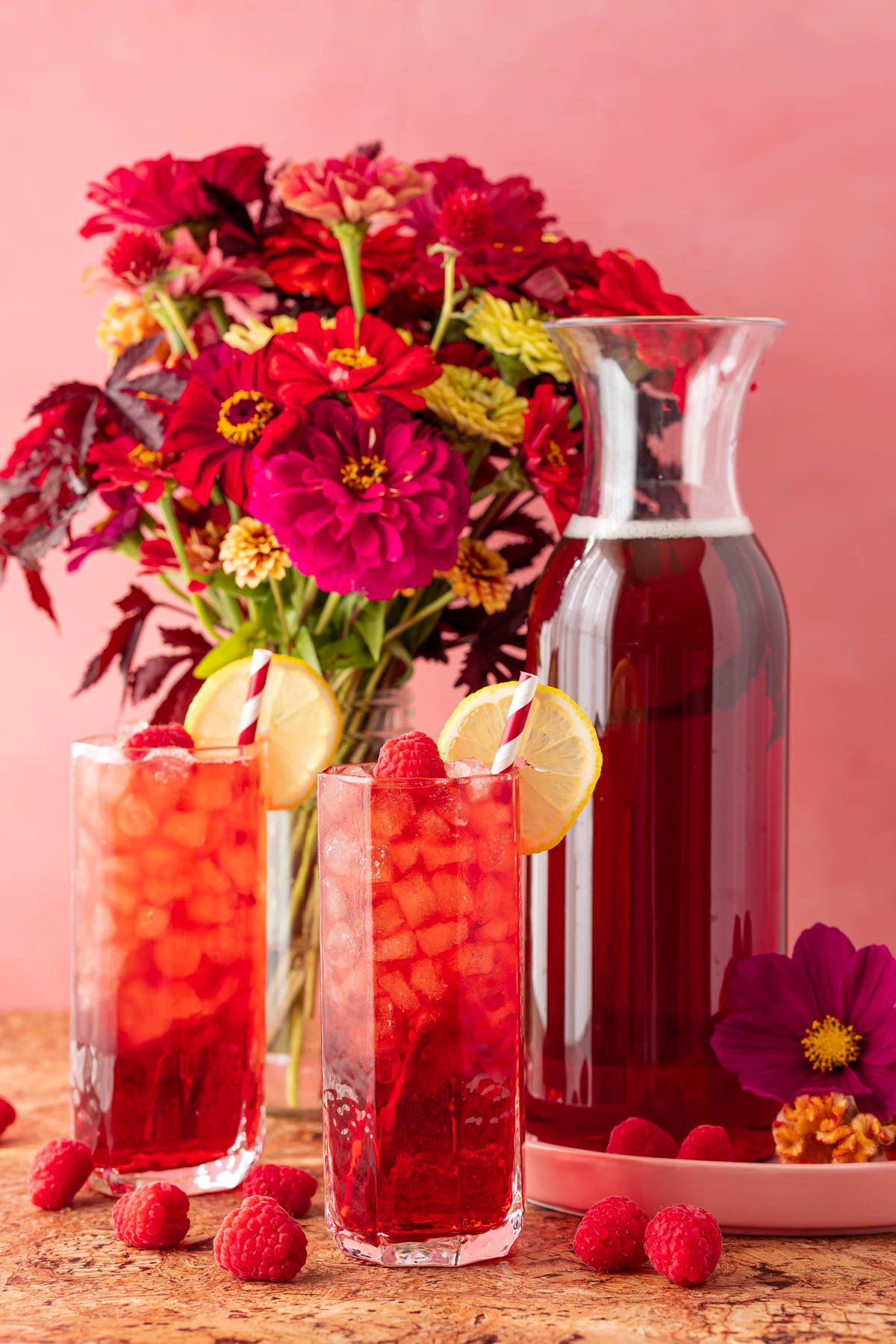 👋 Let's Connect!
If you've tried this recipe, please let me know how you liked it in the comments below and leave a review. I love hearing from you!
Don't forget to tag me – @sugarandsoulco – on Instagram and Pinterest with your photos or join our Sugar & Soul Show-offs Community and share them there, where you can join our recipe challenges!
The recipe was originally published in August 2016 and was updated in April 2023 with fresh photos and a revised recipe and information.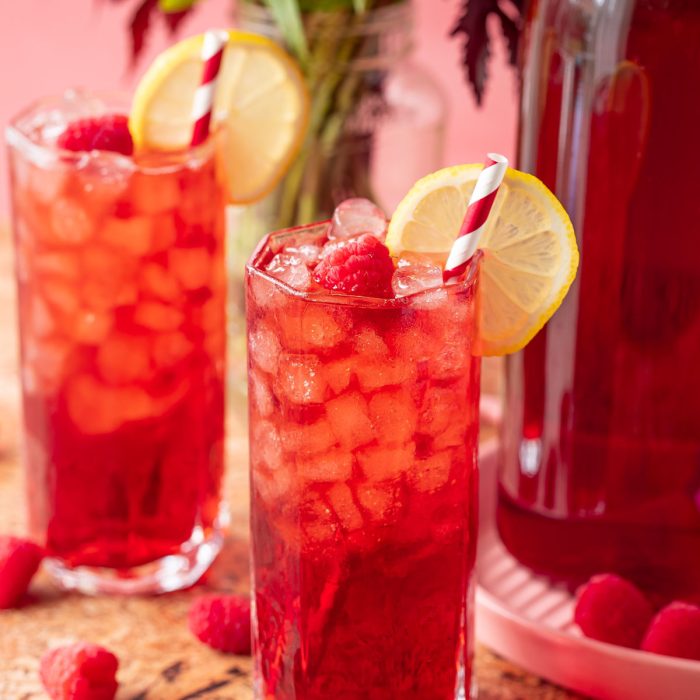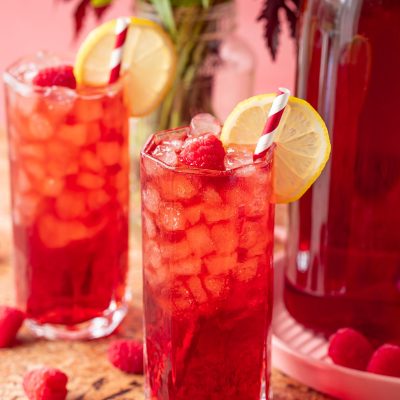 Homemade Raspberry Iced Tea
Raspberry Iced Tea recipe is a refreshingly sweet drink you'll want to sip all summer long! Made with just 4 ingredients, you can have a large party pitcher ready with minimal ahdns-on prep work.
Instructions
Add 1 cup granulated sugar, 1 cup water, and 2 cups fresh raspberries to a medium pot over high heat until it comes to a boil, then reduce to medium heat for about 5 minutes, crushing the raspberries with the back of a wooden spoon.

1 cup granulated sugar, 1 cup water, 2 cups fresh raspberries

Turn off the heat, cover the pot, and let set for 30 minutes.

Meanwhile, bring 8 cups filtered water to a boil and then steep 8 black tea bags in the hot water for 5 minutes. If using loose leaf tea, make sure to put it in an infuser ball before adding it to the water.

Remove the tea bags without squeezing them too much and discard. Squeezing the water out of the tea bags can add too much tanic acid to the tea and cause it to taste bitter.

Pour the remaining 6 cups of water into a large pitcher, followed by the tea. This will help cool it down.

Strain the raspberry syrup through a fine-mesh sieve and discard the pulp. Add the raspberry syrup to the pitcher with the tea.

Serve over ice and garnish with fresh berries if desired.

8 cups filtered water
Notes
Store in an airtight container in the refrigerator for 2 days.
I recommend preparing tea with filtered water for the best taste.
The recipe can be halved for a smaller pitcher.
8 cups of store-bought unsweetened iced tea may be used in place of homemade. We like Pure Leaf or Gold Peak.
Nutrition
Calories: 89kcal | Carbohydrates: 23g | Protein: 0.3g | Fat: 0.2g | Saturated Fat: 0.01g | Polyunsaturated Fat: 0.1g | Monounsaturated Fat: 0.01g | Sodium: 11mg | Potassium: 37mg | Fiber: 2g | Sugar: 21g | Vitamin A: 8IU | Vitamin C: 6mg | Calcium: 13mg | Iron: 0.2mg