This Coke Float is a classic chilled treat that everyone will love sipping on! Made with ice-cold Coca-Cola, creamy vanilla ice cream, and a cherry!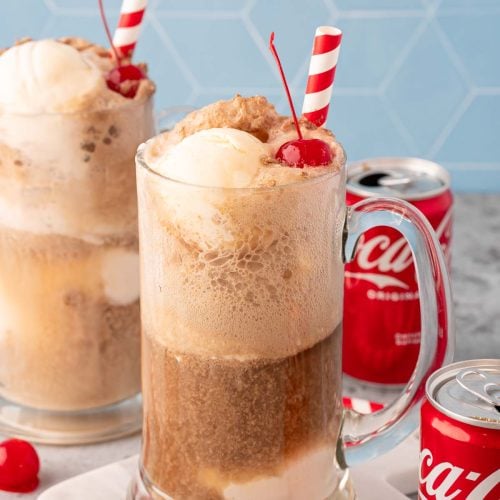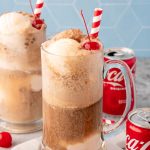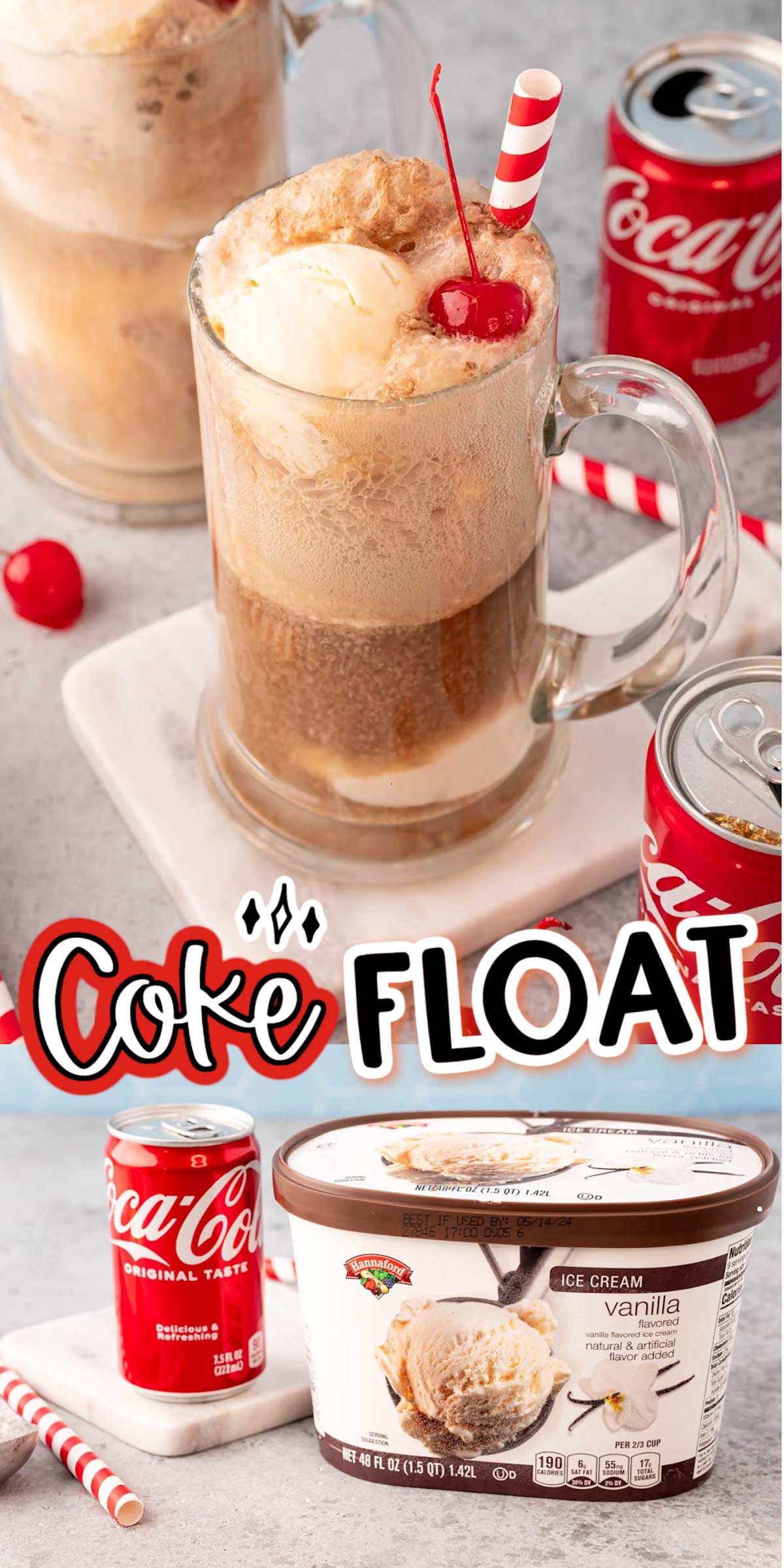 This Coke Float is a classic chilled treat that everyone will love sipping on! Made with ice-cold Coca-Cola, creamy vanilla ice cream, and a cherry!
Check out more quick and delicious float recipes, such as my Root Beer Float and Shirley Temple Float! Both easy recipes are made with just four ingredients in only 5 minutes!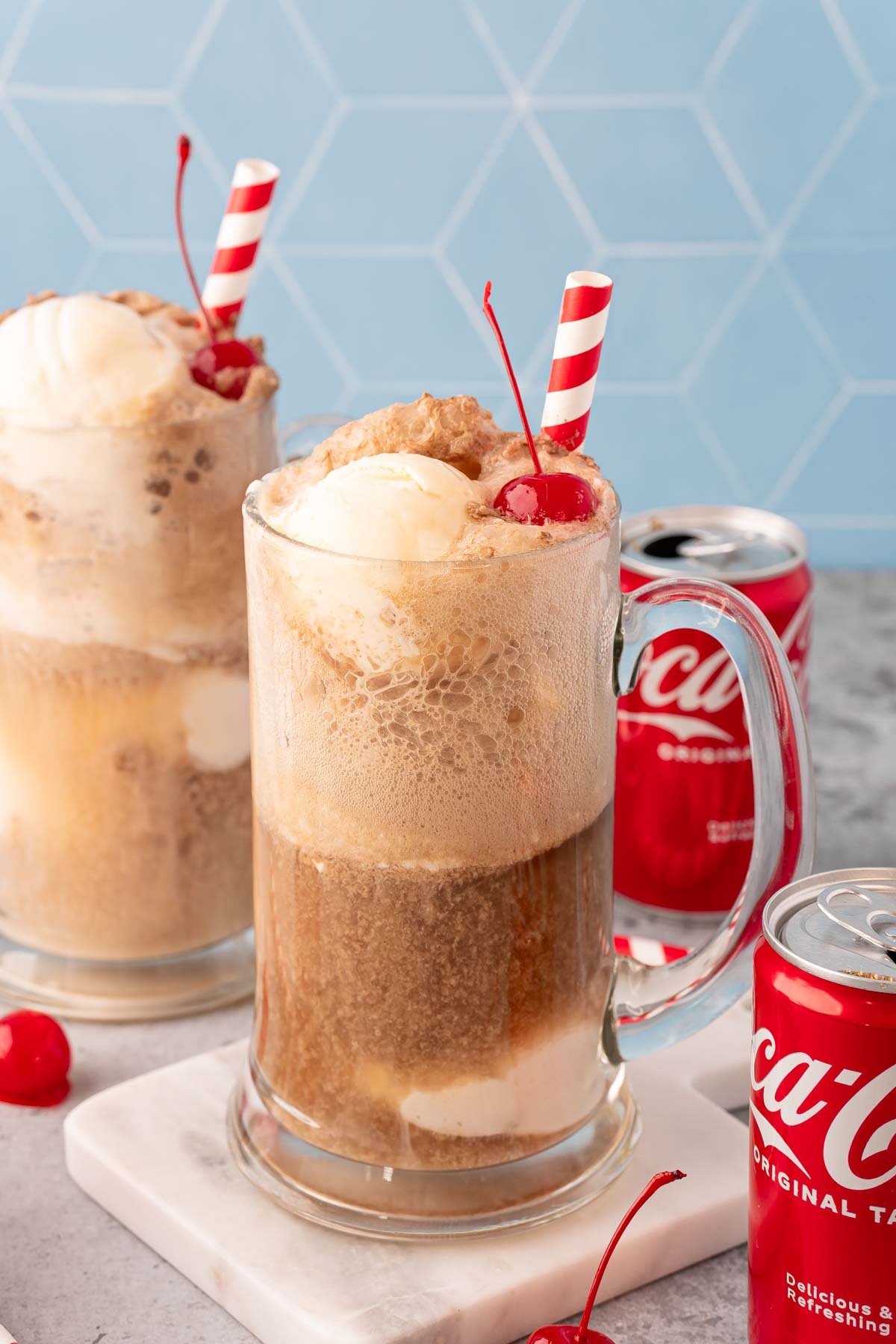 Make a round of Coke Floats for everyone the next time you find yourself surrounded by friends or family! They'll love the old-fashioned experience of enjoying fizzy soda and creamy ice cream together in one glass!
Served in a frosty glass, this ice-cold treat will be great for serving throughout the warmer months. And easy! Just set out all of the ingredients and chilled glasses, then allow guests to create their own floats.
We actually love Coke Floats so much that we enjoy them year-round! Usually paired with our favorite movie!
All About This Classic Coke Float
Taste: Vanilla ice cream and Coke combine for a crisp, fresh taste that's loaded with sweet vanilla flavor! This recipe has just the right amount of each so that neither of them overpowers the other, giving you the best-tasting float!
Texture: This vanilla ice cream coke float has all the dreamy texture that you search for in floats! Creamy and velvety with a side of bubbly, absolutely satisfying!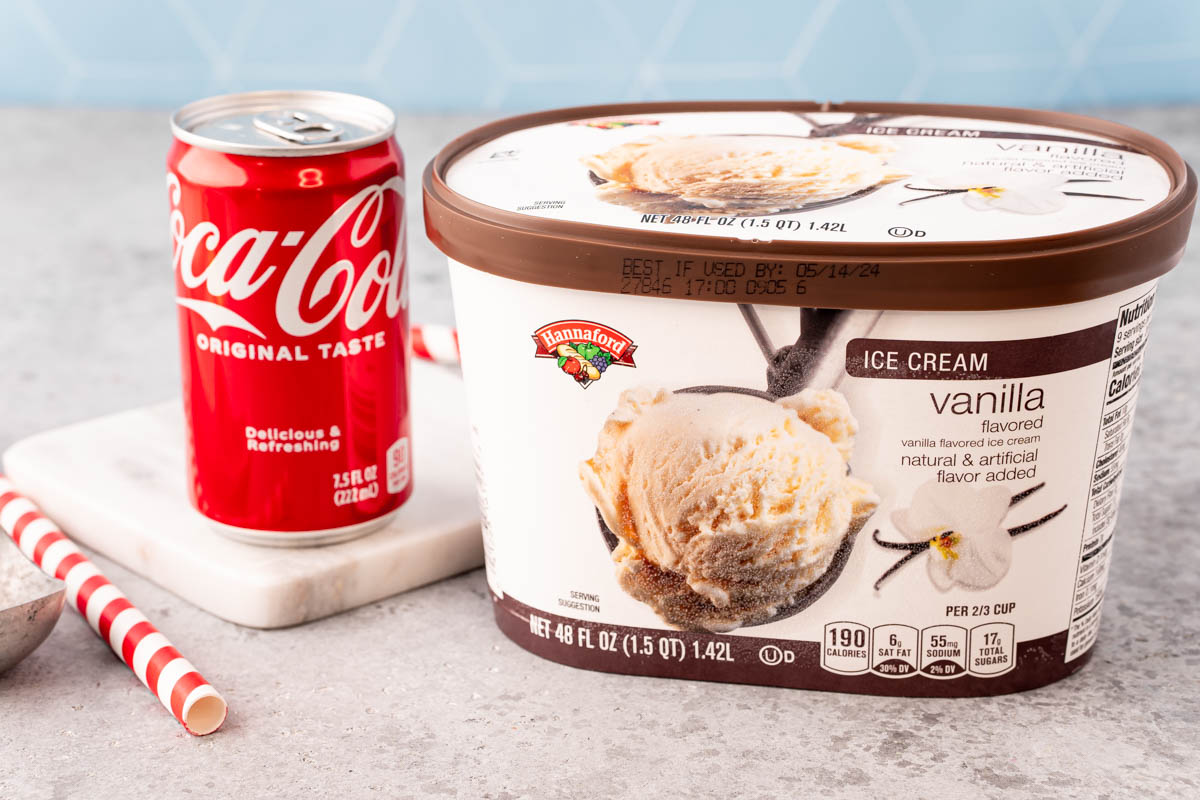 Ice Cream Or Soda First?
If you make floats often enough, you'll know the great debate is whether you put ice cream or soda in the glass first. To me, there is no debate, the ice cream must always go first! (And last!)
Adding the ice cream into the glass first and then pouring the soda over it allows the soda's gas molecules to interact with the ingredients in the ice cream. This process stabilizes and traps the fizzy bubbles, in turn creating that velvety foam we all love about ice cream floats!
By adding the soda first, you lose out on many of the bubbles from the soda since they'll already have popped. So, by the time the scoop of ice cream collides with the soda, you'll have less foam since there will be fewer bubbles.
Even though there isn't a debate for me since I love lots of velvety goodness in my floats. You may not be as crazy about the foam as I am, and that's ok!
So, to cut back on the foam, you'll just want to add the soda first!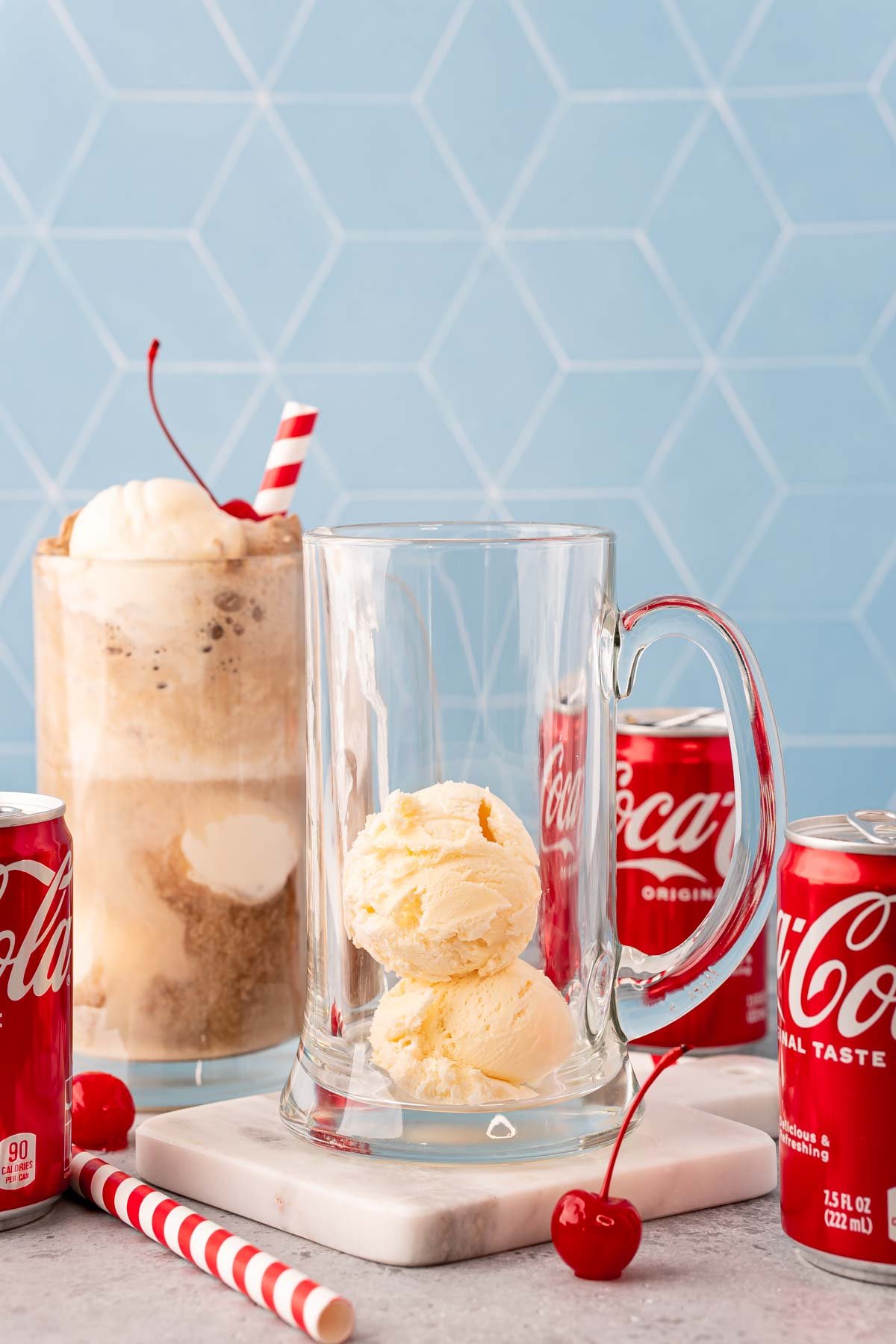 How To Make The Best Coke Float
The Glass – When making floats, it's best to use a tall glass. Ideally, this would be a milkshake glass, soda glass, or a beer stein if you have them! Before making the float, you want to place your tall glasses in the freezer to chill for about 15 minutes. This will ensure your floats will stay colder for longer!
Cold Soda – Be sure to place your coke in the fridge before making this coke float recipe. You want the coke to be ice cold when making floats! If not, the warm soda will melt the ice cream quickly and leave you with a warm, sad coke float experience.
Quality Ice Cream – The best floats are always made with quality ice cream! Therefore, look for vanilla ice cream that has a fat content that's at least 15%. Ice cream brands such as Friendly's or Haagen-Dazs would both be great options for this recipe.
Pouring – The trick to pouring soda into floats is to first hold the glass at a slight angle. Then pour the soda slowly in. The angle and slow pour will reduce the risk of overflowing the glass since it helps cut back on the fizz.
Toppings – All good floats come with fun and tasty toppings! Finish off your Coke Float with whipped cream, maraschino cherries, and even some sprinkles!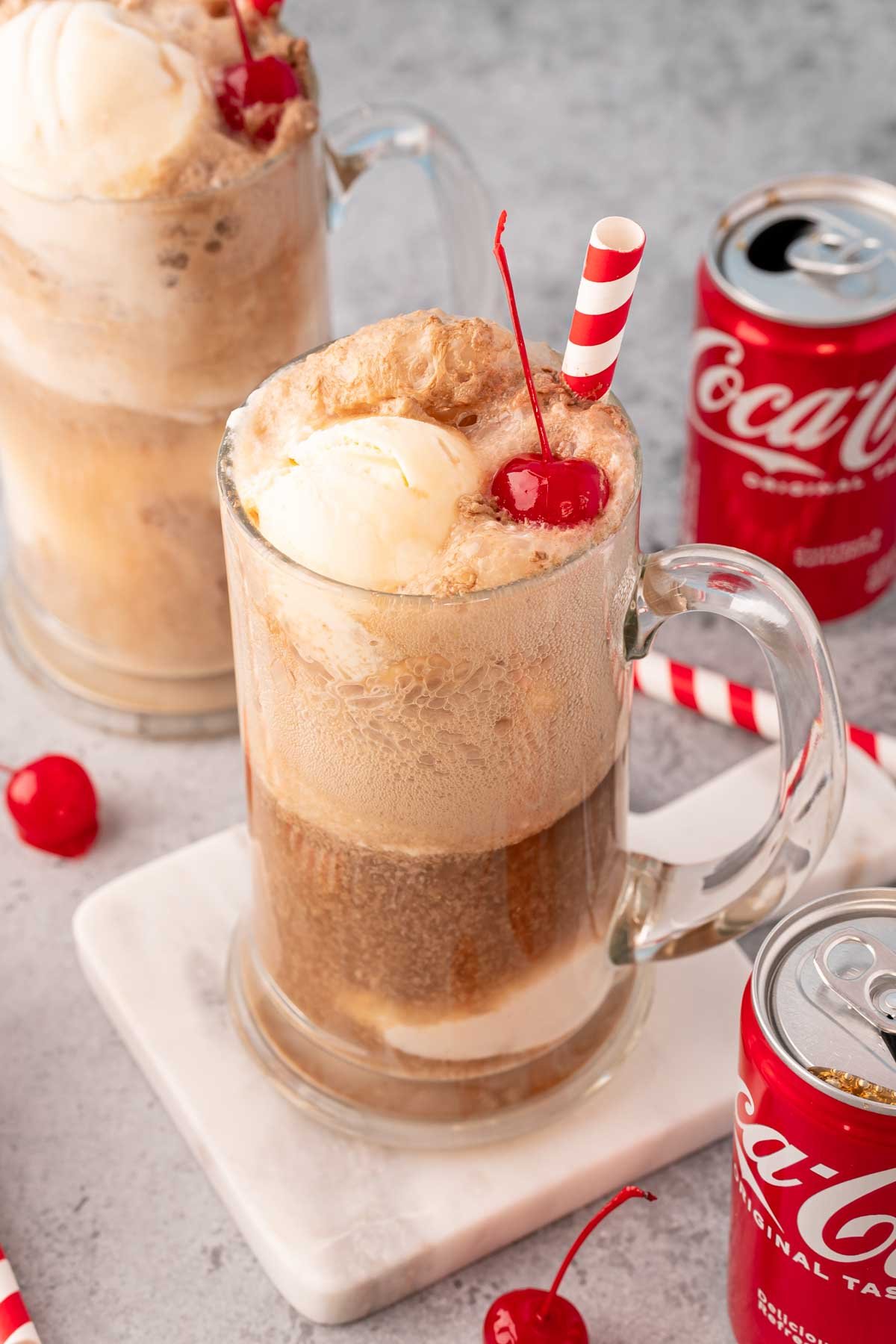 This Homemade Coke Float lets you have soda AND dessert in the same cup! And anything that involves dessert that's made with ice cream is an automatic favorite for me!
In the summer, if I'm not sipping floats like these, then you can bet I have a milkshake in my hand! My go-to shakes are this Coffee Milkshake and Birthday Cake Milkshake, both are ready to sip on in just 5 minutes!
For a dessert that's best served with a generous scoop of ice cream, check out my Southern Peach Cobbler or Crockpot Chocolate Cake. Both of these are also a great way to cool down in the heat while still enjoying a delicious dessert!
How Many Coke Floats Does This Recipe Make?
Following the recipe instructions will yield one coke float. However, since you'll already have the ingredients out, it is super simple to make as many floats as needed to serve family and friends.
Can I Make This Float Recipe With Another Type Of Drink?
Yes, feel free to get creative and make this recipe with your favorite carbonated beverage. Root beer, cream soda, orange soda, or even ginger ale would all be tasty variations!
You can make this float with different coke flavors, such as cherry coke!
Can I Add Alcohol To This Coke Float?
Of course! To add alcohol, I would decrease a bit of the coke and replace it with rum. That way, the liquid-to-ice cream ratio stays relatively the same.
This will create a rum and coke float that I'm sure you will love!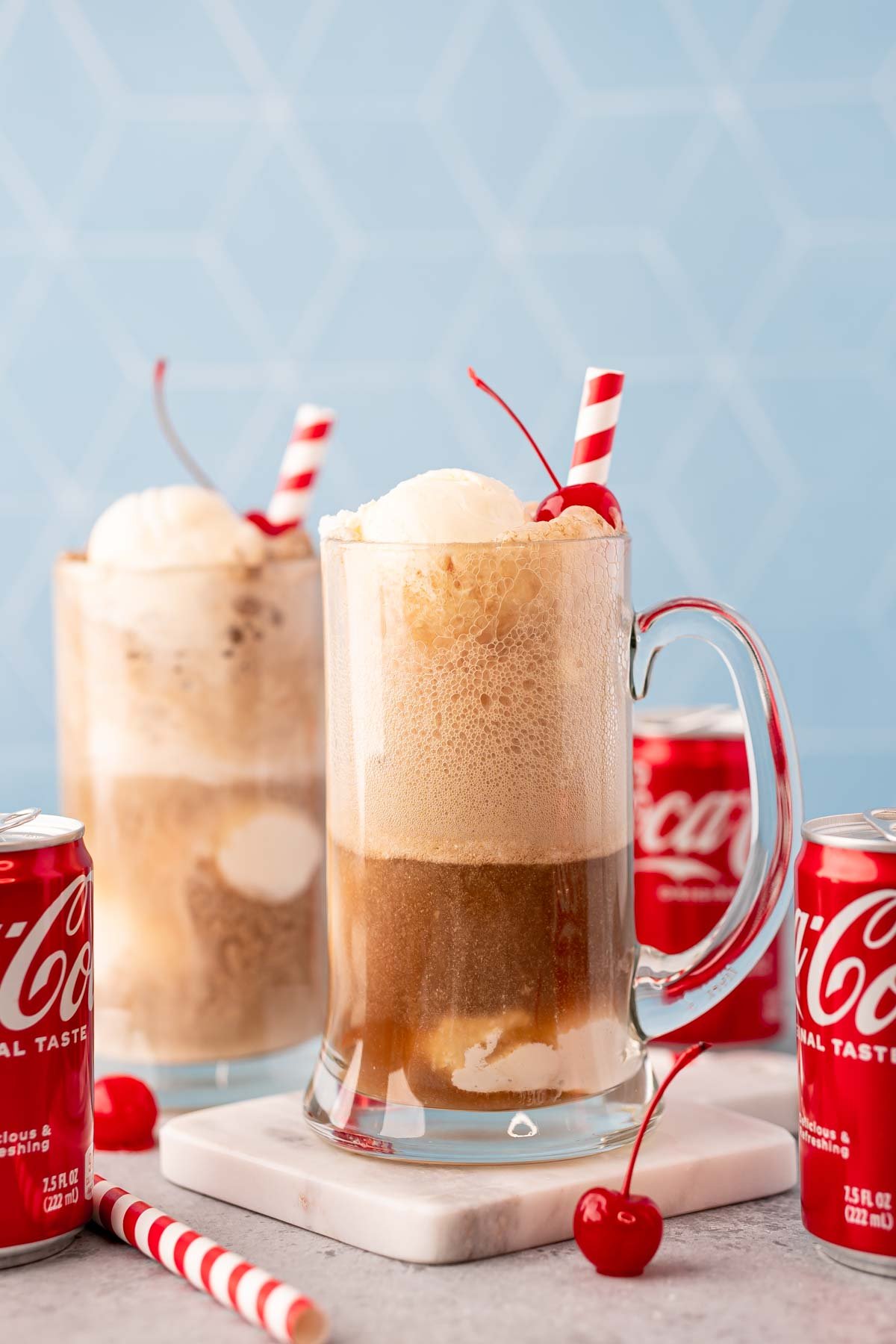 👋 Let's Connect!
If you've tried this recipe, please let me know how you liked it in the comments below and leave a review; I love hearing from you! And don't forget to tag me – @sugarandsoulco – on Instagram and Pinterest with your photos or join our Sugar & Soul Show-offs Community and share them there, where you can join our recipe challenges and win prizes!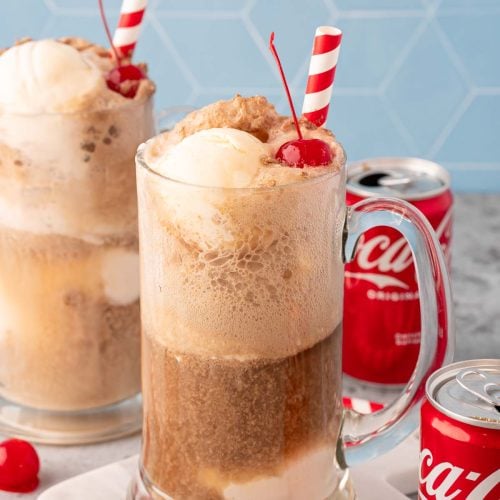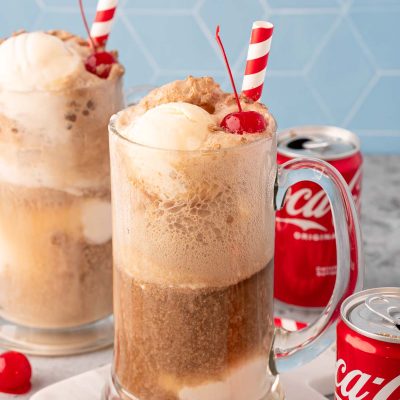 Coke Float
This Coke Float is a classic chilled treat that everyone will love sipping on! Made with ice-cold Coca-Cola, creamy vanilla ice cream, and a cherry!
Instructions
Freeze a tall glass, preferably a float glass or a beer stein for 15 minutes before preparing.

Add 2 scoops of the ice cream to the glass and pour the root beer in slowly at an angle to reduce fizz and risk of overflow.

3 scoops vanilla ice cream, 8 ounces Coke

Top with whipped cream and a cherry.

Nutrition
Calories: 494kcal | Carbohydrates: 68g | Protein: 7g | Fat: 22g | Saturated Fat: 13g | Polyunsaturated Fat: 1g | Monounsaturated Fat: 6g | Cholesterol: 87mg | Sodium: 167mg | Potassium: 399mg | Fiber: 1g | Sugar: 62g | Vitamin A: 834IU | Vitamin C: 1mg | Calcium: 258mg | Iron: 0.4mg