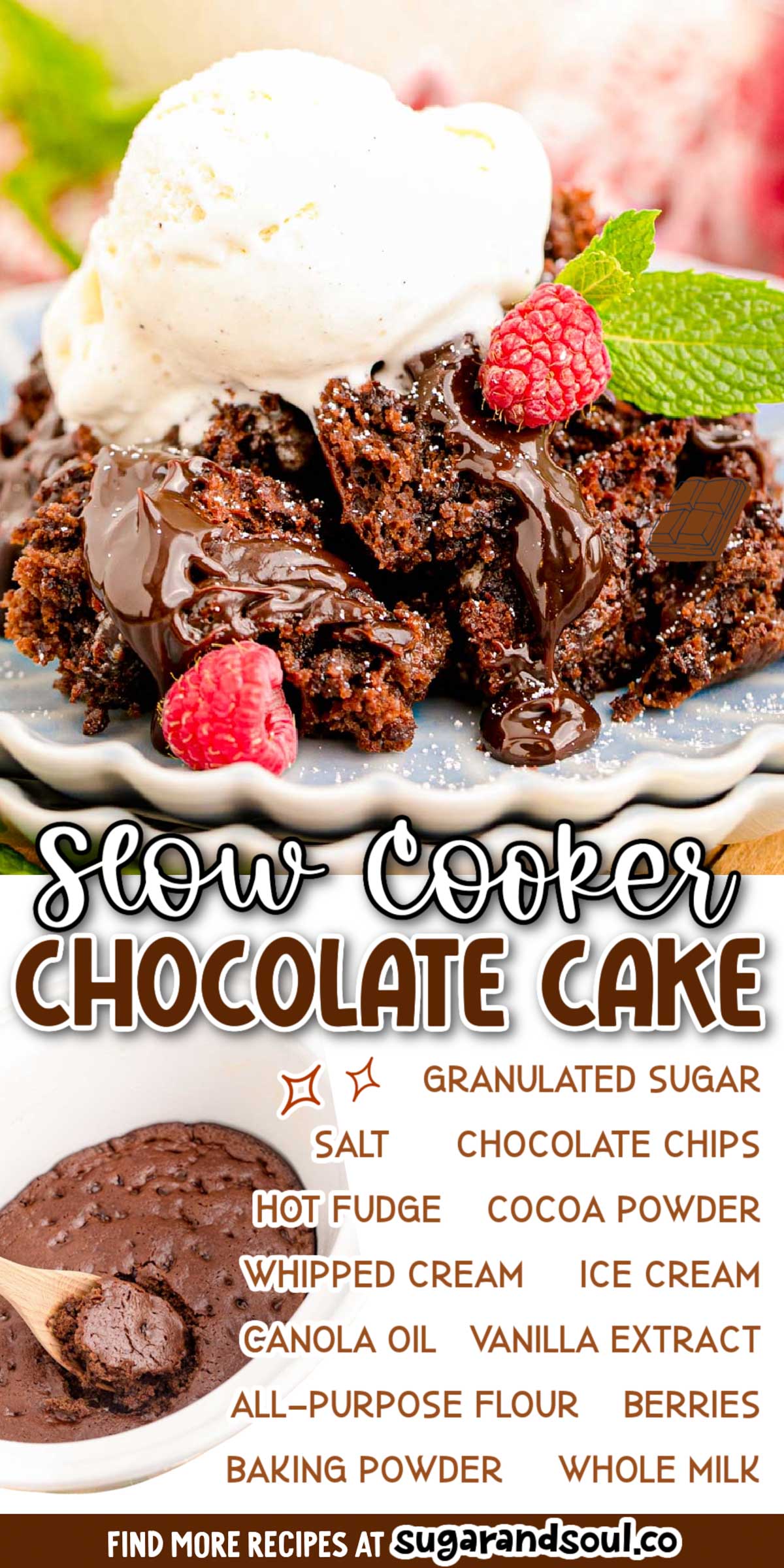 Crockpot Chocolate Cake is made from scratch using pantry staple ingredients and then topped with hot fudge, ice cream, and whipped cream! Takes just 15 minutes to prep and then your crock pot does the rest of the work!
Desserts with toppings like this cake and my Brownie Sundae Cupcakes are some of my favorite ones to share with friends and family! It's always fun to see what everyone piles on for their toppings!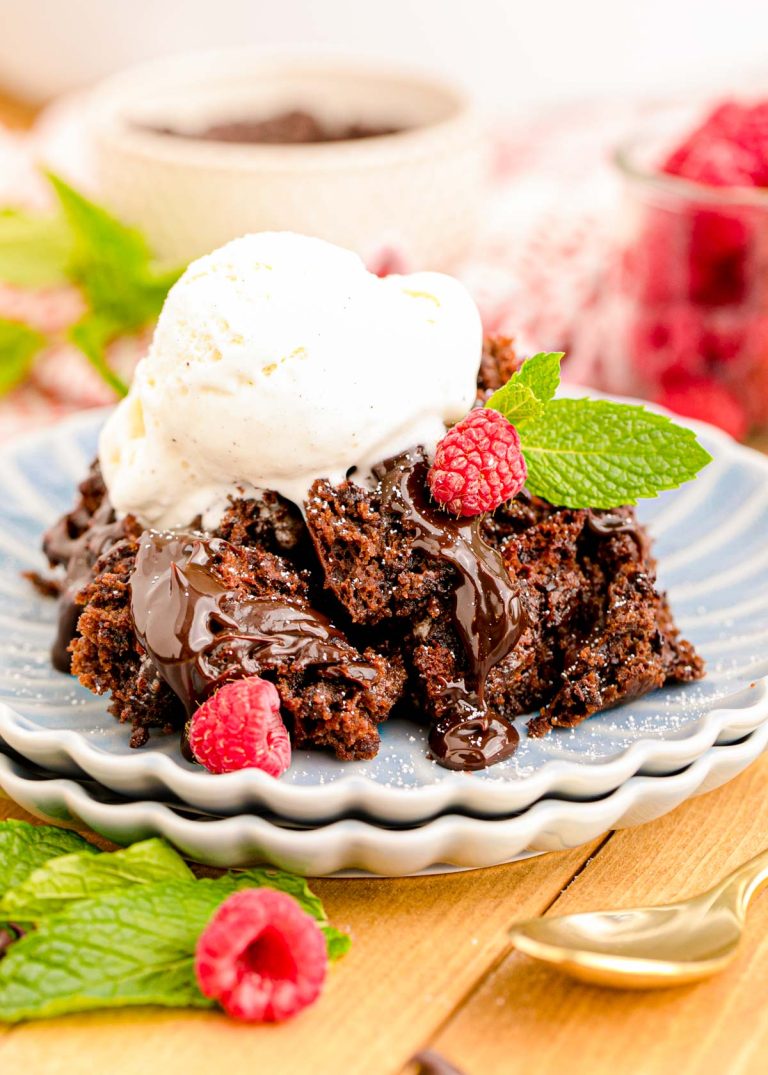 This Crockpot Chocolate Cake is the perfect transition from cozy winter and spring baking into the hot days of summer! It saves your house from the added heat since you don't even have to turn the oven on!
Since it's topped with ice cream and whipped cream, this Slow Cooker Chocolate Cake also makes the perfect dessert to enjoy after a BBQ! After all, who wouldn't love a treat that requires minimal prep, is easy to serve, and comes with tons of topping choices?!
Treat Yourself To Some Homemade Chocolate Cake
Taste: Since this recipe is homemade you know you're getting nothing short of rich, decadent chocolate flavoring! Ingredients such as unsweetened cocoa powder and chocolate chips ensure that!
Texture: With this crockpot cake you'll enjoy a dessert that's served warm! This means you can expect the texture to be deliciously gooey and wonderfully moist!
One important note about this cake is that it doesn't contain any eggs which makes it perfect for those with allergies.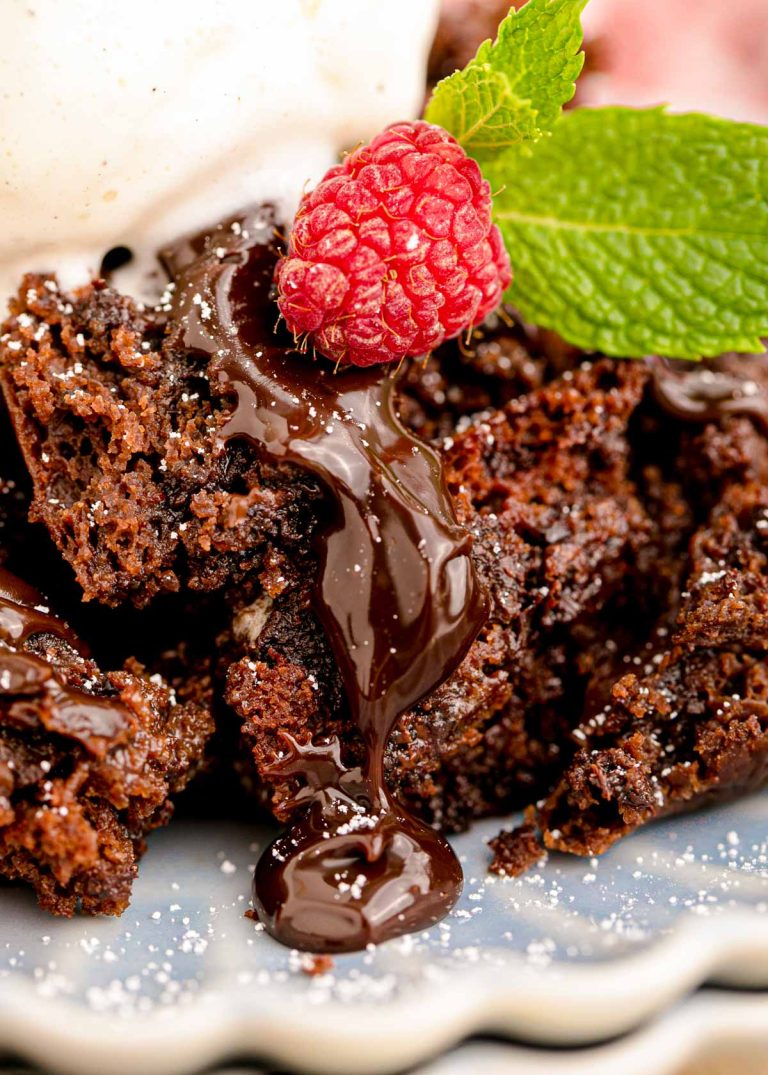 How To Serve Chocolate Slow Cooker Cake
This homemade chocolate cake is served by scooping it right out of the insert and onto individual plates or bowls! Then guests can add their favorite toppings to it!
We love topping ours with hot fudge, vanilla ice cream, homemade whipped cream, and fresh berries!
It'd even be fun to set up a toppings bar with those options! Then I'd also add choices like crushed nuts, caramel sauce, cherries, and chopped up candy bars!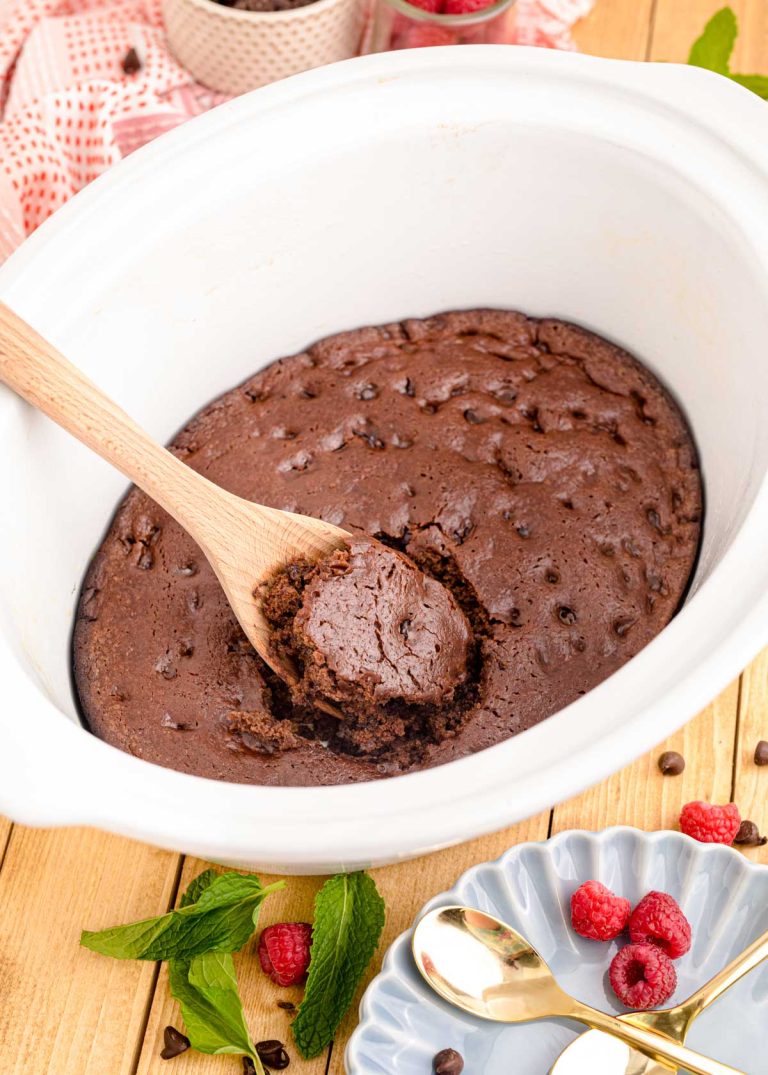 Delicious Variations To This Crock Pot Cake
This chocolate cake is absolutely divine on its own but it also makes a great base for other variations! You could easily add your favorite mix-ins to make this cake exactly what you want!
Some tasty ideas that would be worth trying are:
Chopped Nuts
Peanut Butter Chips
Butterscotch Chips
Mint Chips
Peanut Butter
Nutella
It gets better, this cake can even be turned into an exciting lava cake! This is done by simply pouring a 3-ingredient mixture over the top of the batter. That recipe can be found right in the printable recipe card below!
The Secret To Making Cake In A Crockpot
Nonstick Spray – Coating the slow cooker insert with nonstick spray helps for easier serving once the cake has finished cooking!
Towel Trick – Once the cake batter is in the crockpot a towel is laid over it. Then the lid is placed onto the slow cooker. This easy trick helps absorb the condensation so that the cake doesn't get sticky or soggy!
Remove The Slow Cooker Insert – The insert will need to be removed as soon as the cake has finished cooking. This way the cake doesn't continue to cook, resulting in a dried-out cake with burnt edges!
Parchment Paper – Line the insert with parchment paper to remove the entire cake effortlessly! Unfortunately, those beloved slow cooker liner bags won't work with this recipe!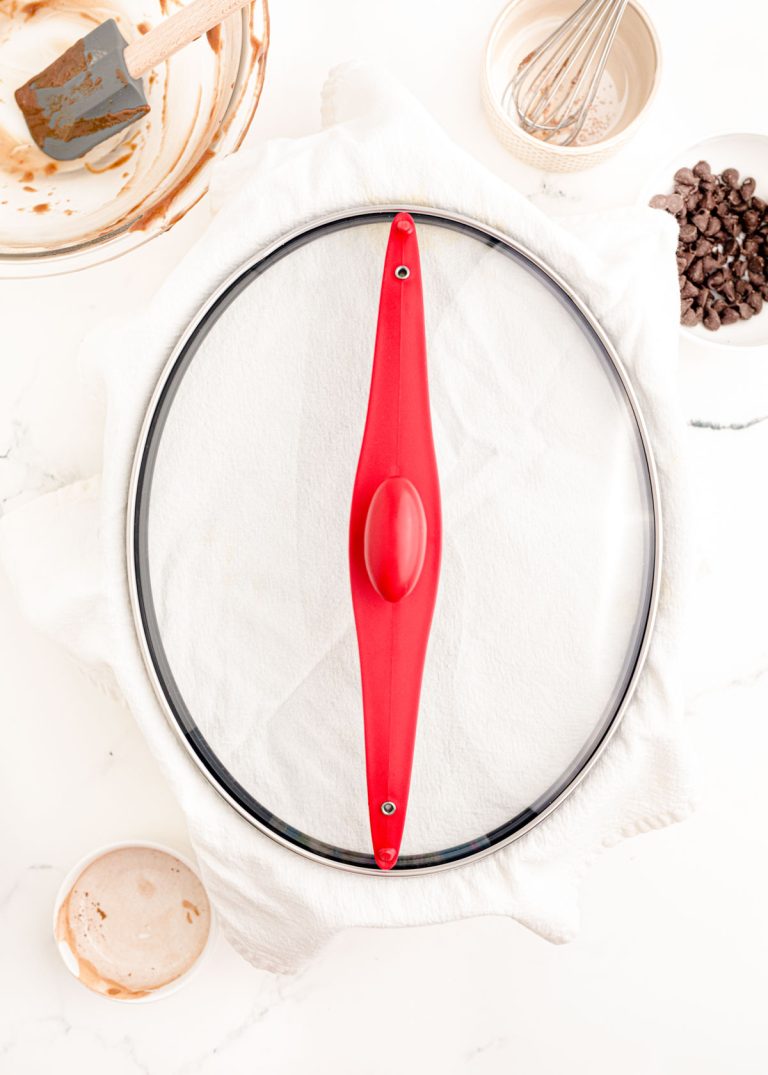 Can I Still Make This Slow Cooker Cake Recipe If My Crockpot Is Smaller?
Yes! You will just need to increase the cooking time since the batter will be thicker.
What If I Don't Have A Slow Cooker?
No worries, you can still make this chocolate cake recipe right in the oven! Just pour the batter into a 9X9-inch pan and bake the cake at 350 degrees F for about 20 minutes.
How To Store Leftover Slow Cooker Cake:
Place the leftovers into an airtight container and store them in the refrigerator for up to a week. The leftovers, or even the entire cooked cake, can also be frozen for up to 3 months.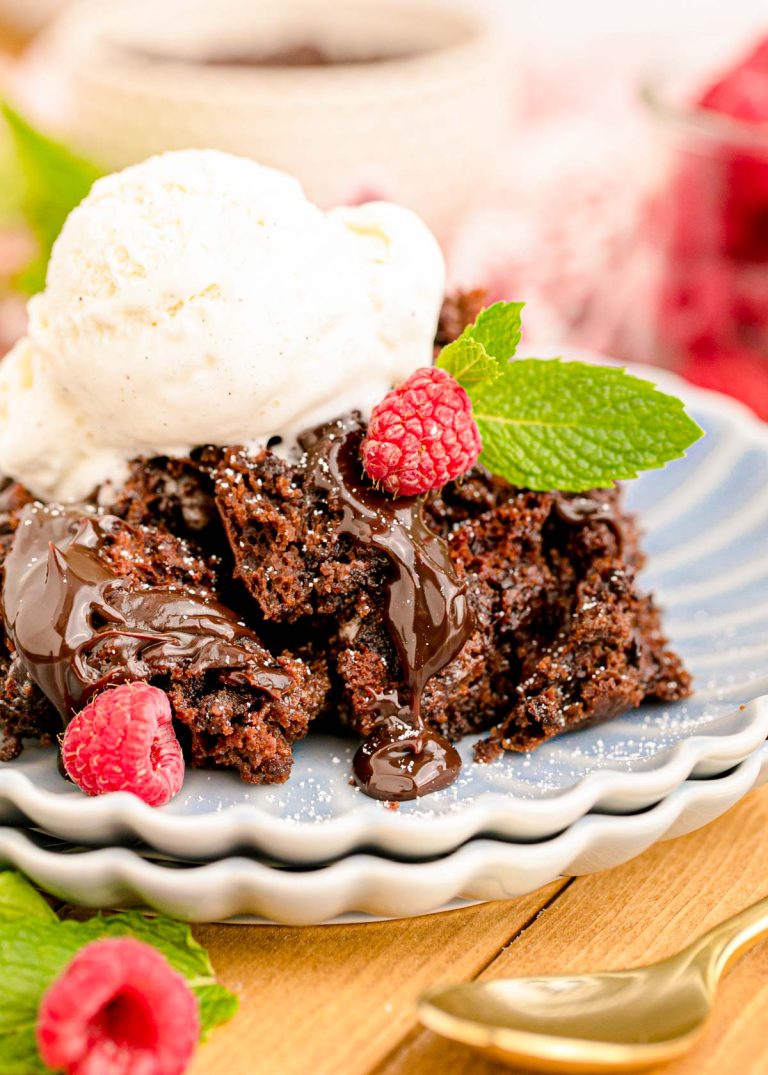 You can never have too much chocolate cake which is why this Crockpot Chocolate Cake disappears quickly! Grab another one of my favorite chocolate cake recipes to try!
Crockpot Chocolate Cake
Pin For Later
CLICK THE BUTTON ABOVE TO SAVE THIS DELICIOUS RECIPE TO YOUR BOARD!
👋 Let's Connect!
If you've tried this recipe please let me know how you liked it in the comments below and leave a review, I love hearing from you! And don't forget to tag me – @sugarandsoulco – on Instagram and Pinterest with your photos or join our Busy Family Recipes Facebook Community and share them there!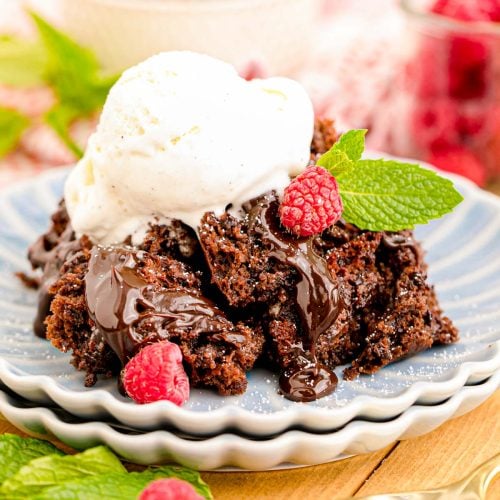 Crockpot Cake
Crockpot Chocolate Cake is made from scratch using pantry staple ingredients and then topped with hot fudge, ice cream, and whipped cream! Takes just 15 minutes to prep and then your crock pot does the rest of the work!
Equipment
Crock pot

Medium mixing bowls

Whisk

Measuring Cups

Measuring spoons
Instructions
Spray the inside of a 6-quart slow cooker with nonstick spray.

In a medium bowl, whisk together the flour, cocoa powder, sugar, baking powder, and salt and set aside.

1 cup all-purpose flour,

3 tablespoons unsweetened cocoa powder,

⅔ cup granulated sugar,

1 ½ teaspoons baking powder,

½ teaspoon salt

In a small mixing bowl, whisk together the milk, canola oil, and vanilla.

½ cup whole milk,

3 tablespoons canola oil,

1 tablespoon vanilla extract,

1 cup chocolate chips

Add to the dry ingredients and stir just until combined. Fold in the chocolate chips.

Pour the cake batter into the greased crockpot and smooth out the top.

Place a towel over the top of the crockpot, then cover with the lid. The towel helps to keep moisture from building up on the surface of the cake.

Cook on high for 1½ hours or until set.

Spoon the servings out of the slow cooker and top with hot fudge, ice cream, whipped cream, and berries or other preferred toppings!

hot fudge,

ice cream,

whipped cream,

berries
Notes
Nonstick Spray – Coating the slow cooker insert with nonstick spray helps for easier serving once the cake has finished cooking!
Towel Trick – Once the cake batter is in the crockpot a towel is laid over it. Then the lid is placed onto the slow cooker. This easy trick helps absorb the condensation so that the cake doesn't get sticky or soggy!
Remove The Slow Cooker Insert – The insert will need to be removed as soon as the cake has finished cooking. This way the cake doesn't continue to cook, resulting in a dried-out cake with burnt edges!
Parchment Paper – Line the insert with parchment paper to remove the entire cake effortlessly! Unfortunately, those beloved slow cooker liner bags won't work with this recipe!
Can I Still Make This Slow Cooker Cake Recipe If My Crockpot Is Smaller? Yes! You will just need to increase the cooking time since the batter will be thicker.
What If I Don't Have A Slow Cooker? No worries, you can still make this chocolate cake recipe right in the oven! Just pour the batter into a 9X9-inch pan and bake the cake at 350 degrees F for about 20 minutes.
How To Store Leftovers: Place the leftovers into an airtight container and store them in the refrigerator for up to a week. The leftovers, or even the entire cooked cake, can also be frozen for up to 3 months.
Lava Cake Variation: Whisk together 1 cup granulated sugar and ¼ cup cocoa powder. Then whisk in 1½ cup of boiling water until smooth. Pour it on top of the batter (don't stir it in), and bake as directed above.
Recipe Additions: Some tasty ideas that would be worth trying are:

Chopped Nuts
Peanut Butter Chips
Butterscotch Chips
Mint Chips
Peanut Butter
Nutella
Nutrition
Calories:
301
kcal
Carbohydrates:
46
g
Protein:
4
g
Fat:
12
g
Saturated Fat:
5
g
Polyunsaturated Fat:
2
g
Monounsaturated Fat:
4
g
Trans Fat:
1
g
Cholesterol:
7
mg
Sodium:
168
mg
Potassium:
146
mg
Fiber:
2
g
Sugar:
32
g
Vitamin A:
103
IU
Vitamin C:
1
mg
Calcium:
84
mg
Iron:
1
mg