A Sea Breeze is an alcoholic mixed drink made with grapefruit, cranberry, and vodka. Its sweet yet sour flavor makes it a popular chilled cocktail to enjoy in summer!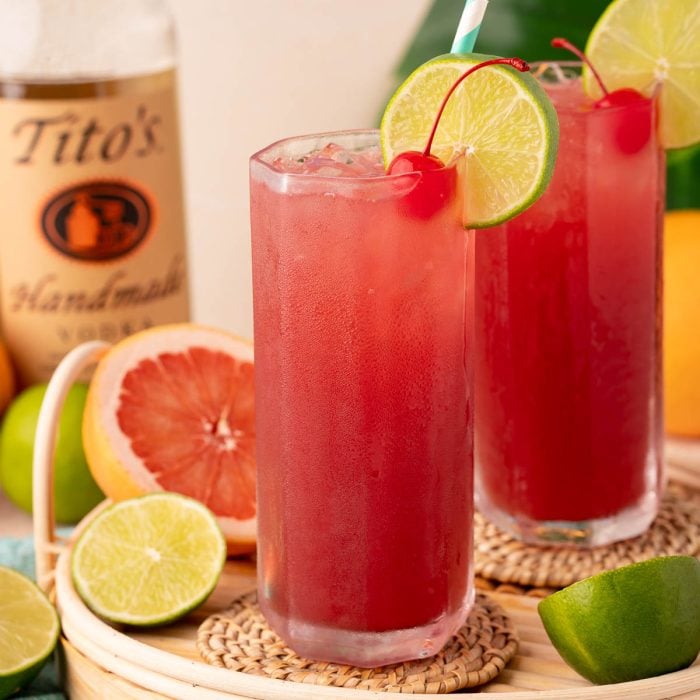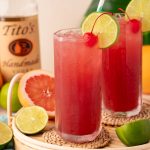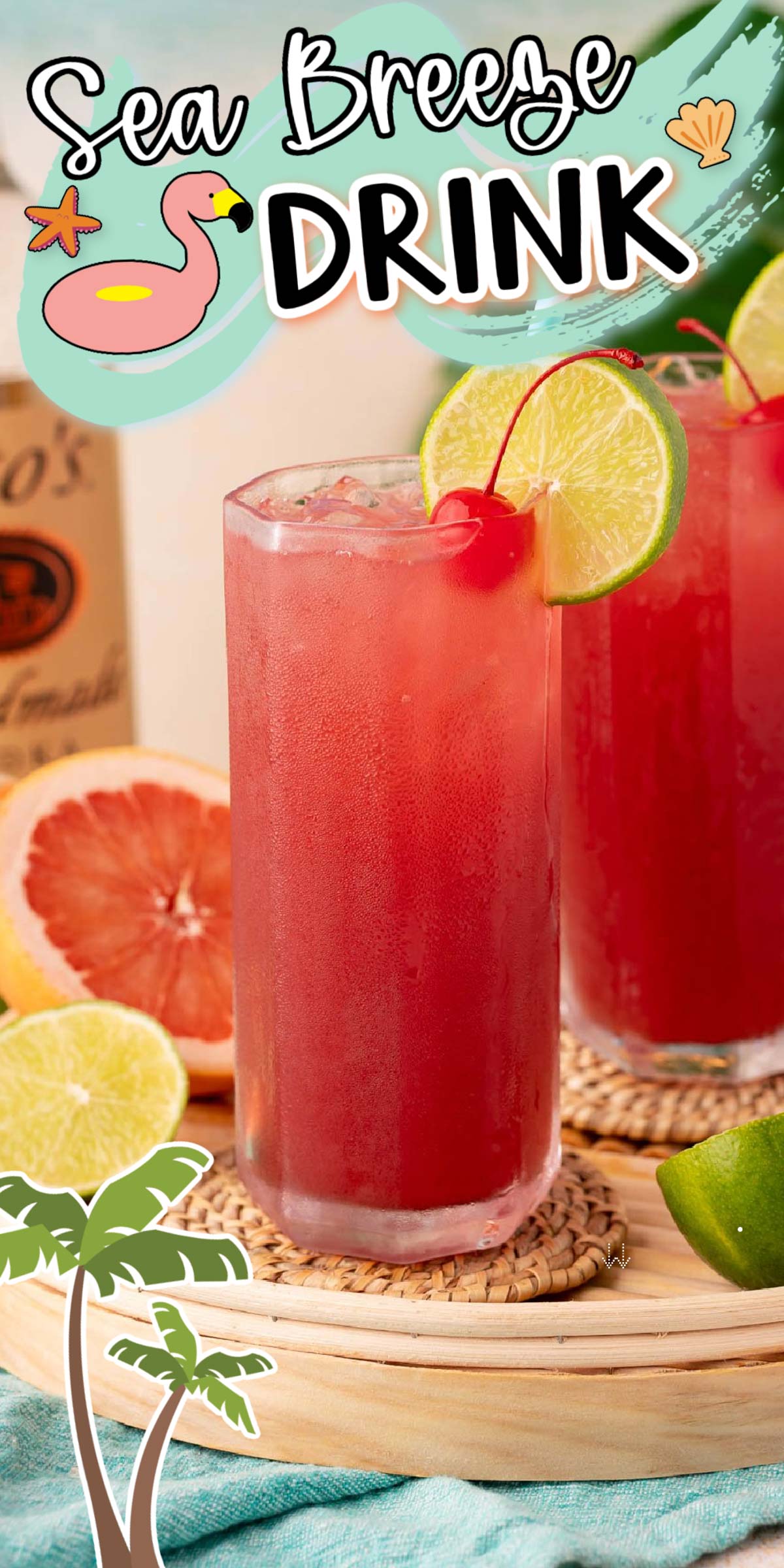 This Sea Breeze Drink Recipe is a refreshing and easy 3-ingredient cocktail that splashes your taste buds with exciting sweet and sour flavor!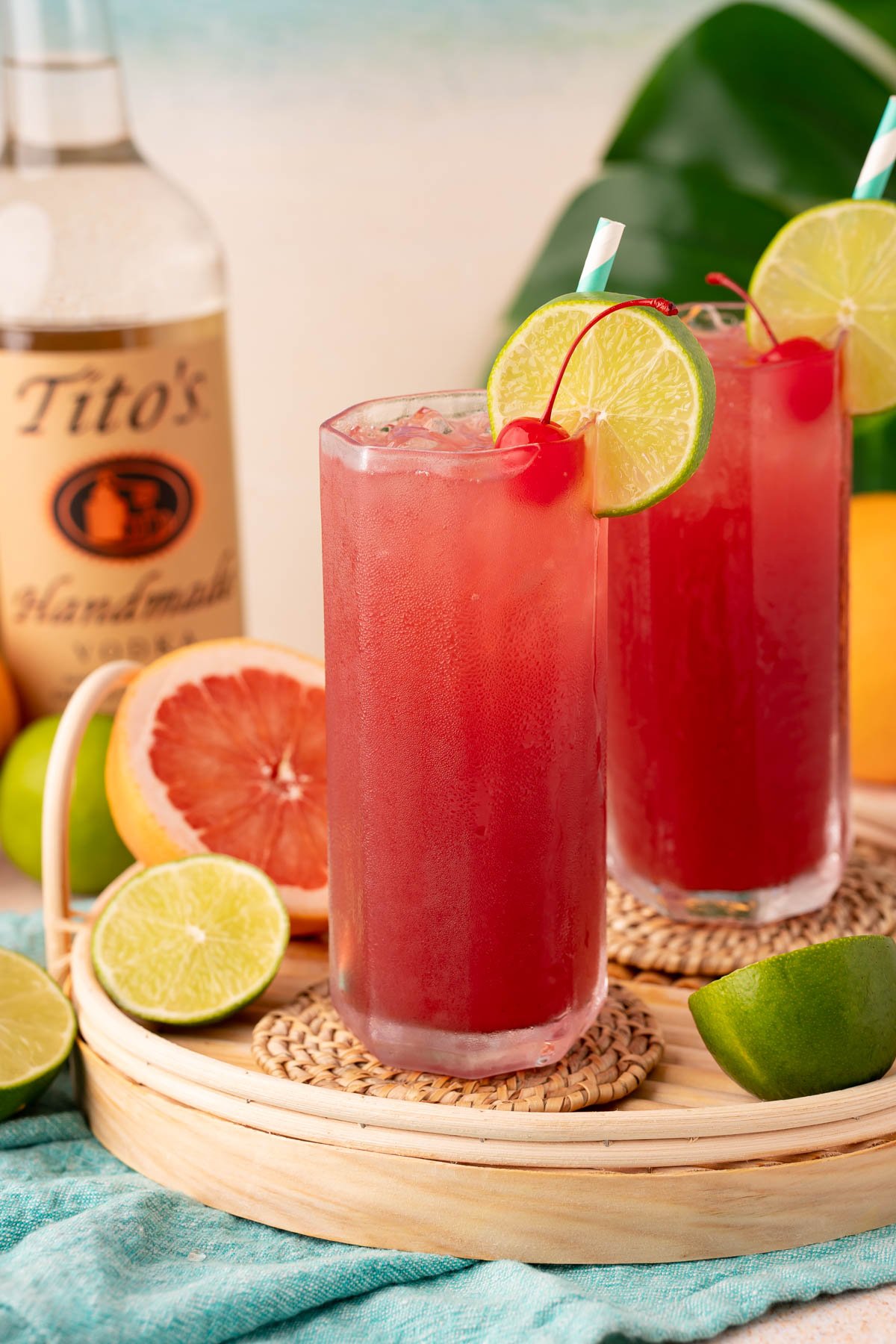 You Will Love This Sea Breeze Drink!
This Sea Breeze will keep you cool as the weather heats up this season! When served ice-cold, the refreshing chill makes for a crisp drink with mouthwatering sweet and sour flavor!
To make sure this Sea Breeze Drink is the best, I figured out the best ratio between the three ingredients while also choosing a high-quality grapefruit juice! All you have to do is mix, serve, and catch up with friends on the patio or poolside!
What is a Sea Breeze Drink?
A Sea Breeze is an alcoholic mixed drink made with grapefruit, cranberry, and vodka. Its sweet yet sour flavor makes it a popular chilled cocktail to enjoy in summer!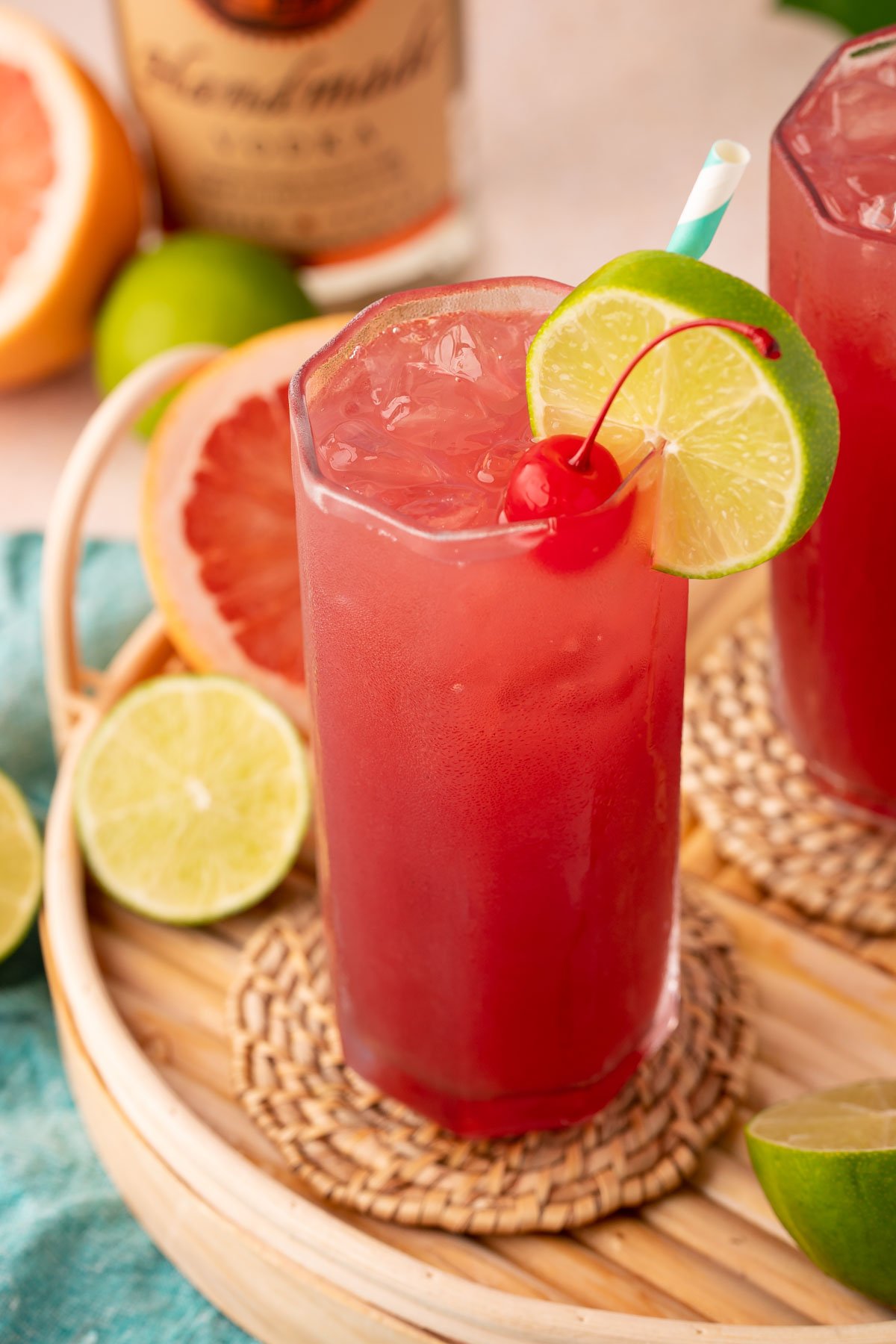 Sea Breeze Cocktail Ingredients
Cranberry Juice
Grapefruit Juice
Vodka
Who doesn't love a cocktail that takes just 3 ingredients to mix up?! To start, you can use any vodka you already have on hand; no expensive, high-quality brand is needed for this cocktail unless you prefer that.
Next are the cranberry and grapefruit juices! For this drink, I opted for 100% cranberry juice to keep its classic tart taste. Ocean Spray is a great brand. However, any brand will get the job done.
As for the grapefruit juice, I prefer using Natalie's brand, but again, any grapefruit juice from the refrigerator section should be just fine.
Sea Breeze Drink Substitutions &Variations
Vodka – For a flavor variation, try making this cocktail with flavored vodka!
Sweeten It Up – You can use cranberry cocktail juice instead of 100% cranberry juice for a sweeter cocktail.
Grapefruit Juice – Storebought is easiest, but if you're up for going the extra mile, feel free to squeeze fresh grapefruit juice instead.
Cape Codder – The grapefruit juice can be left out of the recipe altogether to make a Cape Codder Cocktail.
Large Batch – This can easily be made into a large batch sea breeze cocktail by mixing up multiple drink servings in a pitcher or punch bowl.
Cocktail Shaker – You can shake this breeze drink in a cocktail shaker to create a 'sea foam' that makes for a fun element!
Frozen Sea Breeze Cocktail – Use your blender to mix up a frozen sea breeze cocktail that has a slushy consistency. Perfect to enjoy on a hot summer day!
Mocktail Sea Breeze – To sip on a virgin sea breeze, leave the vodka out or replace it with Sprite, lemonade, or club soda.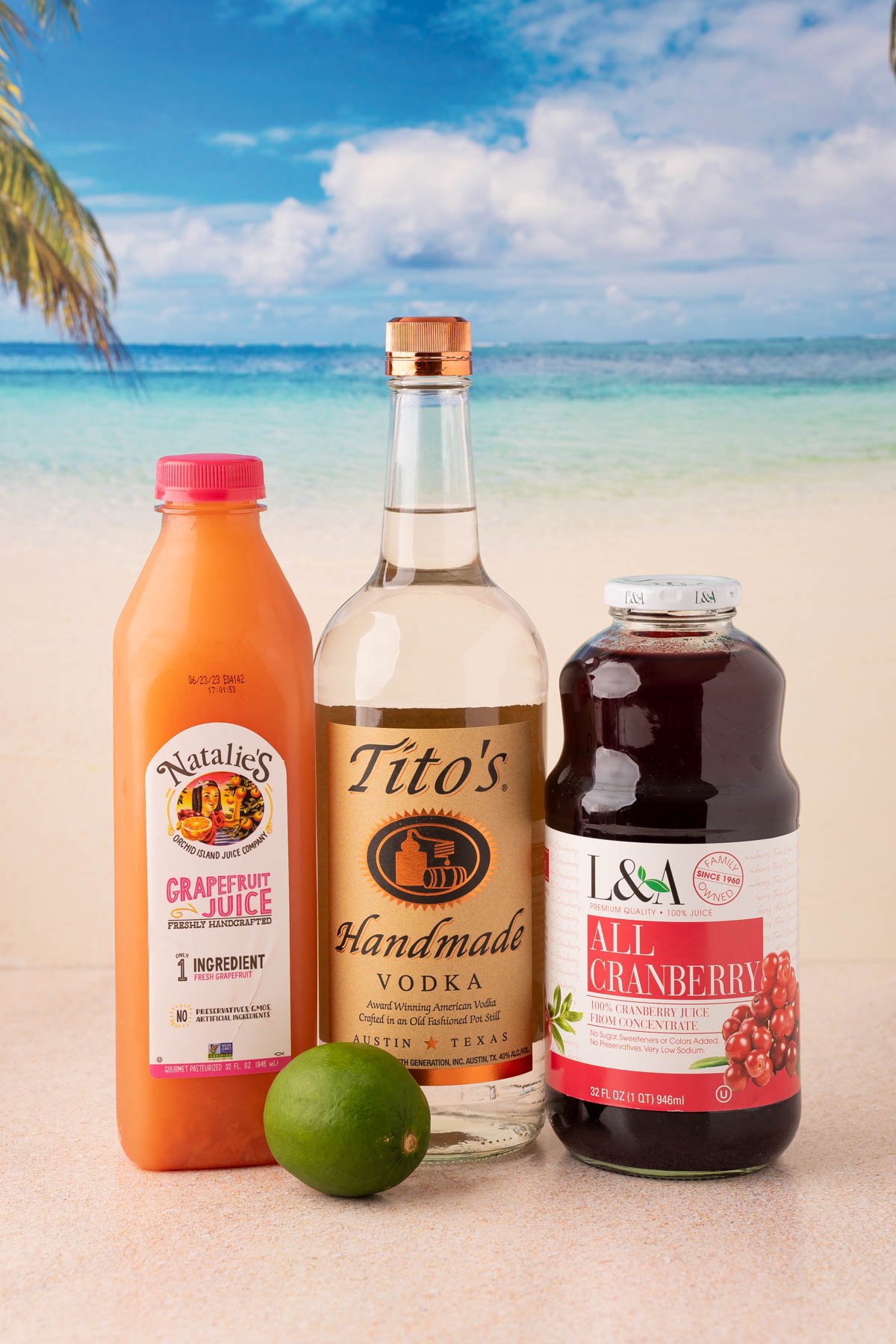 How To Make A Sea Breeze
Step 1: Add ice to a highball glass.
Step 2: Pour in the vodka, cranberry juice, and grapefruit juice.
Step 3: Stir gently to combine and garnish with a lime wedge!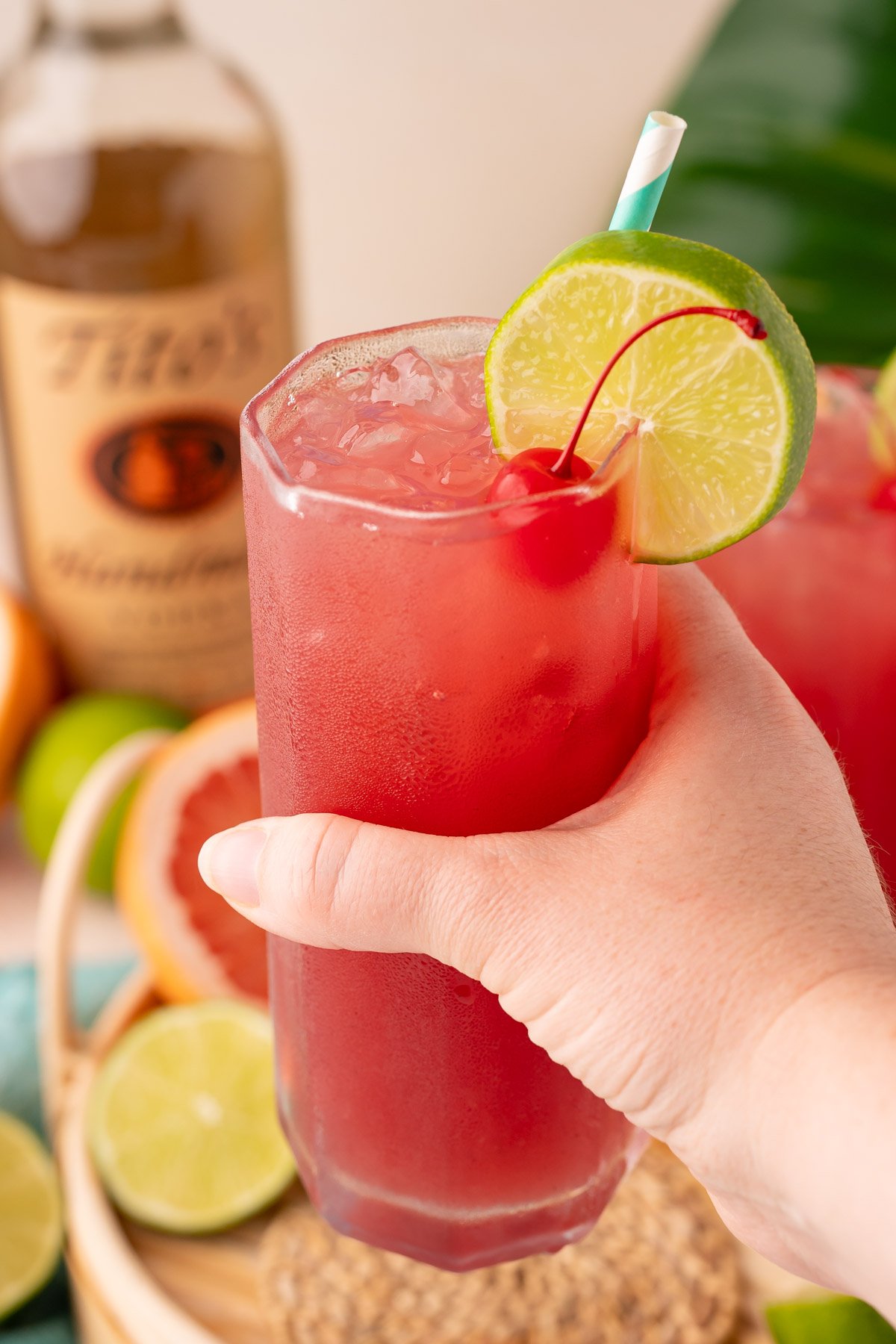 Sea Breeze Recipe FAQs
Bay Breeze vs Sea Breeze
Both cocktails are made with vodka; however, the difference between the two cocktail recipes is the juices that are mixed with the alcohol. A Sea Breeze combines vodka with cranberry juice and grapefruit juice, whereas a Bay Breeze Cocktail is made with cranberry juice and pineapple juice.
Does Sea Breeze have alcohol in it?
Yes, this Sea Breeze Cocktail Recipe is made with vodka. However, it can quickly turn into a mocktail by simply leaving the alcohol out of it.
Is cranberry juice cocktail alcoholic?
No, cranberry juice cocktail is not alcoholic. Cranberry juice cocktail is made up of cranberry juice and refined sugars that sweeten it.
Who invented the sea breeze cocktail?
It's hard to pinpoint who specifically invented the sea breeze cocktail. It dates back to the 1920s, towards the end of the prohibition era. However, it started as a mixed drink consisting of gin and grenadine and has morphed through the years into what it is today.

One of its earliest acknowledgments of a Sea Breeze cocktail is found to be in Harry Craddock's 1930 Savoy cocktail book, who was a legendary bartender.
Can I still make this cocktail if I don't have a highball glass?
Absolutely! You can use any cocktail glass or tall glass to make this sea breeze drink in.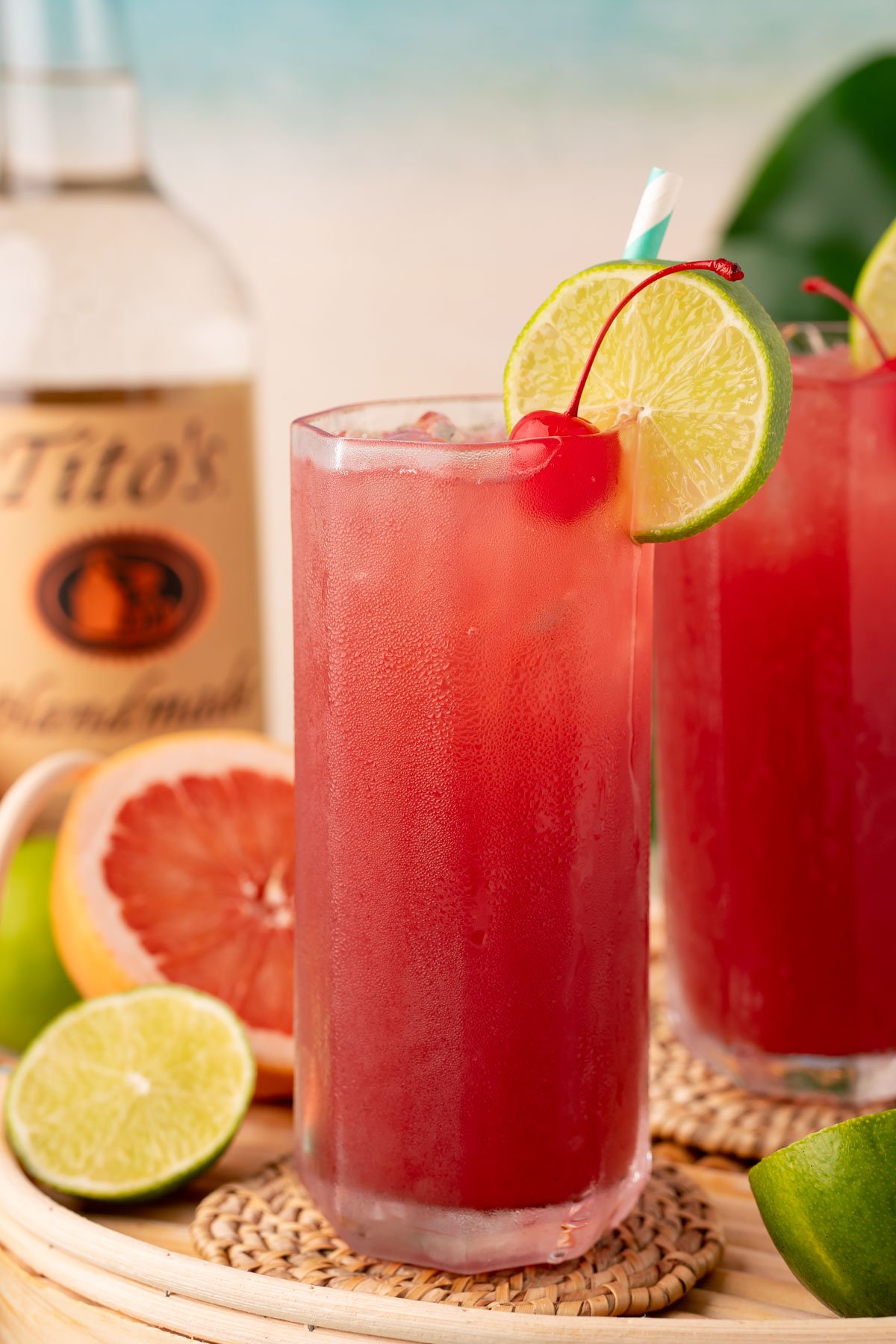 👋 Let's Connect!
If you've tried this recipe, please let me know how you liked it in the comments below and leave a review; I love hearing from you! And don't forget to tag me – @sugarandsoulco – on Instagram and Pinterest with your photos or join our Sugar & Soul Show-offs Community and share them there, where you can join our recipe challenges and win prizes!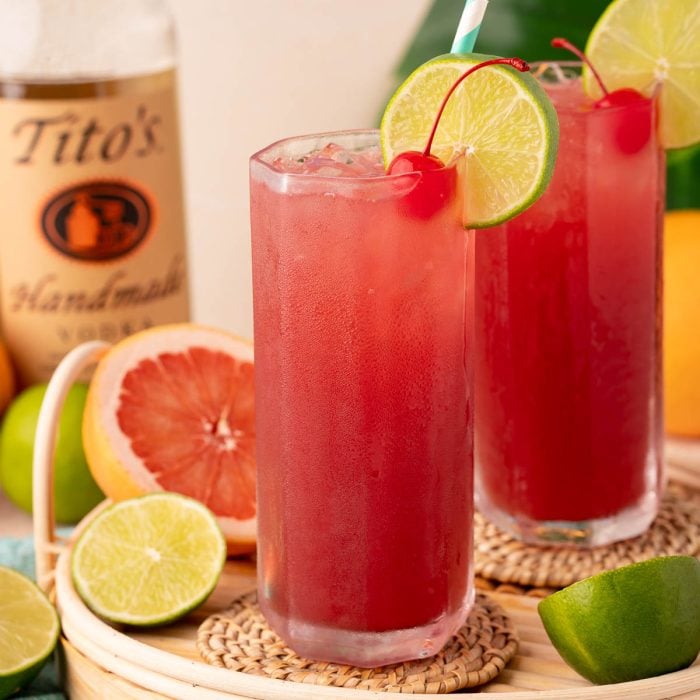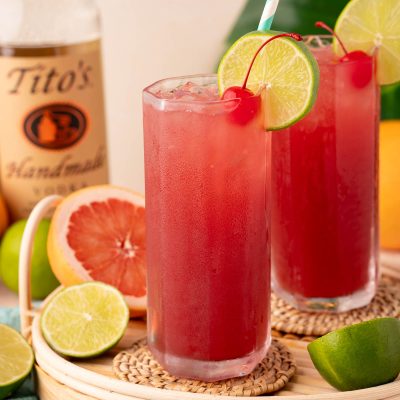 Sea Breeze Drink
A Sea Breeze is an alcoholic mixed drink made with grapefruit, cranberry, and vodka. Its sweet yet sour flavor makes it a popular chilled cocktail to enjoy in summer!
Ingredients
ice
1½ ounces vodka
3 ounces cranberry juice see notes
2 ounces grapefruit juice we prefer Natalie's brand
lime wheel for garnish
maraschino cherry for garnish
Instructions
Fill a highball glass ¾ full of ice.

Add 1½ ounces vodka followed by 3 ounces cranberry juice and 2 ounces grapefruit juice.

Garnish with a lime wheel and maraschino cherry if desired.
Notes
For a more tart/less sweet version, use 100% cranberry juice. For a sweeter version, use cranberry cocktail juice.
I prefer to use freshly squeezed or Natalie's brand grapefruit juice.
Nutrition
Calories: 163kcal | Carbohydrates: 17g | Protein: 1g | Fat: 0.2g | Saturated Fat: 0.01g | Polyunsaturated Fat: 0.1g | Monounsaturated Fat: 0.02g | Sodium: 3mg | Potassium: 158mg | Fiber: 0.1g | Sugar: 17g | Vitamin A: 42IU | Vitamin C: 23mg | Calcium: 11mg | Iron: 0.4mg