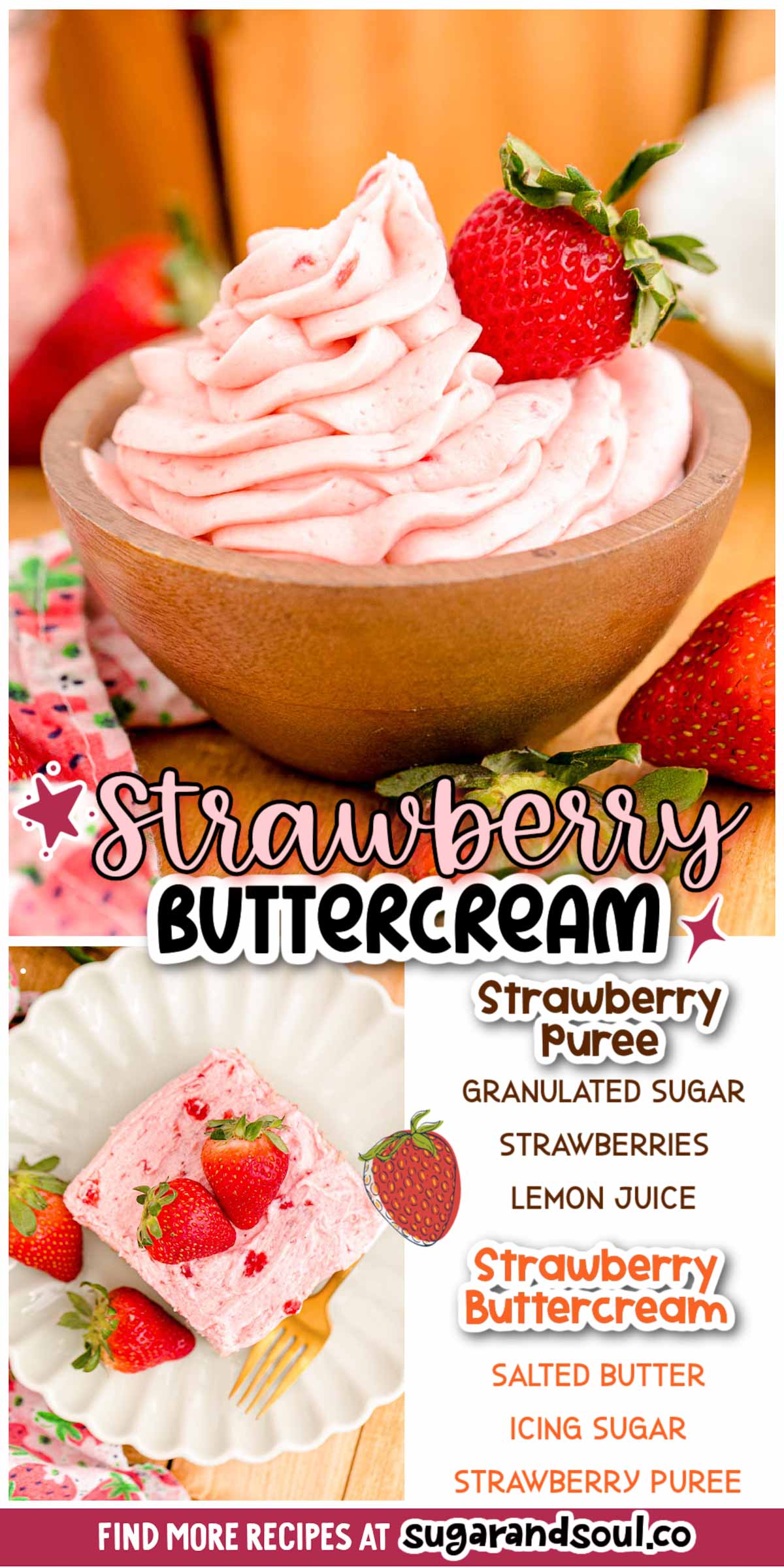 Strawberry Buttercream Frosting uses 5 simple ingredients to create a light, creamy frosting that's perfect for cupcakes, cakes, and more! Made with real strawberries for the best flavor!
Give this homemade buttercream frosting a try on my Strawberries & Cream Cupcakes or Strawberry Chocolate Cupcakes!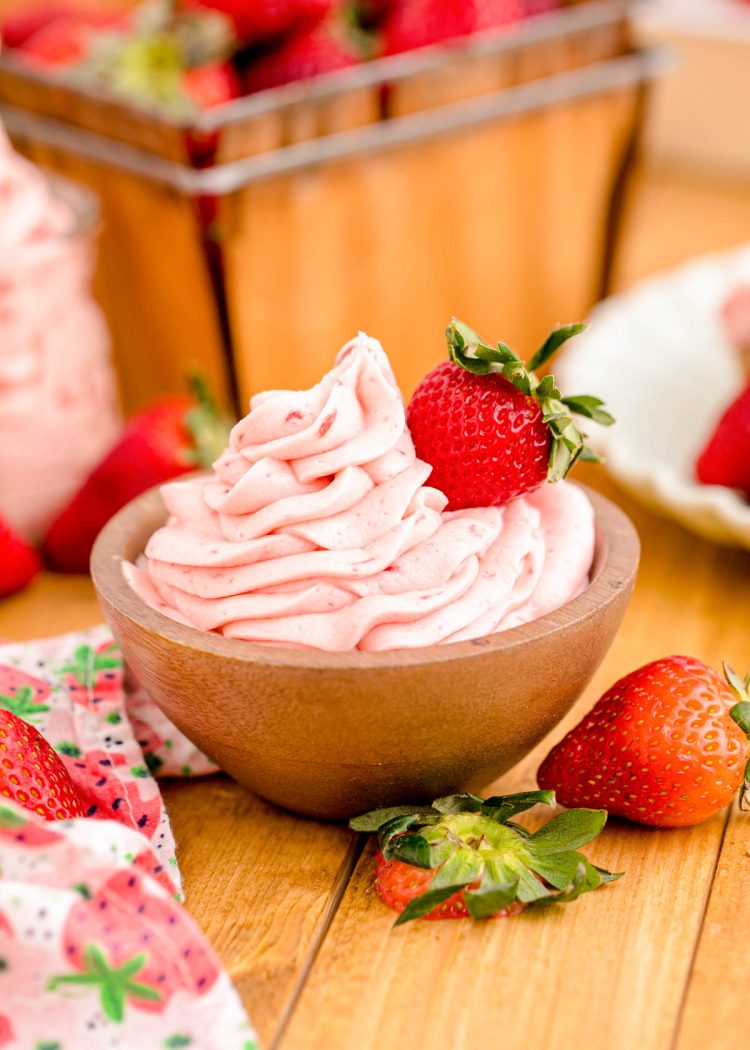 This Strawberry Buttercream Frosting is made with sweet, juicy, fresh berries, taking all of your favorite desserts to a whole new level of deliciousness with its incredible strawberry flavor!
Use it to frost Soft Sugar Cookies, pipe it on Cupcakes, or layer it on a Cake! Whatever you choose to frost just be prepared to lick the bowl and the spoon because this frosting is THAT good!
With minimal ingredients and limited hands-on time, you'll love whipping this up for all of your dessert needs!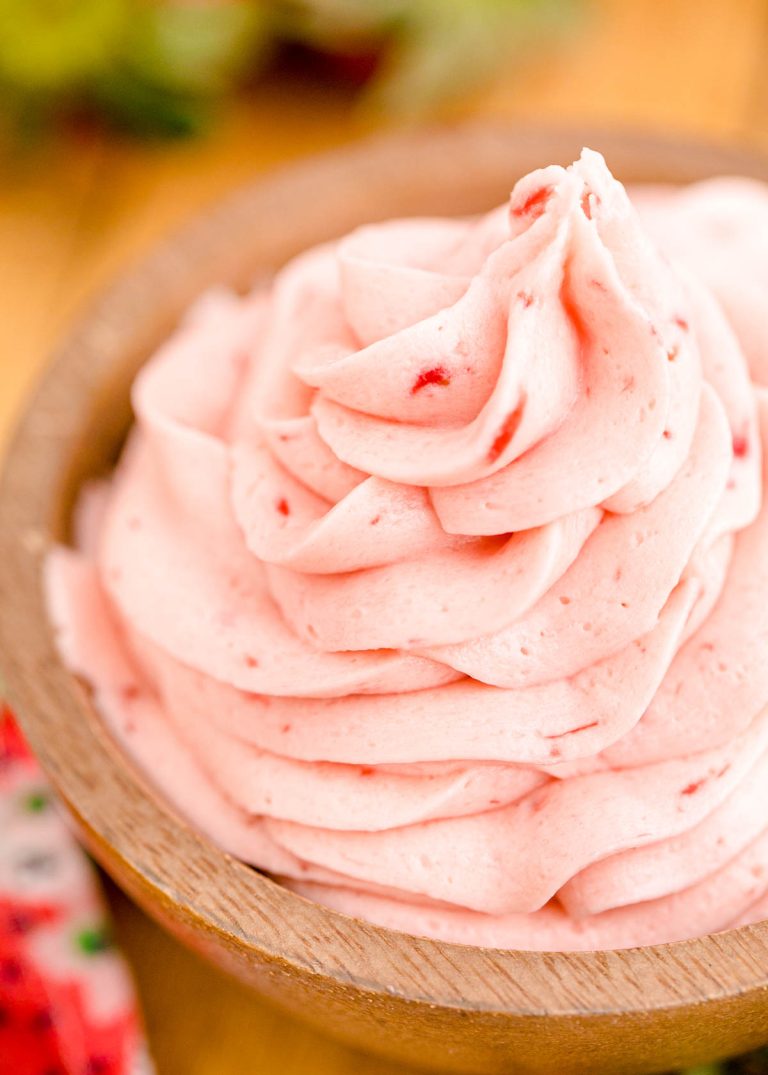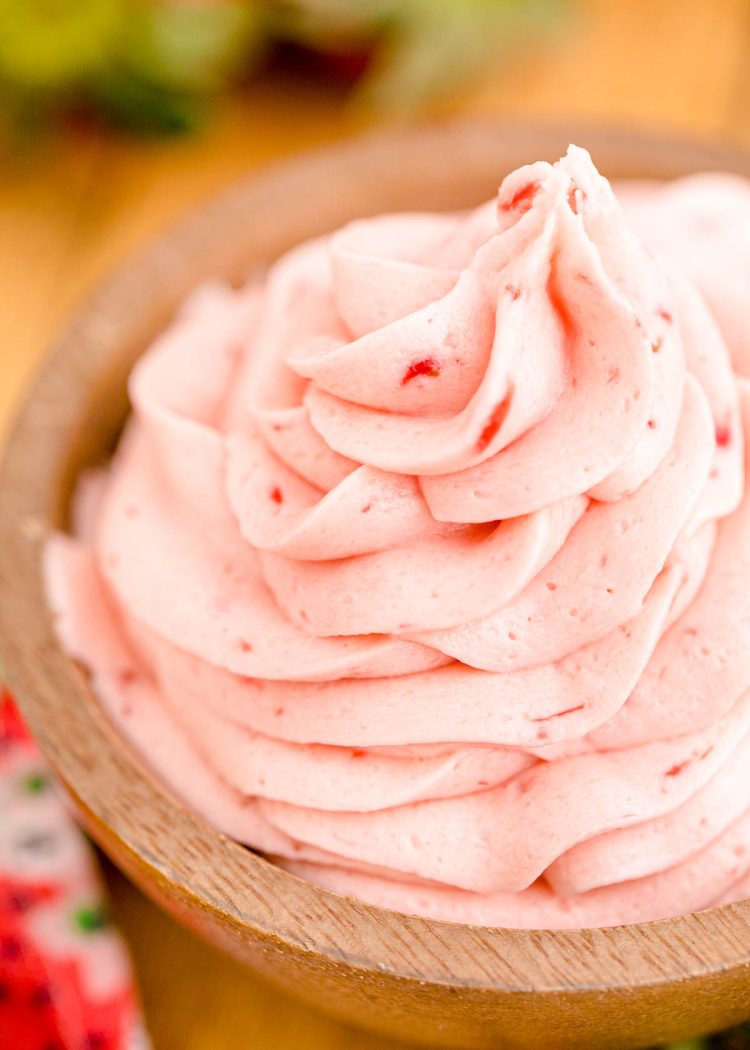 Ingredient Notes
To make this Homemade Strawberry Buttercream Recipe you'll start by cooking the Strawberry Puree. For this, you'll need strawberries, granulated sugar, and lemon juice.
Fresh strawberries would be best but you could also use frozen berries as well. Just be sure to thaw them before following the recipe instructions for the puree.
Once the strawberry reduction has cooked and cooled it will combine with salted butter and confectioners' sugar to finish the buttercream frosting! Afterward, all that's left to do is pipe the strawberry frosting onto all of your favorite desserts!
How To Make Homemade Strawberry Buttercream
Heat the destemmed strawberries, lemon juice, and granulated sugar in a medium saucepan until boiling. Afterward, reduce the heat and stir the mixture often while it continues to reduce.
Cool the strawberry reduction completely.
Beat the butter in the bowl of a stand mixer with a paddle attachment or by using a hand mixer.
Add in the powdered sugar gradually.
Mix in the strawberry reduction until the buttercream reaches your desired consistency.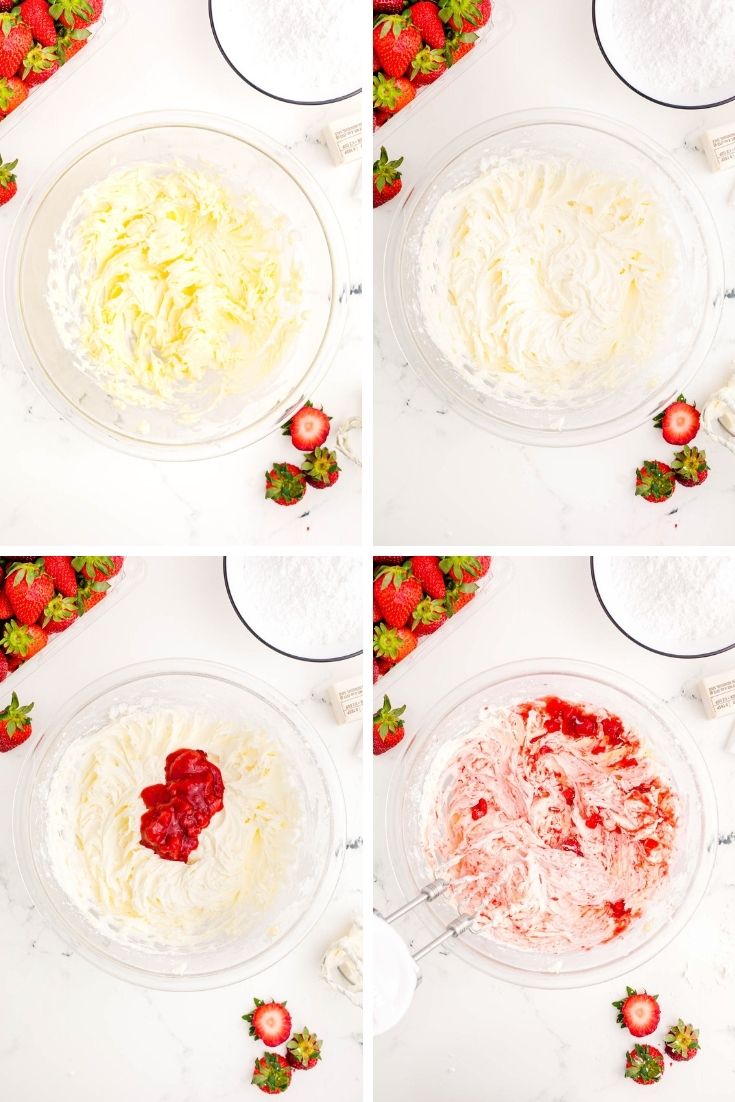 Frequently Asked Questions
How Do I Store This Homemade Buttercream Frosting?
Store the frosting in an airtight container in the refrigerator and use it within a week. You can also freeze the buttercream for up to one month.
Is There A Way To Smooth Out The Strawberry Puree Before Adding It To The Frosting Recipe?
For a smoother puree, you can add it to an emulsion blender or a food processor.
What Can I Use In This Strawberry Buttercream Recipe Instead Of Strawberry Reduction?
If you want to skip making homemade strawberry puree you could swap it out for strawberry jam.
Can I Keep The Leftover Strawberry Puree?
Absolutely! The leftovers can be used on pancakes, French toast, over ice cream, or even added to cocktails and fresh lemonades!
Leftover puree can be stored in an airtight container in the refrigerator for up to 5 days.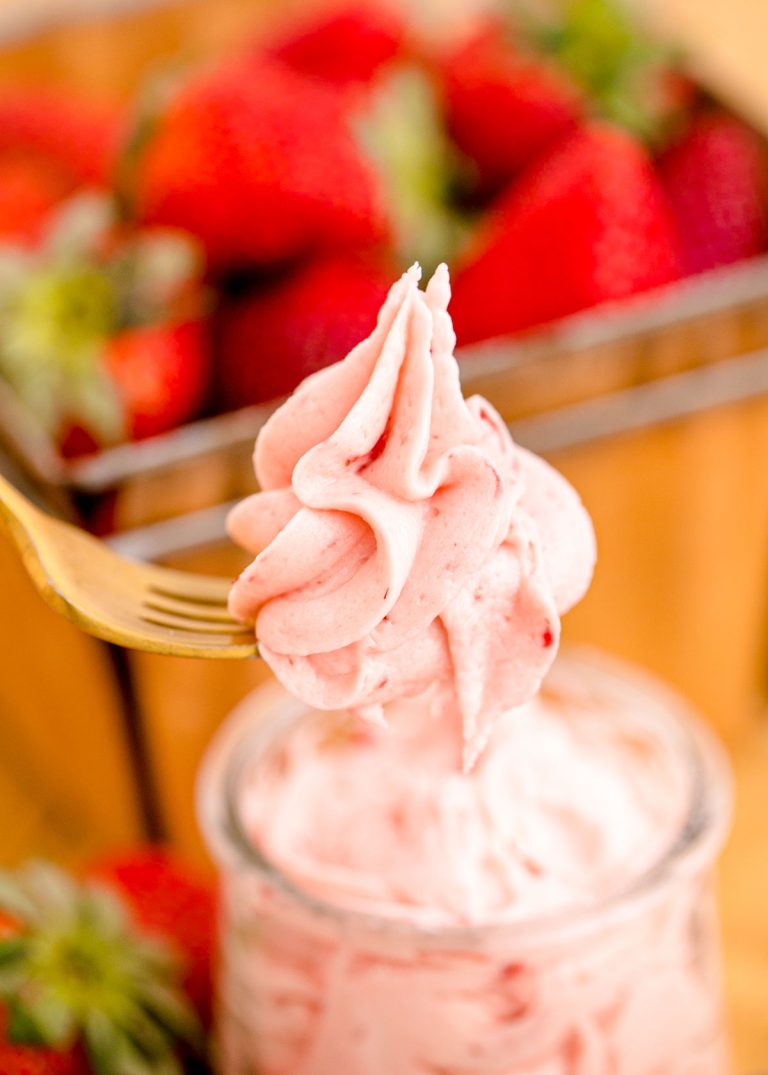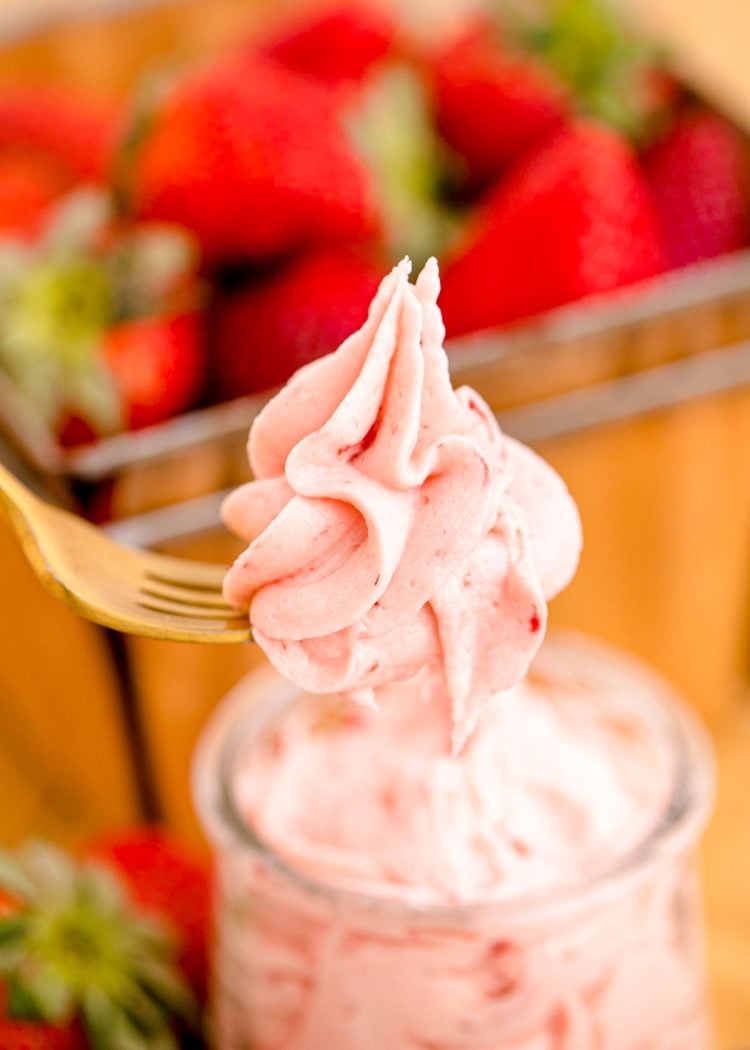 Homemade buttercream like this Strawberry Buttercream makes desserts pop with amazing flavor! Here are more homemade buttercream recipes to tuck away and use another time!
Strawberry Buttercream
Pin For Later
CLICK THE BUTTON ABOVE TO SAVE THIS DELICIOUS RECIPE TO YOUR BOARD!
👋 Let's Connect!
If you've tried this recipe please let me know how you liked it in the comments below and leave a review, I love hearing from you! And don't forget to tag me – @sugarandsoulco – on Instagram and Pinterest with your photos or join our Busy Family Recipes Facebook Community and share them there!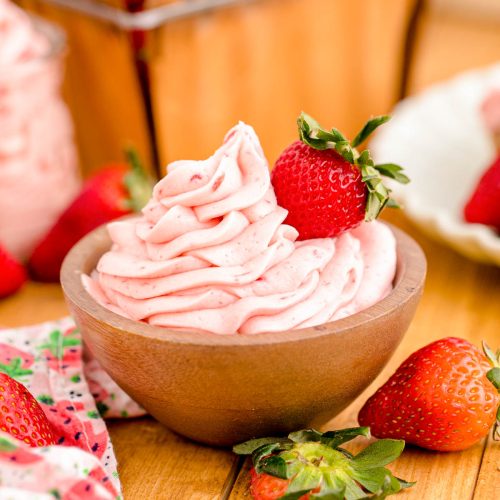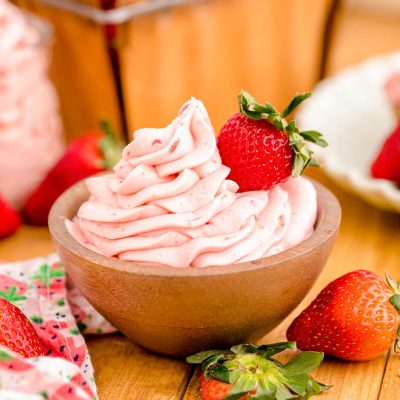 Strawberry Buttercream
Strawberry Buttercream Frosting uses 5 simple ingredients to create a light, creamy frosting that's perfect for cupcakes, cakes, and more! Made with real strawberries for the best flavor!
Equipment
Stand mixer

Rubber Spatula
Ingredients
Strawberry Puree
4

cups

strawberries

fresh or frozen (thawed)

¼

cup

granulated sugar

1

Tablespoon

lemon juice
Strawberry Buttercream
1

cup

of salted butter

room temperature

3

cups

icing sugar

4

Tablespoons

strawberry puree
Instructions
Strawberry Puree
The first step is to make the strawberry puree. Remove the stems of the strawberries. Place them into a medium pot. Add the sugar and lemon juice. Heat this at medium heat, stirring often to avoid boiling. Once this mixture begins to boil, you may turn the heat down to medium low. Stir often and the strawberries will continue to break down. Use an emulsion blender if you like the puree to be smoother. Allow this mixture to reduce to about ½. It will take 20 – 30 minutes. (If you are making this the day before, keep it in the fridge overnight – make sure to remove it an hour before adding it to the batter so it comes to room temperature.) While this is cooking be sure to remove butter, eggs, and sour cream from the fridge. They must be at room temperature for this recipe. When the reduction is finished, remove it from the heat and allow it to come to room temperature before adding it to the recipe.
Strawberry Buttercream
Make the strawberry buttercream. Beat the butter until light and creamy. Gradually mix in the icing sugar. Then add the strawberry reduction until the desired consistency is reached.
Notes
If you want tiny pieces of strawberries in your cake and frosting, you can dice up 5 large strawberries and add them to the reduction puree after it's fully cooked, and mix them in. That will just allow you to SEE strawberry pieces and give your cake some texture.
Storage Instructions: Store this cake covered in the fridge for up to 3 days. Or it may be frozen for up to 3 months.
I would like this to be a brighter pink – any advice? Yes, you could add a pink gel food coloring for more intense color. This is a from scratch strawberry cake, so it typically does not bake AS pink as a box mix.
I have extra strawberry reduction – did I do something wrong? It is nothing to worry about. It can be kept in the fridge for up to 5 days, or the freezer for up to 5 months. And it is delicious served over ice cream!
Could I make this as a layer cake instead? Yes, you could use 2 – 8 inch round cake pans. You may need to double the icing in order to cover the cake and use a layer of buttercream between the layers. Also, it will be easier to frost the cakes if you chill them overnight first. How do I know my strawberry reduction is ready? It will be about ½ the amount it was that you started with and will be a thick sauce.
Is there a frosting I could use other than buttercream? Yes, you could use whatever you think would be good. This cake is also delicious with a cream cheese frosting or even chocolate ganache!
Can I use yogurt instead of sour cream? Yes, just use the same amount. Make sure to use full-fat sour cream or Greek yogurt in this recipe for best results.
Why does this recipe use both oil and butter? I find that butter gives a nice flavor and oil makes it more moist. Feel free to use only one or the other if that is what you have. That would be 1 cup of butter, or 1 cup of oil.