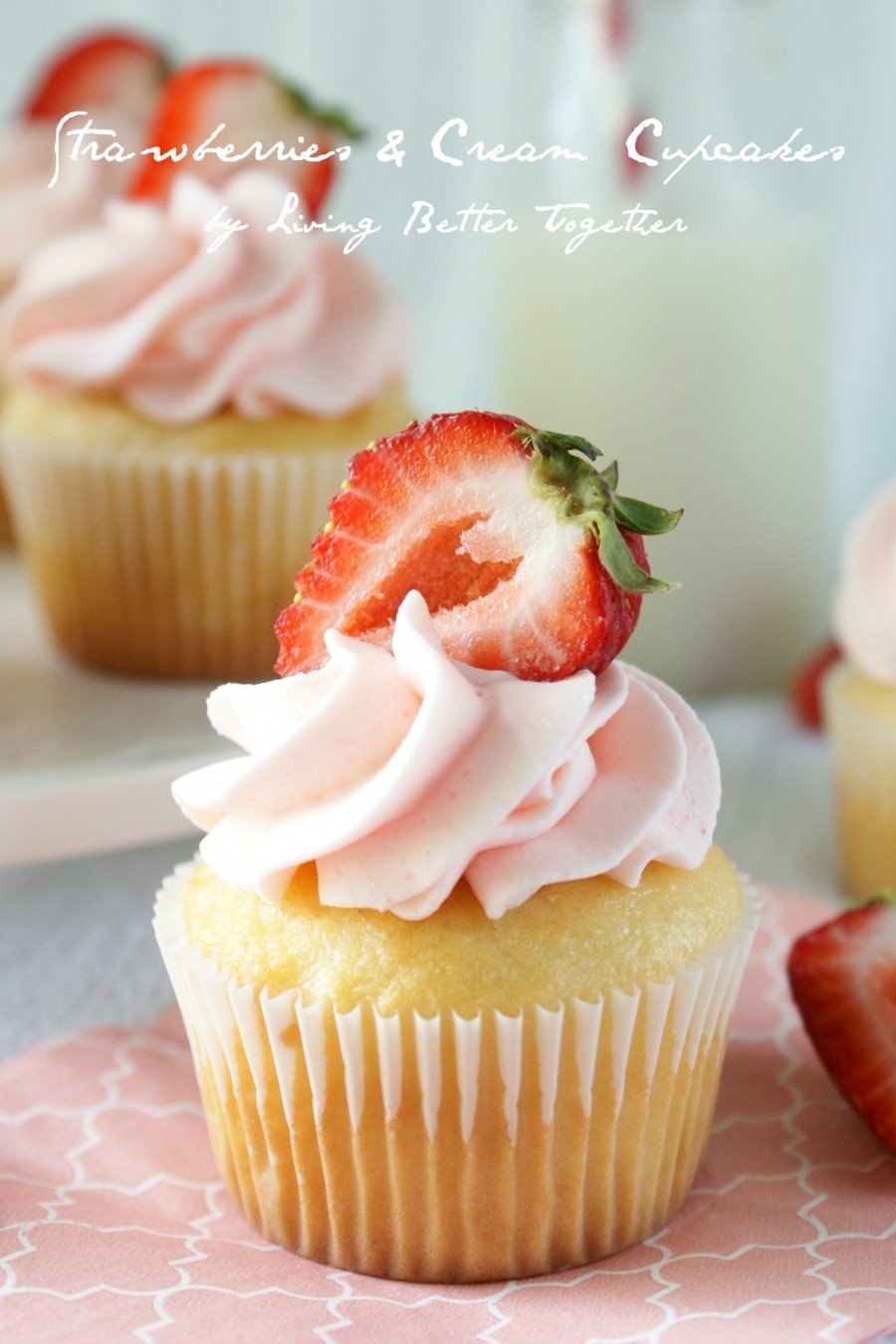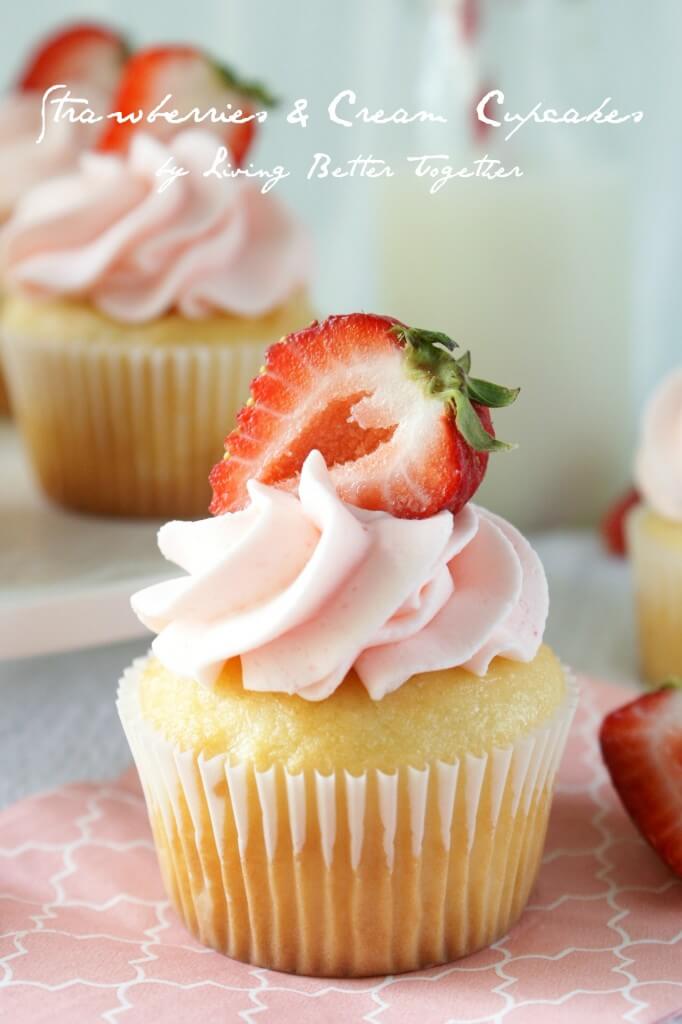 I'm not sure why, but for some reason Strawberries & Cream always brings me back to my childhood. I'm not sure if it's the heavy amount of Strawberries & Cream Cream Savers that I ate or what, but the flavor combination always takes me back.
It takes me back to dirt road summers, to skipping rocks on the pond, to the young and independent girl I used to be.
Lately, that girl seems so far away and I wish I could get back to her somehow, to feel like I could hope and dream my way through life like I once thought I could.
I think we all have times where we envy our younger selves. The people we used to be before responsibility took hold and our dreams had limits.
Sometimes we get so caught up in the nostalgia of the past and our ambitions for the future that we forget to enjoy where we are, what we have, and who we're with.
Our fleeting youth should be what keeps us grounded, to remind us that each day we're as young as we'll ever be.
One day we'll be wishing we could come back to today.
So make it count.
Make your bucket lists and dream your dreams, but start checking things off and living them today.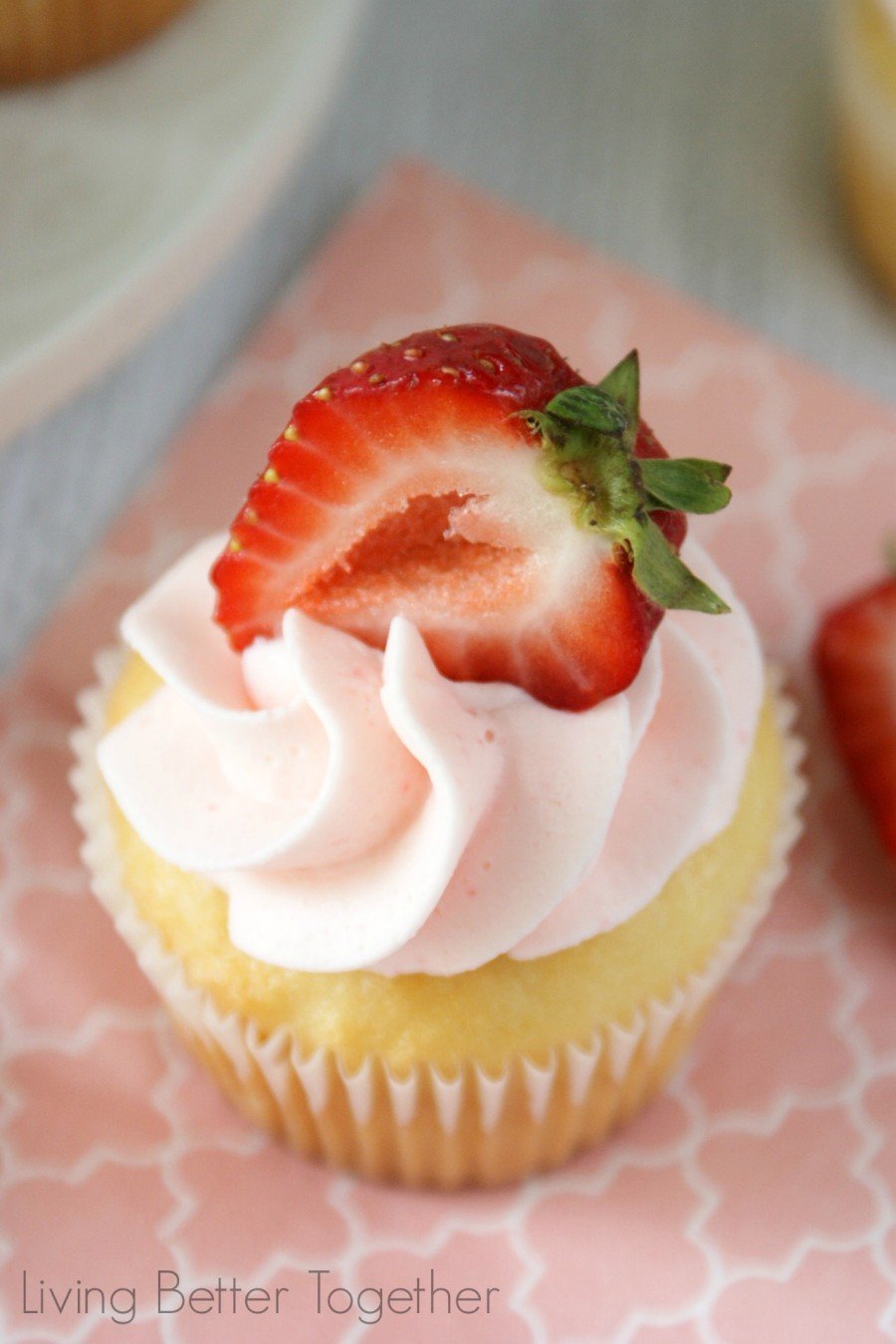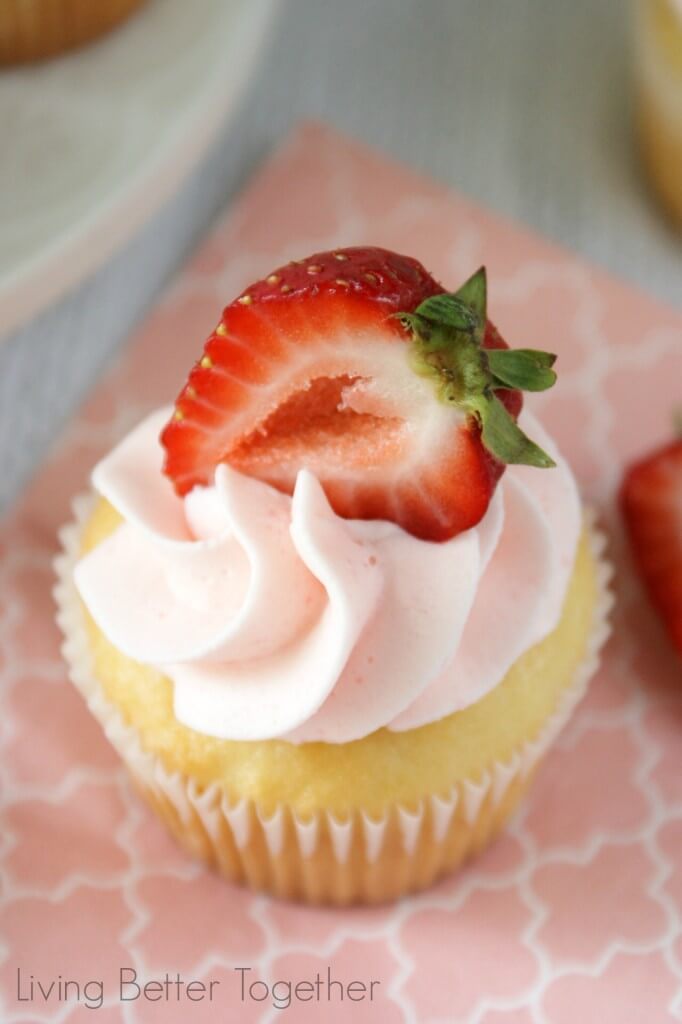 Alright, enough with the little life lesson. Just indulge in the moment and treat yourself to a damn cupcake, okay?
And how about a Strawberries & Cream Cupcake at that?
They're light and airy with the slightest hint of white chocolate for added creaminess.
The Strawberries and Cream frosting is sweet and fluffy.
Top all that with a fresh strawberry and we're talking some serious cupcake business!
These cupcakes definitely sound like something worth indulging over, don't you think?
So make yourself a batch and eat 1 or 10, because we're living for today, right? And go after those dreams… because now you have a serious sugar rush and you can accomplish anything.
And if you're not feeling ambitious today… well then you should still make (or convince someone else to) these awesome Strawberries & Cream Cupcakes, Okay?
Okay… life coaching over… onto the recipe.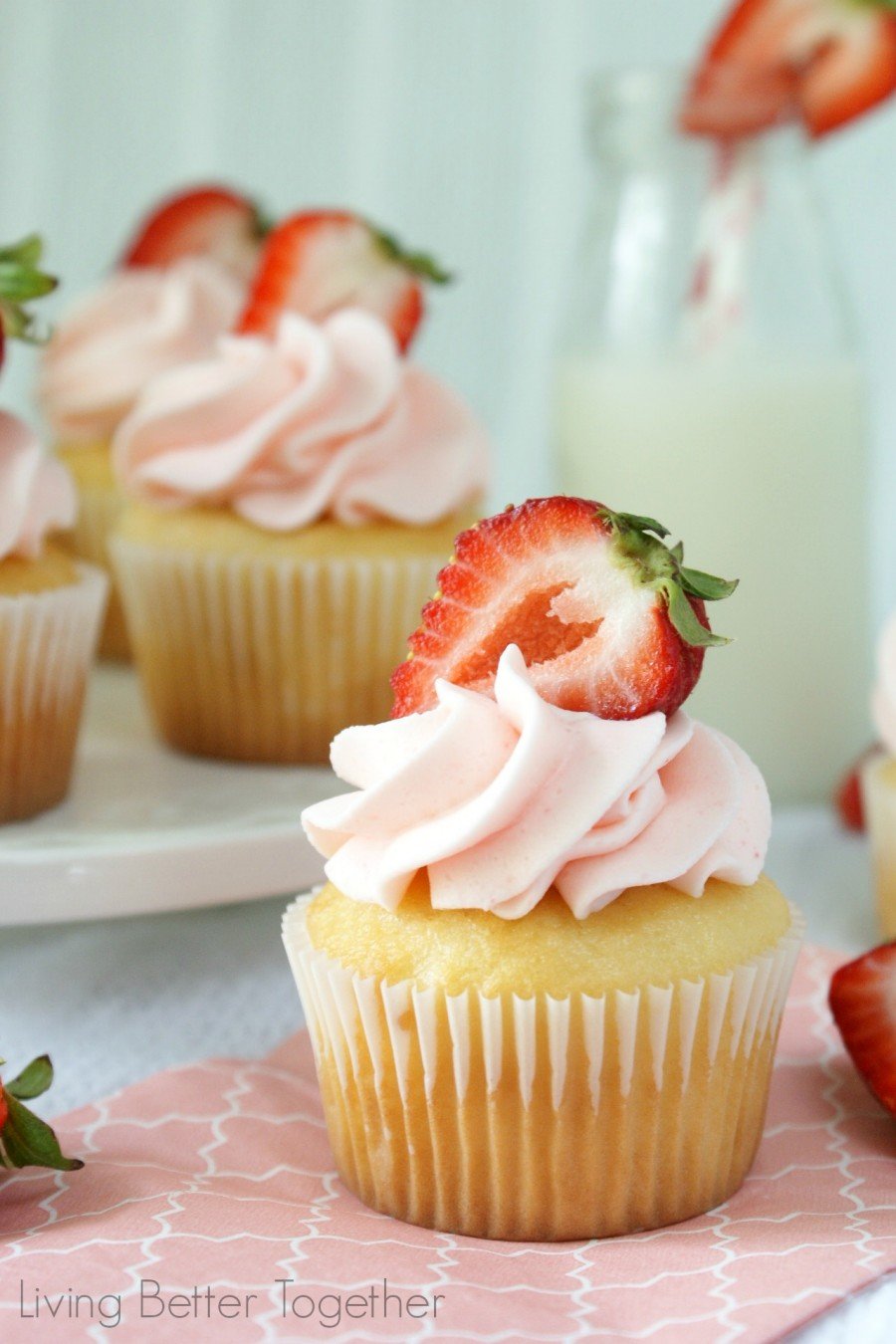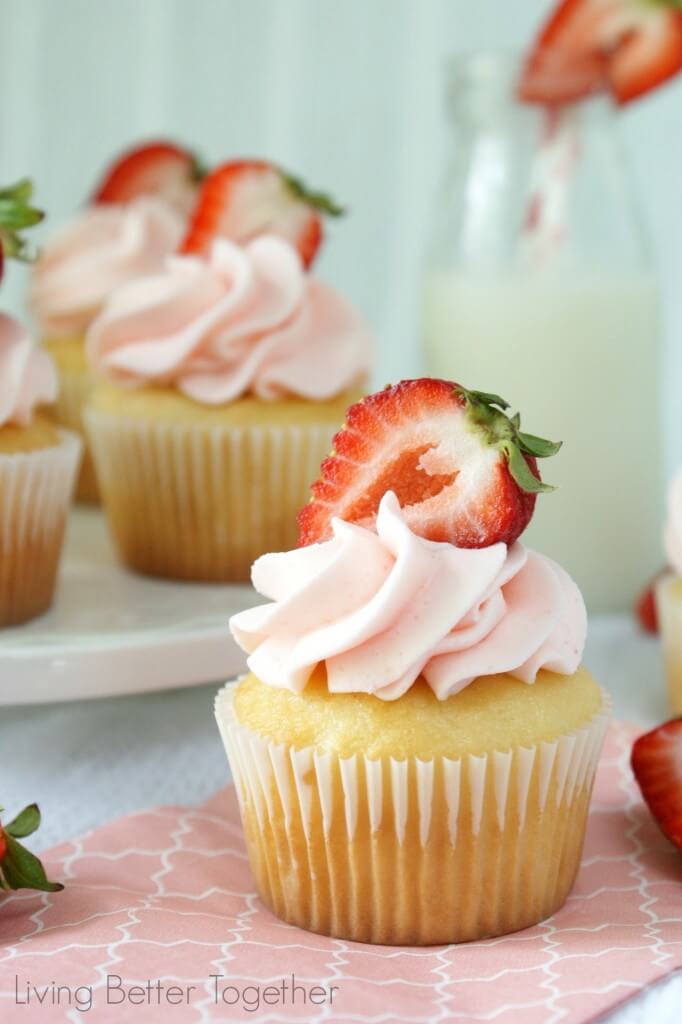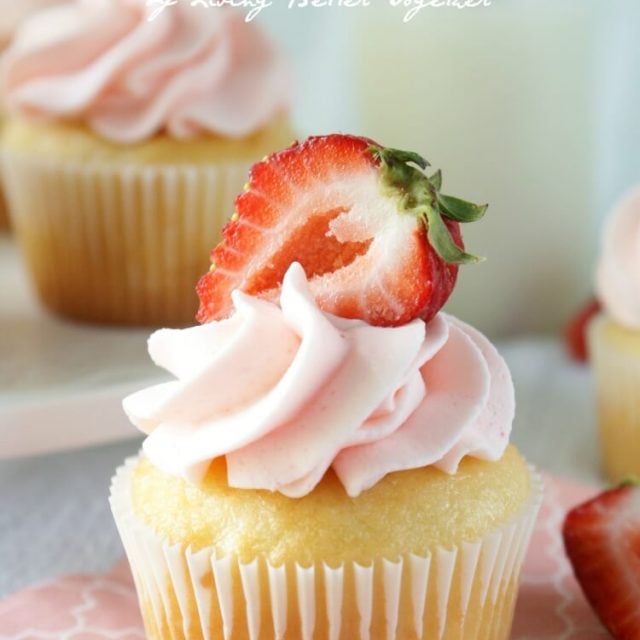 Strawberries & Cream Cupcakes
Cupcakes with a light and sweet combination of strawberries and cream with a hint of white chocolate!
Ingredients
Cupcakes
1

Box White Cake Mix

1 – 3.5

oz.

package White Chocolate Instant Pudding Powder

3

Eggs

1

tsp

Vanilla

1

cup

Milk

1/2

cup

Sour Cream

1/3

Vegetable Oil
Frosting
2

cups

Heavy Cream

1/3

cup

Instant Strawberries & Cream Pudding Powder

1/2

cup

Confectioners' Sugar

12

Strawberries
Instructions
Cupcakes
Preheat oven to 375 F.

Line cupcake pan with liners.

Combine all cupcake ingredients in a stand mixer or mixing bowl and beat until combined.

Add about 2 – 2 1/2 tbsp of batter to each liner filling them about 1/2 – 3/4 of the way.

Reset oven temp to 350 F. and put cupcakes in for 18 – 20 minutes until fork/toothpick comes clean.

Remove from oven and let set for a couple of minutes before transferring to a cooling rack.
Frosting:
Combine all ingredients in a stand mixer or mixing bowl and beat until light and fluffy, about 3 minutes.

Pipe onto cupcakes and top with halved strawberries!
Nutrition
Calories:
204
kcal
Carbohydrates:
27
g
Protein:
2
g
Fat:
10
g
Saturated Fat:
6
g
Polyunsaturated Fat:
1
g
Monounsaturated Fat:
3
g
Trans Fat:
1
g
Cholesterol:
51
mg
Sodium:
207
mg
Potassium:
67
mg
Fiber:
1
g
Sugar:
17
g
Vitamin A:
368
IU
Vitamin C:
4
mg
Calcium:
81
mg
Iron:
1
mg