These Caramel Pear Cheesecake Bars are decadent layered bars represent traditions old and new, and are a perfect dessert for sharing this holiday season!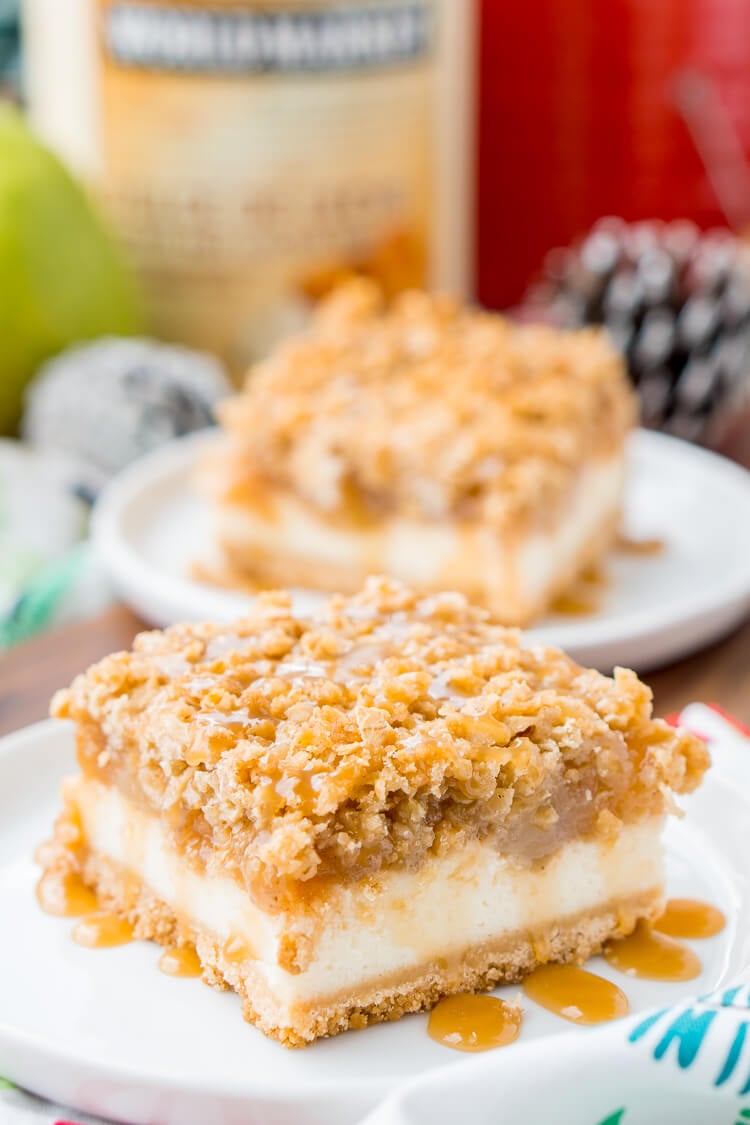 I can't believe that Thanksgiving is behind us and Christmas preparations are in full swing! This month is all about family, Christmas baking, and celebrating the best of the season.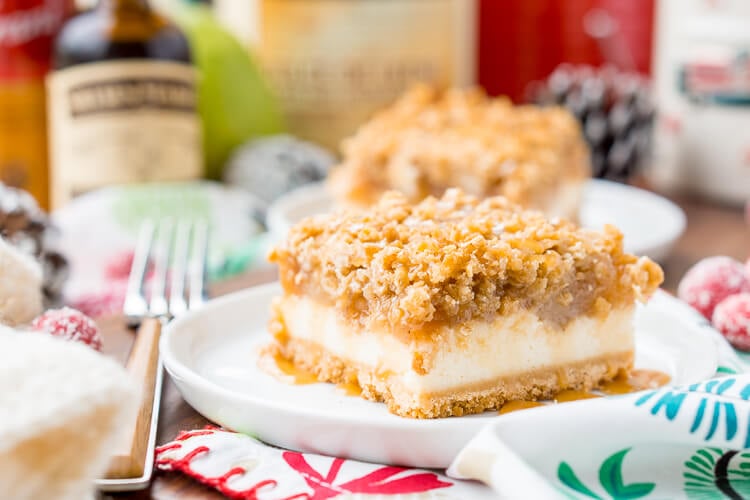 I feel like this time of year we're up to our eyeballs in peppermint, pumpkin, and apples, and it's time to highlight a new flavor that's perfect for the holiday, PEARS! I've already made two batches of this delicious recipe in the last two weeks, so you can be assured it's a real winner!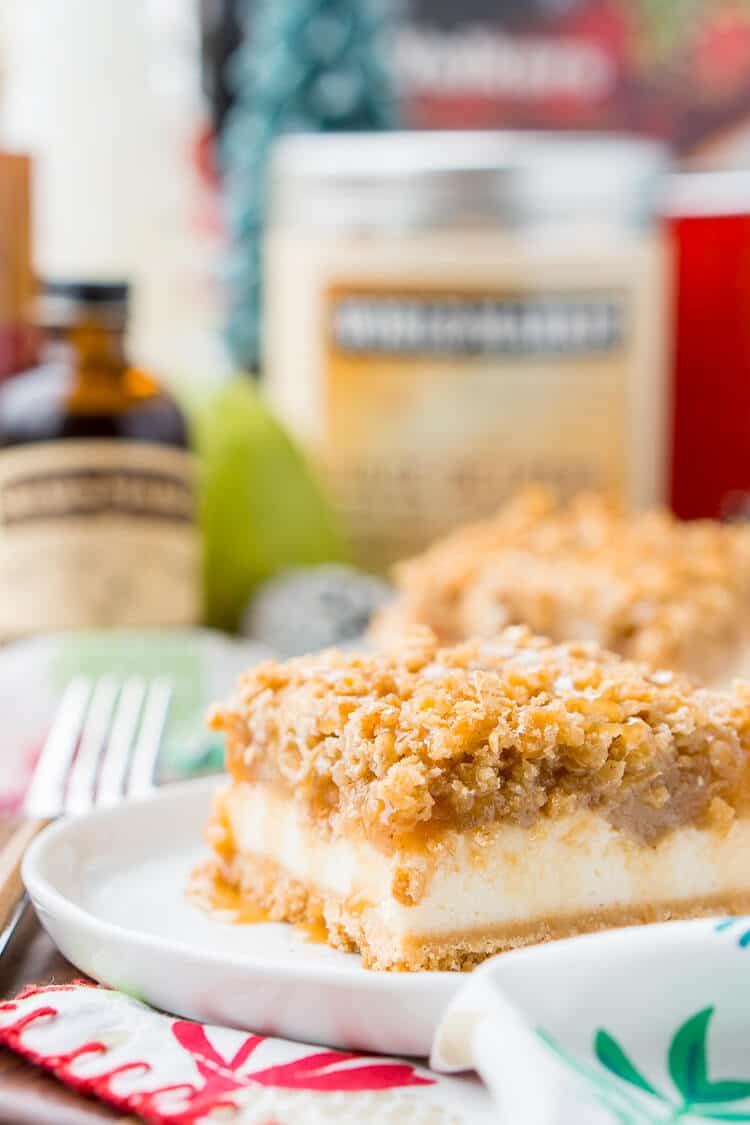 These scrumptious bars start with a shortbread cookie crust which is then layered with creamy cheesecake, homemade pear filling, and topped with an oatmeal crumble. You can even add a dollop of whipped cream to be extra-festive! Since they're bars, they're perfect to bring to parties for easy eating!
I picked up a box of buttery shortbread cookies (my absolute favorite to make my crust, and the shapes are so cute, I'll leave the extras out on a plate for guests to enjoy with a glass of eggnog. (They'd also make the perfect accompaniment to a glass of milk to set out for Santa!) I also grabbed a bottle of Caramel Sauce with a narrow spout to pour the perfect drizzle. And the smooth undertones from a splash of vanilla will add a little more dimension to this unique recipe.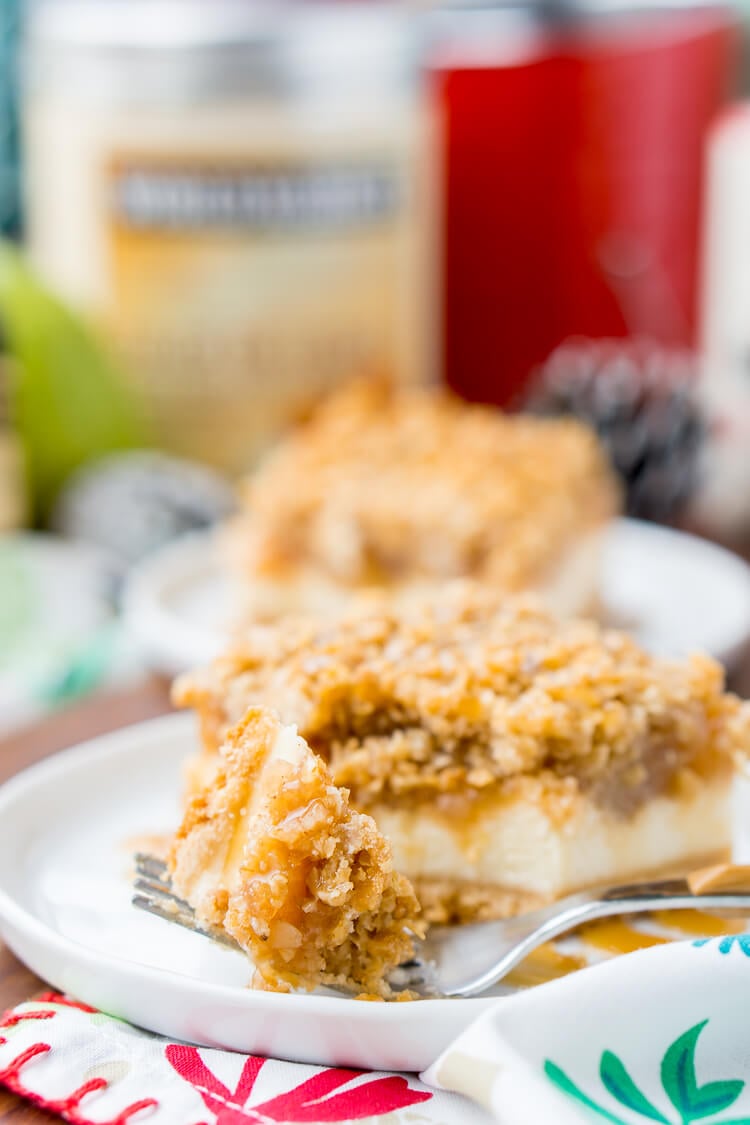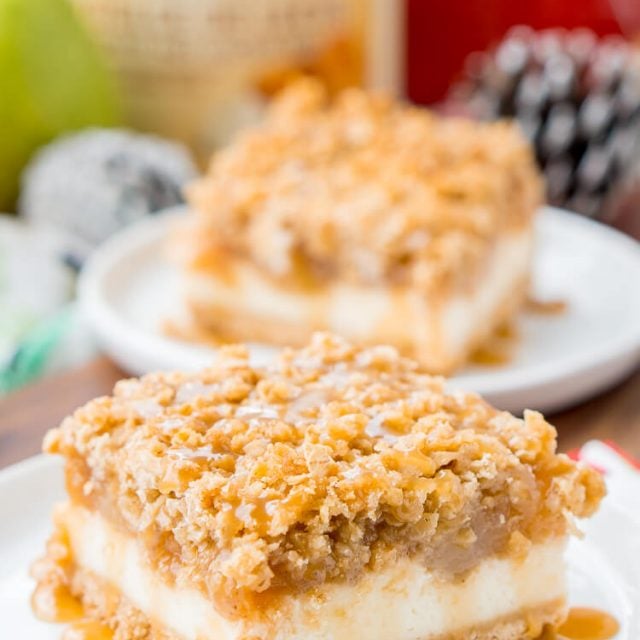 Pear Cheesecake Bars
These Caramel Pear Cheesecake Bars are decadent layered bars represent traditions old and new, and are a perfect dessert for sharing this holiday season!
Ingredients
Instructions
Preheat oven to 350°F and line a 9×9-inch baking pan with parchment paper and set aside.

Combine shortbread cookie crumbs and sugar in a medium bowl and make a small well, pour the melted butter in the well and mix until evenly combined.

Pour crust mixture into the prepared baking pan and gently press the mixture evenly into the bottom of the pan. Bake for 10 minutes.

While the crust is baking, beat the cheesecake ingredients together in a medium bowl until smooth and creamy and set aside.

Add finely chopped pears to a medium saucepan and add in the lemon juice, stirring to coat, and cook over medium-high heat for 5 to 7 minutes until pears are tender and juice has started to form. In a separate bowl, combine the brown sugar, cinnamon, nutmeg, and cornstarch, then stir it into the pears and cook for another 2 minutes, stirring constantly, once mixture has thickened and resembles pie filling, remove from heat.

To make the oatmeal crumble, combine all ingredients in a large bowl and use a pastry cutter or your fingers to mix the ingredients together, squishing the cubes of butter and creating a coarse crumble.

Now it's time to start assembling the cheesecake bars. Pour the cheesecake mixture over the baked crust and spread out evenly. Top the cheesecake mixture with the pear filling. Top the pear filling with the crumble topping.

Bake cheesecake bars for 60 to 70 minutes, remove from oven and let cool in pan on a wire rack for 30 minutes. Transfer to the refrigerator to cool for at least 4 hours, preferably overnight.

Slice into square bars and drizzle with caramel just before serving. Top with a dollop of whipped cream if desired.
Nutrition
Calories:
570
kcal
Carbohydrates:
69
g
Protein:
5
g
Fat:
32
g
Saturated Fat:
18
g
Cholesterol:
109
mg
Sodium:
297
mg
Potassium:
201
mg
Fiber:
3
g
Sugar:
56
g
Vitamin A:
1125
IU
Vitamin C:
4
mg
Calcium:
88
mg
Iron:
1
mg