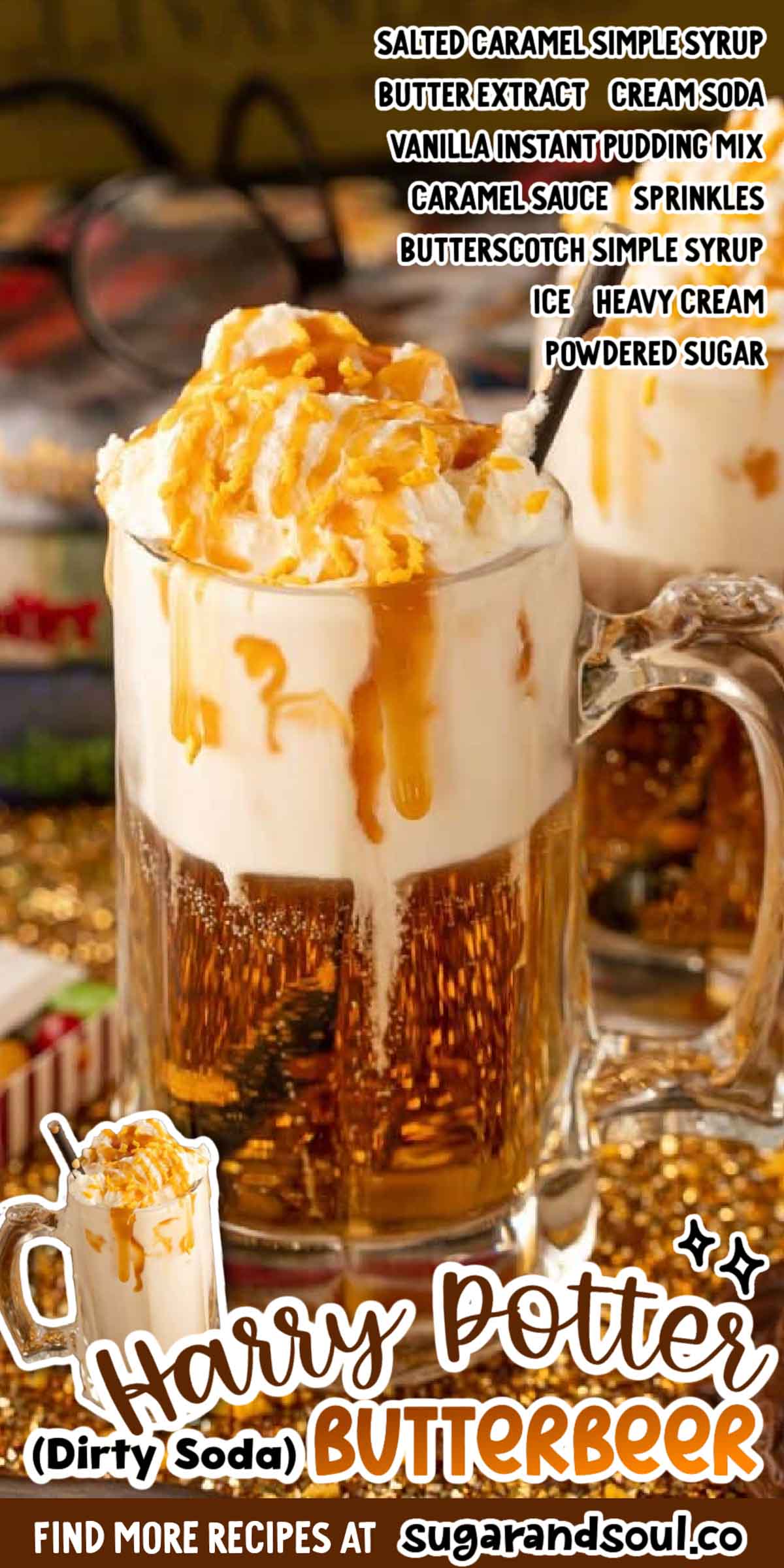 Harry Potter Butterbeer Dirty Soda is every muggle's favorite drink that's made of cream soda, caramel and butterscotch syrups, butter extract, and cream! You don't need a house elf to make this recipe for you, it's super easy and ready to enjoy in just 5 minutes or less!
All you need is 5 ingredients to make this magical beverage for all of your favorite muggles! I will say this drink is best enjoyed while reading your favorite Harry Potter Book!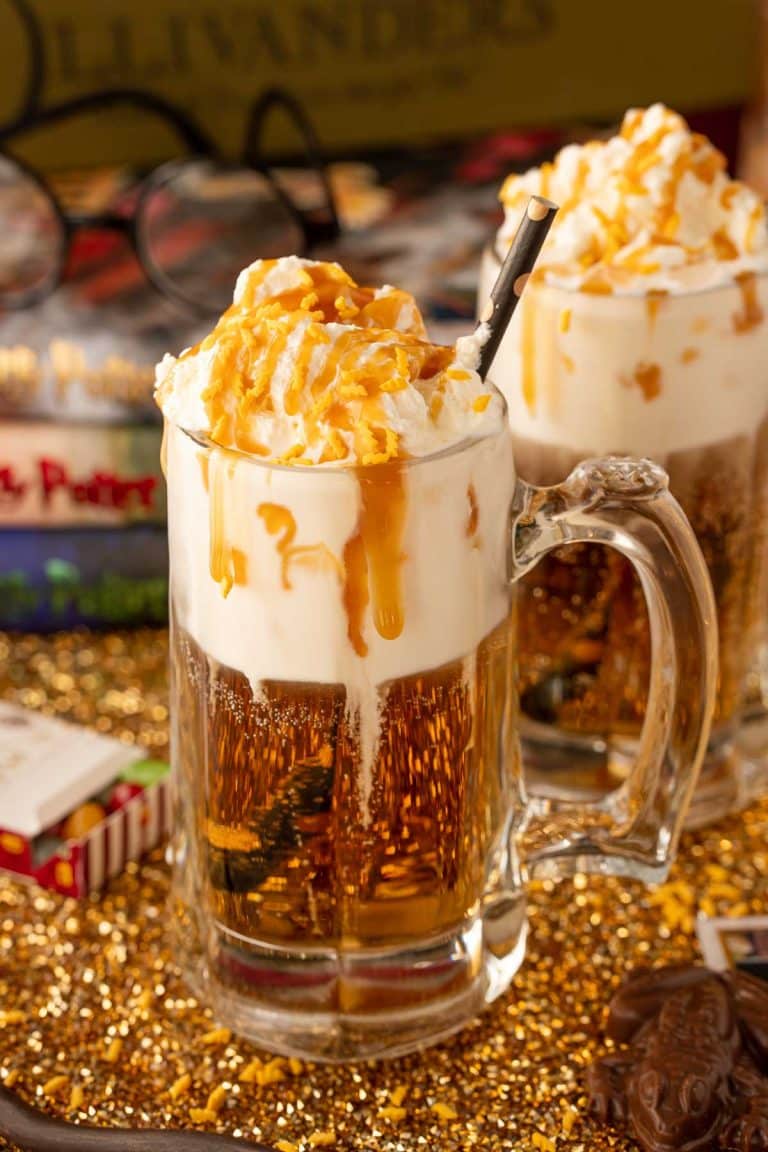 Grab your mugs, it's time to fill them with this Butterbeer Dirty Soda! And you won't even need a house elf to prepare it for you since it's super easy to make at home!
What Is Harry Potter Butterbeer
This popular Wizarding World drink made its debut in Harry Potter and the Prisoner of Azkaban! Students of Hogwarts School of Witchcraft and Wizardry would enjoy it when visiting The Three Broomsticks or Hog's Head Inn in Hogsmeade. In the books, it is served both hot and cold (this is a cold version) and made of butterscotch, sugar, and water. It is supposed to taste like less sickly butterscotch. Personally, I think this tastes WAY better!
What I Love About This Recipe
I have a lot of butterbeer-flavored desserts, but I've always struggled to develop the perfect drink version. But when the Dirty Soda trend took off earlier this year, it gave me an idea – let's add some cream. And let me tell you – it was just the thing this recipe needed. It adds a creaminess that I think is necessary to balance the sweetness of the syrups. Oh, and the butter flavoring, just a tiny amount heightens the butterscotch and caramel flavors of this drink, giving it a hint of saltiness.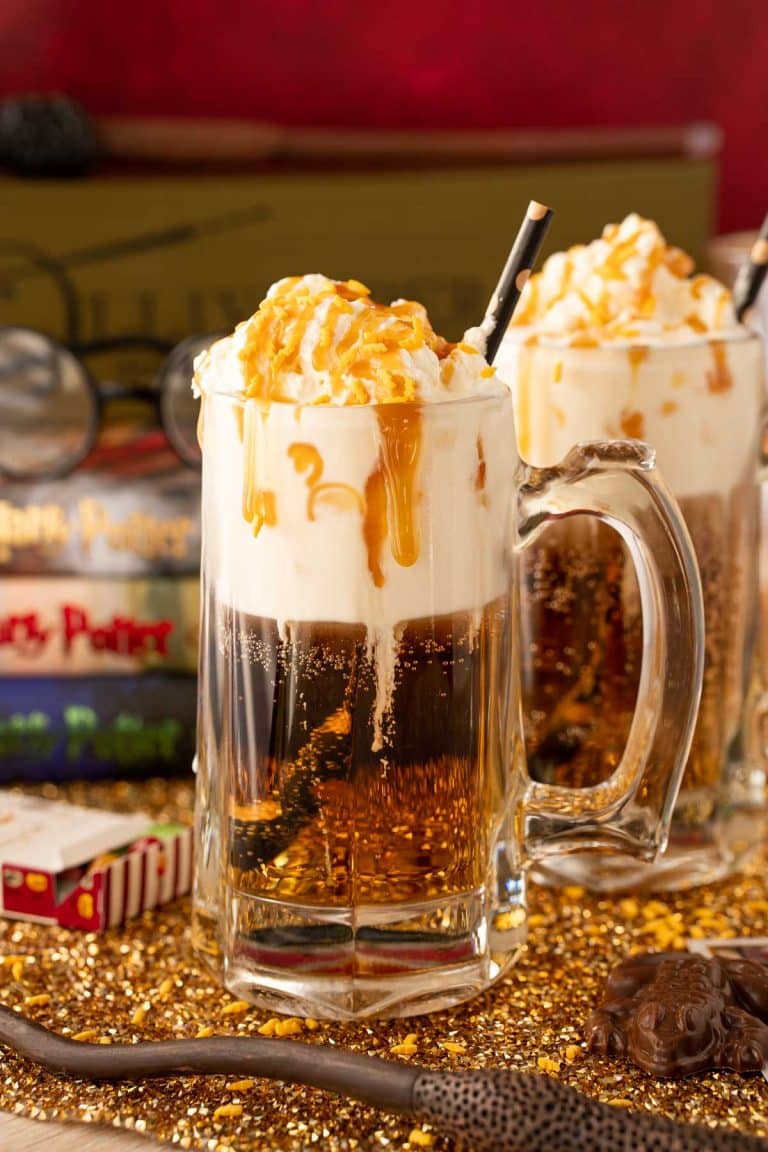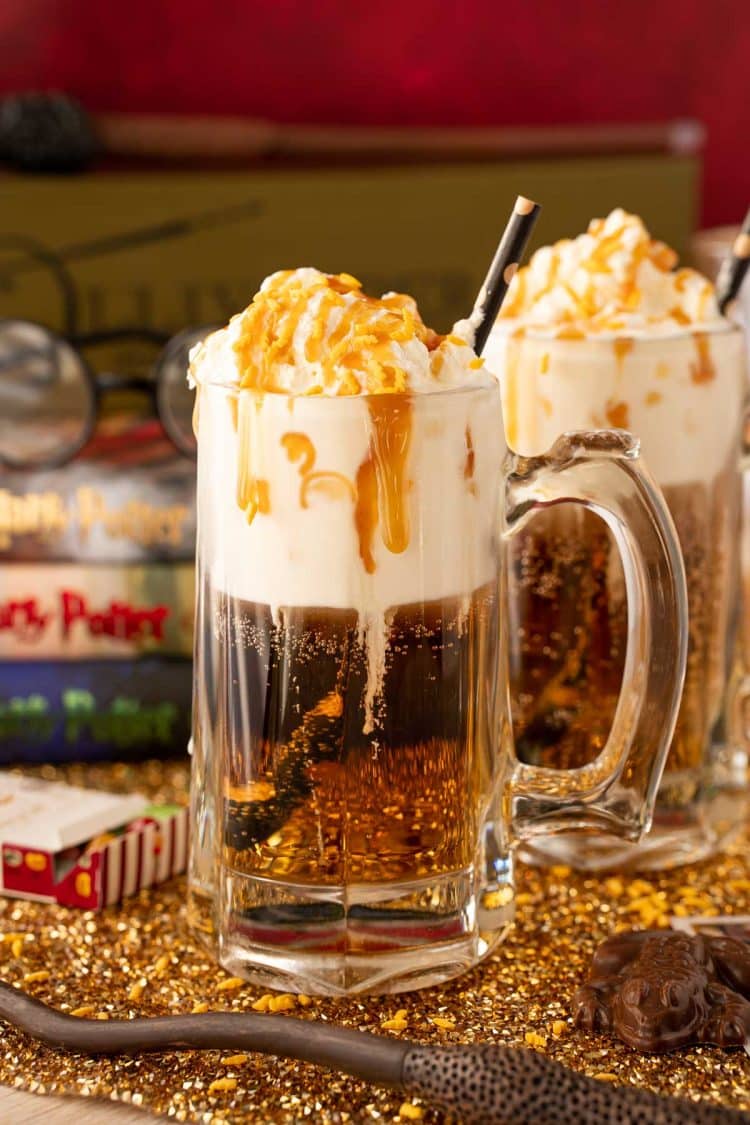 Ingredients For Butterbeer Dirty Soda
The foundation of this magical beverage is cream soda that's mixed with salted caramel simple syrup (affiliate link), butterscotch simple syrup, and just a touch of butter extract (affiliate link). This gives it the buttery, sweet base that we look for in this popular drink!
Then, heavy cream is added. This simple ingredient makes the drink creamier and richer, making it the best dirty soda recipe!
The drink is then finished off with thick pudding whipped cream that's drizzled with smooth caramel sauce! And you can also add some fun Harry Potter sprinkles (affiliate link)!
Tips & Tricks For Making This Easy Butterbeer Recipe
Chill The Soda – This Homemade butterbeer drink is best enjoyed ice cold! Therefore, be sure to chill the cream soda before making this recipe.
Serve Over Ice – Adding ice to the glass will ensure the drink stays colder for longer!
Pudding Whipped Cream – I love this recipe most when it's made with vanilla pudding whipped cream. However, white chocolate, cheesecake, caramel, or butterscotch may also be used. Though if you reach for caramel or butterscotch, you will be left with a beige-colored whipped cream instead of white.
Garnishes – Bring this drink to life with tasty garnishes such as a drizzle of caramel sauce over the top! Then add on some lightning bolt sprinkles and stick a harry potter colored straw in it to sip from!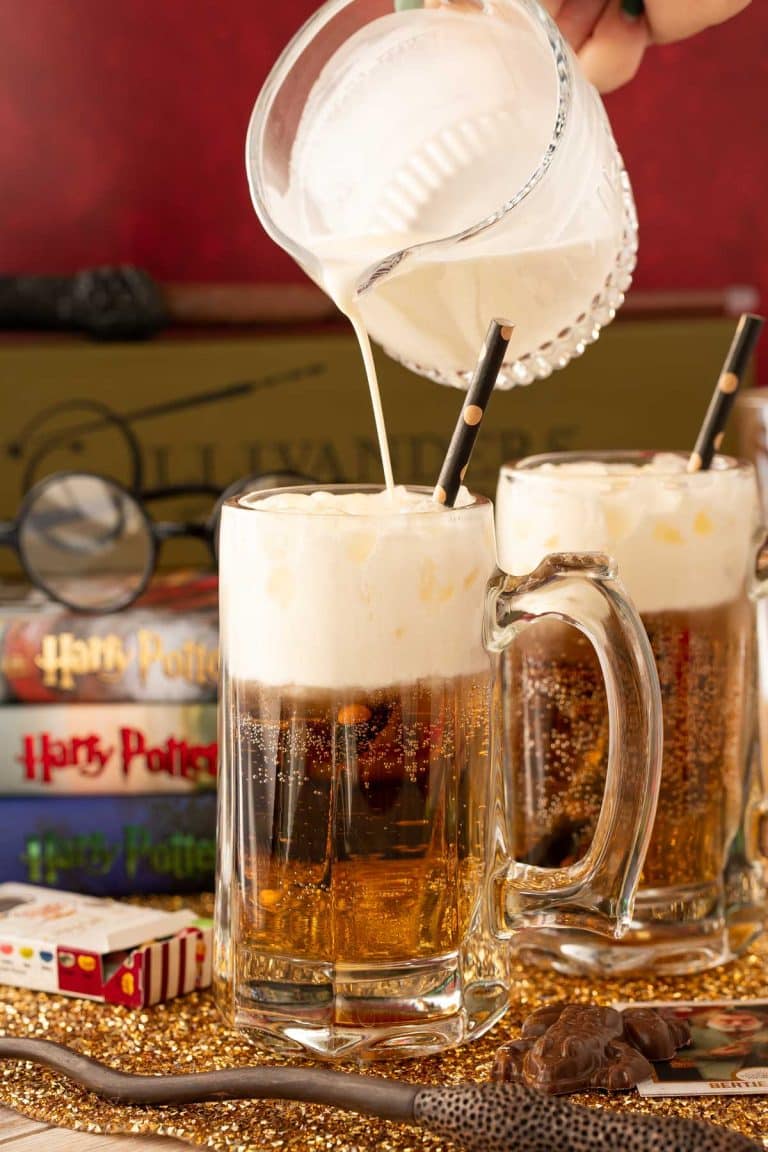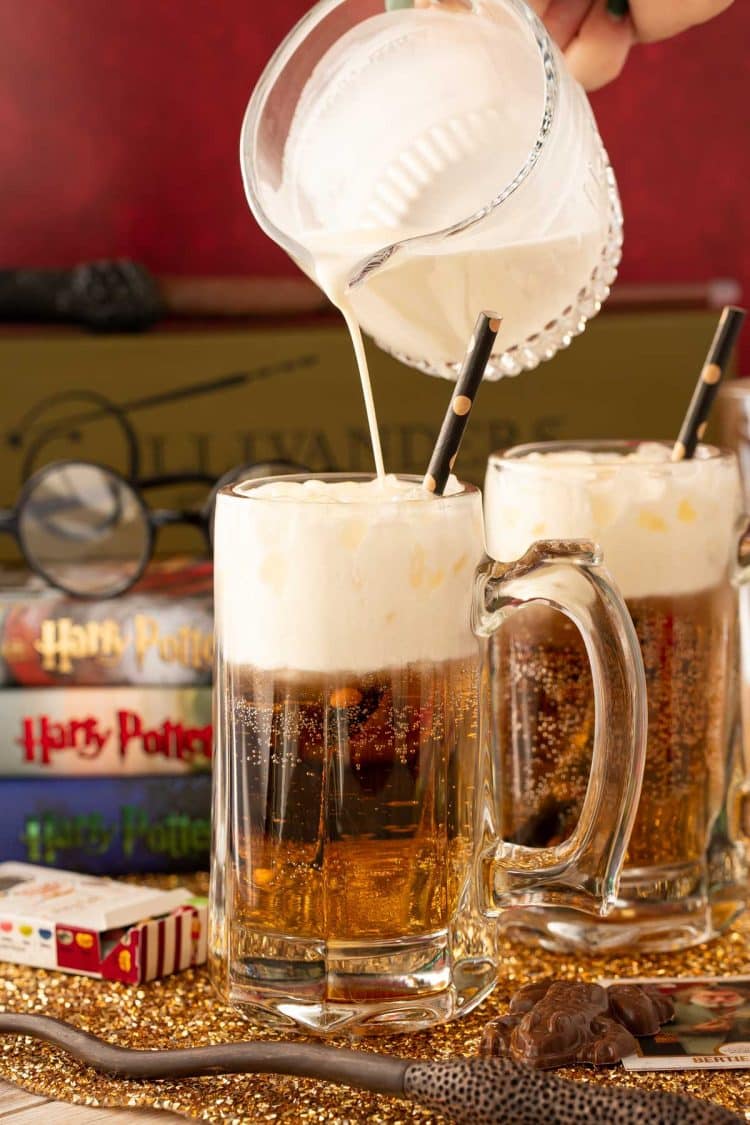 This Harry Potter Butterbeer Recipe would make for a great addition to any harry potter themed party! Whether it's a birthday party or just a gathering with friends to watch your favorite Harry Potter movie!
For a birthday, try my Harry Potter Butterbeer Poke Cake or Harry Potter Butterbeer Cupcakes! And it just isn't a party without snacks! To stick to the theme, try my Harry Potter Butterbeer Muddy Buddies or Butterbeer Cookies!
How Many Drinks Does This Recipe Make?
This recipe makes one drink. However, since you'll already have all the ingredients out, it's easy to whip up a large batch of it for friends or family!
What Is Dirty Soda?
A Dirty soda is a drink that mixes soda with flavored syrups and cream. The drink is served over ice and can easily be tailored to fit your taste buds!
Where Do I Find Salted Caramel Simple Syrup And Butterscotch Simple Syrup?
I love the Torani brand for simple syrups! Some common flavors are available at most grocery stores in the coffee aisle. However, the Torani website has a huge selection at great prices and ships REALLY fast!
What Can I Use In Place Of Cream Soda?
Cream soda can be replaced with equal amounts of club soda. Though keep in mind this will alter the final flavor of the drink. You could also try root beer.
How To Make Butterbeer Alcoholic?
It's uncertain whether the book version has alcohol since the ingredients just list butterscotch, water, and sugar – but there are mentions of it being "strong" and characters being "under the influence."
This is a non-alcoholic recipe, but if you want butterbeer with alcohol, I would suggest using either butterscotch schnapps in place of the simple syrup or vanilla vodka in place or in addition to some of the soda. You could also check out this Butterbeer Cocktail! Made with only 4 ingredients and served with a sugar-rimmed glass!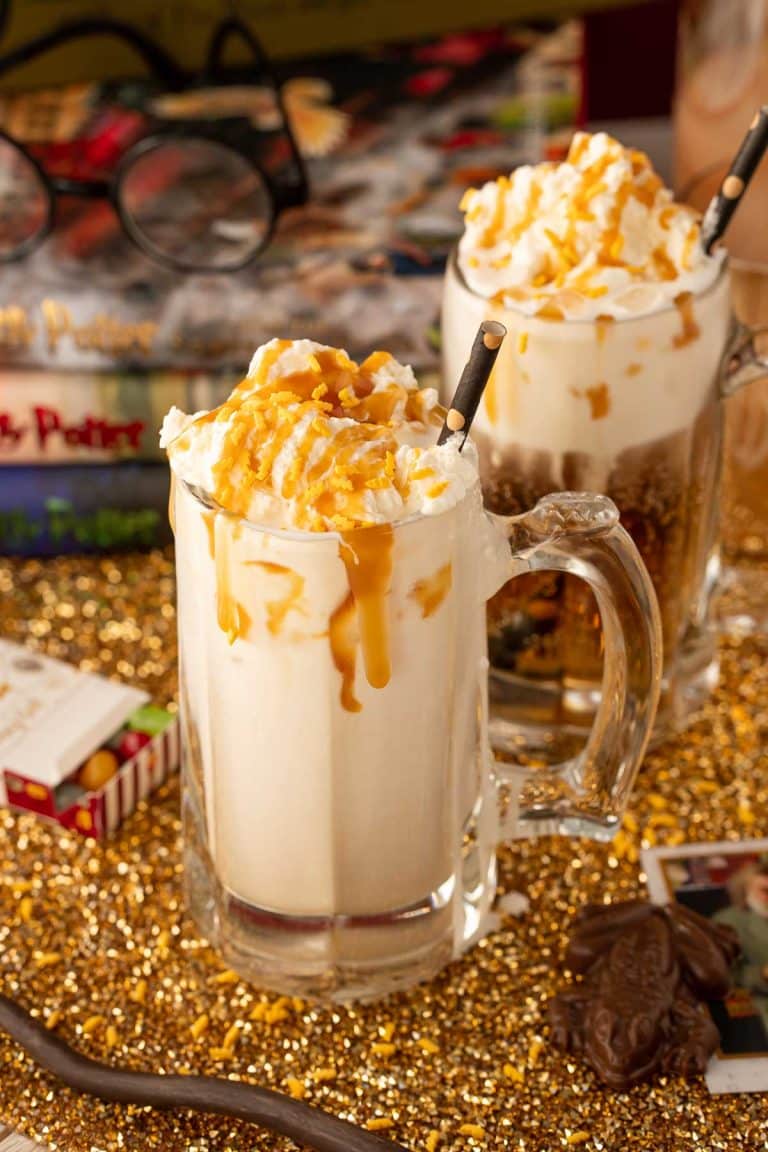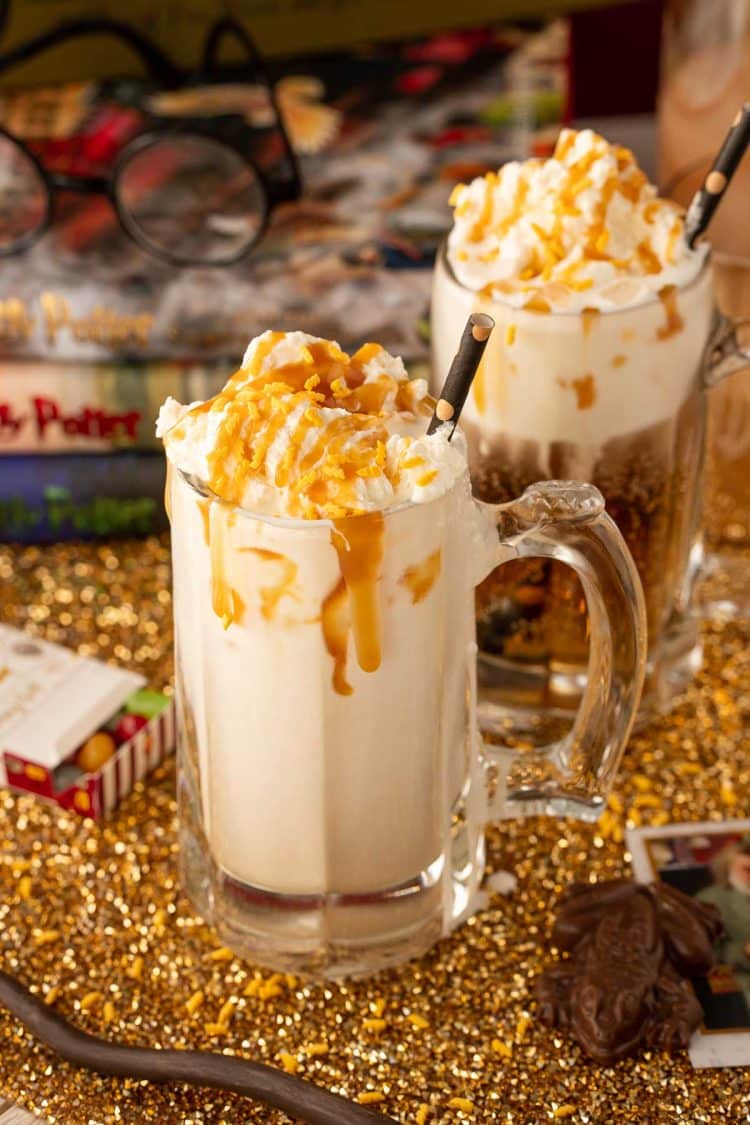 Harry Potter Butterbeer Dirty Soda
Pin For Later
CLICK THE BUTTON ABOVE TO SAVE THIS DELICIOUS RECIPE TO YOUR BOARD!
👋 Let's Connect!
If you've tried this recipe, please let me know how you liked it in the comments below and leave a review; I love hearing from you! And don't forget to tag me – @sugarandsoulco – on Instagram and Pinterest with your photos or join our Busy Family Recipes Facebook Community and share them there!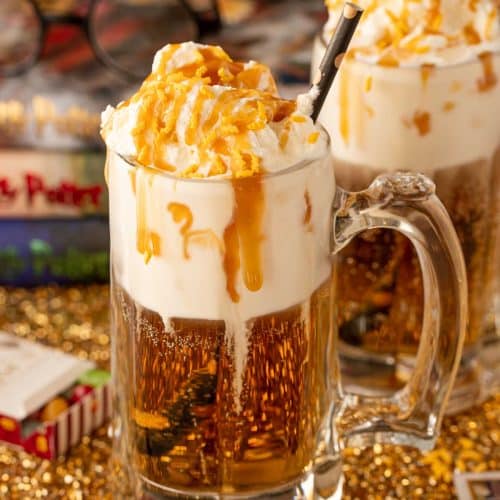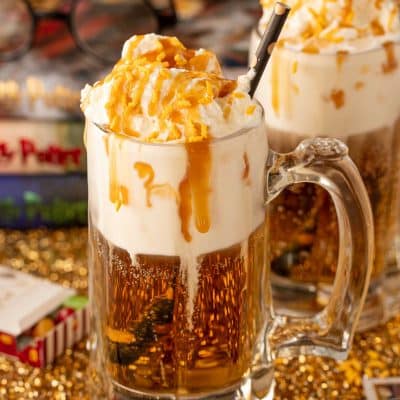 Butterbeer Dirty Soda
Harry Potter Butterbeer Dirty Soda is every muggle's favorite drink that's made of cream soda, caramel and butterscotch syrups, butter extract, and cream! Mix up a drink to enjoy in just 5 minutes or less!
Instructions
Add simple syrups and butter extract to a glass mug over ice.

Ice,

1 ounce salted caramel simple syrup,

1 ounce butterscotch simple syrup,

¼ teaspoon butter extract

Slowly pour in the heavy cream.

Prepare the whipped cream by beating together the ingredients at high speed until thick and fluffy. Dollop or pipe it on top of the heavy cream.

½ cups heavy cream,

2 teaspoons powdered sugar,

1 tablespoons vanilla instant pudding mix

Drizzle with caramel sauce and garnish with sprinkles.

Serve with a straw and stir before enjoying.
Notes
Nutritional information is an estimate without whipped cream.
I prefer vanilla pudding whipped cream, but white chocolate, cheesecake, caramel, or butterscotch are all great choices to pair with this soda recipe. Just note that the latter two flavors will make beige-colored whipped cream instead of white.
The butter extract takes this drink from simply sweet to buttery.
Caramel or butterscotch sauces could be used instead of simple syrup is desired.
Nutrition
Calories:
387
kcal
Carbohydrates:
65
g
Protein:
1
g
Fat:
15
g
Saturated Fat:
10
g
Polyunsaturated Fat:
1
g
Monounsaturated Fat:
4
g
Cholesterol:
48
mg
Sodium:
65
mg
Potassium:
79
mg
Sugar:
65
g
Vitamin A:
625
IU
Vitamin C:
0.3
mg
Calcium:
44
mg
Iron:
2
mg