This wonderfully rich and creamy French Hot Chocolate is made on the stovetop using only 4 ingredients and is ready for sipping in just 20 minutes!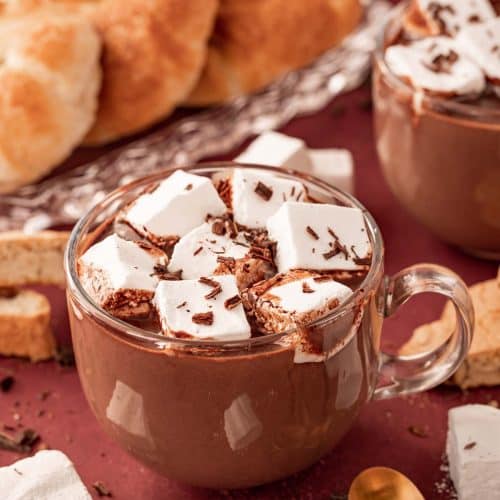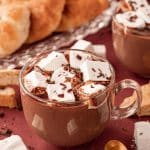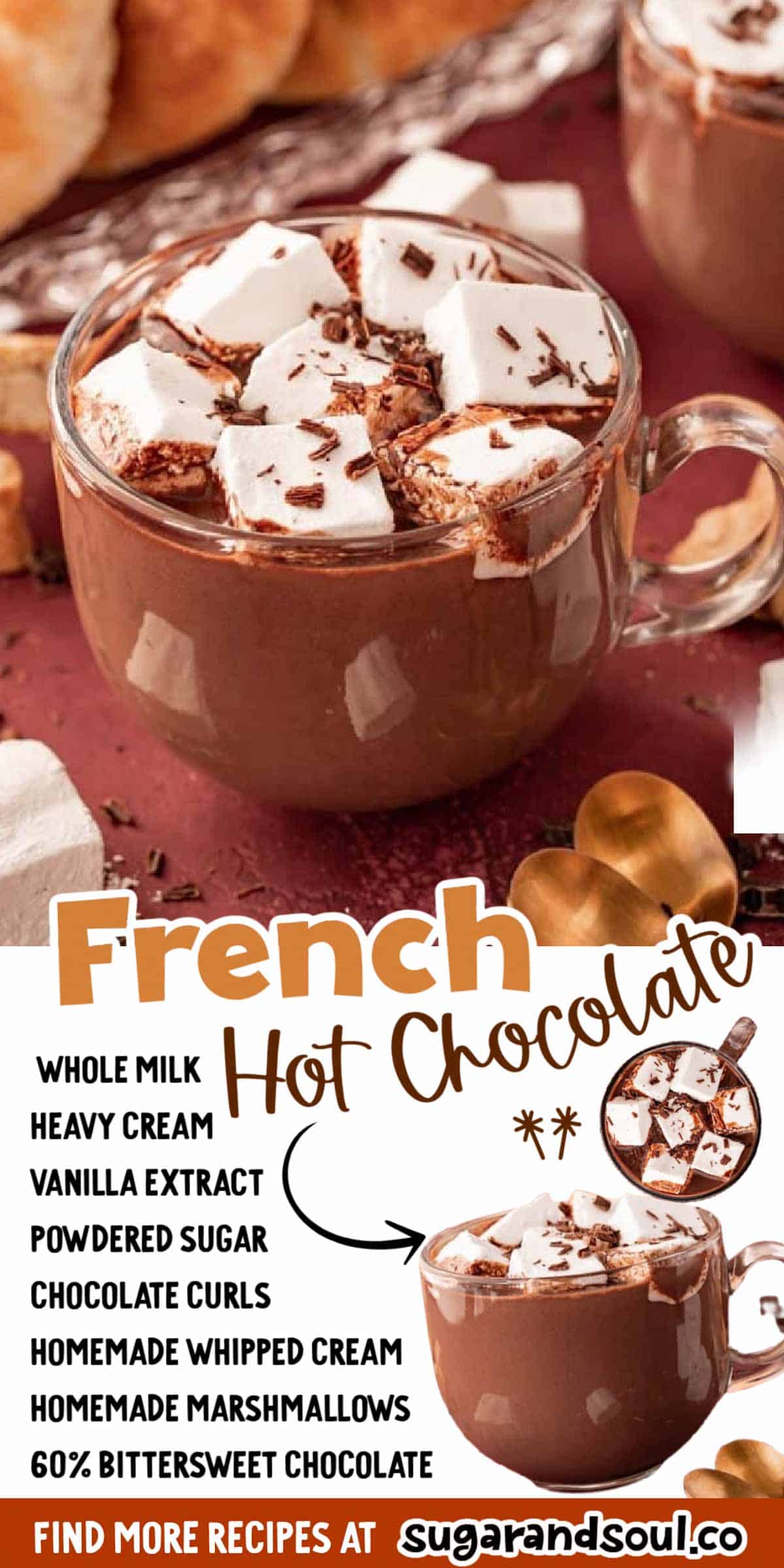 This wonderfully rich and creamy French Hot Chocolate is made on the stovetop using only 4 ingredients and is ready for sipping in just 10 minutes!
Sip on another homemade hot chocolate recipe such as my Nutella Hot Chocolate or Crockpot Hot Chocolate! Both wintery drinks take just 5 minutes to prep!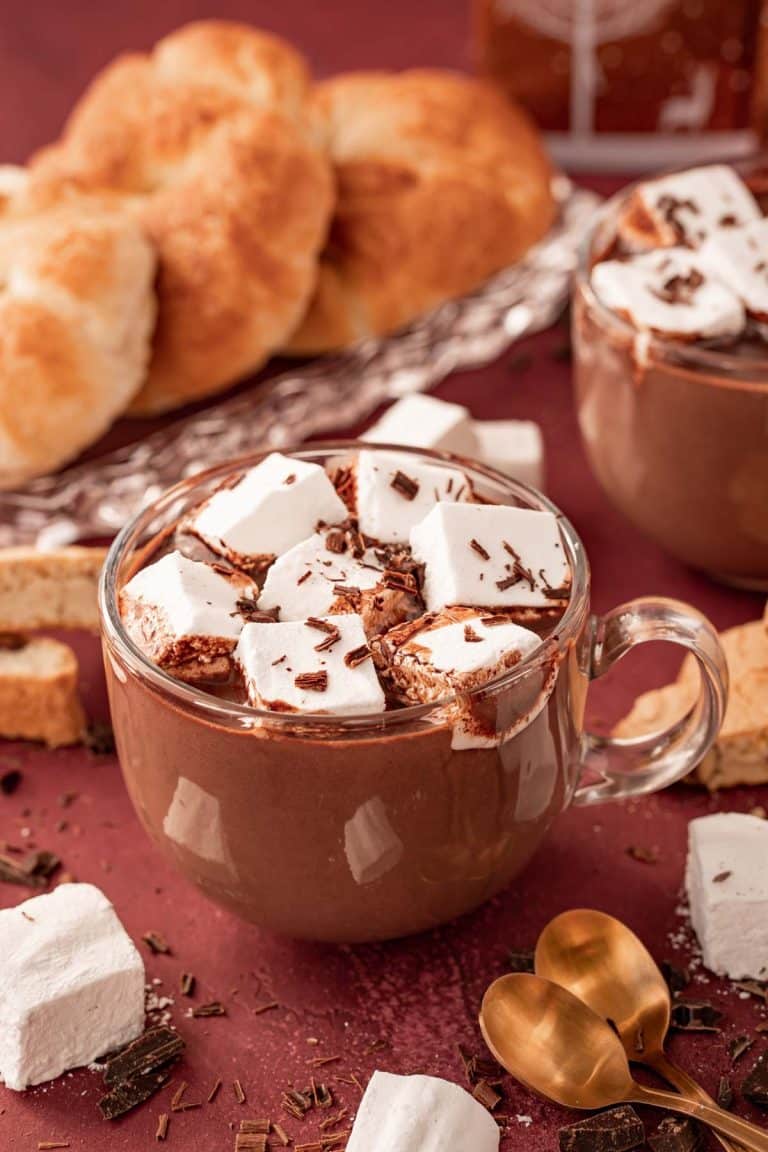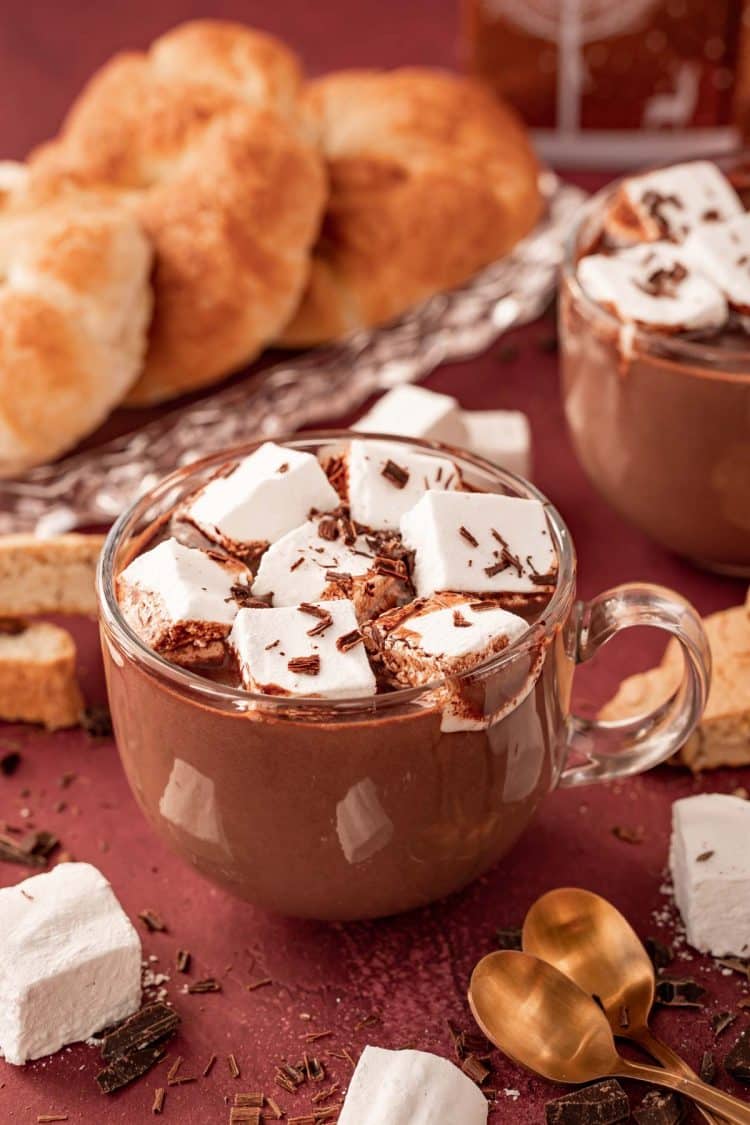 Warm up with a mug of this thick, creamy, and rich French Hot Chocolate! This just happens to be one of my favorite indulgences during the holiday season and for good reason!
This luxury drinking chocolate recipe is super simple to make using minimal ingredients in no time! Yet yields such rich and creamy results that it tastes as if it came from a high-quality cafe!
What Is French Hot Chocolate?
French Hot Chocolate is known for its incredibly thick and creamy consistency and decadent flavor! It basically walks a fine line between liquid and pudding!
This is accomplished in this recipe by using heavy cream, whole milk, and melting down a chocolate bar. However, some recipes use other ingredients such as cornstarch.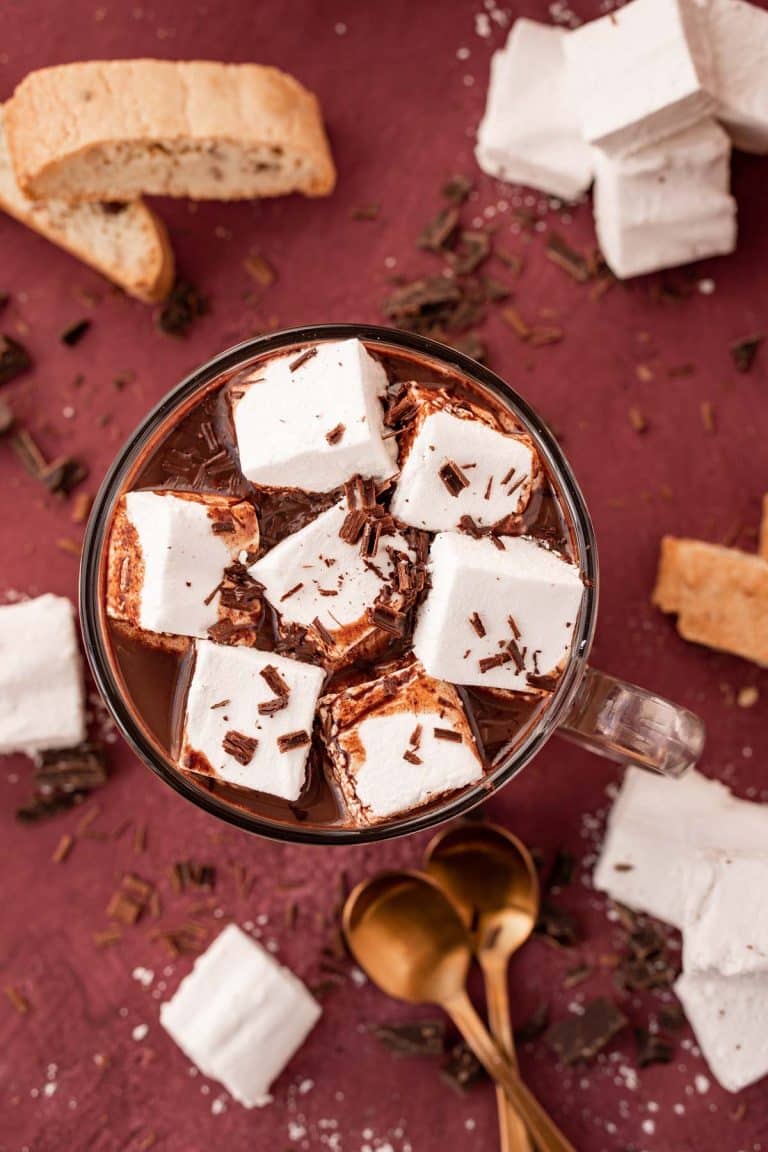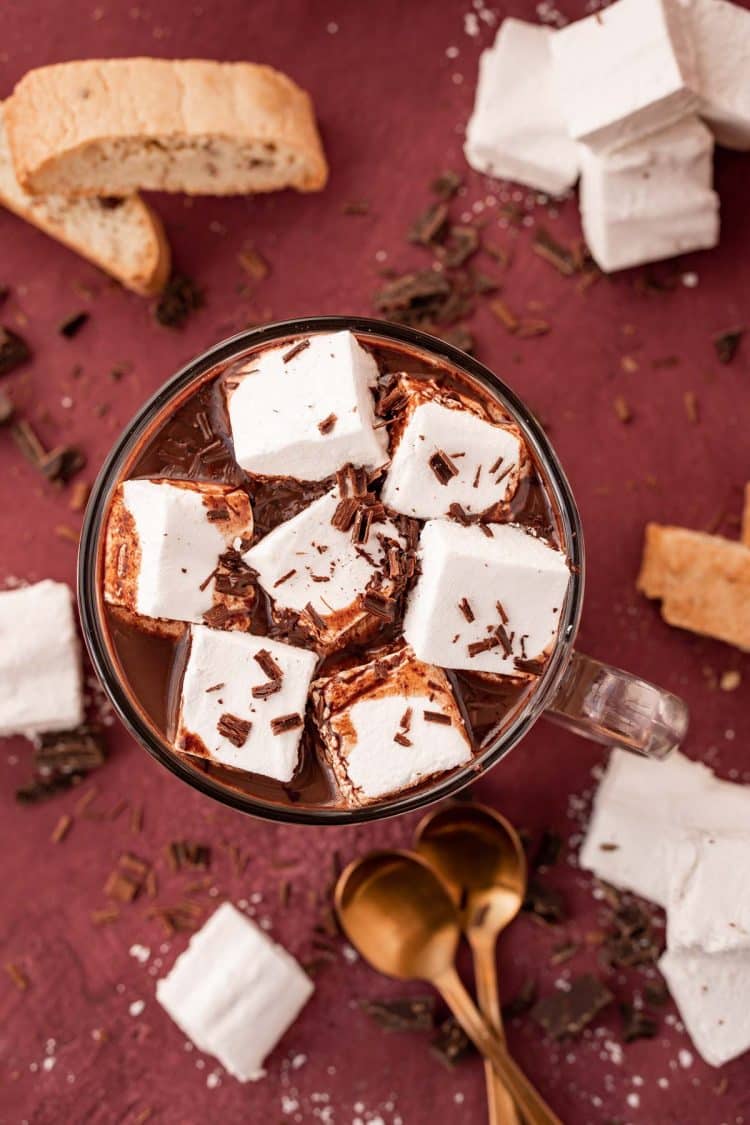 Helpful Tips For Making This Recipe For French Hot Chocolate
Heating – It's important to heat the milk, cream, and sugar over medium-high heat ONLY until bubbles start to form on the outer edge. Don't allow it to boil or it may burn!
Chocolate Bar – Once you learn how to make hot chocolate with chocolate bars you'll be hooked! For best results, you want to chop up the chocolate bar so it will melt more evenly.
Melting – If you find that the chopped chocolate isn't melting you can return it to the stovetop. Heat it over low heat while whisking only until the chocolate has finished melting. Again, don't allow it to boil!
Consistency – Remember, the consistency of this hot chocolate is THICK! Don't let it trick you into thinking it needs to cook longer to thin out.
Delicious Ways To Enjoy Hot Chocolate
Hot Chocolate Bar – Hot chocolate bars are super fun for everyone! Start with making a large batch of this hot chocolate. Afterward, set it out with some mugs that are big enough to add toppings! Then arrange a variety of toppings for friends and family to choose from as they make their cup of hot chocolate! Sprinkles, crushed peppermint, marshmallows, whipped cream, chocolate stirrers, candy canes, and even Homemade Chocolate Syrup for drizzling!
Homemade Marshmallows – Add a few of these thick, fluffy marshmallows to your mug! They taste way better than storebought and are really fun to make!
Homemade Whipped Cream – Made with only 3 ingredients in 5 minutes! French Hot Chocolate with whipped cream is a heavenly treat!
Add A Spin Of Flavor – Add a tablespoon of light brown sugar! You'll love the flavor depth that it adds to this drink.
Spike It – Give this hot chocolate a splash of Irish cream for a boozy kick!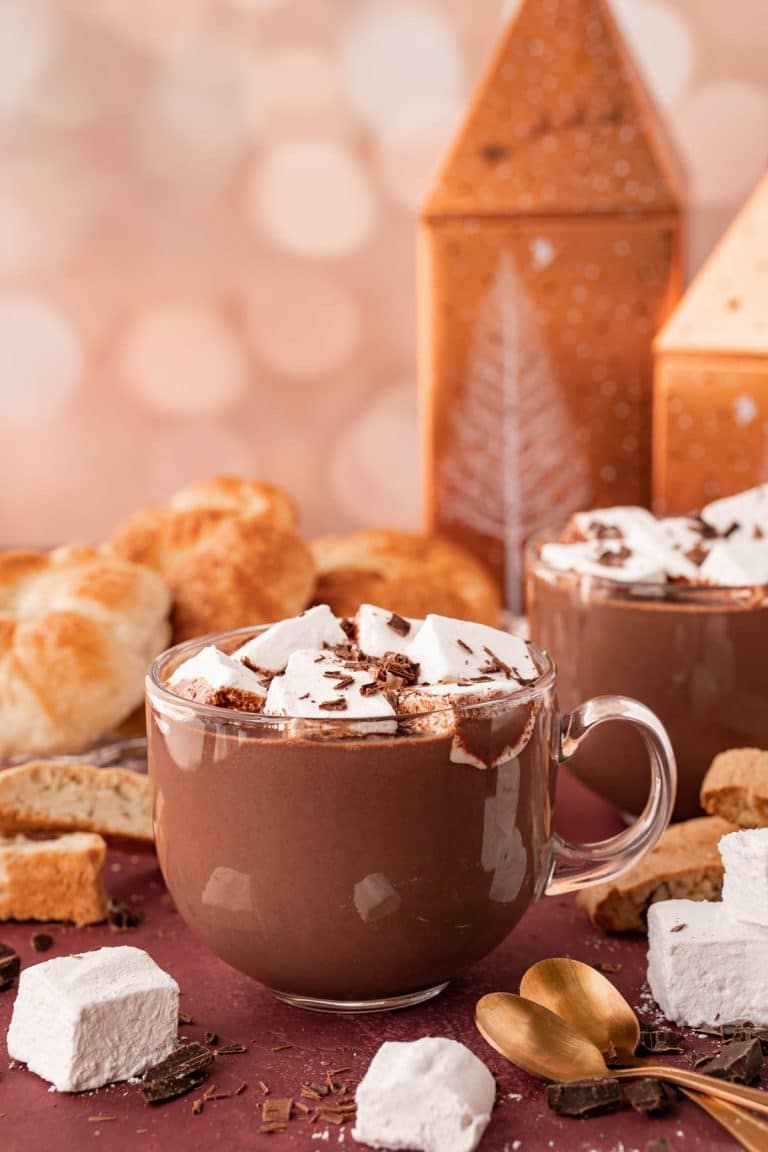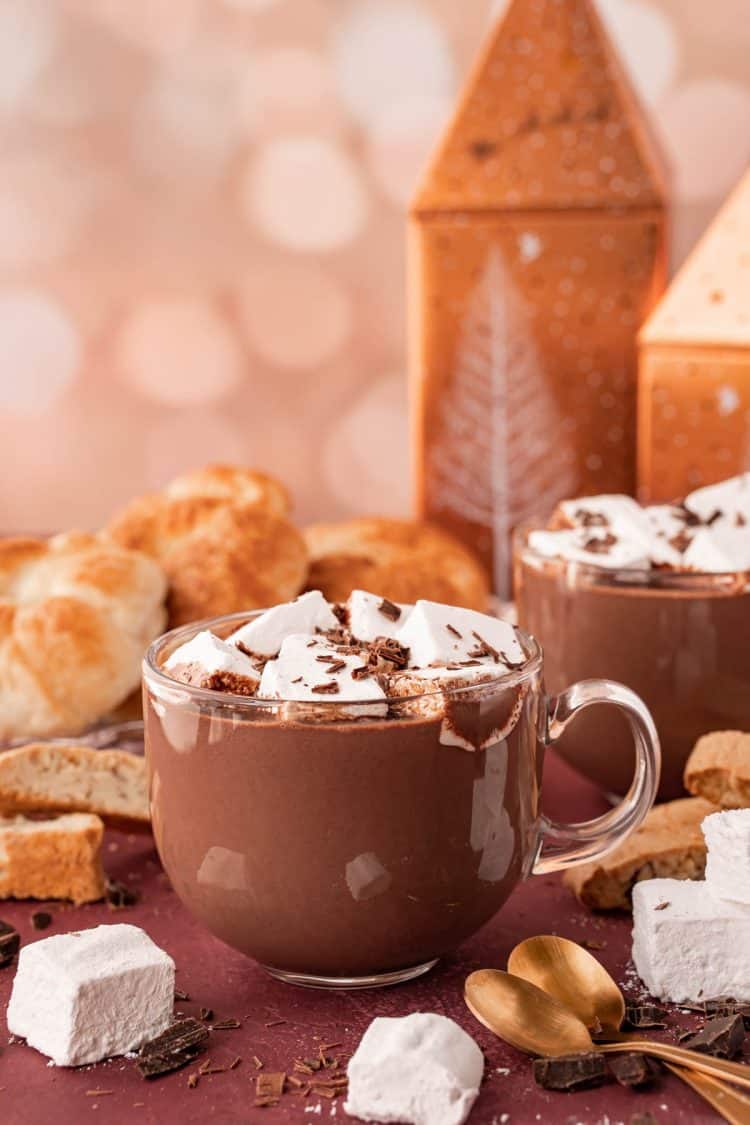 Warm drinks like this Homemade French Hot Chocolate make the chilly winter season a lot more bearable! On really cold mornings, I even start my day with hot chocolate by making up a cup of Hot Chocolate Coffee!
As for my kids, they prefer a fun spin on their hot cocoa! So, for them, my go-to is Hot Chocolate Bombs! These White Hot Chocolate Bombs are filled with lucky charms marshmallows and are always a win with them!
Even if you don't like to drink hot chocolate you can still enjoy the flavor in my Hot Chocolate Dump Cake or Hot Chocolate Cupcakes!
How Many Drinks Does This Drinking Chocolate Recipe Make?
This mostly depends on the size of the mugs that you use. However, I can comfortably serve 2 drinks when I make this recipe.
If you need more servings simply double or triple the recipe!
Is There A Substitute For Heavy Cream?
Heavy cream can be substituted with half and half, more whole milk, or whatever percentage of milk you have on hand. Swapping out the heavy cream will result in a hot chocolate that's not as thick and creamy though!
Can I Save Leftover French Hot Chocolate?
Yes, you can store any leftover French Hot Chocolate in an airtight container or a jar with a tight lid. Place it in the refrigerator and enjoy it within 2 to 3 days.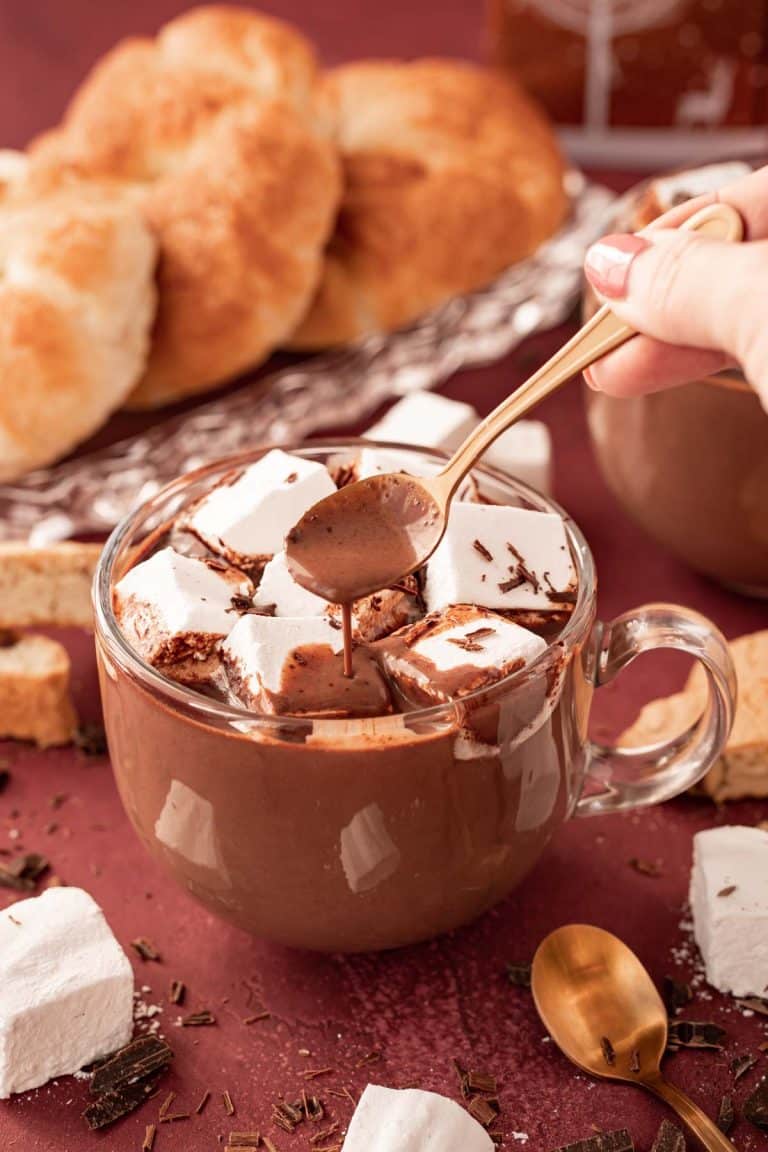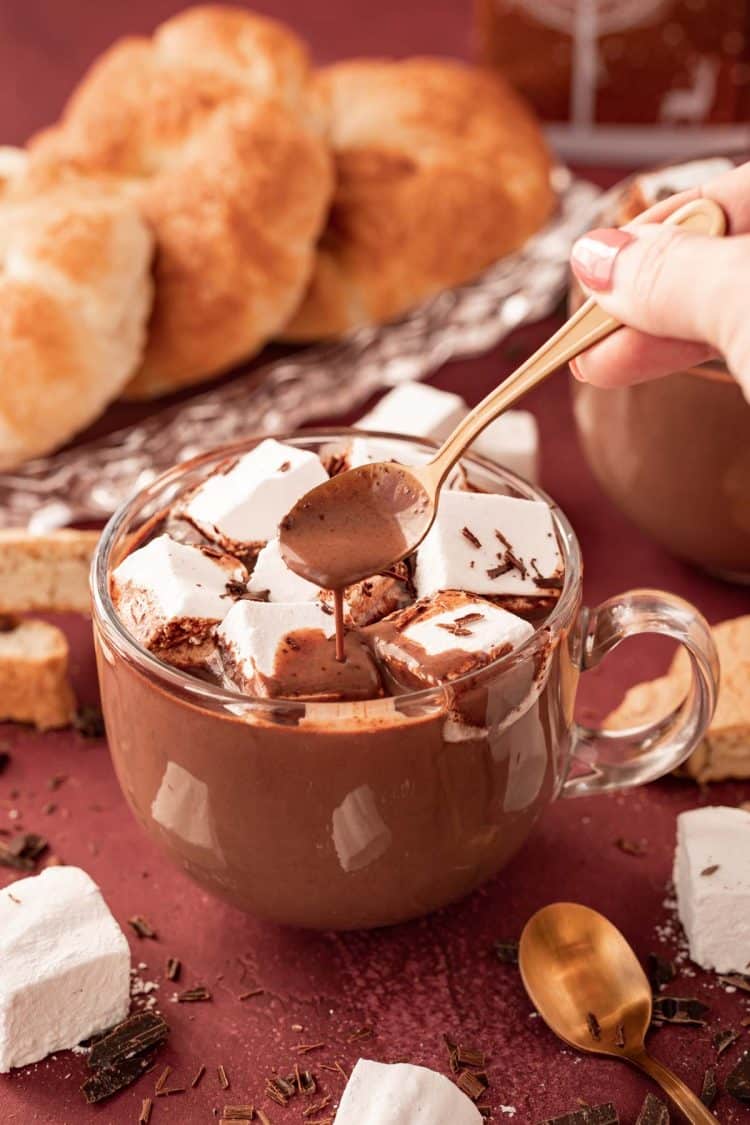 👋 Let's Connect!
If you've tried this recipe, please let me know how you liked it in the comments below and leave a review; I love hearing from you! And don't forget to tag me – @sugarandsoulco – on Instagram and Pinterest with your photos or join our Sugar & Soul Show-offs Community and share them there, where you can join our recipe challenges and win prizes!
This recipe was originally published in October 2017 and was updated in November 2022 with fresh photos and content.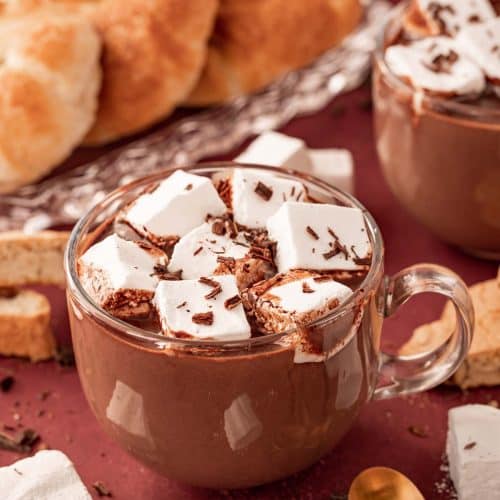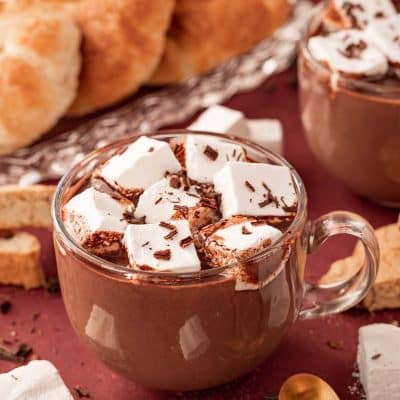 French Hot Chocolate
This wonderfully rich and creamy French Hot Chocolate is made on the stovetop using only 4 ingredients and is ready for sipping in just 20 minutes!
Instructions
In a medium saucepan over medium-high heat, whisk together the milk, cream, and sugar and heat until bubbles start to form on the outer edge. DO NOT BOIL.

1½ cups whole milk, ½ cup heavy cream, 1 tablespoon powdered sugar

Remove from heat and add in the chopped chocolate and vanilla and let sit for 2 minutes. Then whisk until a rich chocolate color forms then let sit for about 5 minutes.

8 ounces 60% bittersweet chocolate, 1 teaspoon vanilla extract

Pour the hot chocolate into mugs and finish off with whipped cream or marshmallows and chocolate shavings.

homemade whipped cream, homemade marshmallows, chocolate curls
Notes
If the chocolate is not melting, return to low heat and whisk until it does.
Nutrition
Calories: 418kcal | Carbohydrates: 22g | Protein: 9g | Fat: 34g | Saturated Fat: 21g | Polyunsaturated Fat: 1g | Monounsaturated Fat: 9g | Trans Fat: 0.01g | Cholesterol: 93mg | Sodium: 88mg | Potassium: 414mg | Fiber: 1g | Sugar: 20g | Vitamin A: 1215IU | Vitamin C: 0.4mg | Calcium: 275mg | Iron: 1mg