These White Chocolate Hot Chocolate Bombs are bursting with rich, creamy white chocolate flavor that not only tastes delicious but is also fun to make!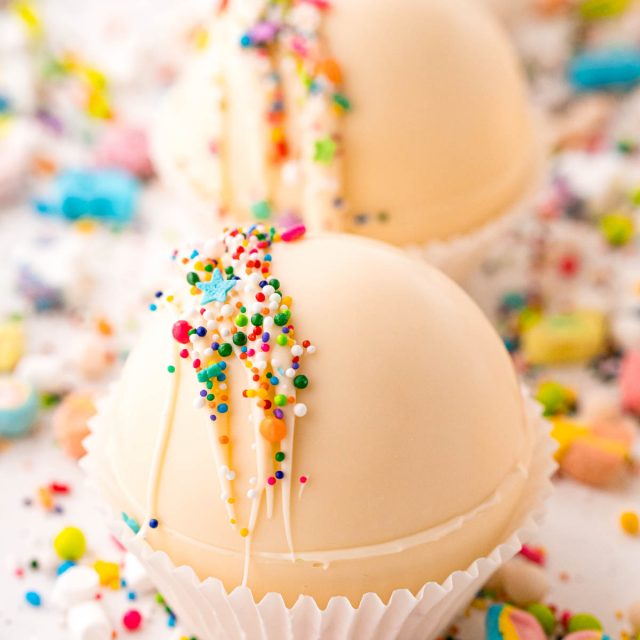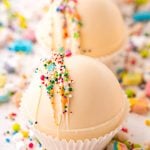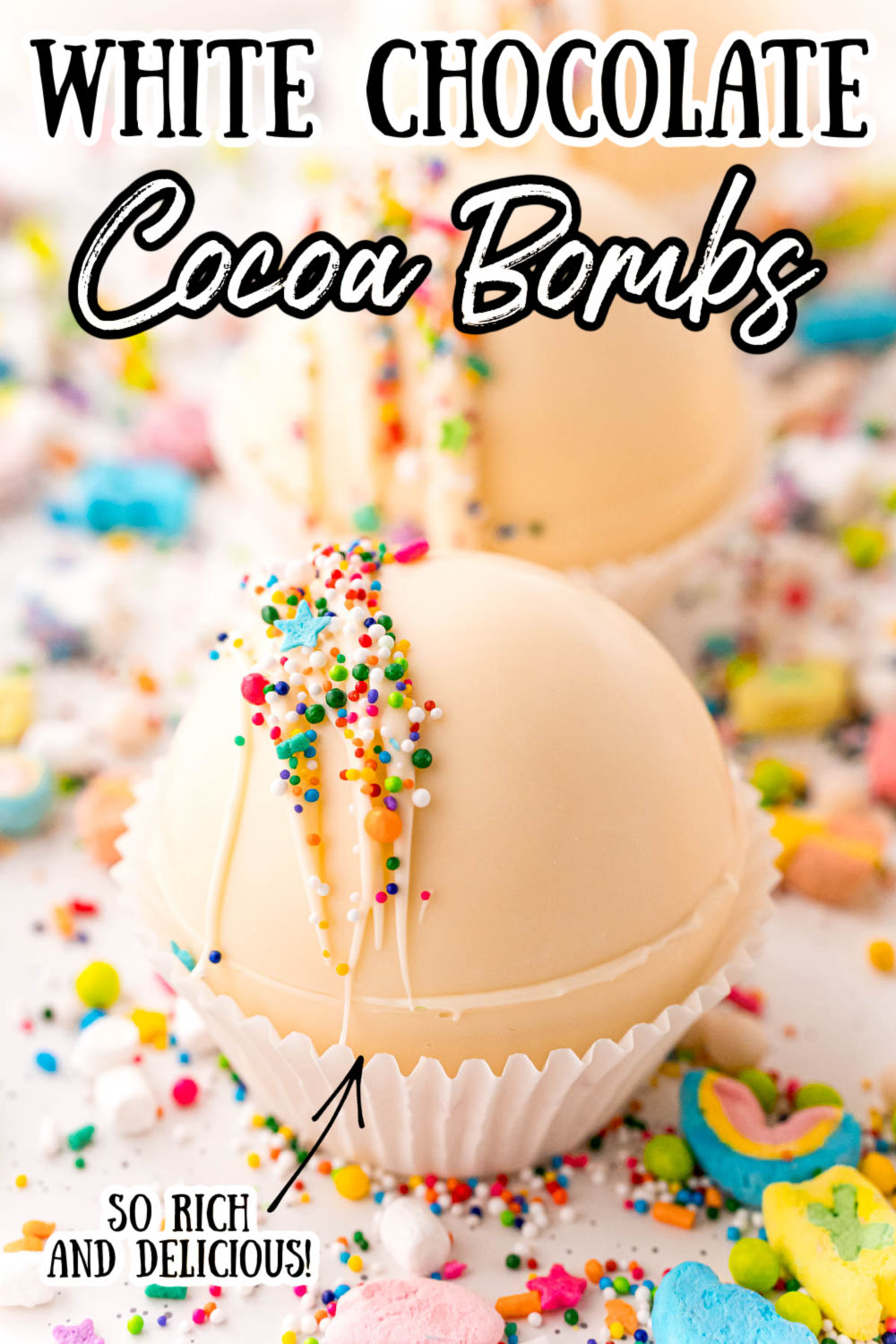 These White Chocolate Hot Chocolate Bombs are bursting with rich, creamy white chocolate flavor that not only tastes delicious but is also fun to make!
For another fun and delicious hot cocoa bomb recipe try my Mint Hot Chocolate Bombs or classic chocolaty Hot Chocolate Bombs!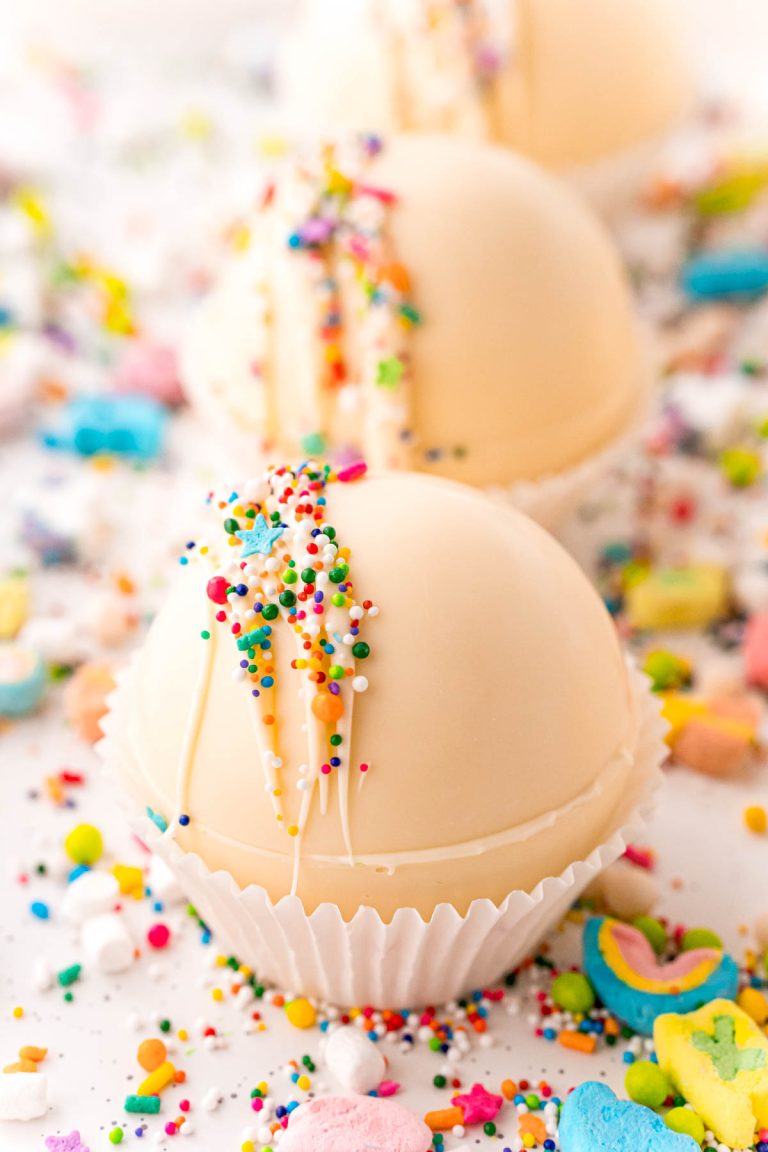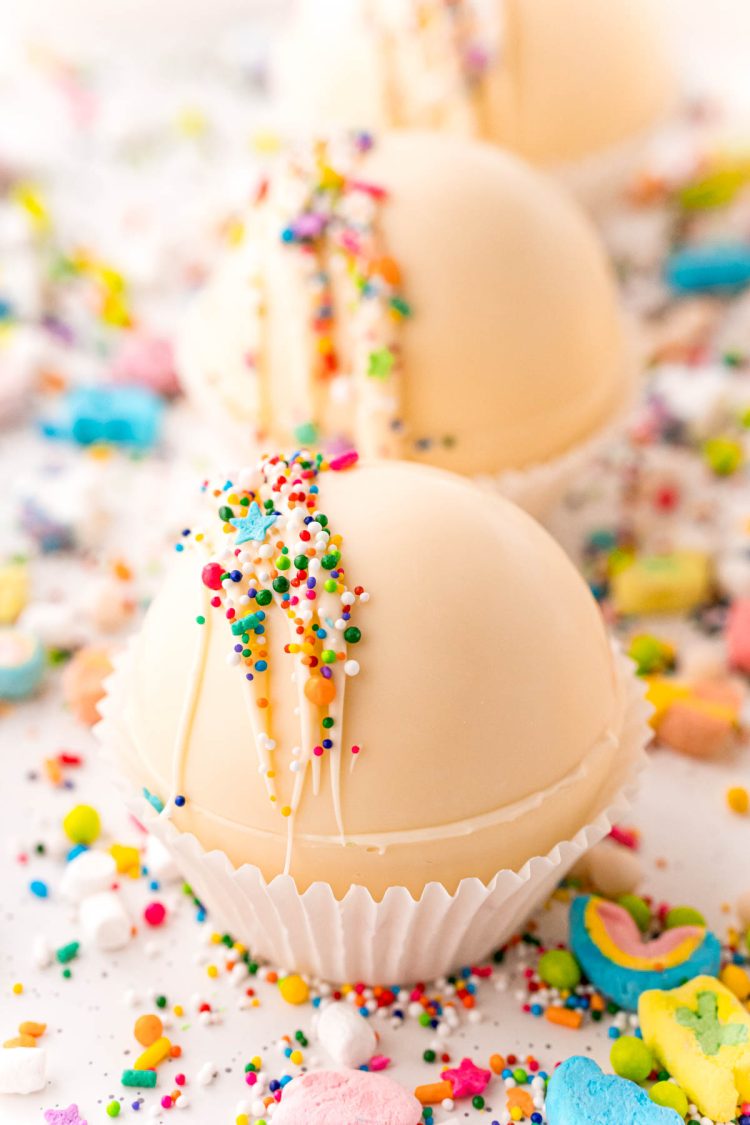 These White Chocolate Hot Cocoa Bombs deliver a fun, new twist of flavor on the popular hot cocoa bombs that everyone's obsessing over! The white chocolate is still incredibly thick and rich making for a perfectly creamy cup of hot chocolate!
I love that hot cocoa bombs don't just taste good but they're also amazingly versatile! They really can be enjoyed in so many ways from making an easy edible gift, to serving them up at sledding or ice skating parties, to making them with your kids for a fun weekend activity!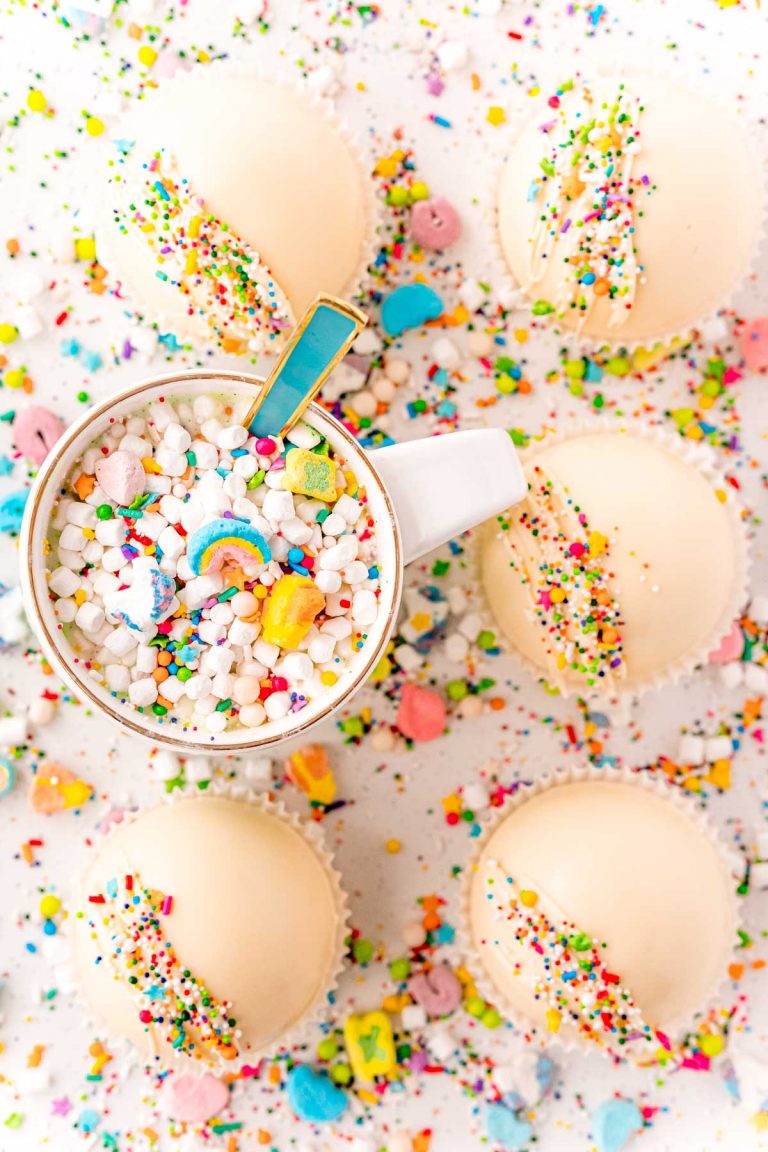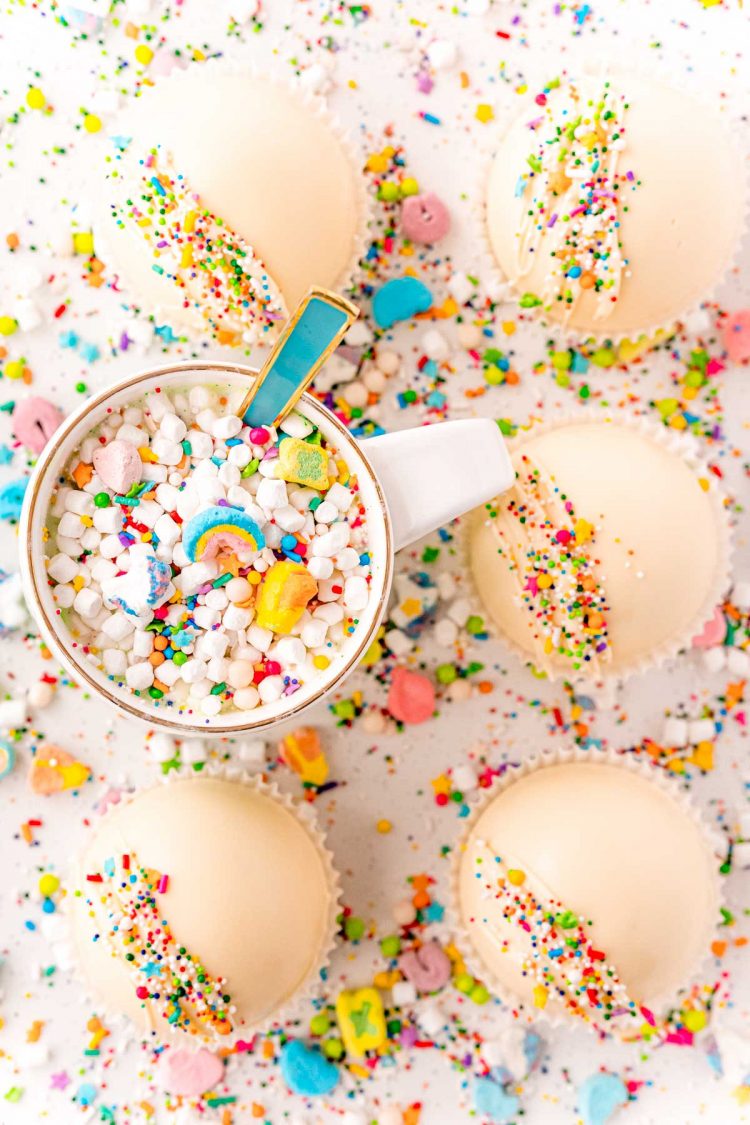 Tools For Making Hot Chocolate Bombs
Homemade hot chocolate bombs do require a few tools to make! There will likely be some things you may not have on hand so be sure to plan ahead if necessary!
Food Scale – When using couverture chocolate morsels or chocolate chips you'll need to properly measure out the amount of chocolate.
Small Or Medium Bowl – Needs to be a microwave-safe bowl for melting the chocolate.
Rubber Spatula – Used to stir the chocolate and scrape down the sides of the bowl when melting the chocolate.
Instant Read Kitchen Thermometer – To be sure the chocolate has reached the correct temperature in the tempering process.
Silicone Molds – For this particular recipe you'll want 2 3/4-inch diameter molds. If you go with a smaller size you just have to alter how much mix you put into the molds.
Spoon Or Food-Safe Paintbrush – Used for coating the wells of the silicone molds. I don't recommend using a silicone brush since it leaves streaks and areas of exposure.
Nitrile Food Prep Gloves – If you want perfect, unblemished hot cocoa bombs you'll want to wear a pair of these gloves when handling the shells!
Baking Sheet – An optional tool but I find placing the molds onto the baking sheet made it easy to move them to the refrigerator and freezer.
Cupcake Liners – Great for holding the shells during assembly as well as for packaging to share!
Microwaveable Flat Plate – Used as the warming surface when melting the rims during the final steps of the assembling process!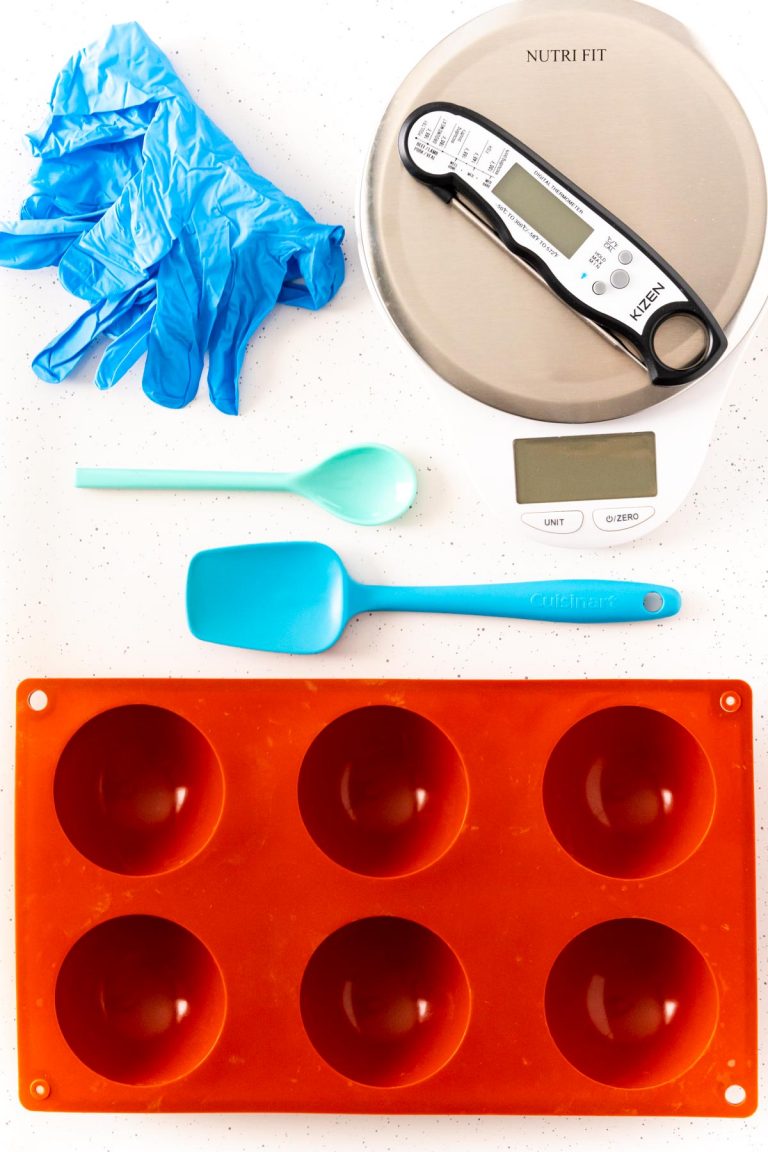 Ingredients For White Hot Cocoa Bombs
White Chocolate – For best results, I recommend using finely chopped Ghrirardeli baking chocolate or white chocolate Callebaut.
White Chocolate Cocoa Mix – Used to tuck inside the hot cocoa bombs.
Lucky Charms Or Mini Marshmallows – Classic mini marshmallows, dehydrated marshmallow bits, or Lucky charms marshmallows!
Sprinkles – Optional, but they really dress these cocoa bombs up!
Milk – For serving. We use whole milk but choose whatever you and your family prefer!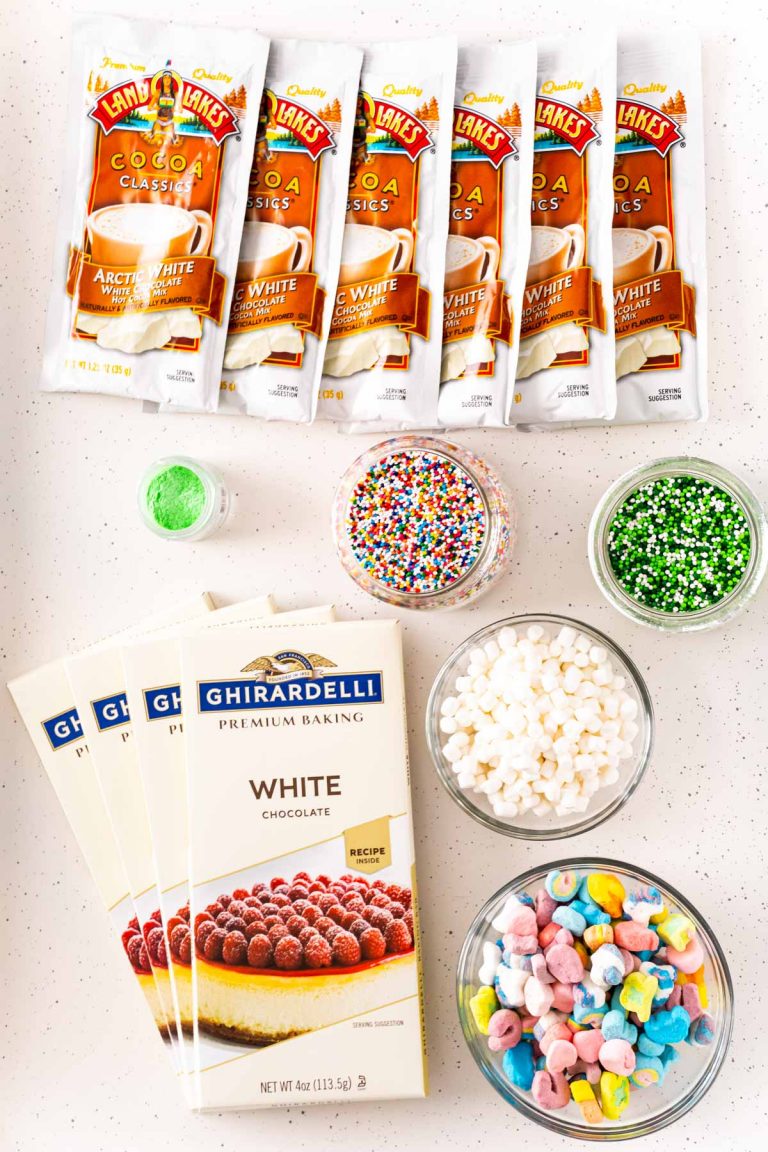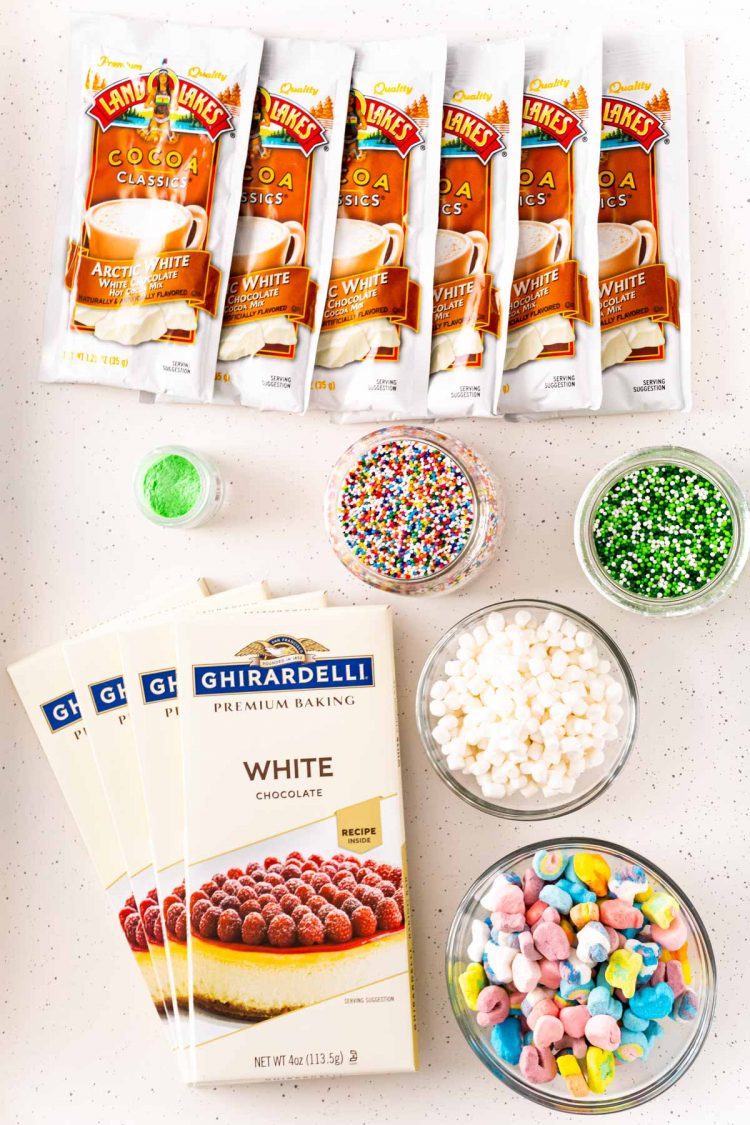 How To Make Hot Cocoa Bombs
Tempering The Chocolate
Start by tempering the chocolate, this process isn't hard or lengthy! If you enjoy a glossy, unblemished look then don't skip this easy, important step!
Melt the white chocolate in a medium microwave-safe bowl for 30 seconds and remove. Then stir using the rubber spatula, making sure to scrape the sides of the bowl.
Repeat the process with just 15-second intervals, scraping down the bowl and stirring after each. When there are a few soft lumps left it's best to just stir the chocolate together until it's fully melted.
Check the temperature of the melted chocolate using your thermometer. Once the temperature reads between 82 and 84 degrees F the chocolate is properly tempered.
Making The Chocolate Shells
Next, you'll be using the melted, perfectly tempered chocolate to coat the wells of the molds.
Coat each well of the baking mold with a tablespoon of melted chocolate, using a brush or the back of a small spoon to evenly cover it. Refrigerate for 5 minutes.
Add in another spoonful of melted chocolate into each mold, one at a time. Evenly coat the entire well again, making sure to build up the rim nicely. Freeze for 10 minutes.
Remove the molds from the freezer and gently remove the shells wearing food-safe gloves.
How To Assemble
Now it's time to finally assemble the white chocolate cocoa bombs!
Warm a microwave-safe plate up in the microwave then place 6 of the 12 halves on the plate one at a time. Smooth the edges of the rim by gently spinning them and then place the shells in cupcake liners.
Fill the halves that are in the cupcake liners with a packet of hot chocolate mix and marshmallows.
Reheat the plate and repeat the process of melting the rims of the last 6 shells. Once the rim is melted gently press it onto a filled half to complete the hot cocoa bomb sphere. Top with a chocolate drizzle and sprinkles if desired!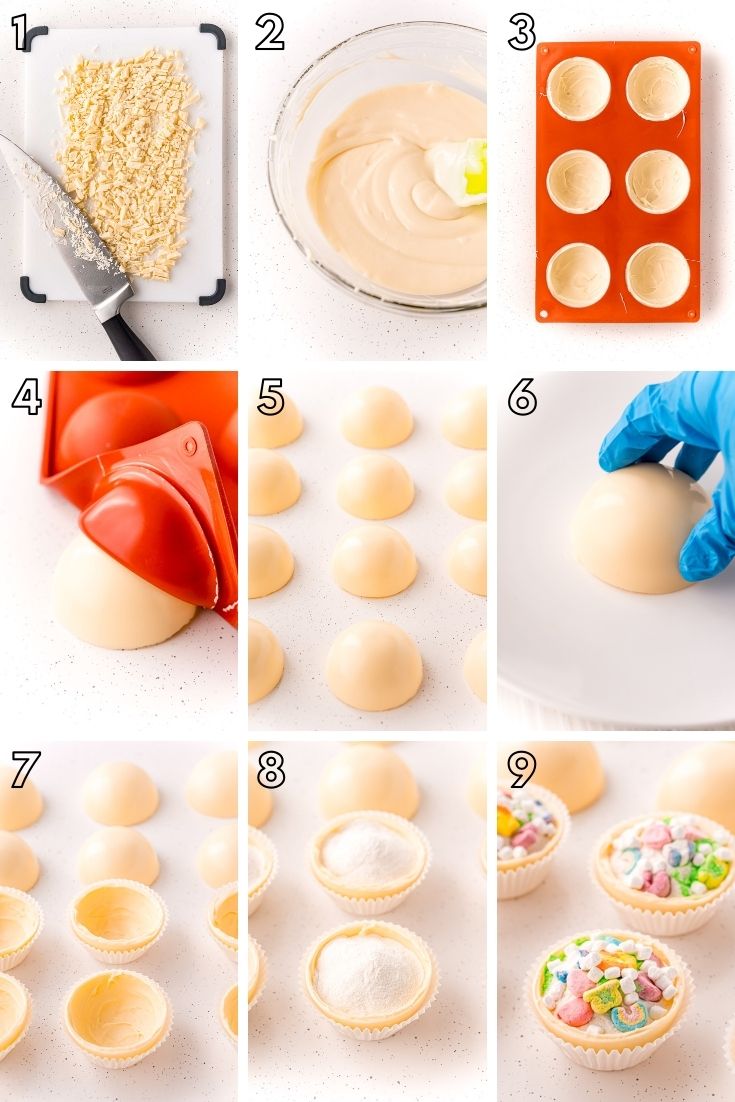 How To Serve
When serving these hot chocolate bombs I highly suggest using milk, it makes for a creamier, much better flavor!
Warm milk to 160 degrees F and serve to adults at 135 degrees F. When serving to children allow the temperature to settle to 120 degrees F.
Whether an adult is sipping on one or a child is enjoying them, finish these off with creamy Perfect Homemade Whipped Cream or pile on more Marshmallows!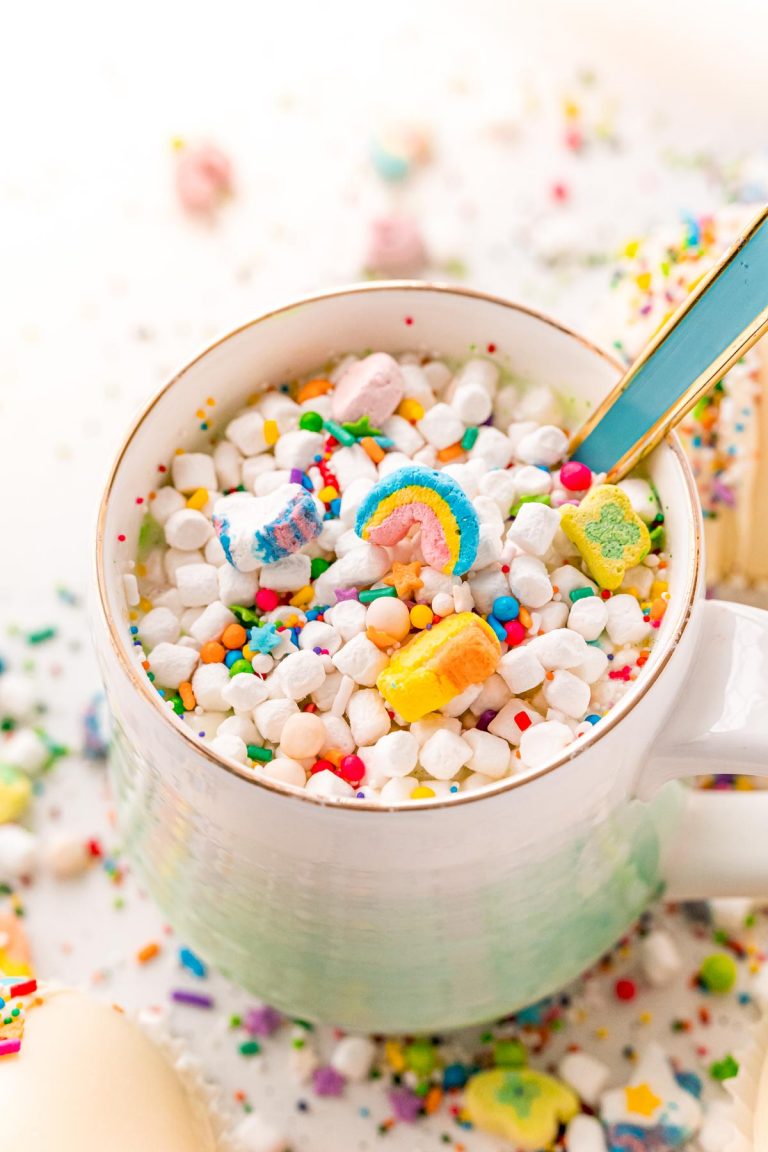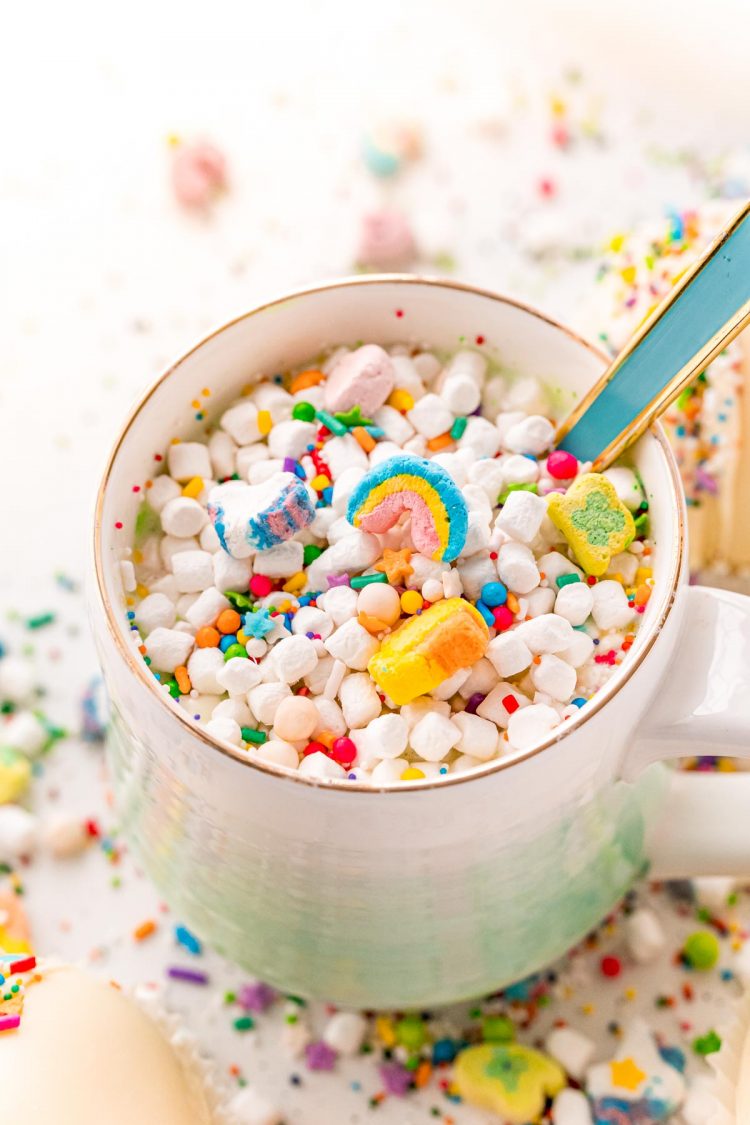 How To Store
I recommend enjoying these hot cocoa bombs within a few days for best flavor! However, you can store them for up to 2 weeks in an airtight container kept in a cool dry place.
Can I Add Food Coloring To Get A Colored Chocolate Shell?
If you'd like a colored chocolate shell I would recommend using gel food coloring, it requires very little to get great color and holds up better. Add it to the bowl of chocolate before the tempering process so the chocolate and food coloring remain at the same temperature.
Adding the food coloring after the chocolate has been tempered could cause the chocolate to seize, changing the consistency.
Where Can I Get Lucky Charm Marshmallows?
Some grocery stores such as Walmart carry bags of lucky charm marshmallows. I've also found that some carry boxes of swiss miss hot cocoa mix that have dehydrated lucky charm marshmallows in them. If you want to skip hunting for them you can order them right off amazing!
Can I Add A Dark Chocolate Drizzle Instead Of White Chocolate?
Yes, you can use any kind of chocolate drizzle you'd like! Dark, milk, or semi-sweet!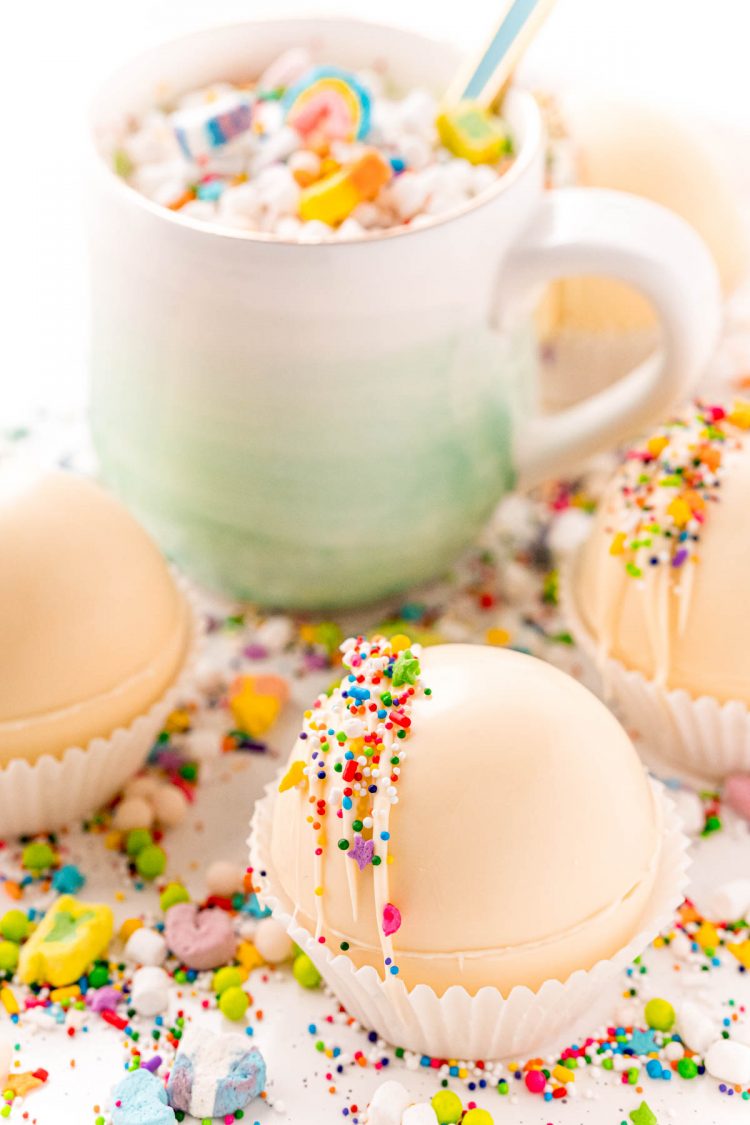 Our family looks forward to rich, creamy hot chocolate as soon as the cold weather starts creeping in! Try another hot cocoa recipe to mix up the way you serve everyones favorite winter time drink!
White Hot Chocolate Bombs
Click the button above to save this delicious recipe to your board!
👋 Let's Connect!
If you've tried this recipe, please let me know how you liked it in the comments below and leave a review; I love hearing from you! And don't forget to tag me – @sugarandsoulco – on Instagram and Pinterest with your photos or join our Sugar & Soul Show-offs Community and share them there, where you can join our recipe challenges and win prizes!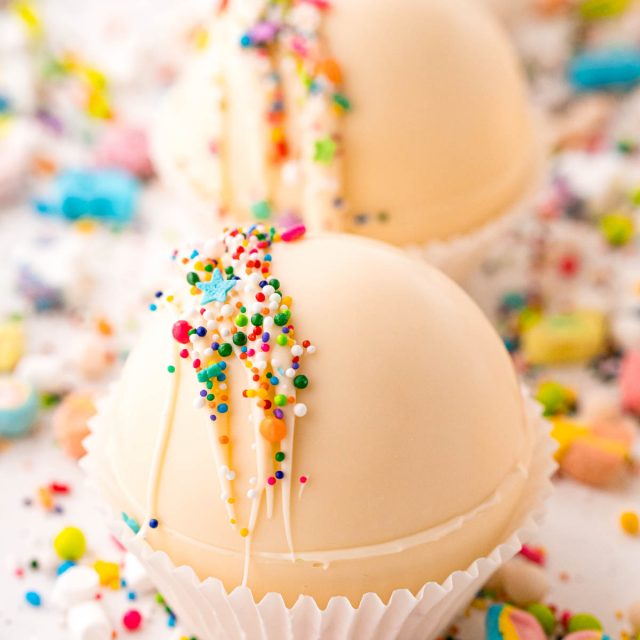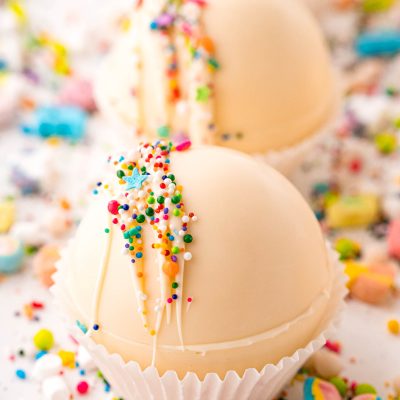 White Chocolate Hot Chocolate Bombs
These White Chocolate Hot Chocolate Bombs are bursting with rich, creamy white chocolate flavor that not only tastes delicious but is also fun to make!
Equipment
Silicone mold – I used a 2¾-inch half sphere

Instant read kitchen thermometer

Nitrile food prep gloves

Food scale

Spoon or food-safe paintbrush

Rubber Spatula

Small/medium bowl

Small baking sheet

Cupcake liners
Ingredients
16 ounces finely chopped high-quality white chocolate such as Ghirardelli baking chocolate or white chocolate Callebaut divided – see notes
6 white chocolate hot chocolate mix packets between .85 oz. and 1.25 oz. In size
1 cup Mini marshmallows/lucky charms
Sprinkles optional
8 ounces whole milk or milk of choice for serving
Instructions
Add 5 ounces of chocolate to a medium bowl and microwave for 30 seconds, remove and stir fully and scraping down the sides of the bowl with a rubber spatula, then continue to microwave at 15-second intervals, stirring and scraping between each one, until almost completely melted. Continue to stir so that the heat of the chocolate melts the unmelted pieces. Check the temperature to make sure that the chocolate reads between 82 and 84 degrees F. If it goes over 84 degrees, stir in an additional ounce of chocolate until melted to bring it back down to 82 to 84 degrees. If you are using two molds, you can do 10 ounces then add in 2 ounces, if needed. You don't want that chocolate to sit too long and have to be reheated again if you only have one mold. If you do not temper the chocolate with a thermometer and this process, the chocolate can turn out chalky or discolored instead of shiny.

Spoon about 1 tablespoon of melted chocolate into each mold and use the back of the spoon to spread it around, make sure to coat as evenly as possible and taking special care around the top and not leave any exposed areas. Place the mold on the small baking sheet and refrigerate for 5 minutes.

Remove from the refrigerator and spoon another heaping spoonful into the molds one at a time – do not add chocolate to each cavity at once because it will start to cool too quickly and become thick, gritty, and hard to work with. Use the back of the spoon to work the second layer of chocolate around making sure to build up the rim, you want a slightly thicker edge to ensure they don't crack. Freeze for 10 minutes.

Remove from the freezer and put on the food-safe gloves and gently remove the chocolate shells from the molds. Repeat steps 1 through 4 if using a single mold.

Once all of your shells are made, microwave a flat plate in the microwave for 2 minutes, then place 6 of the 12 halves on the plate one at a time using a gloved hand to gently spin them to smooth the edges then place round side down in a standard-sized cupcake liner on your work surface. Wipe the plate off after all 6 are done.

Fill each of the half spheres in the cupcake liners with a packet of hot cocoa mix and marshmallows if desired.

Reheat the plate for 2 minutes in the microwave. Then repeat the process with the other 6 halves and place them on top of the cocoa filled halves and gently press to seal.

Let the hot chocolate bombs set for a few minutes then top with a drizzle of chocolate and sprinkles if desired.

To make hot chocolate, heat the milk in a small saucepan over medium heat just until the edges begin to bubble – the ideal temperature for the milk is 160°F – then remove and pour over a hot chocolate bomb in a large mug and stir until fully mixed.
Notes
Nutritional information is an estimate and does not include milk for serving.
To test if your chocolate is tempered or not, you can smear a bit on a piece of parchment paper and place it in the refrigerator for a few minutes. If it's shiny and snaps in half when you take it out then your chocolate is tempered, if it bends then it's not.
Cocoa butter begins melting at 93 degrees F, but the bombs themselves are rather large and will cool down the milk quite a bit. I recommend heating the milk to 160 degrees F with a serving temperature of 135 degrees F for adults and 120 for children.
Different kinds of chocolate temper at different temperatures

Dark Chocolate & Semi-sweet: Tempered between 88 and 90 degrees F.
Milk Chocolate: Tempered between 86 and 88 degrees F.
White Chocolate: Tempered between 82 and 84 degrees F.

If using white chocolate, you'll want to increase the amount of chocolate to 16 ounces, starting with 7 ounces and an additional 1 ounce to retemper if needed per batch of 3.
These are best consumed within a few days. However, they can be stored for up to 2 weeks in an airtight container in a dry cool place.
A lot of recipes only use 2 teaspoons to 1 tablespoon of hot chocolate mix. I used 1oz. packets and the mix measures at 3 tablespoons per pack and calls for 6 ounces of milk. However, you also need to account for the chocolate in the shell and that's why I recommend 8 ounces of milk for best results.
While I have only made these with sphere-shaped molds, hearts and other shapes are becoming more popular. I think any silicone mold would work fine. If you're using a sphere mold, just make sure the one you're using is between 2 and 2 3/4-inches in diameter so they can hold enough cocoa and marshmallows.
Dehydrated marshmallows or Mallow Bits can be found near the hot chocolate at the grocery store, not with the rest of the marshmallows. The high demand for them since Hot Chocolate Bombs started trending has made them really expensive to purchase online.
Another option for sealing the molds is to pipe a thin line of chocolate around the rim of the filled cup and then top with the other half and roll the melted chocolate in sprinkles. But I much preferred the look of the plate method.
Gloves can help not leave fingerprints on the spheres, however, be sure not to grab the hot plate with your gloved hand and then touch the spheres or it will leave a mark.
Silicone molds have a tendency to attract lint, so I would avoid drying them with a dishcloth. Instead, let them air dry or pat with a paper towel.
If using chocolate bars, you want them to be super finely chopped, you could even put them in a food processor or blender. You want the pieces to be small so that they melt quicker and more evenly.
If you just want to make a set of 3, then 6 ounces of chocolate should be enough and if they want to do more, just add 6 ounces of chocolate for every set of 3.
Nutrition
Calories: 57kcal | Carbohydrates: 12g | Protein: 1g | Fat: 1g | Saturated Fat: 1g | Trans Fat: 1g | Sodium: 70mg | Potassium: 1mg | Fiber: 1g | Sugar: 9g | Vitamin A: 1IU | Calcium: 8mg | Iron: 1mg