Crockpot Hot Chocolate is made with heavy cream, milk, sweetened condensed milk, chocolate, cocoa powder, and vanilla for the perfect hot drink for holiday parties and gatherings.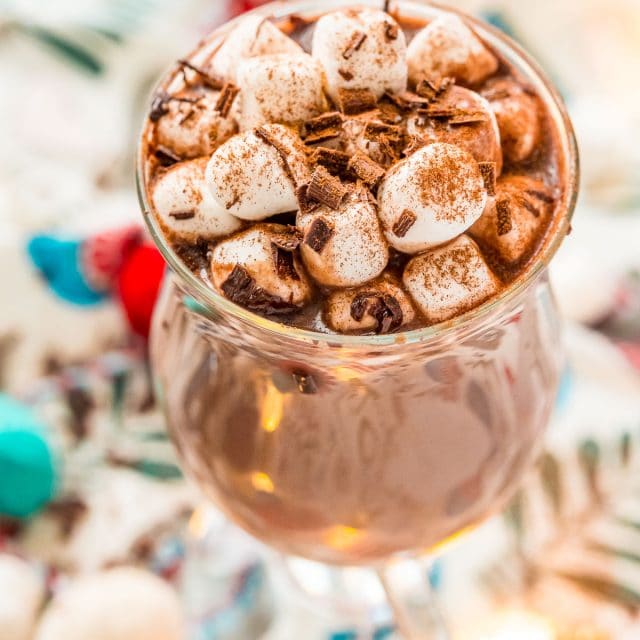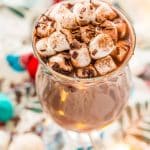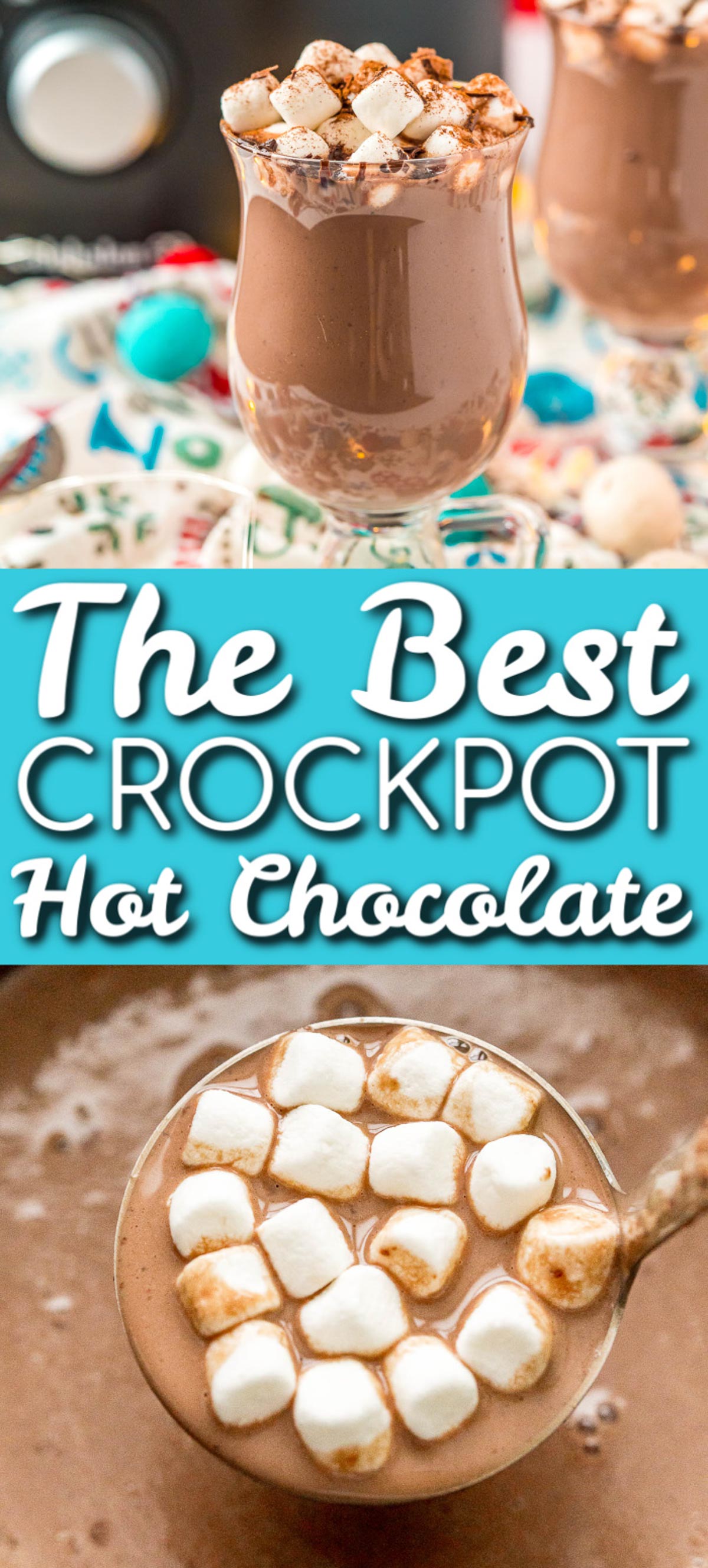 Crockpot Hot Chocolate is made with heavy cream, milk, sweetened condensed milk, chocolate, cocoa powder, and vanilla for the perfect hot drink for holiday parties and gatherings.
Mix up this homemade hot chocolate recipe and let the slow cooker keep it warm all day long! If you want to be extra festive, top it with Marshmallows or Whipped Cream and chocolate shavings before serving.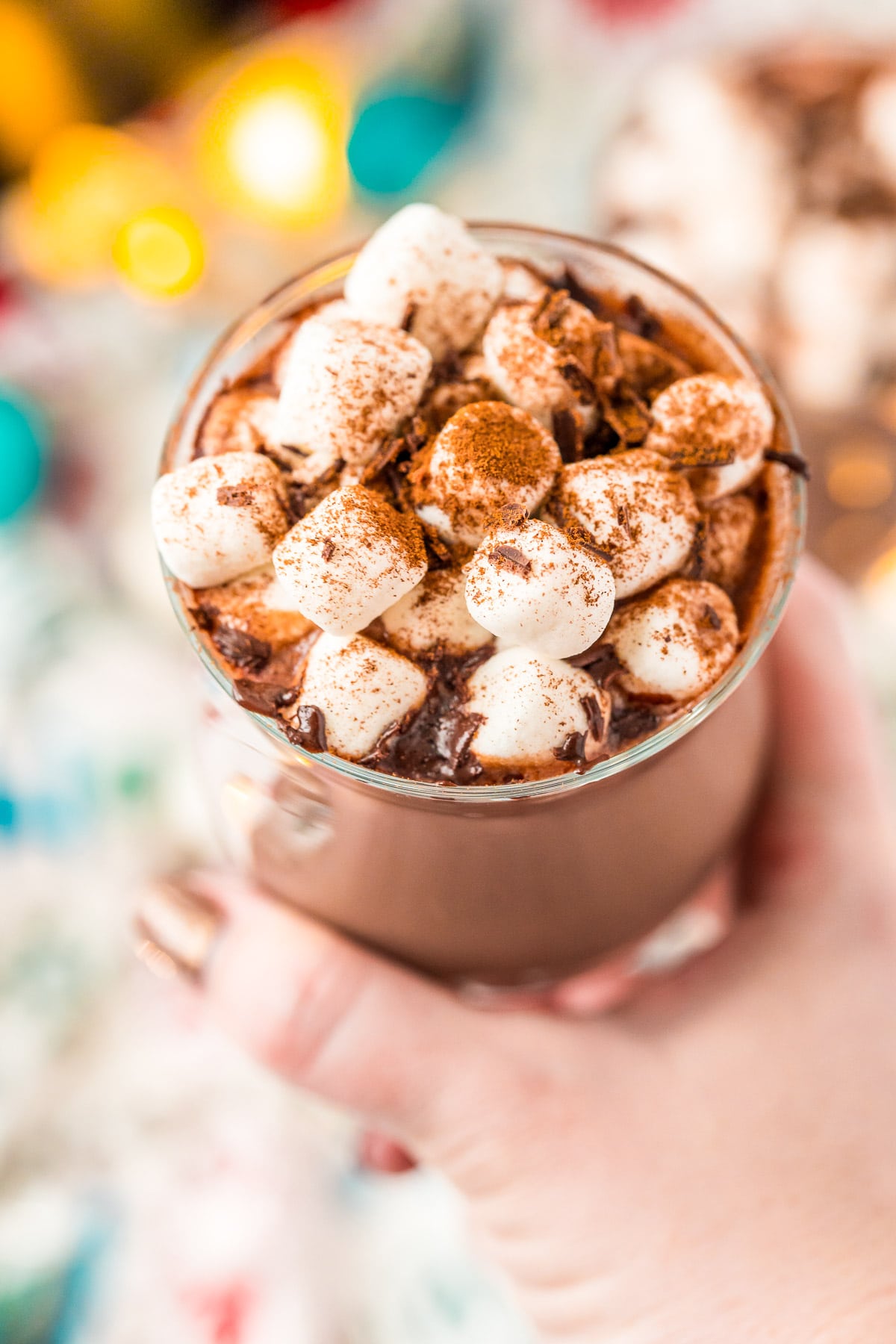 Hot Chocolate in Crock Pot
This cold-weather treat is perfect to make for a house full of guests on Christmas morning! That's because one batch of Slow Cooker Hot Chocolate makes a lot of servings— just ladle it into mugs and enjoy.
It's also a very hands-off recipe! Just 5 minutes for prep, and your slow cooker will do the rest! Did I mention this hot chocolate is super velvety and rich? It's not as thick as European Drinking Chocolate, but it's much more creamy and thick than the packaged stuff or even Starbucks!
You can find the full printable recipe with measurements at the bottom of this post!
Slow Cooker Hot Chocolate Ingredients
chocolate chips
cocoa powder
powdered sugar
sweetened condensed milk
heavy cream
whole milk
vanilla extract
mini marshmallows
How to Make Hot Chocolate in a Crock Pot
Step 1: Add the chocolate chips (any mix of dark chocolate, semi-sweet chocolate, and milk chocolate chips can be used). Then add the cocoa powder, powdered sugar, sweetened condensed milk, heavy cream, milk, and vanilla extract to a crock pot. This one is the one I use – I love the sauté feature!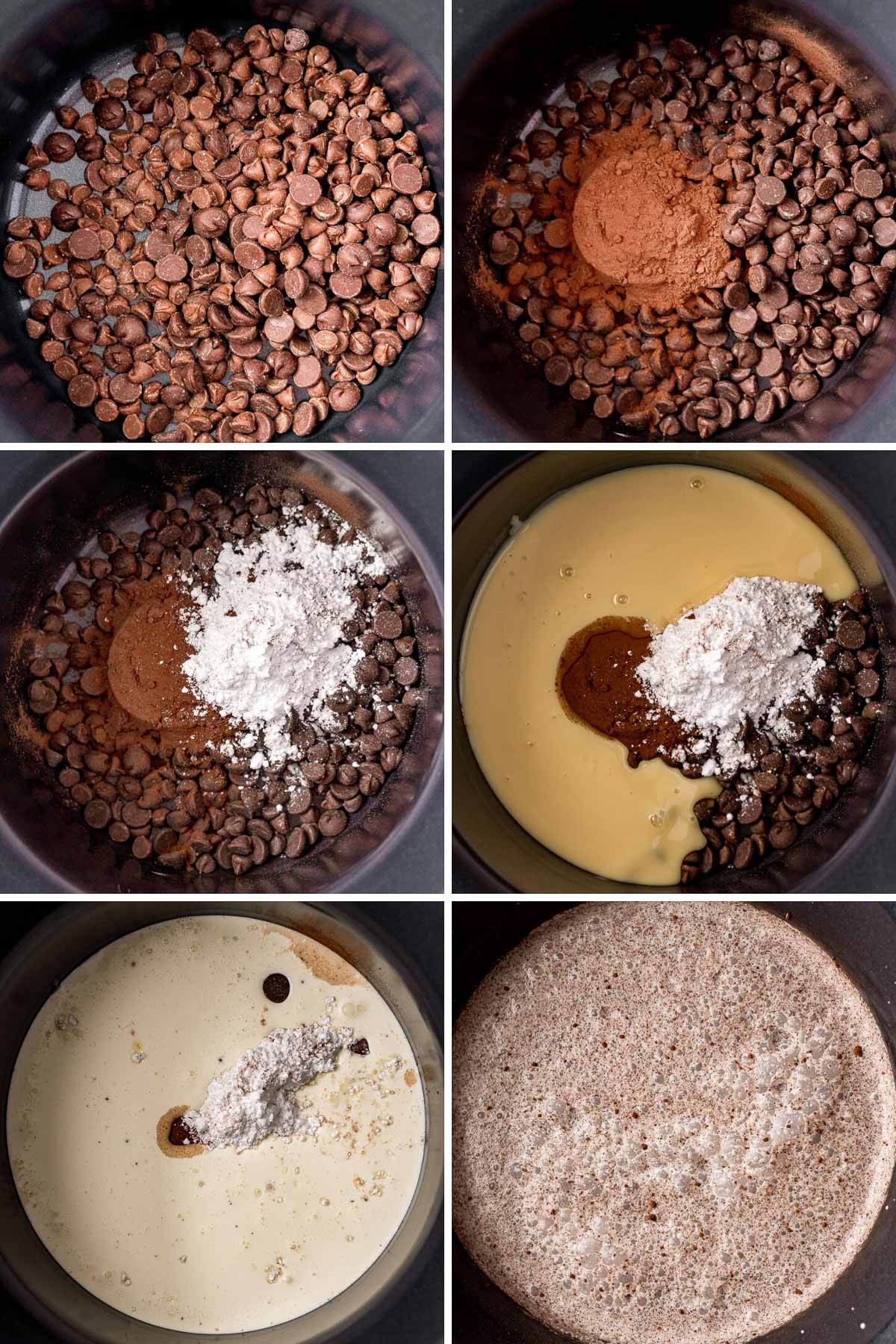 Step 2: Whisk together the ingredients until the powdered ingredients are mostly mixed in. Cover and cook on low heat for 2 hours.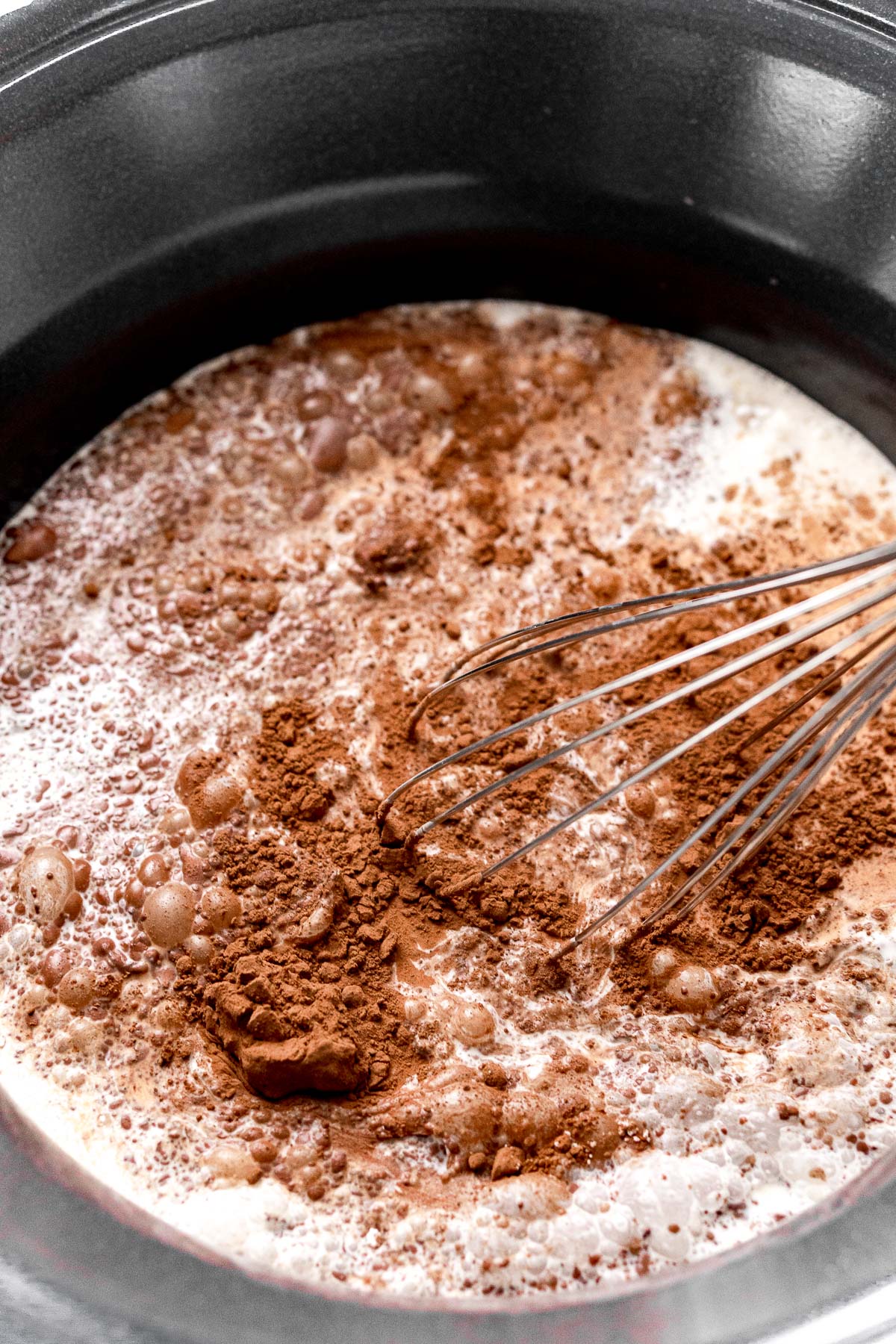 Step 3: Stir in 2 cups of mini marshmallows, then cover and wait 10 minutes. Finish stirring the marshmallows in; they should be mostly dissolved.
Serve with a ladle, and add more garnishes, if desired. Put the slow cooker on the warm setting, and hot chocolate can sit all day.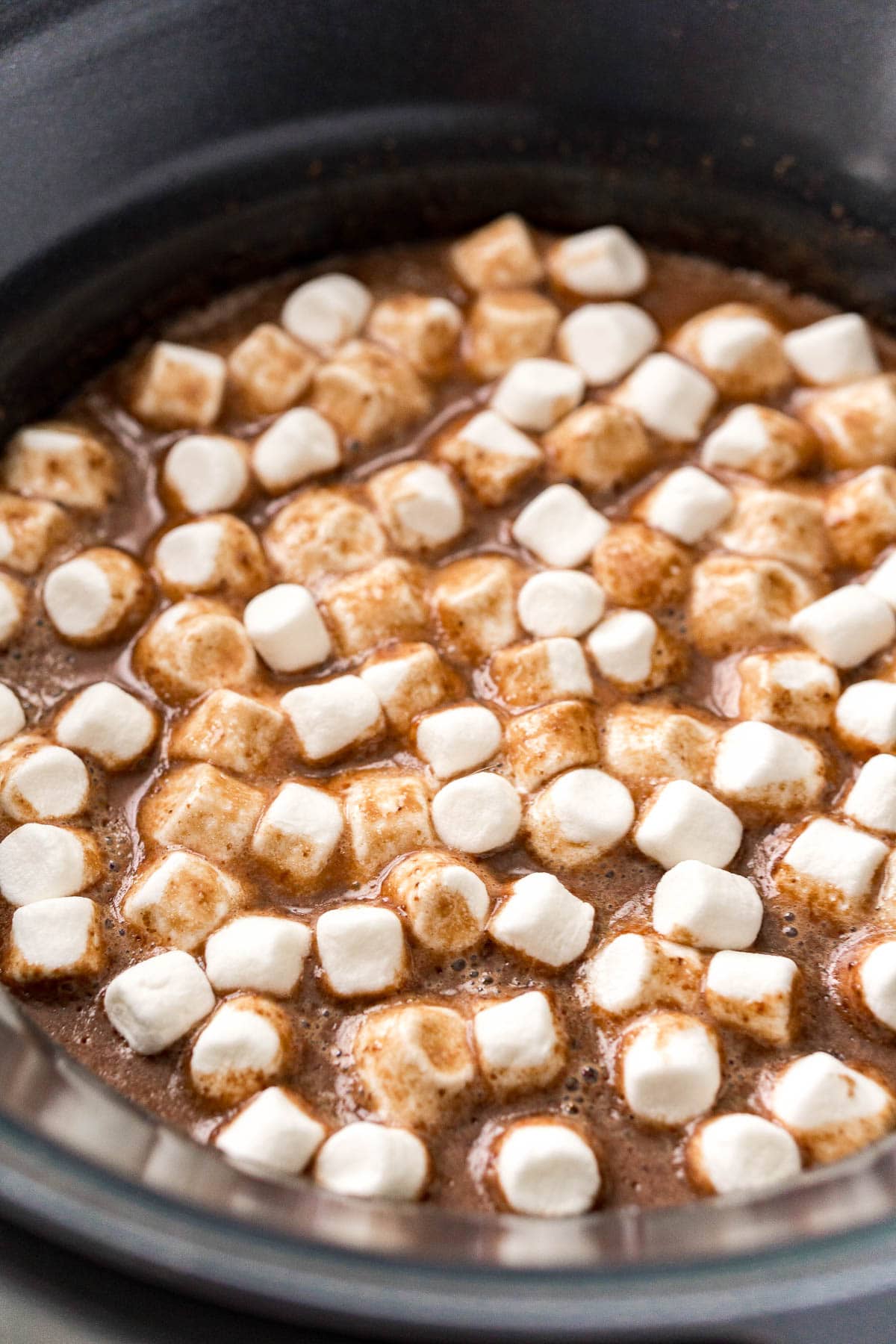 Pro Tips for making Hot Chocolate in Crock Pot
Make sure all of the ingredients are well mixed to start as the sweetened condensed milk is thick and will want to sit at the bottom.
Add the marshmallows! I promise you, adding them in and letting them melt the last 30 minutes of cooking will results in the creamiest, dreamiest hot chocolate you've ever had!
Use a mix of chocolate chips such as milk and dark or semi-sweet and dark for a more dynamic flavor.
Serve with Peppermint simple syrup on the side or add right to the pot for a peppermint version!
Storing Slow Cooker Hot Chocolate
Can you save this Crock Pot Hot Chocolate recipe?
Make sure it's cooled before storing it in an airtight container in the refrigerator — it should stay good for up to 5 days. I like using this pitcher because the seal is nice and strong and keeps the hot chocolate fresh!
Can You Freeze Crockpot Hot Chocolate?
Yep, but I don't really recommend it just because it's so easy to make, and this will take up a lot of room in the freezer! But if you do need to freeze it, make sure it's cooled before storing it in an airtight container. Then, wrap it in freezer wrap or place it in a freezer bag.
Crock Pot Hot Chocolate FAQs
Can You Reheat Crockpot Hot Chocolate?
Yes, you can reheat this recipe! Whether you end up making extra or you want to prepare your batch ahead of time. When it's time to enjoy it again, you can either microwave it in a mug, heat it in a saucepan (preferred method), or if you saved a lot, put it back in the slow cooker to warm up.
How long does it take a crock pot to heat hot chocolate?
If you are making it from scratch, it will take a bout 2 hours. If you are just reheating, then about 45 to 60 minutes.
How do you transport hot chocolate in a crock pot?
If you have a crockpot with clips on the lid, you should be able to transport this in a flat and secure area of your vehicle. If your crockpot does not have clips to secure the lid, I do not recommend transporting it in the crockpot.
How do you keep hot chocolate warm for a party?
Once the hot chocolate is ready, you'll want to turn it to warm, then it should be good all day. Whisk or stir often so that chocolate doesn't settle at the bottom of the slow cooker.
Low heat is too hot for the crockpot to sit at for more than a couple of hours because it will curdle. So make sure you put it on the warm setting once it's done with the first 2 hours of cooking.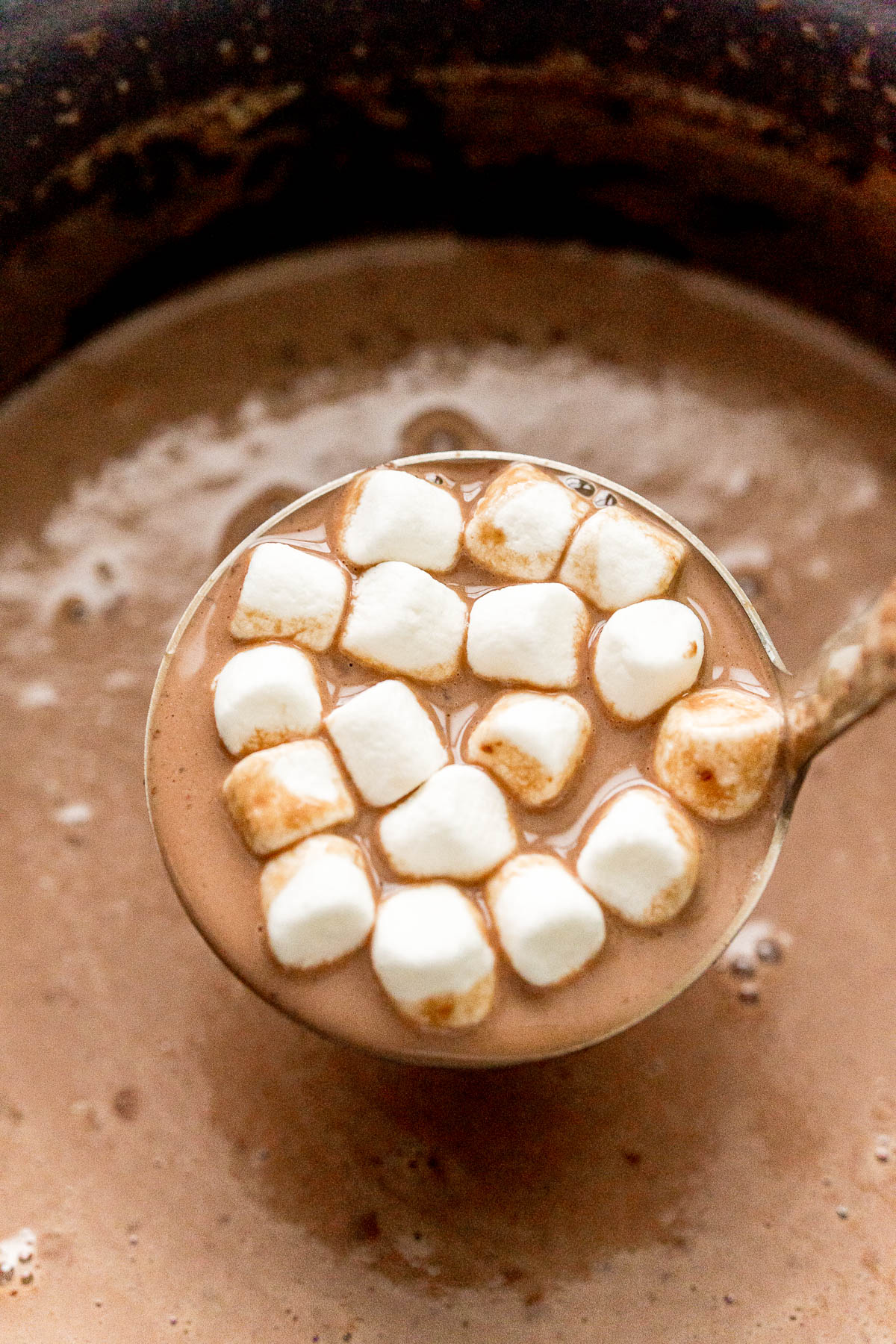 I often make this Slow Cooker Hot Chocolate Recipe and set it out at holiday get-togethers. However, it's easy enough to whip up for the kiddos and their friends when they want to thaw out after playing in the snow!
How to Serve this Crockpot Hot Chocolate Recipe
Get creative with other fun garnishes and even make a Hot Chocolate Bar for the family to enjoy – they're always a big hit! But no matter how you top it, this Crockpot Hot Chocolate Recipe blows the powdered stuff out of the water!
Crushed Peppermints
Sprinkles
Cinnamon Sticks
Ground Cinnamon
Candy Cane Stirrers
Chocolate Sauce
Caramel
Sauce
Flavored Marshmallows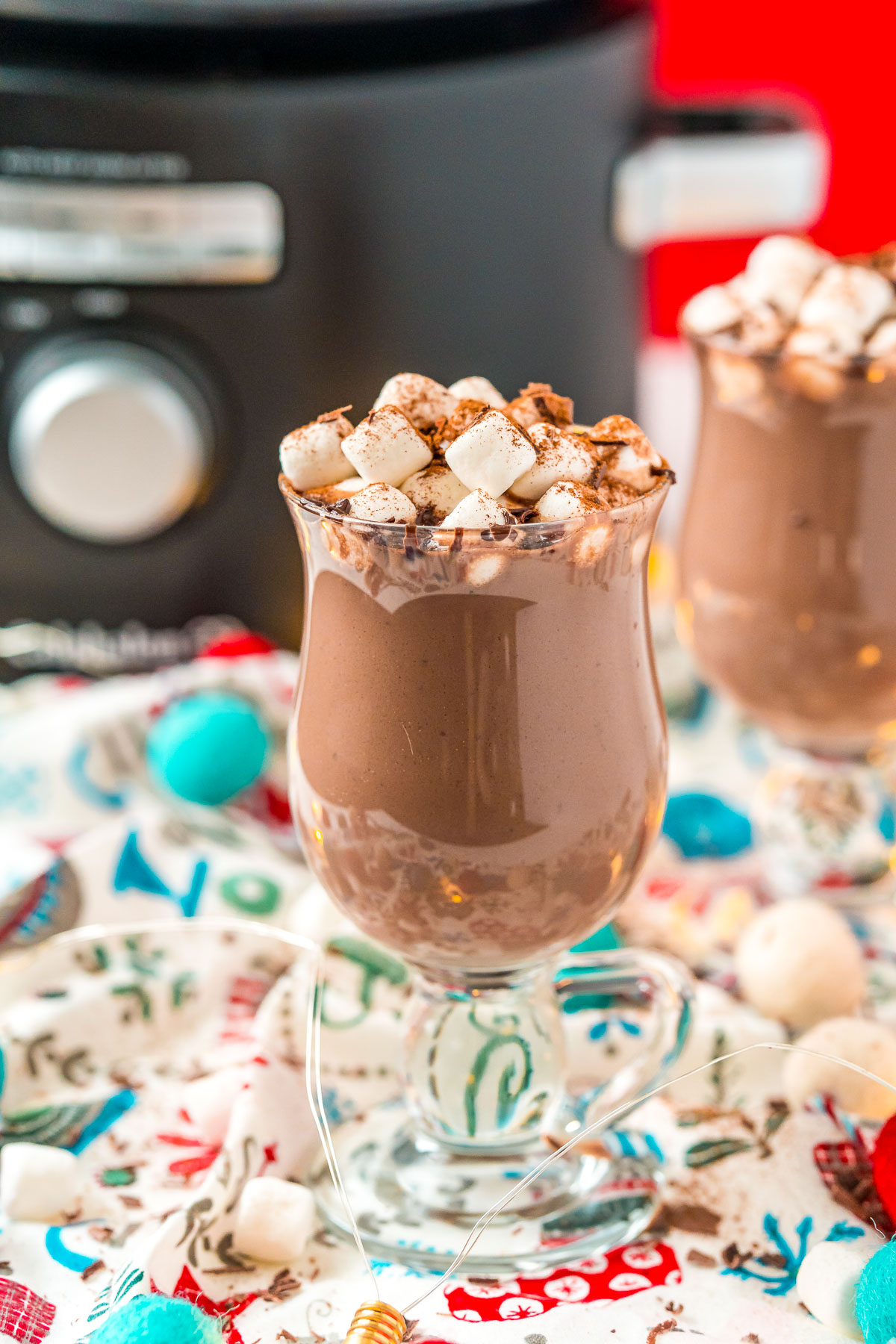 Since This Creamy Crockpot Hot Chocolate Recipe requires hands-off heating, you can spend less time mixing and more time mingling. Plus, if you make it for a party, guests can serve themselves, and it will stay warm for hours!
But above all else, it's rich, creamy, and a total crowd-pleaser for guests of any age. PSA: If you have the crockpot out for guests to serve themselves, be sure that the kiddos get help from grown-ups — it's hot!
More Delicious Chocolate Recipes
👋 Let's Connect!
If you've tried this recipe, please let me know how you liked it in the comments below and leave a review; I love hearing from you! And don't forget to tag me – @sugarandsoulco – on Instagram and Pinterest with your photos or join our Sugar & Soul Show-offs Community and share them there, where you can join our recipe challenges and win prizes!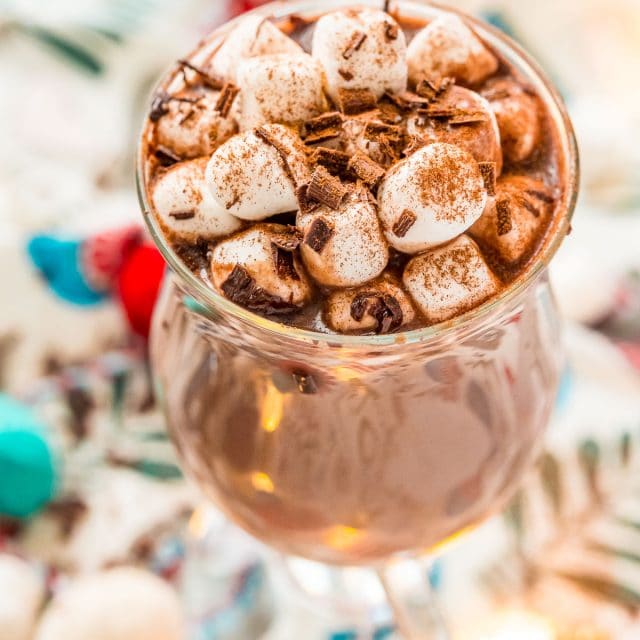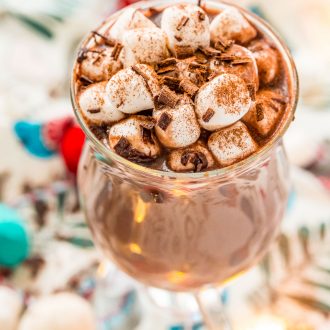 Slow Cooker Hot Chocolate
Crockpot Hot Chocolate is made with heavy cream, milk, sweetened condensed milk, chocolate, cocoa powder, and vanilla for the perfect hot drink for holiday parties and gatherings.
Instructions
Add the 1½ cups chocolate chips, ¼ cups cocoa powder, ¼ cups powdered sugar, 14 ounces sweetened condensed milk, 2 cups heavy cream, 6 cups whole milk, and 1 tablespoon vanilla extract to a large crockpot and whisk together.4

Cook the mixture on low for 2 hours, stirring occasionally.

After the 2 hours is up, stir in the 2 cups mini marshmallows and let sit for about 10 minutes and stir them again, they should completely dissolve.

Hot Chocolate can be kept on warm all day. Store any leftovers in an airtight container in the refrigerator for up to 5 days.
Notes
I like to use a blend of milk and dark chocolate chips for this recipe. But all of one kind can be used, and semi-sweet may also be used.
I prefer Dutch Processed Cocoa Powder for this recipe because it intensifies the chocolate flavor for an even richer hot chocolate. However, regular cocoa powder may be used if that's what you have.
These marshmallows can be left out, but they really add a lot to the recipe – extra creamy, extra thick, extra vanilla! I would recommend using mini marshmallows as they will melt faster.
It's important to whisk thoroughly to make sure the thick sweetened condensed milk gets mixed in and the dry ingredients are mostly blended.
Nutrition
Calories: 488kcal | Carbohydrates: 54g | Protein: 9g | Fat: 28g | Saturated Fat: 17g | Cholesterol: 83mg | Sodium: 136mg | Potassium: 341mg | Fiber: 1g | Sugar: 48g | Vitamin A: 938IU | Vitamin C: 1mg | Calcium: 286mg | Iron: 1mg