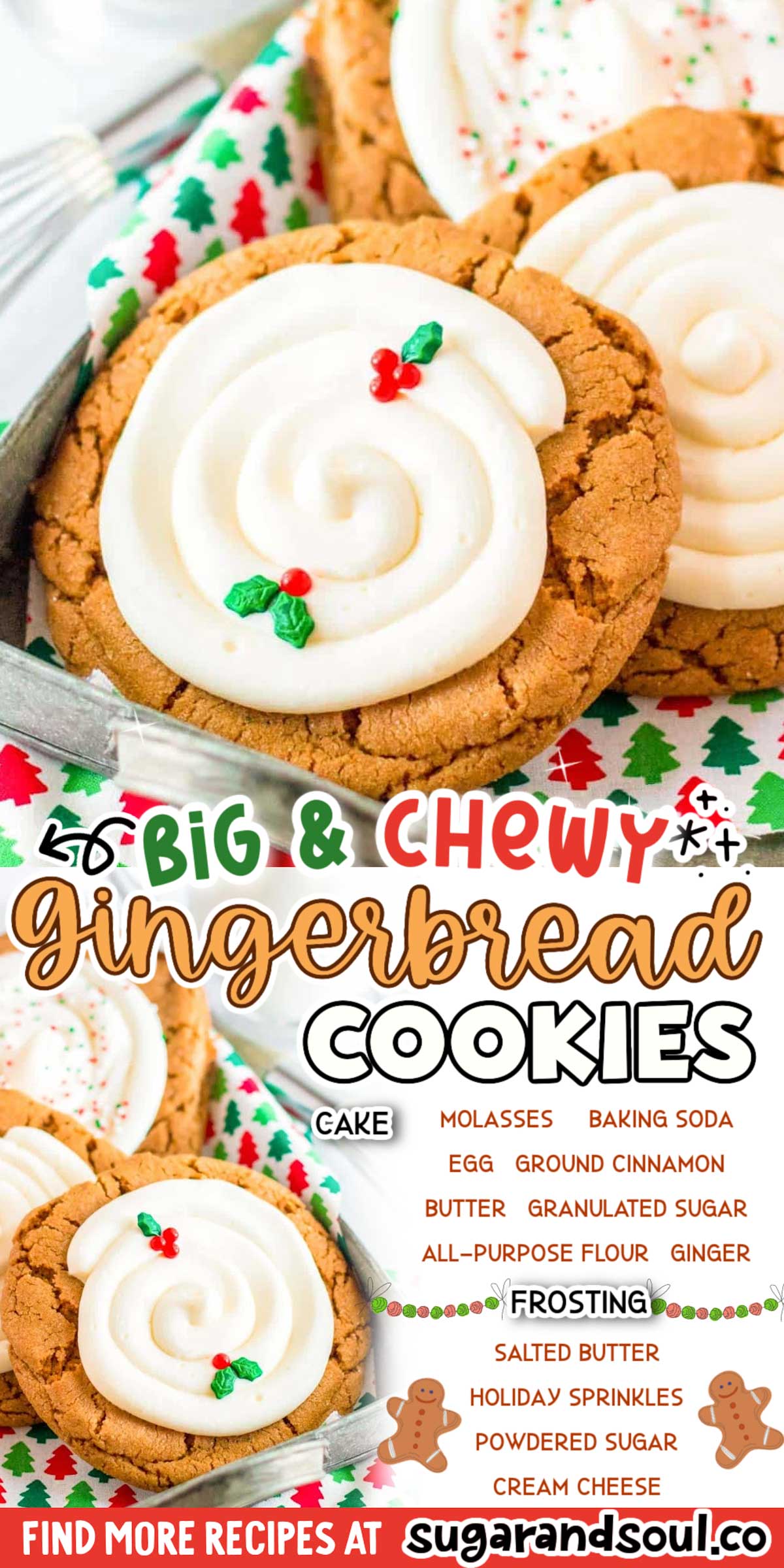 These Frosted Big and Chewy Gingerbread Cookies are soft, spiced cookies that are topped with a luscious 3 ingredient cream cheese frosting!
Get a taste of more spiced gingerbread flavor by making a batch of these Gingerbread Truffles that are dipped in white chocolate!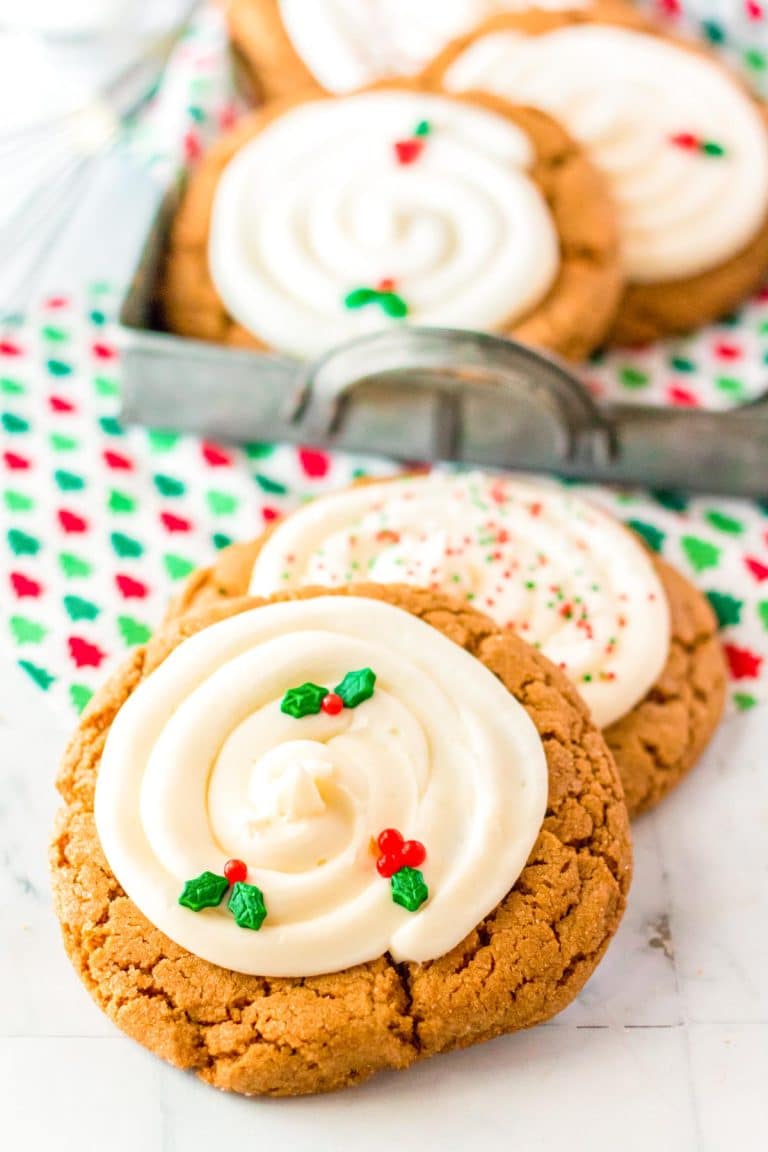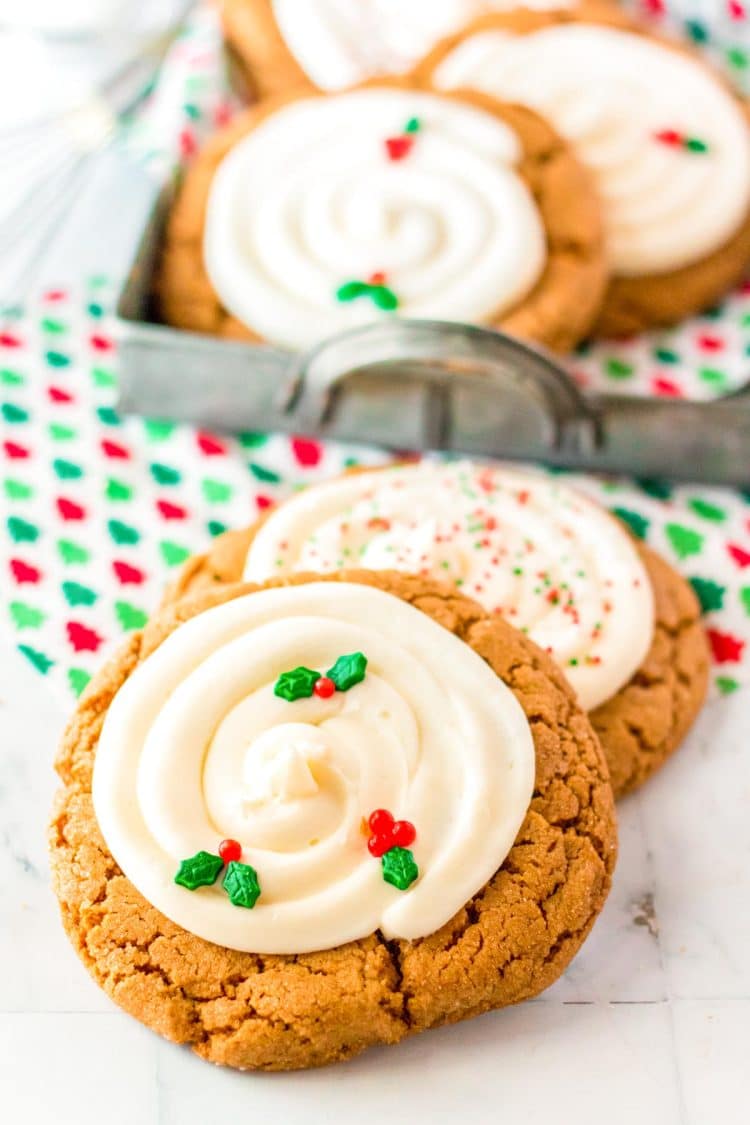 For a giant showstopping treat bake up a batch of these Chewy Gingerbread Cookies! Their crackly appearance and spiraled cream cheese frosting add to their impressive wow factor!
These will be well-loved cookies at every holiday get-together! And I also love making them to gift away as well since they taste as good as they look!
This recipe uses minimal ingredients to make a delicious gingerbread treat that takes just 35 minutes to make!
All About These Chewy Gingerbread Cookies
Taste: Each seasonally spiced gingerbread cookie is rolled in granulated sugar before baking! Adding just a touch more sweetness to compliment the spices in the cookie. Once cooled they get their luscious cream cheese frosting!
Texture: The texture of these Chewy Gingerbread Cookies are what cookie dreams are made of! Perfectly tender and chewy with an irresistibly fluffy frosting!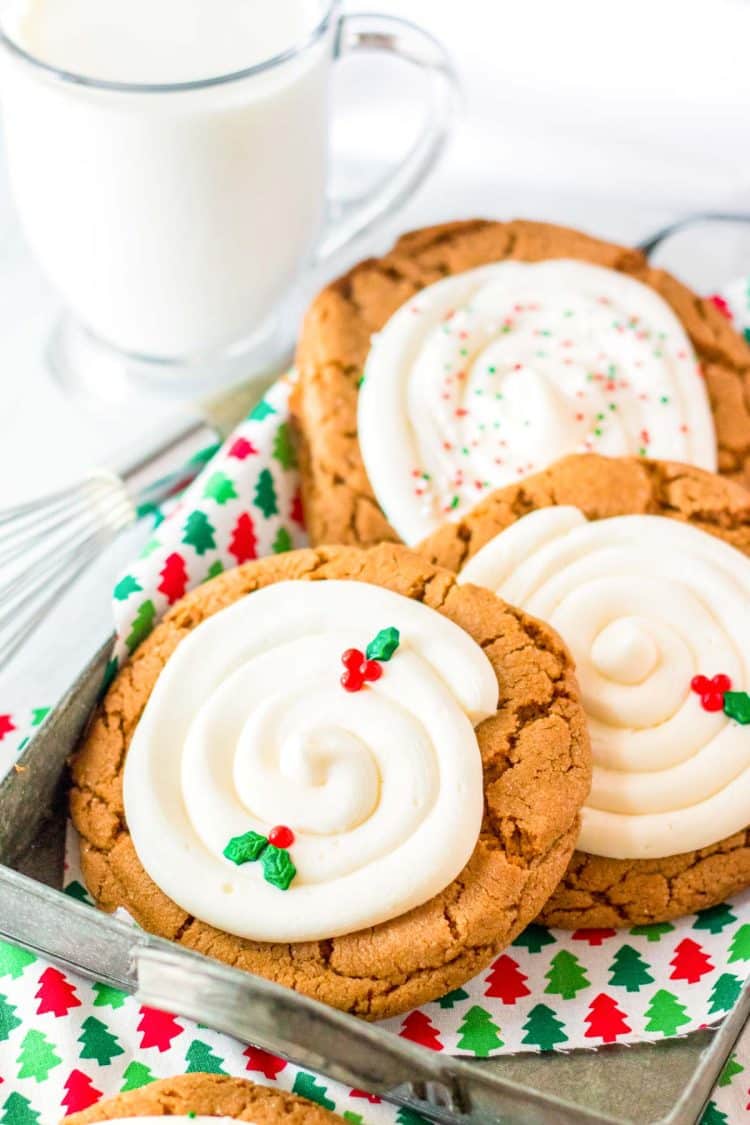 Finding The Flavor In These Chewy Gingerbread Cookies
Wondering what exactly gives these cookies their spiced flavor? Of course, you'll find ground ginger on the ingredients list!
But you'll also find cozy ground cinnamon and thick, sticky molasses. Both of which support and enhance the overall gingerbread flavor in these cookies!
If you don't have molasses on hand, it's a worthwhile ingredient to have. It has a long shelf life, allowing you to use it in other recipes like Old Fashioned Molasses Cookies and Gingerbread Candied Pecans!
How To Make Chewy Gingerbread Cookies
Portioning Out The Dough – Once the dough is made, separate it out into six even portions. Then roll each portion into a ball and roll them into granulated sugar. Give them a generous coat as this adds a nice sweetness to the cookie!
Two Batches – These cookies are big! Therefore, you may want to make them in two batches with three on each baking sheet. That way you can avoid the cookies spreading and baking into each other.
Checking For Doneness – A sign that the cookies are done baking is when they take on a cracked appearance. Be careful not to overbake them or they'll turn out hard and crunchy!
Cool On The Pan – Give the cookies 10 minutes to cool on the pan before transferring them to a wire rack. This gives them additional time to firm up and finish baking. As well as avoiding the risk of breaking them apart by moving them off the pan too early.
Pipe The Frosting On – For a more finished look pipe the frosting on in a spiral pattern! This can be done with a piping bag with a round tip. Or by simply placing the frosting in a Ziploc bag and cutting a corner off!
The taste of gingerbread is such a classic flavor to enjoy throughout the holiday season! Another great recipe is these Gingerbread Bars that are topped with the same frosting as these cookies!
Or grab a slice of this Gingerbread Layer Cake With Cinnamon Frosting or Gingerbread Cheesecake with Gingersnap Crust!
This seasonal flavor shouldn't just be reserved for desserts though! Instead, bake up this Gingerbread French Toast Bake Casserole for breakfast in just 25 minutes!
How To Store Chewy Gingerbread Cookies
Place the cookies in a single layer in an airtight container. This way the frosting and cookies won't stick together when stacked on top of each other!
Then store the cookies at room temperature for 3 days. Or in the fridge for up to 5 days. If you choose to store them in the fridge, let them come to room temperature before serving and enjoying them!
Do I Have To Make These Cookies Big?
No, you don't have to make giant cookies using this recipe. You can also separate the dough into smaller portions to make smaller cookies!
By doing so you will need to decrease the baking time on these chewy gingerbread cookies. So, keep a close eye on them while they bake so they don't overcook and harden!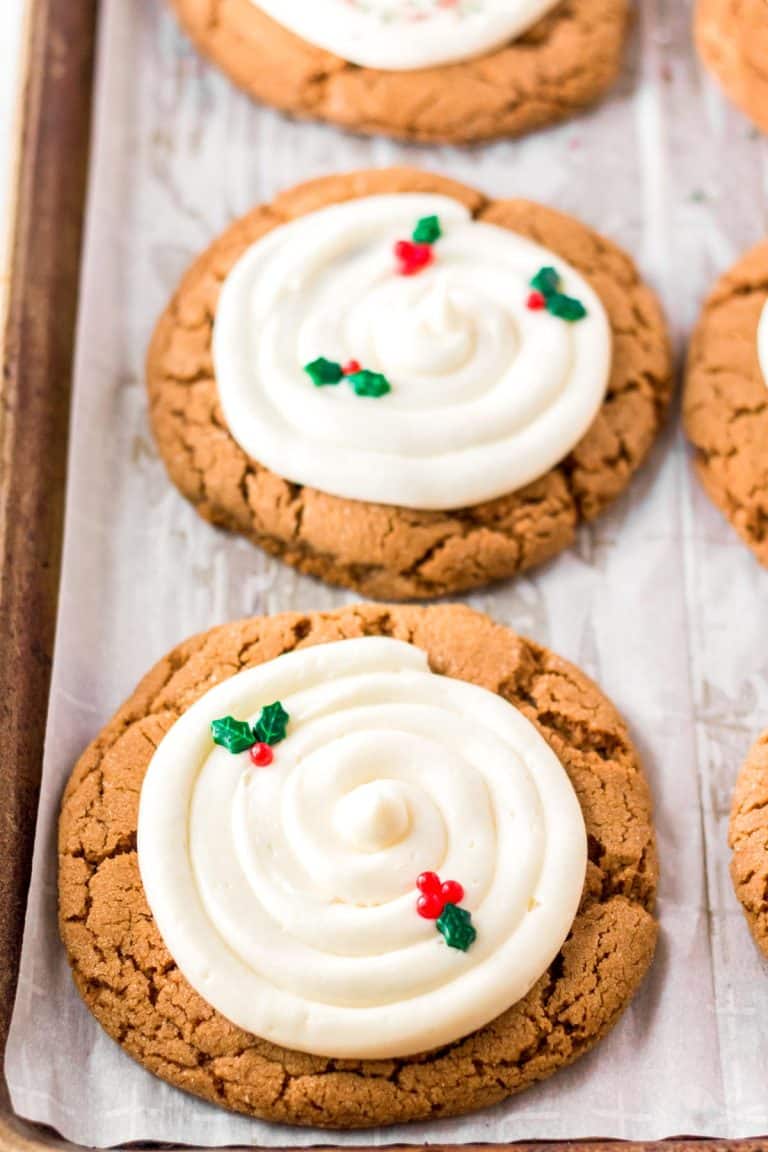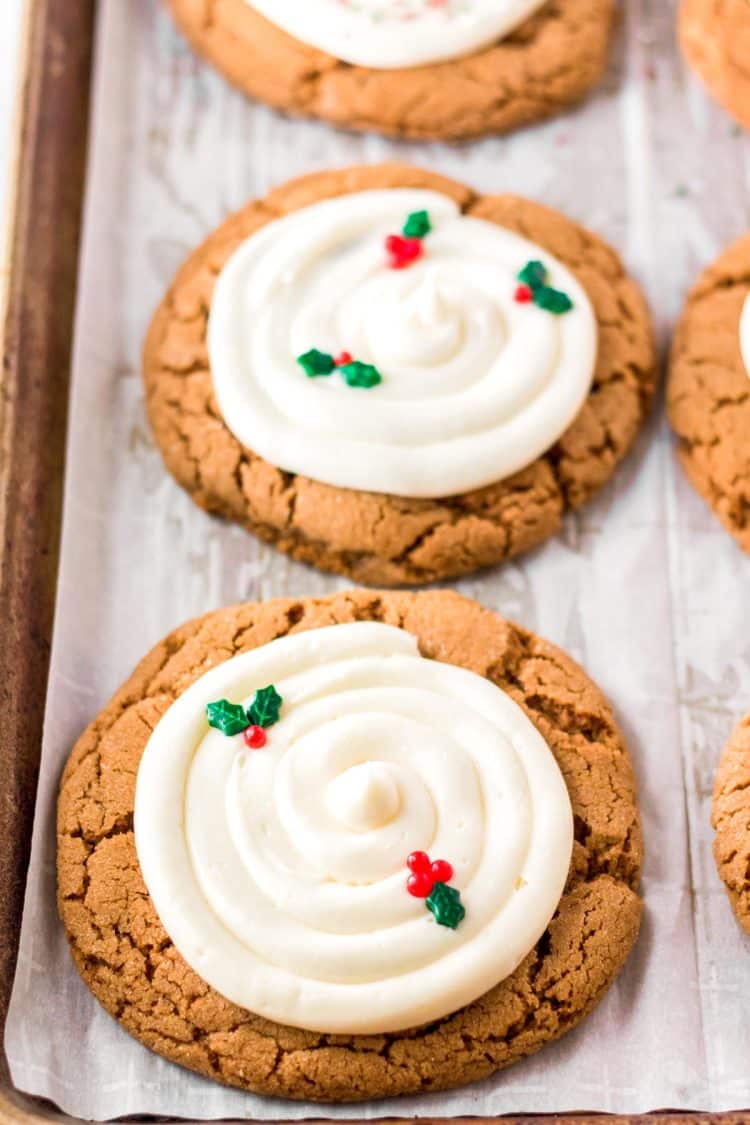 Can I Use This Recipe For Chewy Gingerbread Cutout Cookies?
No, unfortunately, this recipe will not work out for chewy cut-out gingerbread cookies. This recipe is made for a simple cookie and not rolling out to use with cookie cutters.
What If I Only Have Unsalted Butter On Hand?
That's ok, you can use unsalted butter instead of salted butter. Just add 1/4 teaspoon of salt to the recipe!
Do I Have To Frost These Gingerbread Cookies?
Not at all! These cookies taste great on their own so the frosting can definitely be left off if you'd prefer.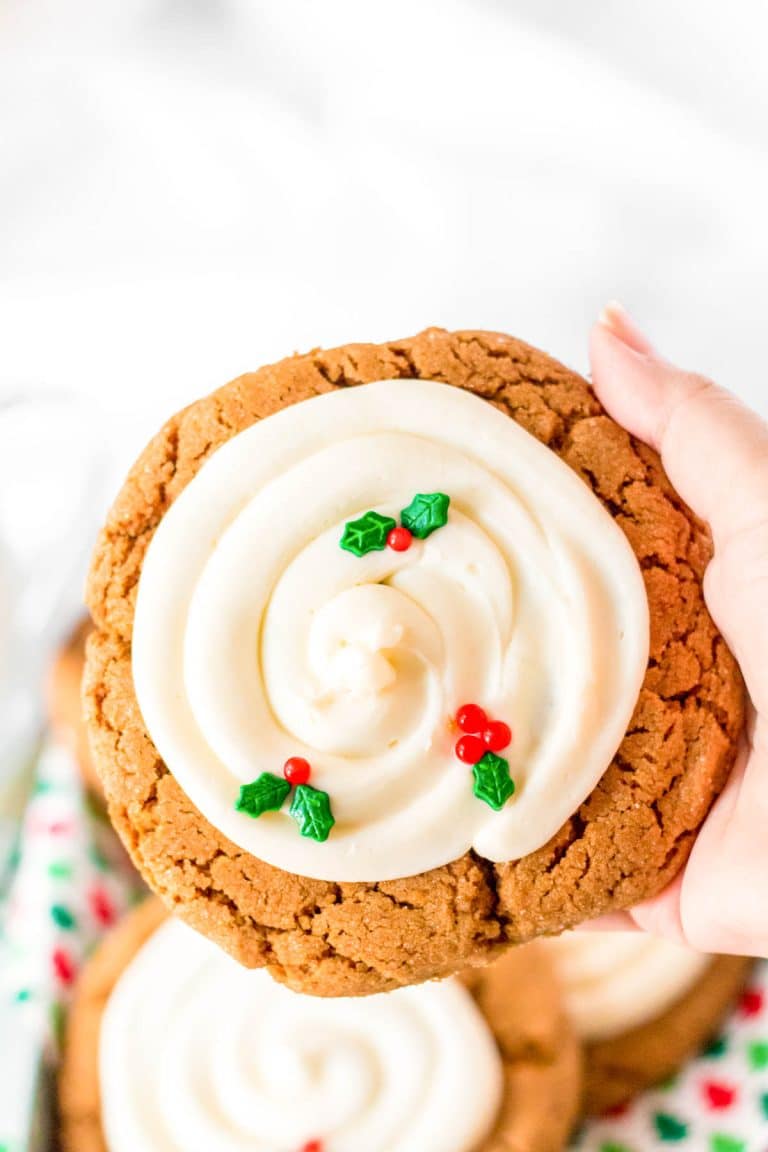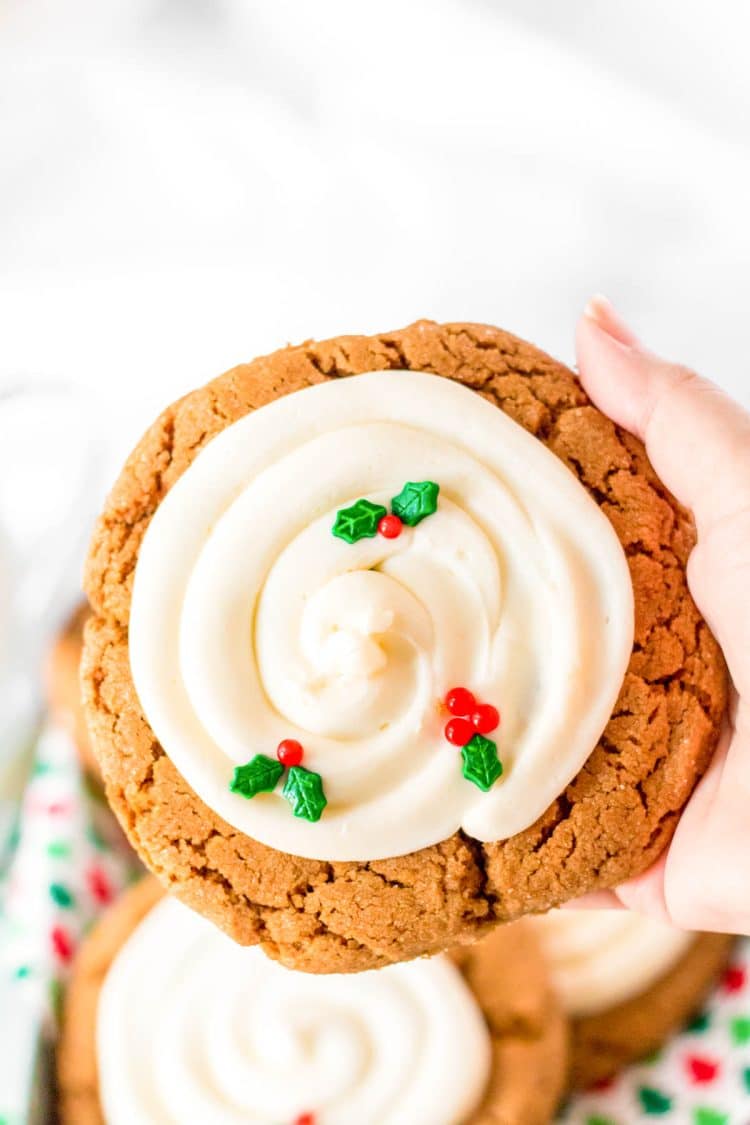 Big & Chewy Frosted Gingerbread Cookies
Pin For Later
CLICK THE BUTTON ABOVE TO SAVE THIS DELICIOUS RECIPE TO YOUR BOARD!
👋 Let's Connect!
If you've tried this recipe, please let me know how you liked it in the comments below and leave a review; I love hearing from you! And don't forget to tag me – @sugarandsoulco – on Instagram and Pinterest with your photos or join our Busy Family Recipes Facebook Community and share them there!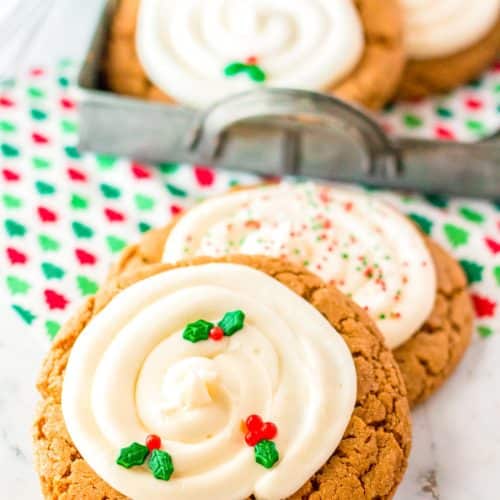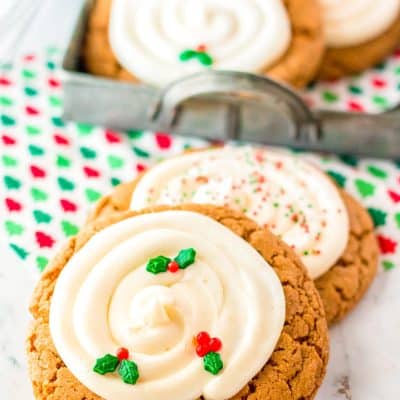 Big & Chewy Gingerbread Cookies
These Frosted Big & Chewy Gingerbread Cookies are soft, spiced cookies that are topped with a luscious 3 ingredient cream cheese frosting!
Ingredients
Frosting
1

cup

salted butter

room temperature

8

ounces

cream cheese

room temperature

1

pound

powdered sugar
Instructions
Preheat the oven to 350°F and line a large baking sheet with parchment paper and set aside.

In a large mixing bowl using an electric mixer cream the butter and sugar together until light and fluffy.

Add in the egg and molasses and mix until combined.

Next add in the flour, ground ginger, baking soda and cinnamon until combined.

Separate the dough into 6 equal portions and roll into balls.

Roll the balls in the extra sugar until well coated.

Place the cookies on a large cookie sheet giving them plenty of space. You may need to do this in 2 batches.

Bake the cookies for 13-15 minutes or until the cookies are cooked through and have a cracked appearance.

Let the cookies cool on the pan for 10 minutes before moving to a cooling rack to finish cooling.

Meanwhile prepare the frosting.

In a large bowl cream together the 2 sticks of butter and the cream cheese.

Next slowly add in the powdered sugar and mix until well combined and fluffy.

Place the frosting in a piping bag with a round tip or a ziploc bag with the tip cut off.

Pipe the frosting in a spiral pattern and add holiday sprinkles.
Notes
You can store these cookies in a single layer in an air tight container for up to 3 days. Or store them covered in the fridge for up to 5 days, just let them come to room temperature a bit before serving.
These cookies are also amazing without the frosting if you just want to make a simple gingerbread cookie.
These cookies are soft and chewy, this is not a gingerbread cookie recipe made for rolling out and using cookie cutters.