This easy recipe for Turkey Gravy is made with pan drippings for a velvety gravy that perfectly compliments your turkey!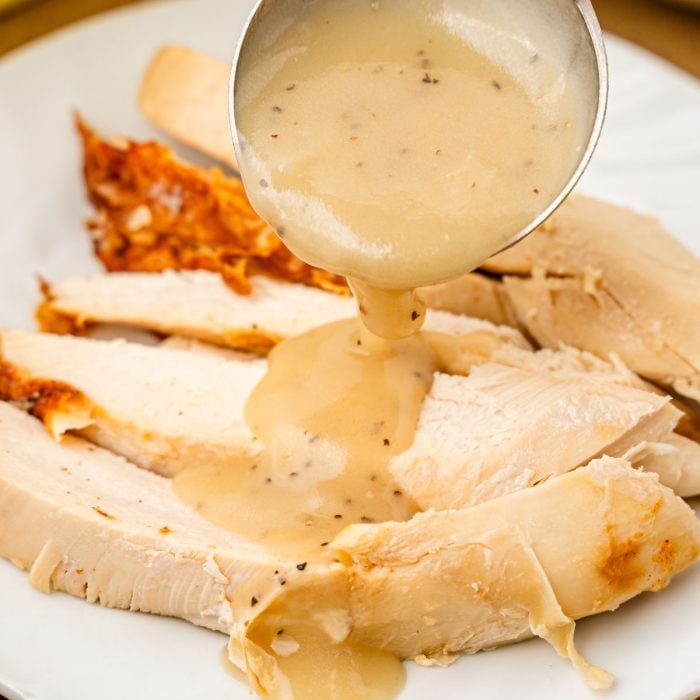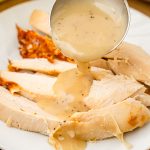 This Homemade Turkey Gravy Recipe From Drippings brings ALL the flavor to the long-awaited Thanksgiving meal! It's savory, smooth, and packed with flavor that only homemade can deliver!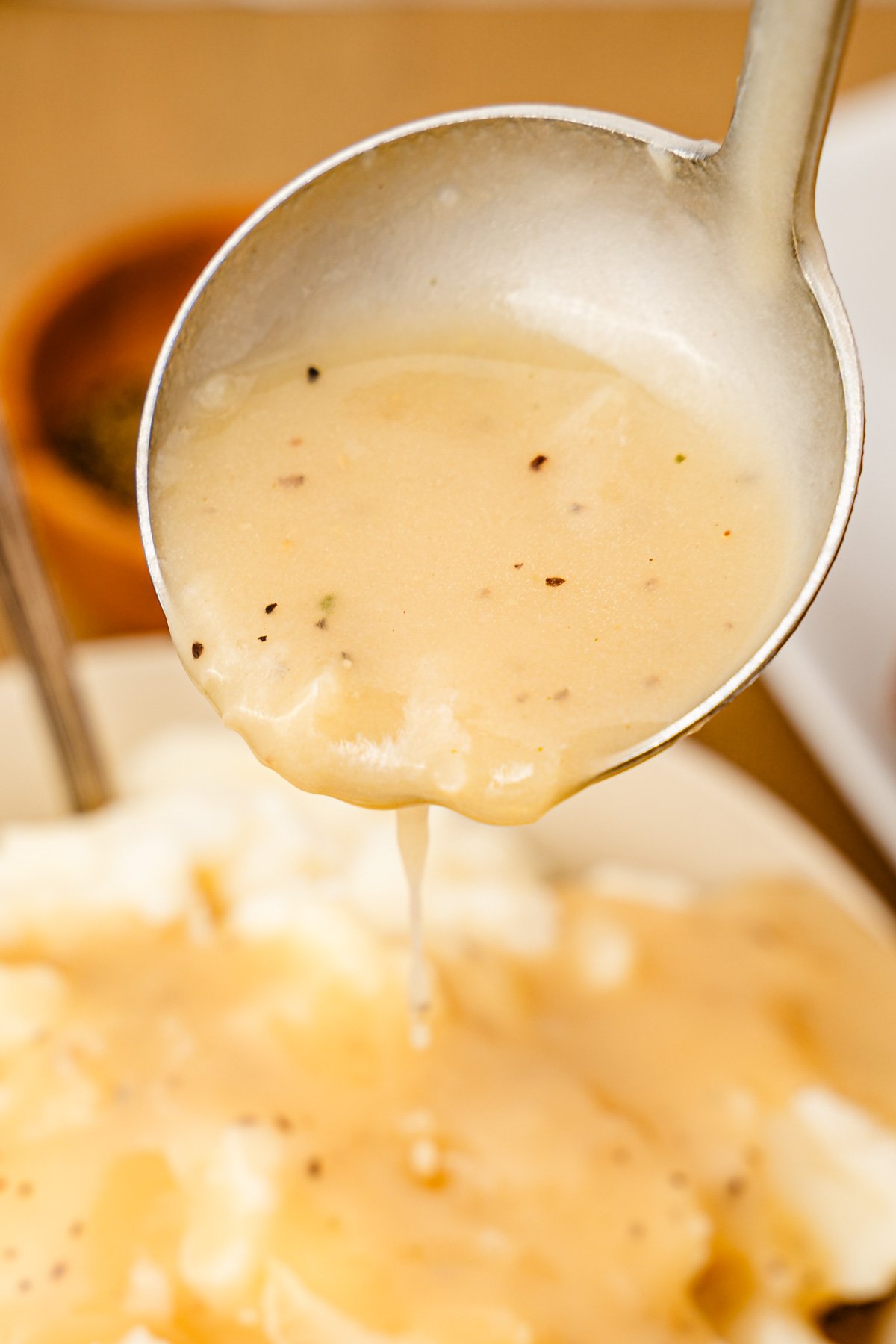 You Will Love This Turkey Gravy from Drippings
This Homemade Turkey Gravy Recipe From Drippings will make this year's Thanksgiving dinner more standout than ever! Serve it over your slice of Thanksgiving turkey, a mountain of mashed potatoes, or a scoop of stuffing. It's so good you can enjoy it on all three and STILL want more!
If you've never made homemade turkey gravy from drippings, this recipe will be a great starter for you and a great base for seasoned Thanksgiving cooks! It's simple to make using only 4 ingredients in 20 minutes with easy-to-follow instructions!
I used pan drippings from roasting a turkey to make this the best turkey gravy recipe. This infuses the gravy with the most mouthwatering flavor that will top store-bought turkey gravy any day!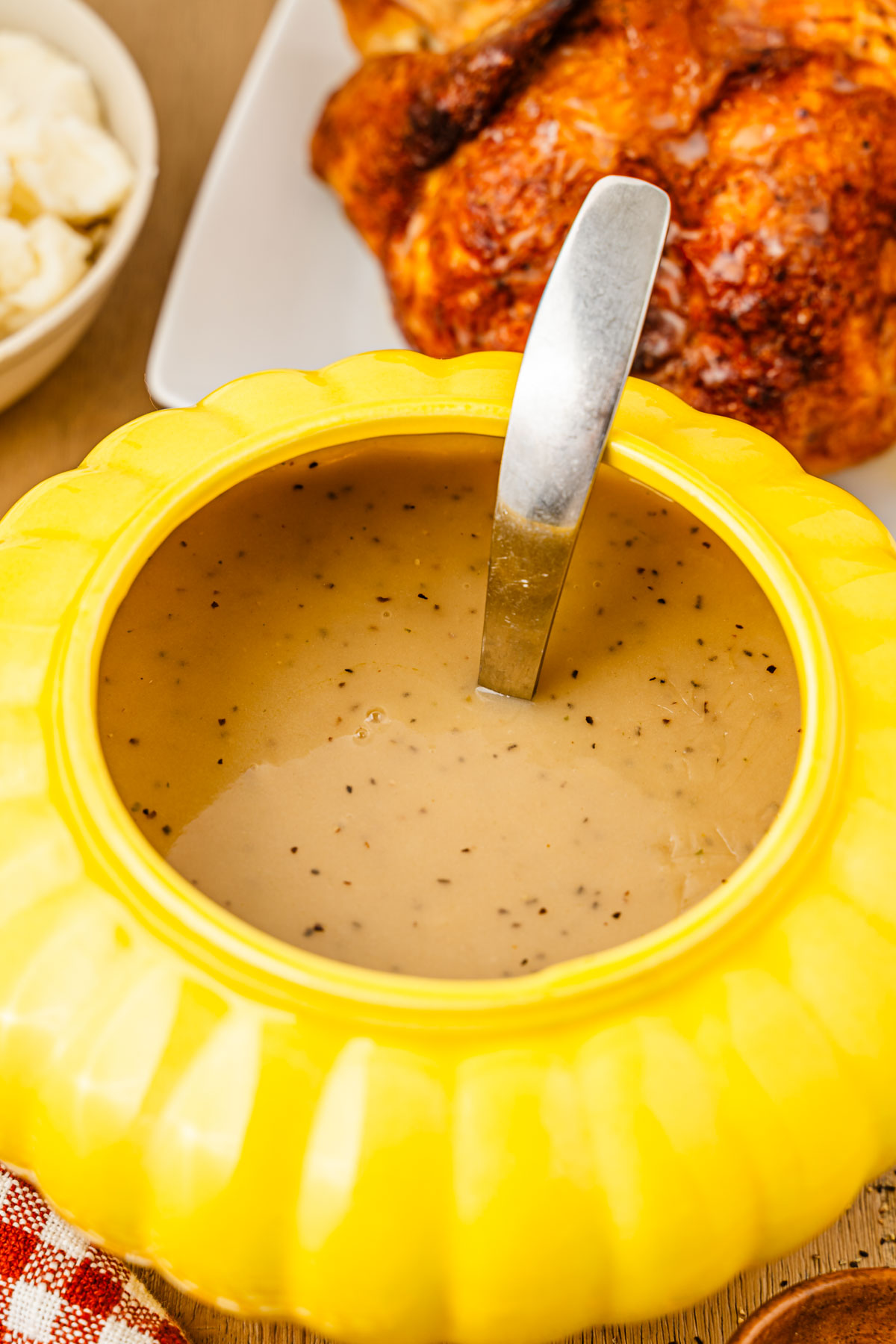 Turkey Gravy Ingredients
Butter
Freshly Cracked Black Pepper
All-Purpose Flour
Pan Drippings
It's important to note that the marinade, brine, or rub you use on your turkey will alter the overall flavor of the gravy. This recipe is simply a base. I recommend adding some spices or herbs if you use plain chicken stock!
This easy turkey gravy recipe builds itself up, starting with the pan drippings from a roast turkey recipe! If you find that you don't have enough pan drippings at the end of cooking your turkey, you can also make this gravy recipe with chicken stock or homemade turkey stock.
If you're using pan drippings to make this gravy, you can pass the drippings through a fine mesh sieve and into a bowl to discard any giblets. This will ensure the gravy comes out silky smooth without any chunks. However, this step is up to you!
From there, the turkey drippings will combine with butter. Salted or unsalted butter will work in this recipe, though you will have more flavor control using unsalted butter.
This is because you can add salt to taste once the gravy is finished, allowing you to give the gravy just the right amount of salty flavor without overpowering it. Afterward, flour and cracked black pepper bring the homemade turkey gravy to completion!
Turkey Dripping Gravy Variations
Pan Drippings – Chicken broth or turkey broth may also be used in place of the drippings or chicken stock.
Fresh Herbs – Sprinkle in some parsley, thyme, rosemary, or sage for a turkey gravy flavor variation.
Gluten-Free – To make homemade gluten-free turkey gravy made from drippings, swap the all-purpose flour out for an equal amount of gluten-free flour.
Mushrooms/Onions – Feel free to simmer the gravy with fresh mushrooms and/or onion to give the gravy a unique flavor. Just be sure to remove the onion and mushrooms before serving!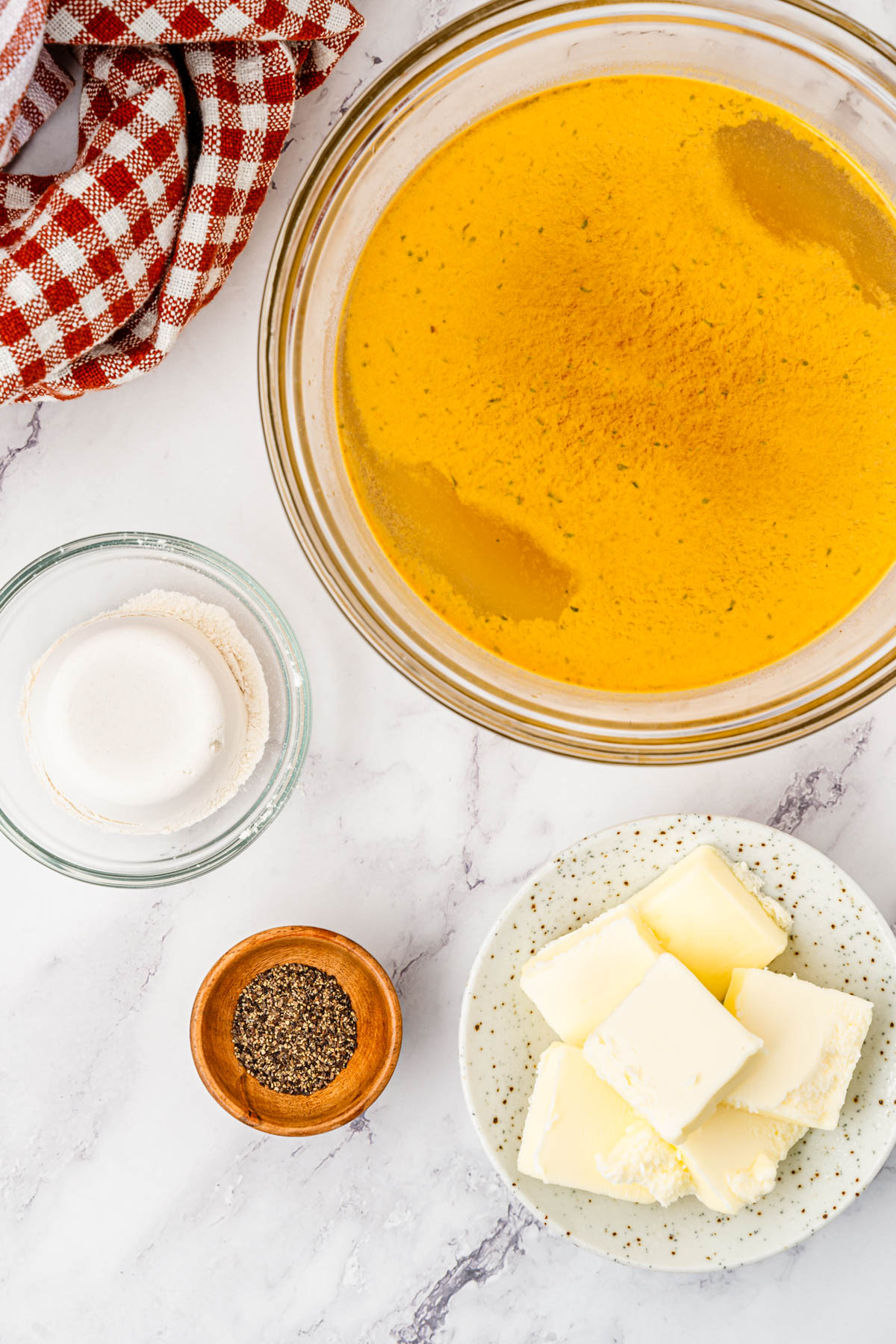 How To Make Turkey Gravy From Drippings
Step 1: Heat the large pads of butter in a saucepan over medium-low heat until it melts.
Step 2: Stir in the freshly cracked black pepper.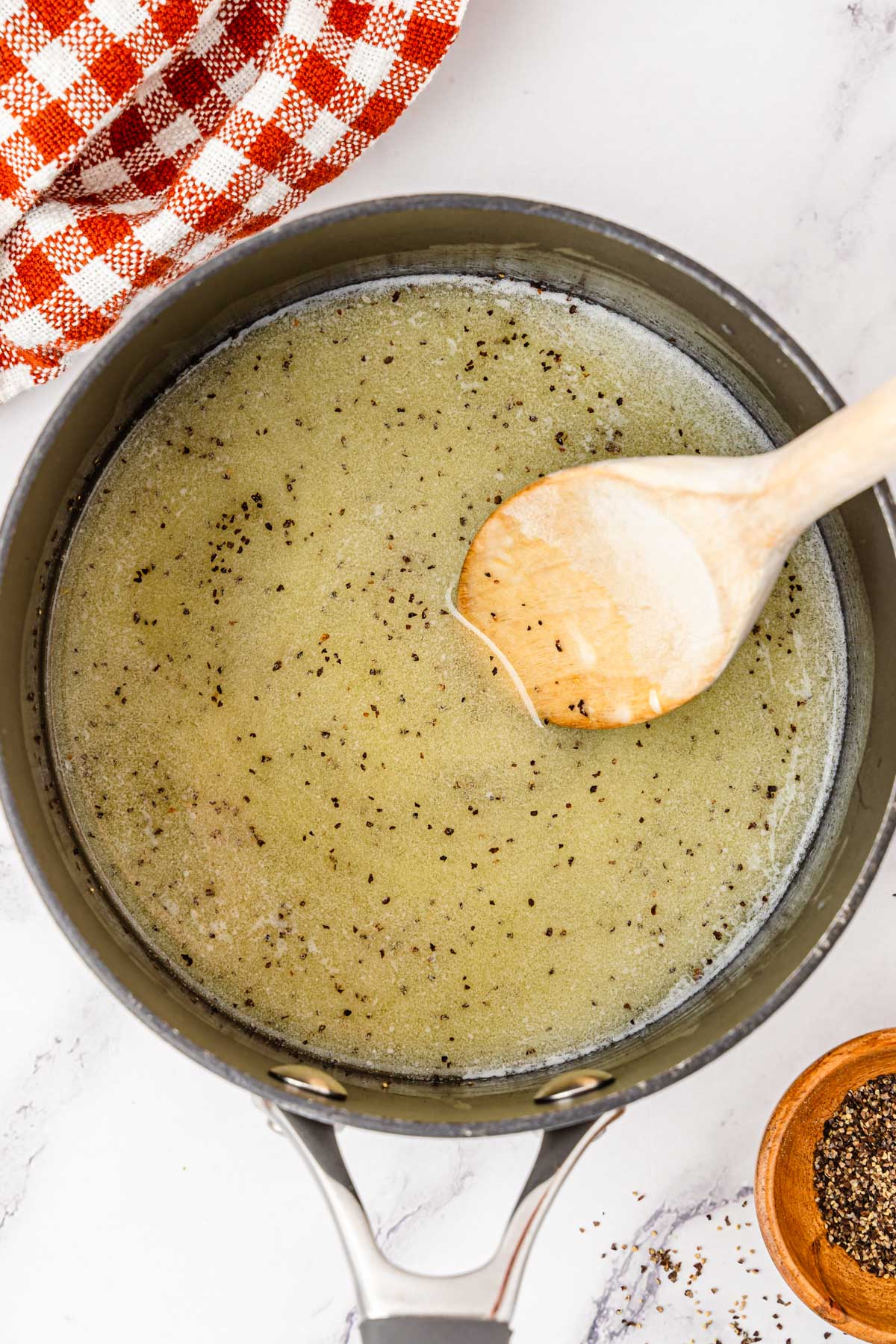 Step 3: Slowly incorporate the all-purpose flour using a whisk, making sure to stir continuously. Once all the flour has been added to the saucepan, continue stirring until the flour and butter are well combined.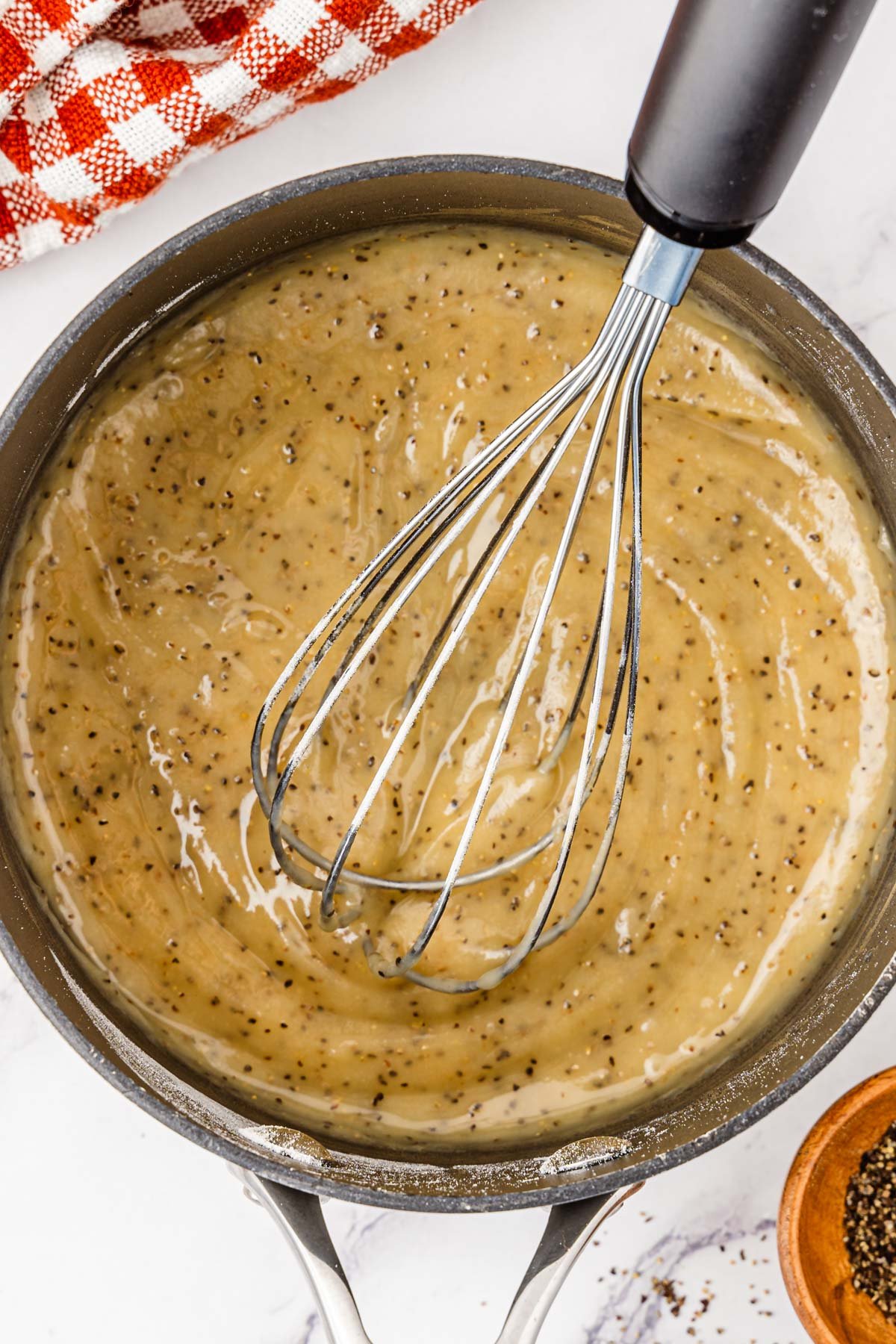 Step 4: As you continue to whisk, pour in the pan drippings in small batches.
Step 5: Continue stirring the gravy over medium heat until it reaches your desired consistency.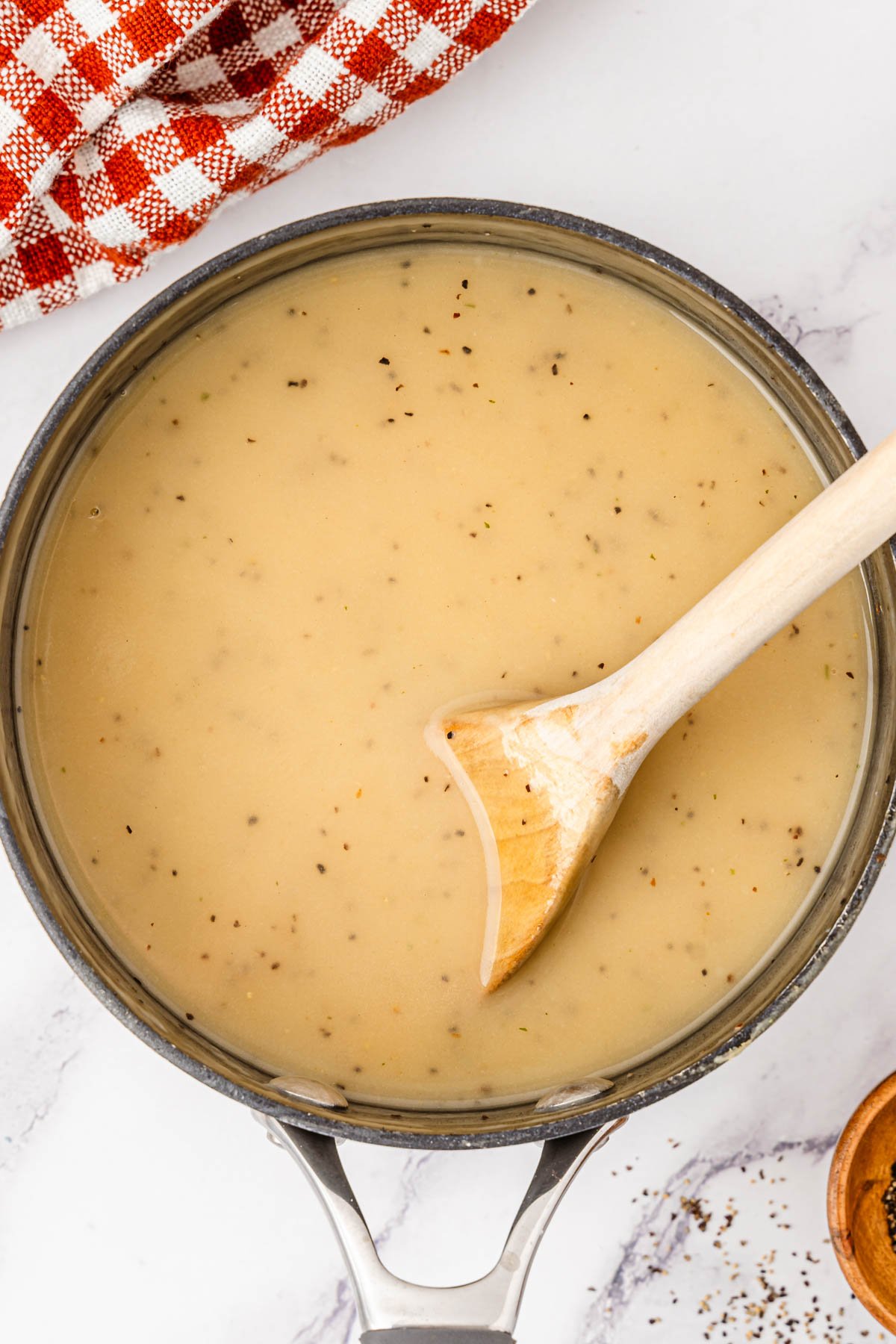 How To Thicken Turkey Gravy
The longer the gravy cooks while stirring constantly, the thicker it will become. Therefore, cook the turkey gravy for as long as needed until it reaches your preferred thickness.
If the gravy does not become as thick as you'd like it to be, you can stir in flour or cornstarch. However, I don't recommend adding flour or cornstarch directly to the gravy.
Instead, create a slurry by combining flour or cornstarch with a little bit of cold water to create a smooth paste. This way, the cornstarch slurry will combine with the gravy seamlessly without creating lumps.
You can also create a roux to thicken the gravy by cooking fat with flour until it becomes smooth.
How To Make Gravy Without Turkey Drippings
Turkey gravy can be made with chicken stock or turkey stock instead of turkey drippings. If you find that there aren't enough drippings after cooking the turkey, you can supplement the recipe with chicken stock to make up the difference.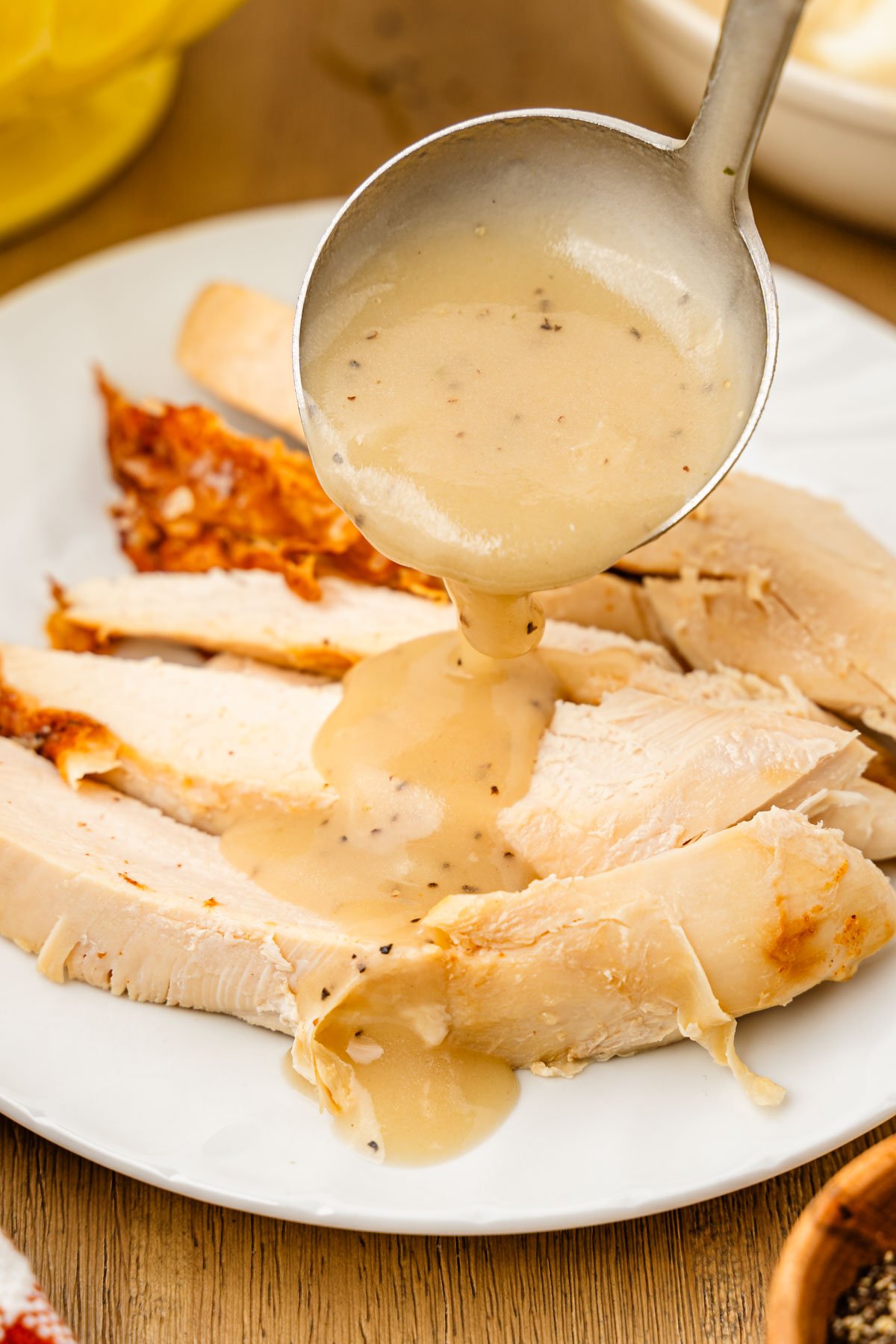 How To Use This Turkey Gravy Recipe From Drippings
Of course, the first place this Turkey Gravy belongs is over a slice of moist, tender turkey! As well as on the Thanksgiving menu to use for smothering your helping of the best creamy mashed potatoes or Instant Pot Mashed Potatoes!
Some guests may even enjoy it drizzled over this delicious homemade stuffing! Others may drool just at the thought of soaking up every last drop of this delicious gravy off their plate with Yeast Rolls or Parker House Dinner Rolls!
Enjoying this turkey gravy doesn't have to stop there, though. Instead, serve it as a dipping sauce with Thanksgiving Leftovers Turkey Sliders or a slice of this Thanksgiving Crescent Ring.
How To Store Gravy From Turkey Drippings
First, allow the gravy to cool completely. Then, transfer the cooled gravy into an airtight container and store it in the fridge to enjoy for 3 to 4 days.
Can You freeze Turkey Gravy?
Yes, turkey gravy can be stored in a freezer-safe container and kept in the freezer to use within 6 months. When you're ready to enjoy the gravy, allow it to thaw overnight in the fridge and then reheat it on the stovetop or in the microwave.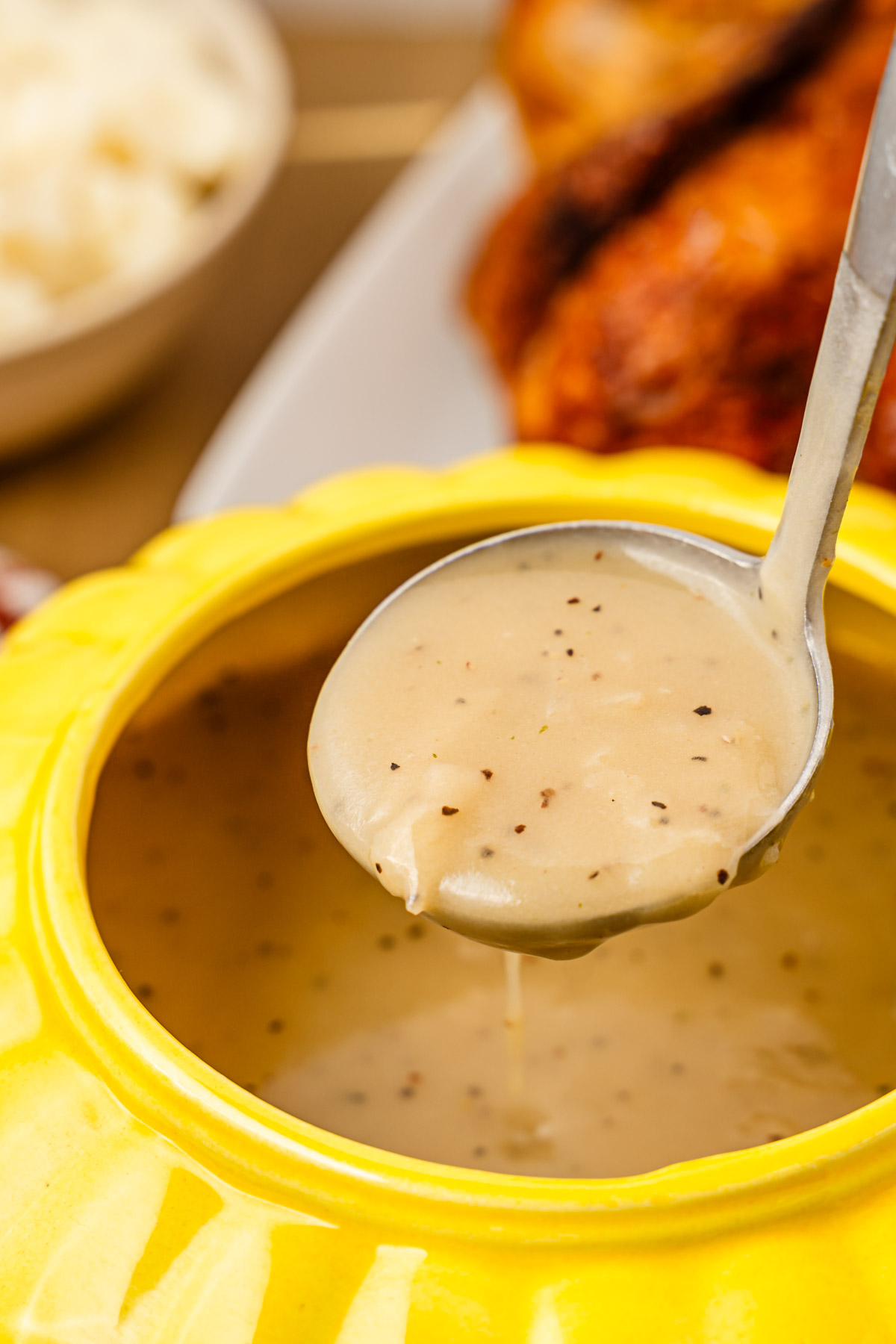 Turkey Gravy from Drippings FAQs
Should I separate the fat from the turkey drippings?
For a gravy that's not greasy, it is recommended to separate the fat from the turkey drippings. This can be done with a fat separator or skim the fat off the top with a spoon.
What is the best thickener for turkey gravy?
A cornstarch slurry or roux works best for thickening turkey gravy. However, the longer the gravy cooks while it's being stirred, the thicker it will become as well.
How do you get the most drippings out of a turkey?
To get the most drippings out of your turkey, be sure to cook it on a wire rack in a roasting pan. This way, the drippings collect on the bottom of the pan as the turkey cooks.
To collect even more turkey drippings, you can purchase an extra turkey thigh and place it under the wire rack as the turkey cooks.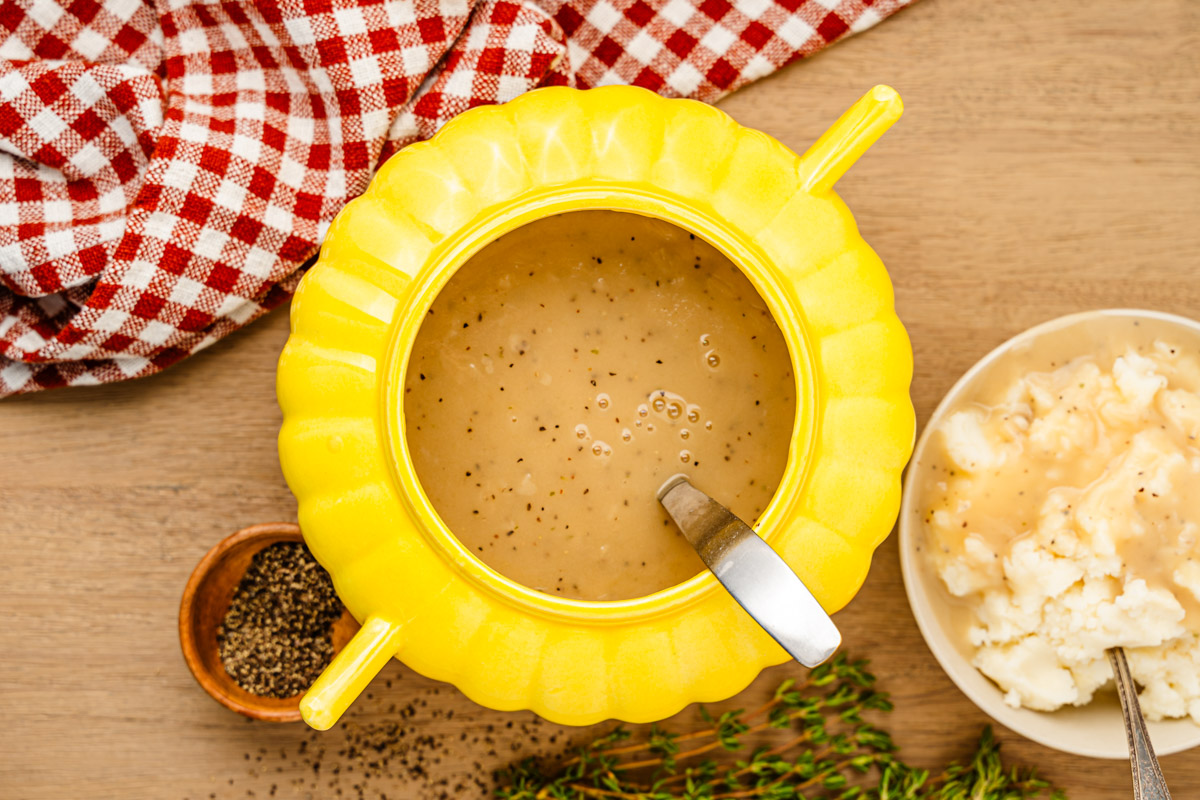 👋 Let's Connect!
If you've tried this recipe, please let me know how you liked it in the comments below and leave a review. I love hearing from you!
Don't forget to tag me – @sugarandsoulco – on Instagram and Pinterest with your photos or join our Sugar & Soul Show-offs Community and share them there, where you can join our recipe challenges!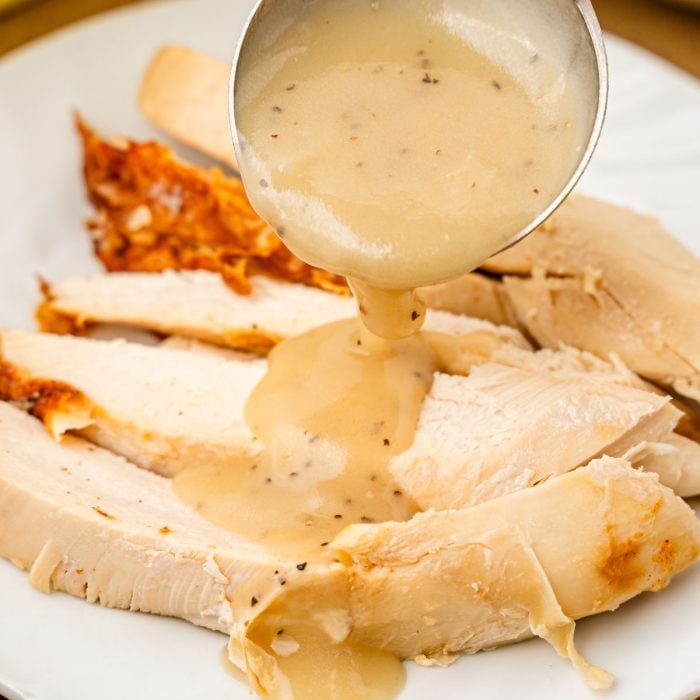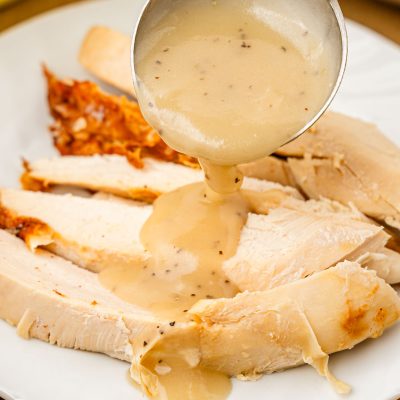 Turkey Dripping Gravy
This easy recipe for Turkey Gravy is made with pan drippings for a velvety gravy that perfectly compliments your turkey!
Instructions
Add the ½ cup salted butter to a saucepan and melt over medium-low heat.

Once the butter is melted, stir in 1 teaspoon cracked black pepper with a wooden spoon.

Slowly incorporate the ½ cup all-purpose flour with a whisk and stir continuously. Whisk for about a minute or until the flour and butter are well combined.

Pour the 4 cups pan drippings into the saucepan in small batches as you whisk continuously.

Continue to stir the gravy with a wooden spoon over medium heat for 5 to 10 minutes until it reaches a thick liquid consistency.

Enjoy immediately or cover and cook on low heat until ready to serve.
Notes
Makes 10 (1/2 cup) servings.
It is important to continue to stir the gravy as it cooks to avoid buildup at the bottom of the saucepan.
Stir the gravy until it reaches your desired thickness (stir longer for a thicker consistency or shorter for a thinner consistency).
If using pan drippings, you may pass the drippings through a strainer and into a bowl to discard any giblets.
Nutrition
Calories: 139kcal | Carbohydrates: 8g | Protein: 3g | Fat: 10g | Saturated Fat: 6g | Polyunsaturated Fat: 1g | Monounsaturated Fat: 3g | Trans Fat: 0.4g | Cholesterol: 27mg | Sodium: 210mg | Potassium: 113mg | Fiber: 0.2g | Sugar: 2g | Vitamin A: 288IU | Vitamin C: 0.2mg | Calcium: 7mg | Iron: 1mg