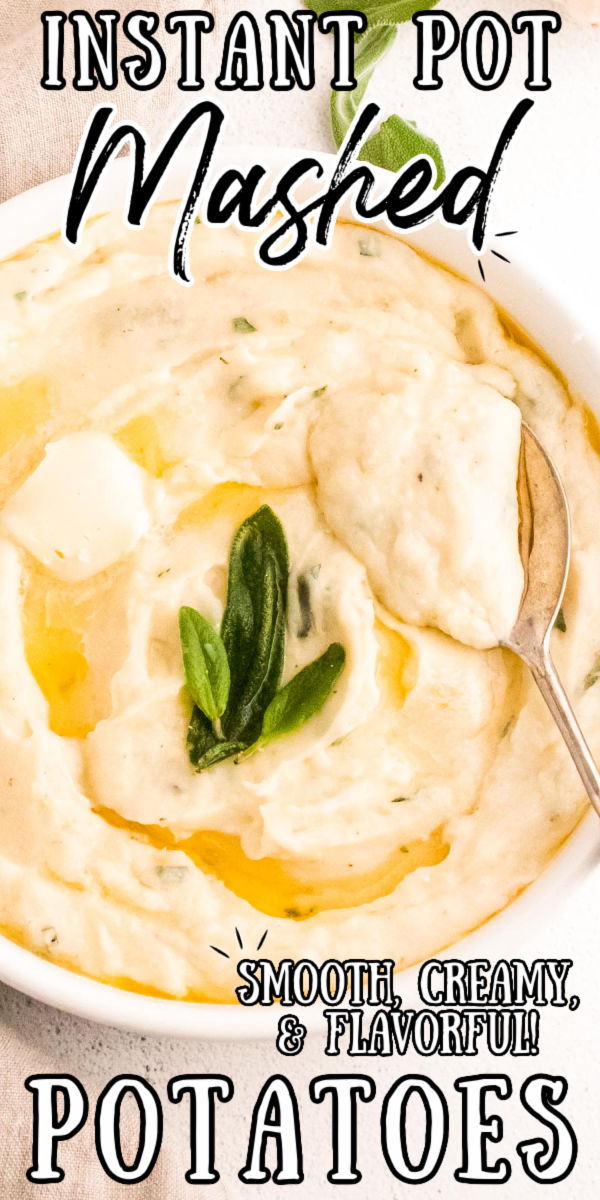 Garlic & Sage Instant Pot Mashed Potatoes are the easiest way to make everyone's favorite side dish! Made with fresh garlic and sage, sour cream, parmesan, and more, they're creamy, delicious, and made in half the time.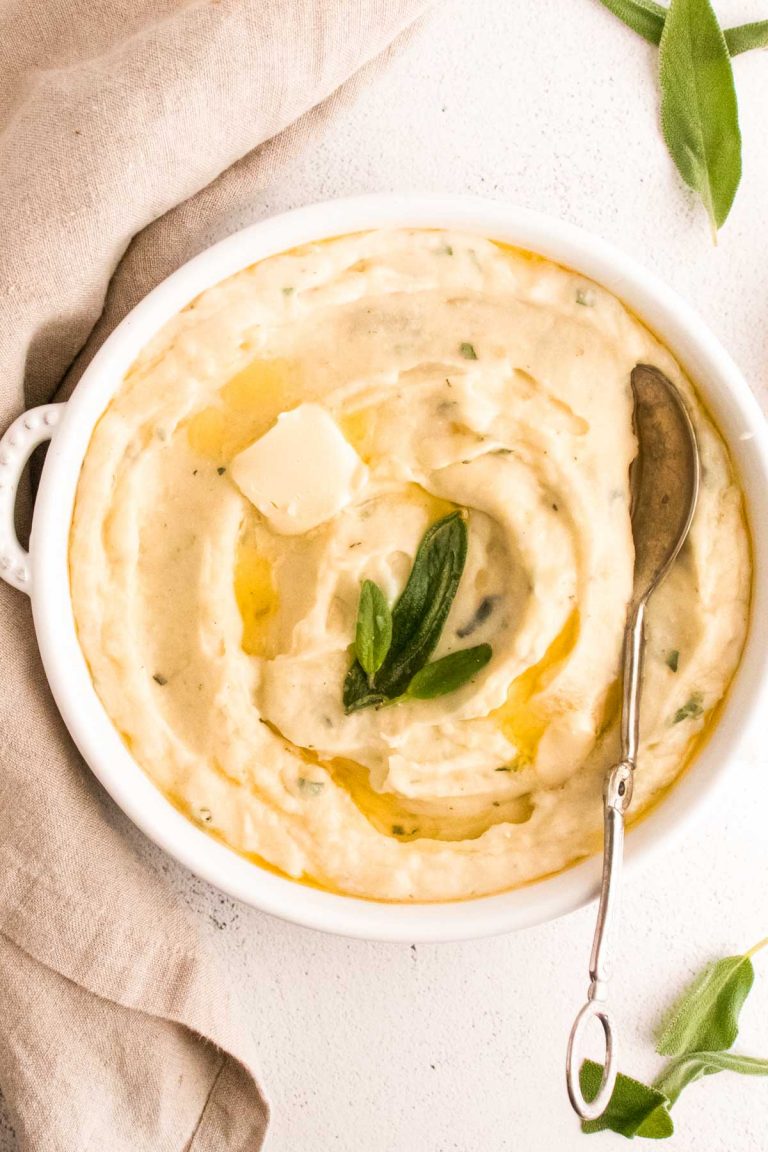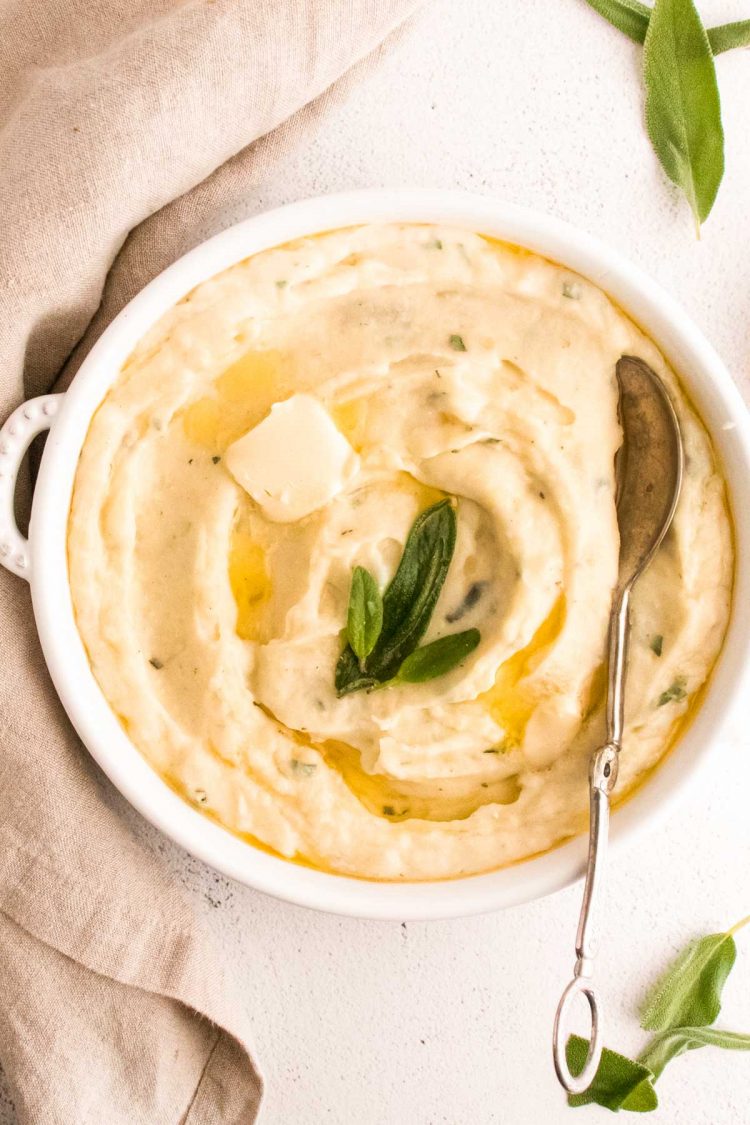 Last year during the holidays, you probably cooked the potatoes the traditional way. This year, save loads of time and free up stove space by making pressure cooker mashed potatoes instead!
When you make mashed potatoes in the Instant Pot, you won't have to fill a large pot with water, wait to bring to a boil, boil the potatoes … you know the drill.
With this recipe, your family can still savor garlic mashed potatoes — but with much less time and effort from you!
(Ps. Not sure what an Instant Pot is? See FAQ below!)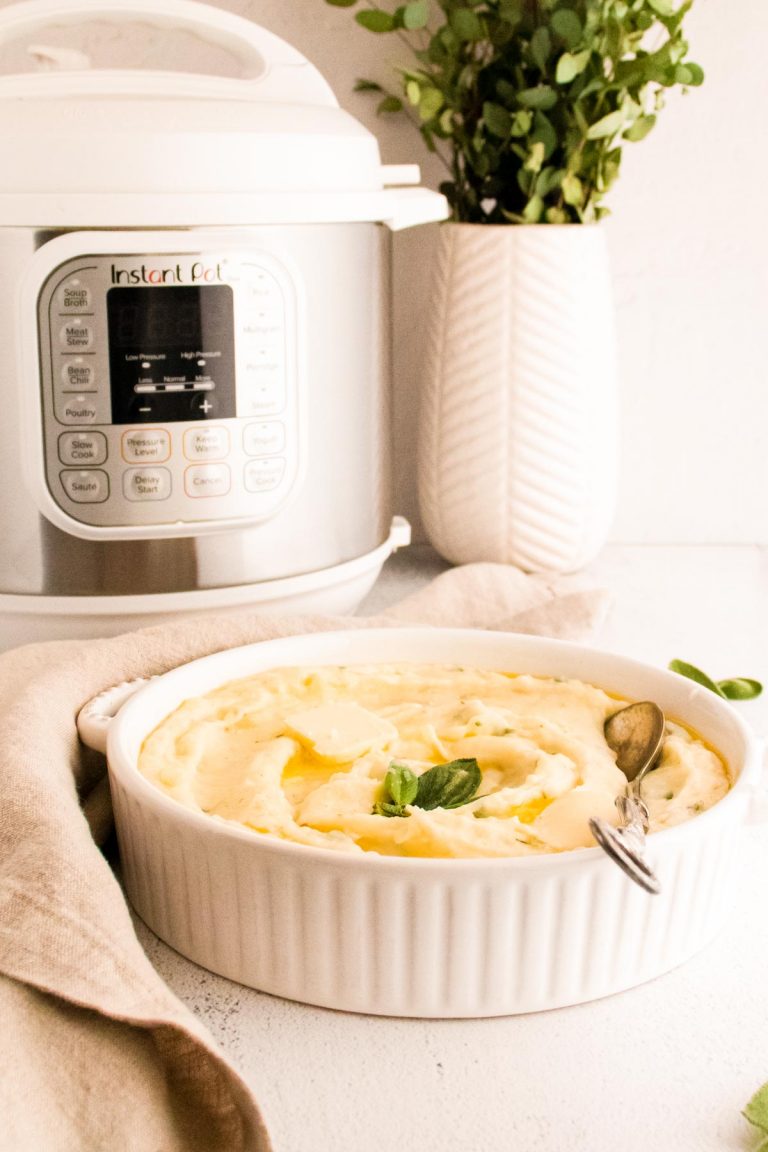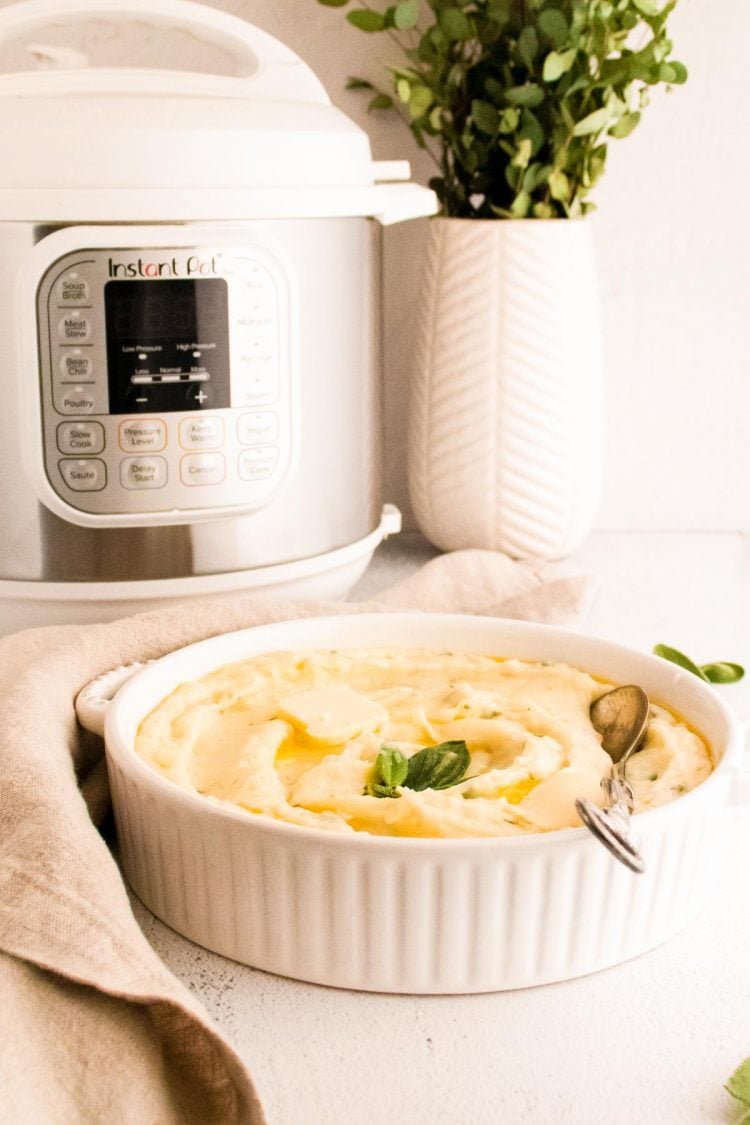 Mashed Potato Ingredients:
For these Instant Pot Mashed Potatoes, I like to use Yukon gold potatoes that are slightly sweet and mash creamy and soft.
Fresh minced garlic and sage, plus a little salt and garlic powder, are cooked with the potatoes and add tons of flavor.
Sour cream, heavy cream, grated parmesan, and butter are added after cooking, making these mashed potatoes extra rich and delicious!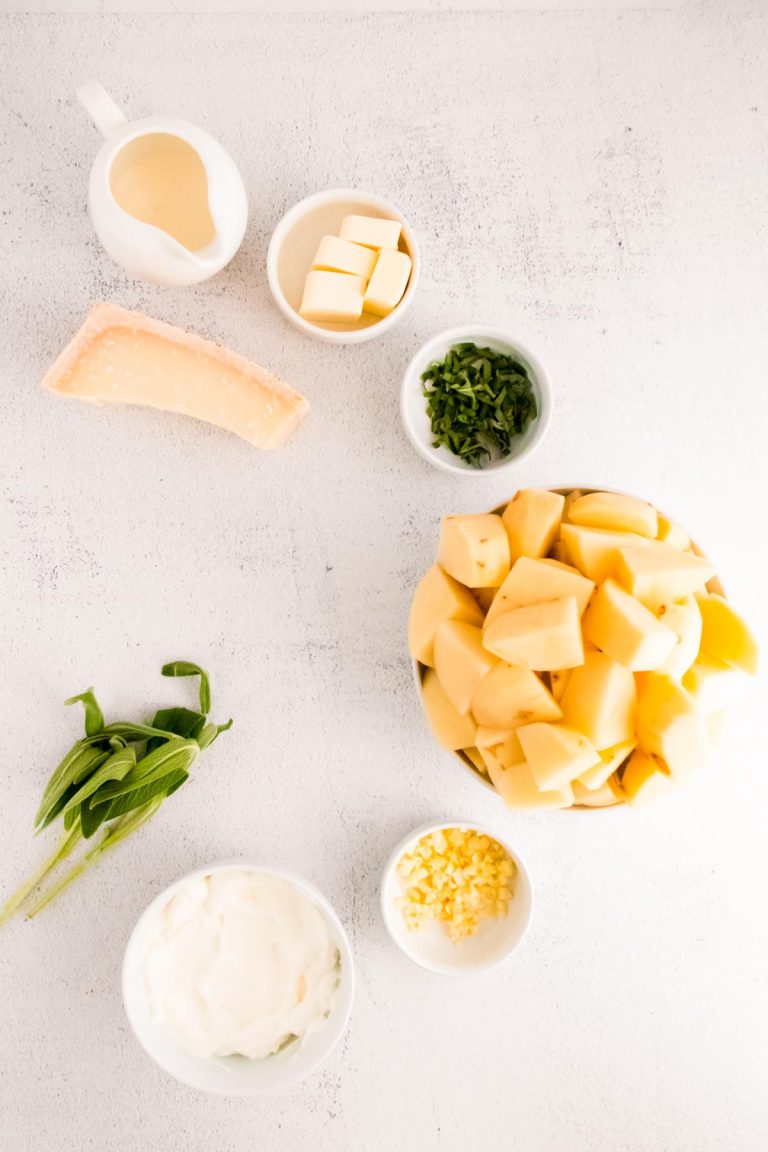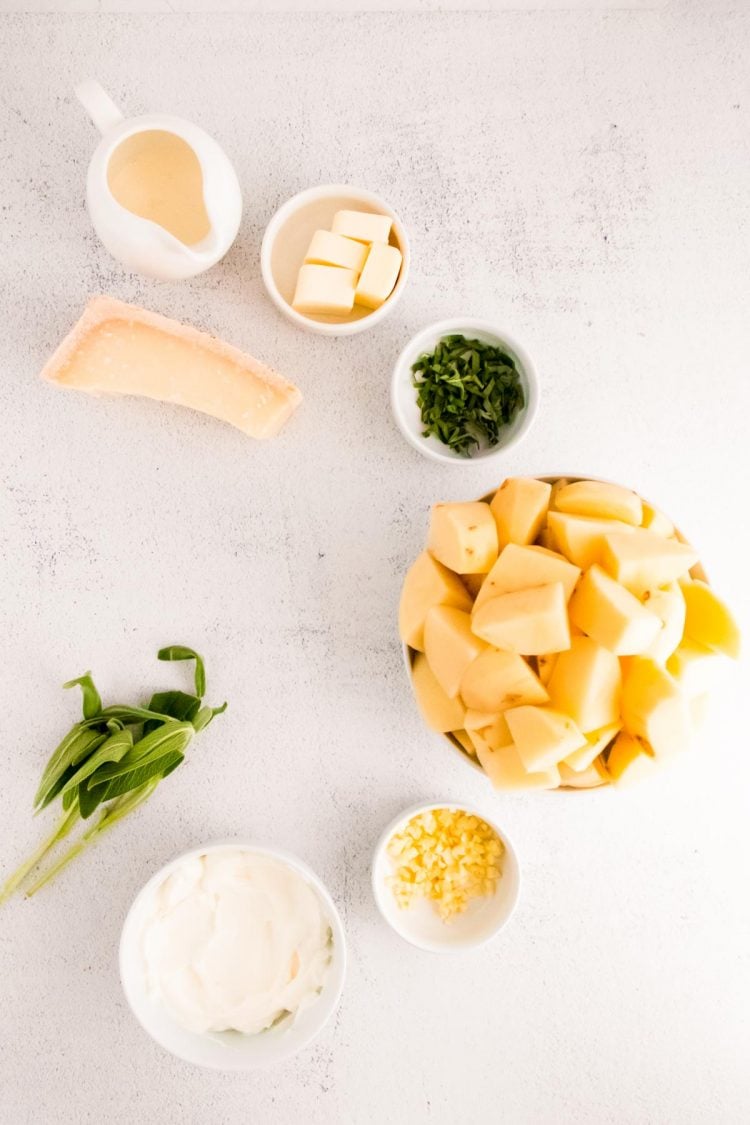 How To Make Mashed Potatoes In The Instant Pot:
Cook the potatoes with the water, salt, garlic cloves, and sage in an instant pot and cook on manual for 15 minutes. Quick release the pressure and drain the potatoes, then transfer them back into the Instant Pot or a large bowl.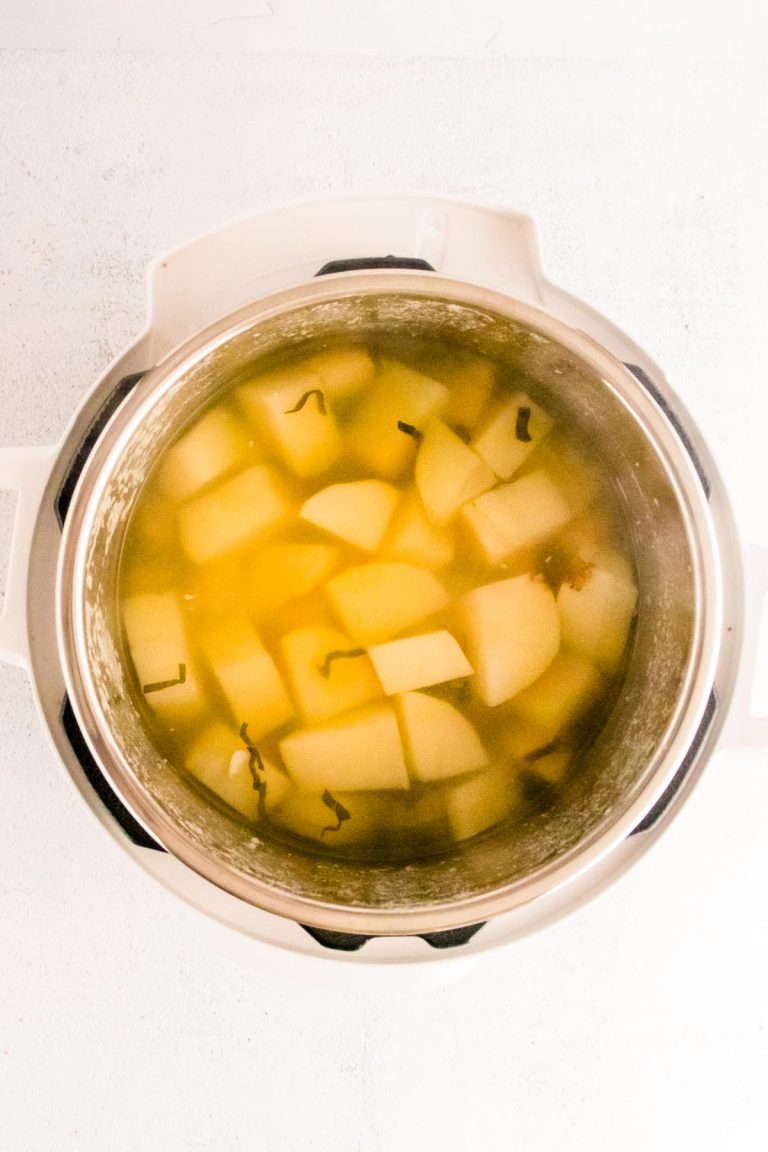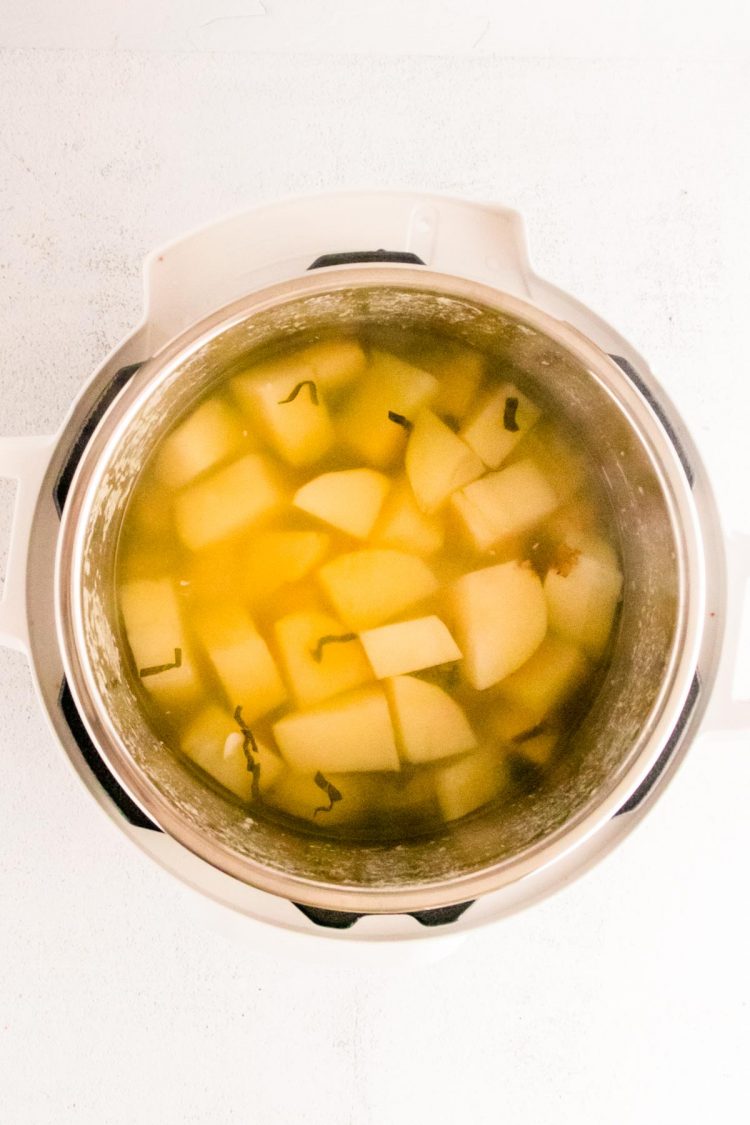 Add the remaining ingredients and mash until the desired consistency is reached. I like to use either a potato masher or a hand mixer to mash my potatoes. Grab the full recipe with detailed notes at the bottom of the post.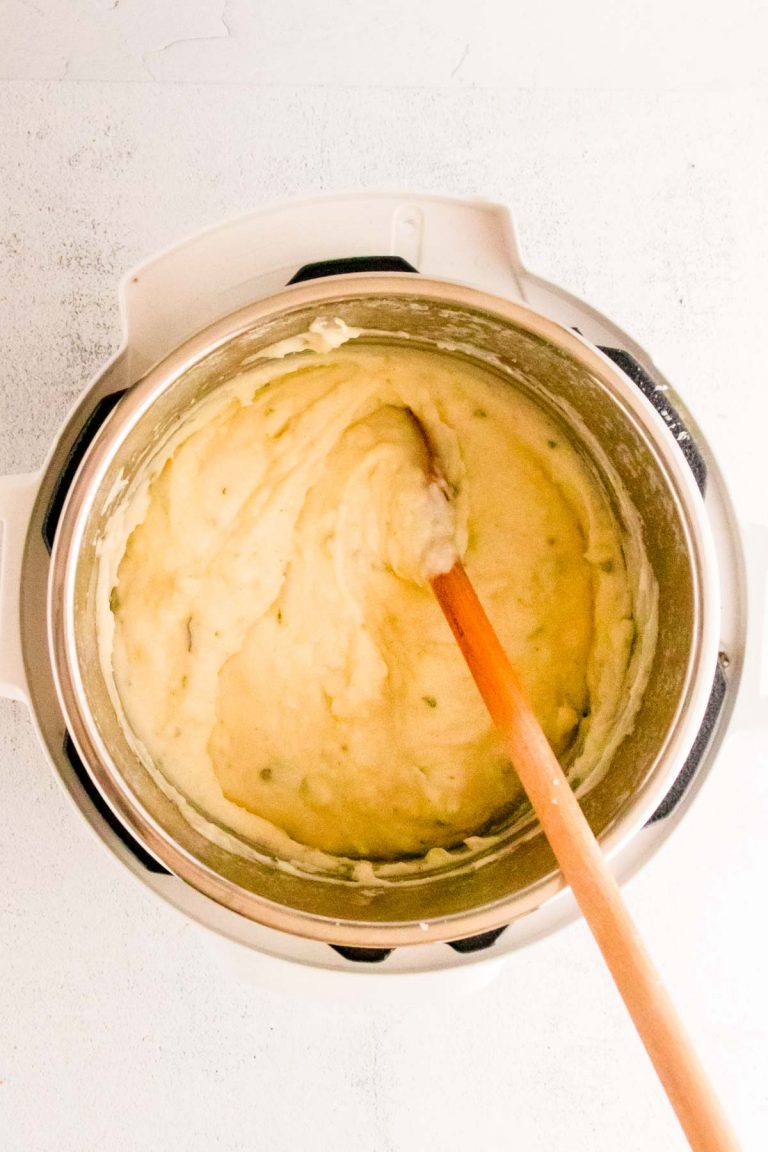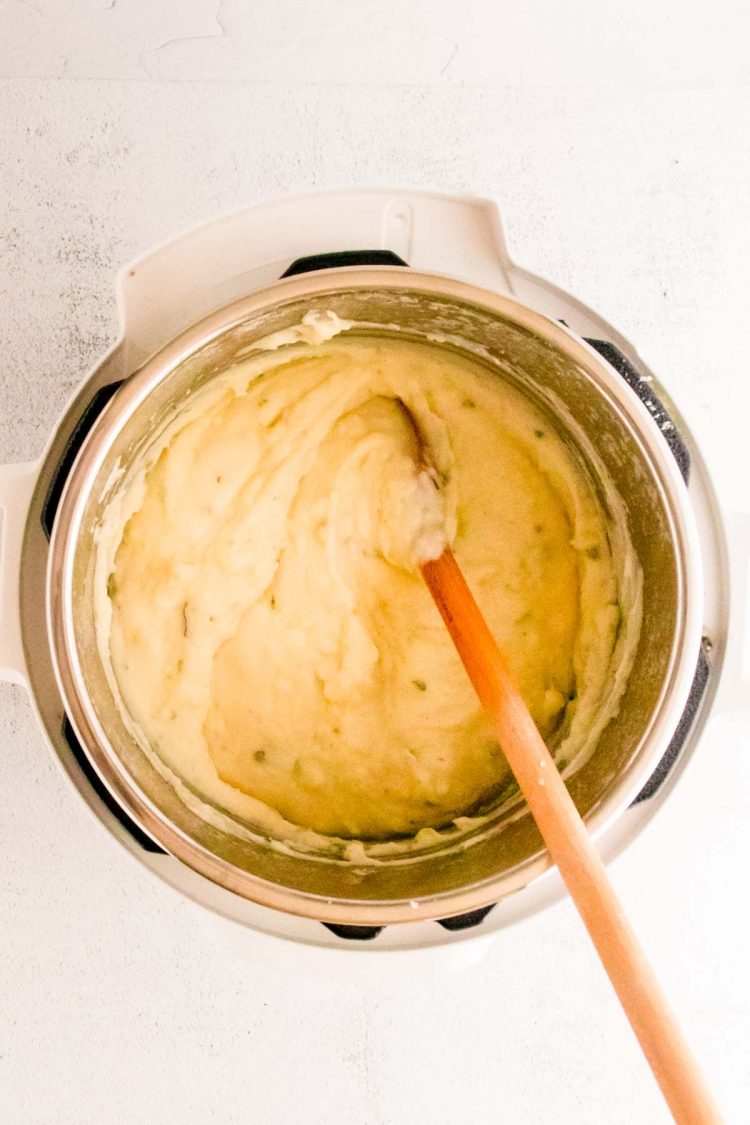 Frequently Asked Questions:
What is an Instant Pot and how does it work?
Instant Pot is the brand name of an electric pressure cooker that accelerates cooking. It's designed with a tight seal that traps steam and gets super hot, which slashes cook time.
How do I add flavor to Instant Pot mashed potatoes?
Spice it up by making Sage and Garlic Potatoes! You can also add another clove or two of garlic for more garlic flavor. This recipe doesn't call for pepper, but you can definitely use both salt and pepper if desired.
Can you keep mashed potatoes warm in an Instant Pot?
Yes! Just set your Instant Pot to the "warm" setting until everyone's had seconds.
How long do you steam potatoes in the instant pot?
For this recipe, the potatoes only need to cook for about 20 to 25 minutes.
Why are my mashed potatoes gummy?
Gummy potatoes are the result of over-mashing. It shouldn't be a problem if you use a potato masher. However, if you use an immersion blender, just be sure to stop as soon as they've reached the desired consistency.
What kind of potatoes for mashed potatoes?
Russets or white potatoes also work fine. You can also use red potatoes and keep the peel on for a more rustic mash. And for the record, Yukon potatoes and yellow potatoes are the same.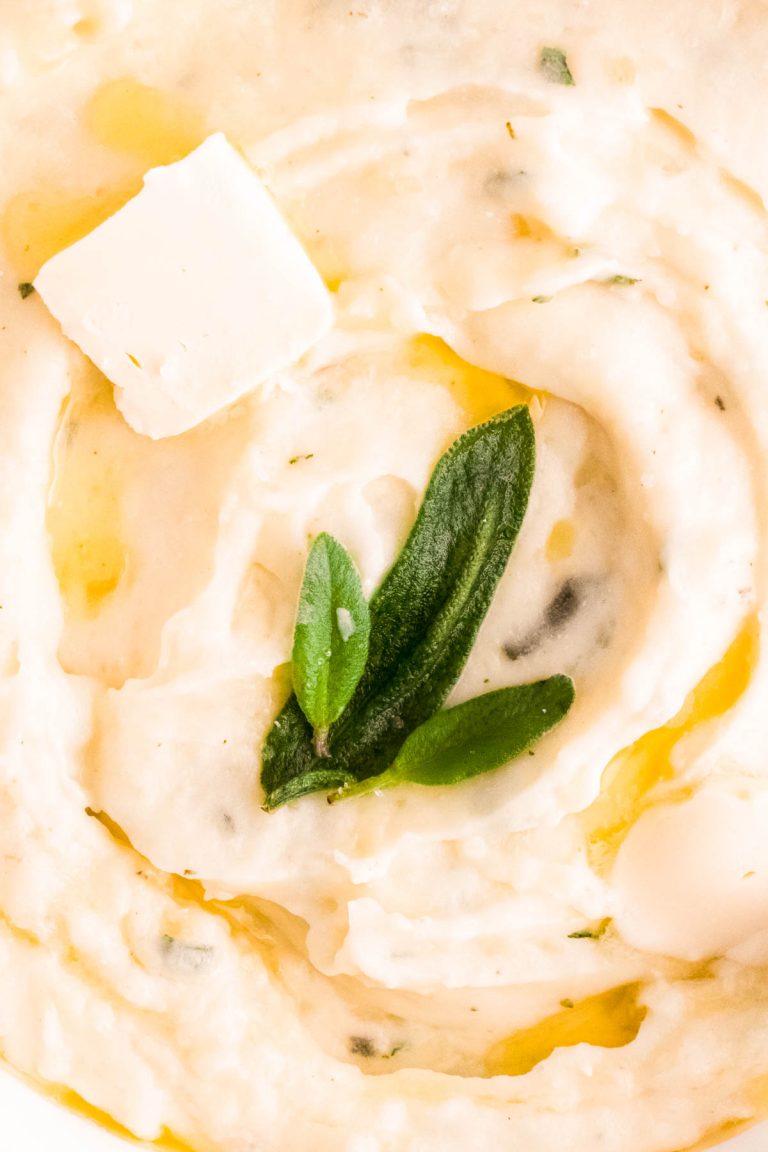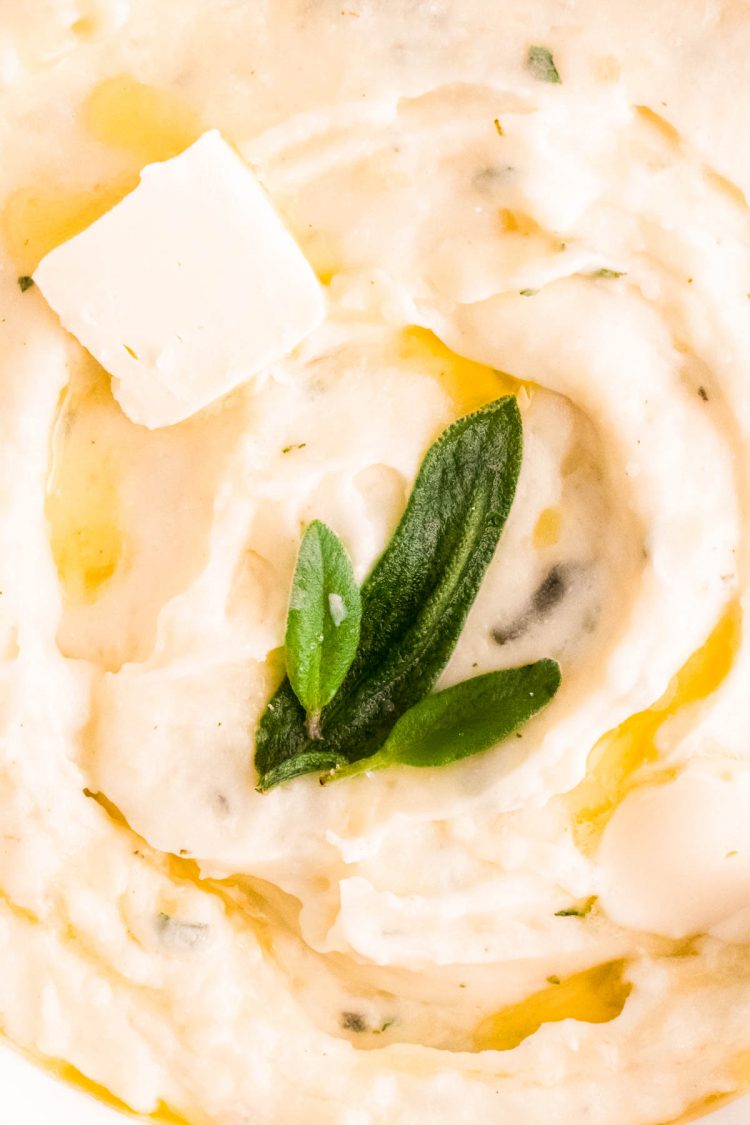 How To Serve Mashed Potatoes
We love this recipe for weeknight meals (because it's fast) as well as holidays like Thanksgiving (again, because it's fast)! This quick side dish pairs perfectly with our Roasted Turkey, Braised Short Ribs, and our favorite is topping them with this Italian Beef recipe!
More Holiday Side Dish Recipes: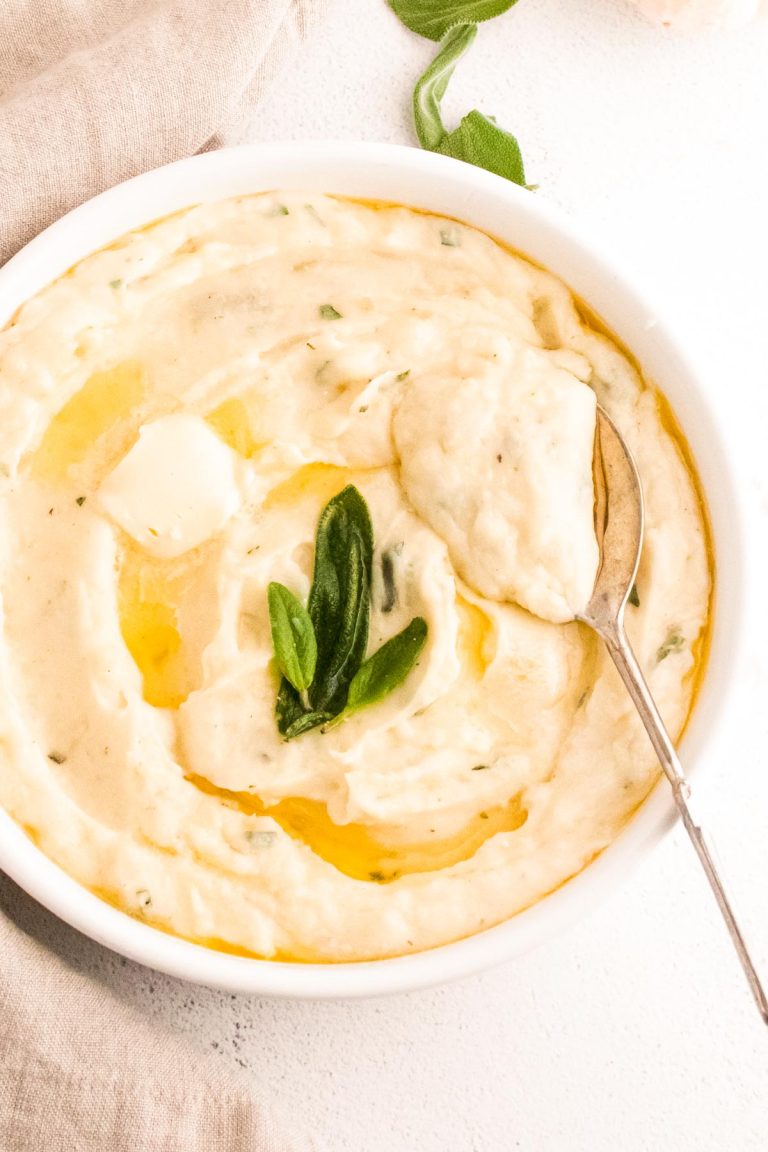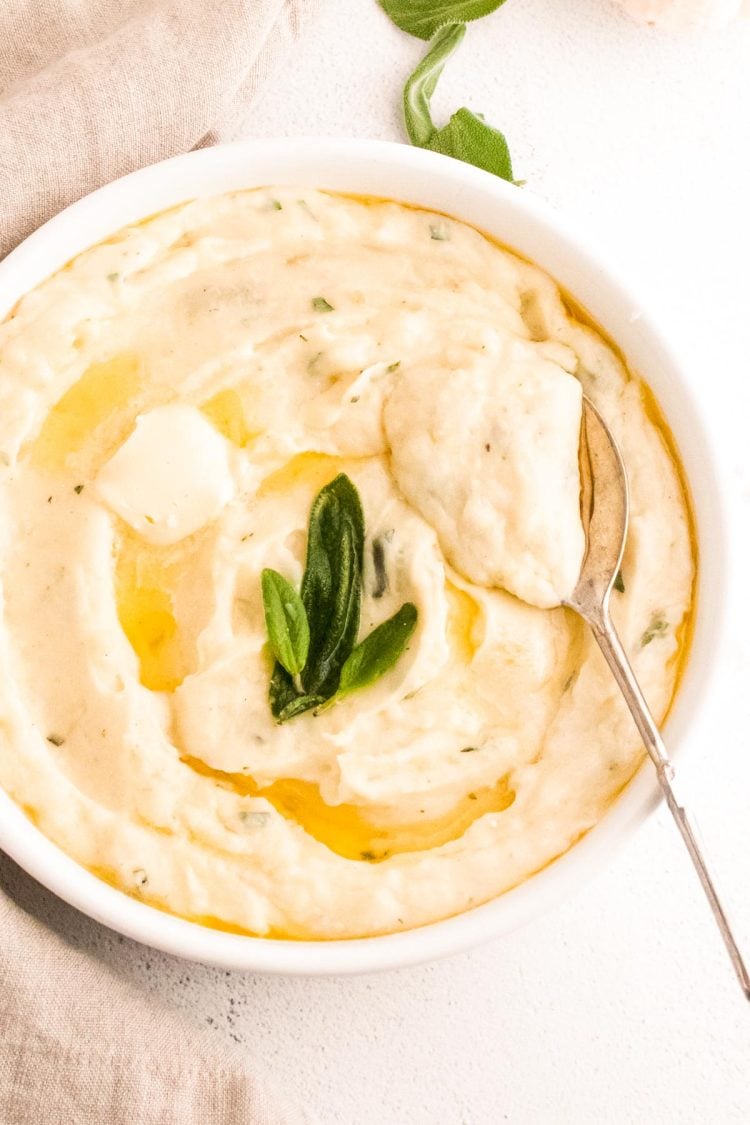 Instant Pot Mashed Potatoes
Pin It For Later
Click the button above to save this delicious recipe to your board!
👋 Let's Connect!
If you've tried this recipe please let me know how you liked it in the comments below and leave a review, I love hearing from you! And don't forget to tag me – @sugarandsoulco – on Instagram and Pinterest with your photos or join our Busy Family Recipes Facebook Community and share them there!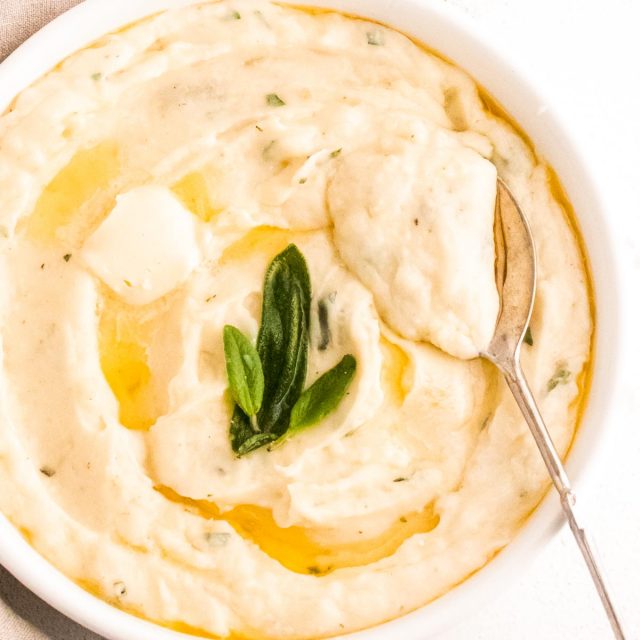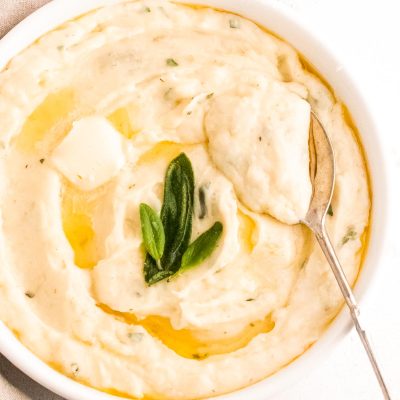 Instant Pot Mashed Potatoes
Garlic & Sage Instant Pot Mashed Potatoes are the easiest way to make everyone's favorite side dish! Made with fresh garlic and sage, sour cream, parmesan, and more, they're creamy, delicious, and made in half the time.
Ingredients
3

pounds

Yukon Gold Potatoes

peeled and cut into 1" cubes

5

cups

water

or enough just to cover the potatoes

1

tablespoon

salt

1

tablespoon

minced garlic

about 3 large cloves

1

tablespoon

minced fresh sage

about 5 large leaves

1

cup

sour cream

1

cup

freshly grated parmesan cheese

⅓

cup

heavy cream

5

tablespoon

salted butter

1

tablespoon

salt

1

tablespoon

minced fresh sage

about 5 large leaves

2

teaspoons

garlic powder

optional
Instructions
In the bowl of your instant pot, add the potatoes, water, salt, garlic, and sage. Note: you should add enough water to just cover the potatoes but never add water over the fill line.

Attach the lid and ensure the vent is in the "sealing" position. Cook the potatoes on Manual— Normal for 15 minutes. Note: The instant pot will take 5 to 10 minutes to come to pressure and display "on" on the screen. Once at pressure, it will begin counting down from 15.

Once the instant pot has finished cooking, manually release the pressure by moving the vent to the "venting" position. Note: It will steam and may splatter for the first minute. I recommend moving the valve with a pair of long tongs.

Once the pressure has released, drain the potatoes and return them to the instant pot (or a large bowl).

Add the remaining ingredients (sour cream, parmesan, heavy cream, butter, salt, sage, and garlic powder) and mash until the potatoes are your desired consistency. See notes.

Mashed potatoes can be kept warm using the "Keep Warm" setting on the Instant Pot for up to one hour. If they begin to thicken too much, add a ¼-½ cup of heavy cream and stir it to combine. This will help moisten and loosen the potatoes again.
Notes
Store mashed potatoes in an airtight container in the refrigerator for up to 3 days. Reheat on the stove-top over medium-low heat. Again, add a 1/4-1/2 cup of heavy cream to loosen if the potatoes are too thick.
Yukon Gold potatoes will produce the creamiest mashed potatoes. Although you can also substitute red skin or russet potatoes.
I know this seems like a lot of salt, but potatoes are naturally bland and the salt helps bring out the flavor of the garlic and sage in the potatoes.
The garlic powder to finish is optional but will add a strong garlic flavor that I love. If you don't add it, the potatoes will just have a hint of garlic.

One of my favorite ways to mash potatoes is with an immersion blender. You can completely control the texture and it takes almost no time at all. For a more home-style and slightly lumpy texture, I recommend a potato masher or hand mixer. Lastly, for a very smooth puree texture, I recommend a high-speed blender for 15 to 30 seconds.