Whiskey Honey Pulled Pork is slow cooked to perfection and loaded with flavors of sweet honey, tart cider, and whiskey for a delicious meal!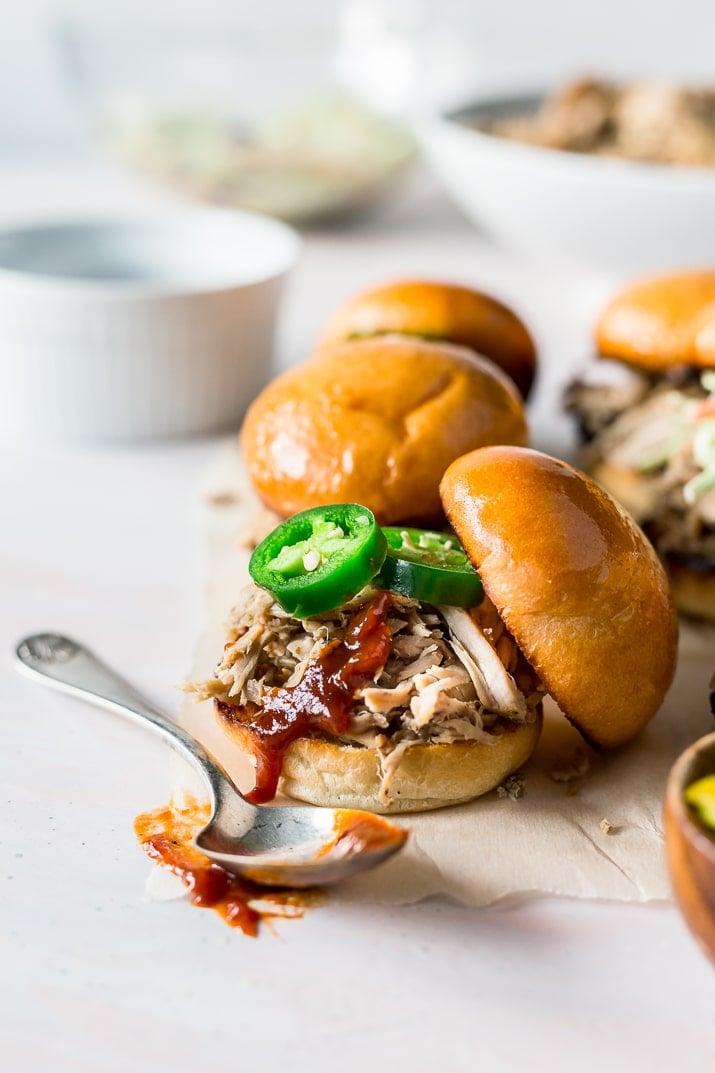 Whiskey Honey Pulled Pork
Pulled Pork is a dish that we LOVE in our house! Since we moved to the city, we've been hitting up the European Farmer's Market and getting a pork roast every other week. We slow cook it and it usually lasts us another three or four meals, there are so many things you can use it for, and we love mixing up the flavors and dishes!
Pulled Pork is such an easy dish to throw together and you can either prep it in the morning and have it cook in the slow cooker all day, or you could even cook it in an Instant Pot which would bring the cook time down to about an hour. I love my Instant Pot because on the nights when I'm really craving something like pulled pork sandwiches or Pot Roast, I can actually make those dishes FAST!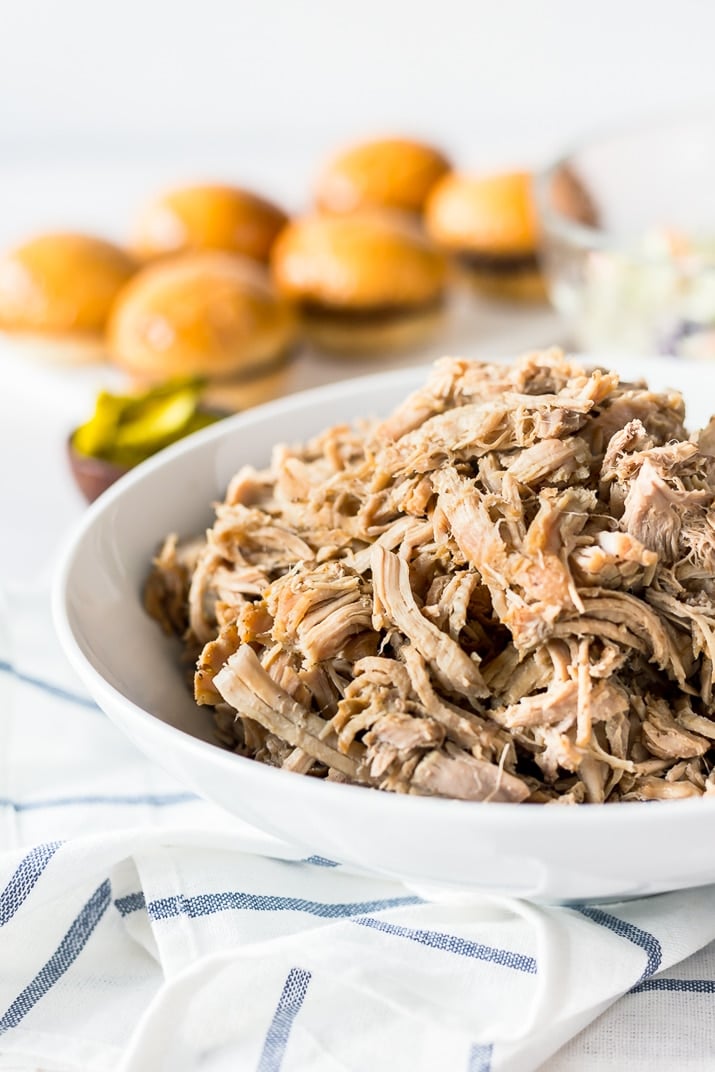 Recipe Ideas For Pulled Pork
Sandwiches – Everybody loves a pulled pork sandwich, amirite?
Tacos/Nachos – Seriously, this is a great addition to pretty much any Mexican dish!
Poutine – Yep, that's right, mix up the traditional French Canadian dish and add in a bit of pulled pork and bbq sauce with those cheese curds.
Breakfast – sandwiches, hashes, waffles, you name it, it deserves to be topped with this delicious pork!
Pizza – It's like two perfect things in one!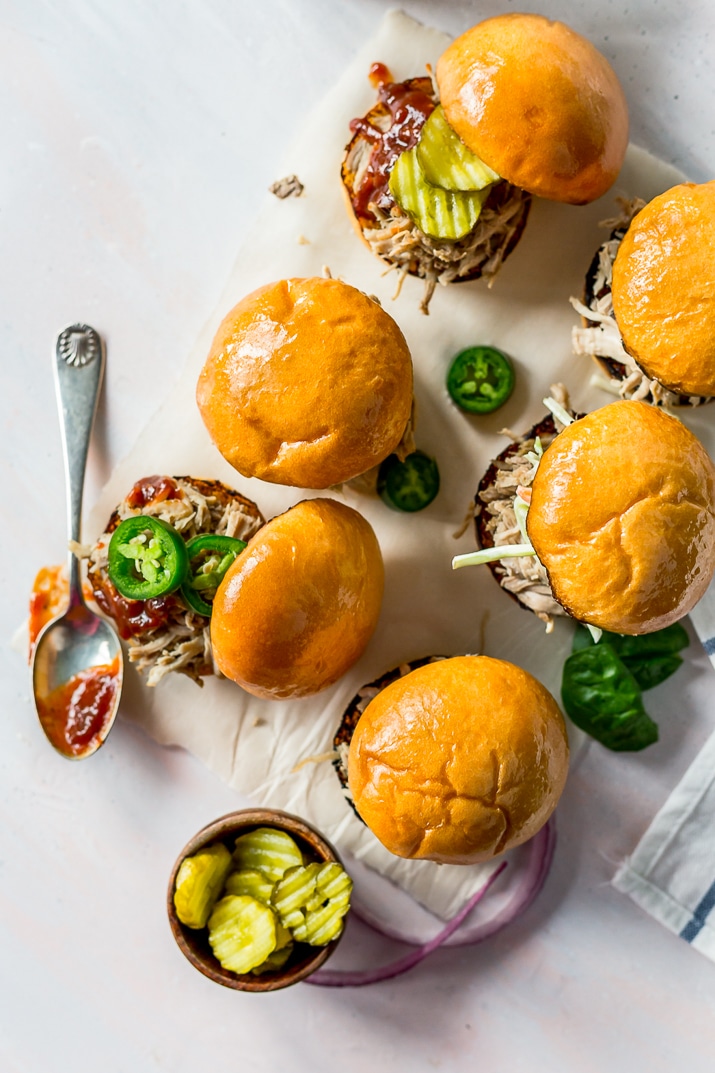 I know many of you probably aren't quite ready to whip out your slow cookers and pack away the grills, but football season is upon us and the cooler months aren't far behind. And trust me, this is a pulled pork recipe you'll want to keep on hand for game day parties and cold snowy days.
Whiskey Honey Pulled Pork
Whiskey Honey Pulled Pork is slow cooked to perfection and loaded with flavors of sweet honey, tart cider, and whiskey for a delicious meal!
Course:
Dinner, Main Course
Instructions
In a slow cooker, whisk together the honey, whiskey, apple cider, and beef broth. Combine the paprika, salt, pepper, and garlic powder in a small dish then rub into the pork roast.




Place the pork roast in the slow cooker, careful not to wash off the spice rub. Cover with the apple and onion slices, cover, and cook on low for 6 hours.


Remove roast from the slow cooker, shred with two forks, then place back in the slow cooker for an additional 1 hour to soak up the juices.

Serve on its own, or in sandwiches or tacos with your favorite fixings.

Nutrition Facts
Whiskey Honey Pulled Pork
Amount Per Serving
Calories 232
Calories from Fat 36
% Daily Value*
Total Fat 4g 6%
Cholesterol 71mg 24%
Sodium 713mg 30%
Potassium 506mg 14%
Total Carbohydrates 12g 4%
Protein 26g 52%
* Percent Daily Values are based on a 2000 calorie diet.
Pin this Pulled Pork Recipe for Later
Original Post Published: September 3rd, 2014. Photography and Content Updated: August 31, 2017.
I love to blend my traditional Maine roots and millennial imagination. I have a serious sweet tooth, an Audible addiction, and I'm always up for exploring new places!