Pork shoulder is slow cooked in root beer, topped with an apple slaw and homemade blueberry barbecue sauce all nestled in delicious naan bread!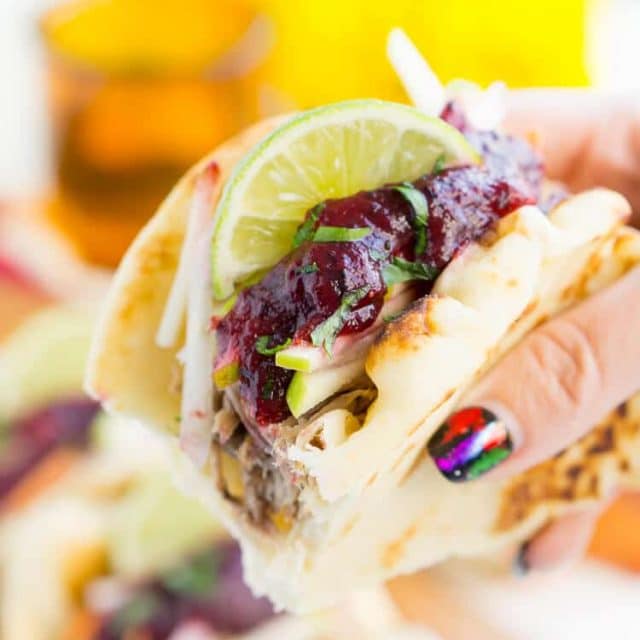 This blog post was sponsored by Stonefire but the opinions are completely my own based on my experiences.
Pulled Pork Tacos with Blueberry Barbecue Sauce are perfect for game days and weeknights! A pork shoulder is slow cooked in root beer, topped with an apple slaw and homemade blueberry barbecue sauce all nestled in delicious naan bread!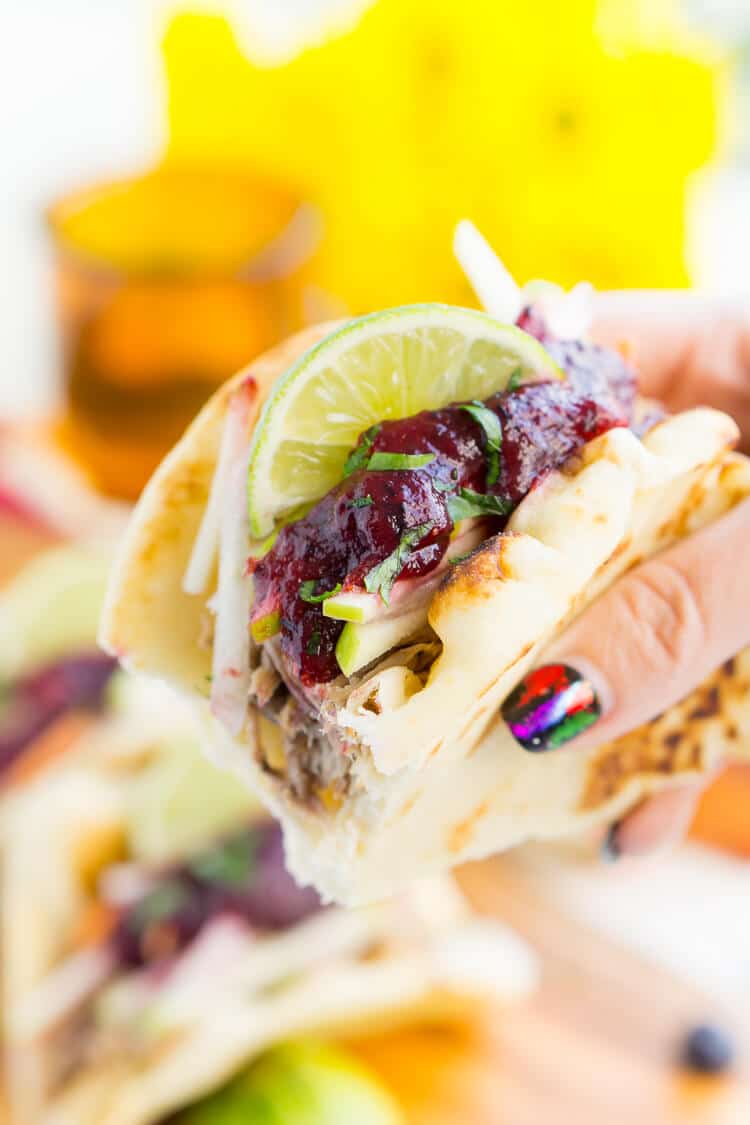 Pulled Pork Tacos
Pin it to your Game Day or Appetizer Board on Pinterest!
Follow Sugar & Soul on Pinterest for more great recipes!
Anyone who knows me knows that I love versatile ingredients. I try to stock my pantry with items that can be used in a bunch of different ways, from snacks to meals, to reimagining leftovers. I have the same mindset when it comes to planning parties: to make things easier for me and my wallet, I try to choose "multitasking" ingredients that can be used in a variety of different dishes. That's why my new favorite pantry and party staple is Original Mini naan from Stonefire Naan.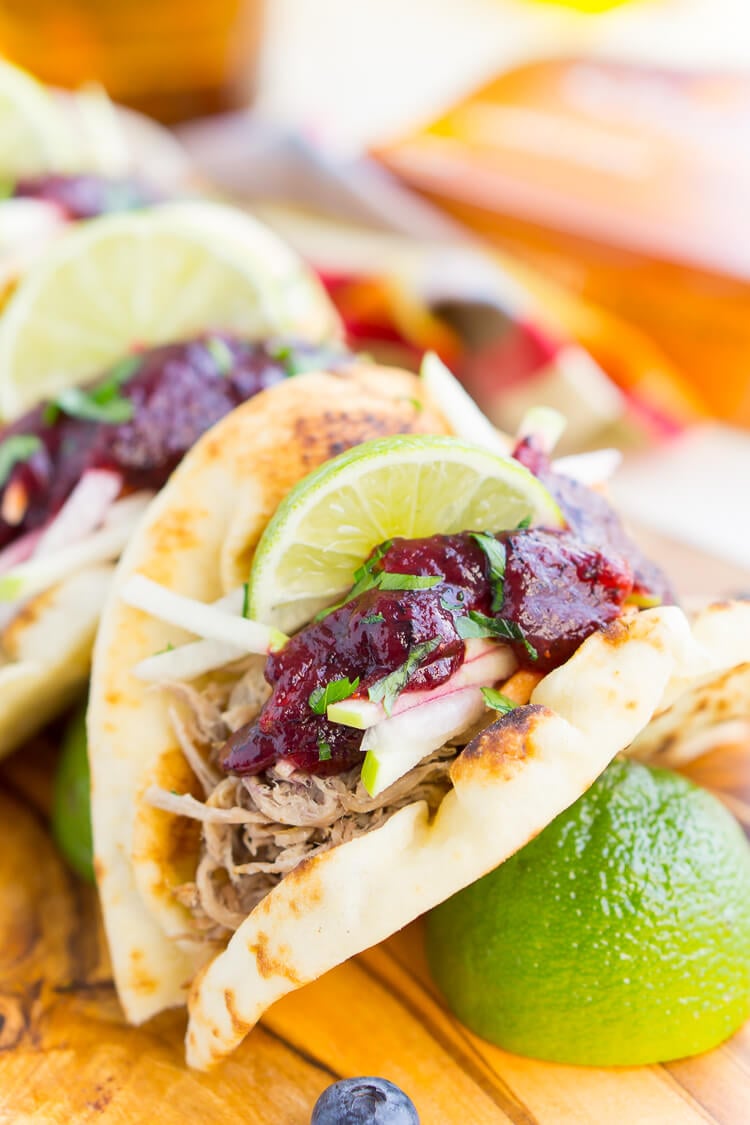 I've been eating Stonefire Naan for more than a decade now, but the Original Mini naan adds so many possibilities! This chewy flat bread can be used in so many different ways and makes it easy to come up with innovative, delicious, and easy game day treats!
Replace it with traditional bread for an exciting twist on your sandwich, or use it to scoop up hummus, tabouli, or guacamole for a hearty snack. You can top it with spreads, veggies, and cold cuts, and it even tastes delicious on its own! I love it baked for a few minute with just a brushing of olive oil and dusting of garlic powder.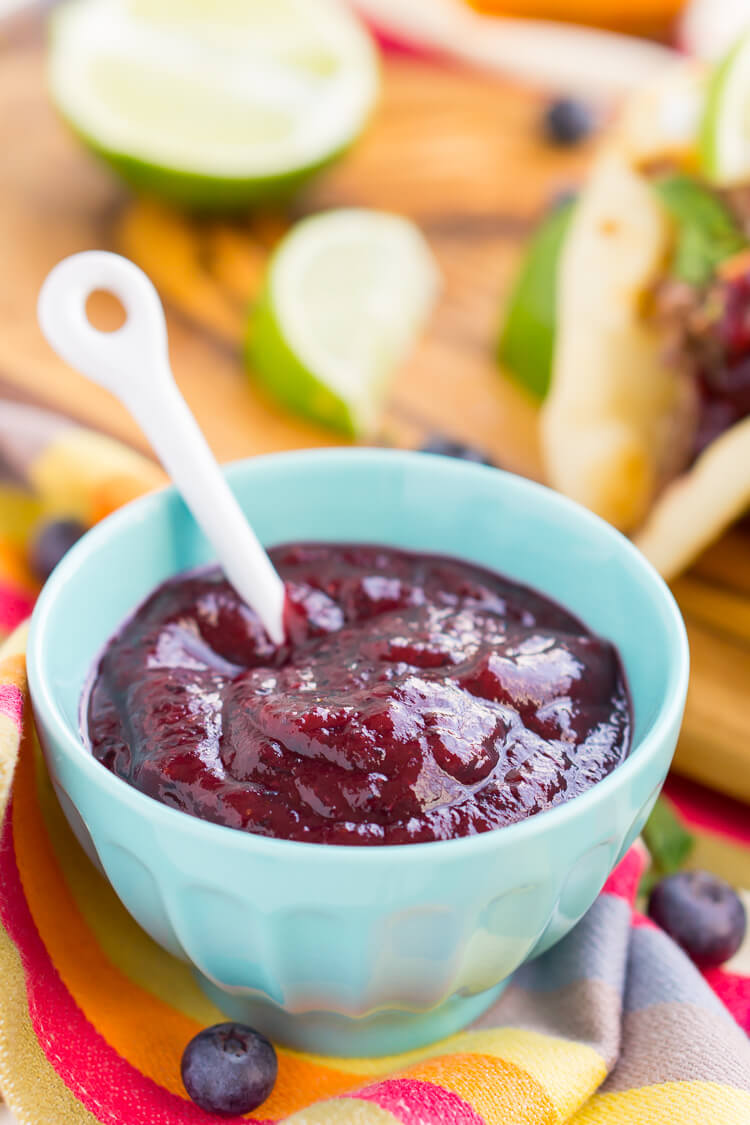 Because of its versatility, Original Mini naan is my inspiration for a bunch of snacks and appetizers planned for our upcoming Super Bowl party! I love making flatbreads with it like my Honey Bacon Flatbread.
For easy munchies, I'll cut the naan up into pieces and place them around different dips and spreads. But the star of the table will be this recipe for Pulled Pork Tacos, served with naan instead of tortilla shells.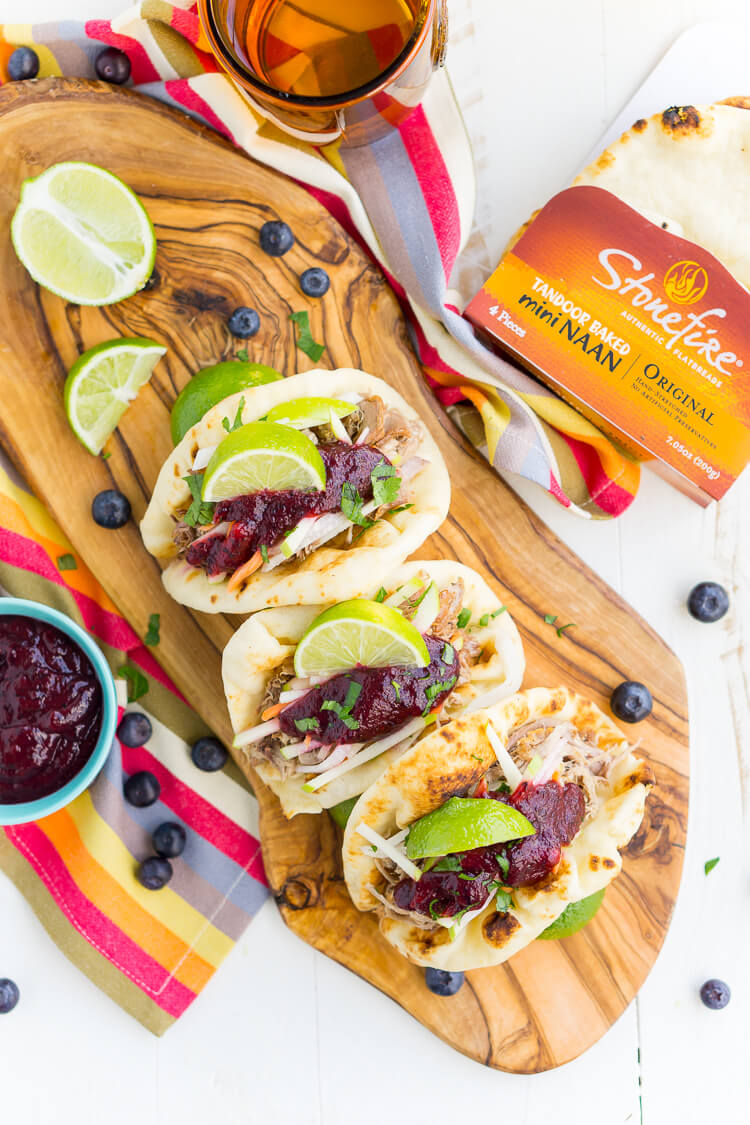 This idea came to me a few nights ago when Matt and I went to our favorite Mexican restaurant, a local joint next to our favorite Indie movie theater just a few towns over. Matt always gets the Pulled Pork Chimis, pairing them with their house-made blueberry barbecue sauce. And anyone who knows me knows that I'm a sucker for slow-cooked, pulled meats!
The filling for this Super Bowl snack is juicy, tender pork that's seasoned and pan seared on the stovetop, then slow cooked for eight hours in a root beer. Make sure to use a quality brewed root beer for the best flavor, think: glass bottle! The meat is then wrapped in a soft mini naan, topped with a fresh and crunchy apple, jicama, and carrot slaw and drizzled with sweet and tangy homemade blueberry barbecue sauce for a delicious burst of flavor in every bite!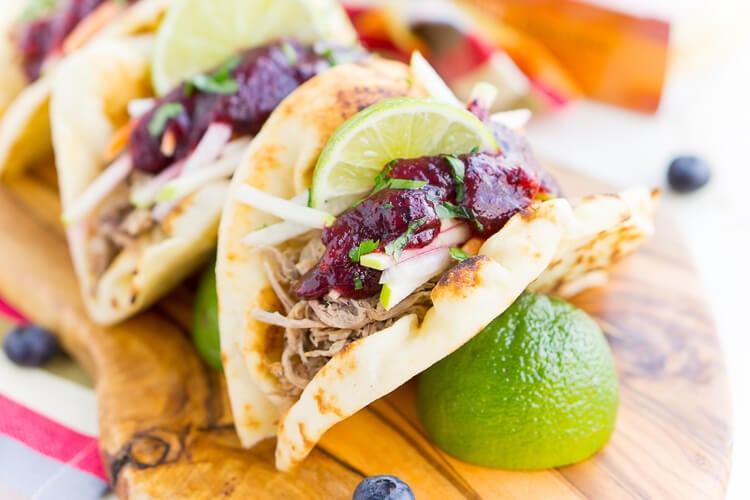 After trying this recipe, I can honestly say that I prefer naan to a traditional taco shell, which crumbles and often tastes stale when it's from a box. It's easy to nestle the tender pork and slaw in the naan, making it a perfect hand-held snack for parties!
I have the feeling that these Pulled Pork Tacos will not only be a favorite at get-togethers, they'll be enjoyed by Matt and me when it's just the two of us at home. After all, there's a good chance we'll have some naan in the pantry on any given night!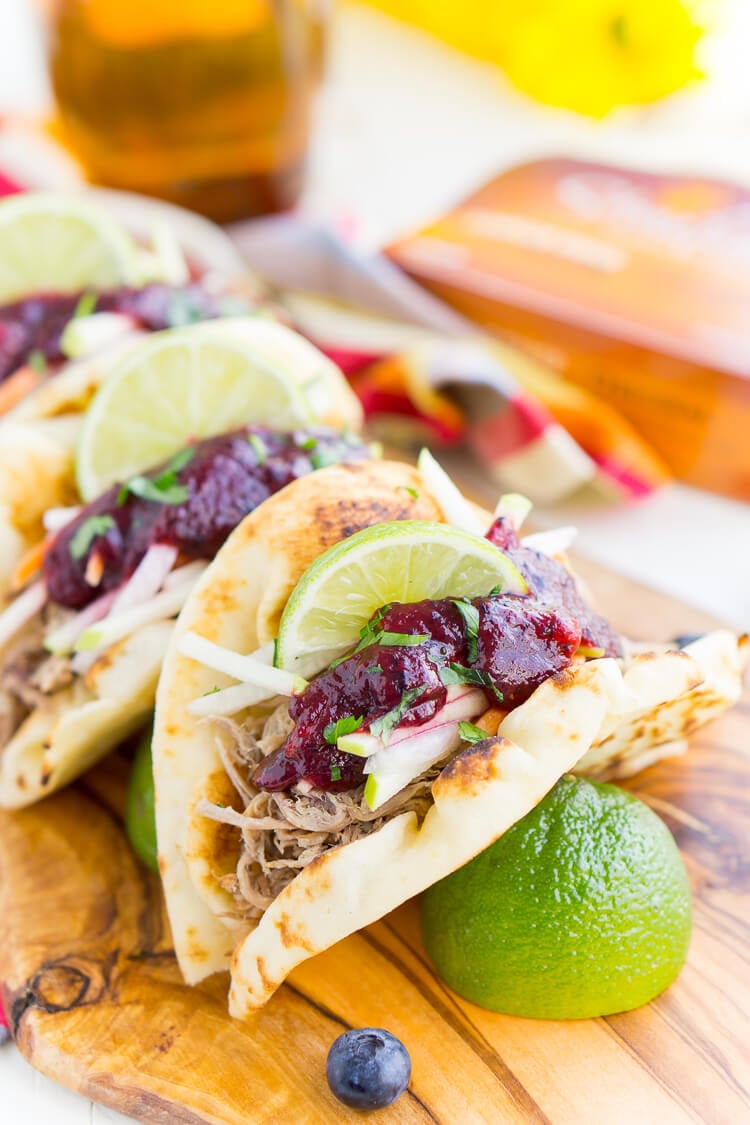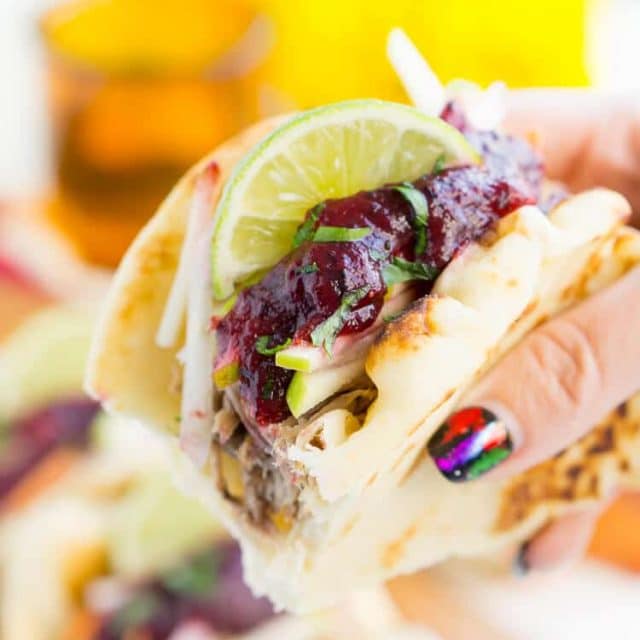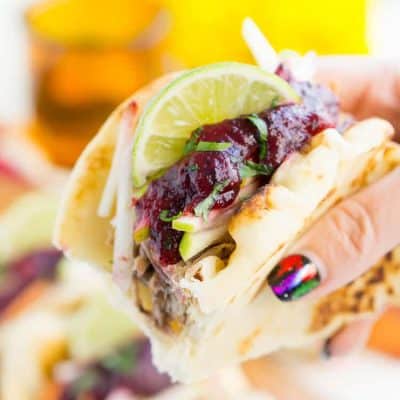 Pulled Pork Tacos and Blueberry Barbecue Sauce
Pork shoulder is slow cooked in root beer, topped with an apple slaw and homemade blueberry barbecue sauce all nestled in delicious naan bread!
Ingredients
Pulled Pork
4 pound pork shoulder or butt
2 teaspoon salt
1 teaspoon black pepper
12 ounces root beer
16 Stonefire Original Mini naan
Instructions
Pulled Pork
Rub the pork butt all over with salt and pepper, sear the sides in a pan over medium-high heat and place in a slow cooker. Pour in the root beer and cook on low for 8 hours.Once pork is done cooking, shred it up.
Slaw
Chop apple and jicama up into matchstick pieces similar in size to the carrots, toss with apple cider vinegar, salt, sugar, and olive oil.
Blueberry Barbecue Sauce
Add all ingredients to a blender or food processor and blend until smooth. Can be made ahead of time and stored in an airtight container in the fridge for up to 5 days.
Assembly
Microwave the Stonefire Original Mini naan bread for 10 to 15 seconds, gently cup and fold the bread, bubble-side in, and fill with pulled pork, slaw, and barbecue sauce. Garnish with cilantro if desired.
Check out these other great game day recipes!
Reader Interactions
Share your thoughts!
Love this recipe? Share your thoughts with me below and leave a review! And don't forget to connect on your favorite social platform below!