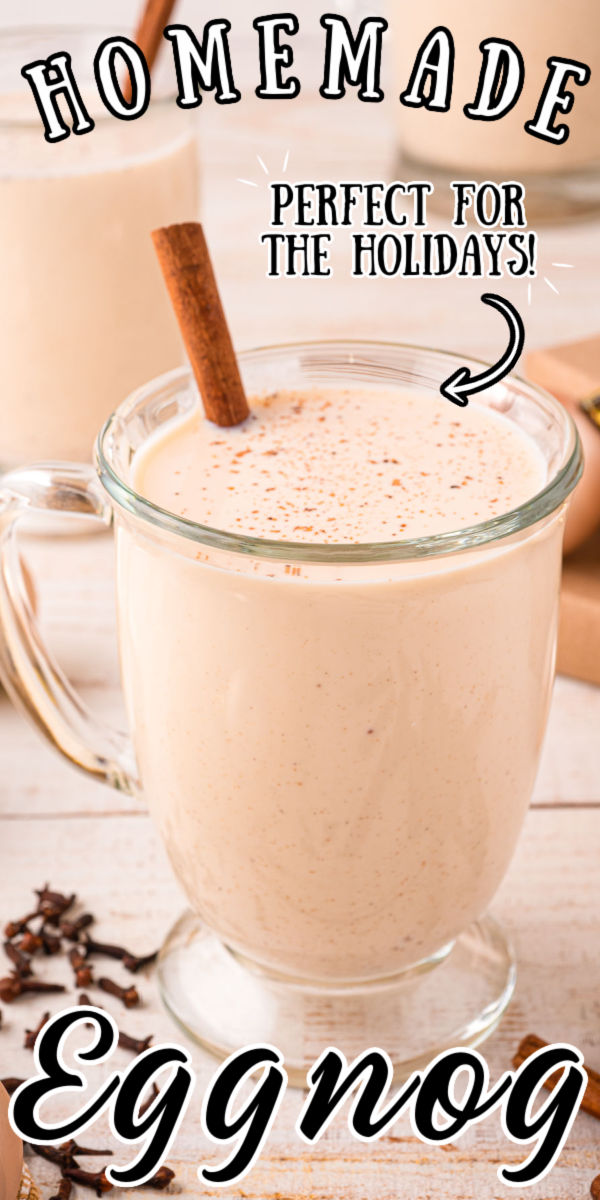 This Homemade Eggnog is a classic holiday tradition that really hits the heart of the holidays. With delicious spices, this recipe is a hit among friends whether using alcohol or not, it is one tasty drink recipe you can't resist.
This recipe will walk you through how to make this holiday beverage from scratch and with step-by-step photos!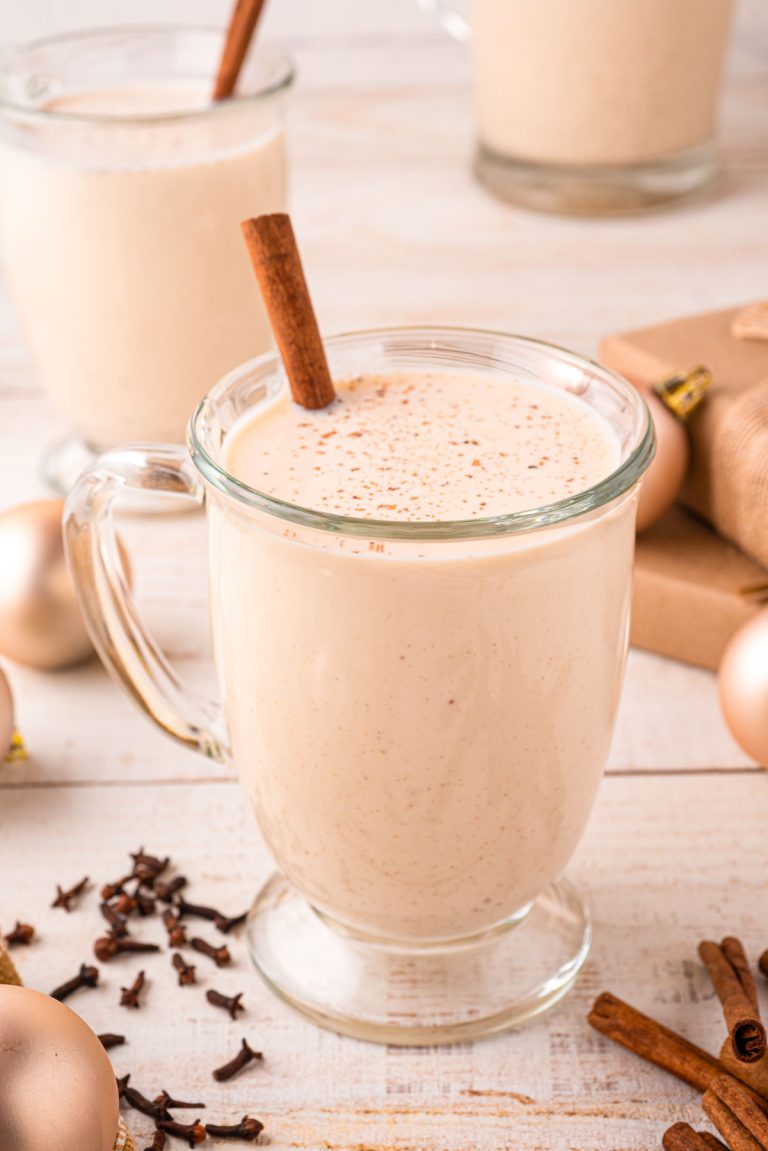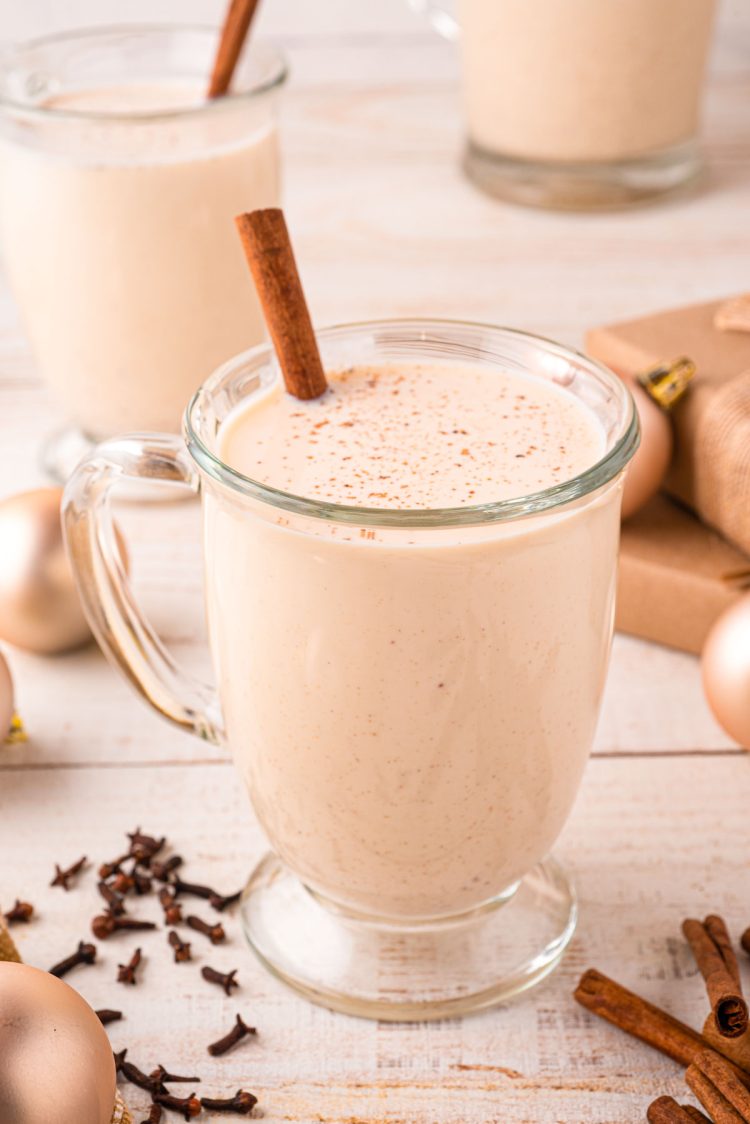 Eggnog is one of those recipes that people love during the holiday season, whether they buy it from the store or make their own homemade version like this one. You truly can never go wrong with a good Eggnog Recipe.
Another great thing is that you can use any leftover Eggnog to bake with, which we regularly do around this time of year because Eggnog desserts are absolutely amazing.
And if you really want to try something new, use this recipe to make my Eggnog Hot Chocolate!
EGGNOG INGREDIENTS
Although Eggnog Drinks look daunting to people they really are a simple recipe to whip up with easily available ingredients.
The base of this recipe is, of course, the eggs, you'll need 6 of them! Then you'll need granulated sugar, milk, half and half, rum and vanilla extracts, and whole cloves and cinnamon sticks.
You'll also want to do yourself a favor and use freshly grated nutmeg for the best flavor!
You can choose to spike it with rum or use the rum extract as we do in this recipe. The choice is really up to you and what kind of guests you are serving.
HOW TO MAKE HOMEMADE EGGNOG FROM SCRATCH
The base of the recipe starts off by whisking together the eggs and sugar until light in color. This is an essential part of the recipe so don't skip it!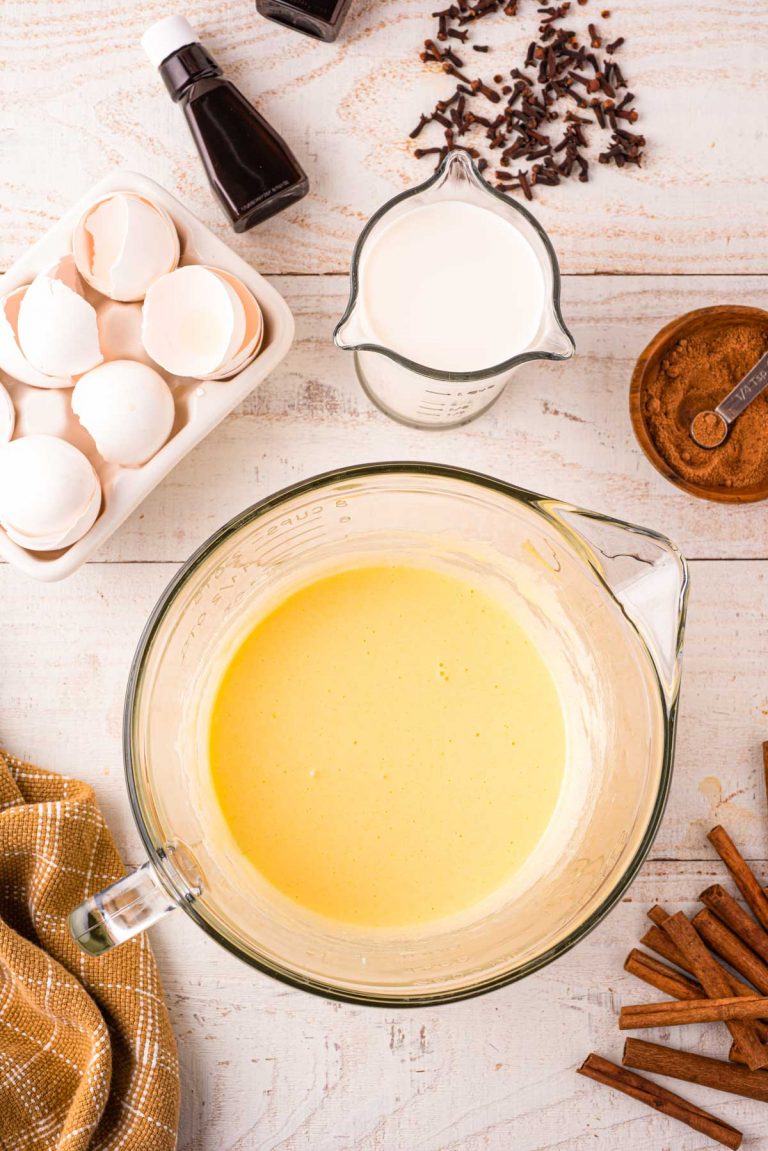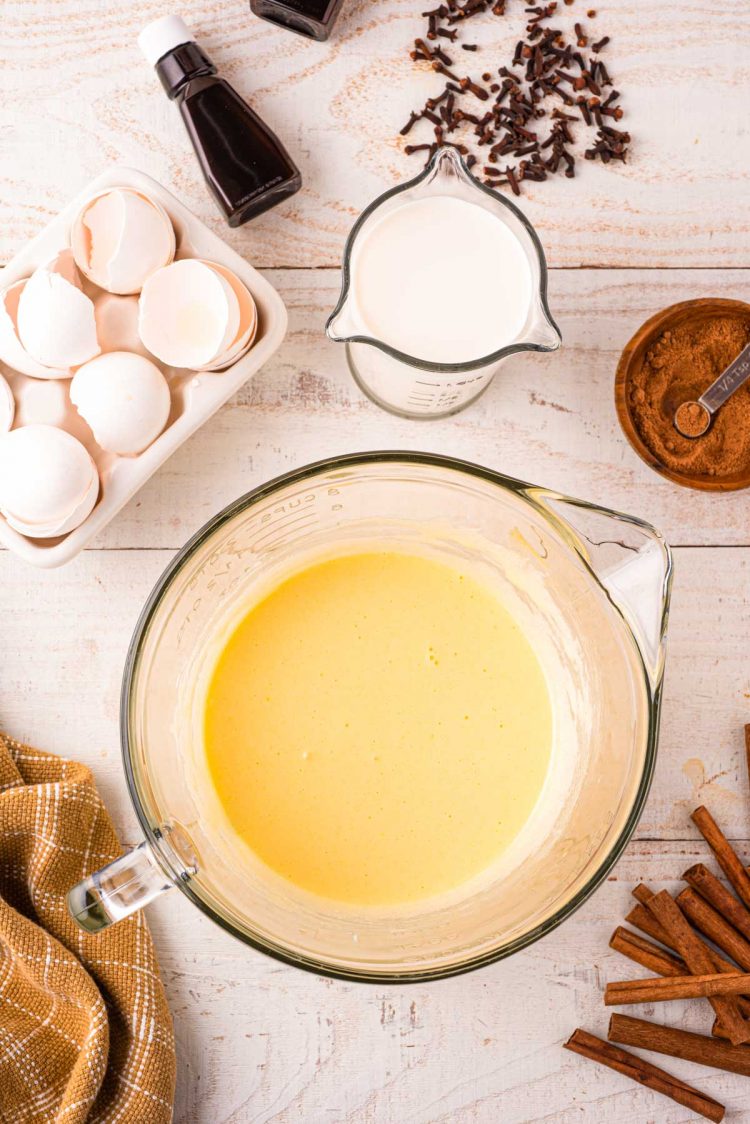 You then heat your milk, cinnamon sticks and and cloves together in a saucepan until it is barely boiling.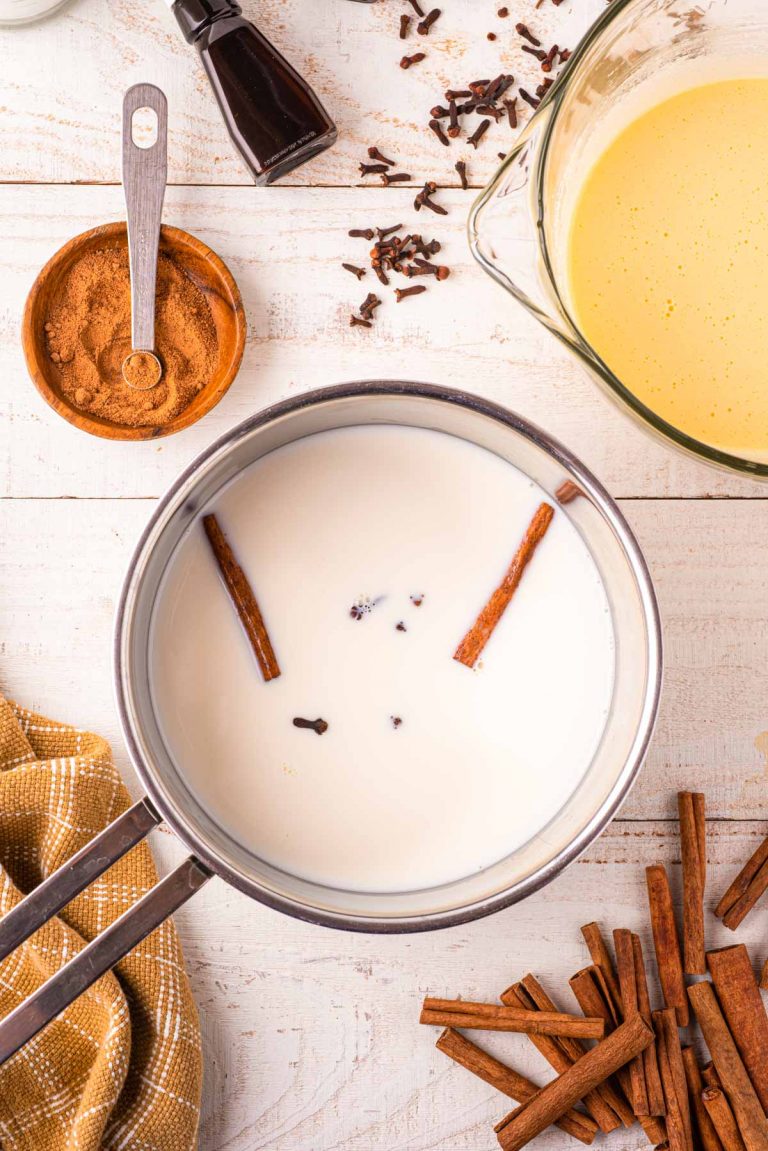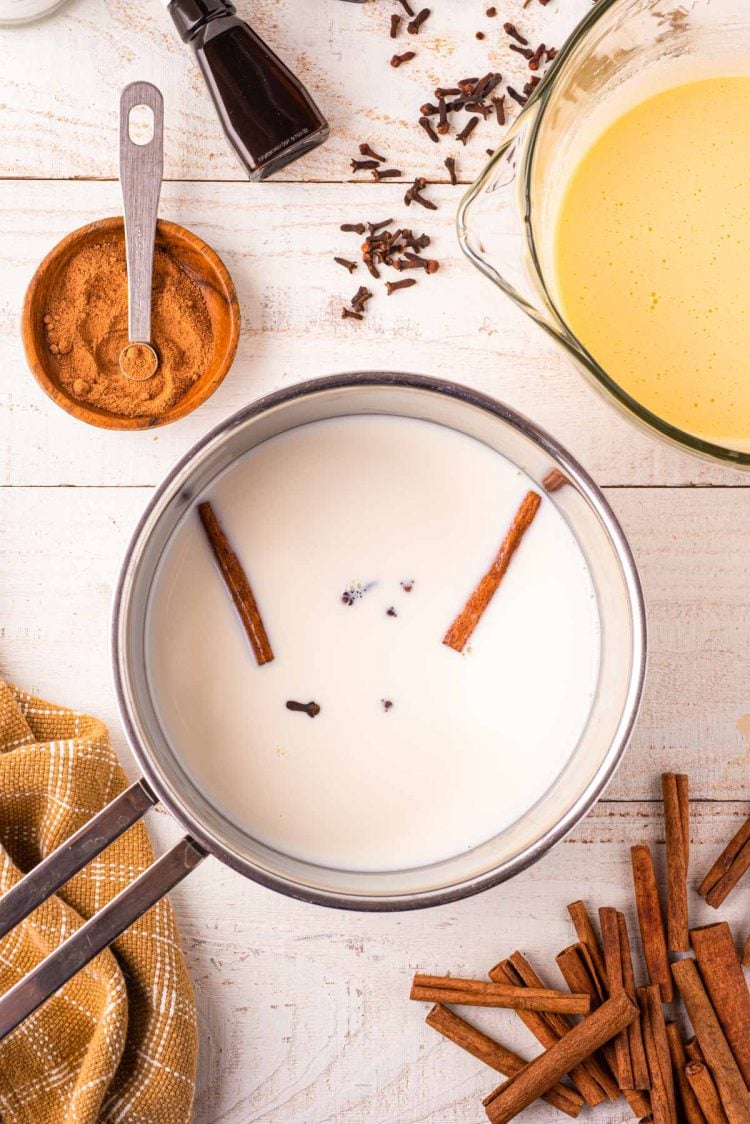 Then gradually add a little bit of the liquid to your egg and sugar mixture, and whisk together to temper the eggs.
RECIPE NOTE: You will want to temper this so it does not cook the eggs or you will end up with a curdled and chunky finished product.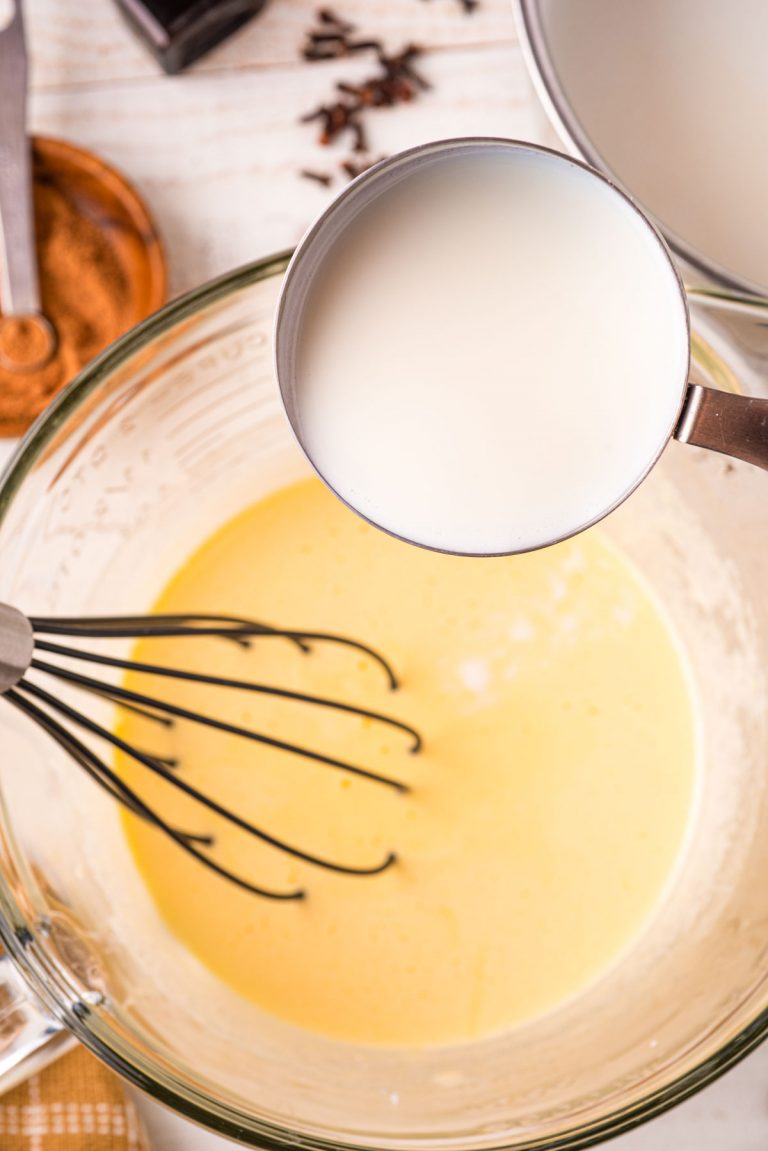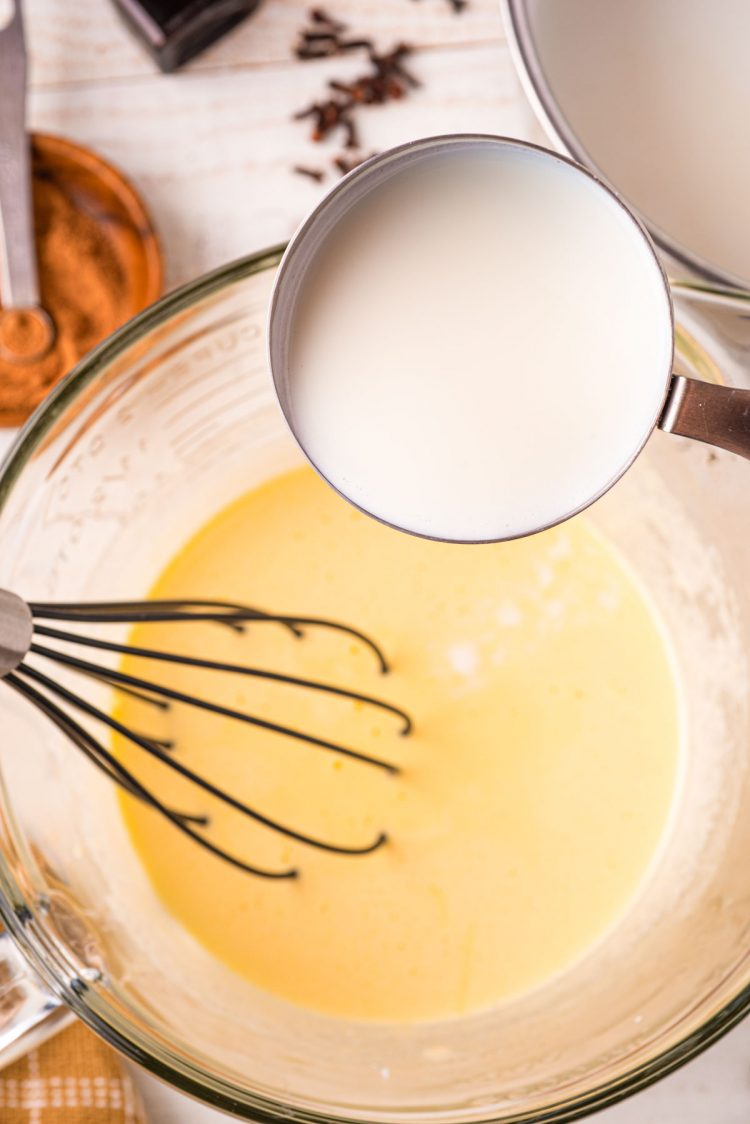 Whisk the egg mixture back into your saucepan and whisk continuously for about 3 minutes until everything is smooth and combined.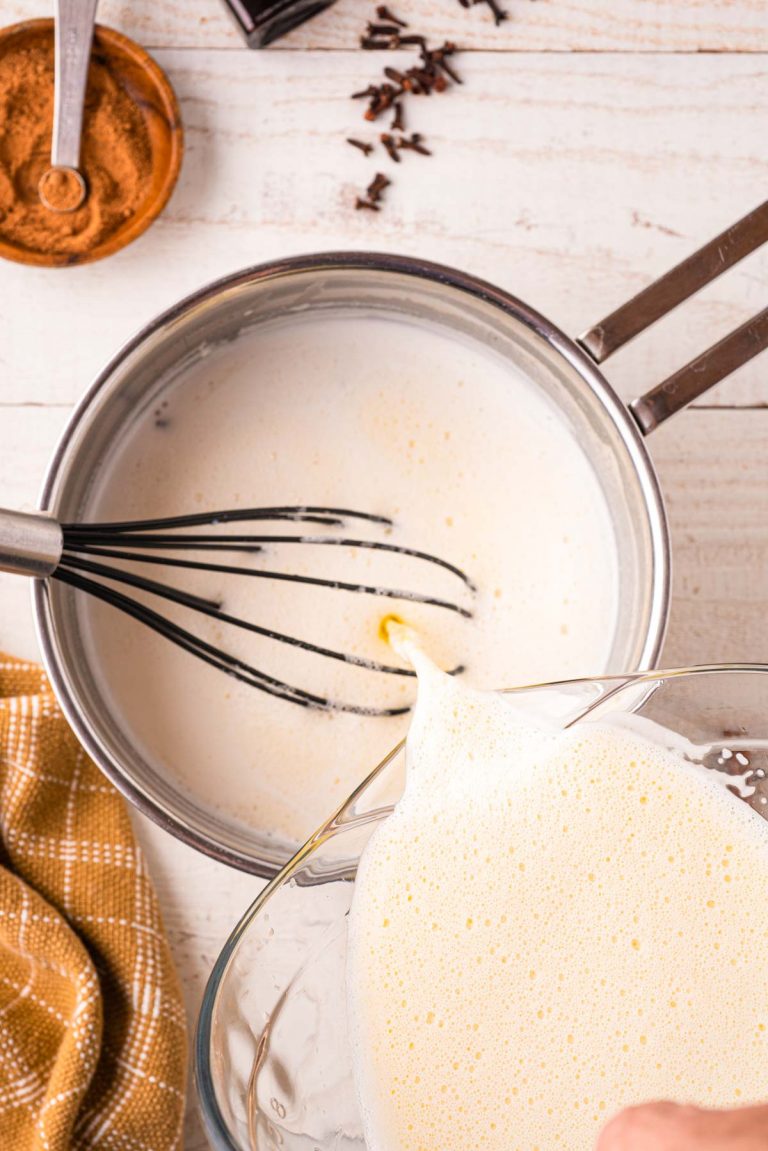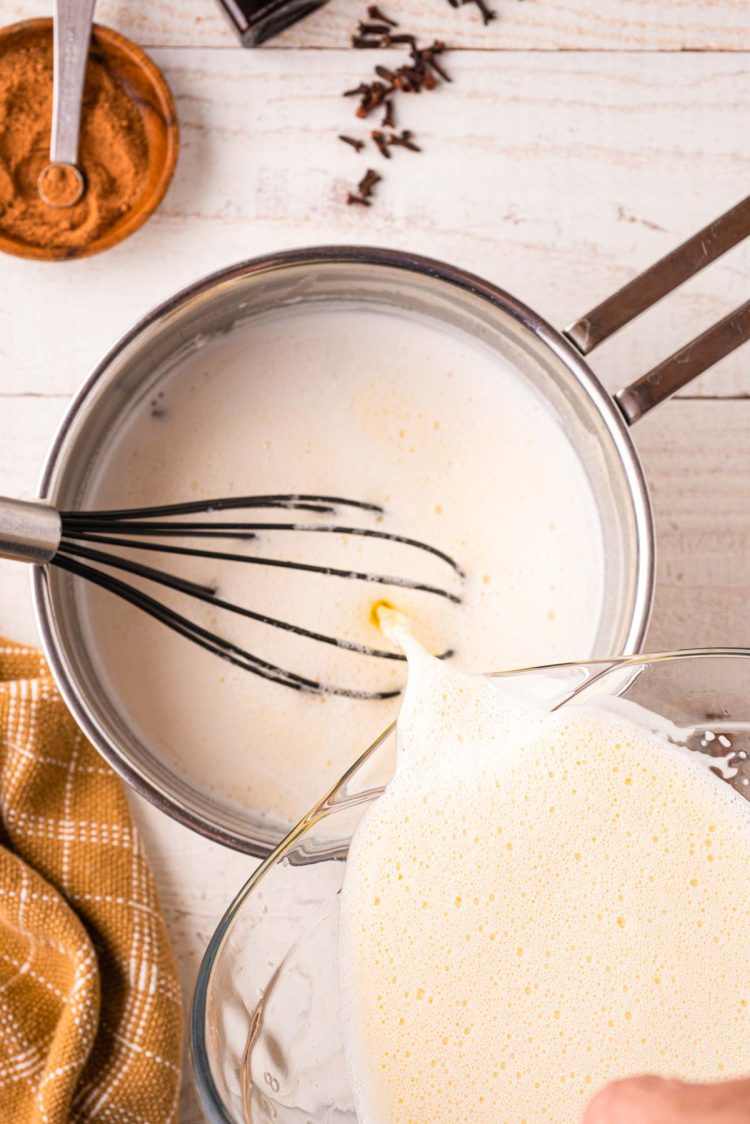 You will then strain your mixture and discard your cinnamon and cloves and let chill.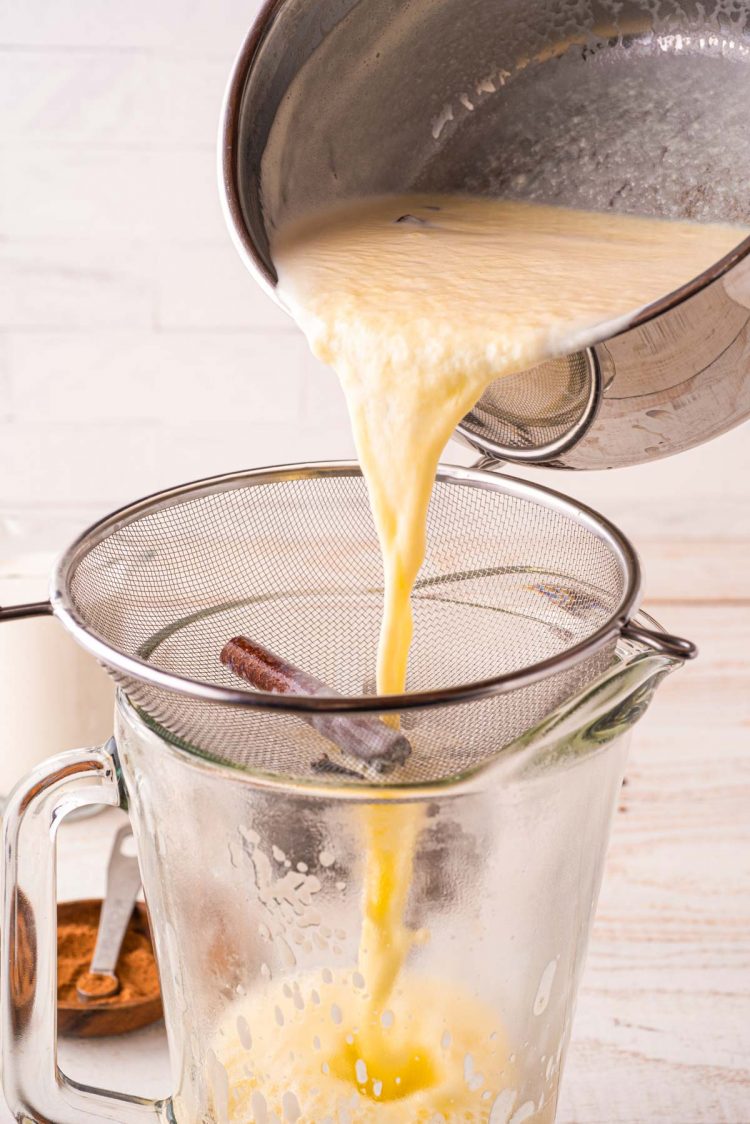 Once chilled you can add in the half and half cream, vanilla extract, rum extract, and nutmeg. Then pour into serving glasses and enjoy!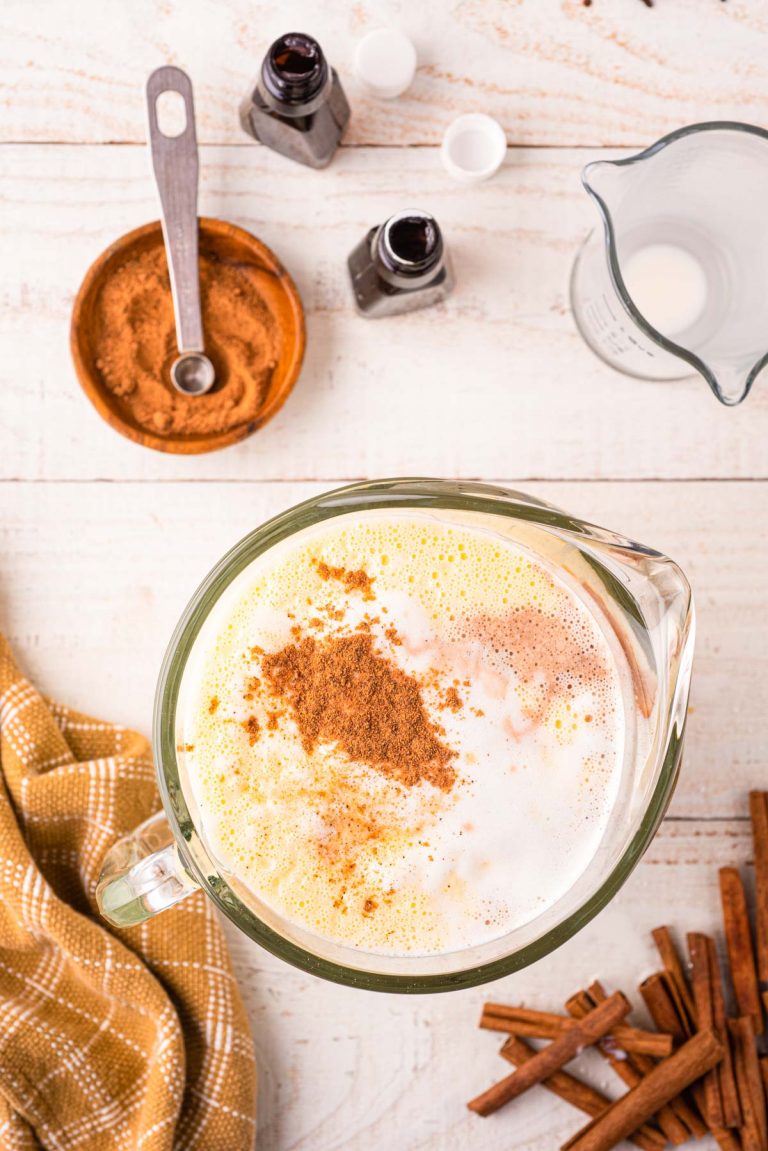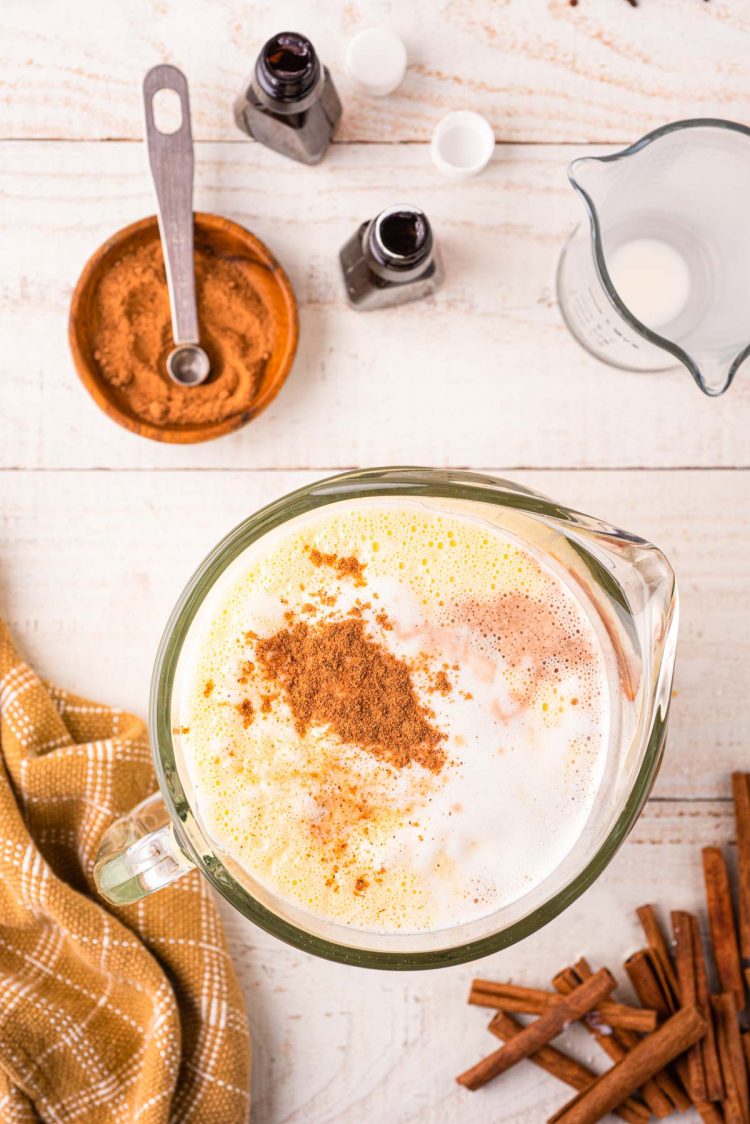 This Is one of our favorite drinks to make during the holiday season, we always have a pitcher sitting out for people to serve themselves.
We often make a double batch because everyone we know loves this homemade recipe, so we never have to have any leftovers.
No special glasses needed for this recipe, just some simple cute barware to make it look pretty, some cinnamon stick and maybe a bottle of rum to spice it up a little Eggnog Cocktail if they please.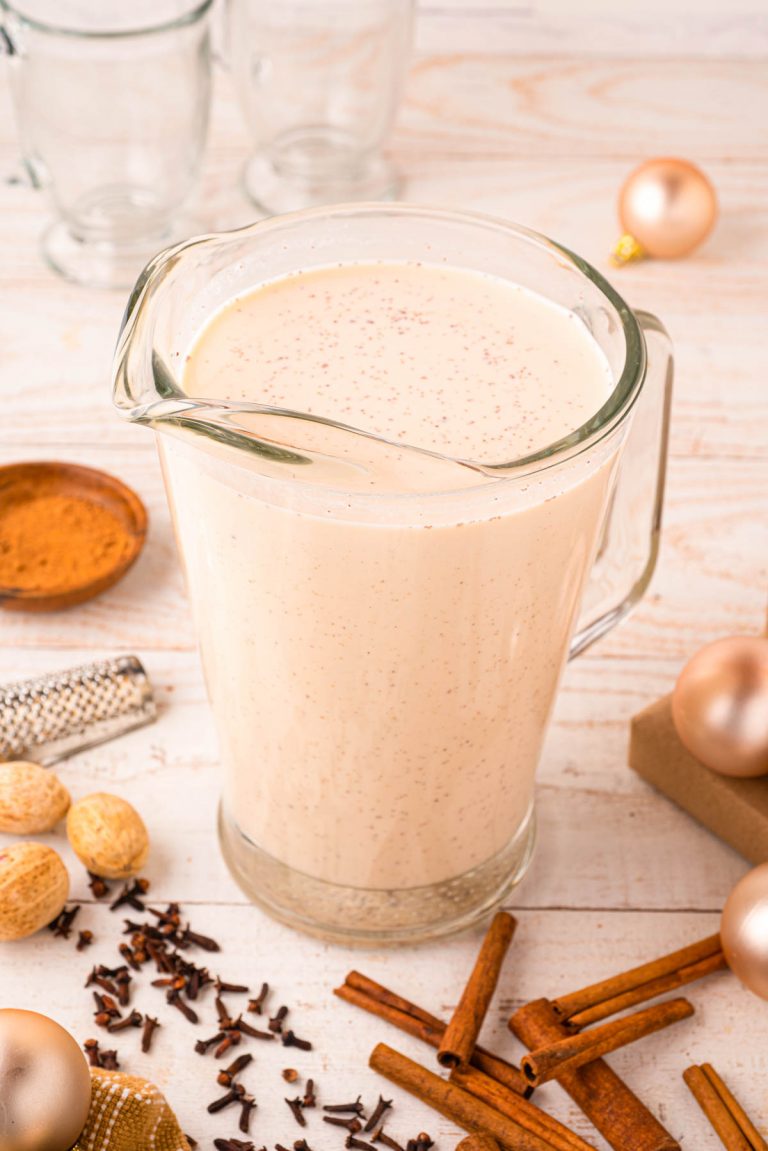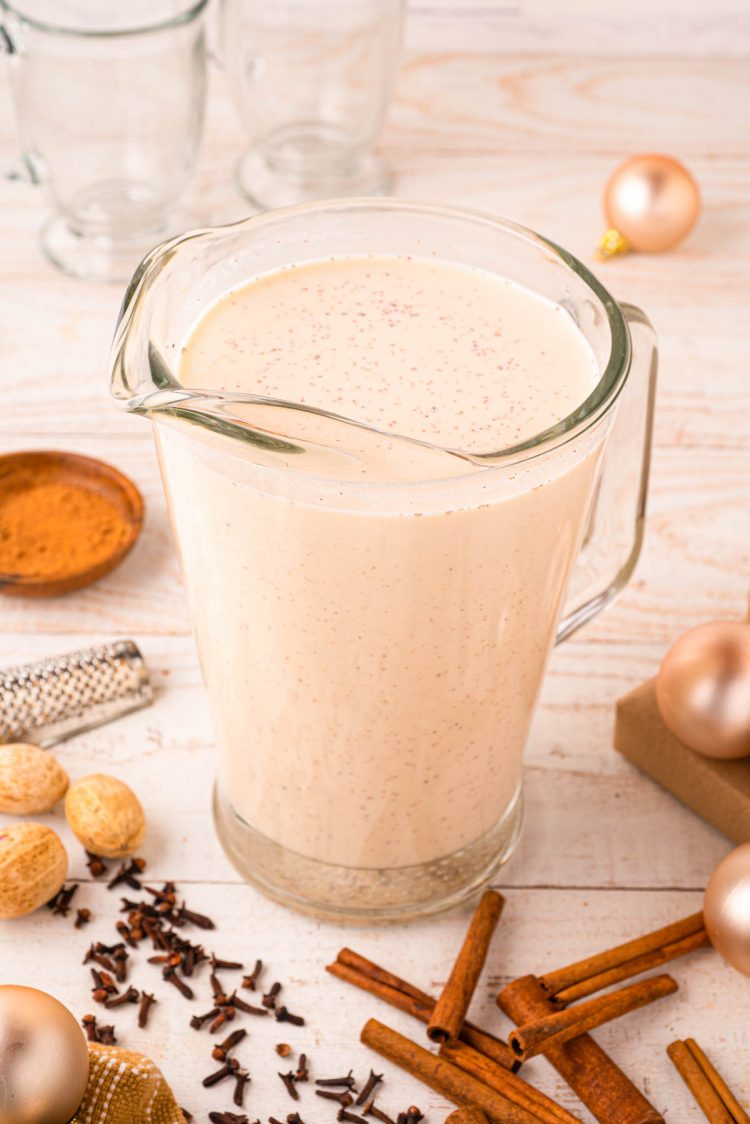 FREQUENTLY ASKED QUESTIONS:
Is Homemade Eggnog safe?
Yes, it absolutely is. Using eggs in a drink recipe does not always run the risk of getting salmonella. You'll want to make sure that your mixture reaches at least 160 degrees F using a digital kitchen thermometer if you have one.
Can I spike my Eggnog?
Absolutely yes, a lot of Eggnog Recipes already contain rum in them, this one just contains rum extract, so you can omit the extract, add a little extra vanilla, and then pour in some rum.
What alcohol can I use?
If you are wanting to spike your Eggnog then I suggest the traditional rum, but people have also been known to use bourbon or rye whiskey as well, it is really a personal preference.
What if I don't have half & half?
You can use equal parts milk and heavy cream as a substitute.
How to store:
You can safely store this recipe in the refrigerator, we usually wrap our pitcher with plastic wrap. This should last up to around 2 to 3 days, but I wouldn't go over that time frame.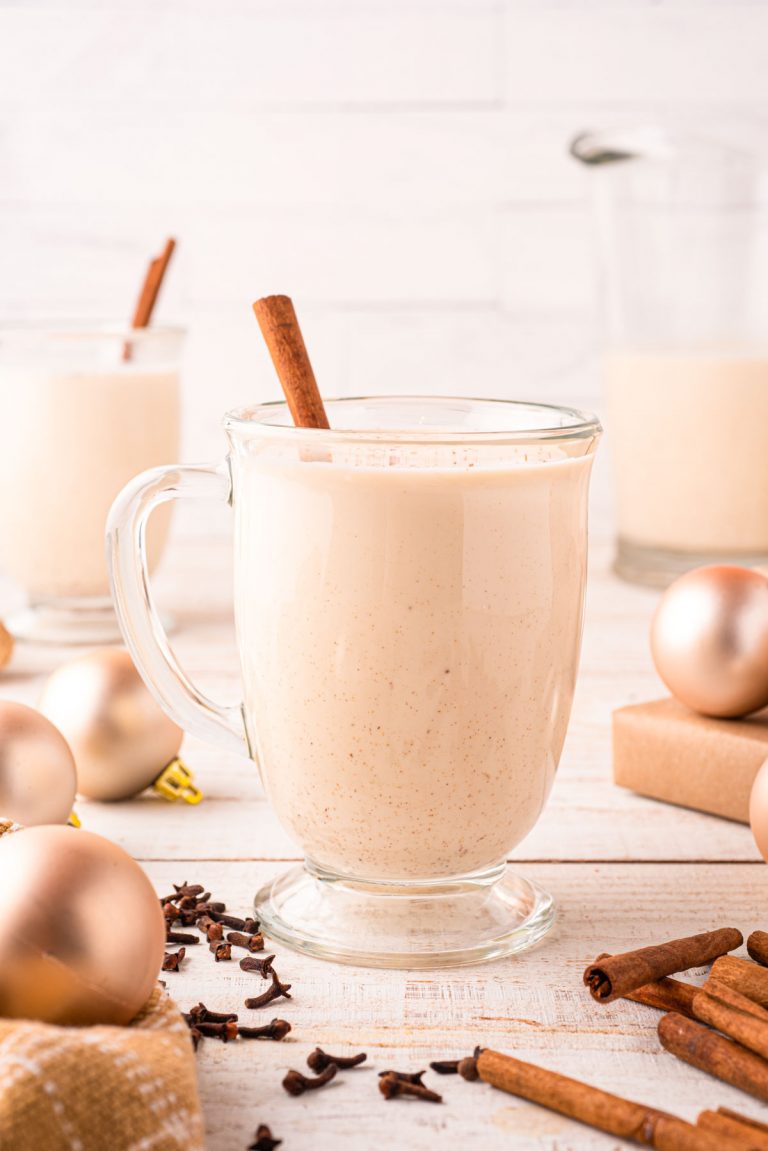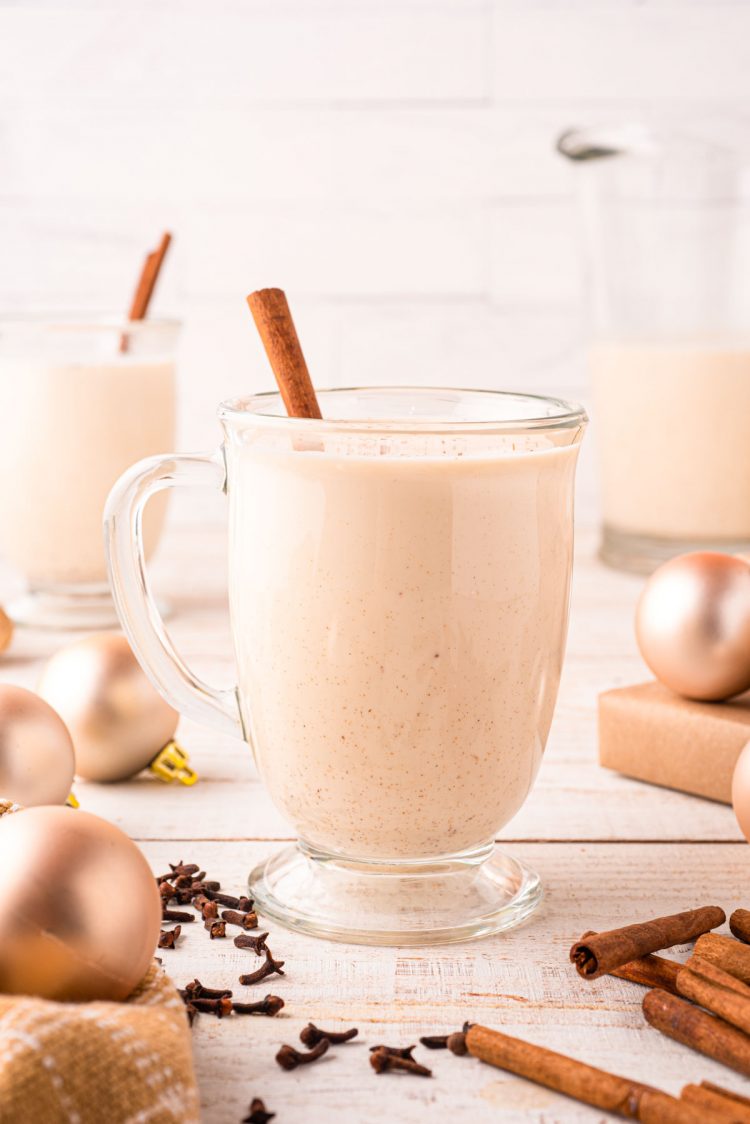 GARNISH IDEAS:
Cinnamon Sticks
Sprinkle of cinnamon or nutmeg on top
A dollop or two of whipped topping
A drizzle of caramel to set off a different flavor experience
OTHER EGGNOG RECIPES:
Homemade Eggnog
Pin It For Later
Click the button above to save this delicious recipe to your board!
👋 Let's Connect!
If you've tried this recipe, please let me know how you liked it in the comments below and leave a review; I love hearing from you! And don't forget to tag me – @sugarandsoulco – on Instagram and Pinterest with your photos or join our Busy Family Recipes Facebook Community and share them there!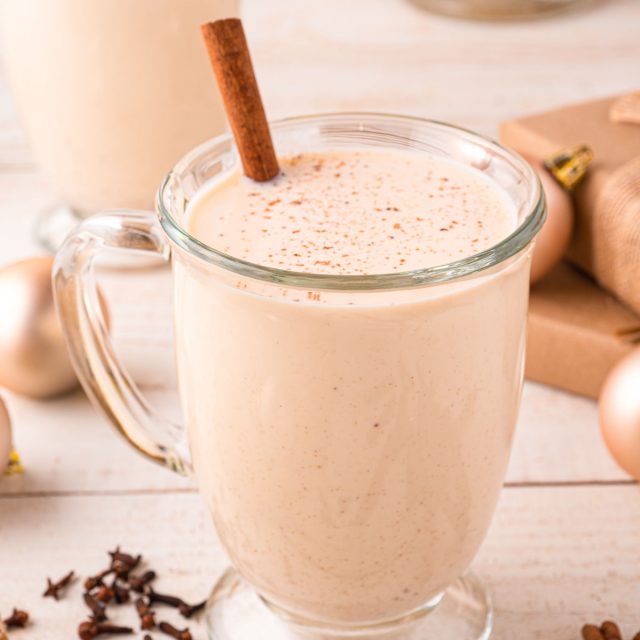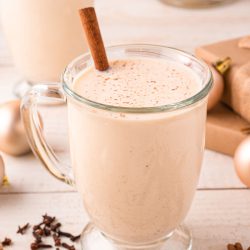 Homemade Eggnog
This Homemade Eggnog is a classic holiday tradition that really hits the heart of the holidays. With delicious spices, this recipe is a hit among friends whether using alcohol or not, it is one tasty drink recipe you can't resist.
Equipment
Large mixing bowl (preferably with a pouring spout)

Medium saucepan

Whisk

Glass jug
Instructions
In a large mixing bowl with a pouring spout, whisk together the egg yolks and the sugar until light in colour.

In a medium saucepan over medium heat, heat the milk together with the cinnamon sticks and the whole cloves until barely boiling.

Slowly whisk ½ cup of the hot milk mixture into the egg mixture to temper the eggs. Continue whisking ½ cupsful of the hot milk into the egg mixture until about half of the milk has been added.

Whisk the tempered egg mixture back into the saucepan and cook over medium heat for 3 minutes whisking constantly.

Strain the mixture from the saucepan into a glass jug. Discard the cinnamon sticks and the whole cloves.

Allow to cool, about one hour, and then stir in the half & half cream, the vanilla extract, the rum extract and the nutmeg.

Chill in the refrigerator. Serve in glasses with a sprinkle of nutmeg on top.
Notes
Traditionally, eggnog is made with raw eggs. I love the taste of eggnog but the idea of drinking raw egg makes me a bit squeamish. This is a cooked version; it's basically a thin egg custard base that has cream and spices added to it.
Store in the refrigerator for up to 3 days. I like to cover the jug with plastic wrap so that odors from other items in the fridge don't affect the taste of the eggnog.
This is a non-alcoholic version. If you would like to add alcohol – rum, cognac, and bourbon are all good choices. Just omit the rum extract when you're making the eggnog and stir the alcohol in before you serve it.
Nutrition
Calories:
344
kcal
Carbohydrates:
36
g
Protein:
9
g
Fat:
19
g
Saturated Fat:
10
g
Cholesterol:
240
mg
Sodium:
96
mg
Potassium:
286
mg
Fiber:
1
g
Sugar:
31
g
Vitamin A:
767
IU
Vitamin C:
1
mg
Calcium:
257
mg
Iron:
1
mg