This Eggnog Cheesecake Recipe is enclosed in a sweet shortbread cookie crust and laced with whisky and nutmeg for the ultimate holiday dessert!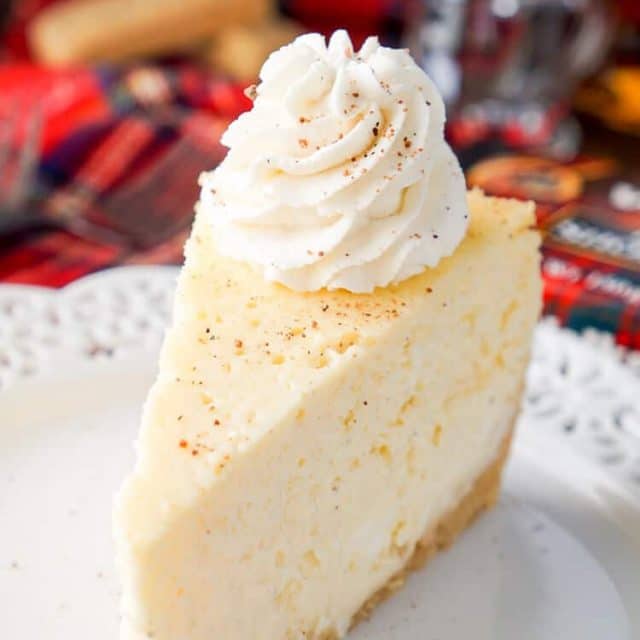 Eggnog Cheesecake fills a sweet shortbread cookie crust with a creamy cheesecake filling that's flavored with scotch whisky, eggnog, and nutmeg! Each slice is topped with a 4-ingredient fluffy whipped topping!
Grab another eggnog treat like my Eggnog Bread that's also perfect for those wintertime holidays and gatherings!
This Whisky Eggnog Cheesecake Recipe is not to be missed this holiday season! The combination of seasonal eggnog, smoky scotch whisky, and cozy nutmeg makes for a dessert that fits the holiday occasion seamlessly!
Enjoy a slice surrounded by loved ones at the annual family Christmas party! Or save a slice to unwind with at home!
Enjoying A Slice Of This Eggnog Cheesecake!
Taste: Creamy eggnog and smoky whisky cheesecake filling fills a buttery shortbread crust! All that incredible flavor is held together with cozy nutmeg and a whisky-infused whipped topping!
Texture: Each bite has that pleasing cheesecake texture that we all look forward to! Thick, creamy filling with a crumbly crust and fluffy whipped topping!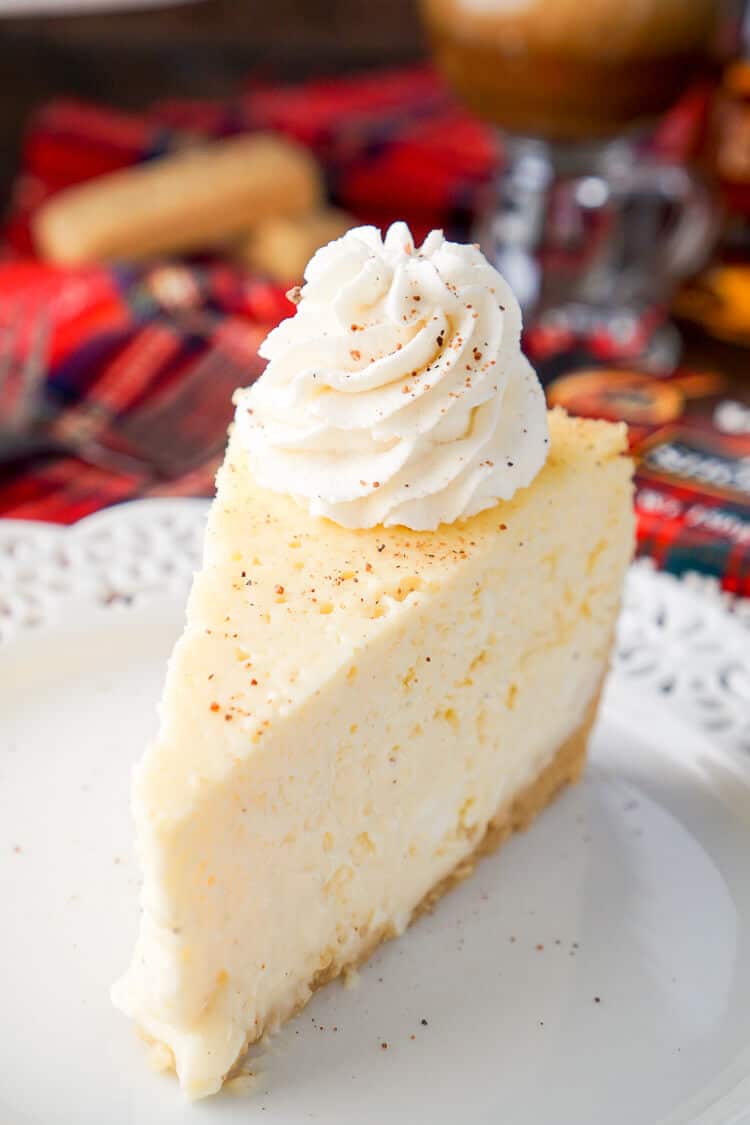 Eggnog was never something that appealed to me. It wasn't until college that I grew a liking for it, but now it's the flavor that defines Christmas for me.
I can't help but smile as the holiday spirit awakens inside me when it hits my taste buds for the first time each year. I love to enjoy the flavor in my Eggnog Hot Chocolate recipe as well as for breakfast in these Eggnog Waffles or Eggnog French Toast!
And you know I can't pass up the flavor in a slice of this Eggnog Cheesecake or Eggnog Pound Cake!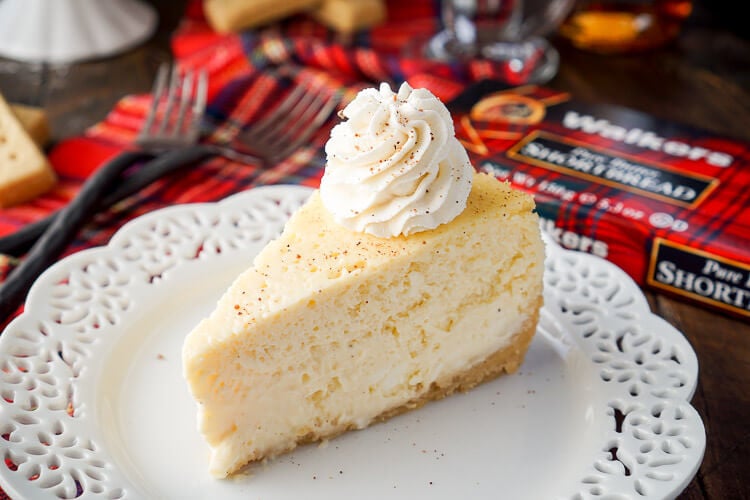 How To Make Eggnog Cheesecake
Making The Crust – For best crust results you want the shortbread cookies to turn into fine crumbs. This can be done with either a food processor or by just putting them in a Ziploc bag to crush with a rolling pin.
Sifting The Dry Ingredients – When making the filling, the powdered sugar, flour, and nutmeg get sifted together. This way the ingredients will get evenly spread throughout the filling and cut down on possible lumps throughout the cheesecake.
Water Bath For The Cheesecake – Giving this cheesecake a water bath ensures the edges don't brown too much, the center doesn't fall in, and it comes out wonderfully moist!
Chilling The Cheesecake – I prefer to chill my cheesecake for at least 8 hours or even overnight! To allow for this, I typically make this the day before I plan to serve it.
Piping On The Topping – For a nicer presentation, pipe the whisky whipped cream on with a fun piping tip!
Feel free to omit the whisky if desired. You could also use rum in it's place or a teaspoon of rum extract.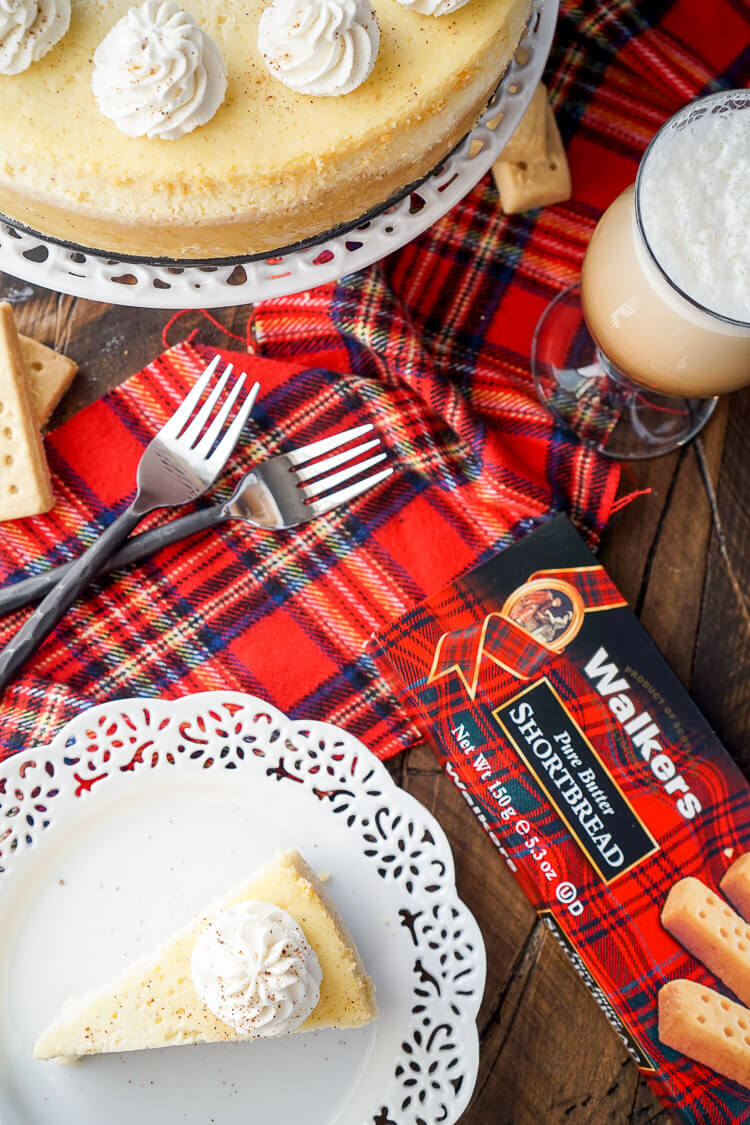 Creating A Leak Proof Water Bath For Your Cheesecake
No one wants to use up all of their ingredients and time making a cheesecake just to find out their water bath leaked! It'd be a total letdown!
To ensure your water bath doesn't leak you can tightly wrap your spring form pan with multiple layers of tin foil. That way if the first layer rips there are still a few extra layers protecting it!
Or the other option is to place the pan inside a Renyolds slow cooker liner! They're made to withstand heat and are waterproof as long as there are no tears in them.
Storage Instructions For This Eggnog Cheesecake
Store this Eggnog Cheesecake in the refrigerator tightly wrapped or in an airtight container for 3 to 4 days.
Can I Make This Eggnog Cheesecake And Then Freeze It To Enjoy Later?
Absolutely, I love doing that when I make this for holidays to save time! To make and freeze, simply follow these recipe instructions. Then flash freeze the cheesecake in the freezer on a baking pan.
Once it's frozen, tightly wrap it in plastic wrap and then a layer of tinfoil to help prevent freezer burn. Then store it in the freezer for up to 1 month.
When you're ready to enjoy it, just transfer the Eggnog Cheesecake to the refrigerator to thaw overnight.
Can I Make This Easy Eggnog Cheesecake Recipe With A Different Crust?
Though the shortbread crust definitely compliments the overall flavor of the cheesecake I understand that it may not be everyone's favorite. So, yes using a different crust is totally fine!
Feel free to try this cheesecake recipe with my Best Graham Cracker Crust Recipe or make a gingersnap crust!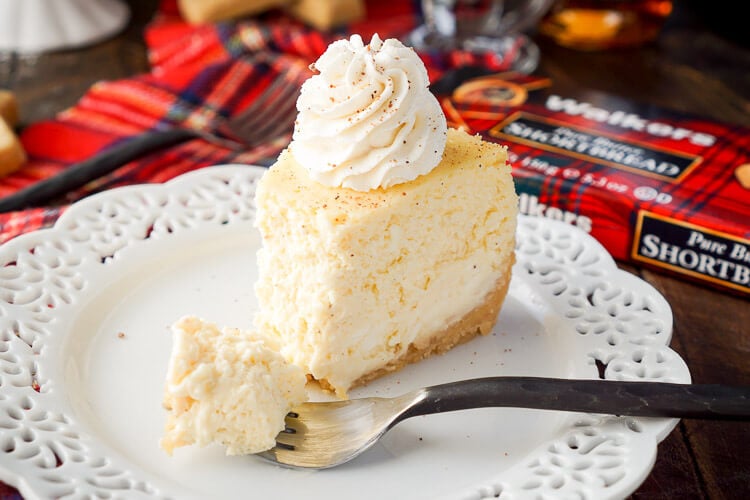 Let's Connect!
If you've tried this recipe, please let me know how you liked it in the comments below and leave a review; I love hearing from you! And don't forget to tag me – @sugarandsoulco – on Instagram and Pinterest with your photos or join our Sugar & Soul Show-offs Community and share them there, where you can join our recipe challenges and win prizes!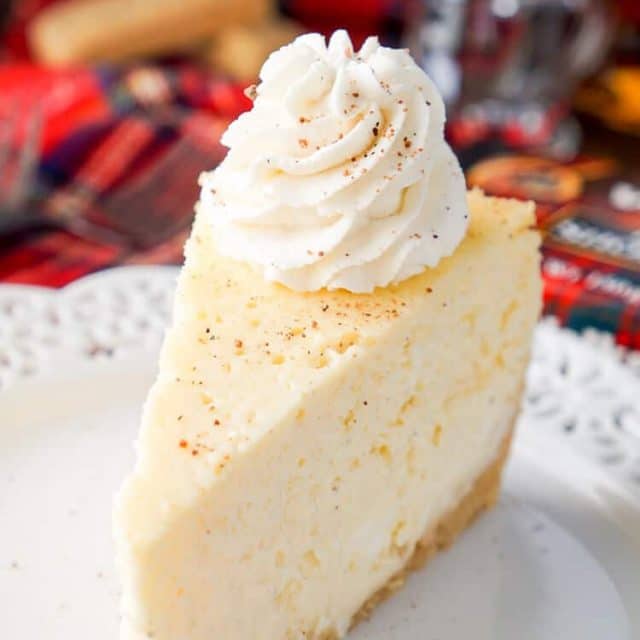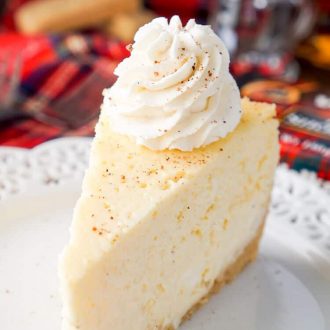 Eggnog Cheesecake Recipe
This Eggnog Cheesecake Recipe is enclosed in a sweet shortbread cookie crust and laced with whisky and nutmeg for the ultimate holiday dessert!
Instructions
Crust:
Preheat oven to 325 degrees F.

Add Walkers Shortbread to a food processor and pulse until fine crumbs form. You can also crush them by placing them in a large Ziploc bag and crushing them with a rolling pin.

Transfer crushed shortbread to a medium bowl and stir in sugar and melted butter, stirring until evenly coated and the mixture sticks together when pressed.

Transfer crust mix to a 9-inch springform pan and press the crumbs evenly into the bottom of the pan and about 1 to 1 1/2 inches up the sides.
Filling:
Beat cream cheese in a large bowl or stand mixer on medium speed until smooth, scrape down the sides.

Add eggs one at a time, beating between each addition, scraping down the sides as needed.

Gradually add in the eggnog and whisky.

Sift the confectioners' sugar, flour, and nutmeg together in a medium bowl, then fold it into the cream cheese mixture.

Pour filling mixture into the prepared crust.

Place springform pan in a larger baking dish and fill halfway up the pan with water.

Bake for 70 minutes.

Shut off the oven and bake for 60 additional minutes with the door closed.

Remove from the oven and transfer cheesecake to a cooling rack to cool completely.

Once cooled, transfer to the fridge to chill for 8 hours or overnight for best results.

Just before serving, whip the heavy cream, light brown sugar, and whisky until stiff peaks form.

Pipe onto cheesecake and dust with ground nutmeg.
Notes
The majority of the prep time is inactive cooling and chilling time.
If you are worried your springform pan may leak, follow this process to protect it.
Nutrition
Calories: 367kcal | Carbohydrates: 24g | Protein: 6g | Fat: 27g | Saturated Fat: 15g | Cholesterol: 135mg | Sodium: 214mg | Potassium: 138mg | Sugar: 22g | Vitamin A: 1065IU | Vitamin C: 0.3mg | Calcium: 98mg | Iron: 0.5mg