These Star Wars Blue Milkshakes are made with creamy vanilla ice cream and fresh blue milk from Tatooine.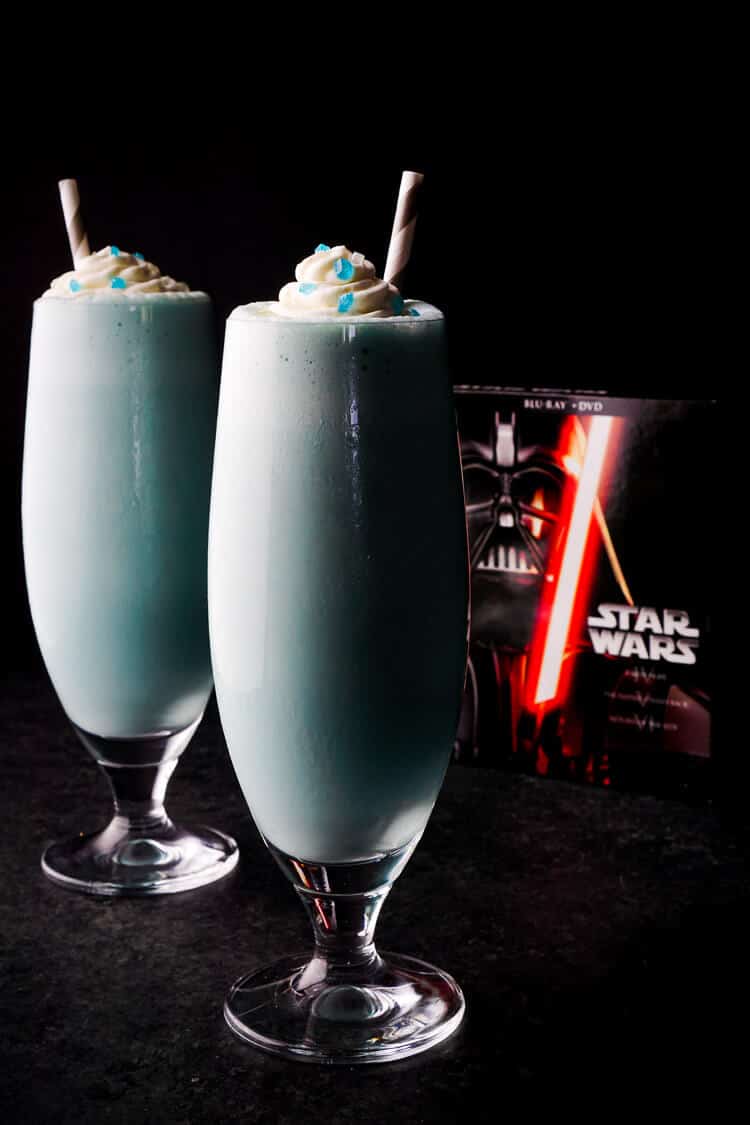 Matt and I have been together for more than ten years now and we both come from Star Wars loving families. Granted, only one of us grew up with a "Star Wars Room" in our house, no not a bedroom – an actual room dedicated to Star Wars memorabilia, but that's beside the point. We both grew up loving and watching Star Wars! With The Force Awakens coming out in just a couple weeks, it occurred to me that we've never actually watched the films together. That needed to change!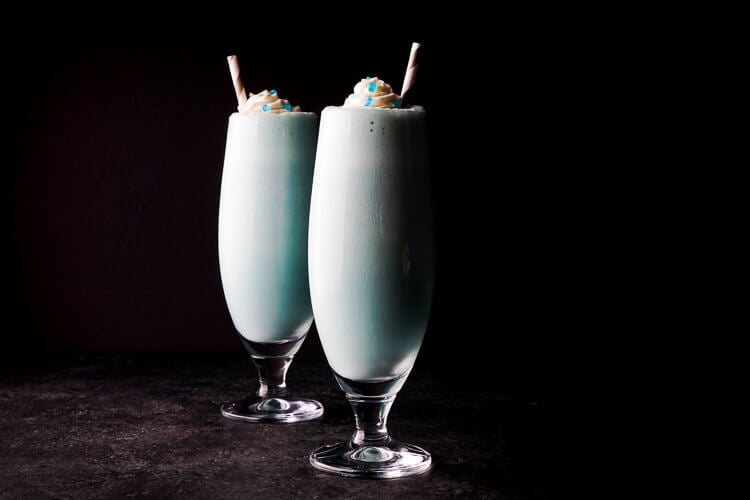 I decided to plan an impromptu Star Wars date night last night! I bought a Darth Vader 1000 piece puzzle and we worked on it while watching A New Hope. Matt picked up takeout and I made these Star Wars Blue Milkshakes for dessert. We quickly found out that Matt is NOT good at puzzles, but I've also never seen him quote a movie like he did with this one, and it made my heart smile.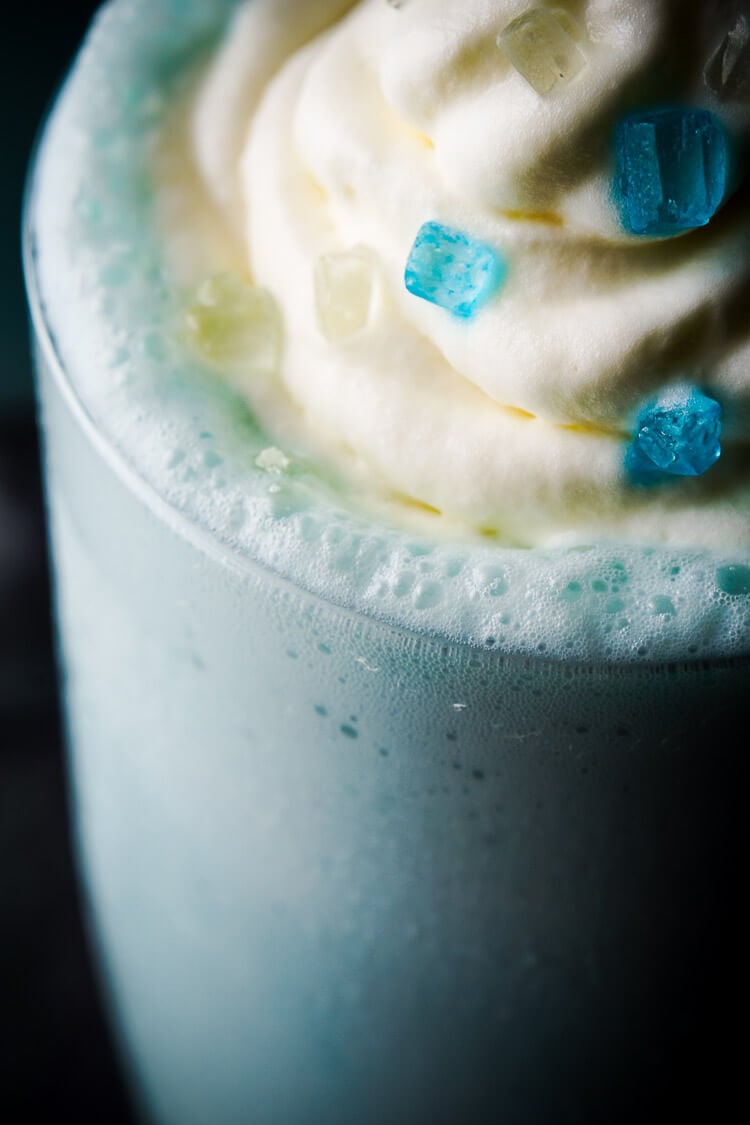 I had no idea what I was going to make for today's post, so I asked Matt for inspiration. He told me to make Blue Milk, as seen in the breakfast scene near the beginning of A New Hope. But I had a feeling you guys might feel a little cheated if I just dyed some milk blue and called it a recipe. But a milkshake – now that was just the thing! A delicious and creamy vanilla milkshake with some coloring, I felt like that was something we could all get behind.
Was I right? Do you love it? I'm totally beside myself with geeky happiness on my dark side, light side take with the photos! Who's as excited about The Force Awakens as we are? We got Matt's whole family tickets to a 10 p.m. showing at the IMAX and I can't wait! It's going to be so much fun!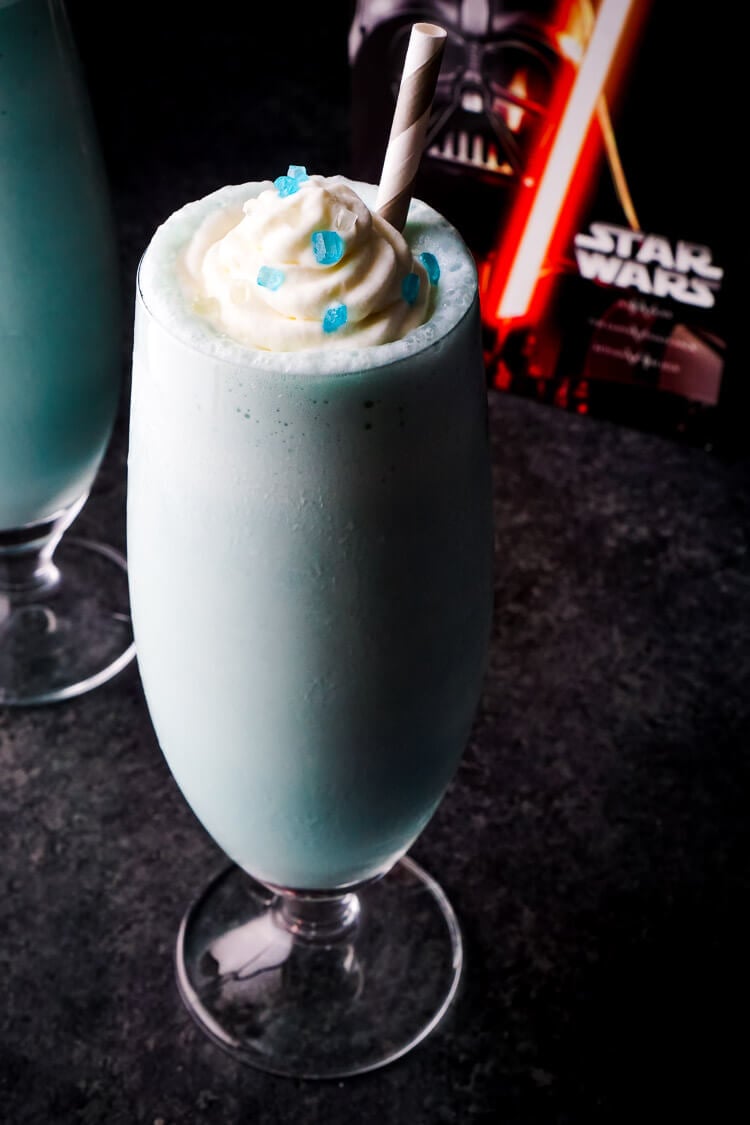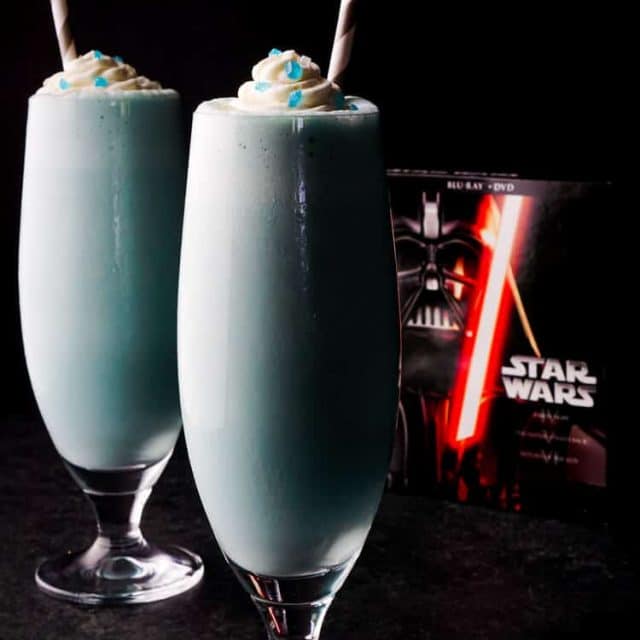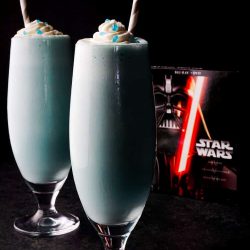 Star Wars Blue Milkshakes
These Star Wars Blue Milkshakes are made with creamy vanilla ice cream and fresh blue milk from Tatooine.
Ingredients
2

cups

milk

1

quart

of vanilla ice cream

1/2

cup

granulated sugar

1

tbsp

vanilla extract

15 - 20

drops blue food coloring

sprinkles
Instructions
Combine milk, ice cream, sugar, vanilla, and food coloring in a blender and pulse until smooth.

Pour into glasses and top with whipped cream and sprinkles.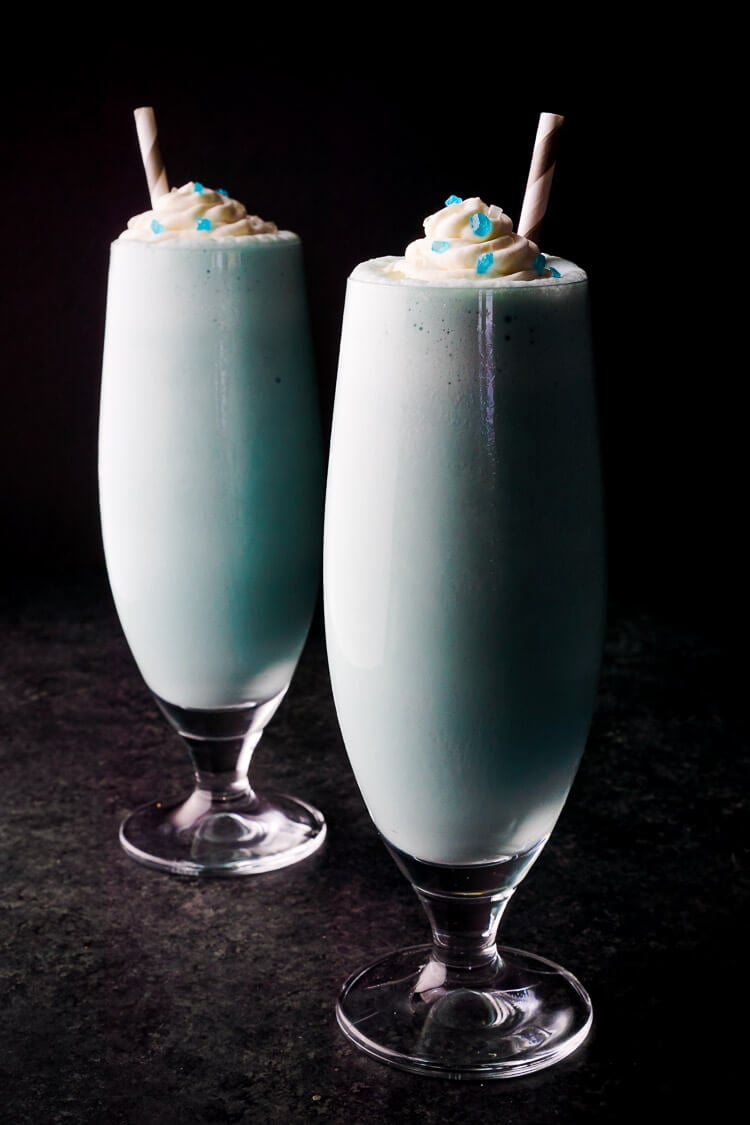 Fun Star Wars Ideas!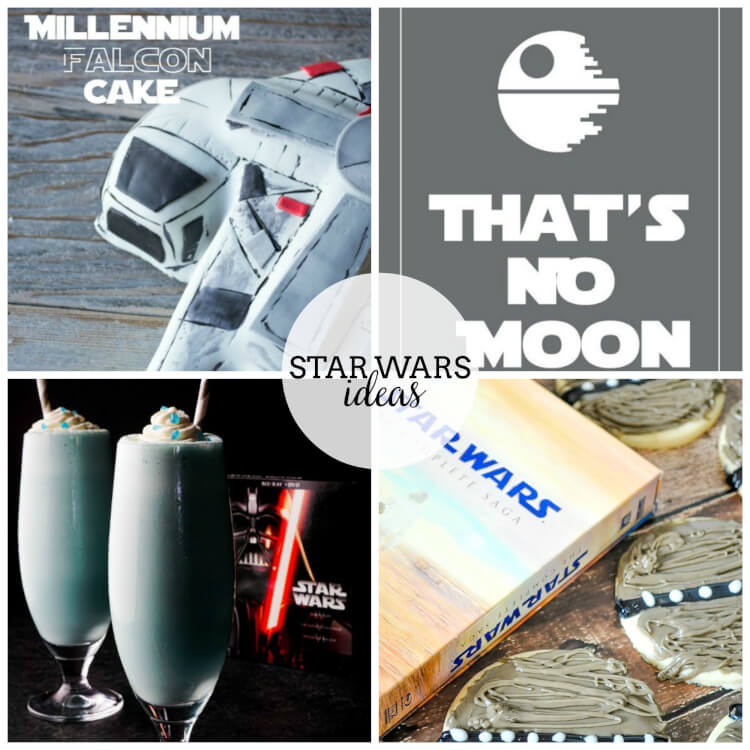 Enjoy these delicious recipes, perfect for a Star Wars movie night in or a Star Wars party, AND a fun free printable!
Scruffy Looking Wookie Cookies from The Love Nerds
Millennium Falcon Cake from Eat It & Say Yum
FREE "THAT'S NO MOON" STAR WARS-INSPIRED PRINTABLE from Merlot Mommy
Rogue One Cocktail – Jyn and Juice | Merlot Mommy
Star Wars Don't Eat Pete Printable | The Benson Street
Floating Yoda Cocktail | Homemade Hooplah
DIY Star Wars Shirts (Including a Rogue shirt) | The Love Nerds
Wood Burned Star Wars Utensils | Simply Made Fun
How to Sew a StuWars Toy | Sew What Alicia
Star Wars Hoop Art | Albion Gould