This floral and aromatic Lavender Latte is creamy, lightly sweet, and made right at home with espresso, milk, and homemade lavender simple syrup!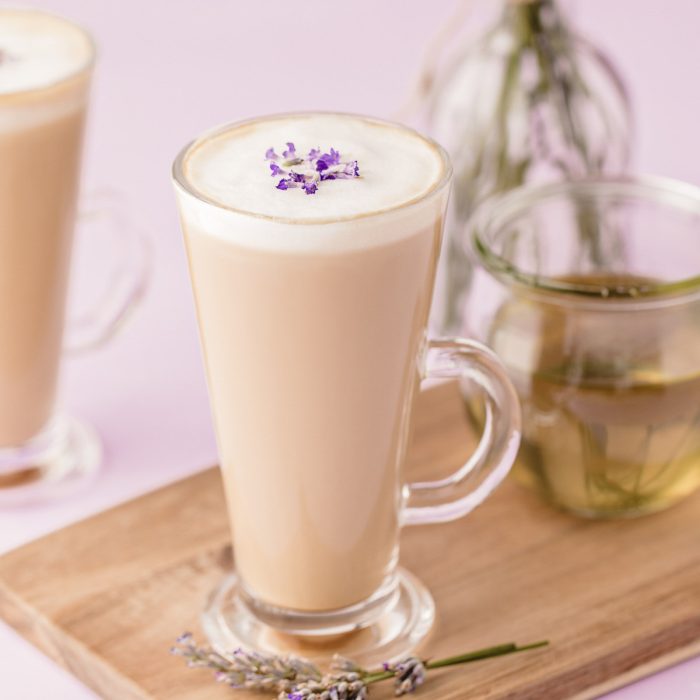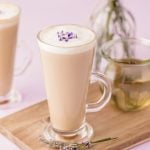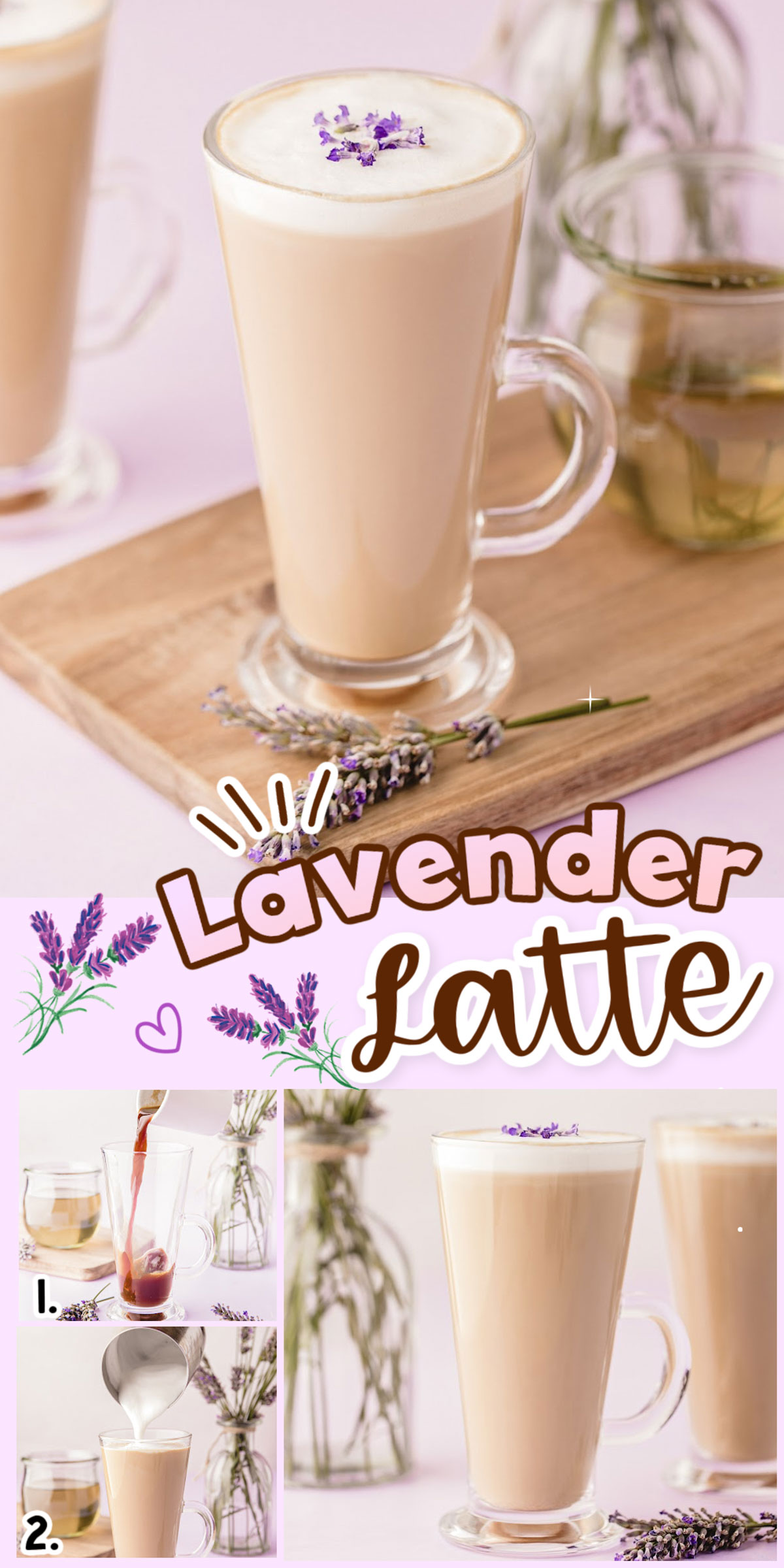 This Lavender Latte is a creamy hot drink that's made right at home with espresso, milk, and sweetened aromatic lavender syrup! Make this homemade floral latte in just 5 minutes!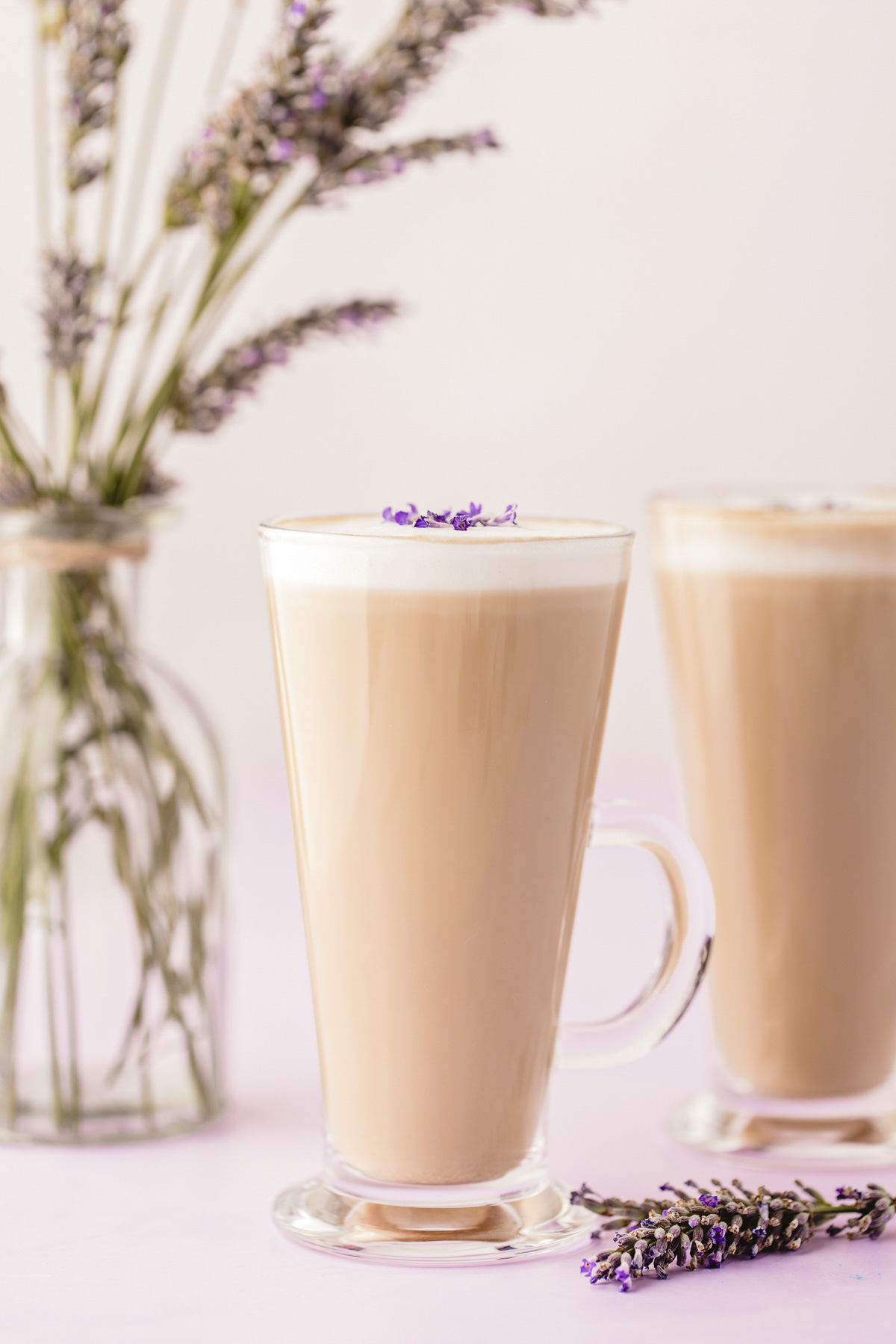 This Homemade Lavender Latte is so good that it will have you savoring every last drop! Luckily, it's made with only 3 ingredients in just 5 minutes, so it won't take long to make that second cup!
Its sweet, floral flavor and soothing aroma makes it the ultimate latte to have in hand when relaxing! Making it the perfect go-to when enjoying a slow start to your day or sinking into the couch at the end of a long day.
Brew up more lattes at home to relax with by checking out this London Fog Latte or Breve Latte! Both take just 5 minutes or less to prep!
Sipping A Lavender Latte
Taste: This latte has a smooth floral flavor that tastes like springtime. Its mild aroma makes it a lovely drink to sip on while still getting your coffee fix.
Texture: Traditionally served hot with a frothy milk foam on top, every sip of this drink is soothing and warming.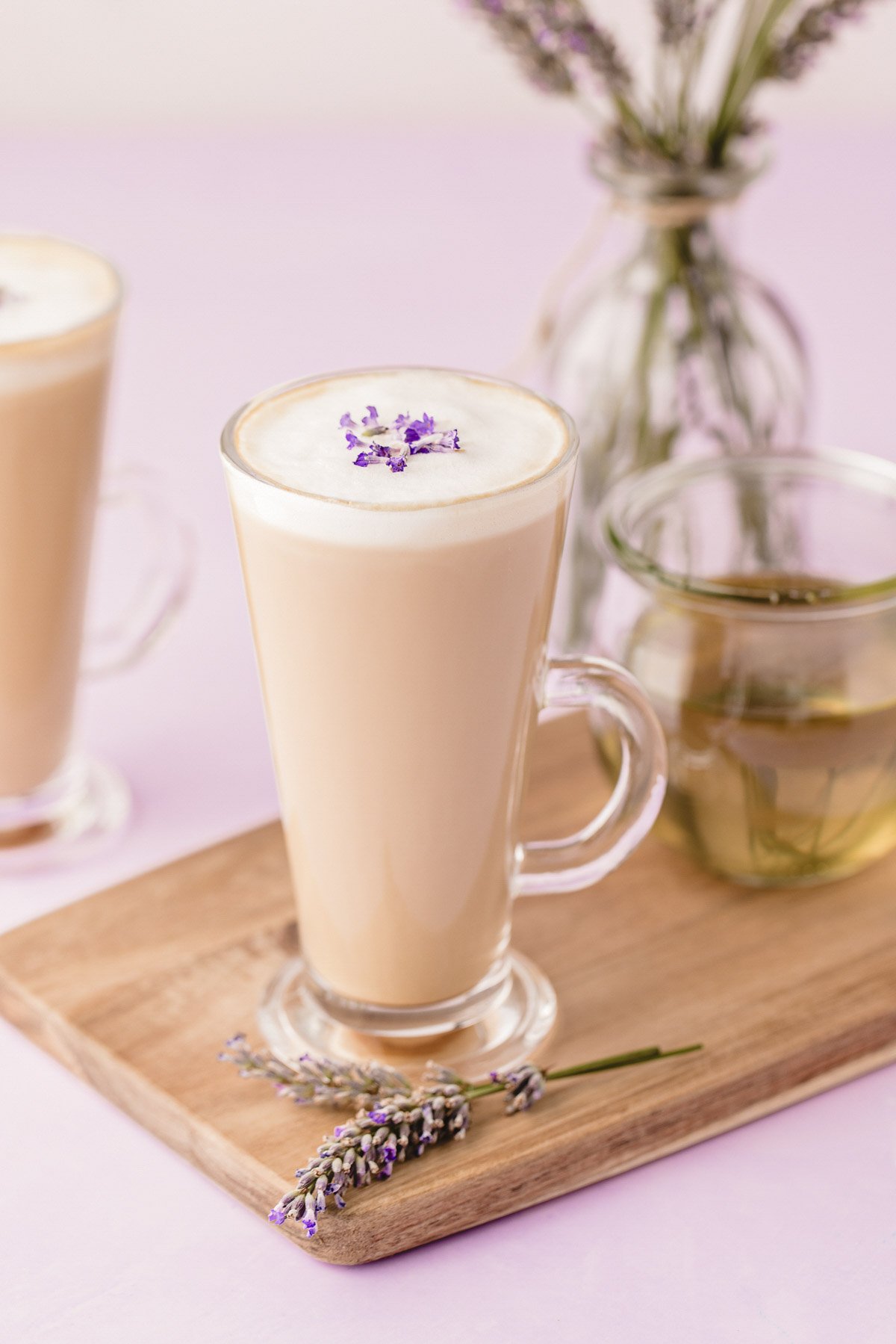 Lavender Latte Ingredients
Espresso
Lavender Simple Syrup
Milk
Lavender Syrup
The star ingredient in this delicious latte recipe is the sweetened lavender simple syrup!
As with anything, the taste of homemade lavender syrup just can't be beat and, in my opinion, tastes far less soapy than the store-bought syrups! The homemade syrup takes just 10 minutes to cook after combining sugar, water, and dried or fresh lavender buds.
Make sure to use food-grade lavender buds to make the syrup!
And if you would prefer to just buy your syrup, we've found that Torani Puremade Lavender has the best flavor.
The final result is an aromatic floral-infused flavored syrup that makes this latte shine! And since you'll have leftover lavender syrup, you can save it to make more lattes or mix it into other teas, lemonade, cocktails, or coffee.
You can even drizzle it on pancakes or ice cream or mix it into frosting to use on cakes and cupcakes!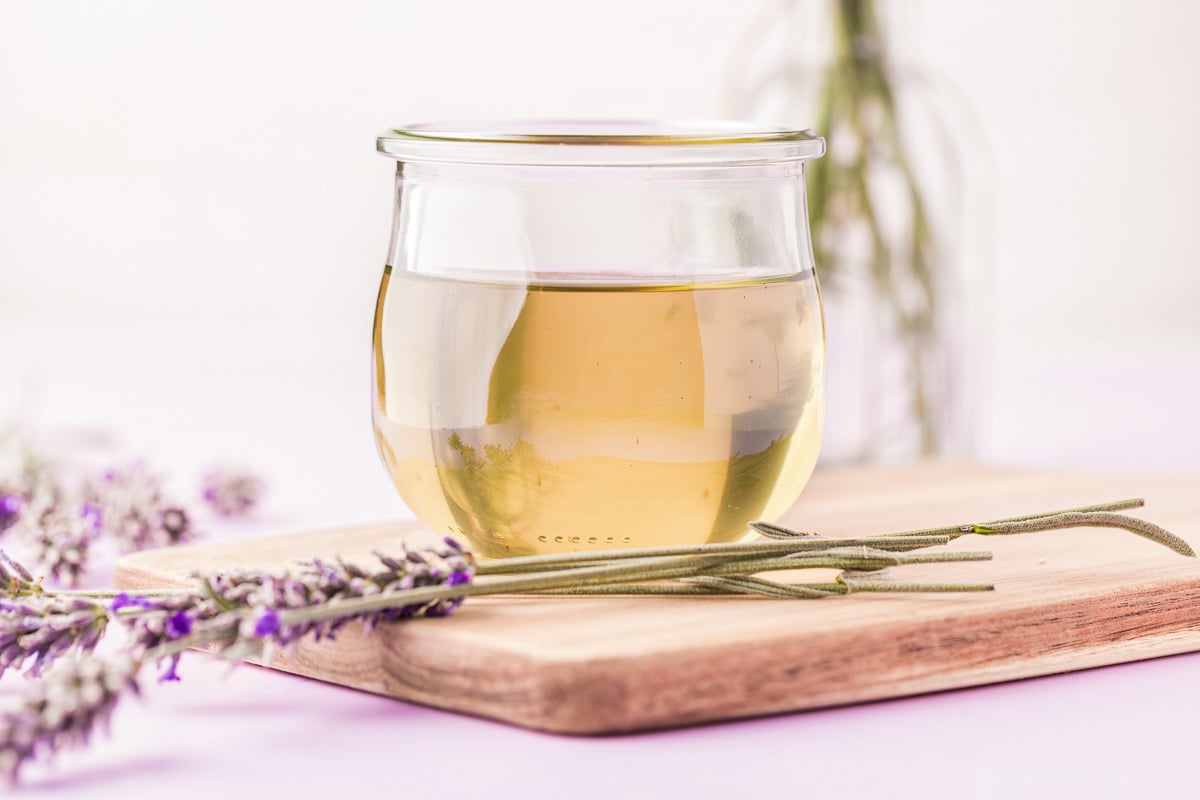 How To Make A Lavender Latte At Home
Step 1: Prepare the Lavender Simple Syrup at least 1 hour ahead of time so it's ready to use.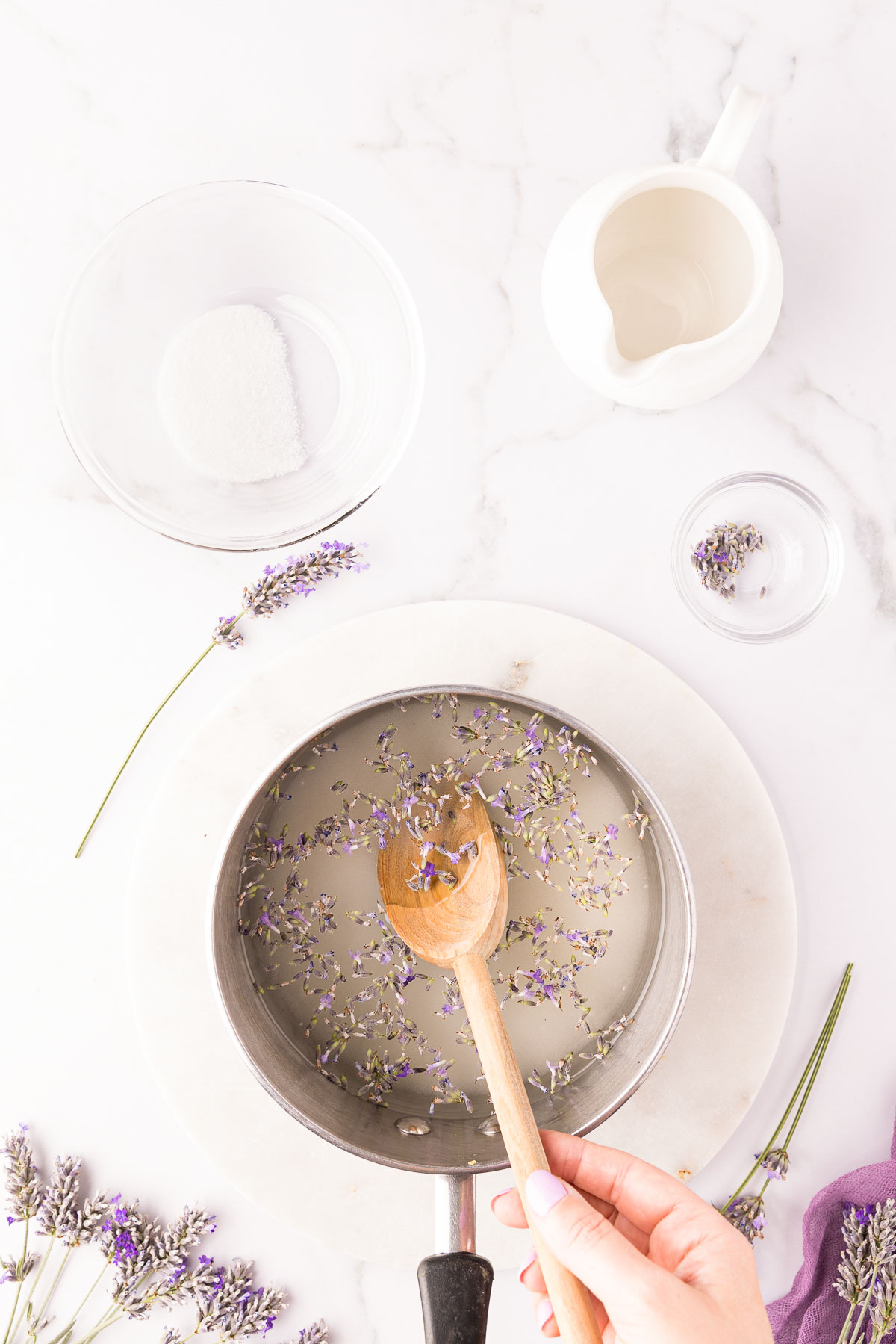 Step 2: Brew espresso and pour it into a coffee mug with some lavender syrup.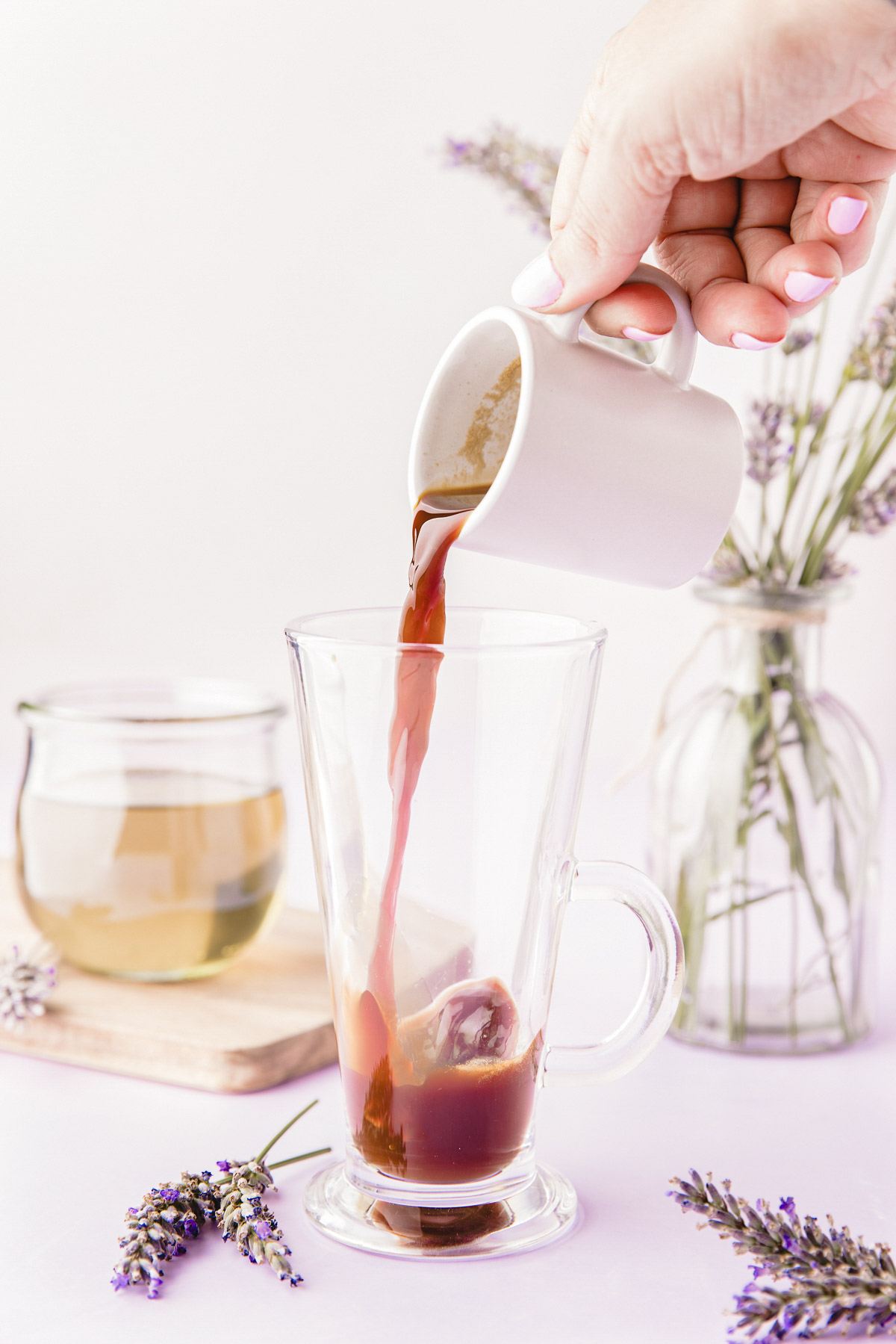 Step 3: Steam the milk and pour it into the mug with the espresso and syrup.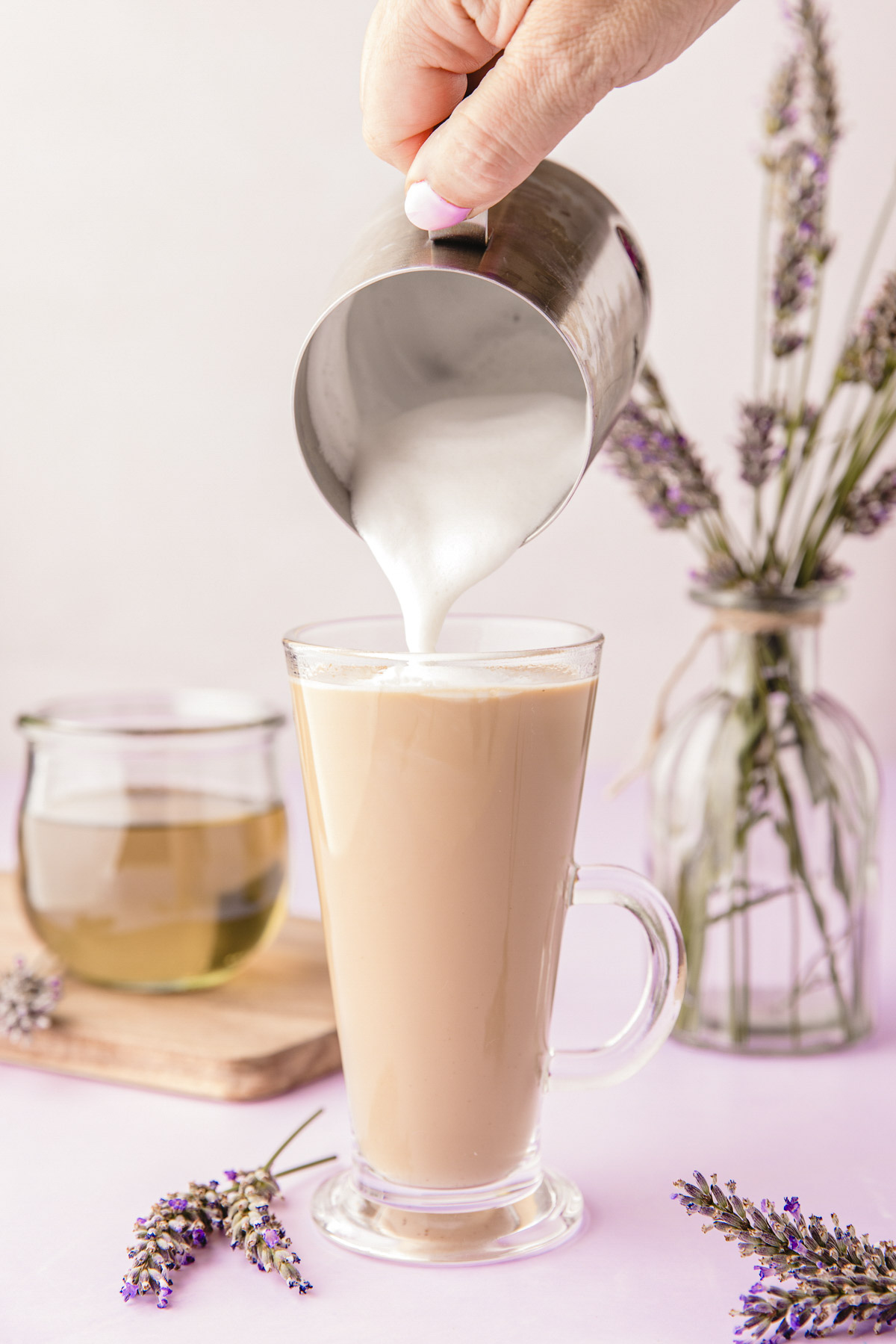 Tips For Making This Lavender Latte
Espresso At Home – Brew up your favorite cup of espresso to use in this lavender latte recipe. This can be done using a countertop espresso machine (we have this one) or a Nespresso machine. Alternatively, you can make a bold roast in a cafetière, which is a French press. (affiliate links)
Coffee Shop – If none of the above works for you to make espresso at home, just grab a double espresso at your favorite coffee shop! Afterward, bring it back home to follow the remaining instructions in this recipe to create your Lavender Latte.
Steaming Milk – Steaming the milk for this latte is easily done in an espresso machine with a built-in steamer or milk frother. However, if you don't have either, you can simply heat the milk in a small saucepan and then use a hand-held frother. Investing in a countertop milk heater and frother is also available. (affiliate links)
Assembling – First, pour the espresso into your latte cup or mug. Once the milk has been steamed, slowly pour it into the center of the espresso. The goal is for the micro foam that was created by steaming the milk to come out last. Lastly, garnish with a sprinkling of lavender buds for a finished look!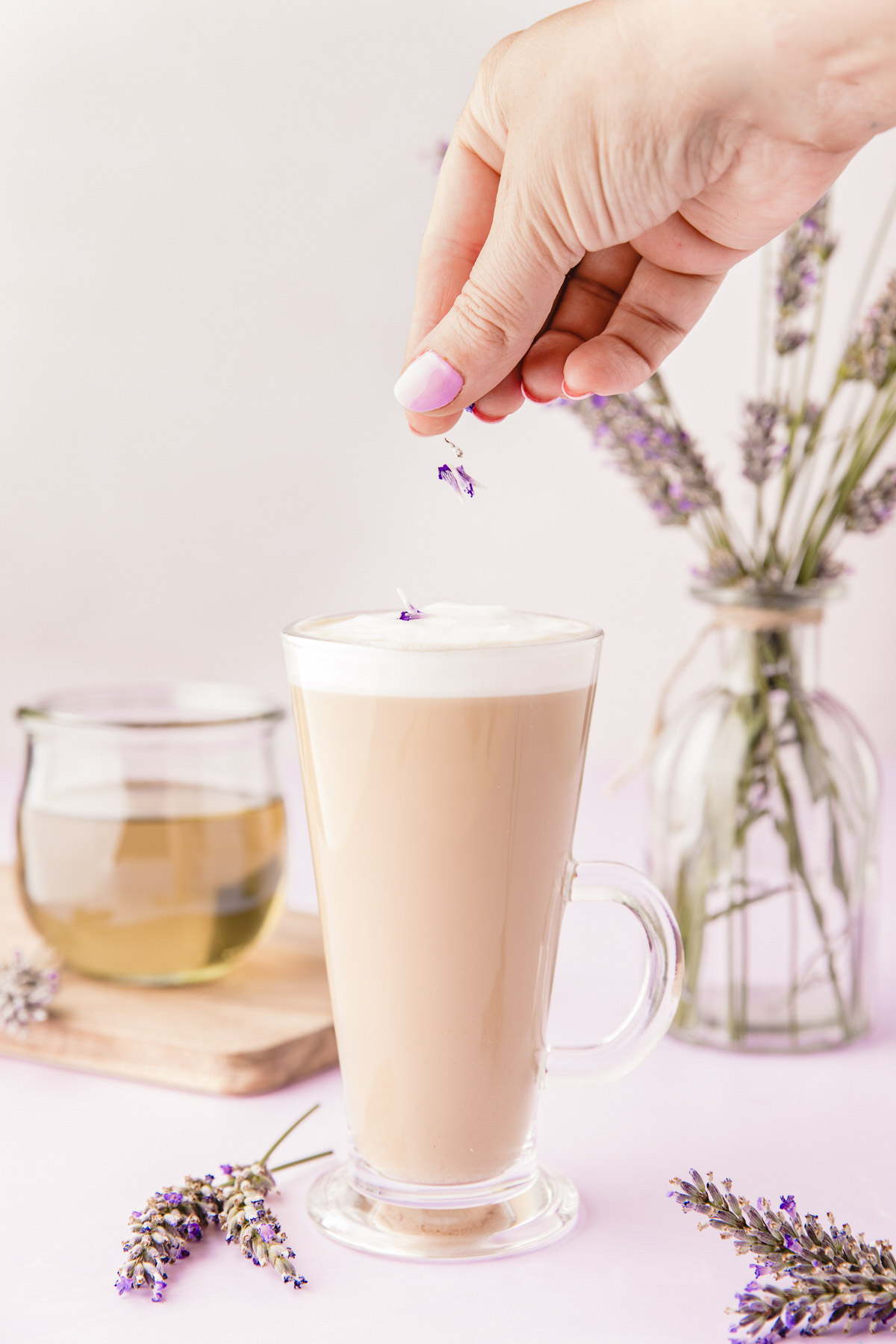 I really enjoy making delicious lattes like this as well as coffee & tea in my own kitchen rather than heading to the coffee shop! Doing so allows me less running around and more time sipping while relaxing.
Another frothy treat worth checking out is this viral Whipped Coffee that's made with only 4 ingredients! However, on warmer days, you may opt for an iced latte such as this Cookie Butter Latte or Iced Chai Latte.
Lavender Latte FAQs
How Many Lattes Does This Recipe Yield?
This Lavender Latte Recipe yields one beverage. However, it's super simple to whip up multiple lattes since you'll already have the ingredients out!
Can I Just Use Instant Espresso To Make This Lavender Latte?
Yes, if you're really in a pinch, then instant espresso can be used.
How Can I Make This Latte Dairy-Free?
This latte can be made dairy free by simply swapping out the milk for cashew milk, oat milk, almond milk, or coconut milk. Just note that some dairy-free milk doesn't foam as well.
What Temperature Should The Steamed Milk Be?
When steaming milk, you want the temperature of it to be between 155 to 165 degrees F. This can be tracked by using a beverage thermometer (affiliate link).
Don't be in a hurry to reach that ideal temperature, though! You want to go low and slow when heating the milk to allow the sugars to come out in the milk, giving it the sweet taste we're looking for!
If the milk is heated too fast, it will burn and result in terrible-tasting steamed milk!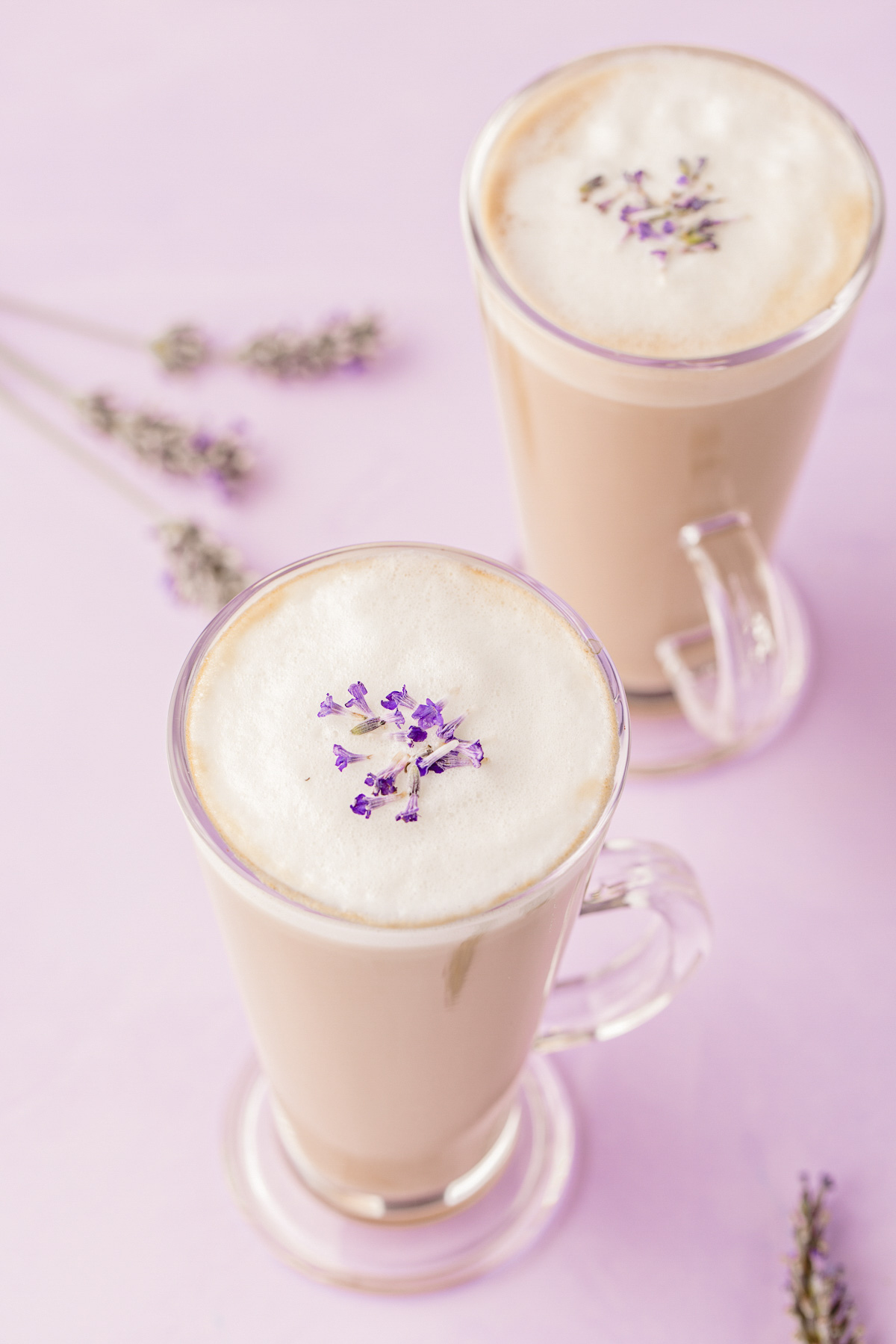 👋 Let's Connect!
If you've tried this recipe, please let me know how you liked it in the comments below and leave a review; I love hearing from you! And don't forget to tag me – @sugarandsoulco – on Instagram and Pinterest with your photos or join our Sugar & Soul Show-offs Community and share them there, where you can join our recipe challenges and win prizes!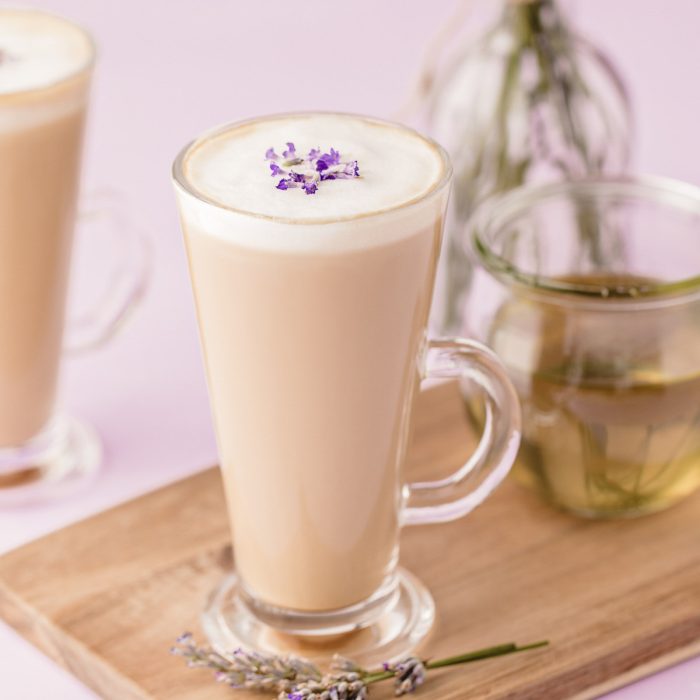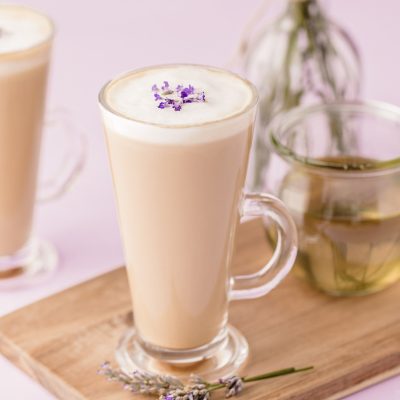 Lavender Latte
This floral and aromatic Lavender Latte is creamy, lightly sweet, and made right at home with espresso, milk, and homemade lavender simple syrup!
Ingredients
1 tablespoon Lavender Simple Syrup
2 ounces espresso
½ cup milk of your choice
1 teaspoon lavender buds to garnish
Instructions
Brew 2 ounces espresso and pour it into a mug with 1 tablespoon Lavender Simple Syrup and stir together.

Steam the ½ cup milk to 155-165°F.

Slowly pour the milk into the mug and scoop out any remaining foam.

Garnish with a sprinkling of 1 teaspoon lavender buds.
Nutrition
Calories: 132kcal | Carbohydrates: 21g | Protein: 4g | Fat: 4g | Saturated Fat: 2g | Polyunsaturated Fat: 0.2g | Monounsaturated Fat: 1g | Cholesterol: 15mg | Sodium: 66mg | Potassium: 261mg | Sugar: 21g | Vitamin A: 198IU | Vitamin C: 0.1mg | Calcium: 154mg | Iron: 1mg