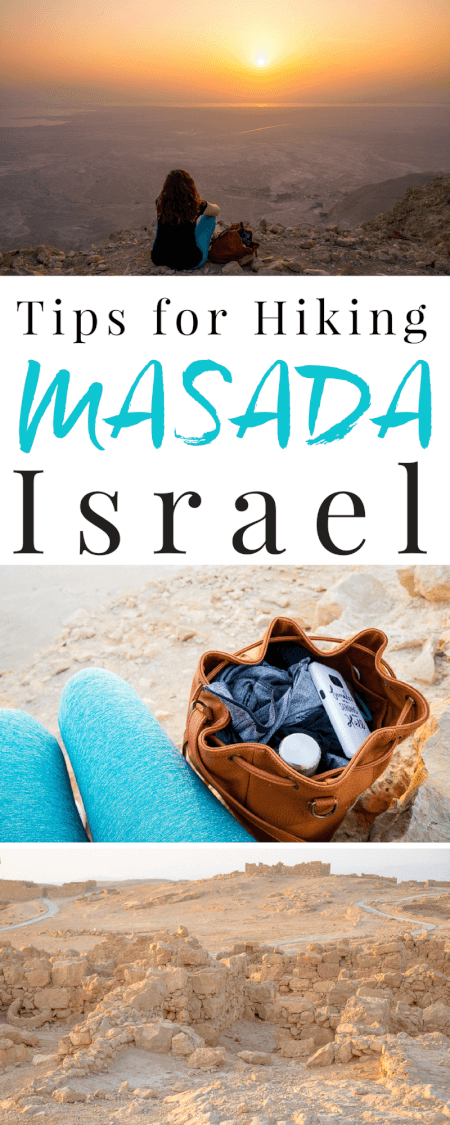 Planning a trip to Israel? Make sure a sunrise hike of Masada is on your itinerary, just an hour outside of Jerusalem, welcome the day from atop this ancient city and spend some time exploring the ruins. Here are a few tips to make the most of your trip!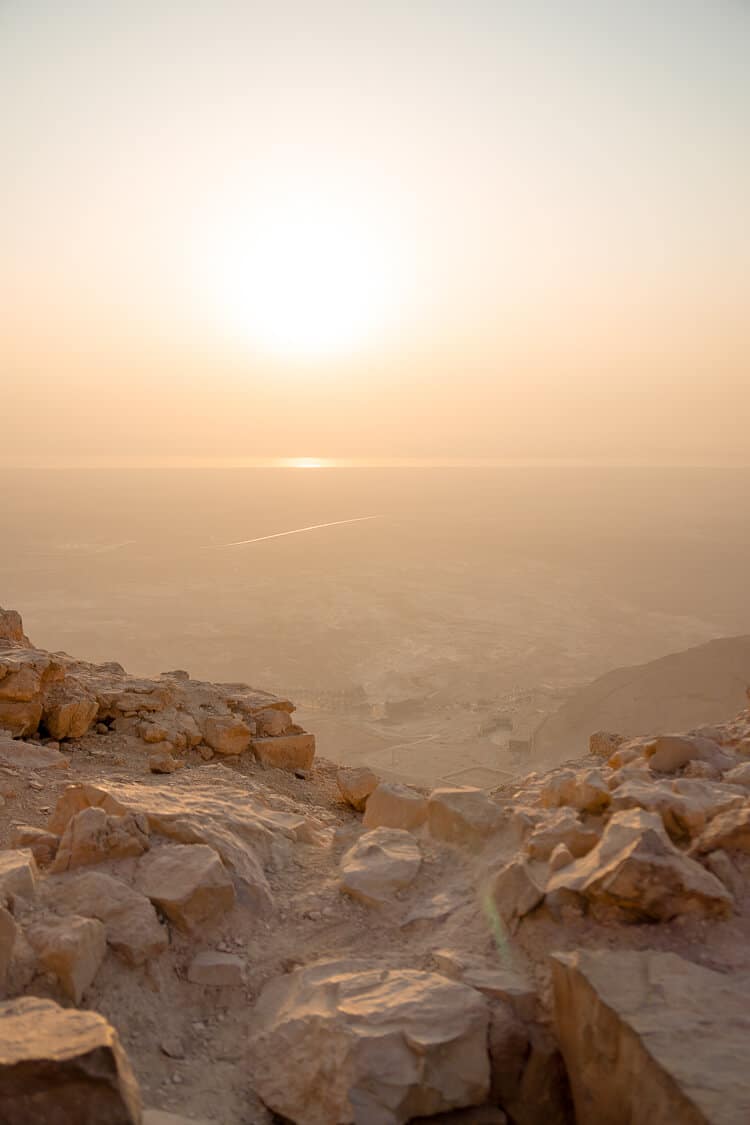 Hiking Masada at Sunrise in Israel
With the soft rose gold light of the morning, you feel like you're in another time or another world within the ancient fortress on the plateau of Masada. Ancient ruins leave a hint of a lost civilization with a tragic ending and open the mind to meditation and imagination.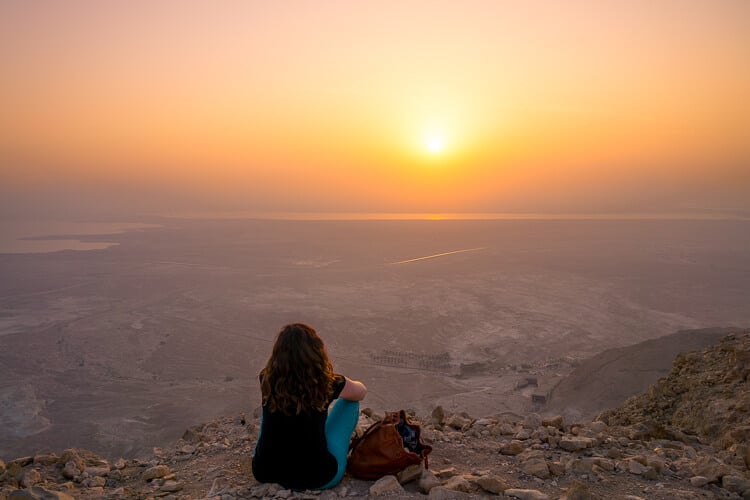 There's something absolutely liberating about being in a foreign country by yourself. I've traveled by myself within the states, but this was the first time I was in a place with a different currency, tongue, and landscape that were completely unfamiliar to me. And I loved every minute of it.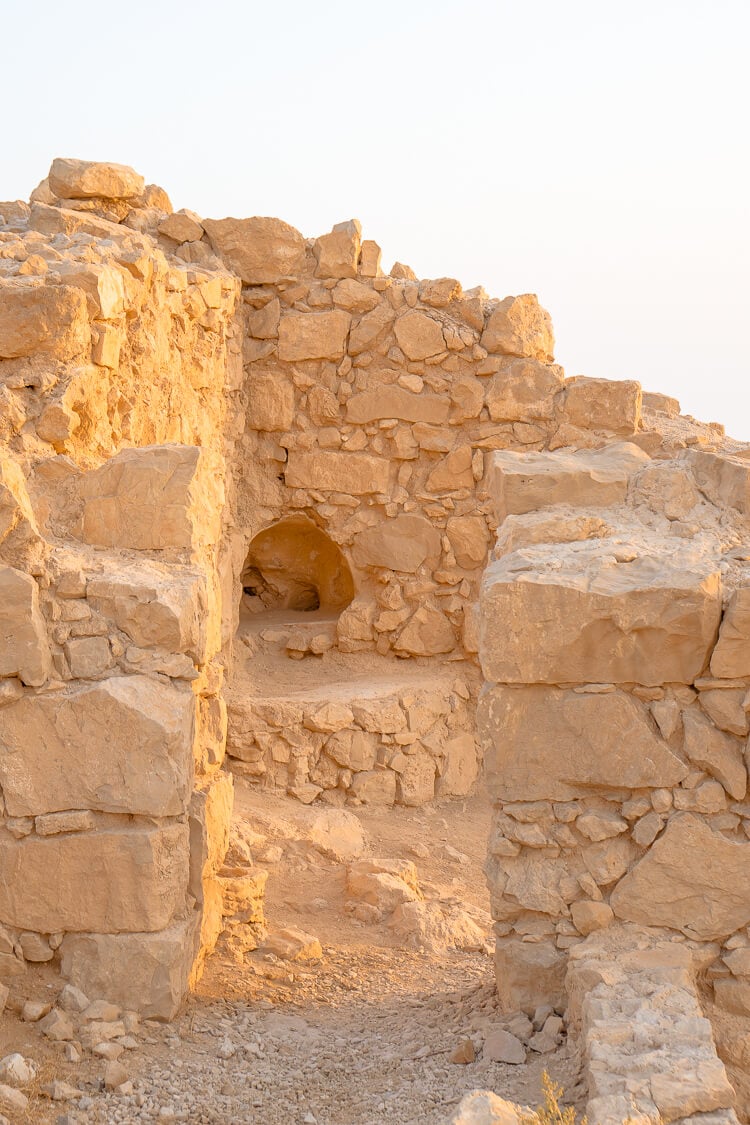 When I found out I'd be going to Jerusalem for work, I wanted to make sure to tack on some extra time to see some places outside the city. I had wanted to stay longer and even go to Jordan, but this last minute trip fell right between my trips to NYC and Poland as well as Thanksgiving. So I got one extra day. One day to get a taste of Israel all on my own.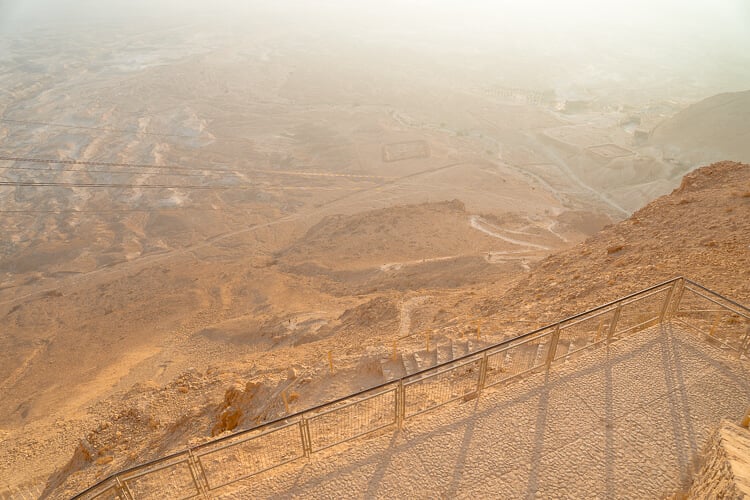 I spent a lot of time figuring out just how I wanted to spend that day, for a tiny little country, there's so much to do and see. I thought about doing a day tour to Petra, but it had a hefty price tag attached, and I didn't want to risk a delayed flight or oversleeping or not getting to my hotel in time for the work portion of my trip. I also thought about spending the day exploring Tel Aviv or venturing into Palestine, but it was nature that finally won me over.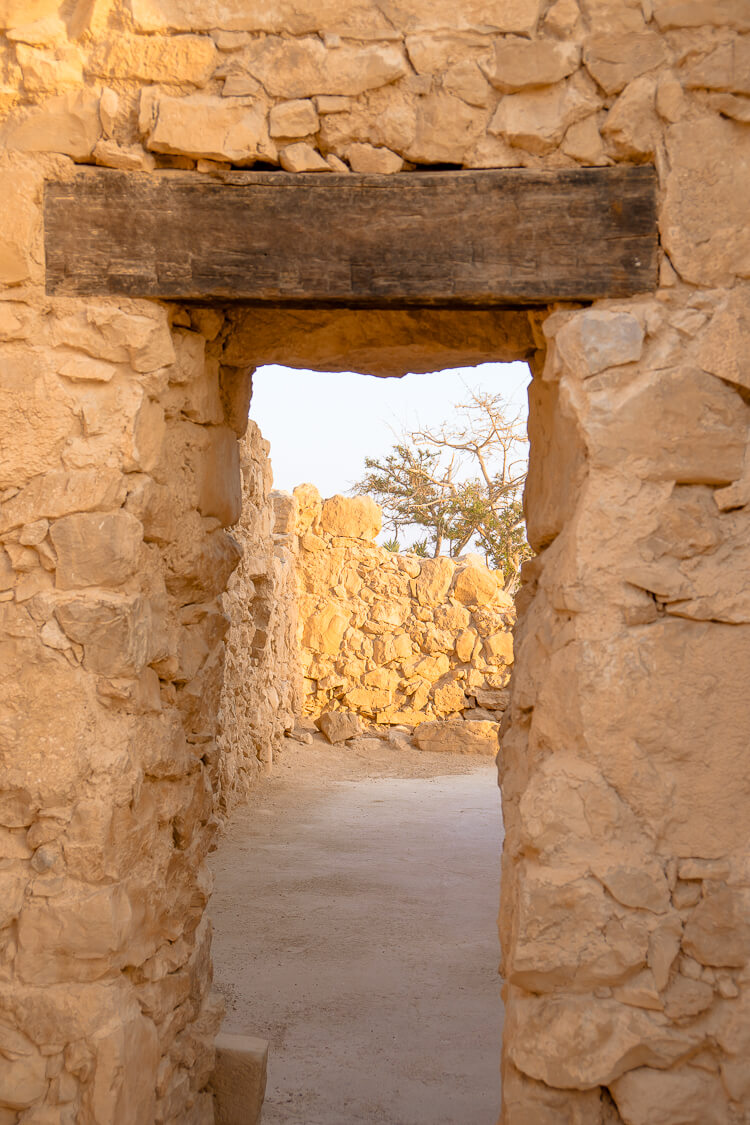 After lots of debating, I finally decided to do a day tour with Abraham Tours. I stayed at their Jerusalem hostel the night before; my flight got in late, and I had work to do once I arrived and then couldn't sleep because my brain was still on Eastern Standard Time. So with about an hour of sleep, I packed up and headed to the lobby around 3:00 am to meet the group for the Sunrise Tour.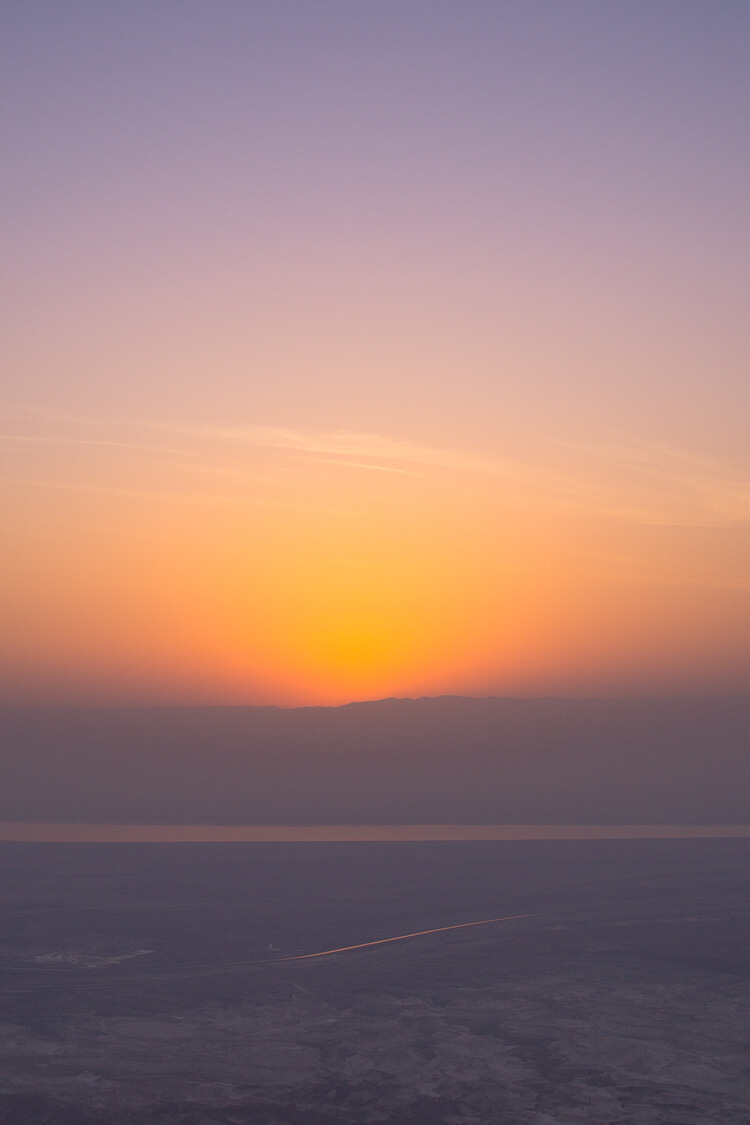 The tour included hiking to the top of Masada, an ancient fortress, then exploring Ein Gedi, an oasis in the desert, then floating and reading a book in the Dead Sea, a check off the bucket list. Every bit of the tour was incredible, even the hike up, because rolling down the steep hill and ending it all was incredibly tempting at one point 😉 But I made it to the top before sunrise, and it was worth the fatigued legs and bazillion stairs I had to climb. Or at least that's what I tell myself now that I'm home laying on the couch writing this.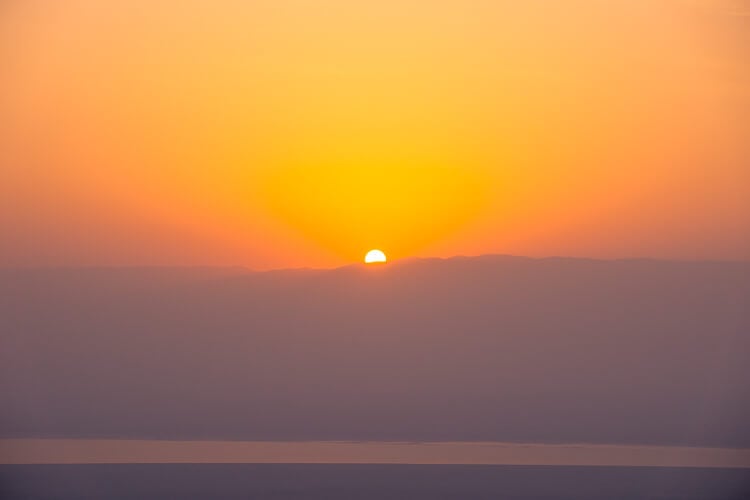 Masada is a rugged natural fortress, of majestic beauty, in the Judaean Desert overlooking the Dead Sea. It is a symbol of the ancient kingdom of Israel, its violent destruction and the last stand of Jewish patriots in the face of the Roman army, in 73 A.D. It was built as a palace complex, in the classic style of the early Roman Empire, by Herod the Great, King of Judaea, (reigned 37 – 4 B.C.). The camps, fortifications and attack ramp that encircle the monument constitute the most complete Roman siege works surviving to the present day. – UNESCO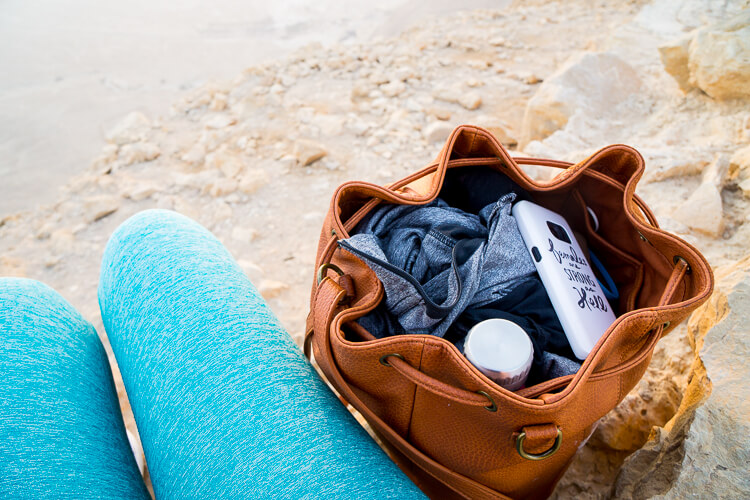 Masada was built in the year 30 BCE by King Herod, in 68 BCE it was the last stronghold of the Jewish zealots in their revolt against Rome. In 73 BCE, the 960 inhabitants of Masada committed mass suicide instead of being enslaved by the Romans. Their acts are considered that of courage, heroism, and martyrdom.
Not long after, Masada fell off the map and remained untouched for more than 13 centuries due to it's remote and high location within the Judean Desert. It was rediscovered in the late 1800s and in 2001 it was named a UNESCO World Heritage Site.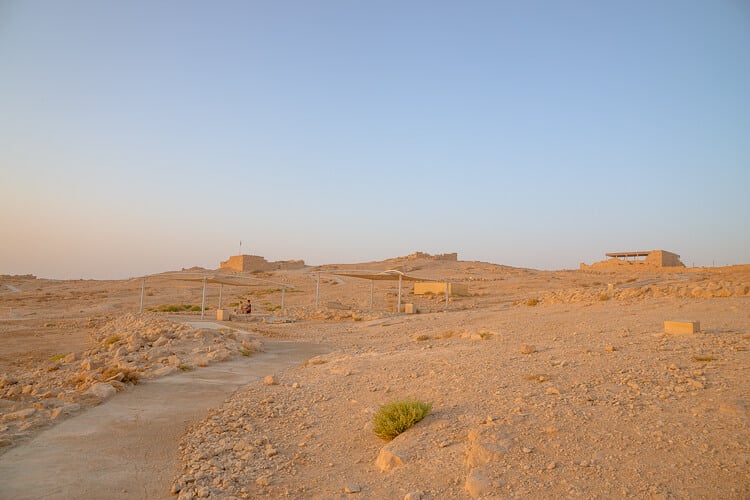 After watching the sun rise over the Moab Mountains, I had a little time to explore the ruins. It definitely didn't feel like enough time and if you're going on your own, I would highly recommend scheduling out an hour or two for the top to really take it all in. There are also some modern canopy structures to provide shade and during the summer months, Masada has a sound and light show a few nights a week.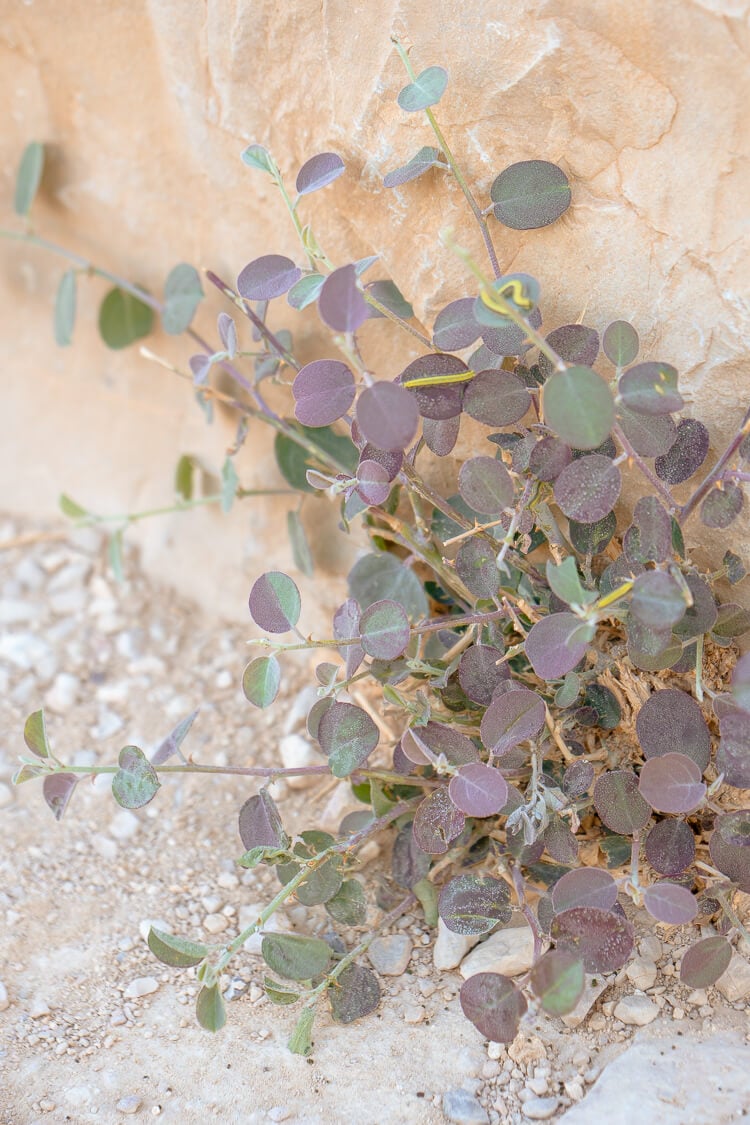 I know I joked about wanting to die, but if I weren't so out of shape from all the damn beach vacations and pina coladas I've indulged in this year, it wouldn't have been that bad. The trail itself, Snake Path, wasn't bad at all, but the stairs, oh man, the stairs. That's what almost killed me. So yeah, they'll give your thighs and calves a run for their money, but it's actually a nicely groomed path.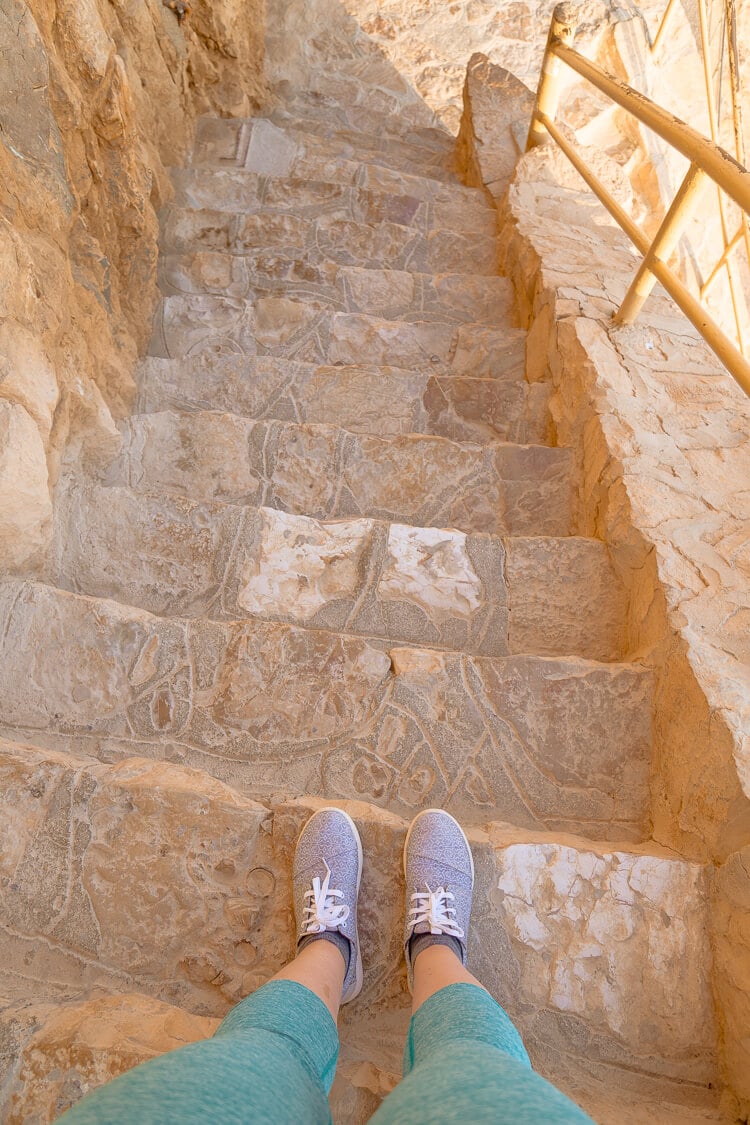 This was an incredible experience, but there were some things that would have made the hike easier for me and many of my fellow group members, so I thought I would share those tips with you in case you're getting ready to make the trek yourself.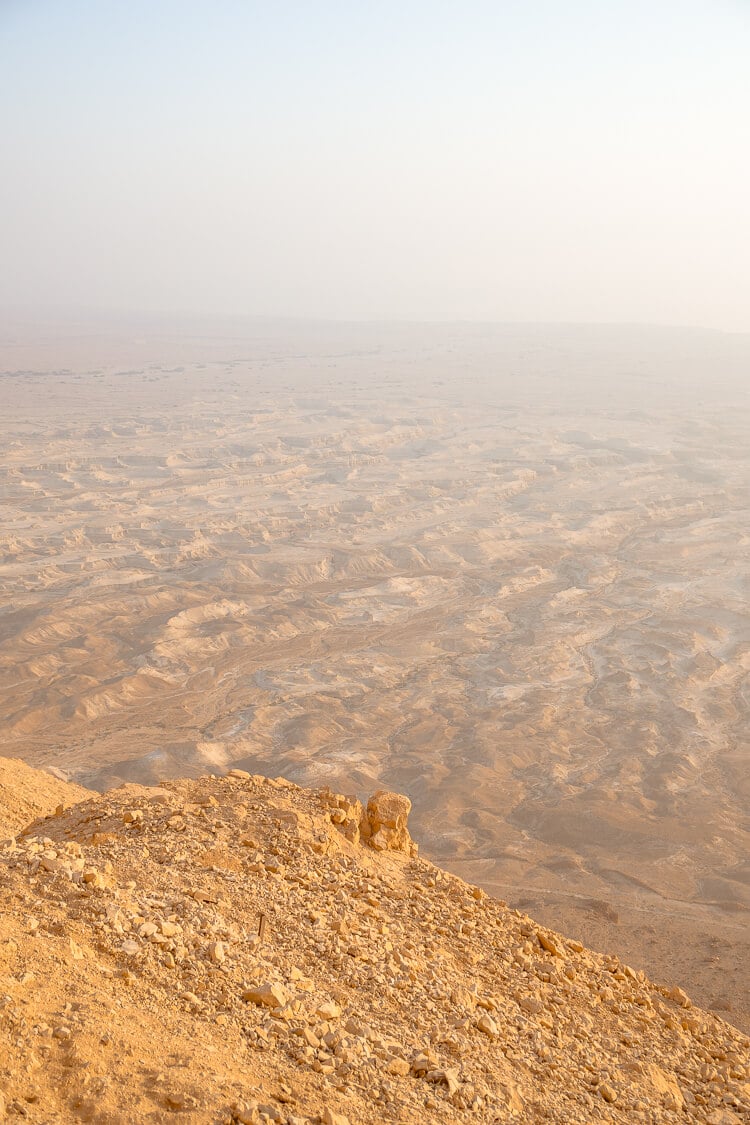 Best time of year to go to Masada:
Masada is open year round, April – September 8:00 am – 5:00 pm and October – March 8:00 am – 4:00 pm, you will not be allowed to climb to the summit should you arrive less than an hour before closing time. If hiking in the summer, the midday hours should be avoided due to severe heat.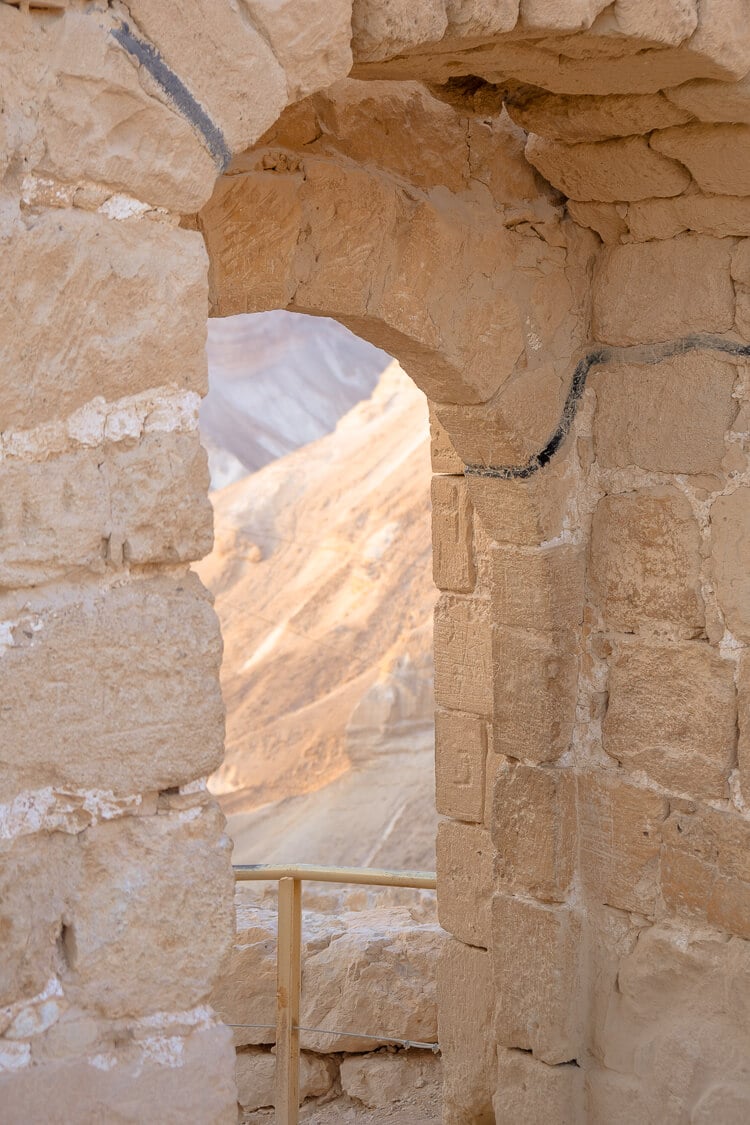 Entrance Fee to Masada:
For the purpose of entrance fees – adults are those over 18 years old, youths are 5-18 year-olds and Israeli senior citizens are men over 67 and women over 64 years old.
Single entry to site – adult 29NIS; student 23NIS; child and Israeli senior citizen 15NIS
Entrance from eastern side + cable car two-ways – adult 76NIS; student 70NIS; child and Israeli senior citizen 44NIS
Masada National Park entrance + cable car one-way – adult 58NIS; student 52NIS; child and Israeli senior citizen 30NIS
Snake Path/Roman Ramp entrance (walking up) – adult 29NIS; student 23NIS; child and senior citizen 15NIS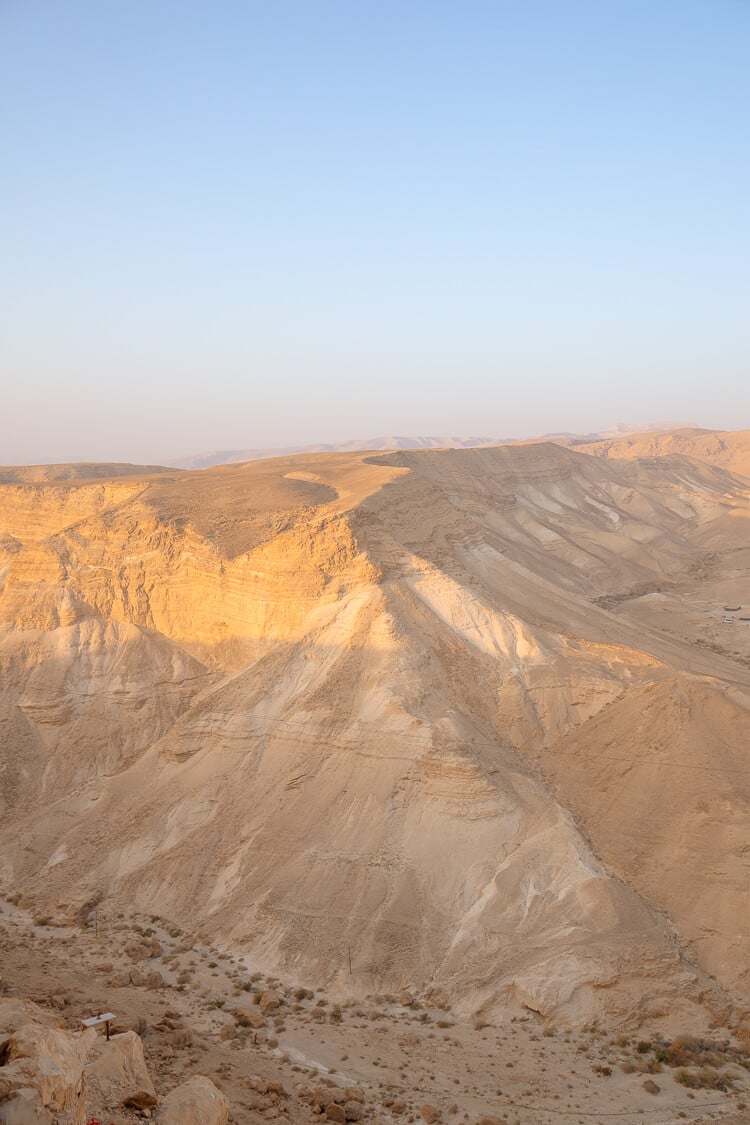 How to Get to Masada:
Rent a Car: If you're planning on paving your own way through the country and renting a car, Masada is a pretty easy drive from Jerusalem or Tel Aviv. There will be at least one security checkpoint along the way and keep your passport on you just in case. If hiking to the top for sunrise, make sure to get there an hour beforehand. Even if you're a fast hiker, you might get caught up in line behind a tour group to buy entrance to the park.
Take a Tour: I decided to go with Abraham Tours on the Masada Sunrise Tour because I wanted to take advantage of the opportunity to see Ein Gedi and the Dead Sea as well. This tour is self-guided, meaning that you have a driver that takes you to each location and gives you a time to get back to the bus and from there you're on your own. This tour runs three days a week from the Tel Aviv and Jerusalem Hostel locations and costs $65 at the time I went and was well worth it. Abraham Tours also gave us discount coupons for our entrance fees and provided wifi on the tour bus!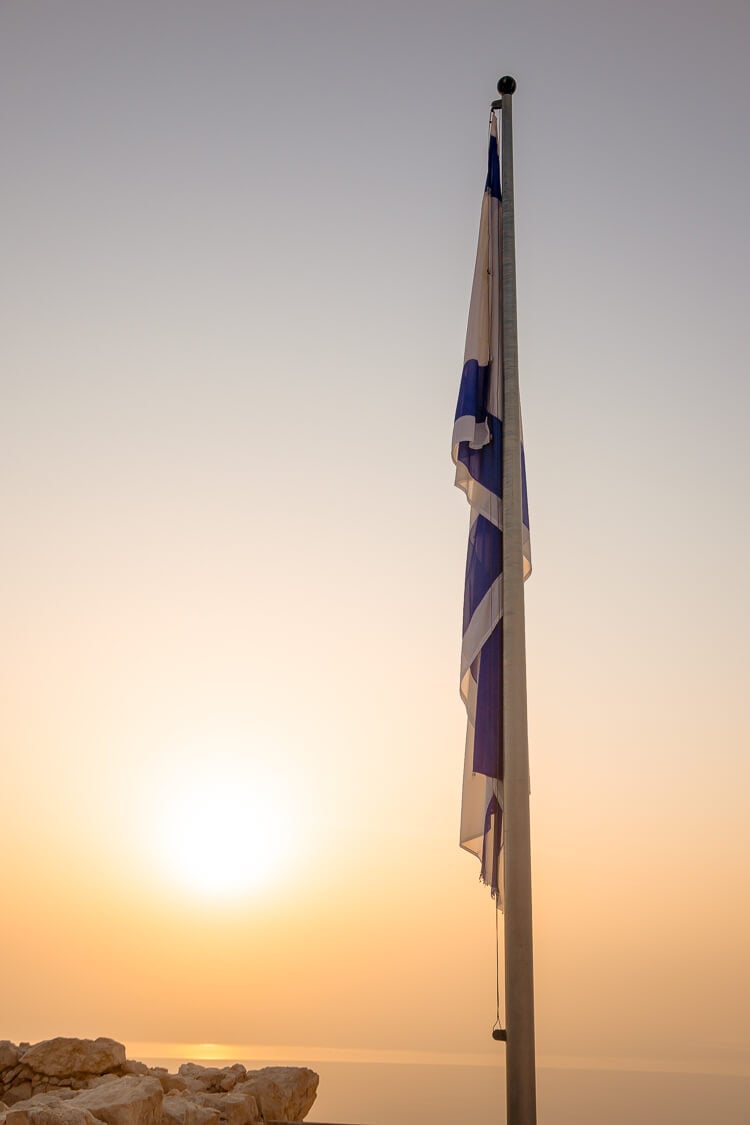 What to Bring to Masada:
Flashlights – Bring one! Or two, because lord knows there will be people who didn't. I was getting ready to leave the house and head to Boston to catch my flight when I thought to myself – if I'm watching the sunrise from the top, then I'm probably hiking in the dark – so I grabbed a mini flashlight on my way out the door. A flashlight is not listed on the list of items to bring with you, but it's imperative if you don't want to twist an ankle on your way up or down. About halfway up the path, there was enough daylight to tuck away the flashlights, but they were definitely necessary for the first half hour or so.
Water – Bring it with you! There's nowhere to purchase water on the ground, and even though there's water at the top, I can assure you, you DO NOT want to drink it. And I promise you will definitely want it. Israel has a pretty warm climate, even in the winter months.
Sunscreen – Speaking of warm climates, don't forget the sunscreen! I packed pretty light for my trip and forgot to bring it, and even though I didn't burn, I would definitely still recommend it, especially in the summer months.
Walking Shoes – Hiking boots would be fine too but aren't necessary; a good sneaker will do just fine on the path. I definitely wouldn't advise flip flops, but you'd probably be okay with Teva sandals or another strap on sandal since the path is pretty clear and there are railings to assist in the more treacherous areas.
Camera – Yes, you have to bring your camera, even if it's your phone, you don't want to miss out on capturing what is surely one of the most beautiful sunrises in the world!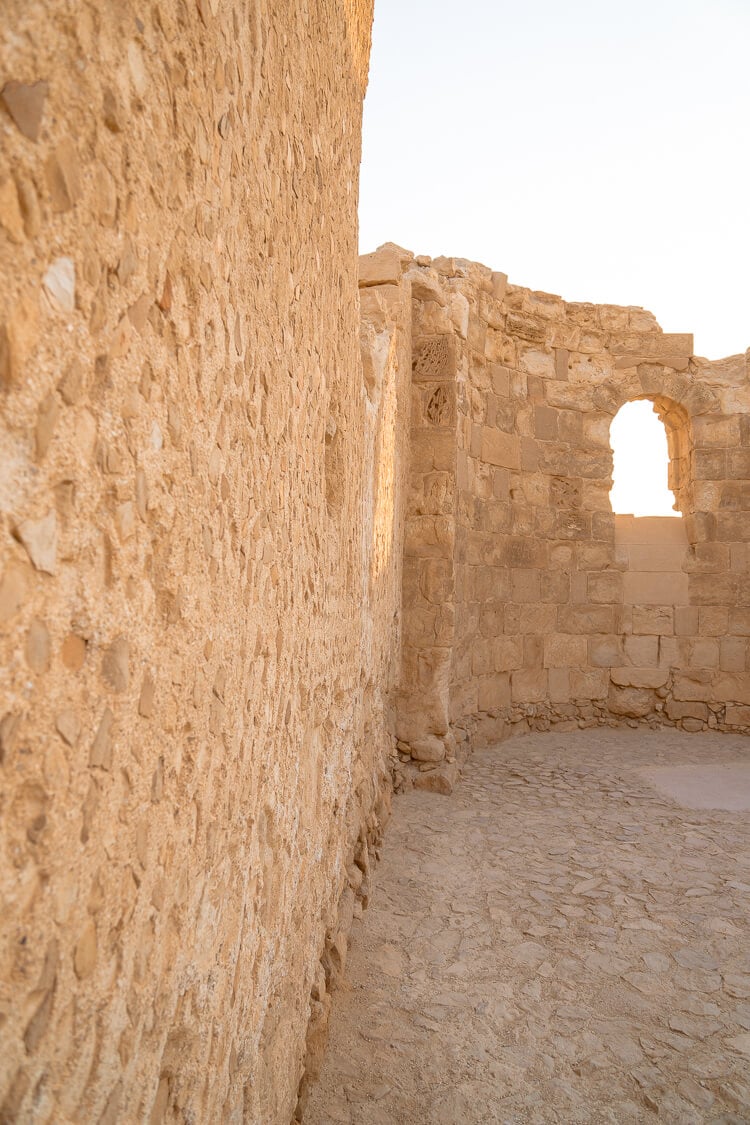 Tips for the Hike up Masada:
Keep to the right! When you purchase your ticket and start walking away from the visitor's booth, and towards Masada, it's dark, and there's no clearly marked path, you'll follow the drive up a small hill, and then you get to a point with three options, and you know which one you're supposed to take? Why, it's the least obvious, of course. Head down the one furthest to the right, there are two paths that run parallel to each other there, one leads to the higher ground and the one you need to take heads down. Yup, you go down before you head back up. Then just follow the road until you get to the path, you'll know which path it is because it will be the one without a big "DANGER" sign in front of it.
Use the cable car. There's a cable car that runs from just below the summit to the ground and operates from 8:00 am until close. In a perfect world, the Abraham Tour would allow enough time to hike up and wait until 8:00 am to take the cable car down, but we had to be back at the bus by 7:40 am.
Give yourself time. The hike itself really isn't very long, it takes most people about 45 minutes, but some do it in 30 and some need closer to an hour. The key is to pace yourself. Luckily, the main hiking route is on the side of the sunrise, so even if you don't quite make it to the top in time, you'll still be able to watch it.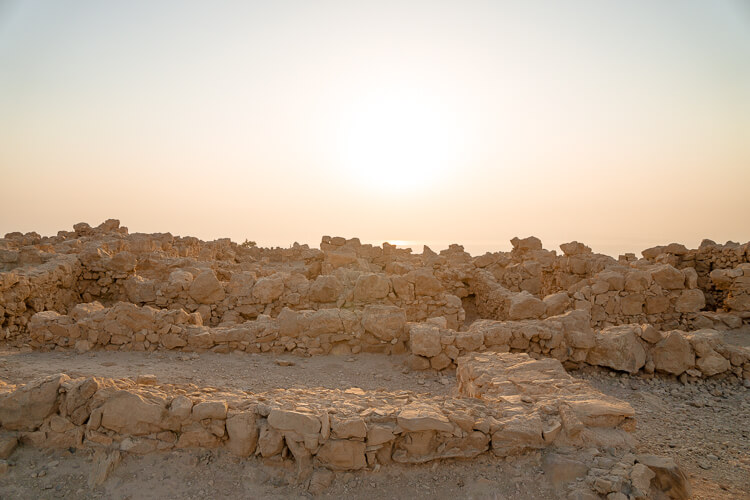 I think that just about covers my tips for the best, most successful hike to the top of Masada to watch the sunrise. And if you're planning a trip to Israel, make sure that this is on your list, you won't regret it.
And even though you'll want to have your phone and cameras out, capturing the beauty of the morning light. Don't forget to take a few moments to just shut down and absorb your surroundings, soak up the ancient history and warm morning sun, and remember just how lucky you are to be alive right now.