No Bake Cheesecake is prepped in just 20 minutes using ingredients like extra creamy cool whip, powdered sugar, and cream cheese! Provides a dozen thick, fluffy, and creamy slices!
No bake cheesecake recipes like this one, No Bake Nutella Cheesecake Bars, and No Bake Oreo Cheesecake always have a place in my kitchen in the warmer months!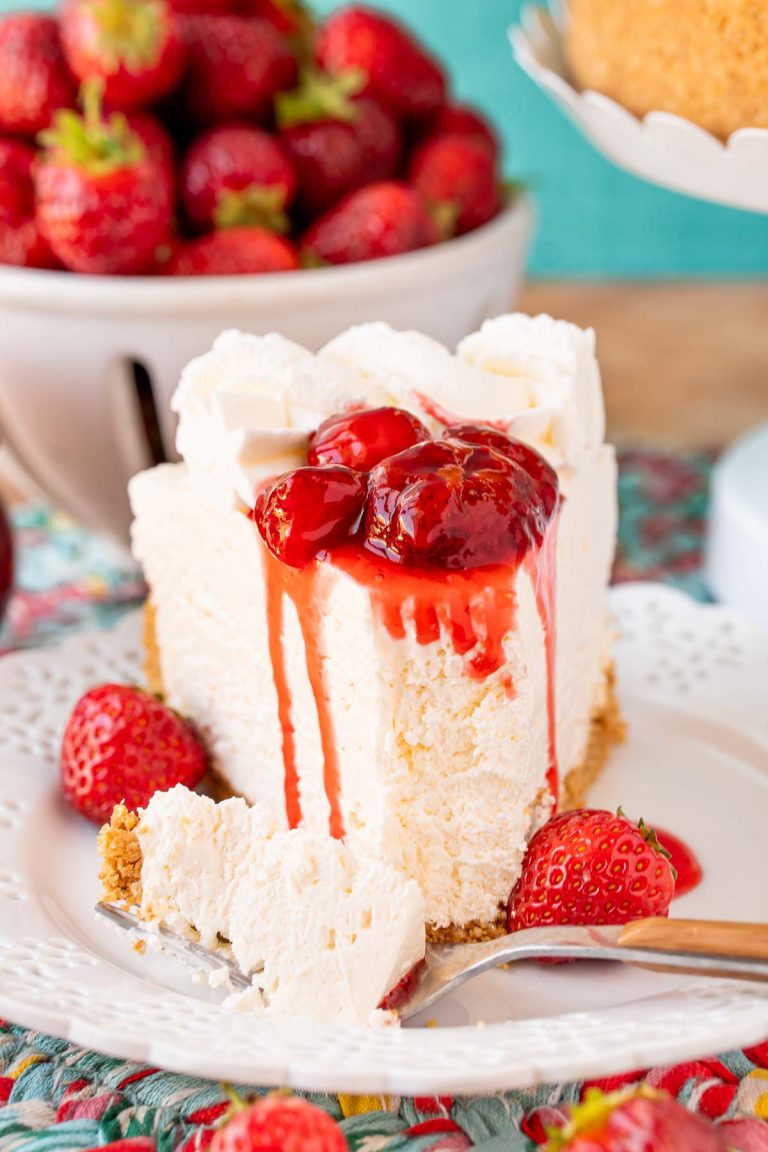 Relax this Summer by making this quick and easy No Bake Cheesecake! Don't worry, this easy cheesecake recipe doesn't mean it sacrifices flavor for ease!
This will very well be one of the best cheesecakes you've ever tasted! It's perfectly thick and creamy, and has the same mouthwatering cheesecake tang, and a classic graham cracker crust!
And you get ALL of that with just 20 minutes of hands-on time! After that just pop it in the fridge and your work is done – making it a great dessert to make the night before a picnic, cookout, or family get-together!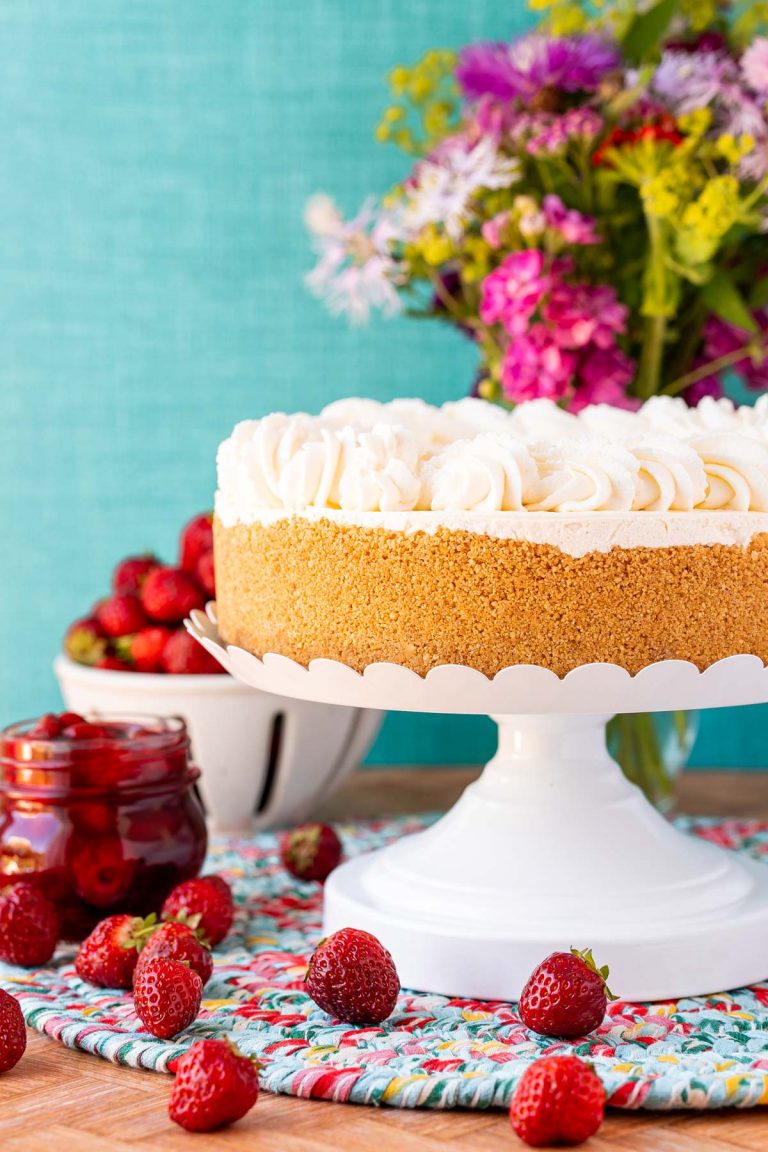 Enjoying A Slice Of This No Bake Cheesecake!
Taste: This simple cheesecake recipe delivers the same great signature tang of a baked cheesecake! I would rather make and eat this one over a traditional New York Style Cheesecake because it's THAT good!
Texture: Using full-fat ingredients such as sour cream, cool chip, and cream cheese ensures that this cheesecake turns out deliciously thick and creamy! Once chilled, the cheesecake takes on that classic "crumb" sort of texture without the need of the oven or a water bath!
Just like a classic cheesecake, it is made with a graham cracker crust made with honey graham crackers, melted butter, and sugar that adds both flavor and texture to the dish!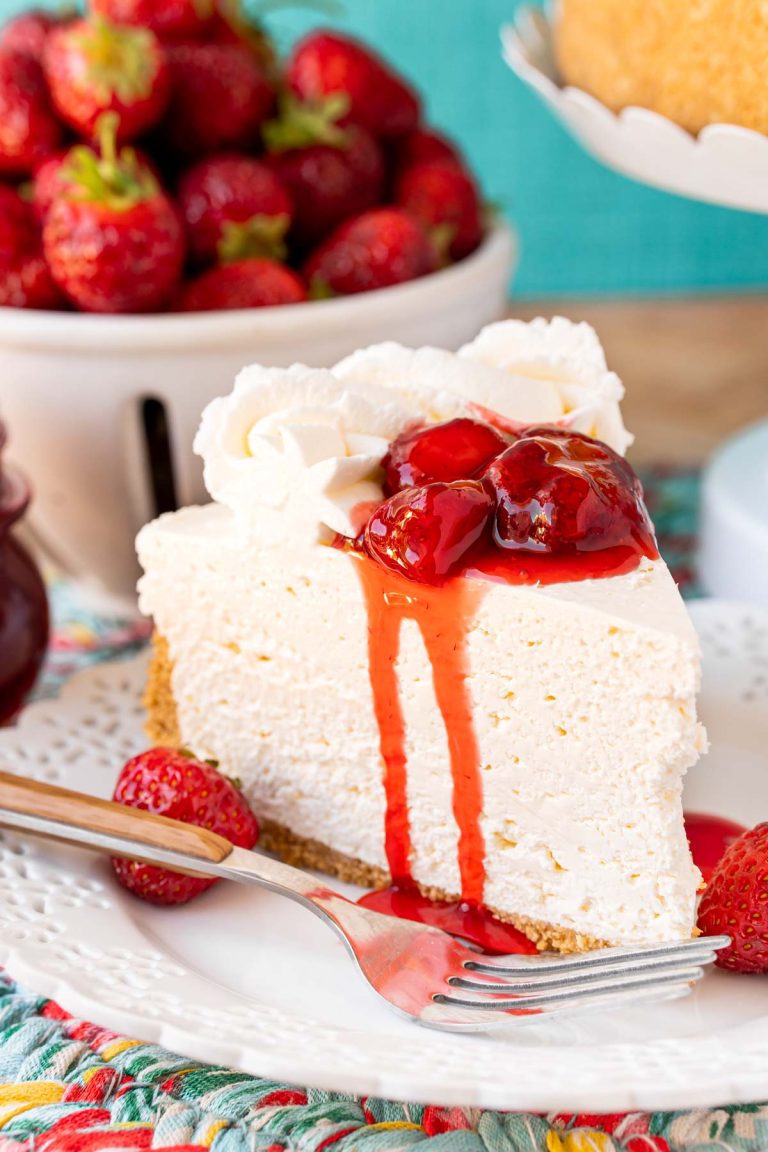 Best Ways To Serve And Enjoy This Dessert!
The key to any good, blank cheesecake is delicious toppings! Though this cheesecake is definitely yummy enough to eat plain!
My go-to toppings include whipped cream and homemade strawberry sauce! It'd be fun to serve this cheesecake to a crowd with a fun toppings bar!
This way everyone can dress their slice up according to their taste buds! Top cheesecake with your favorite toppings, here are some ideas:
Fresh fruit such as strawberries, blueberries, raspberries, and blackberries.
Crushed Oreos and other cookies.
Canned fruit fillings like cherry pie filling or blueberry!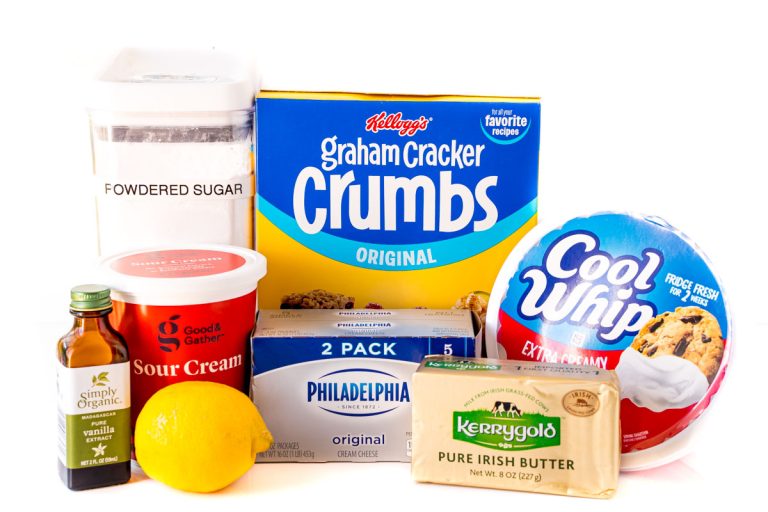 Tips & Tricks For Making The Best No-Bake Cheesecake!
It's best to use full-fat sour cream, cream cheese, and cool whip in this recipe. Doing so will give you the best thick, creamy texture that a cheesecake has.
After you pour the cheesecake filling into the crust be sure to press it down. Sometimes the filling can become a bit aerated, and you don't want large bubbles hiding in the cheesecake!
Since this is a no-bake recipe it's important to chill the cheesecake for the full time! This way the filling sets up to creamy, perfectly chilled perfection!
For clean, neat serving run a chef's knife under hot water to heat the blade. Then slice, cleaning and heating the blade after each slice for clean and even cuts.
If you need a quicker recipe, feel free to grab a pre-made graham cracker crust from the store!
Mix up the overall flavor of this cheesecake by making it with an Oreo crust!
Add your desired toppings right before serving! That way if you have leftovers, you can store them in the fridge to freshly top and enjoy another slice later!
Add graham crackers to a food processor to get them nice and fine as opposed to crushing them in a bag with a rolling pin. Alternately, you can use boxed crumbs that are ready to go.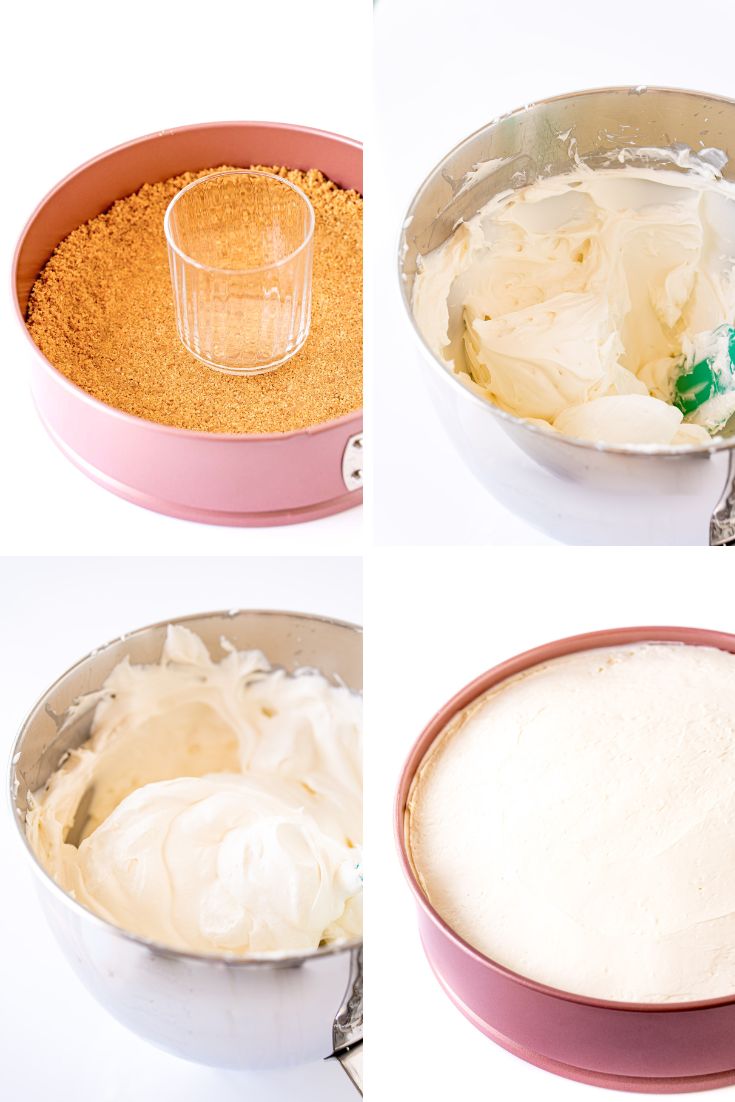 Frequently Asked Questions
How Long Can This Cheesecake Be Left Out At Picnics And BBQs?
It shouldn't be left out in the heat for too long as it does soften. Once it has softened, slicing and serving become more difficult.
Therefore, I'd suggest slicing and serving and then getting it back to the fridge or cooler in a timely manner.
Can I Use Homemade Whipped Cream In This Recipe?
You can substitute the cool whip for homemade whipped cream. However, from my experience, I found the cheesecake didn't remain as stable as long.
How Long Will Leftovers Of This No Bake Cheesecake Last?
Store the leftovers in an airtight container in the fridge and enjoy them for 4 to 5 days.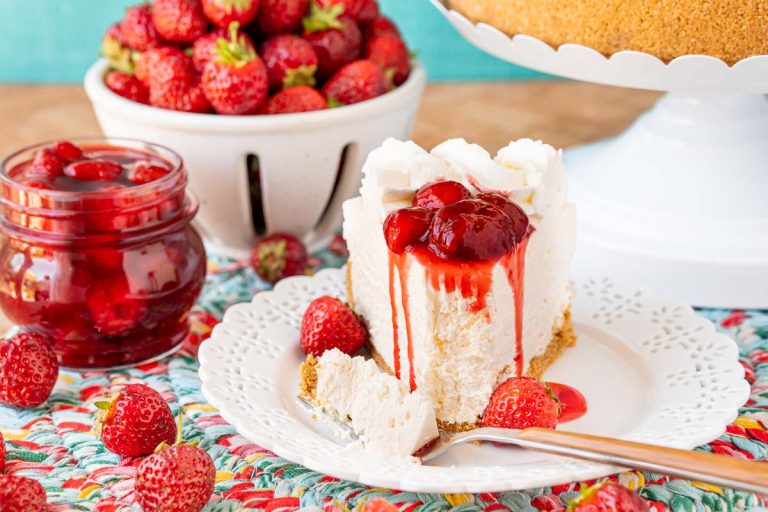 This No-Bake Cheesecake recipe is sure to be one that you turn to over and over again! These are more of my tried-and-true cheesecake recipes that I love just as much!
👋 Let's Connect!
If you've tried this recipe please let me know how you liked it in the comments below and leave a review, I love hearing from you! And don't forget to tag me – @sugarandsoulco – on Instagram and Pinterest with your photos or join our Busy Family Recipes Facebook Community and share them there!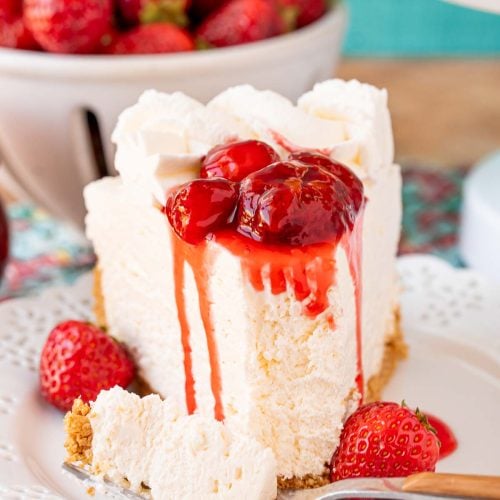 No Bake Cheesecake
No Bake Cheesecake is prepped in just 20 minutes using ingredients like extra creamy cool whip, powdered sugar, and cream cheese! Provides a dozen thick, fluffy, and creamy slices!
Ingredients
Cheesecake Filling
24

ounces

cream cheese

softened

1

cup

powdered sugar

¼

cup

sour cream

1

tablespoon

lemon juice

2

teaspoons

vanilla extract

16

ounces

Extra Creamy Cool-Whip

thawed
Optional Toppings
Instructions
Crust
Melt the butter in a medium bowl and add the graham cracker crumbs and ¼ cup of powdered sugar and stir until evenly moistened.

½ cup salted butter,

2 cups graham cracker crumbs,

¼ cup powdered sugar

Transfer the crust mixture to a springform pan and spread out, then use the bottom of a cup to press the mixture into the bottom and sides of the pan. The mixture does not need to come all the way up the sides. Set the pan aside.
Cheesecake Filling
Add the cream cheese to a stand mixer fitted with a paddle attachment and cream at medium speed until smooth. Scrape down the sides of the bowl.

Add the powdered sugar, sour cream, lemon juice, and vanilla extract and mix at low speed until the sugar is incorporated then increase the speed to high and whip for 1 minute. Scraping down the sides as needed so everything is evenly combined and there are no lumps.

1 cup powdered sugar,

¼ cup sour cream,

1 tablespoon lemon juice,

2 teaspoons vanilla extract

Fold in the cool whip with a rubber spatula until evenly incorporated. The mixture will be thick and stiff.

16 ounces Extra Creamy Cool-Whip

Spread the filling mixture out in the prepared crust, the filling may come above the crust in the pan, but that's okay. Make sure to really press the filling in since it's a bit aerated and you don't want large bubbles. Just be careful around the edges so you don't pull the crust back into the filling. Smooth out the top and cover with aluminum foil.

Chill in the refrigerator for 8 hours. When ready to slice, run a chef's knife under hot water to heat the blade, then slice. Clean and heat the blade after each slice for clean and even cuts.
Topping
Top with whipped cream, strawberry sauce, chocolate sauce or your other favorite toppings before serving.

Whipped Cream,

Strawberry Sauce,

Chocolate Sauce
Notes
I recommend using full-fat cream cheese, sour cream, and cool whip in this recipe. However, low-fat options would also work, it just may not be as creamy.
Homemade whipped cream can be used in place of cool whip, however, when I used it during testing I found that the cheesecake didn't stay as stable at room temperature for as long as when made with cool whip. This to me was the main reason I chose to stick with cool whip because no-bake cheesecakes are traditionally a summer dessert and I wanted it to be a bit more heat-friendly.
Speaking of heat, this cheesecake really should stay out in the heat for too long as it will still soften, and as it softens it becomes hard to slice and move since the crust will also soften when the butter begins to warm up.
What I love about this recipe is that it has the signature tang of a baked cheesecake and once chilled it has the "crumb" sort of texture that's thick and creamy. I'd actually rather eat and make this cheesecake than a traditional New York Style.
You could make this with an Oreo crust.
Nutrition
Calories:
443
kcal
Carbohydrates:
36
g
Protein:
6
g
Fat:
32
g
Saturated Fat:
18
g
Polyunsaturated Fat:
1
g
Monounsaturated Fat:
8
g
Trans Fat:
0.3
g
Cholesterol:
87
mg
Sodium:
360
mg
Potassium:
151
mg
Fiber:
1
g
Sugar:
24
g
Vitamin A:
1106
IU
Vitamin C:
1
mg
Calcium:
115
mg
Iron:
1
mg