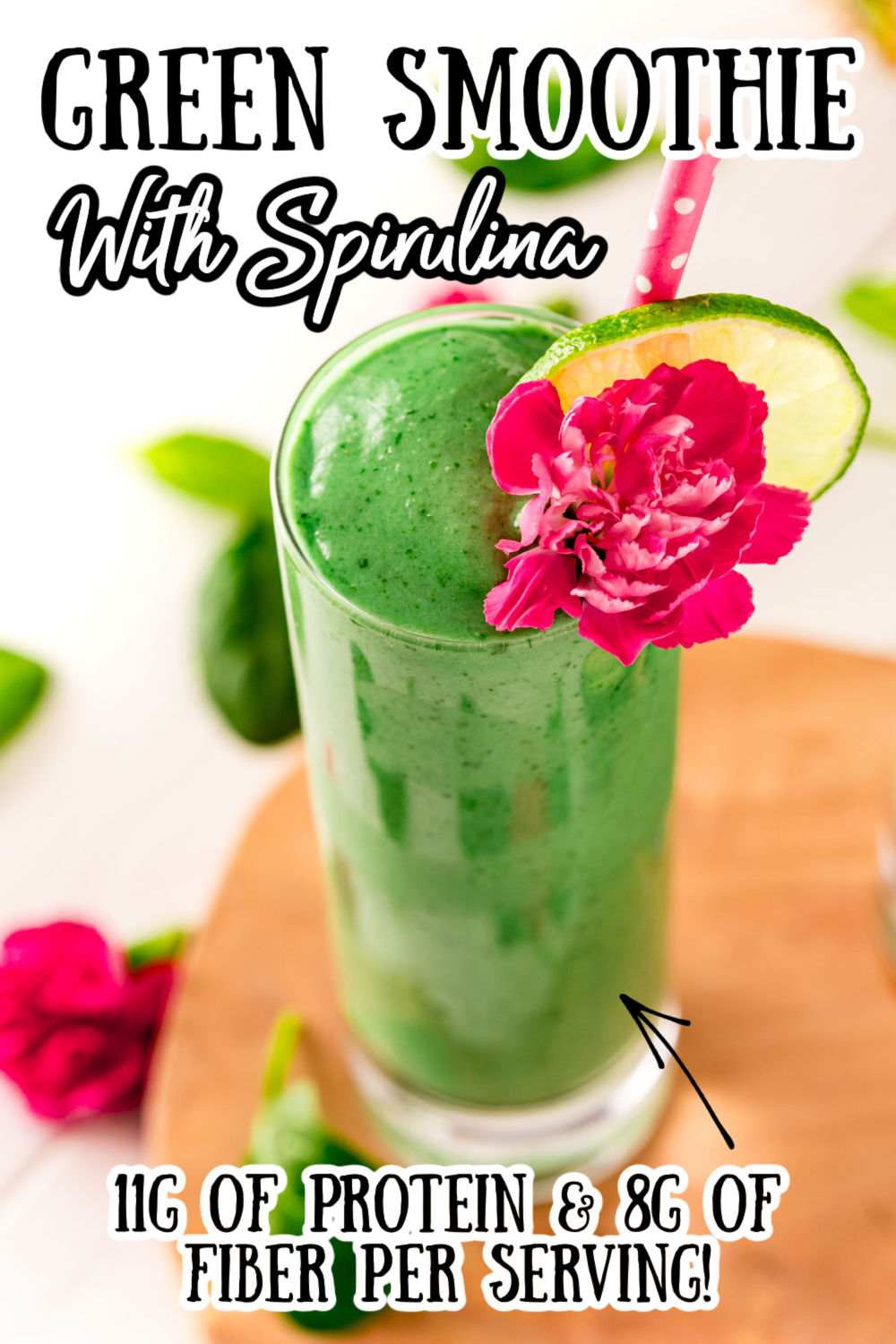 This Green Pineapple Spinach Spirulina Smoothie is overflowing with health benefits that are hidden behind a sweet fruity flavor you'll love!
If you're looking for more healthy options to start your day with, try my Banana Oatmeal Cookies or Nature's Cereal Recipe (All Berries)!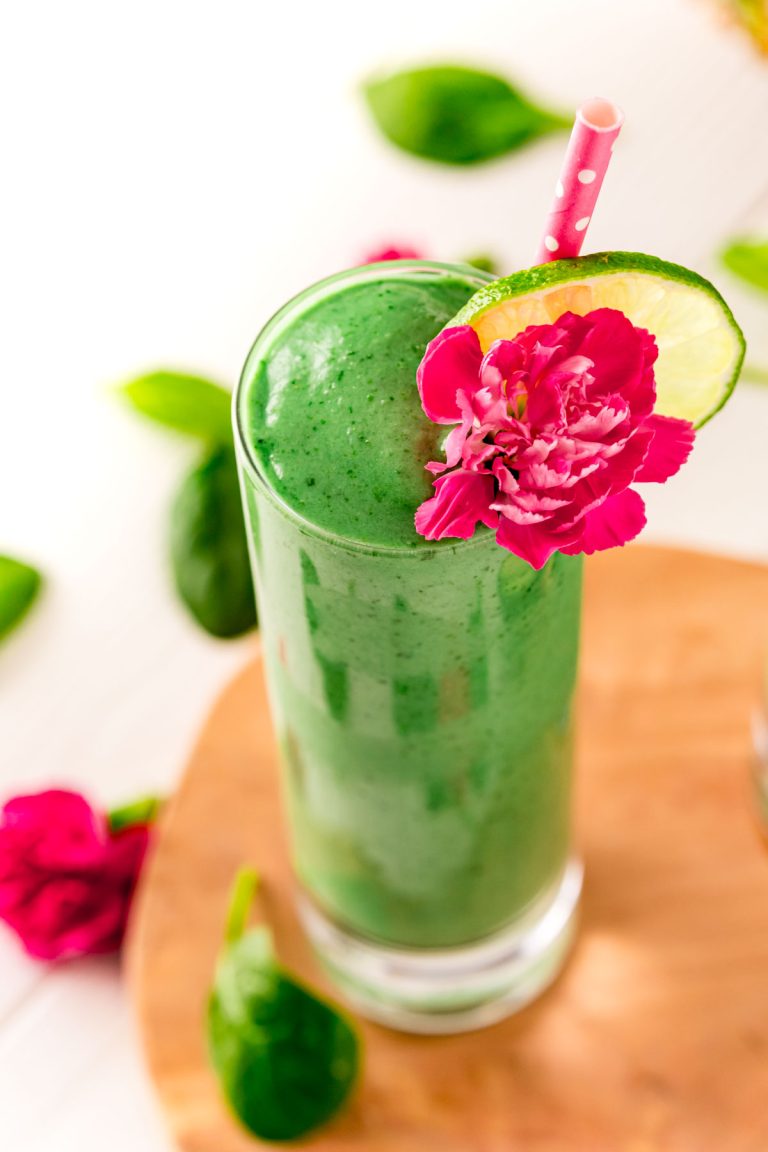 This Green Smoothie packs a punch when it comes to healthy ingredients! It's overflowing with protein (11g), added powders that are rich in vitamins, as well as fiber-rich (8g) fruits and veggies!
Sip on this smoothie for a quick, healthy breakfast or for a mid-day snack when you're looking for a pick-me-up! Don't forget the best part about smoothies is how well they travel when you're trying to get out the door in a rush! Simply pour it into your favorite tumbler and you're good to go!
5 Reasons Why I Love This Recipe
Healthy! The best green smoothie is packed with health benefits from just about every single ingredient!
Taste! Don't let all the healthy stuff scare you away, it's all disguised with a sweet fruity flavor!
Dairy-Free/Vegan Variation! To make this dairy-free/vegan just increase the avocado to a full one and skip the yogurt while also choosing agave over the honey. You can also go this route if you simply just love avocado!
Quick! Toss the ingredients into the blender and you're just a minute or two away from an easy breakfast or afternoon snack!
Makes Two! Most smoothie recipes are catered to a single serving, this one makes enough for you and your spouse, or kids!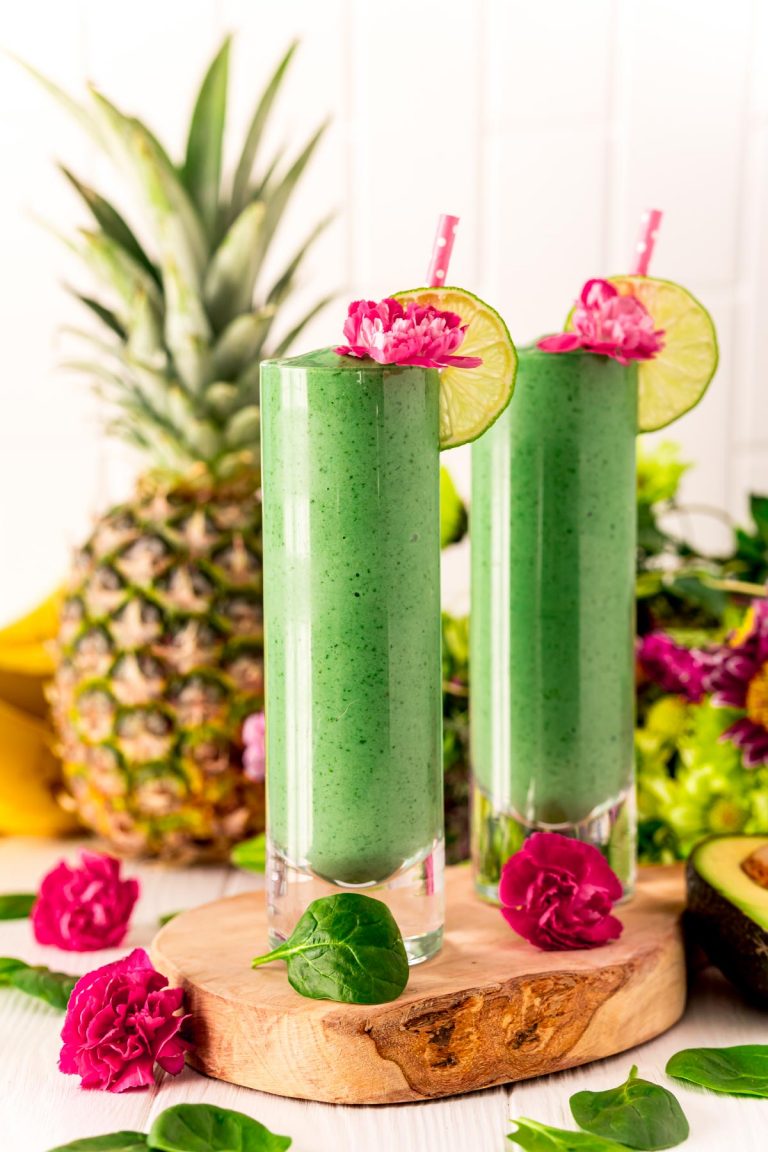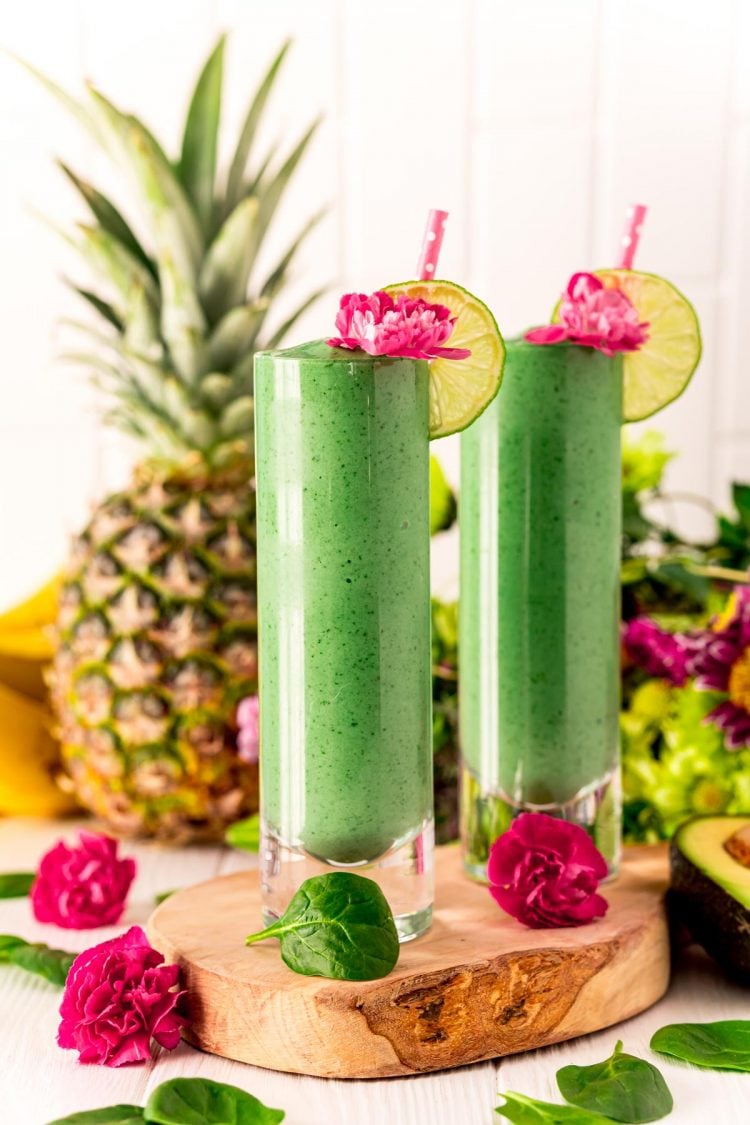 Ingredient Notes
Even thought this Spirulina Smoothie has quite a few ingredients, each one is essential for nutrition and flavor!
Frozen Fruit – Frozen fruit takes away the need for ice cubes! I used frozen banana and pineapple, but frozen mango would also be delicious!
Baby Spinach – A very nutrient-rich vegetable to pack in vitamin K, vitamin C, folic acid, iron, and calcium.
Spirulina Powder – Blue-green algae powder is high in protein and a good source of antioxidants. I used this kind! It smells like the sea, but I promise you won't be able to taste it!
Almond Milk – You only need a 1/2 cup so you can also use any milk you have on hand.
Plain Greek Yogurt – Gives this smoothie loads of protein while also helping to make the consistency creamy!
Collagen Or Protein Powder – Collagen is vital for healthy bones, skin, ligaments, and tendons (I like Vital Proteins). However, if you're on a journey of building muscle I suggest using your favorite whey protein powder. A vanilla protein powder would add some great flavor to this drink!
Coconut Oil – A healthy fat that helps your body break down carbs!
Honey Or Agave – Used to add some sweetness to this smoothie. You could also use maple syrup!
If you're looking to pack even more health benefits into this avocado smoothie recipe you could also add in hemp powder, hemp seeds, or chia seeds!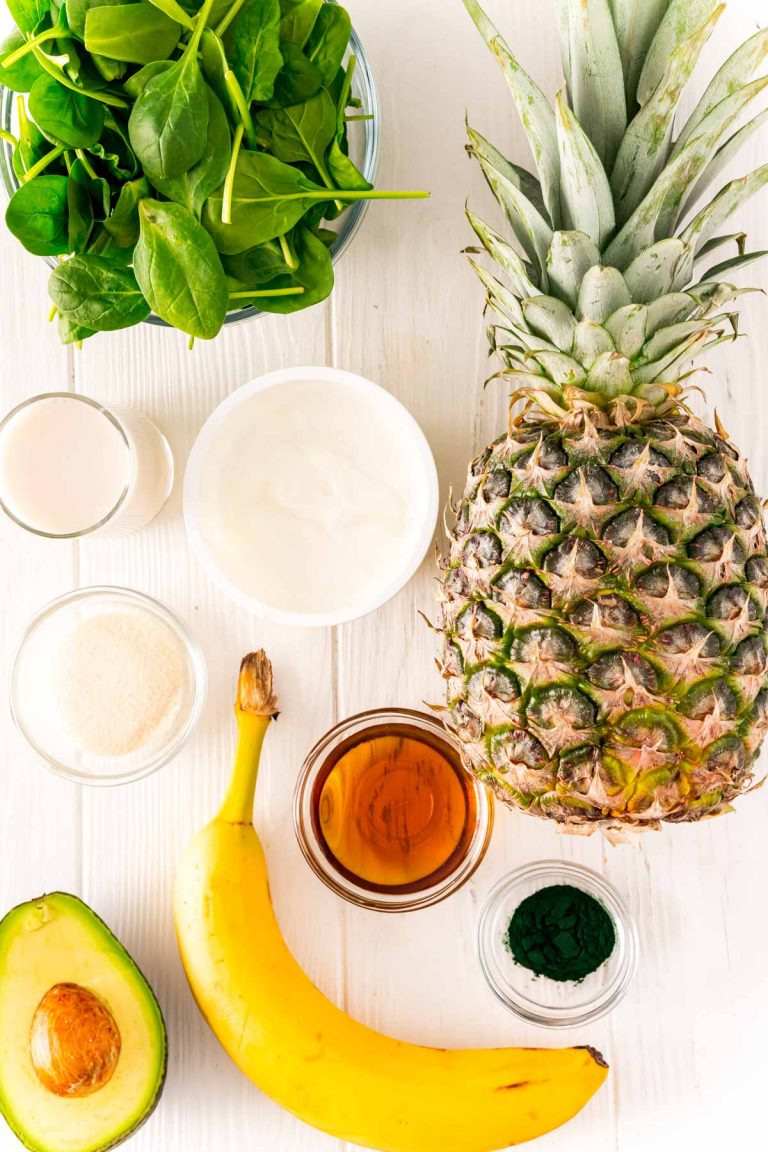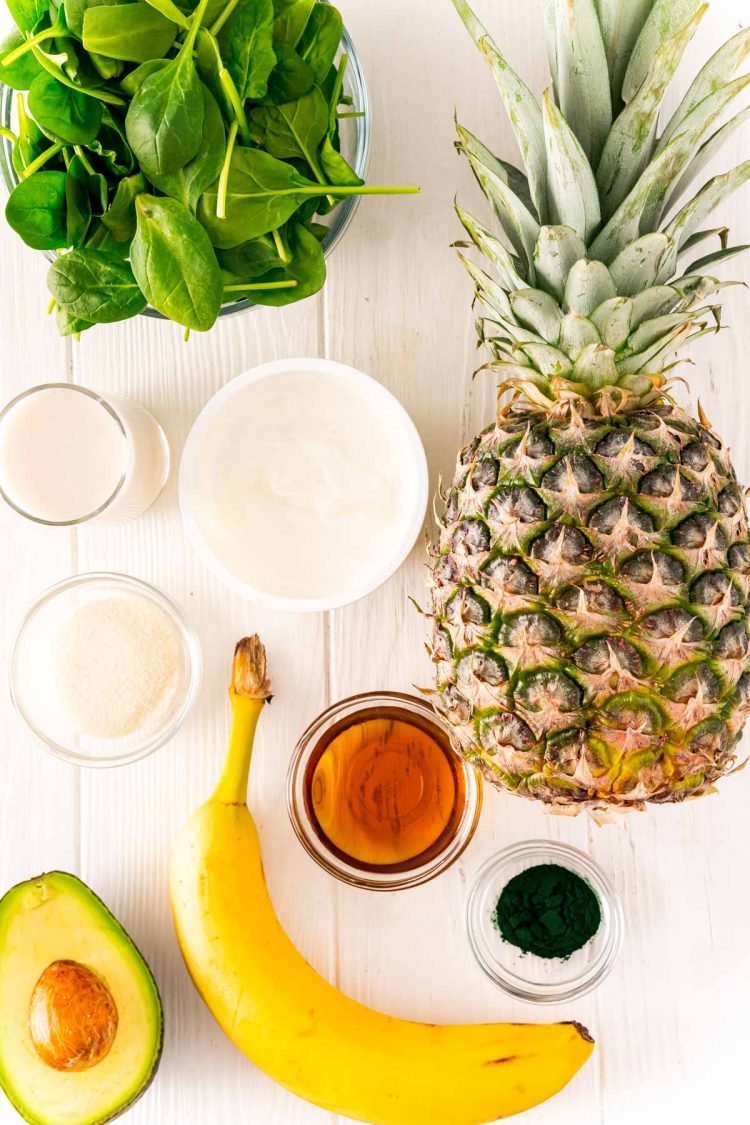 How To Make The Best Green Spirulina Smoothie
Making smoothies is so incredibly easy! Which is one of the reasons I like to have them for breakfast when I'm on the go!
Measure out all of the ingredients and add them to a blender.
Blend until smooth.
Pour into two glasses and enjoy!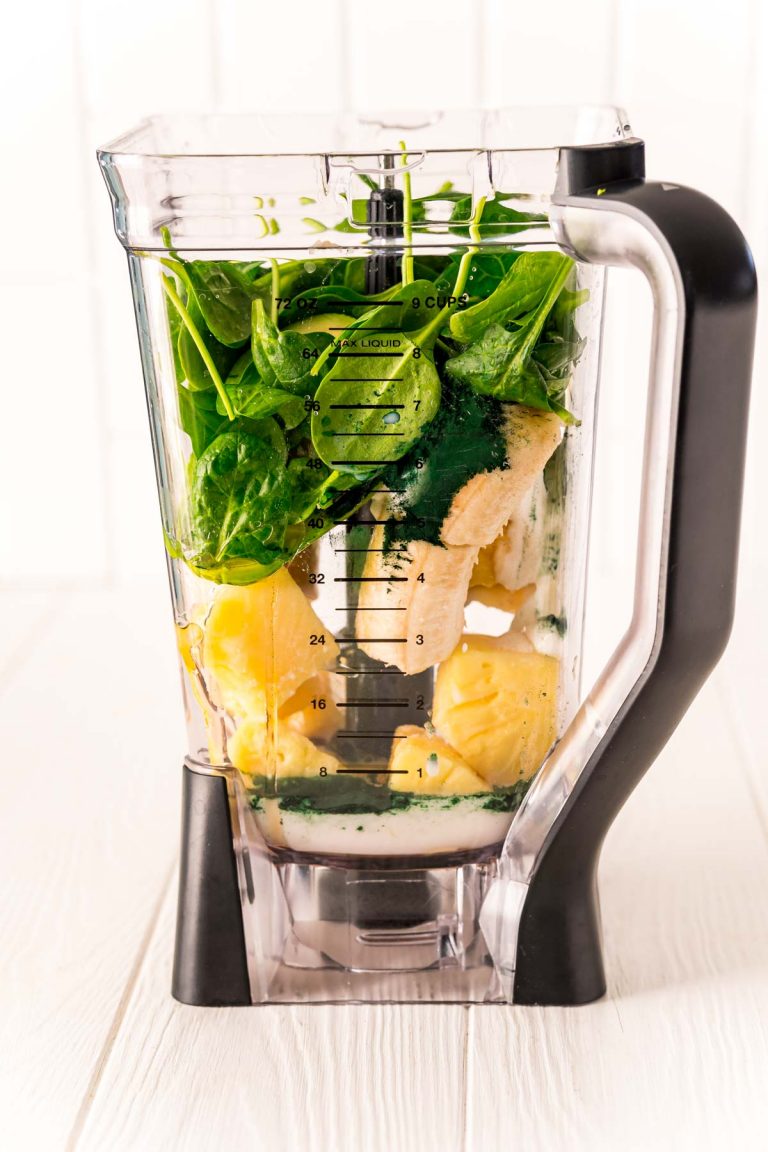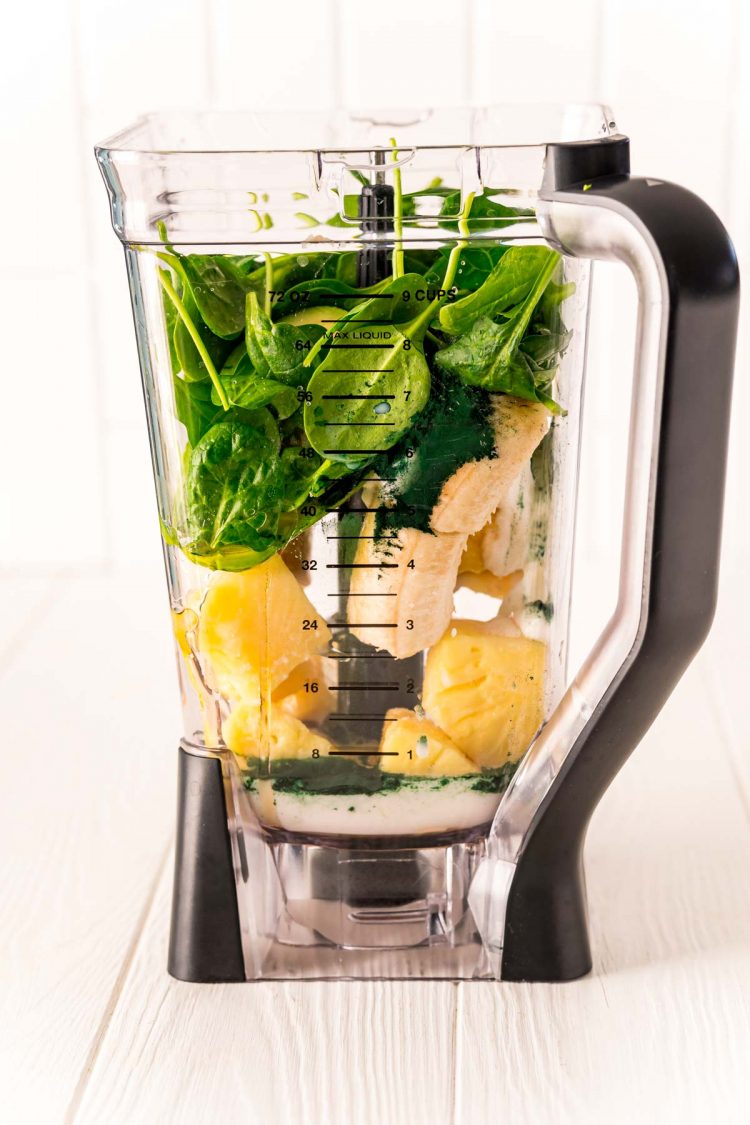 Can I Prep This Spirulina Smoothie Ahead Of Time?
Yes! Just measure out your pineapple, fresh spinach, avocado, and banana and place it in a zip lock bag in the freezer.
The rest of the ingredients are best measured out when you go to make the smoothie, but measuring out and freezing the fruit and vegetables ahead of time will give you a nice head start!
You should check out my Frozen Smoothie Packs if meal planning is your thing!
What Gives This Green Smoothie Its Color?
The Spirulina Powder gives this drink an intense green color, but also provides a ton of health benefits!
Can You Taste The Spinach?
Not at all! Since you can't taste the spinach in smoothies it's a great way to sneak in a vegetable without even knowing it!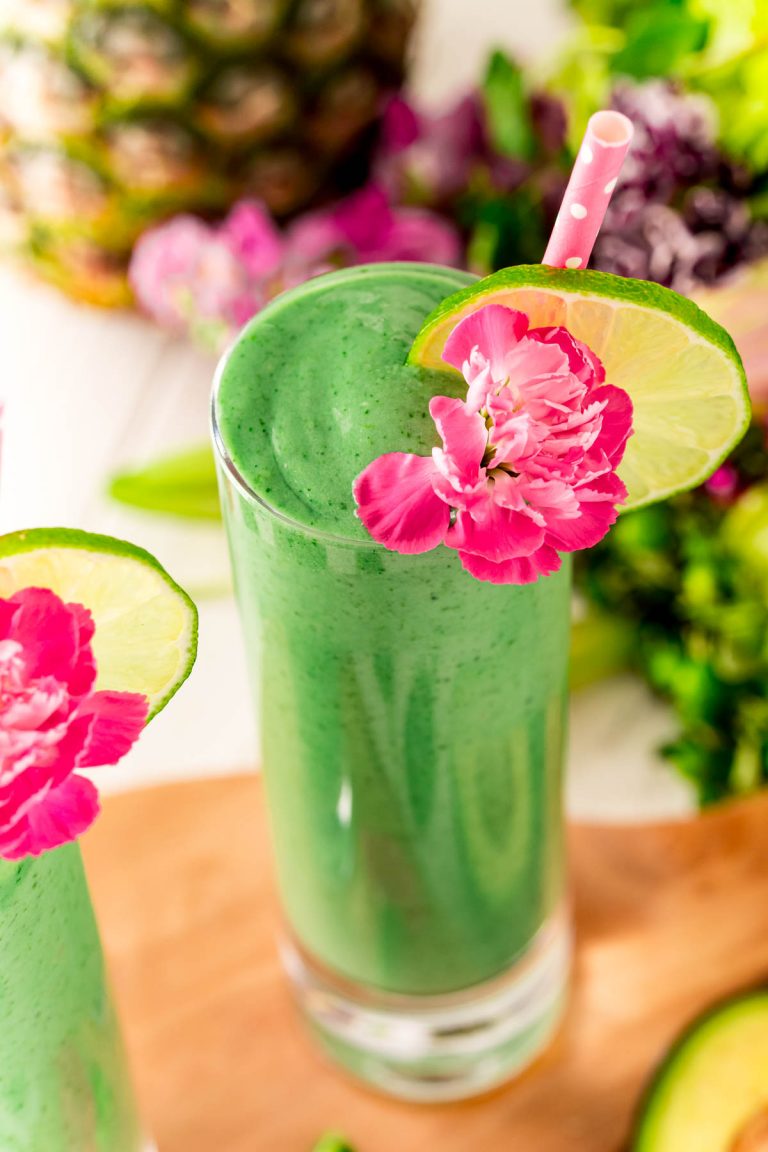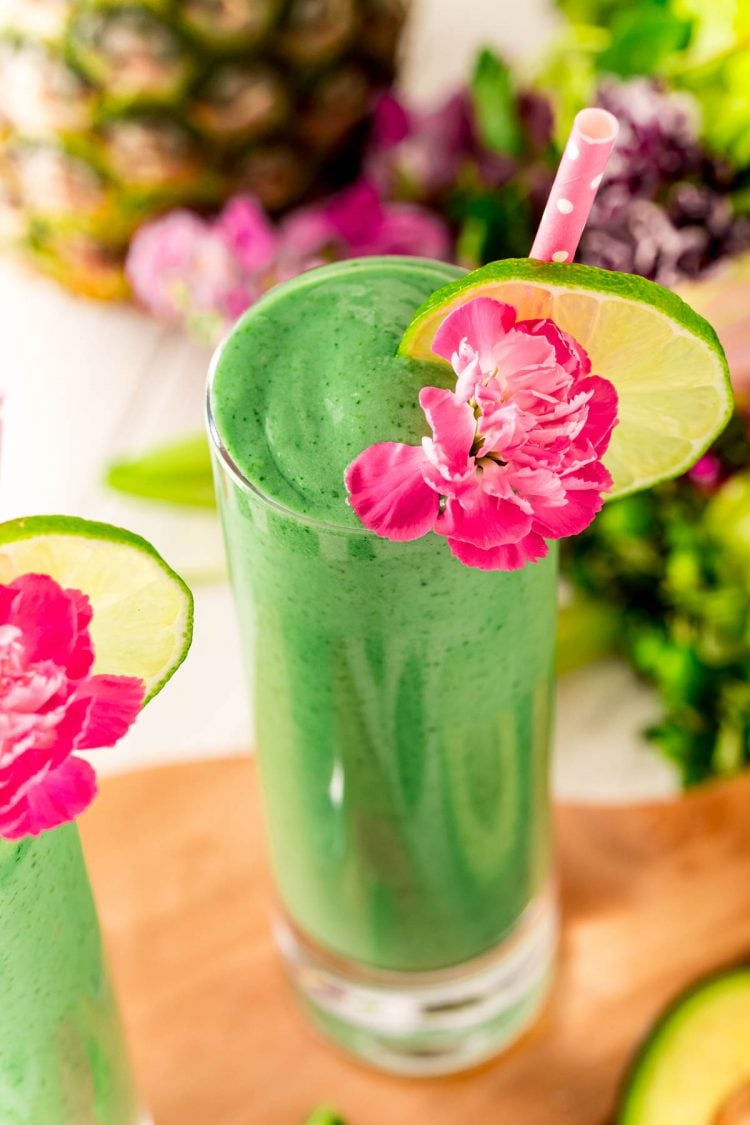 Healthy smoothies are a fun, delicious way to break up the muffins and pastries we tend to grab for a quick breakfast! Here are more great smoothie recipes for you to try that I think you'll love!
Best Green Spirulina Smoothie
Click the button above to save this delicious recipe to your board!
👋 Let's Connect!
If you've tried this recipe, please let me know how you liked it in the comments below and leave a review; I love hearing from you! And don't forget to tag me – @sugarandsoulco – on Instagram and Pinterest with your photos or join our Busy Family Recipes Facebook Community and share them there!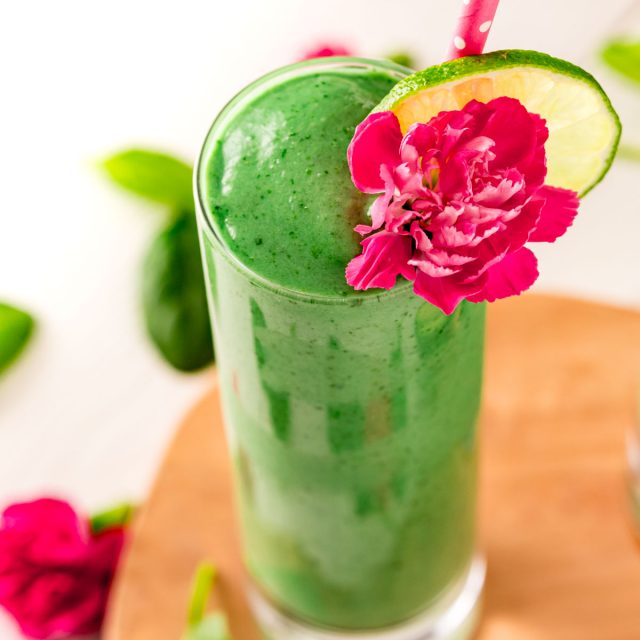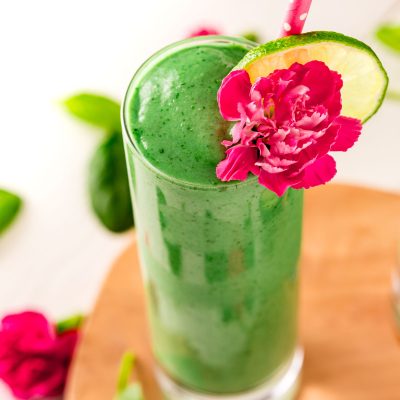 Best Green Spirulina Smoothie
This Green Pineapple Spinach Spirulina Smoothie is overflowing with health benefits that are hidden behind a sweet fruity flavor you'll love!
Ingredients
1

frozen banana

2

cups

frozen pineapple

2

cups

fresh baby spinach

1

teaspoon

spirulina powder

½

cup

almond milk

5

ounces

plain Greek yogurt

2

scoops

collagen or protein powder

1

tablespoon

coconut oil

2

tablespoons

honey or agave

½

avocado
Instructions
Add all ingredients to a blender and blend until smooth.

Divide into two glasses and enjoy.
Notes
To make this dairy-free/vegan increase avocado to a full one and omit the yogurt and choose agave over honey.
Any milk can be used in this recipe.
Spirulina gives this drink its intense green color while also providing tones of health benefits.
It smells like seaweed but you can't taste it in the drink, the drink flavor is actually quite fruity.
This smoothie is sweet and fruity, not earthy.
Pop chopped banana and pineapple in the freezer about 1 to 2 hours before you need to use it.
Nutrition
Calories:
397
kcal
Carbohydrates:
61
g
Protein:
11
g
Fat:
16
g
Saturated Fat:
7
g
Trans Fat:
1
g
Cholesterol:
4
mg
Sodium:
137
mg
Potassium:
913
mg
Fiber:
8
g
Sugar:
44
g
Vitamin A:
3023
IU
Vitamin C:
98
mg
Calcium:
214
mg
Iron:
2
mg