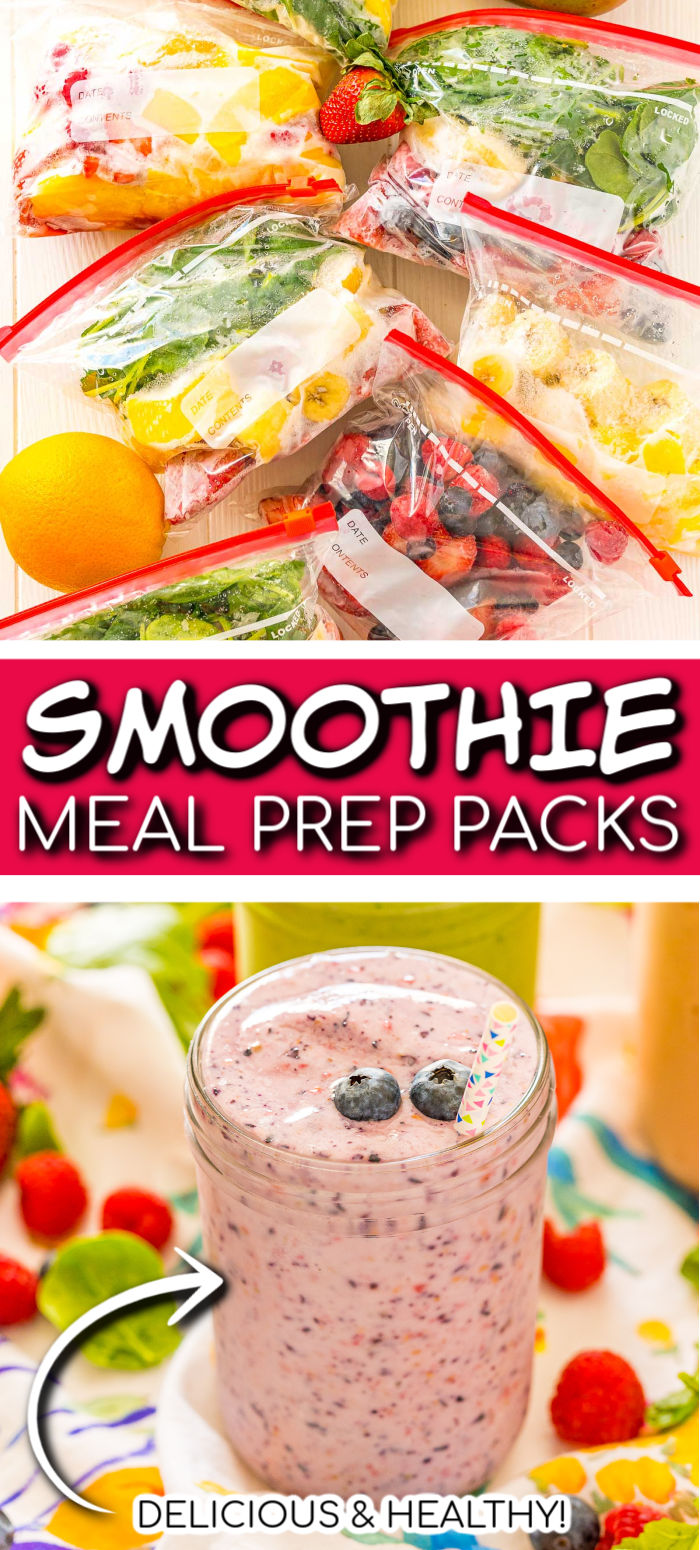 These Frozen Smoothie Packs are such an easy way to meal prep breakfast for the week! Smoothie prep has never been easier and there are so many flavor options!
I'll often whip up a Raspberry Banana Smoothie, Strawberry Banana Lemon Smoothie, or a Tropical Smoothie when I need yummy breakfast options that are healthy, too! But as simple as those are to throw together, I have a new hack to make my mornings even easier.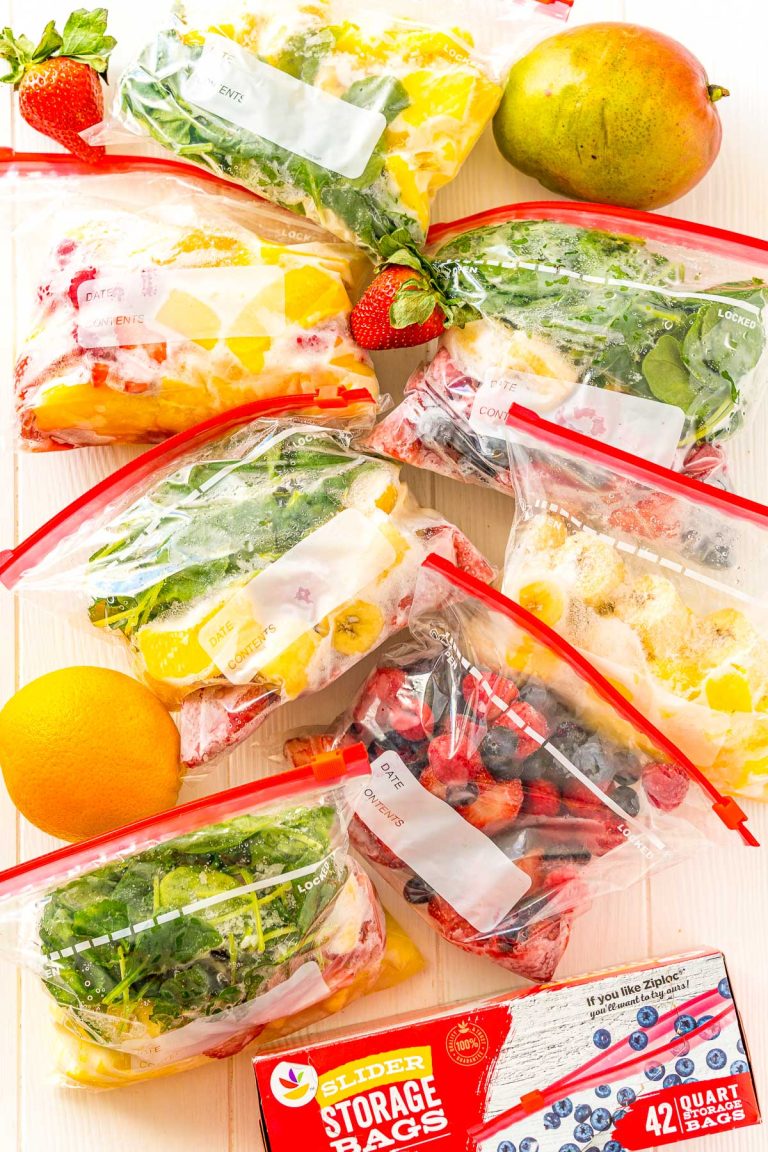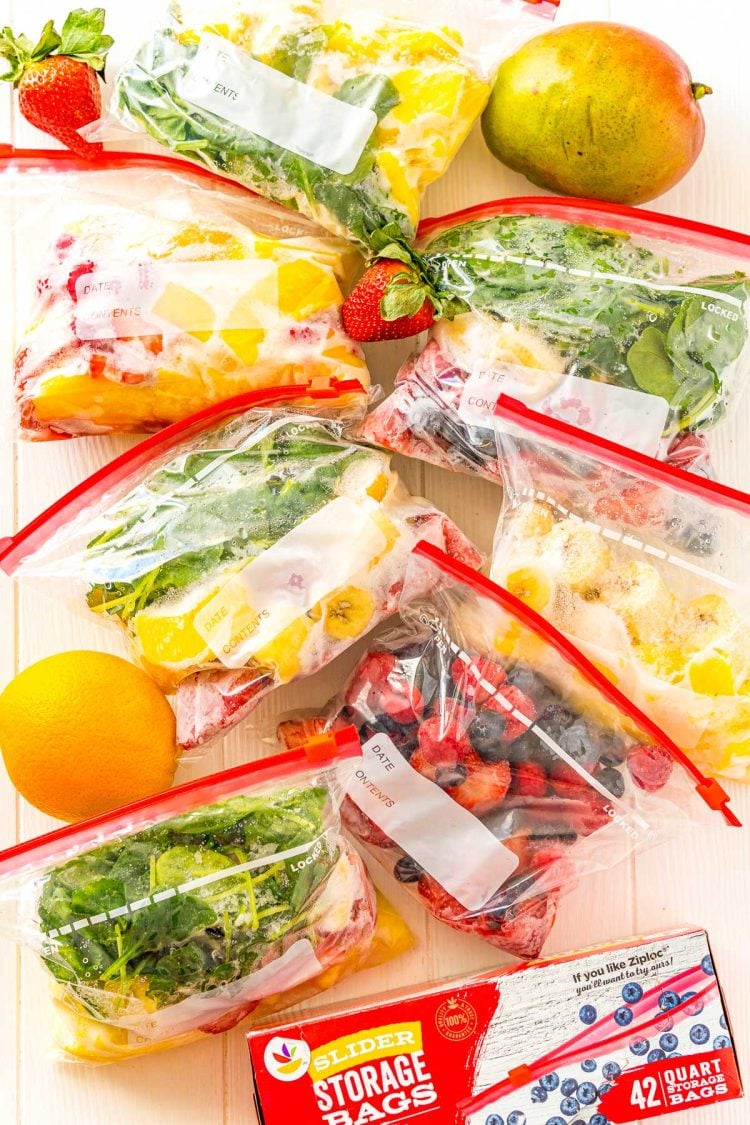 Make-Ahead Smoothie Packs are the perfect blend of fruit and veggies, milk, yogurt, and sweetener for a delicious start to the morning. The key is to prep your produce in advance, and you'll save loads of time in the morning!
But I have to confess: meal prepping isn't exactly my favorite chore. However, I'm trying to start the New Year out right by making affordable, nutritious, and tasty breakfasts for my family.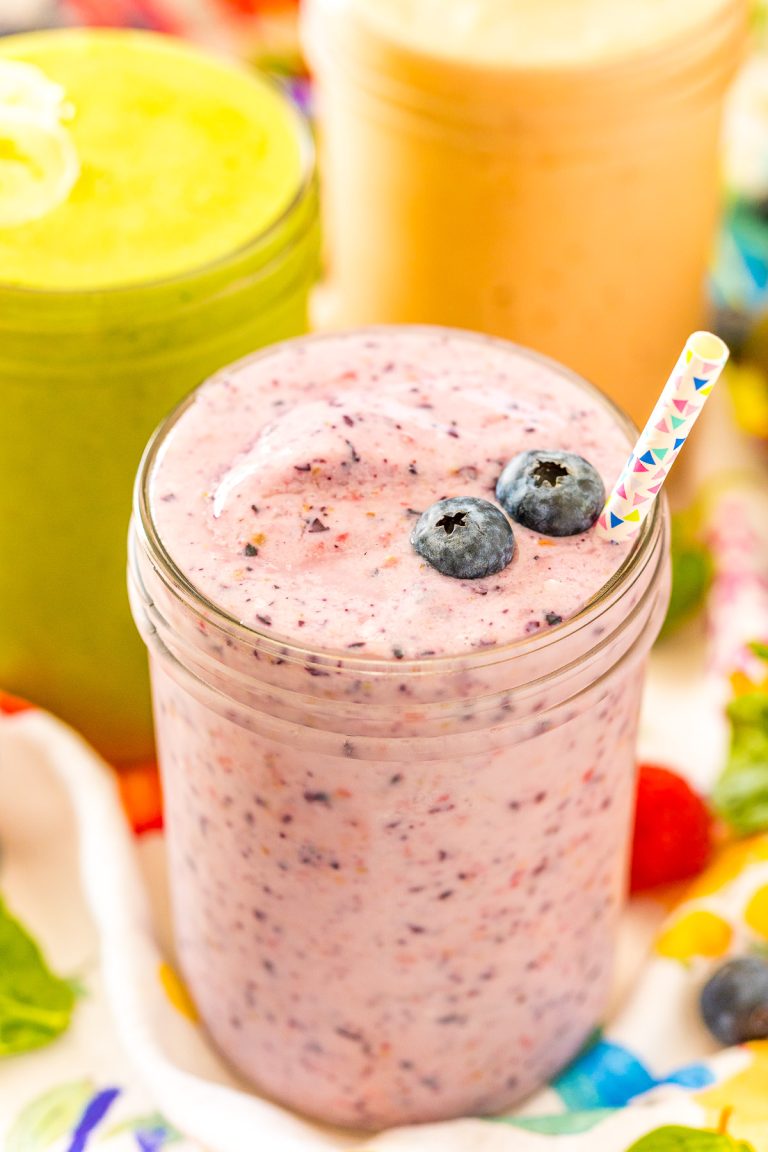 Luckily, putting together these Freezer Smoothie Packs is something I can actually get behind.
Not only is the prep simple and straightforward, but I also get all my ingredients at Stop & Shop. It's another convenience that helps me stay on track since they always have the best fresh produce at low prices.
Stocking my cart with a rainbow of seasonal fruits and veggies actually makes me excited to start prepping and Freezing Smoothies. They also have a great selection of wholesome mix-ins so I can skip the trip to the specialty food store!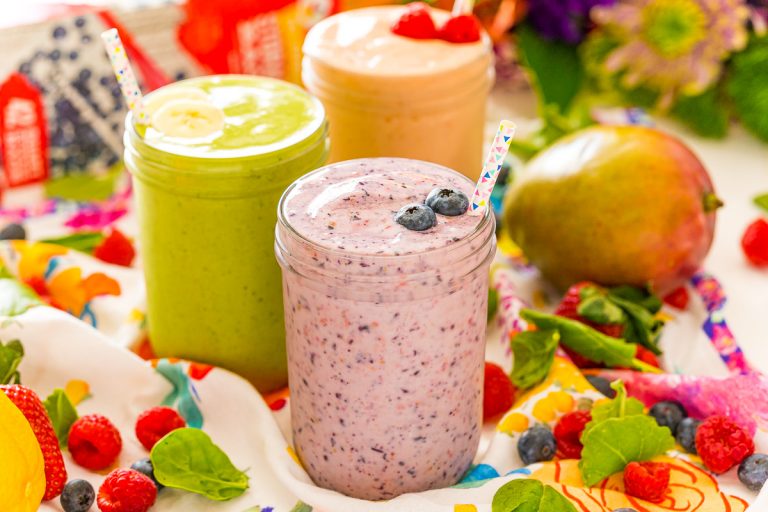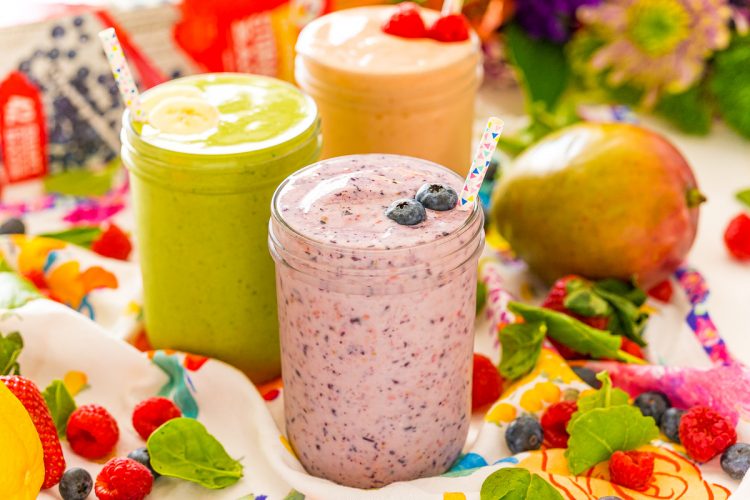 Needless to say, making Frozen Smoothie Packs with quality ingredients will help my family keep our resolution of eating less processed foods. And even a small step toward a healthier lifestyle is a step in the right direction, amirite?
And since I've started practicing this routine, I've found it's actually kind of fun! My 16-month-old daughter, Evie, helps me sample each fruit, just to make sure they're tasty 😉
It usually ends with juice dribbling down her chin, but I don't mind. The important thing is she's learning to love healthy foods!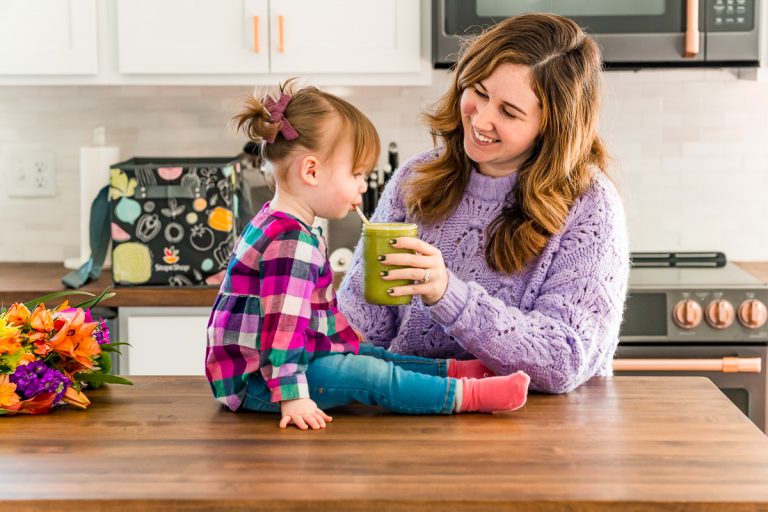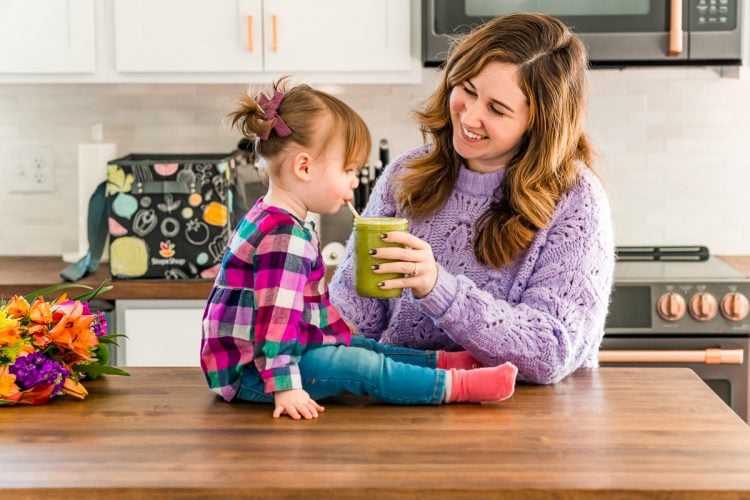 What Are Frozen Smoothie Packs?
Smoothie Packs are bundles of chopped fruits and/or veggies that you place in single-serve plastic bags and freeze. When it's time for a quick breakfast or snack, dump the packs, some liquid, and additional mix-ins in a blender.
Once you achieve a creamy texture, it's ready to enjoy — even when you're on the go!
How To Make Frozen Smoothie Packs:
It's simple: rinse, peel, and chop your fresh produce. Put 3 cups of various fruits, or a mixture of fruit and veggies for green smoothies, into individual plastic bags.
You can make a bunch of different combinations and everyone in the family can pick their favorite freezer smoothie packs! Some of my personal favorites include:
Blueberry, Strawberry, and Raspberry
Mango, Pineapple, and Banana
Strawberry, Banana, Spinach, and Kale
Mango, Pineapple, Strawberry, Spinach, and Kale
Once the packs are assembled, stash them in the freezer until you're ready to blend!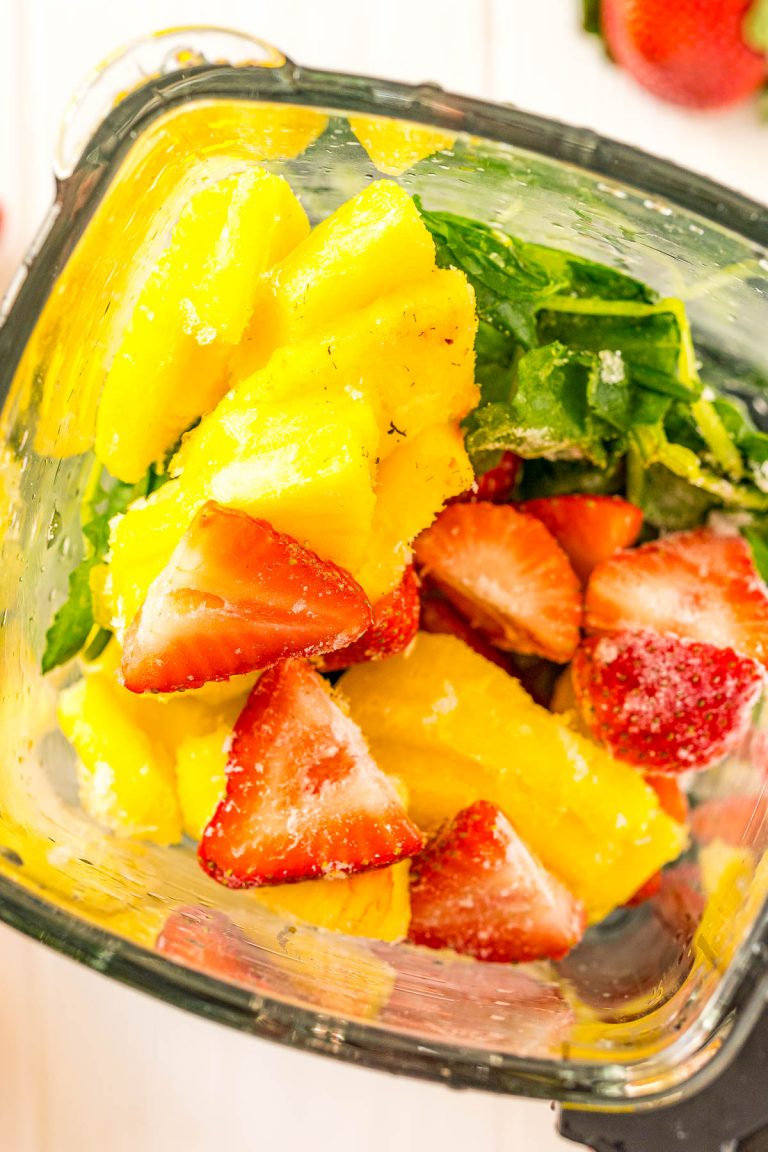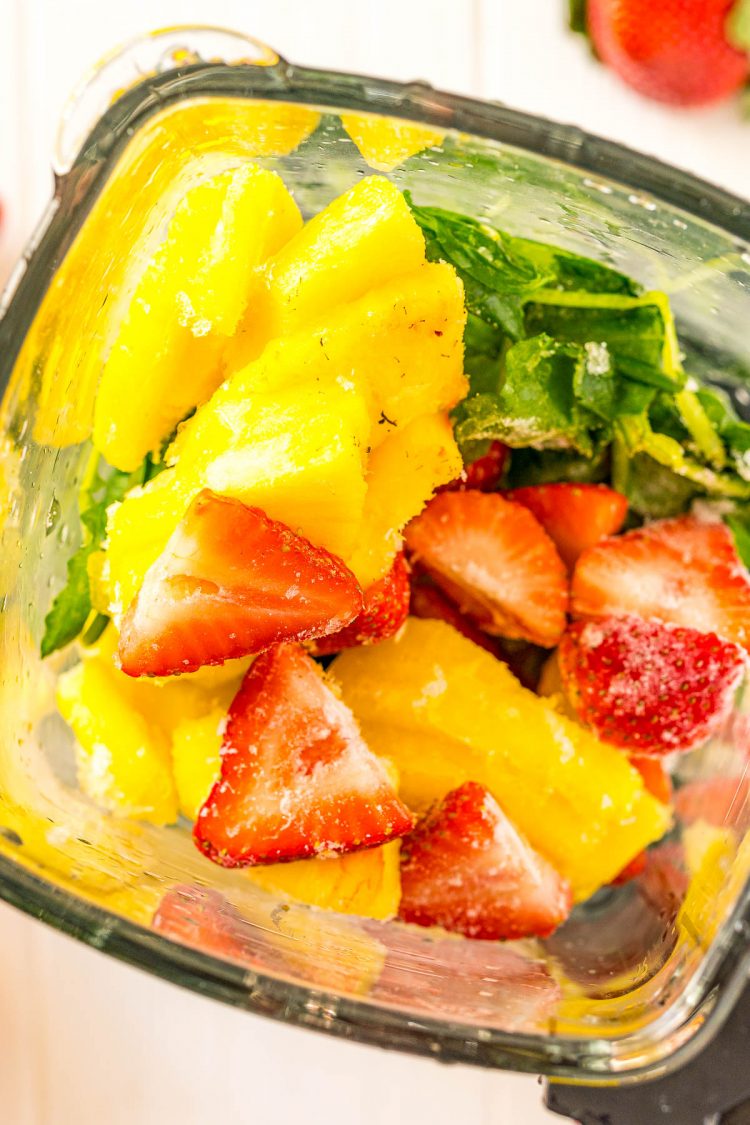 How To Make A Smoothie:
Pour the contents of a frozen pack into a blender with some liquid (milk, water, or juice), yogurt, and a little sweetener.
The variations of smoothie recipes are endless, but here are some basic guidelines to make sure yours come out just right!
Base Recipe:
1 ¼ cup milk (or other liquid)
1 tablespoon honey or agave
5 ounces Greek yogurt or cottage cheese
1 tablespoon coconut oil
1 Pre-Made Smoothie pack (containing 3 cups of fruit and/or veggies)
Each base recipe will yield 2 smoothies, so they're perfect for sharing with a spouse or a child!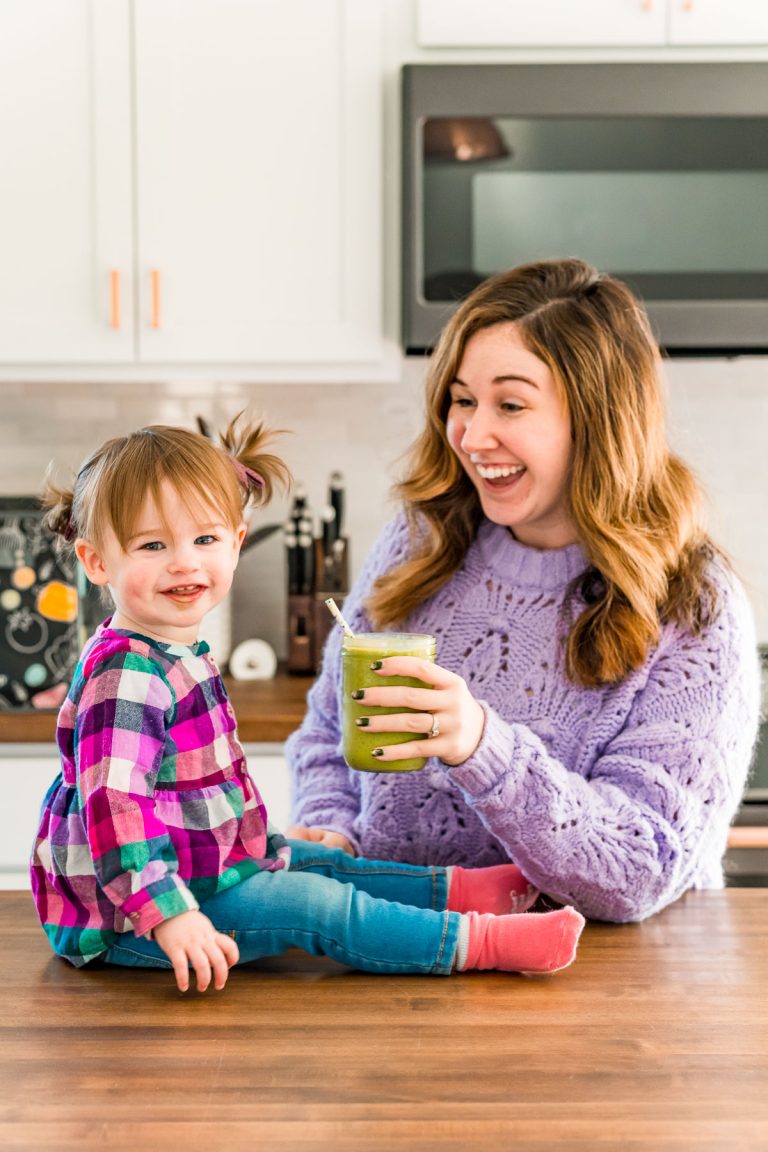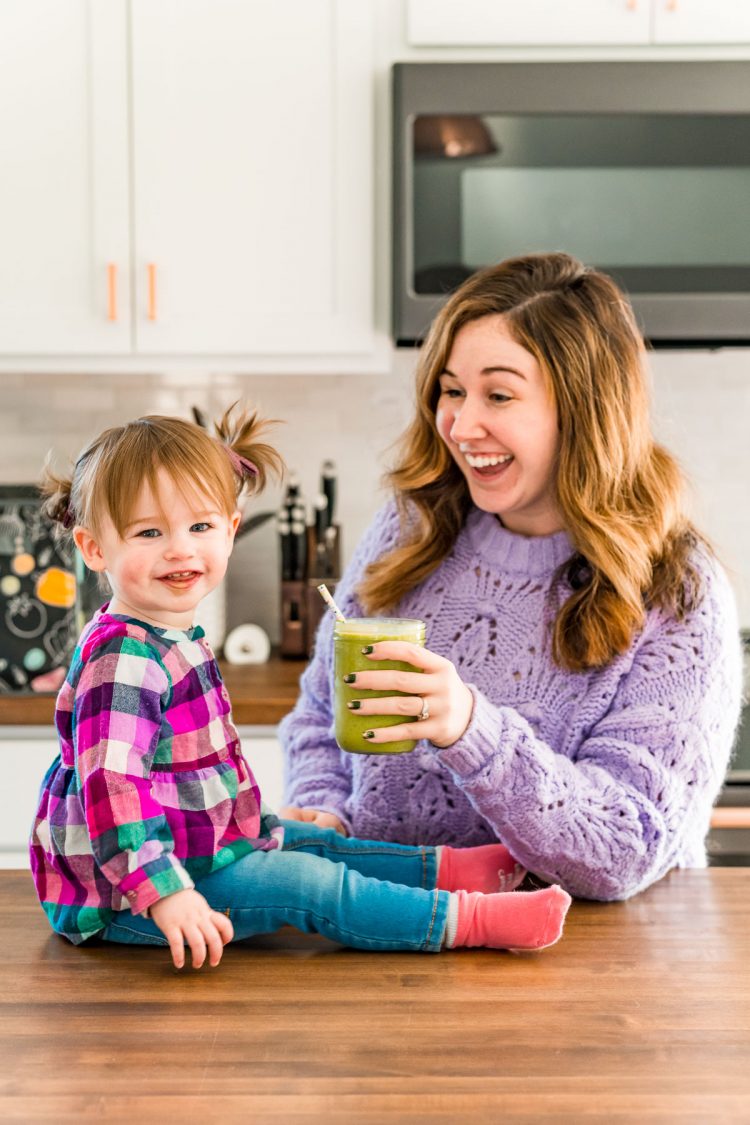 Why Should I Meal Prep Smoothies?
In short, to save time and money (oh, and to eat healthy, too!).
The most time-consuming part of making a smoothie with fresh ingredients is rinsing, peeling, and prepping the produce. But when you assemble Pre-Made Smoothies ahead of time, they're ready to blend at a moment's notice.
This wholesome grab-and-go option takes away the temptation to buy breakfast at a cafe or drive-thru. I personally love how my entire family can drink these, including our toddler!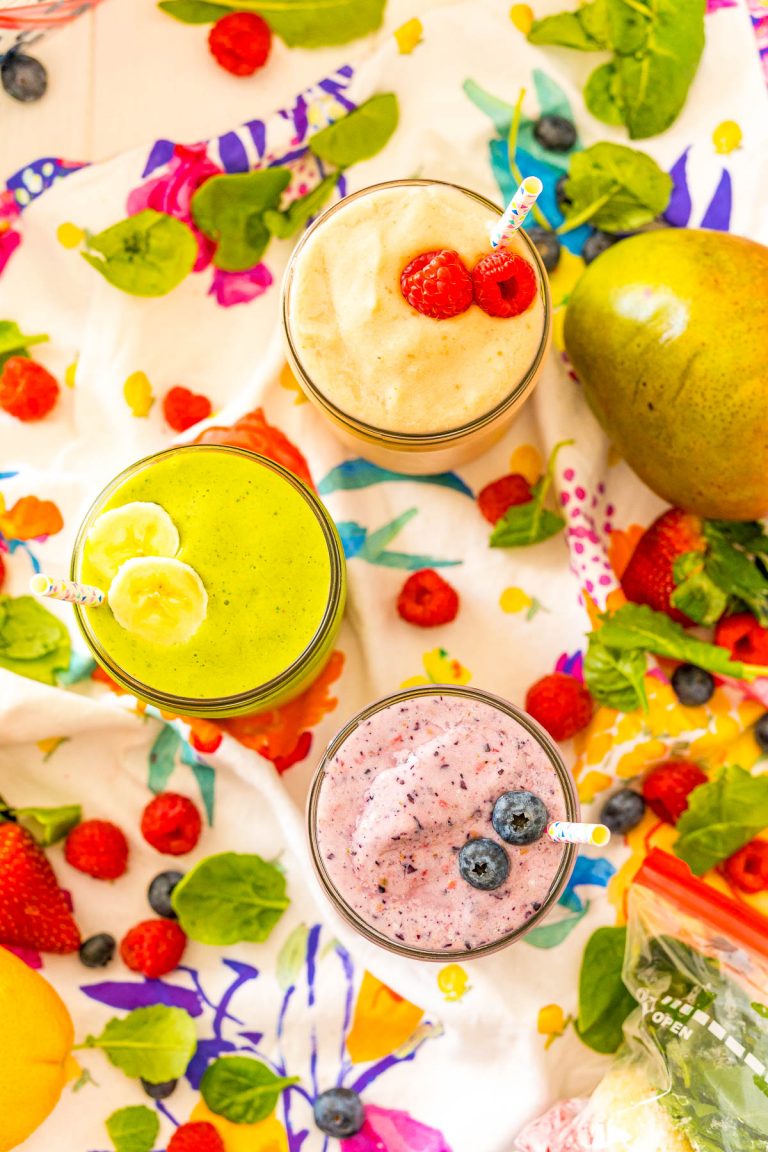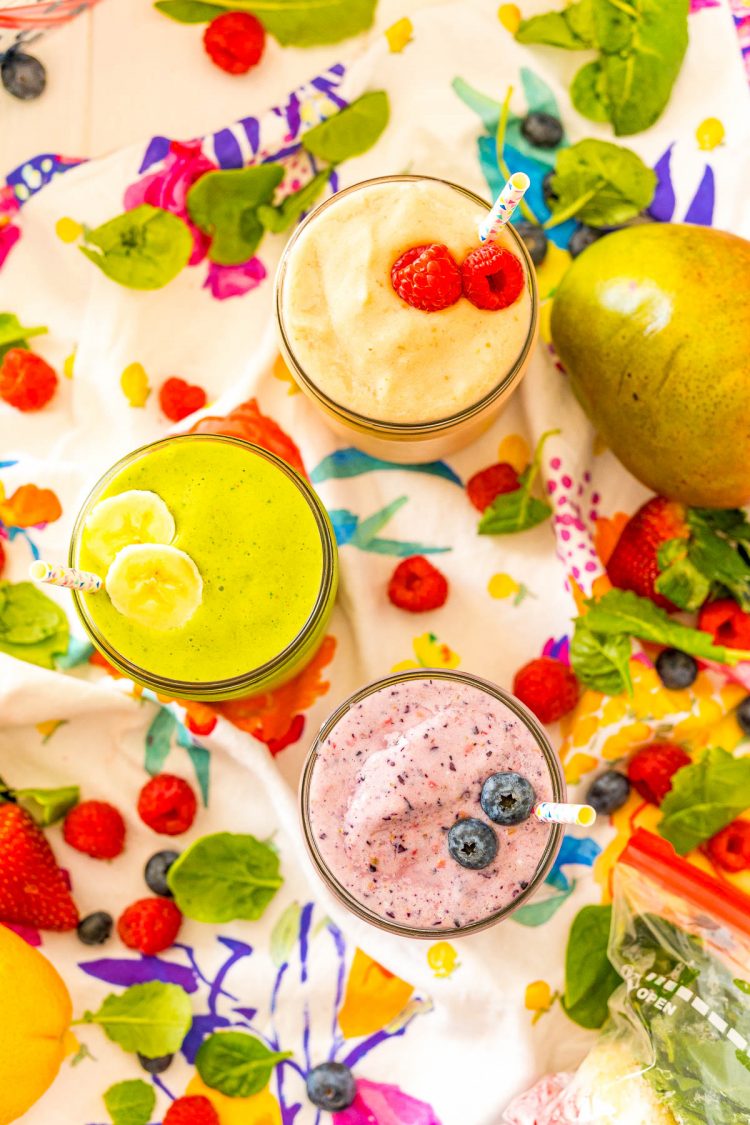 What Can I Add To My Smoothie?
There are tons of extra smoothie ingredients you can add to your drink or bowl to boost flavor and nutrition. This also means that everyone can customize their own breakfast, and your morning meal will never get boring!
Try experimenting with these yummy add-ins:
Nut butter: peanut butter, almond butter, cashew butter, etc.
Dairy-free milk alternatives: almond milk, coconut milk, hemp milk, soy milk, etc.
Coconut water
Collagen powder
Fruit juice
Protein powder
Flax seeds
Cocoa powder
Carob or chocolate chips
Coconut flakes
Avocado
Looking to make a health-conscious New Years Resolution that you (and the fam) can actually stick to? Head to Stop & Shop to stock up on ingredients for Smoothie Packs, then enjoy convenient, nourishing breakfasts all week long!

Frozen Smoothie Packs
Pin It For Later
Click the button above to save this delicious recipe to your board!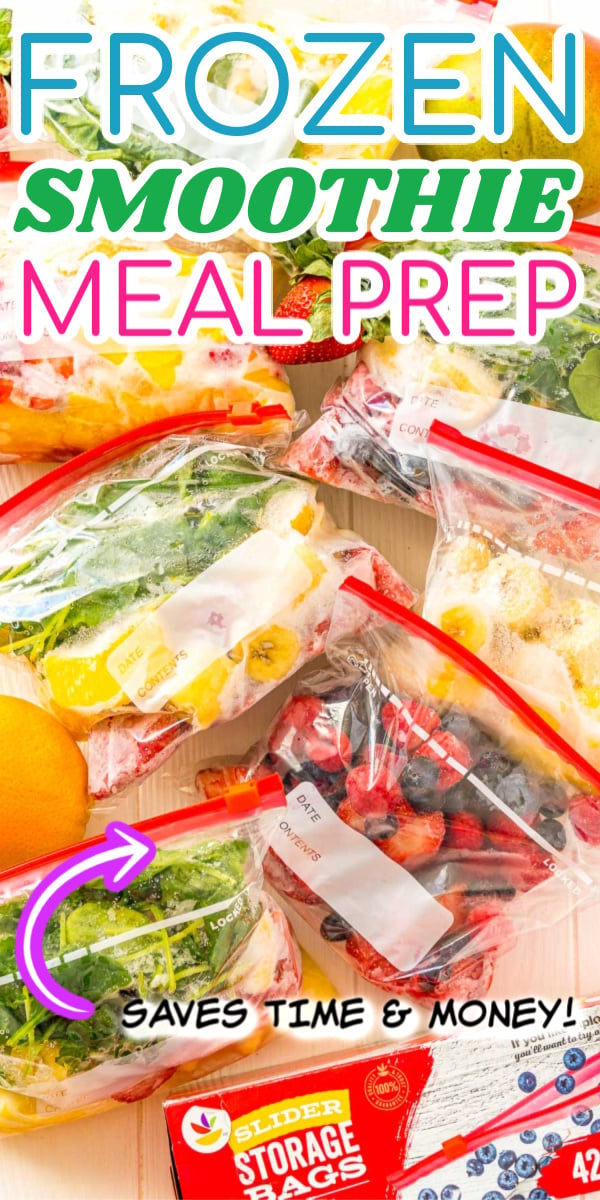 👋 Let's Connect!
If you've tried this recipe please let me know how you liked it in the comments below and leave a review, I love hearing from you! And don't forget to tag me – @sugarandsoulco – on Instagram and Pinterest with your photos!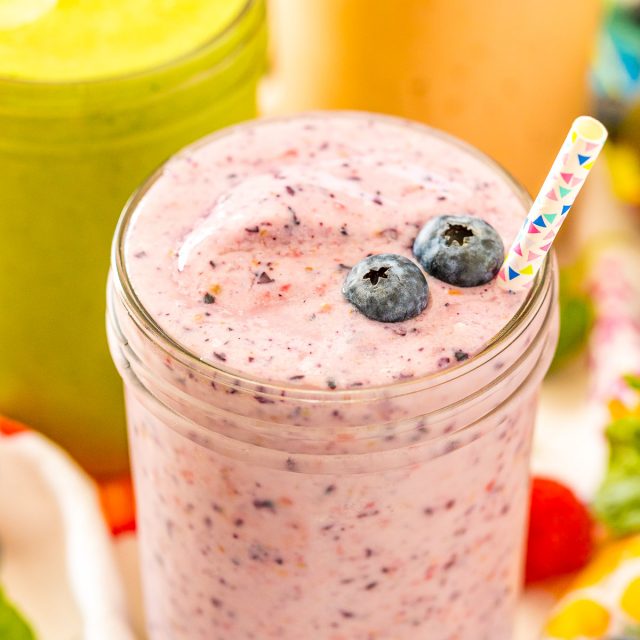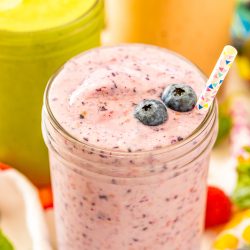 Frozen Smoothie Pack Smoothies
These Frozen Smoothie Packs are such an easy way to meal prep breakfast for the week! Smoothie prep has never been easier and there are so many flavor options!
Ingredients
Pre-Made Smoothie Pack
3

cups

fruits and vegetables1
Smoothie
1 ¼

cup

milk2

1

tablespoon

honey3

5

ounces

Greek yogurt4

1

tablespoon

coconut oil5

1

Pre-Made Smoothie Pack
Instructions
Frozen Smoothie Pack
Prepare your fruits and vegetables by chopping and dicing and placing them in a quart-sized freezer bag. Squeeze out as much air as possible before freezing. Freeze for up to 1 month for best results.
Smoothie
To prepare the smoothie pack smoothie, add a pack along with your choice of milk, sweetener, thickener, and coconut oil to a blender and blend until smooth.
Notes
Choose a blend of your favorite fruits and veggies, here are some of our favorite.

Blueberry, Strawberry, and Raspberry
Mango, Pineapple, and Banana
Strawberry, Banana, Spinach, and Kale
Mango, Pineapple, Strawberry, Spinach, and Kale

Any kind of milk or liquid can be used: Almond milk, coconut milk, coconut water, fruit juice, etc.
Agave nectar may be used instead of honey.
Cottage cheese may be used instead of Greek yogurt for higher protein.
Coconut oil may be omitted and you can also add-in other nutritional boosts:

Collagen powder
Protein powder
Flax seeds
Cocoa powder
Carob or chocolate chips
Coconut flakes
Avocado
Nut butter
Nutrition
Calories:
430
kcal
Carbohydrates:
71
g
Protein:
14
g
Fat:
13
g
Saturated Fat:
9
g
Cholesterol:
19
mg
Sodium:
109
mg
Potassium:
618
mg
Fiber:
6
g
Sugar:
59
g
Vitamin A:
1321
IU
Vitamin C:
8
mg
Calcium:
268
mg
Iron:
1
mg