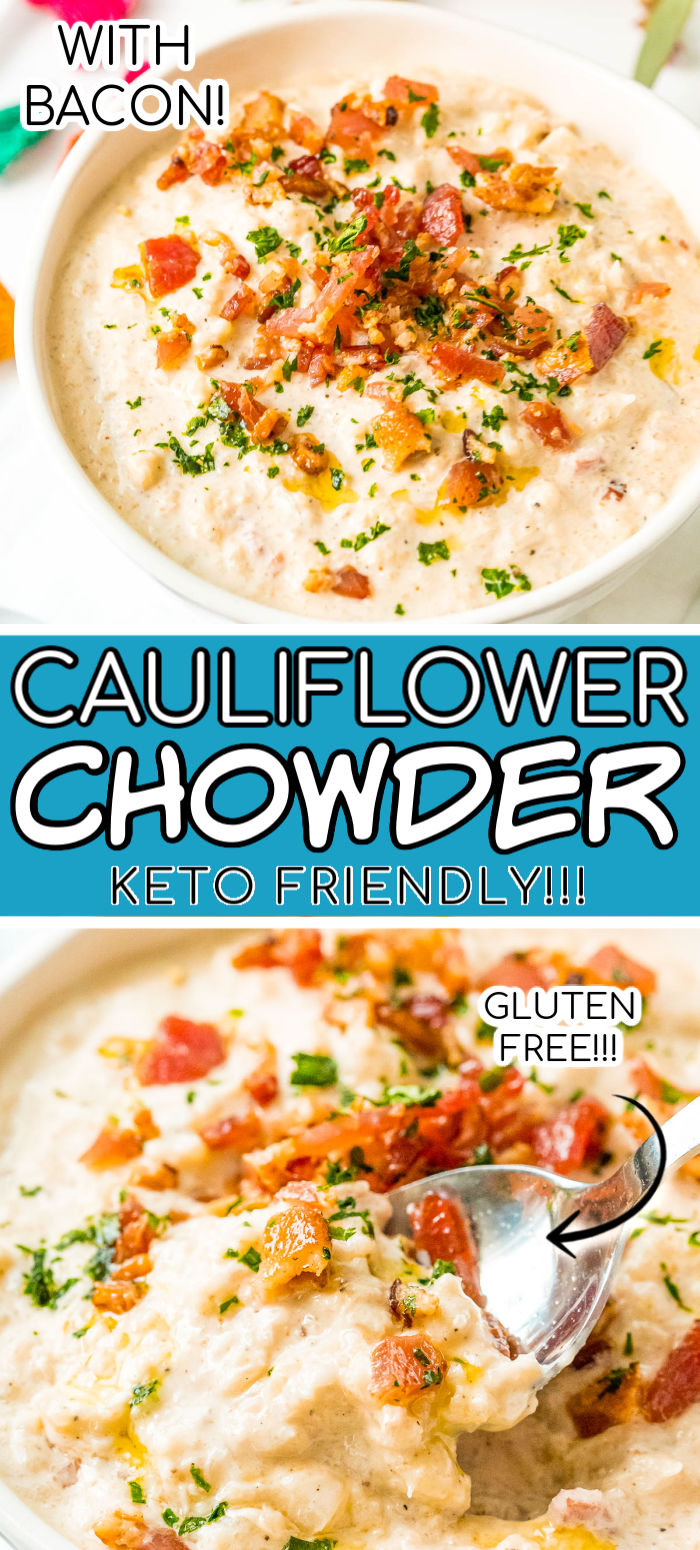 Bacon Cauliflower Chowder is gluten-free and keto-friendly and loaded with salty bacon, cream cheese, cauliflower, and seasoning for a delicious chowder recipe you'll want to make again and again!
Even if you're not on a keto meal plan, this chowder is delicious and super easy to make! You might also enjoy my Corn Chowder recipe too!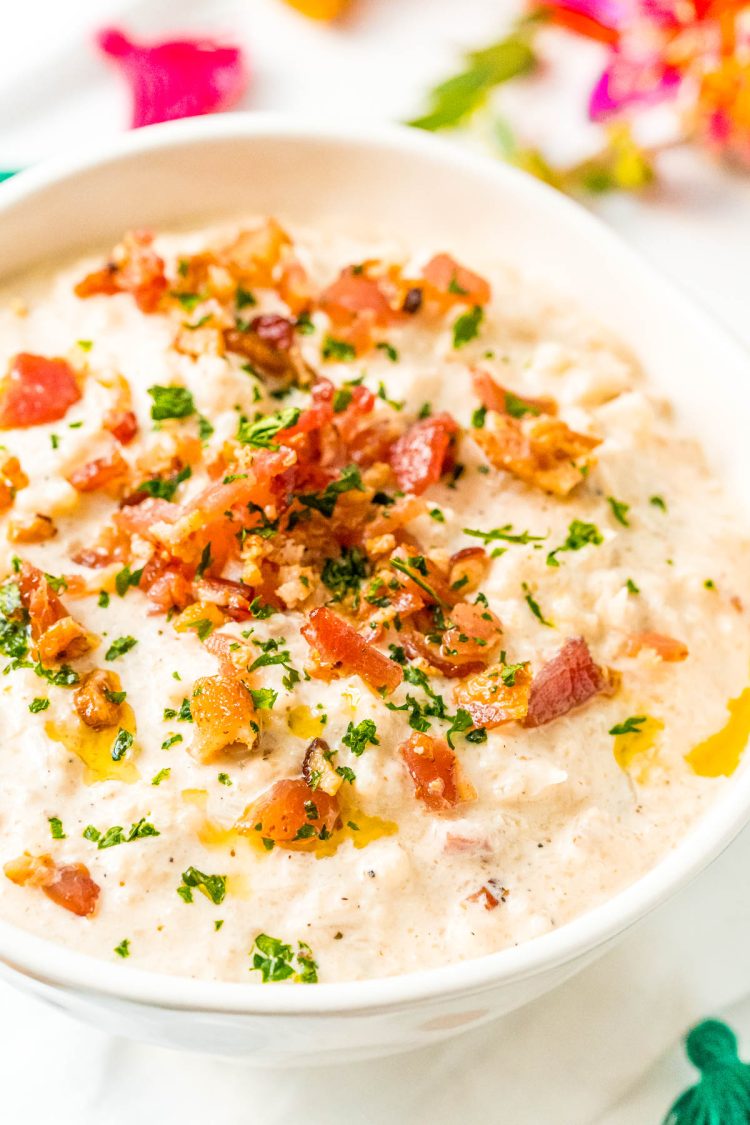 Whether you eat low-carb or not, this Keto Chowder is a healthier chowder that's loaded with cauliflower instead of cream. It'll satiate your family's comfort food cravings on a chilly day, and they won't even realize they're eating veggies!
The big difference between Cauliflower Soup and chowder is that the soup is a thick and smooth dish where this has hearty chunks in it.
Ingredients In Cauliflower Chowder
grass-fed butter
garlic cloves
bone broth (you can use regular chicken broth too)
water
head of cauliflower
ground black pepper
Old Bay Seasoning
dried oregano
kosher salt
cream cheese
bacon
bacon drippings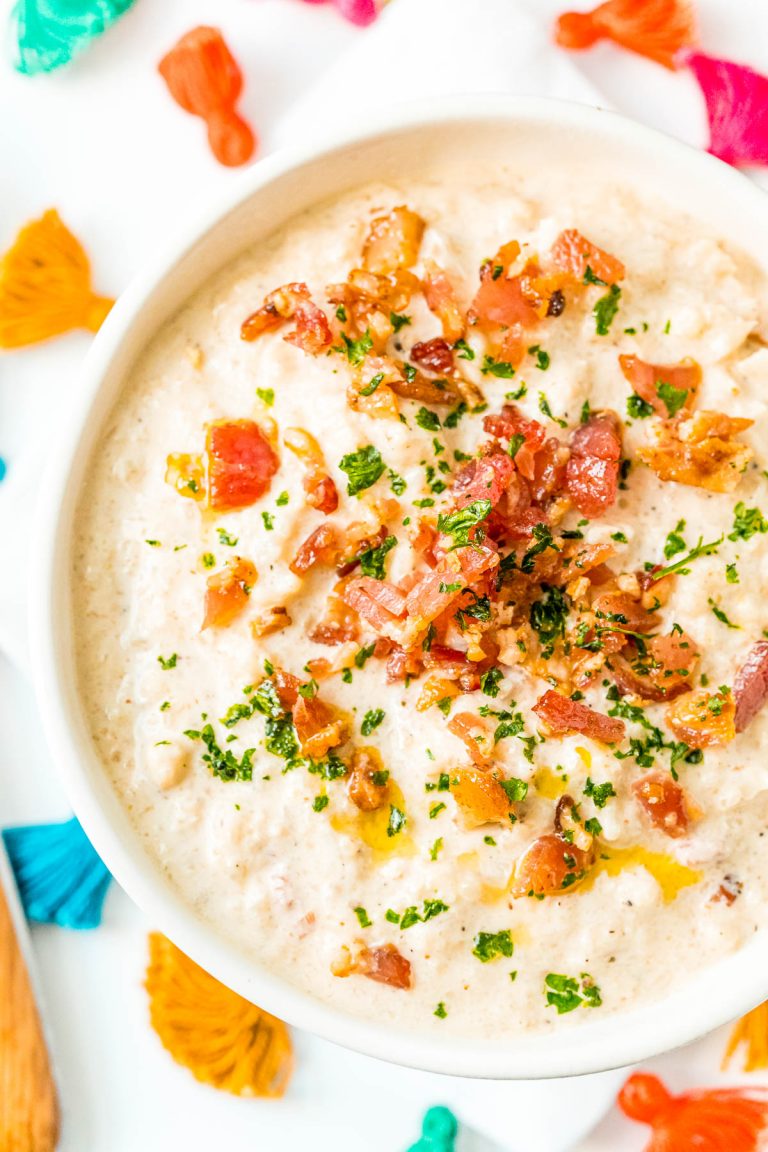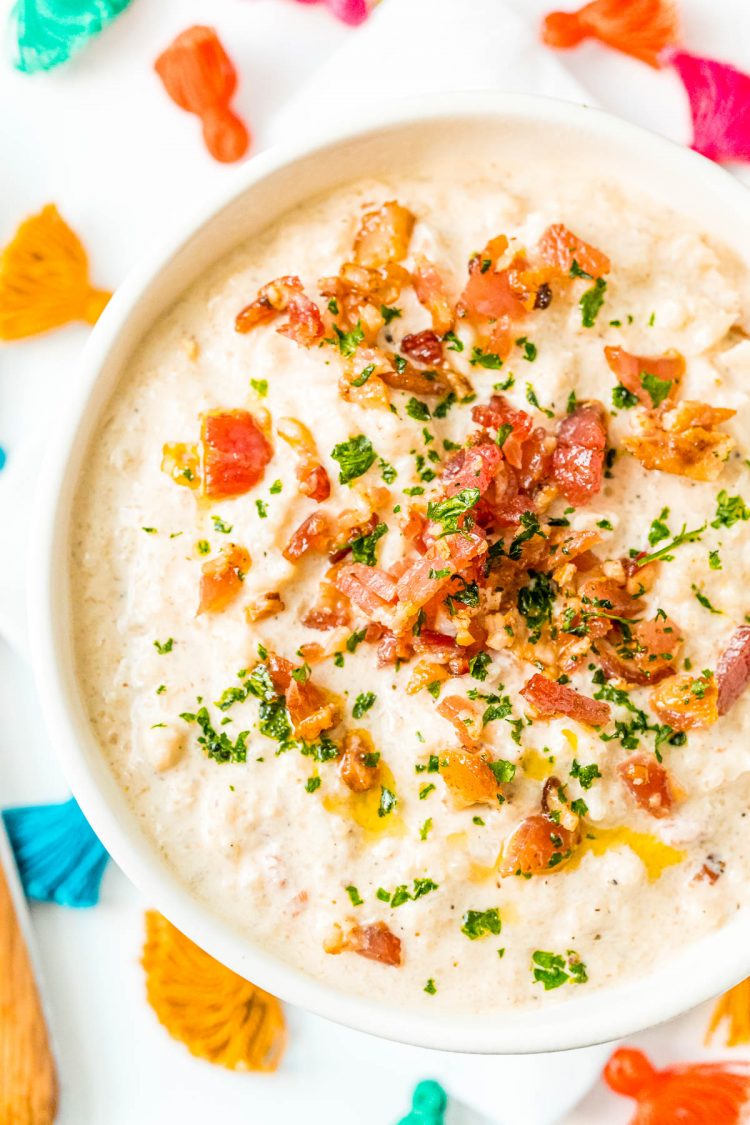 How To Make Bacon Cauliflower Chowder:
In a large pot over medium-high heat, melt the butter and then add in the garlic, stirring constantly for about 1 minute.
Add in the bone broth and water and bring to a boil.
Cut up the cauliflower into small florets and add it to the pot.
Add the spices and simmer over medium heat for about 15 minutes, stirring occasionally.
Once the cauliflower is tender, remove from heat and use an immersion blender to blend up about half of the florets in the pot. You want the mixture to be chunky yet start to look creamy.
Add the pot back to heat and add in the cream cheese, chopped bacon, and bacon grease. Stir frequently until cream cheese has fully melted. Season with salt and pepper.
Ladle into bowls and top with additional crumbles bacon and a drizzle of olive oil. Store any leftovers in the fridge in an air-tight container.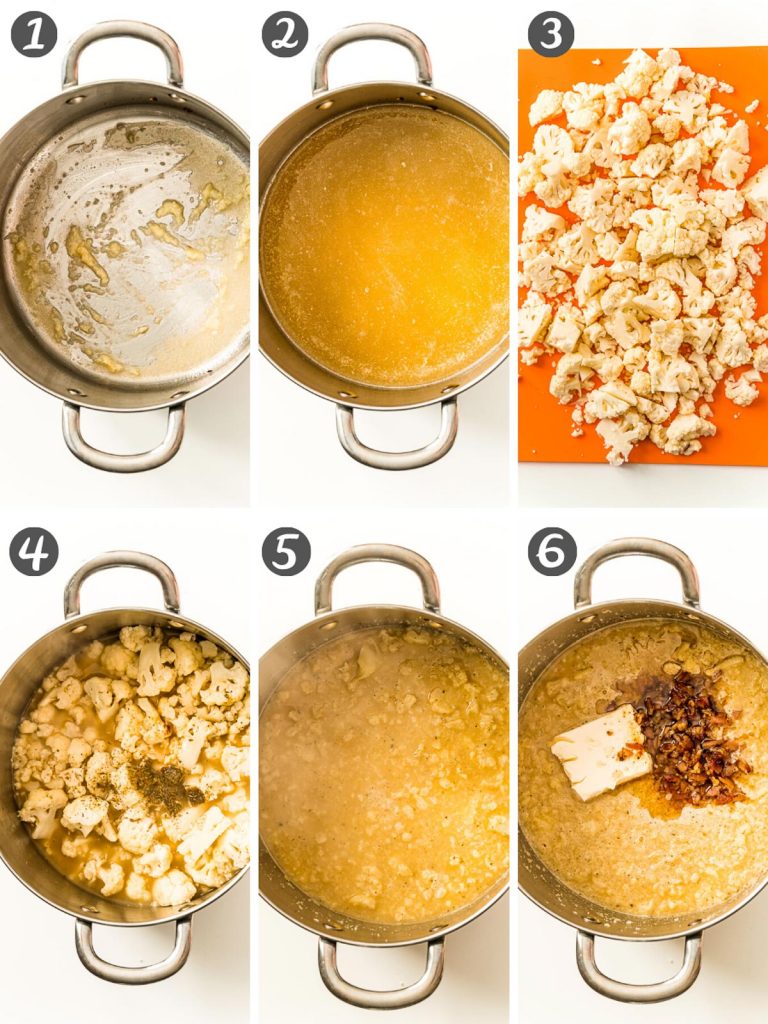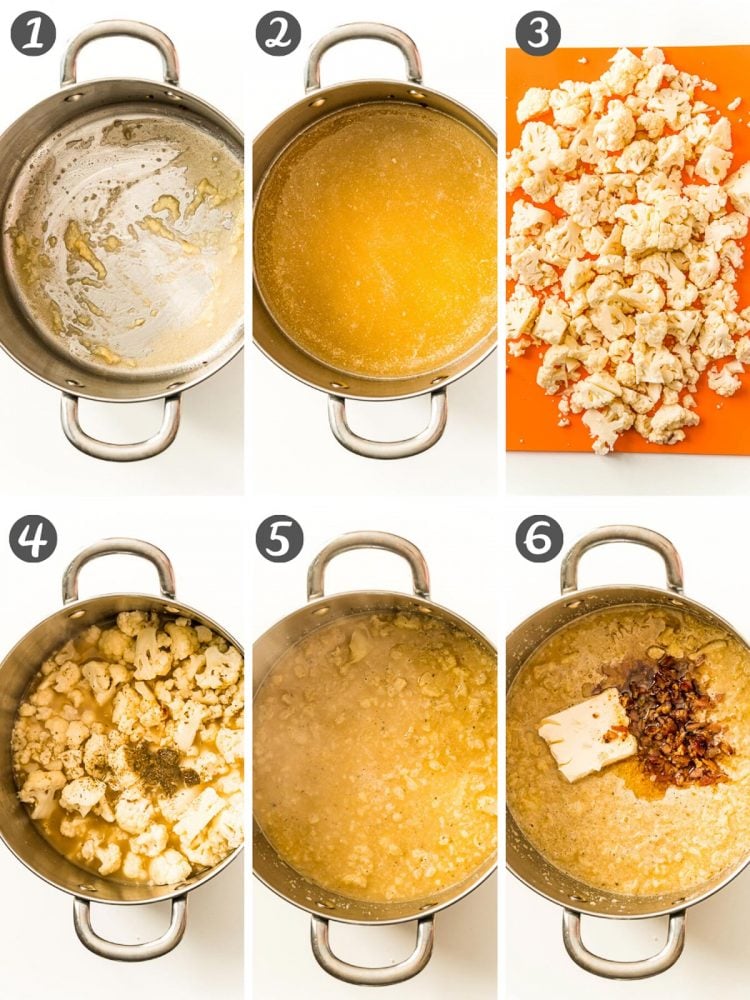 Is Cauliflower Chowder Gluten-Free?
Yes, you can easily prepare this Cauliflower Chowder recipe for those with gluten allergies or sensitivities. Just make sure the ingredients you use are certified gluten-free, and anyone who avoids gluten can enjoy this soup.
How To Garnish Bacon Cauliflower Chowder:
You can get creative with yummy toppings and pairings, especially if you don't have any dietary restrictions. Set out a bunch of bowls with different garnishes and everyone can dress up their chowder exactly as they please!
Topping Ideas:
Bacon crumbles (of course!)
Shredded cheddar cheese
Green onions or chives
Sour cream
Croutons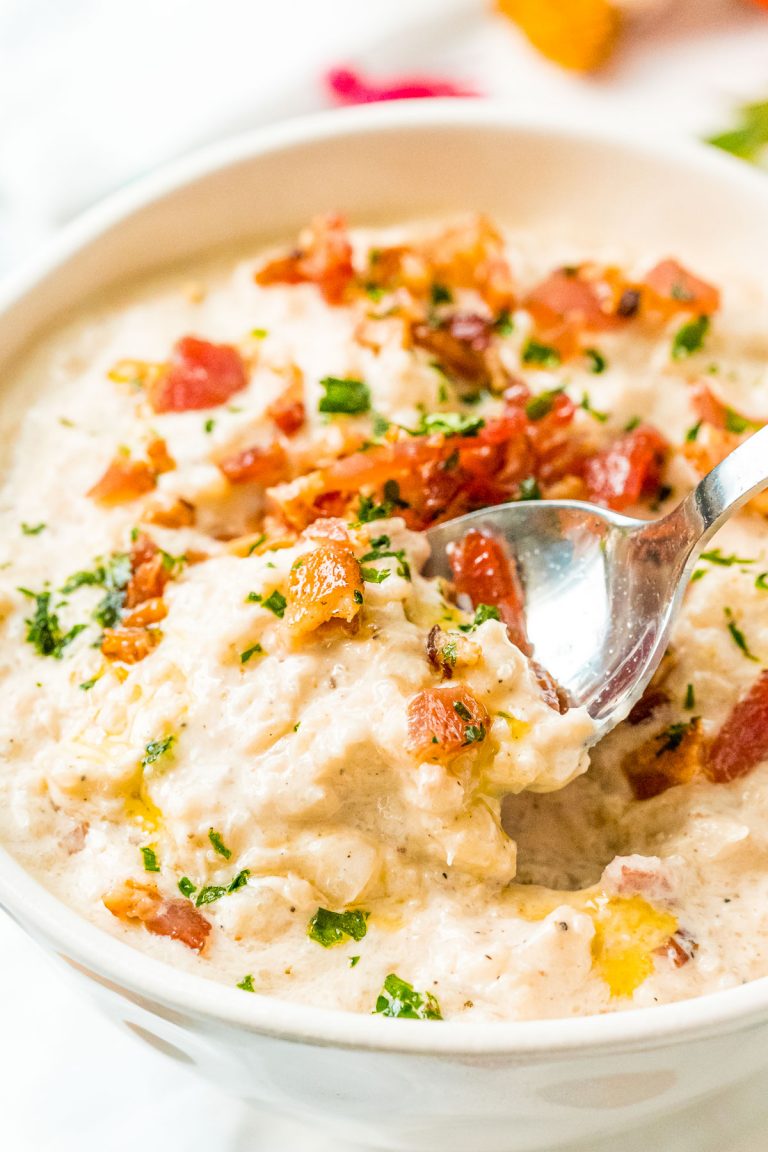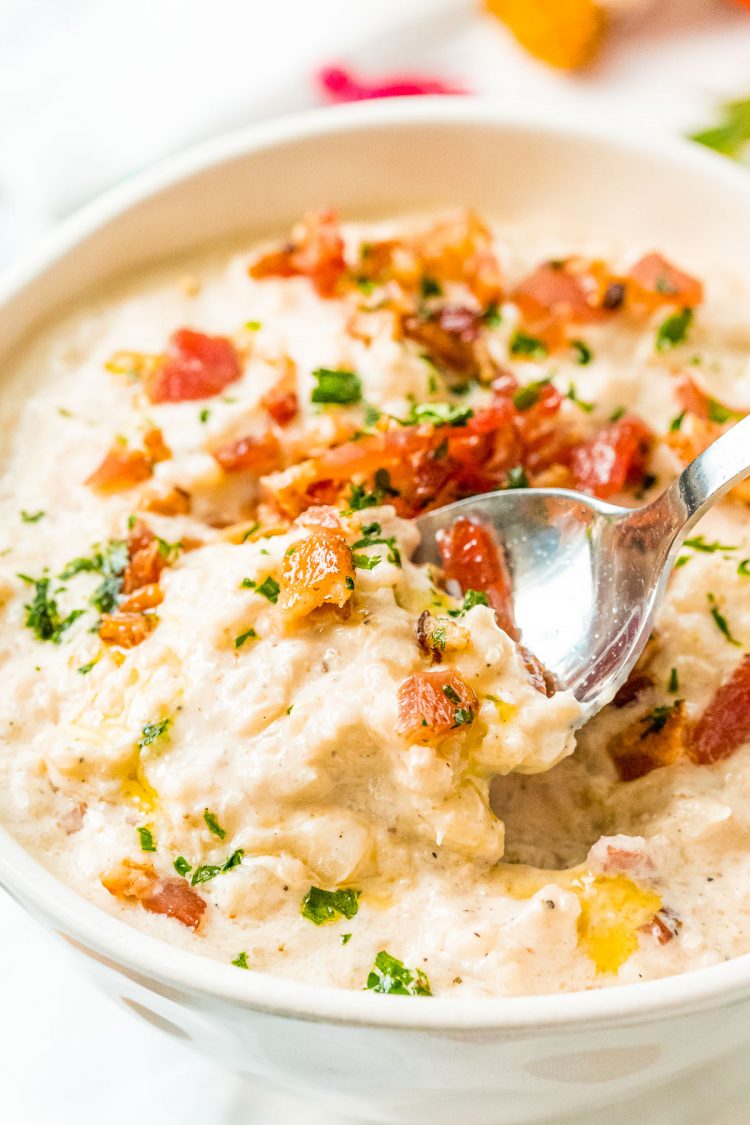 Roast Cauliflower For Extra Flavor
If you're looking to add more layer of flavor to the dish, try roasting the cauliflower before adding it to the pot. You'll love the creamy roasted cauliflower chowder, but it does require an extra step!
How To Roast Cauliflower: Simply spread the cauliflower florets out on a parchment lined baking sheet and drizzle with olive oil. Bake for 25 minutes at 400 degrees F. Reduce the cook time in step 4 by half, if you do this.
How To Reheat:
You can reheat this chowder either in the microwave for 30-second intervals, stirring between each one until the desired temperature is reached. You can also add it to a small saucepan to reheat on the stove.
Sometimes, once cooled, the chowder can thicken. I recommend adding a small splash of bone broth to cold chowder before heating it up to help the consistency.
Pairing Options:
Other Veggie Soup Recipes:
Many veggie-based soups are cost effective, easy to make, and packed with nutrition. If you love Bacon Cauliflower Chowder, try these other cozy soup recipes, too!
👋 Let's Connect!
If you've tried this recipe, please let me know how you liked it in the comments below and leave a review; I love hearing from you! And don't forget to tag me – @sugarandsoulco – on Instagram and Pinterest with your photos or join our Sugar & Soul Show-offs Community and share them there, where you can join our recipe challenges and win prizes!