Coconut Macaroons with a caramelly flavor thanks to the addition of dulce de leche and dipped in chocolate for a sweet and chewy dessert.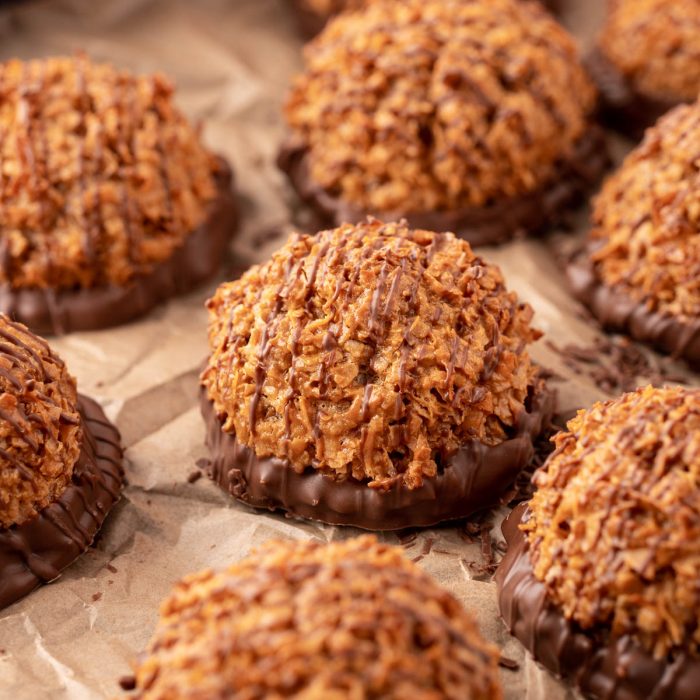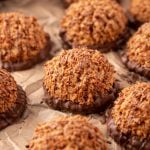 Dulce de Leche Coconut Macaroons are chewy, tasty treats that are made with sweetened shredded coconut, dulce de leche, and melted chocolate! Prep a batch in just 15 minutes!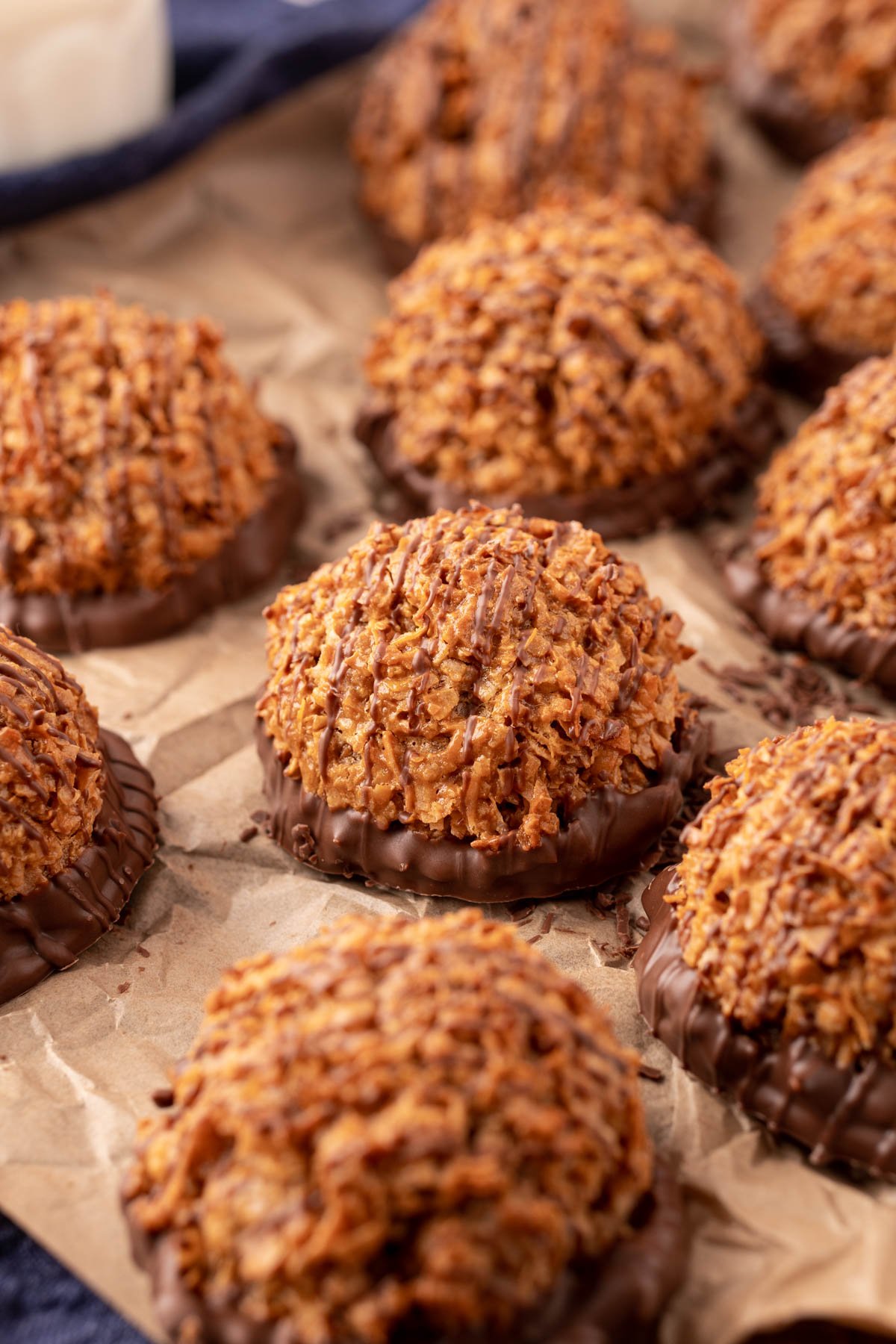 Trade in those traditional cookies for a batch of these Dulce de Leche Coconut Macaroons! These chewy, sweet coconut cookies are sure to be a hit with everyone's taste buds!
You'll love how easy it is to make such a uniquely flavored treat using only 6 ingredients!
Taking A Bite Of A Dulce de Leche Coconut Macaroon
Taste: These Coconut Macaroons boast lots of mouthwatering caramel flavor that's wrapped up in sweetened shredded coconut and topped with melted chocolate! If you've ever had Caramel Delights girl scout cookies, also known as Samao Cookies, these taste just like the coconut caramel topping that sits on top of the shortbread cookie!
Texture: These Samoa Coconut Macaroons have slightly crisp tops on the outside yet are deliciously chewy in every way! Between the flavor and texture, you won't be able to stop eating them!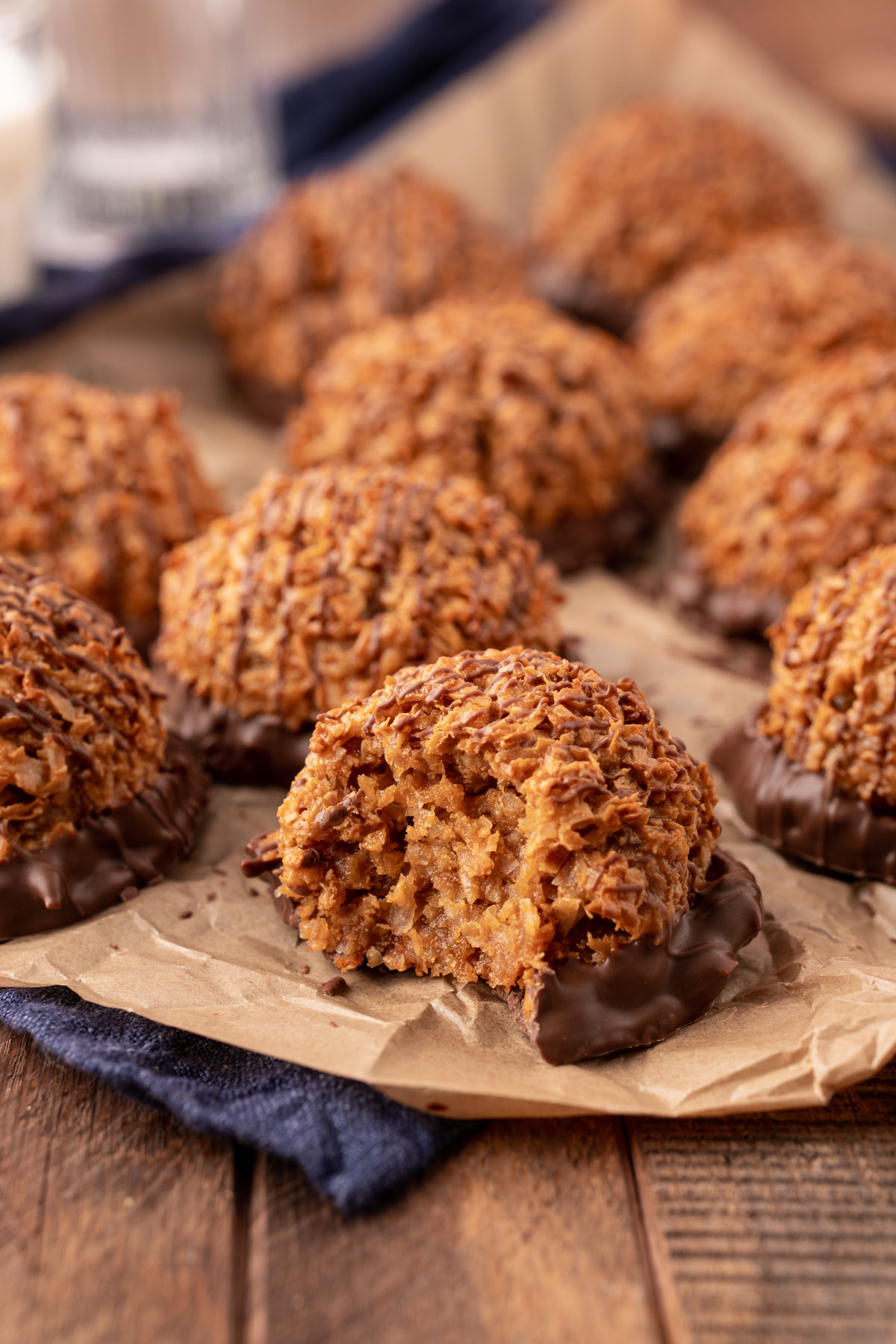 Key Ingredient
Though sweetened shredded coconut and dulce de leche are both very obvious key ingredients, there is a third one that hides in their shadows! And that's the egg whites that get combined with salt and beaten until stiff peaks form.
The stiffened egg whites lend support to these coconut macaroons by binding and holding the ingredients together. These macaroons also take on their chewy texture from the beaten egg whites as well!
If beating egg whites until stiff peaks form intimidates you, I do have some tips to make the process a seamless one! First, room-temperature egg whites work best; I find setting them out about 20 to 30 minutes before I plan to use them makes a difference.
Second, make sure that the beaters and bowl are squeaky clean and free of any grease! Also, be careful not to allow any yolk into the bowl when separating them from the egg whites.
Once you start to beat the egg whites, you're looking for firm, stiff peaks to form. When the peaks stand up on their own without collapsing, you are finished beating the egg whites.
Kitchen Tips To Make The Best Samoa Coconut Macaroons
Brands – I have found that these Coconut Macaroons come out tasting their best when I use Baker's Angel Flake brand of sweetened coconut flakes. As well as using Nestle Le Lechera brand dulce de leche in the can. Often times the brands of certain ingredients don't impact recipes; however, I do notice a big difference in the result of these Macaroons when I use those two brand name items.
Coconut – I prefer to make these with coconut flakes that are shredded a little finer. Therefore, I just pop the coconut flakes into a food processor to pulse a couple of times. Just keep in mind that we don't want the flakes to turn to powder; we just want to make the flakes a bit smaller!
Portioning – Using a cookie scoop or ice cream scoop to portion out mounds of Dulce de Leche Coconut Macaroons gives them their iconic dome shape!
Doneness – These treats have a cooking time of 23 to 25 minutes; however, you can also check for doneness by their appearance. Once the tops and edges are golden, then they're ready to be removed from the oven.
Melting – Once the Samoa Macaroons have cooled, these treats will have their bottoms dipped in melted chocolate! To melt the wafers, you can use your preferred method. I like to melt them in the microwave at 30-second intervals, but you can also use a double boiler. Whichever method is used, just be sure that the chocolate doesn't seize up in the process, or it won't be that smooth, dippable consistency that we need!
Drizzling – A piping bag works best to drizzle melted chocolate over the tops of these treats to give them their finished look!
Enjoy another recipe that's also made with shredded coconut by making this Coconut Poke Cake or Coconut Custard Pie! Both make for a delicious spring or summertime treat!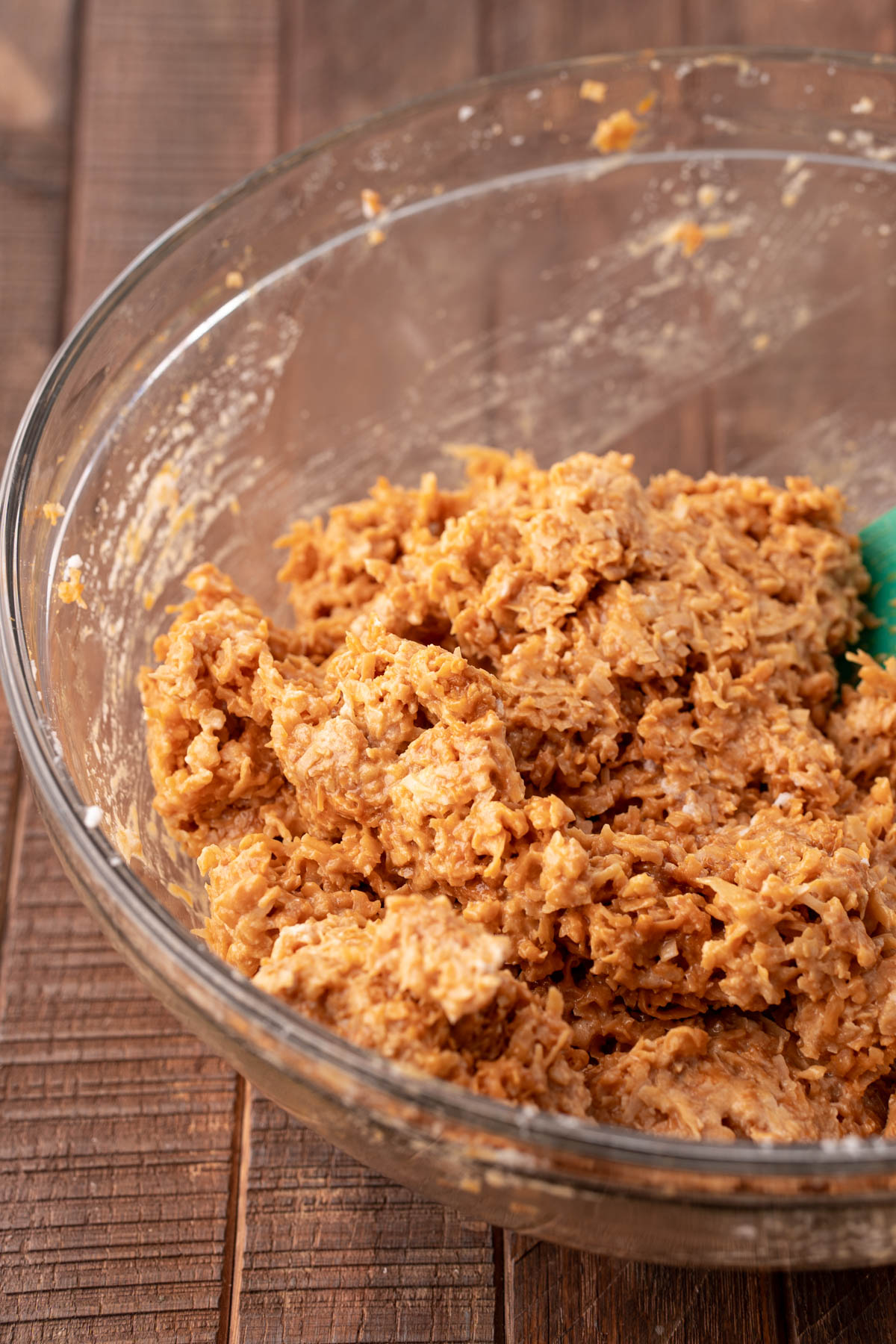 The Dulce de Leche in these Samoa Coconut Macaroons really makes them a standout dessert! For another caramel-flavored treat, you'll want to check out these Churro Cookies since they have a sticky, delicious dulce de leche filling.
Though we also love these Easy Carmelitas that have lots of tasty layers built into one hand-held treat! And you can bet we also can't pass up a batch of Caramel Chocolate Chip Cookies or Delicious Turtle Thumbprint Cookies!
Caramel Coconut Macaroon FAQs
How To Store Dulce de Leche Coconut Macaroons
These coconut macaroons need to be stored at room temperature in an airtight container. They can then be enjoyed for up to a week!
Do I Have To Pulse The Coconut In A Food Processor?
No, you can leave the coconut as is if that's your preference.
What Type Of Chocolate Should I Use For Dipping And Drizzling?
I prefer these Samoa Coconut Macaroons with milk chocolate, but you can use dark chocolate if your taste buds would enjoy that more.
Can I Make This Recipe With Homemade Dulce De Leche?
I really prefer making these Samoa Coconut Macaroons with Nestle Le Lechera brand in the can. However, you can try to make them with homemade dulce de leche by trying this Slow Cooker Dulce de leche Caramel Sauce that's made with sweetened condensed milk.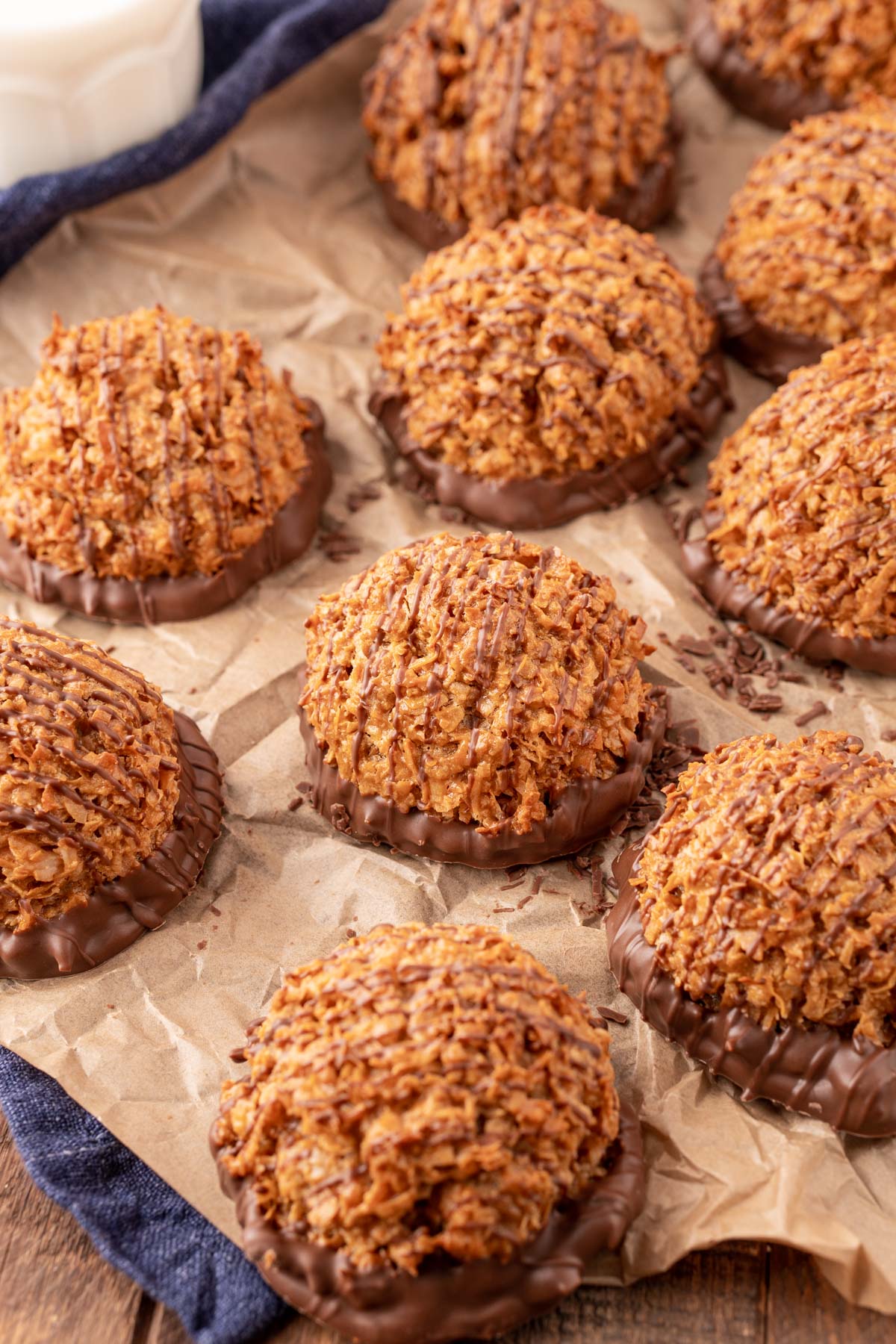 👋 Let's Connect!
If you've tried this recipe, please let me know how you liked it in the comments below and leave a review; I love hearing from you! And don't forget to tag me – @sugarandsoulco – on Instagram and Pinterest with your photos or join our Sugar & Soul Show-offs Community and share them there, where you can join our recipe challenges and win prizes!
More Delicious Cookie Recipes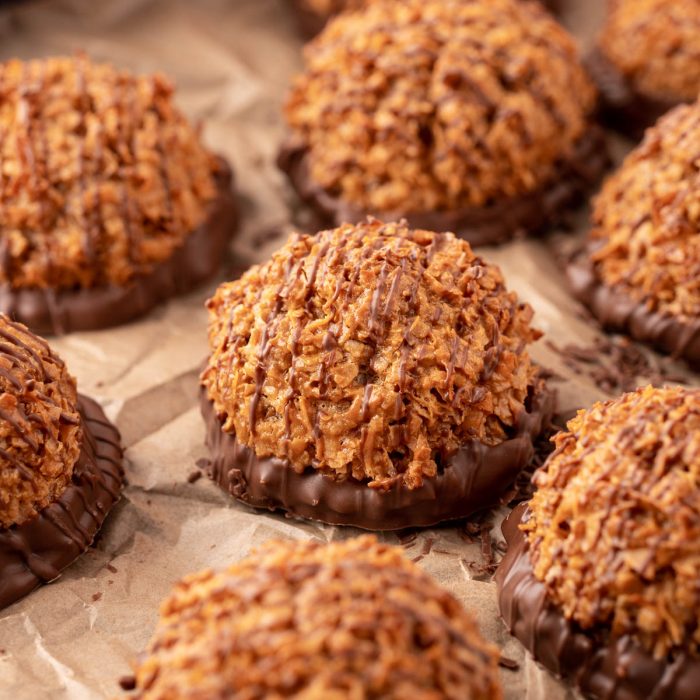 Samoa Coconut Macaroons
Coconut Macaroons with a caramelly flavor thanks to the addition of dulce de leche and dipped in chocolate for a sweet and chewy dessert.
Ingredients
14 ounces sweetened coconut flakes I recommend Baker's Angel Flake
14 ounces dulce de leche I recommend Nestle Le Lechera brand in the can
1 teaspoon vanilla extract
2 large egg whites
¼ teaspoon salt
4 ounces chocolate melting wafers
Instructions
Preheat the oven to 325°F and line a baking sheet with parchment paper, and set aside.

Add the 14 ounces sweetened coconut flakes to a food processor and pulse a couple of times. You want to make the coconut smaller but not powder.

In a large mixing bowl, combine the coconut, 14 ounces dulce de leche, and 1 teaspoon vanilla extract until fully combined.

In a standing mixer bowl, or separate large bowl, beat the 2 large egg whites and ¼ teaspoon salt until stiff peaks form.

Fold the egg whites into the coconut mixture until evenly combined.

Use a cookie scoop to portion the mixture onto the prepared baking sheets at least 1 inch apart.

Bake for 23 to 25 minutes or until the tops and edges are golden. Let cool on the pan for 10 minutes before transferring to a wire rack to cool completely.

Once cooled, melt the 4 ounces chocolate melting wafers in the microwave at 30-second intervals, stirring between each one until fully melted.

Dip the bottom of each cookie in the chocolate and place on parchment or wax paper to set. Drizzle chocolate over the top.
Nutrition
Calories: 243kcal | Carbohydrates: 27g | Protein: 2g | Fat: 15g | Saturated Fat: 13g | Polyunsaturated Fat: 0.2g | Monounsaturated Fat: 2g | Trans Fat: 0.001g | Cholesterol: 1mg | Sodium: 183mg | Potassium: 186mg | Fiber: 5g | Sugar: 21g | Vitamin A: 7IU | Vitamin C: 0.003mg | Calcium: 8mg | Iron: 1mg
Recipe adapted from Once Upon A Chef