These Black Cat Cupcakes are a rich, chocolaty Halloween treat that's perfect for parties! Kids will have a blast helping you make each cat face using edible decorations!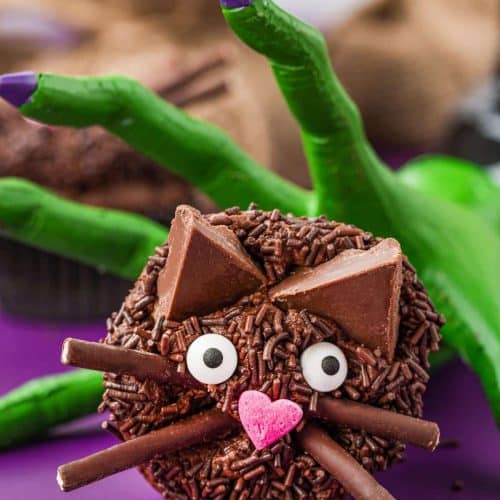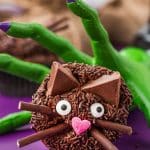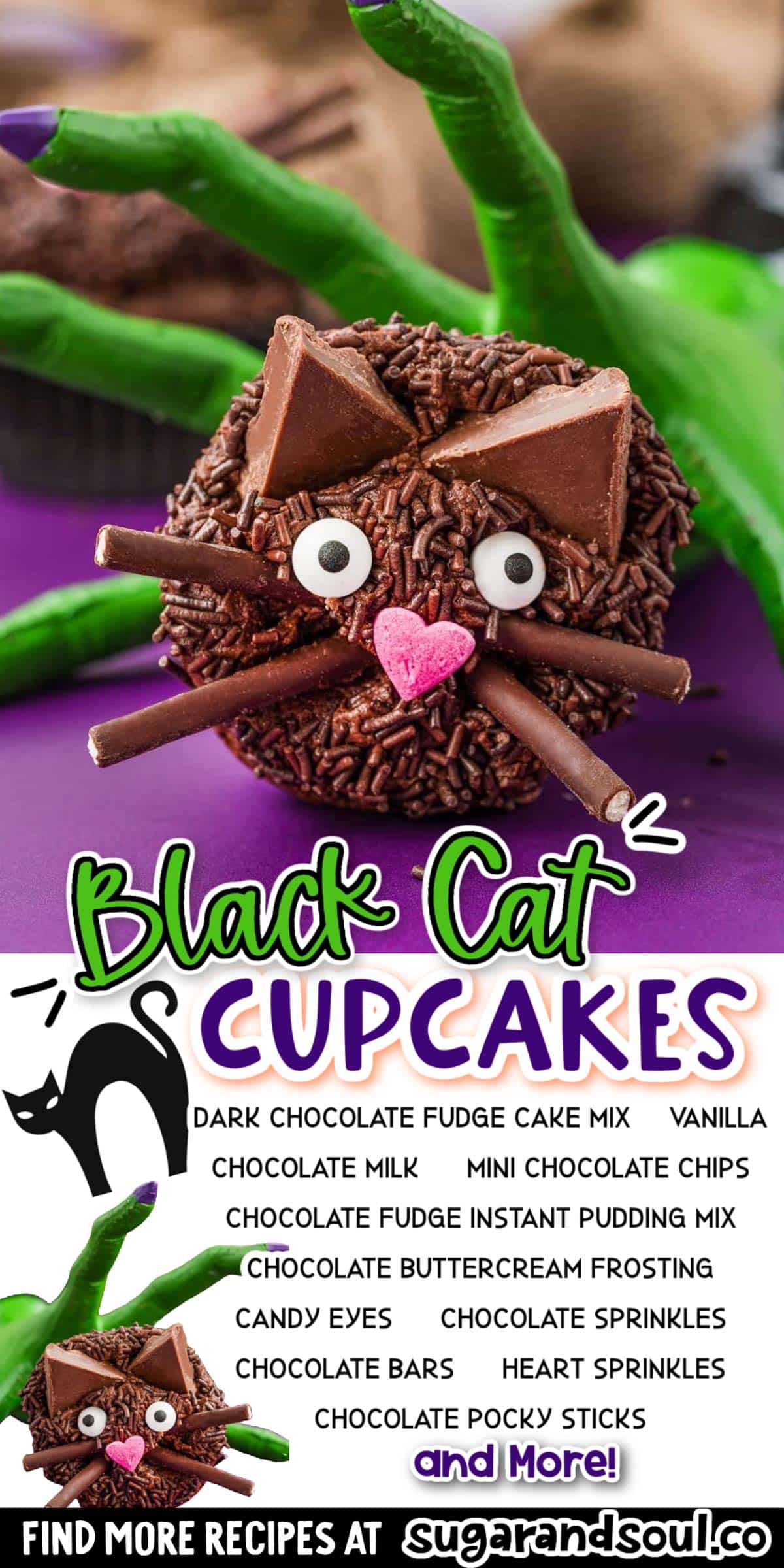 These Black Cat Cupcakes are a rich, chocolaty Halloween treat that's perfect for parties! Kids will have a blast helping you make each cat face using edible decorations!
When October 31st creeps closer, it's time for all the Halloween Cupcakes! Therefore, you can bet I'll also be making my Mummy Halloween Cupcakes and Melted Witch Cupcakes!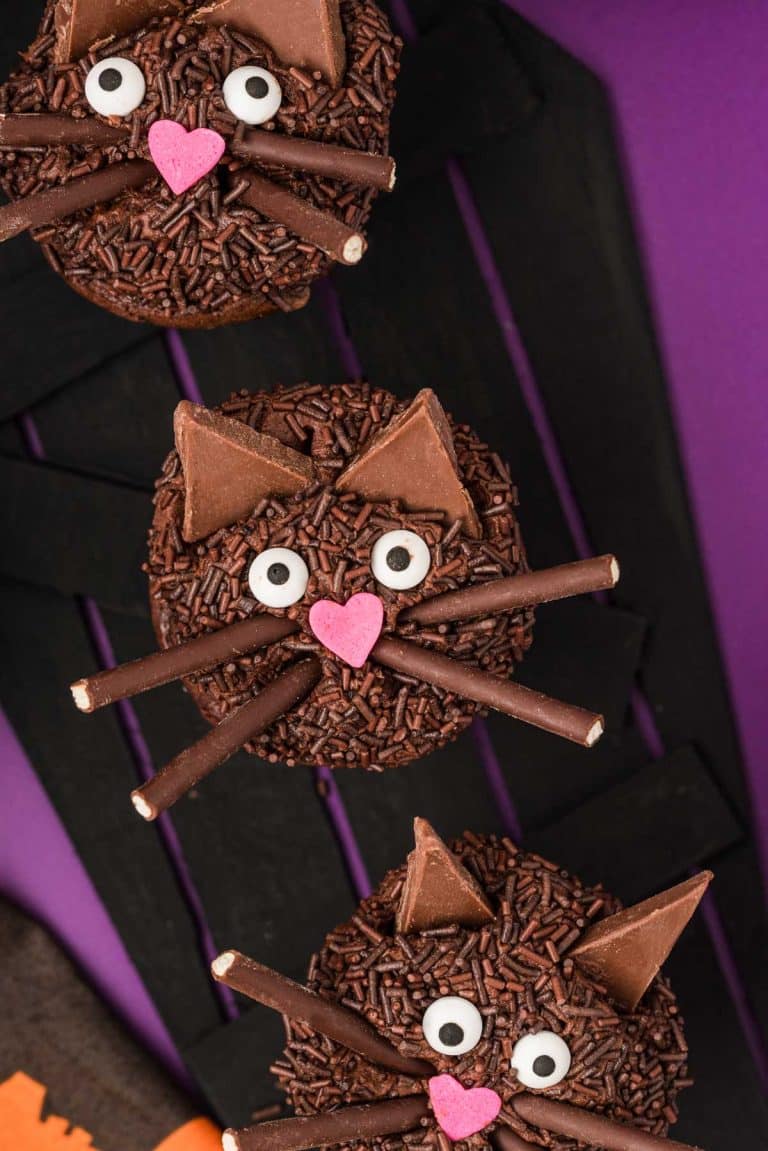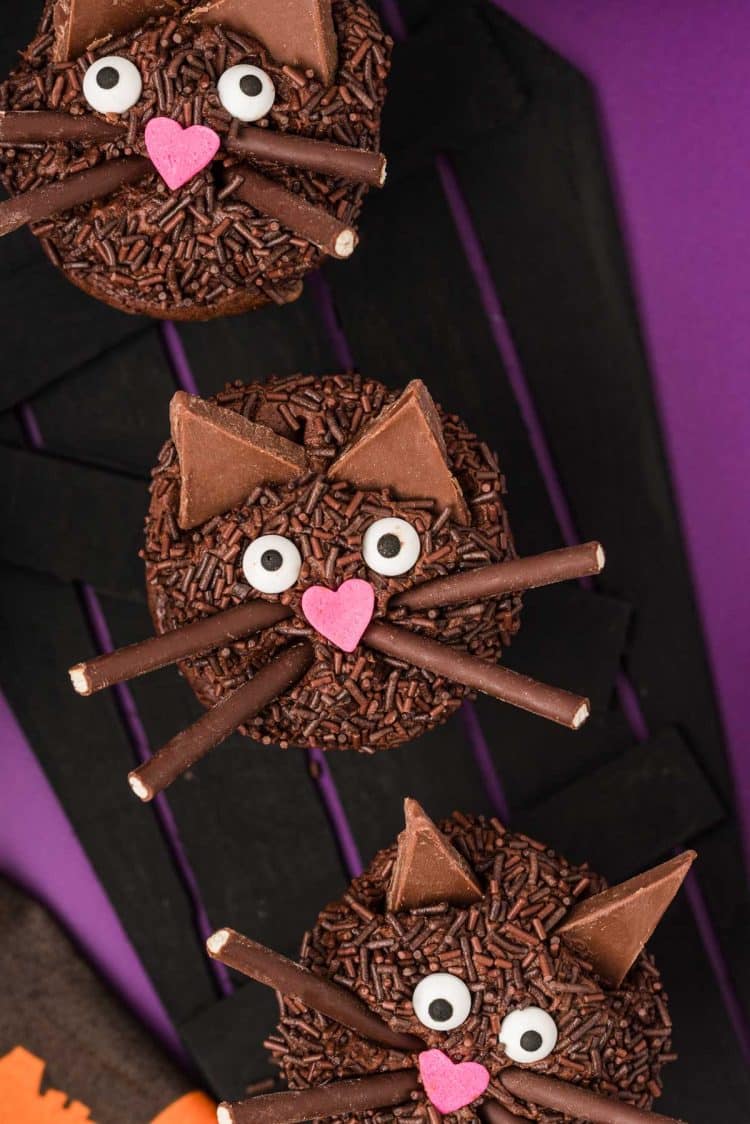 They say it's bad luck if a black cat crosses your path! But they've never said anything about Black Cat Cupcakes bringing bad luck!
The only thing these Black Cat Cupcakes bring is the cure to your sweet tooth! And while they're perfect for Halloween I also think these would be great for any cat-lovers birthday party as well!
Since this recipe serves up two dozen cats it's a great option for any party where there's a large crowd!
About These Black Cat Cupcakes
Taste: These Black Cat Halloween Cupcakes are loaded with rich, mouthwatering chocolate flavor! From the chocolate cupcakes to the chocolate buttercream frosting and chocolate sprinkles – I've checked all the chocolate boxes!
Texture: The cupcakes bake up into tender, moist hand-held treats that get topped with light, creamy homemade buttercream! From there the texture is kicked up a notch from the crunchy sprinkles and cat face decorations!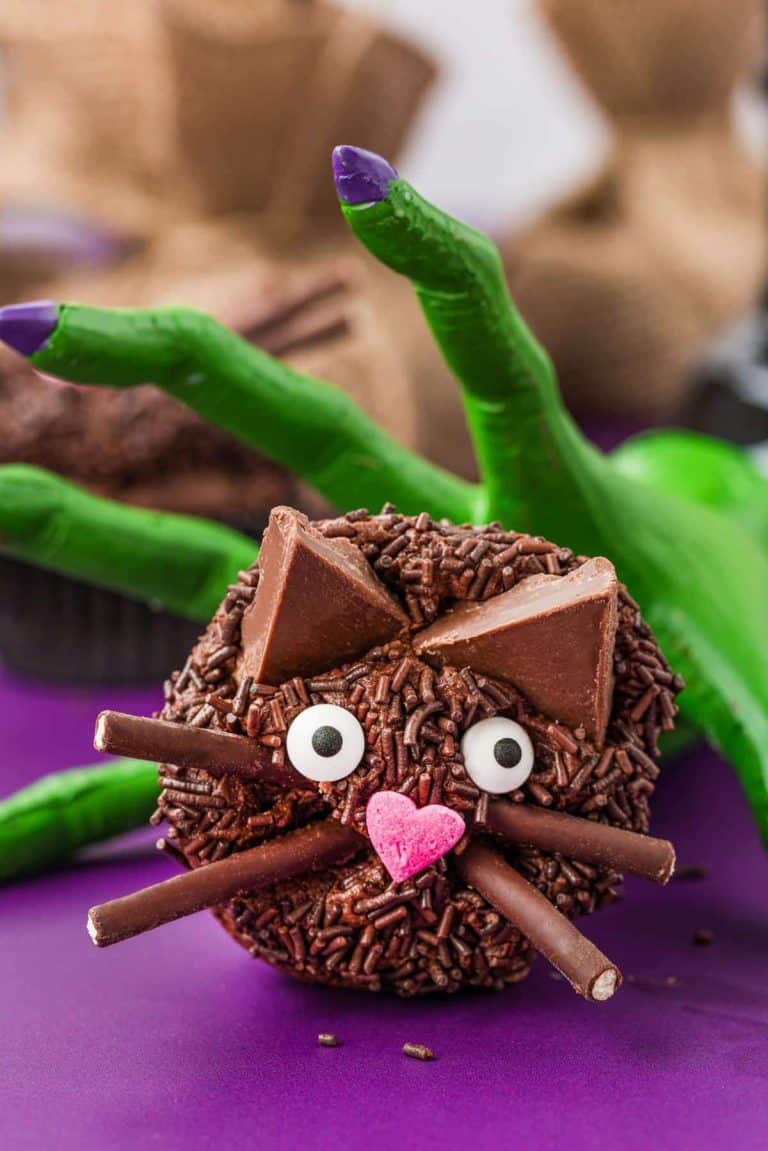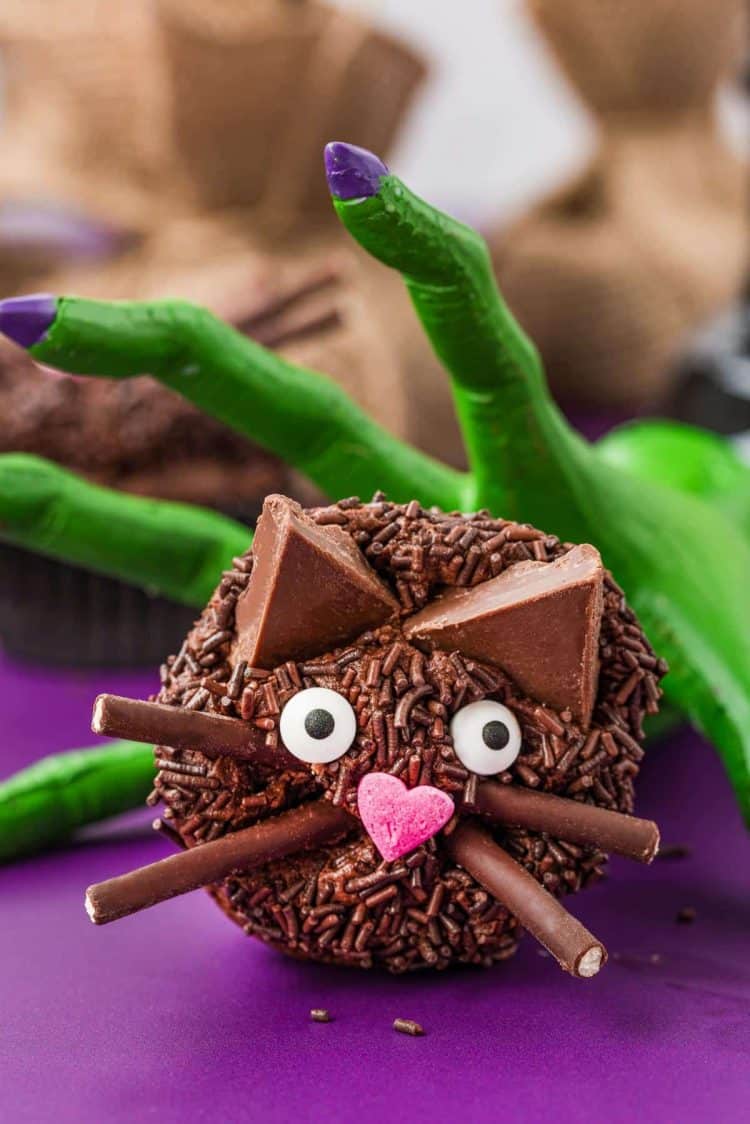 Chocolate On Chocolate!
This Black Cat Cupcakes recipe is loaded with chocolate! Perfect for any and all chocolate lovers that just can't get enough!
The cupcakes have ingredients such as a box of dark chocolate fudge cake mix, chocolate fudge instant pudding mix, chocolate milk, and mini chocolate chips. Once baked, they're topped with the Best Chocolate Buttercream Frosting that takes just 10 minutes or less to whip up!
Afterward, each cupcake is rolled in chocolate sprinkles to begin giving them their cat-like appearance! Their cat faces may get your guests excited, but the chocolatey goodness in each cupcake will surely please them just as much!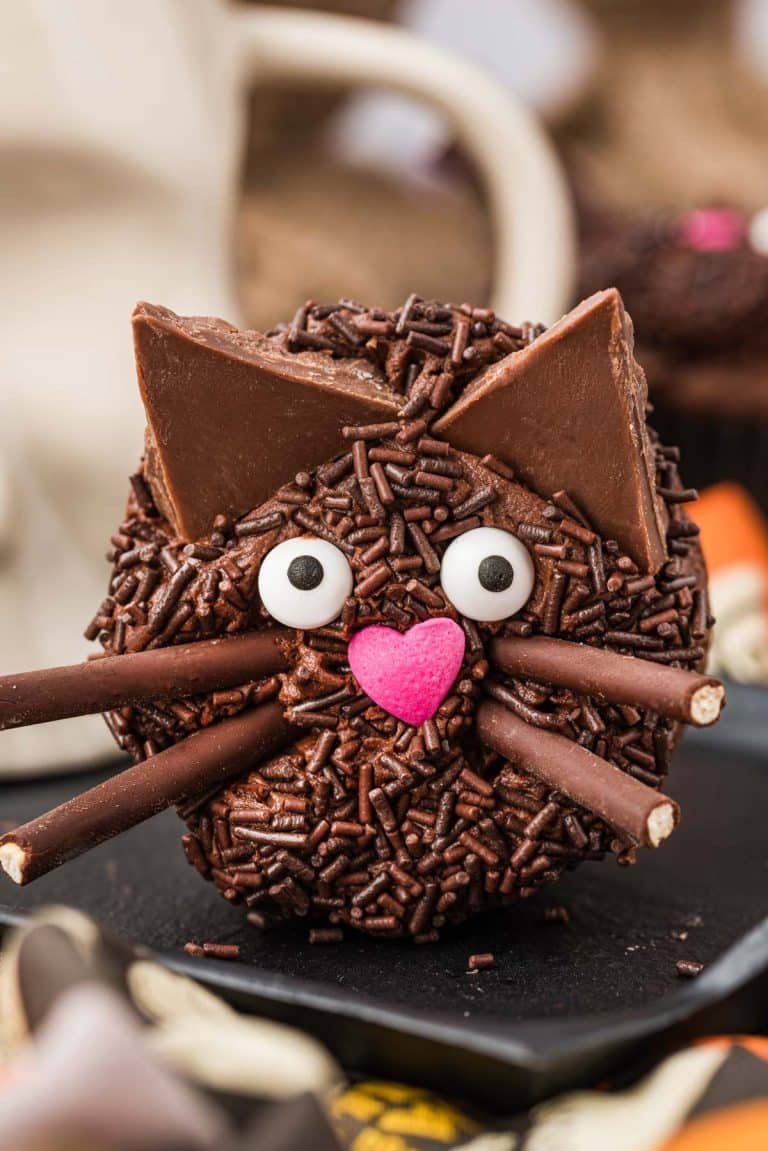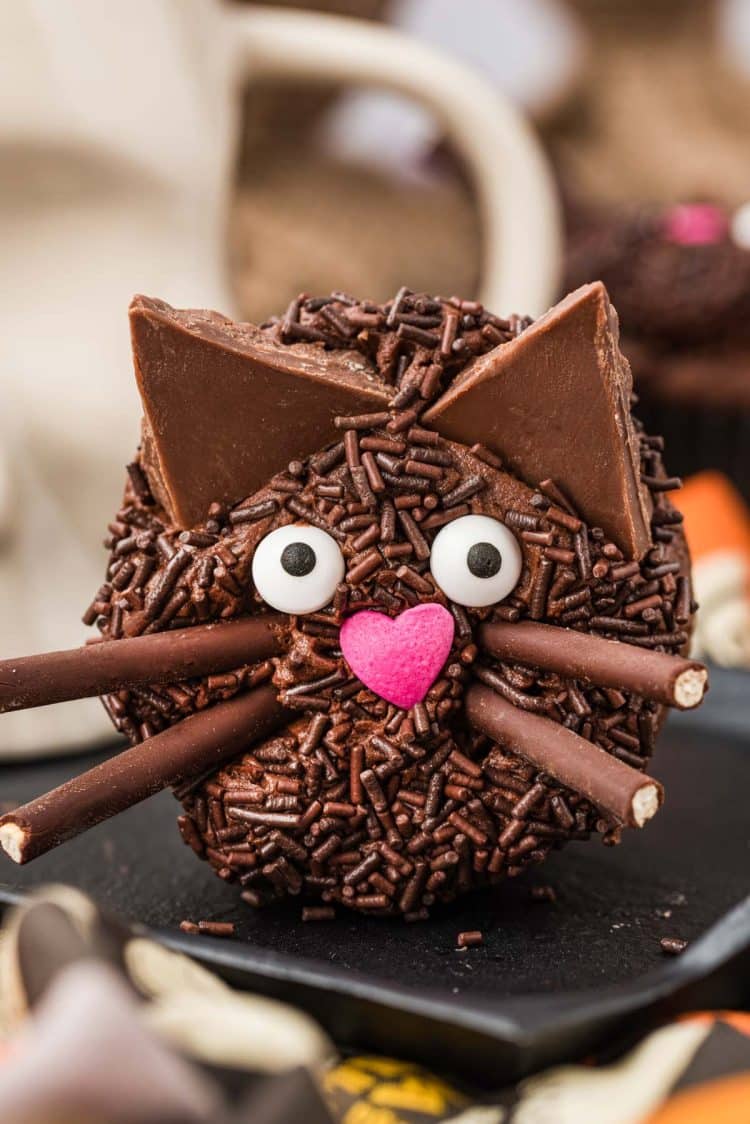 Edible Decorations Used To Make Cat Faces!
Once you use the chocolate frosting to frost the tops of the cupcakes and add chocolate sprinkles, you'll need some other ingredients to make the faces for these cute cupcakes!
Eyes – Candy eyes, they're always a hit with the kids! For a spookier cat, you could even do yellow candy eyes!
Ears – Chocolate bars carefully cut into triangles. You could also use Oreos cut into fourths, shaped like triangles if you prefer!
Nose – I used large pink heart sprinkles but large pearl sprinkles could also be used.
Whiskers – The most important part of the cat! I broke down chocolate pocky sticks to use. However, black licorice or chocolate-dipped pretzel sticks would also work great!
For some reason, kids always burst with excitement over desserts that have faces! Especially Halloween desserts – they're so fun and festive, and usually are easy to throw together!
My Easy Frankenstein Rice Krispie Treats and Halloween Spider Cookies both have fun, easy-to-make faces as well! While my Mummy Hot Dogs and Easy Spider Cakes prove that all you need is candy eyes and less than 25 minutes to please the kids!
But if you're someone that loves going all out for October 31st you'll want to check out one of my most popular Halloween recipes – my Halloween Dirt Cake! Complete with a spooky graveyard that's completely edible!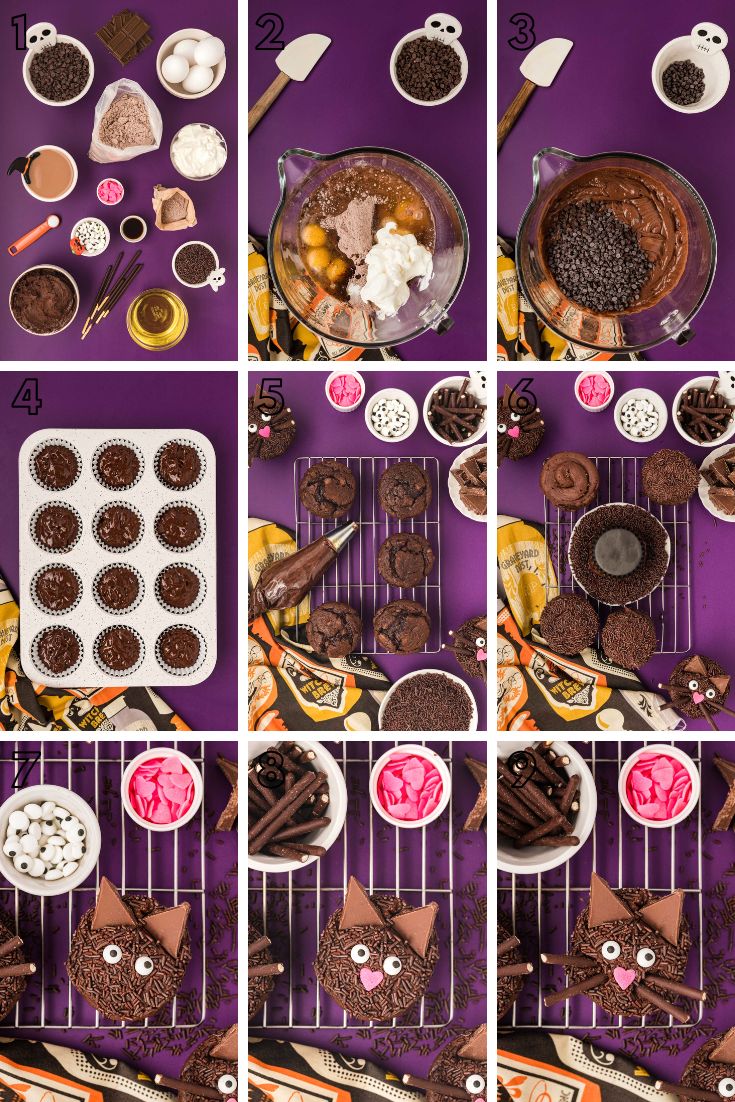 Storage Instructions
These black cat cupcakes can be stored at room temperature in an airtight container for 3 to 4 days. However, I'd recommend assembling their faces the day you plan to enjoy them.
What Can I Use Instead Of Chocolate Milk?
You can use regular whole milk in place of chocolate milk.
Instead Of Black Cat Cupcakes Could I Make A Cake With This Recipe?
Yes, you could! To keep the look of a cat, I'd suggest making this recipe and pouring it into two 8-inch round pans. Giving you two cat cakes to decorate and enjoy for Halloween or as a black cat birthday cake!
Where Can I Find Heart-Shaped Sprinkles And Candy Eyes?
Check the baking aisle of your local grocery store as well as the seasonal aisle. I always have good luck finding them at Walmart, Target, or craft stores like Michaels and Joann's. You could also grab them off of Amazon!
Is There Any Easier Way To Make These Cupcakes Into Cats?
You could skip the edible decorations altogether and grab some black cat cupcake toppers to put on them!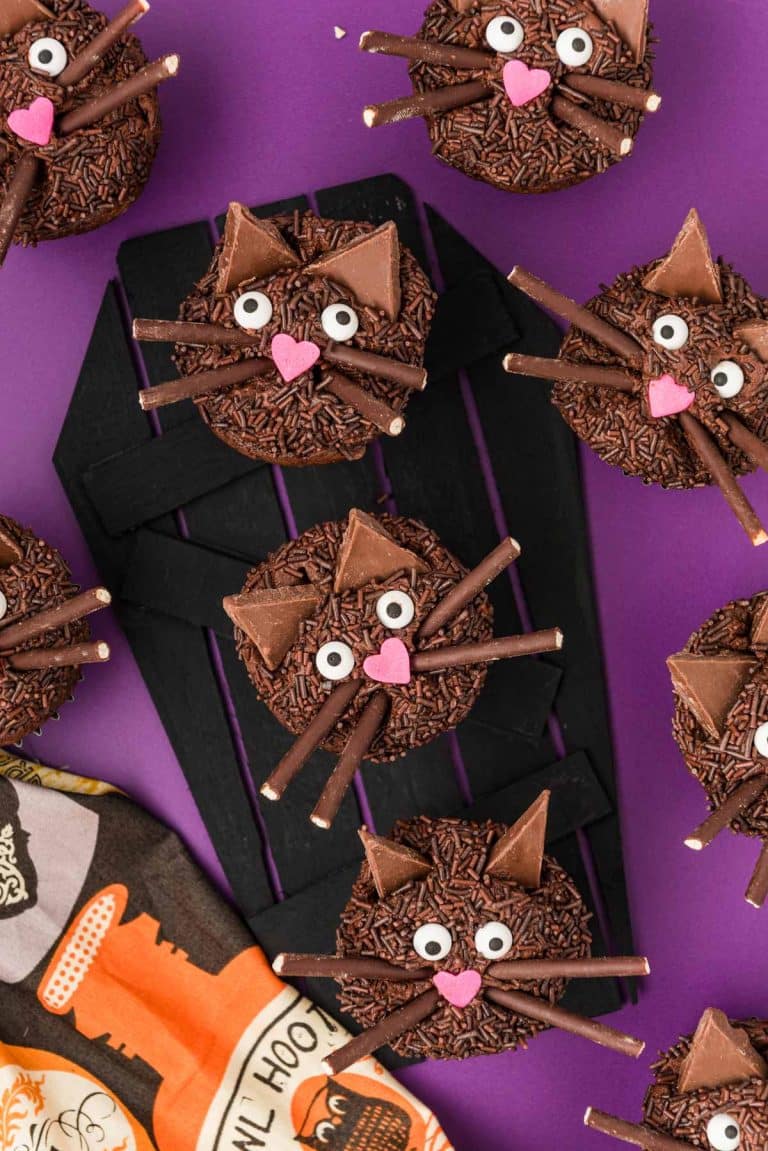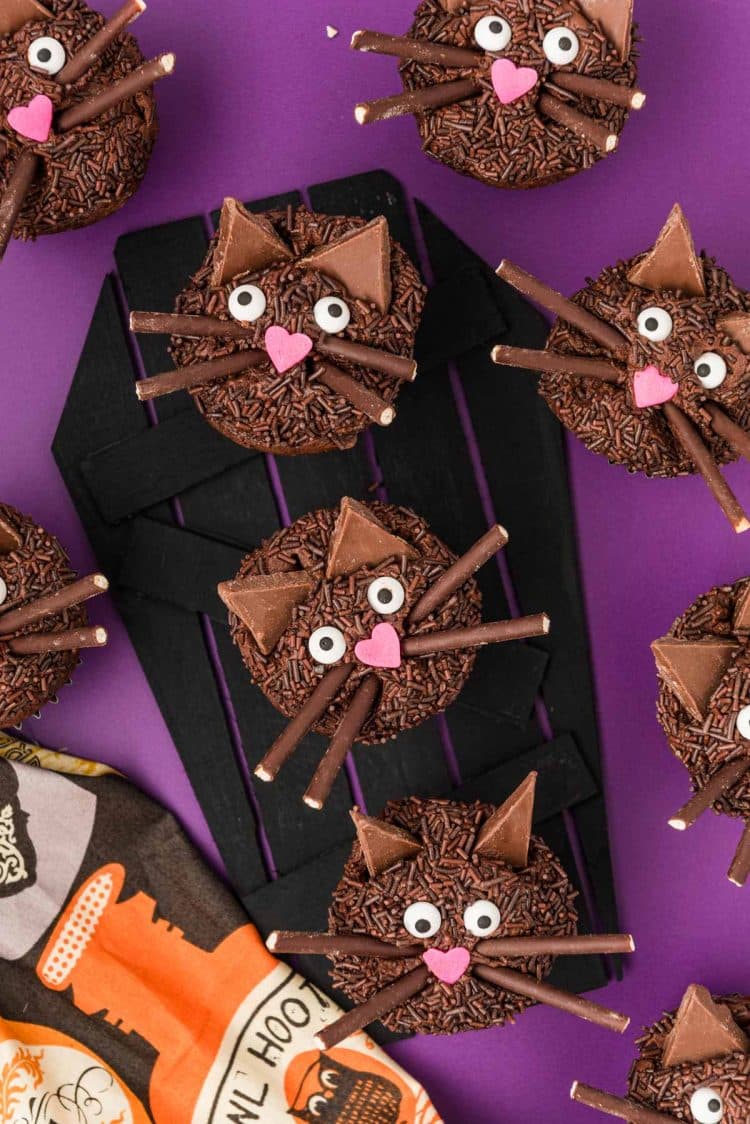 👋 Let's Connect!
If you've tried this recipe, please let me know how you liked it in the comments below and leave a review; I love hearing from you! And don't forget to tag me – @sugarandsoulco – on Instagram and Pinterest with your photos or join our Sugar & Soul Show-offs Community and share them there, where you can join our recipe challenges and win prizes!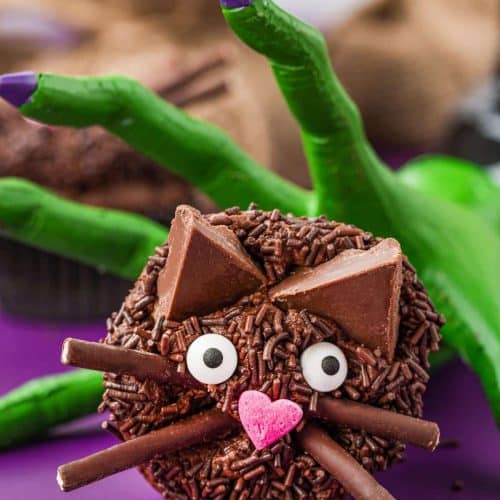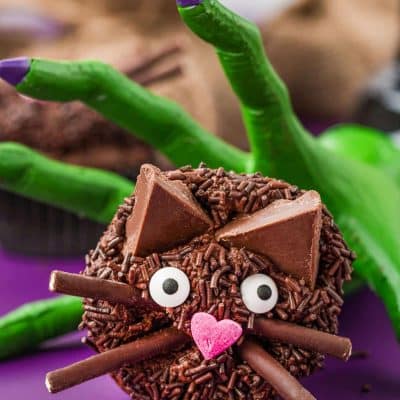 Black Cat Cupcakes
These Black Cat Cupcakes are a rich, chocolaty Halloween treat that's perfect for parties! Kids will have a blast helping you make each cat face using edible decorations!
Instructions
Preheat the oven to 375°F and line a cupcake pan with liners and set aside.

In a large mixing bowl or stand mixer fitted with a whisk attachment, combine all of the cupcake ingredients until well combined, making sure to scrape down the sides as needed.

1 box dark chocolate fudge cake mix, 1 (3.9 oz.) package chocolate fudge instant pudding mix, 4 large eggs, 1 cup sour cream, ¾ cup vegetable oil, ½ cup chocolate milk, 1 teaspoon vanilla extract, ¼ teaspoon salt, 1 cup mini chocolate chips

Add a scant ¼ cup of batter to each liner so they're about ¾ full.

Bake the cupcakes for about 18 to 20 minutes or until a toothpick inserted in the center of a cupcake comes out clean.

Let the cupcakes sit in the pan for a couple of minutes before transferring to a cooling rack to cool completely before frosting.

1 batch Best Chocolate Buttercream Frosting

Pipe the frosting onto the cooled cupcakes.

Add chocolate sprinkles to a small bowl and dip each of the frosting cupcakes upside down into the sprinkles to coat the top of the frosting.

Chocolate sprinkles

Break the chocolate bars along the short middle divet, then use a sharp knife to cut each half into quarters, then each quarter will get cut into two triangles. Each bar should make 8 pairs of ears. Stick two triangles in each of the cupcakes for the ears.

3 Hershey chocolate bars

Add a heart sprinkle and two candy eyes to each cupcake to make the face of the cat.

24 large heart sprinkles, 48 candy eyes

Break the pocky sticks in half and then stick two halves into each cheek of the face to make the whiskers.

48 Chocolate pocky sticks
Notes
Regular whole milk can be used if you do not have chocolate milk on hand.
Black licorice or chocolate dipped pretzel sticks can be used instead of pocky for the whiskers.
Nutrition
Calories: 405kcal | Carbohydrates: 45g | Protein: 3g | Fat: 27g | Saturated Fat: 16g | Cholesterol: 68mg | Sodium: 227mg | Potassium: 151mg | Fiber: 1g | Sugar: 31g | Vitamin A: 125IU | Vitamin C: 0.2mg | Calcium: 56mg | Iron: 1.1mg