This No Bake Raspberry Cheesecake is light and creamy and loaded with tart raspberries!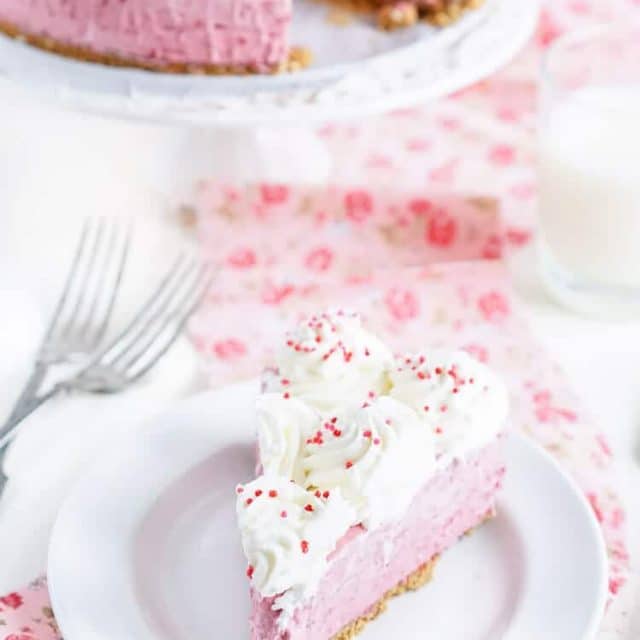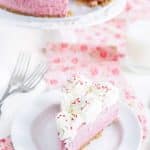 This No Bake Raspberry Cheesecake is light and creamy and loaded with tart raspberries!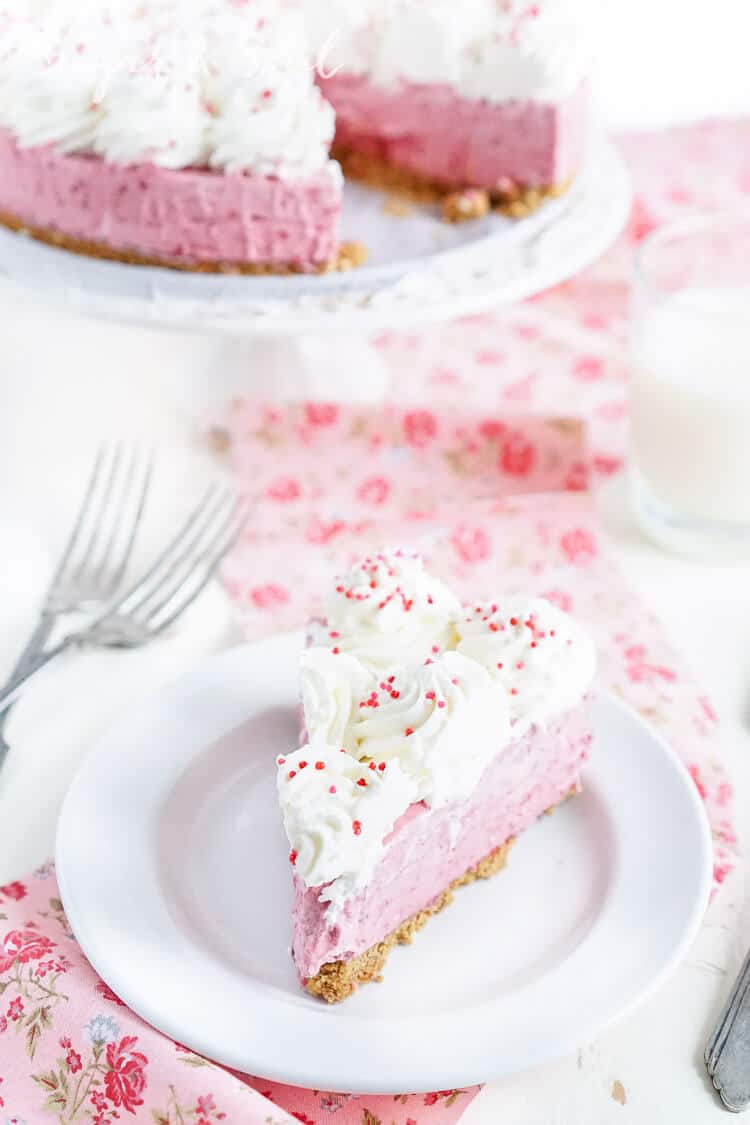 It's hard to believe it's October and while I should be kicking the month off with something loaded with apples and pumpkins, we're kicking off the month with some PINK! For those who don't already know, October is National Breast Cancer Awareness Month and I'm excited to have teamed up with some of my friends to bring you 26 pink recipes in honor of it!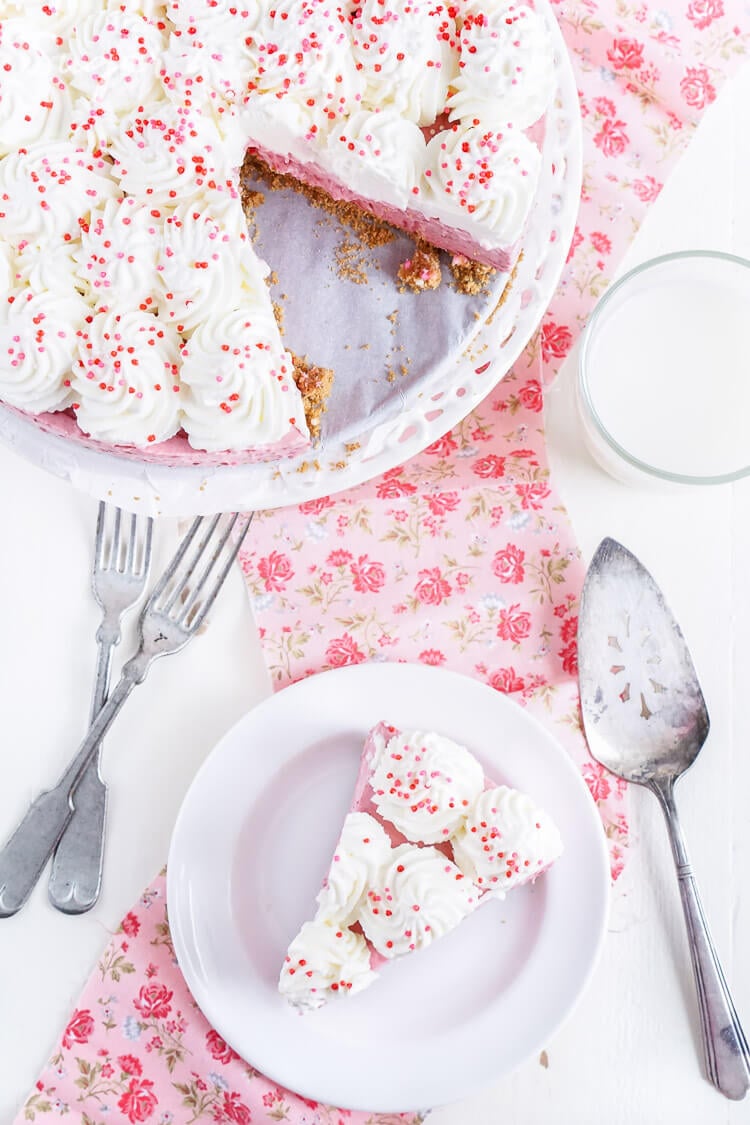 While I have a very limited family history of breast cancer, I always make sure to do my self check each and every month and schedule an annual check up as well. Early detection saves lives and October is dedicated to informing and encouraging women everywhere to take the right steps in order to prevent this terrible disease.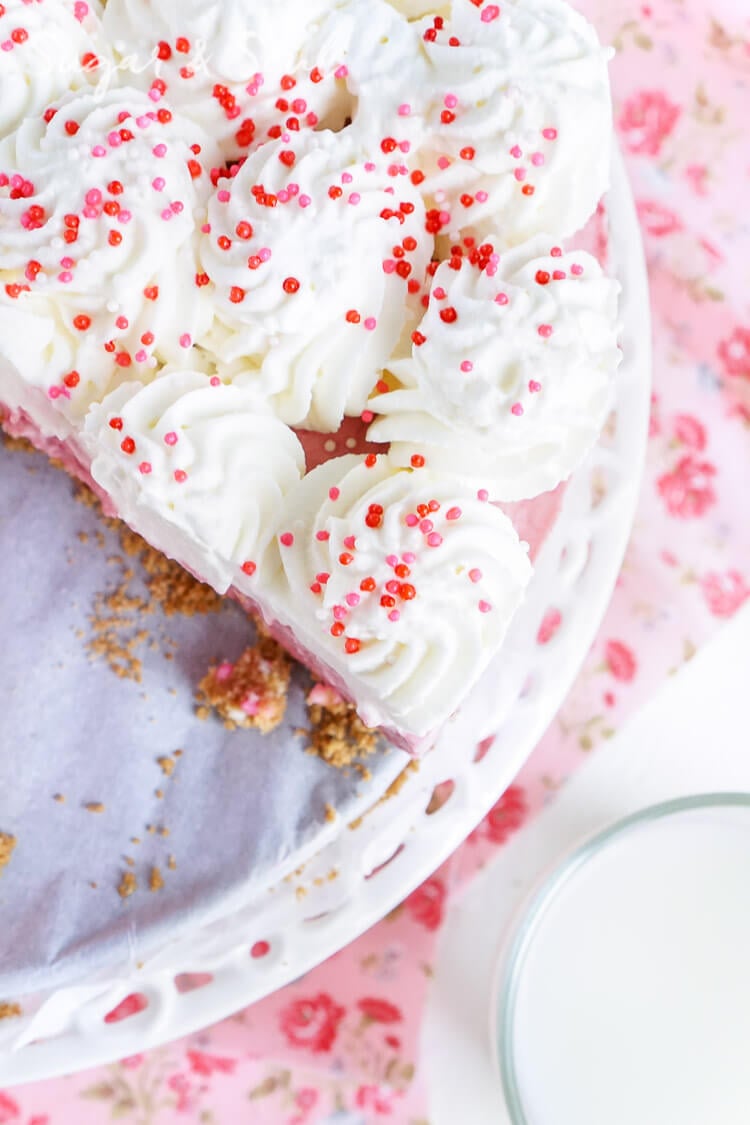 But we don't need to spend the whole month doing self checks, were should indulge a little too, right ladies? This cheesecakes is just the thing too, it's light and creamy and bursting with tart raspberries. And don't forge to check out the other amazing recipes below, everything from desserts to drinks to pasta!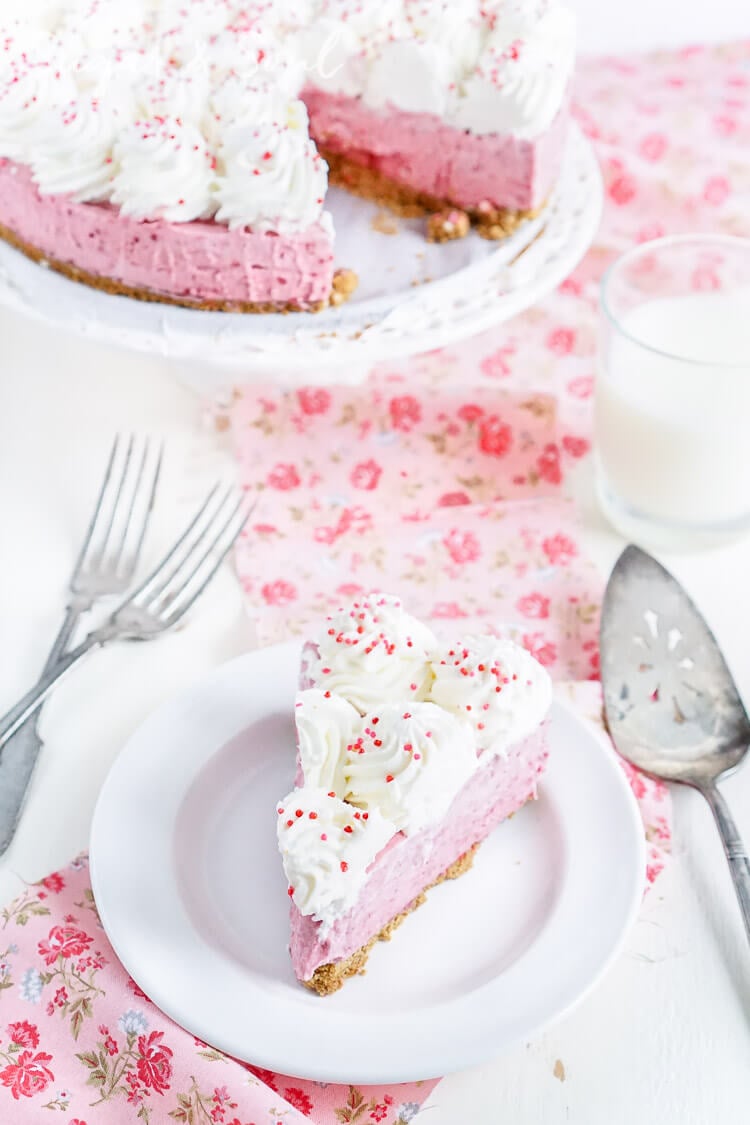 This No Bake Raspberry Cheesecake is light and creamy and loaded with tart raspberries!
Ingredients
Crust:
4 tbsp Butter melter
1 tbsp Sugar
2 tbsp Sprinkles
Filling:
12 oz. Frozen Raspberries thawed
1/4 cup Granulated Sugar
1 tsp Corn Starch
3 tsp Cold Water
1 cup Heavy Cream
8 oz. Whipped Cream Cheese
1 cup Confectioners' Sugar
Topping:
1 cup Heavy Cream
1/4 cup Confectioners' Sugar
4 tsp Water
1 tsp Gelatin
Sprinkles
Instructions
Crust:
Line the bottom of a springform pan with parchment paper and clasp the sides around the base, trimming away any excess paper and set aside.

Add graham crackers to a food processor or blender and pulse until a crumb forms, you can also use a large Ziploc bag and a rolling pin to crush them.

Place the crumbs in a medium bowl and create a crater in the middle, pour melted butter into the crater and mix until crumbs are evenly coated.

Stir in sprinkles and sugar and transfer to the springform pan, pressing down evenly.
Filling:
Add thawed raspberries, juice and all, to a small saucepan with the sugar and cook over medium heat and whisk to break up the berries.

Stir together corn starch and water in a small prep bowl and add to simmering raspberries.

Stir constantly for 1 to 2 minutes until raspberries start to thicken, remove from heat to cool.

Whip cream until stiff peaks form and transfer to a medium-sized bowl.

Add whipped cream cheese and confectioners' sugar to the large bowl or stand mixer you whipped the cream in and whip until combined.

Fold in whipped cream and raspberry mix with a rubber spatula until evenly combined.

Pour into prepared crust and freeze for at least 4-6 hours.
Cream:
Shortly before serving, whip heavy cream and confectioners' sugar together until soft peaks form.

Meanwhile, place water and gelatin in a small saucepan and heat just until gelatin is dissolved.

Slowly pour gelatin mix into the cream while it's whipping and beat until stiff peaks form.

Pipe onto top of prepared cheesecake and add sprinkles, return to freezer for at least 30 minutes before serving.

Serve immediately after removing from freezer.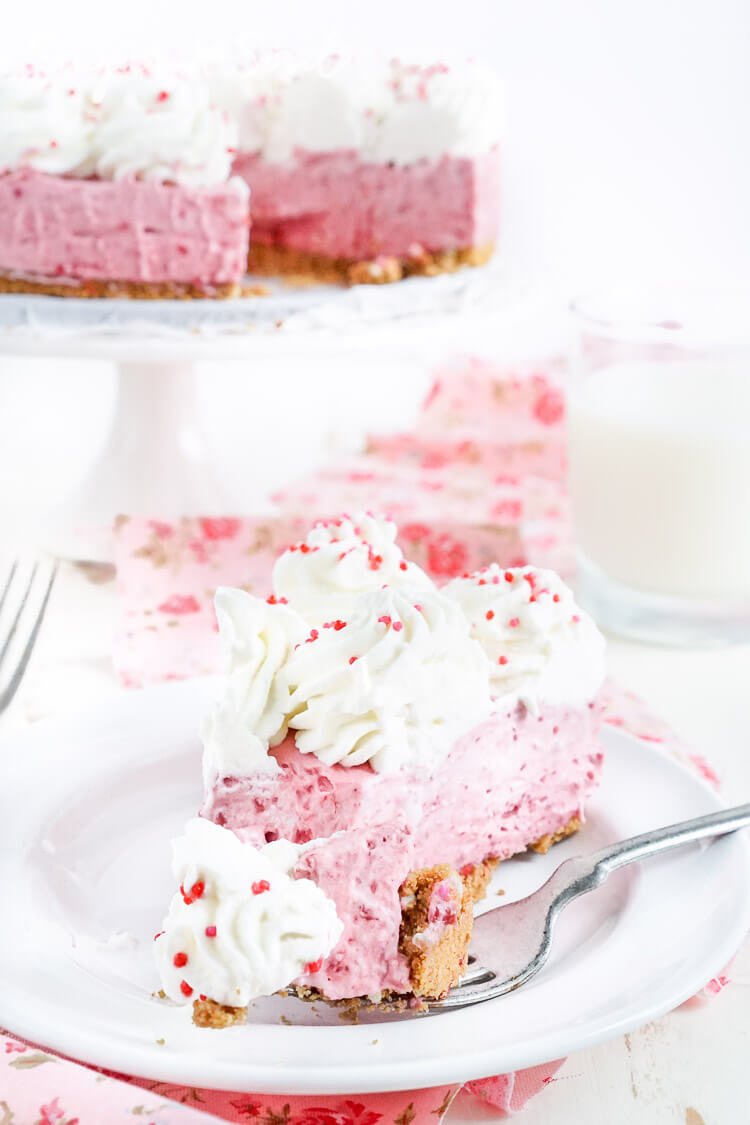 Check out the other Cooking for a Cure recipes!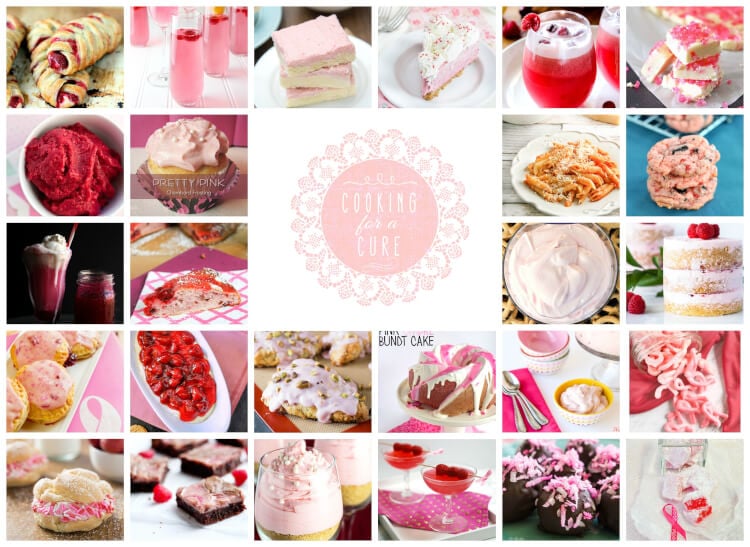 Strawberries & Cream Pastries by Domestic Superhero / Drink Pink Mocktail by Love Bakes Good Cakes / Strawberry Frosted Sugar Cookie Bars by Like Mother, Like Daughter / No Bake Raspberry Cheesecake by Sugar & Soul / Cranberry Raspberry Punch by Carlsbad Cravings / Pink Rock Candy Fudge by Kleinworth & Co. / Raspberry Sorbet by Food, Folks, Fun / Pretty Pink Chambord Frosting by Who Needs A Cape? / Lightened up Pink Vodka Sauce by A Dish of Daily Life / Strawberry Oreo Cake Mix Cookies by Just Us Four / Prickly Pear Soda Floats by Club Narwhal / Cherry Pie Scones by The Bitter Side of Sweet / Pink Fluff Dip by Mamal Diane / Pretty Pink Raspberry Vanilla Mini Cakes by Liv for Cake / Pink Pop Tarts by Life Currents / Strawberry Cheesecake Dip by The Love Nerds / Glazed Cherry Buttermilk Scones by Tastes of Lizzy T / Raspberry Vanilla Pink Ombre Bundt Cake by Cookie Dough and Oven Mitt / Berry Bliss by 365(ish) Days of Pinterest / Meringue Cookies by Mamma Loves Food / Cream Puffs with Strawberry Filling by Cooking on the Front Burner / Raspberry Cheesecake Brownies by Culinary Couture / No Bake Pink Lemonade Cheesecake Parfaits by Homemade Hooplah / Vanilla Berry Cocktail by Twin Stripe / Snowball Truffles by House of Yumm / Turkish Delight by With a Blast
Reader Interactions
Share your thoughts!
Love this recipe? Share your thoughts with me below and leave a review! And don't forget to connect on your favorite social platform below!