Buckeye Cake is a rich, decadent dessert that has homemade chocolate cake with mounds of peanut butter frosting on top with a layer of ganache! Serves a crowd yet only calls for 30 minutes of prep time!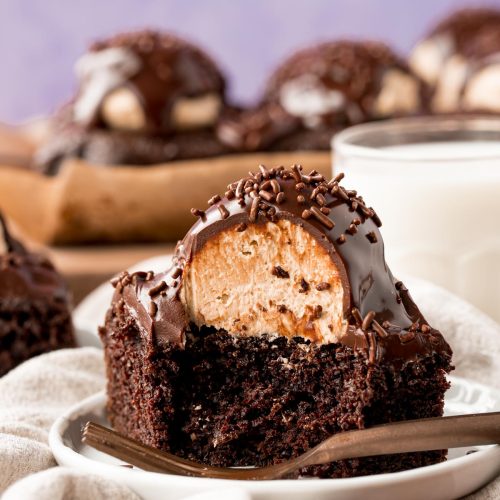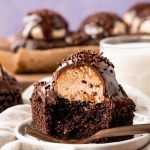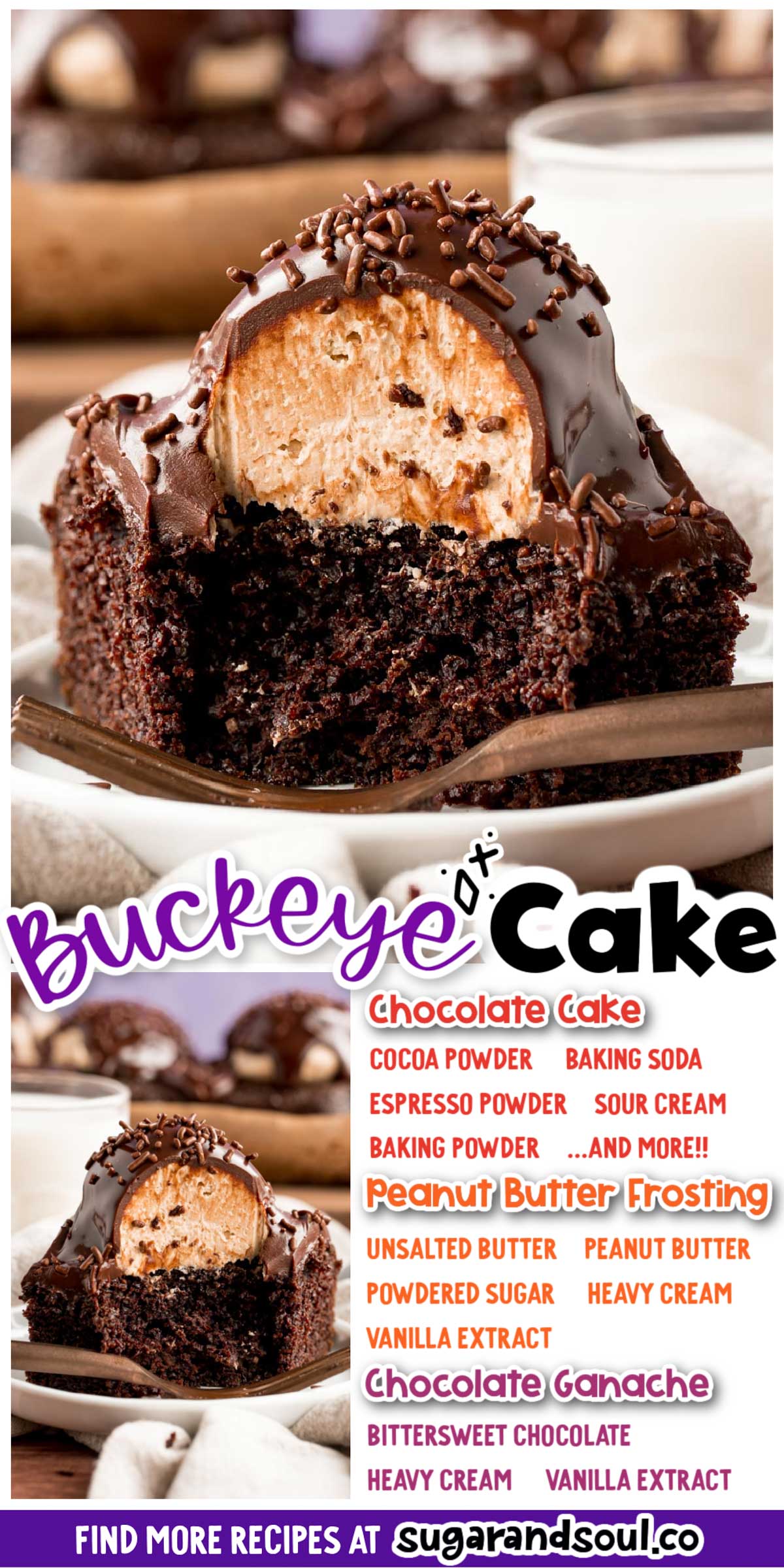 Buckeye Cake is a rich, decadent dessert that has homemade chocolate cake with mounds of peanut butter frosting on top with a layer of ganache! Serves a crowd yet only calls for 30 minutes of prep time!
Looking to satisfy that chocolate peanut butter craving? Then this Buckeye Cake is for you! And so are my Chocolate Peanut Butter Cupcakes that have a surprise center that's filled with Reese's Pieces candy!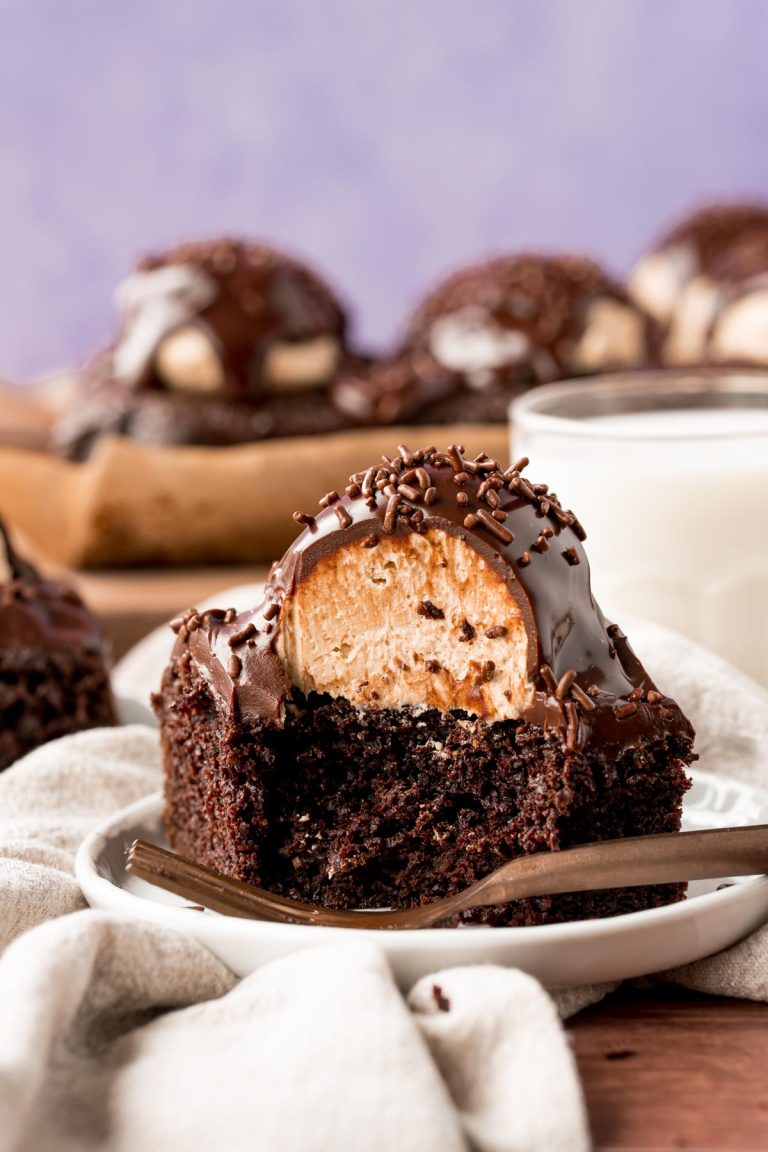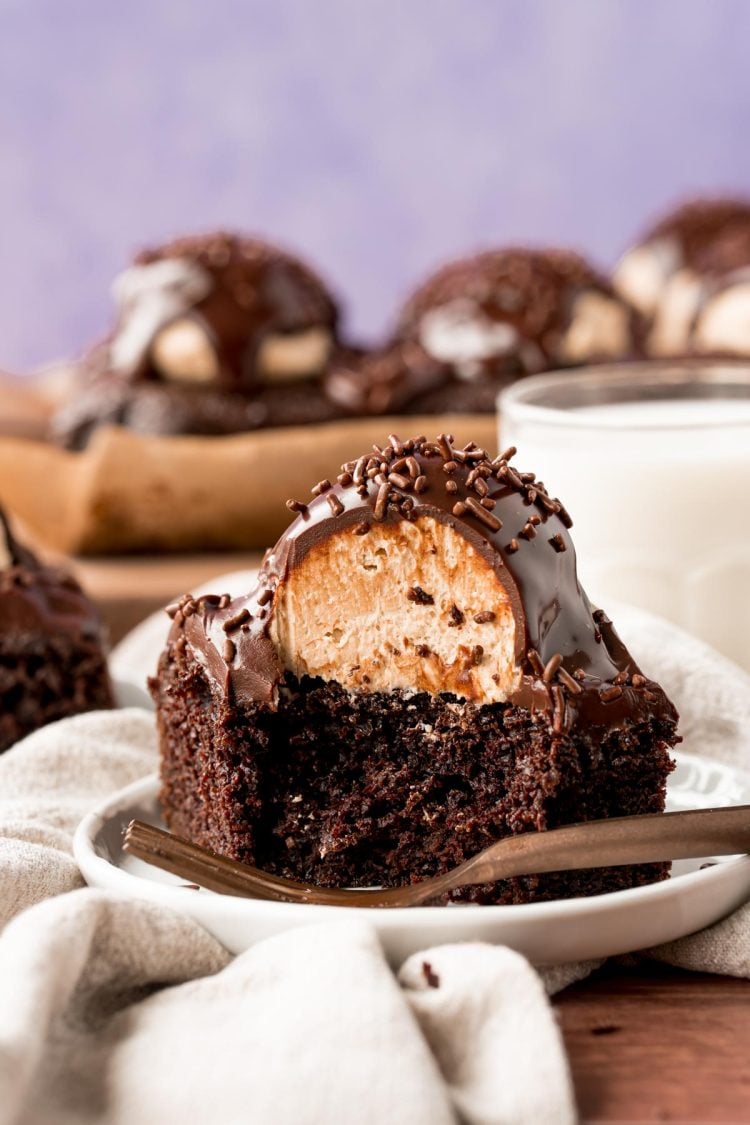 This Buckeye Cake will stop everyone in their tracks with its flavor and appearance! Mounds of fluffy peanut butter frosting are sandwiched between a layer of chocolate cake and 3-ingredient chocolate ganache!
We love Peanut Butter Buckeyes around here! This is why I also have recipes for Buckeye Brownies and Buckeye Cookies!
There's just something about creamy peanut butter enveloped in sweet chocolaty goodness! So, of course, there has to be Buckeye Cake as well!
Enjoying A Slice Of Cake
Taste: The famous dessert combination of chocolate and peanut butter, so you know the taste! Sweet, salty, rich, and decadent! When the pictures make your mouth water, then you know it's completely irresistible!
Texture: Each slice of tender, moist chocolate cake has a scoop of light and fluffy peanut butter frosting! The mounds are then finished off with a layer of smooth chocolate ganache topping!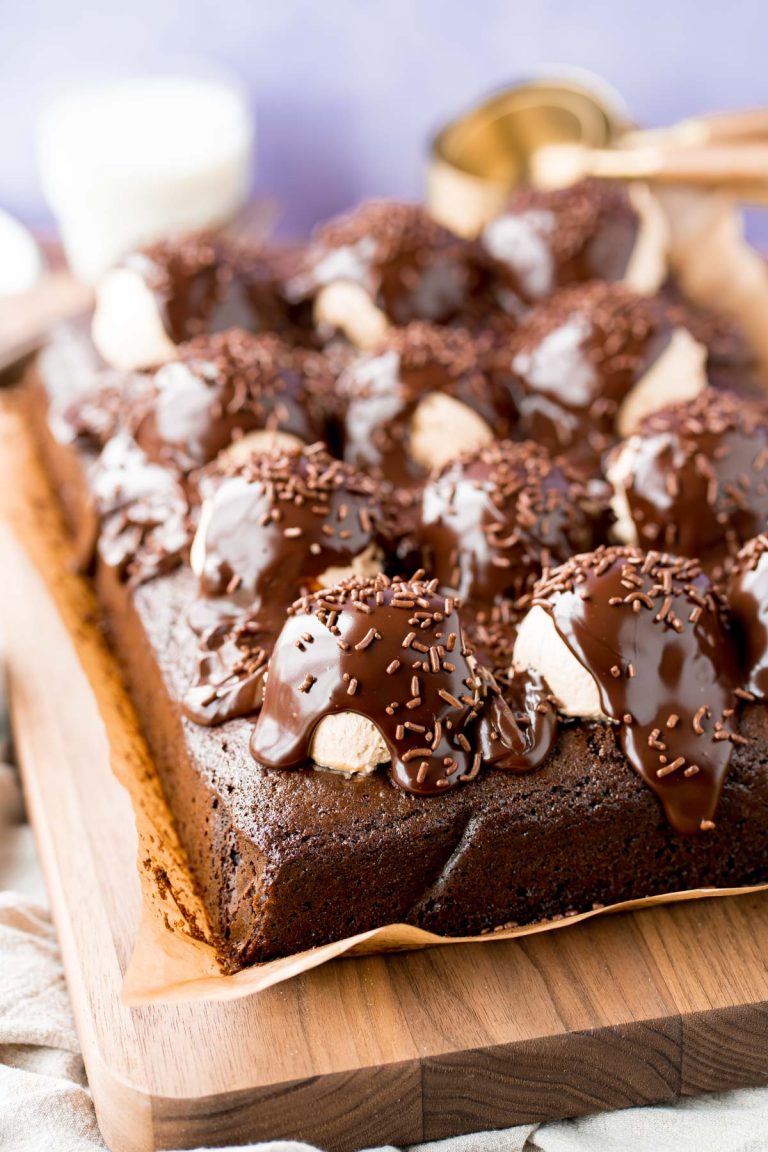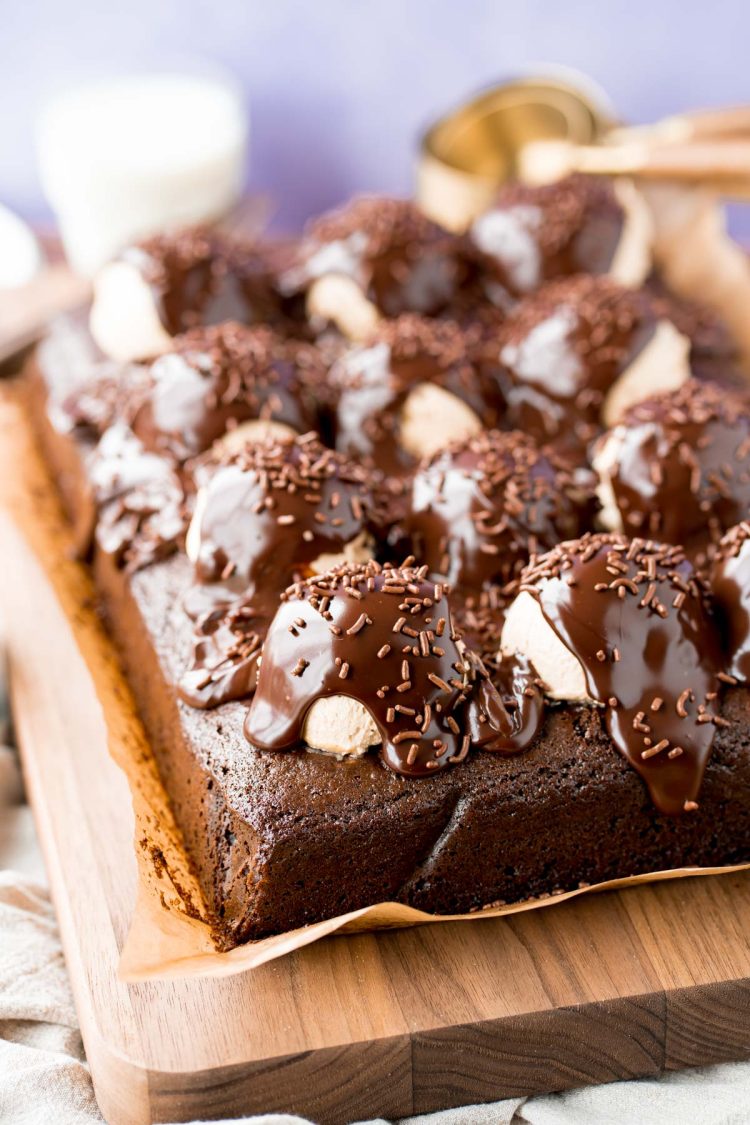 Finding The Flavor In This Recipe For Buckeye Cake
The chocolate cake, homemade peanut butter frosting, and chocolate ganache each have an ingredient that makes them stand out! Together, all three team up to make a dessert that's completely out of this world delicious!
The chocolate cake is made from scratch using mostly pantry staple ingredients! The one exception, and stand-out ingredient, is the espresso powder.
Espresso powder intensifies the chocolate flavor in the cake. Making for one incredibly delicious chocolate cake!
Making it the perfect base for that fluffy peanut butter frosting! I find the frosting tastes best when it's made with Jif creamy peanut butter.
After that is the chocolate ganache! Where the star ingredient is the finely chopped bittersweet chocolate.
My favorite brand to use is Ghirardelli Premium Baking Chocolate, that's 60% Cacao. It truly yields the tastiest results!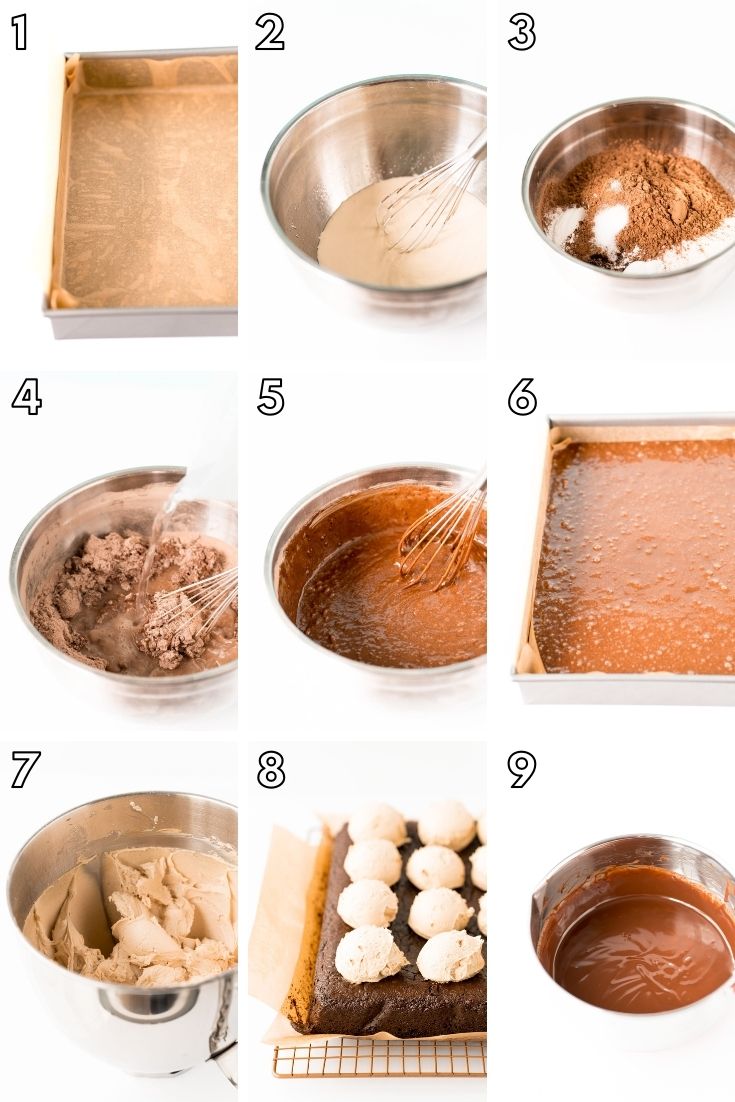 Helpful Recipe Tips!
Preparing The Pan – Grease the cake pan with butter and line it with parchment paper. This will ensure removing the cake is as easy as possible.
Frosting Consistency – The peanut butter frosting should be perfectly light and fluffy. If needed, you can add additional cream or powdered sugar to help you reach the desired consistency.
Drops Of Frosting – I recommend using a large or medium size cookie scoop to drop mounds of frosting all over the baked and cooled cake. This trick disperses the frosting in even amounts that look nice!
Chocolate Ganache – The ganache is very rich and has a slightly bitter dark chocolate flavor. If you prefer it to be sweeter, you can whisk in 1/4 cup of powdered sugar.
Slicing and Serving – Allow the chocolate ganache to cool completely before slicing and serving the cake. When serving, be sure each slice has one mound of frosting!
Buckeye cake recipes are always so delicious, thanks to that popular chocolate-peanut butter combination! That same crave-worthy flavor is found in lots of my other popular dessert recipes!
And not just in cakes either! But in Chocolate Peanut Butter Macarons, Peanut Butter Chocolate Cheesecake, and even in this Peanut Butter Freak Shake!
Though if you tend to be more of a cookie person, then you have to try my Peanut Butter Bacon Chocolate Chunk Pudding Cookies!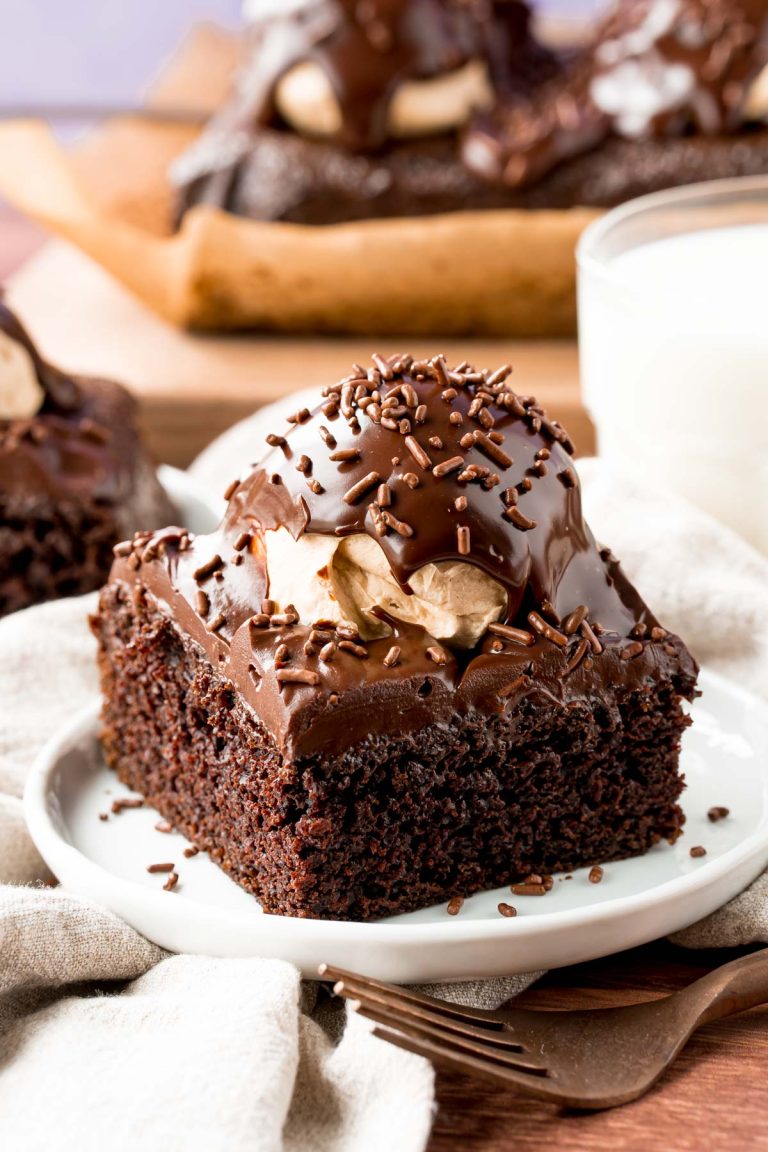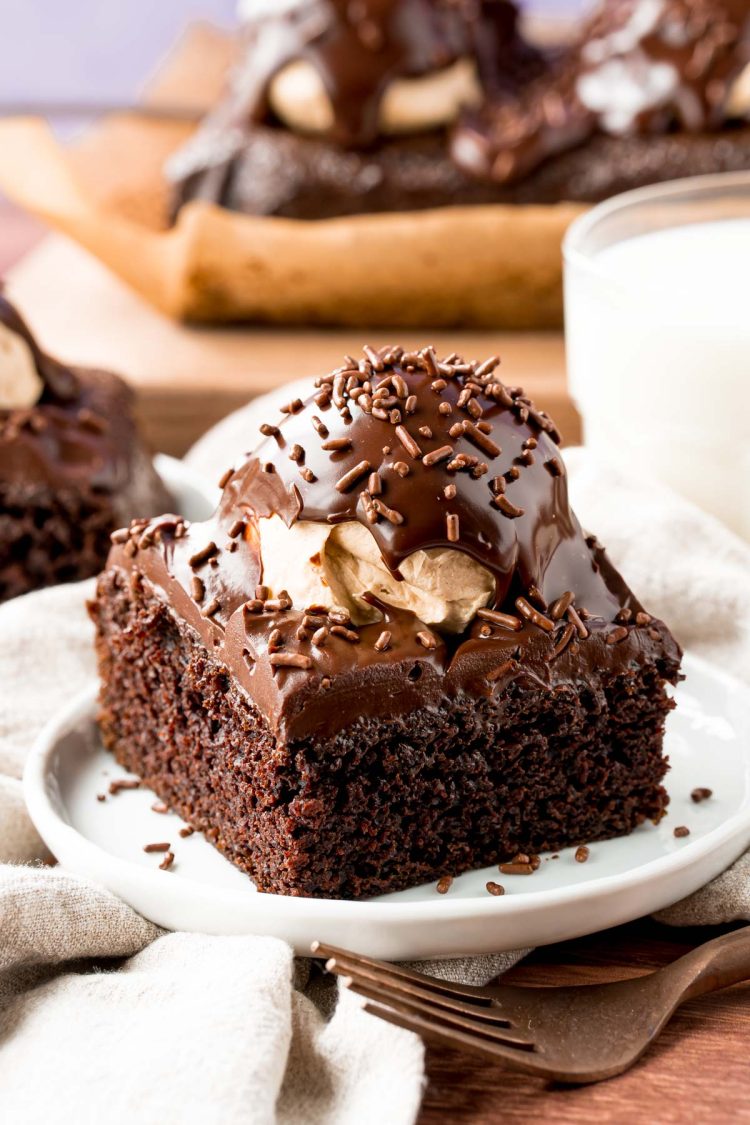 How Do I Store This Chocolate Peanut Butter Buckeye Cake?
This Chocolate Peanut Butter Cake is best stored in an airtight container in the refrigerator. Leftover cake can then be enjoyed for up to one week.
Can I Just Use A Boxed Chocolate Cake Mix?
I personally always doctor-up boxed cake mixes when I use them, like in my Chocolate Cupcakes, but I think this recipe really deserves a cake batter made from scratch. Whereas this Buckeye Cake Recipe from scratch has lots of rich, decadent flavor, something you can't get from a boxed mix!
However, if you'd like, a boxed chocolate cake mix can be used instead.
What Do I Do With The Leftover Chocolate Ganache?
If you have leftover ganache store it in the fridge in an airtight container for up to 2 weeks. Then you can just use it for a dip with fresh fruit, pretzels, or marshmallows!
Could I Just Spread The Frosting Out Instead Of Dropping Scoops Of It Onto The Cake?
Yes, you could do that. Just keep in mind doing so will cause you to lose the classic look of a buckeye ball. But you could make and top with Buckeye Candy instead.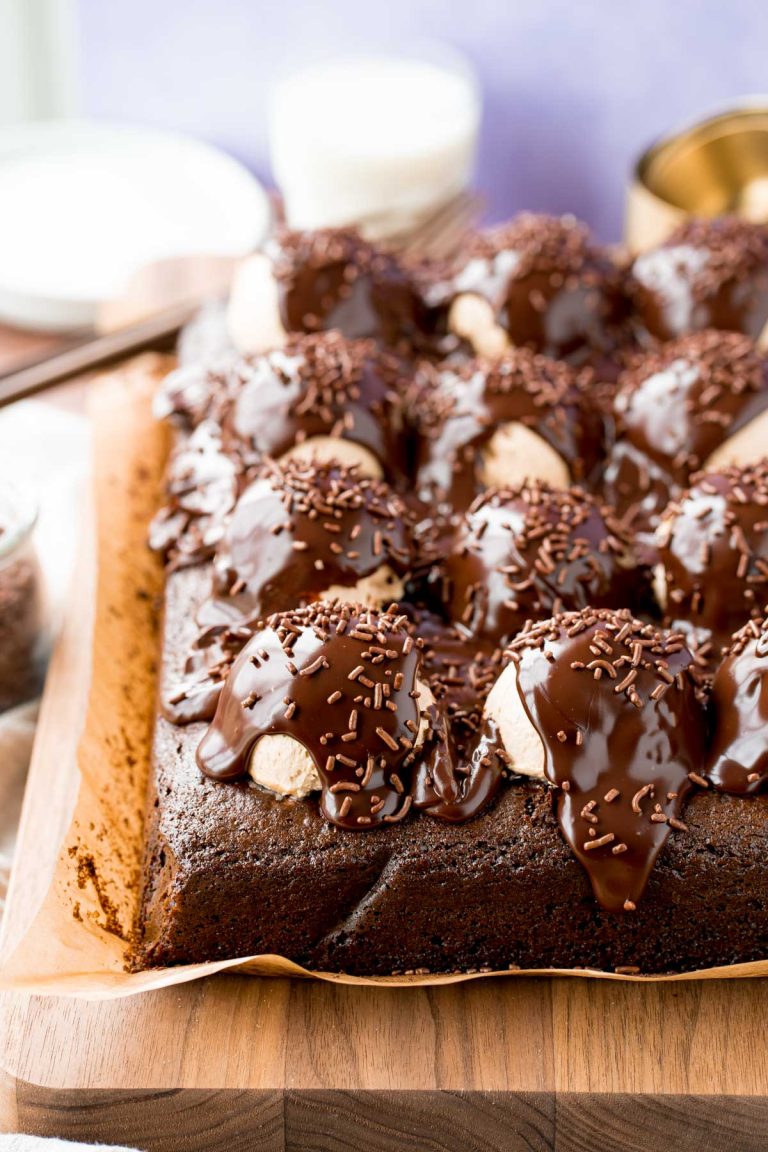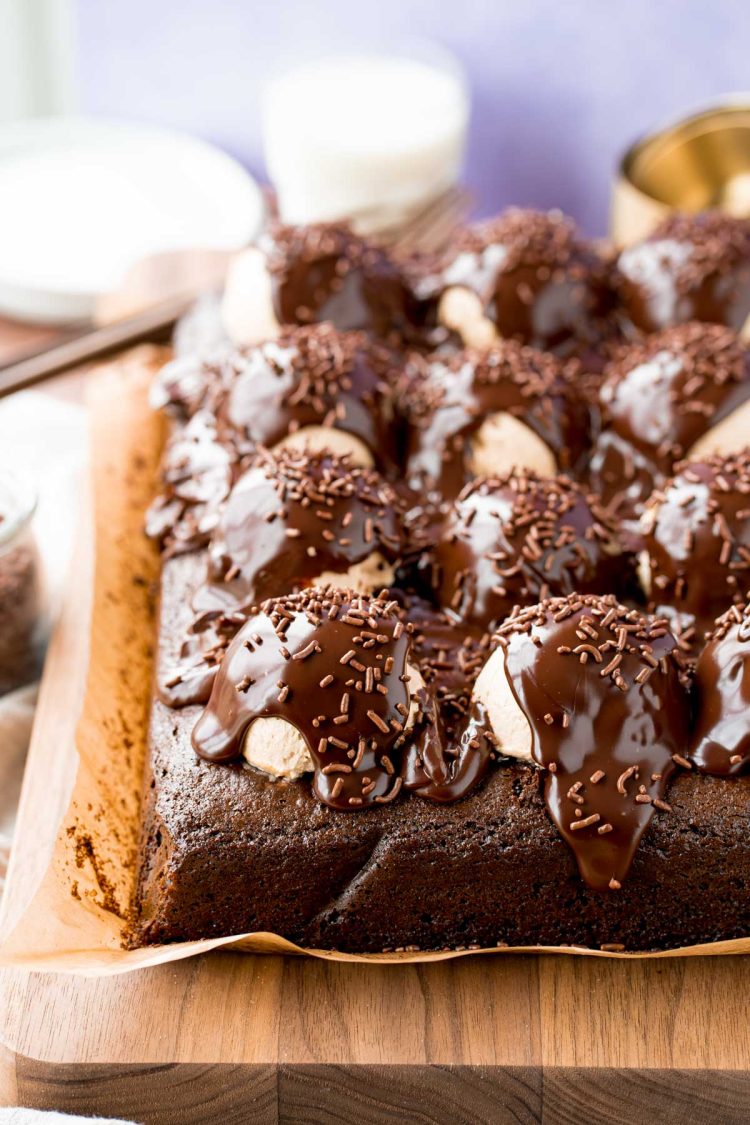 👋 Let's Connect!
If you've tried this recipe, please let me know how you liked it in the comments below and leave a review. I love hearing from you!
Don't forget to tag me – @sugarandsoulco – on Instagram and Pinterest with your photos or join our Sugar & Soul Show-offs Community and share them there, where you can join our recipe challenges!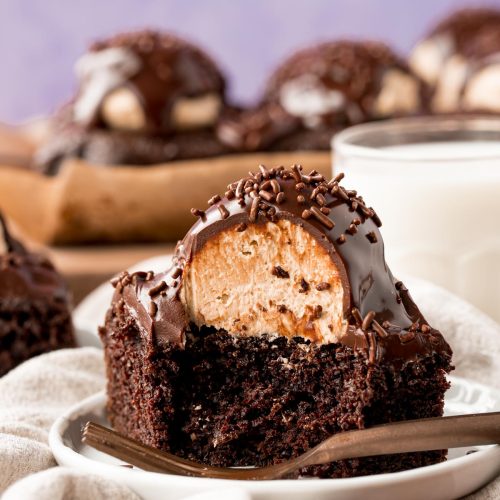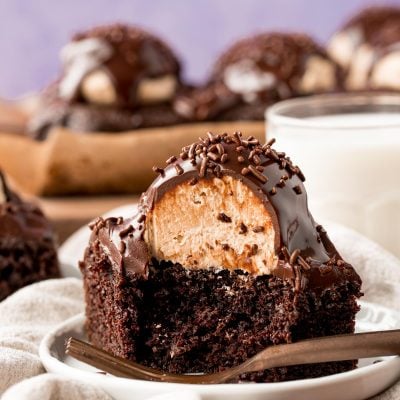 Buckeye Cake
Buckeye Cake is a rich, decadent dessert that has homemade chocolate cake with mounds of peanut butter frosting on top with a layer of ganache! Serves a crowd yet only calls for 30 minutes of prep time!
Instructions
Cake
Preheat the oven to 350°F and grease a 9×13-inch cake pan with butter and line with parchment paper, letting the paper come up over the edge for easy removal.

In a large bowl, whisk together the sugar, flour, cocoa powder, baking soda, baking powder, espresso powder, and salt. Set aside.

2 cups granulated sugar, 2 cups all-purpose flour, 1 cup unsweetened cocoa powder, 2 teaspoons baking soda, 2 teaspoons baking powder, 1 teaspoon espresso powder, 1 teaspoon kosher salt

In a separate mixing bowl, beat together the eggs and sour cream until smooth. Then beat in the oil and vanilla until creamy.

2 large eggs, 1 cup sour cream, ½ cup vegetable oil, 2 teaspoons vanilla extract

Add the egg mixture to the dry ingredients and stir just a little to begin incorporating, then pour in the hot water and stir until smooth.

1 cup hot water

Pour the batter into the prepared cake pan and bake for 35 to 40 minutes or until a toothpick comes clean from the center of the cake.

All the cake to cool completely before frosting.
Frosting
In a large bowl or stand mixer fitted with a paddle attachment, cream the butters together and scrape down the sides of the bowl.

1 cup unsalted butter, 1 cup peanut butter

Add the powdered sugar one cup at a time, alternating with tablespoons of heavy cream.

3¼ cups powdered sugar, 5 tablespoons heavy cream

Add in the vanilla and whip on medium-high speed for 2 to 3 minutes until the frosting is light and fluffy.

1 teaspoon vanilla extract

Drop large cookie scoop mounds of frosting onto the top of the cake. You could also use a medium cookie scoop all over for more even covereage. Spreading the frosting out all over the cake is also an option but you will lose the buckeye ball look.
Ganache
Bring the heavy cream to a simmer in a small saucepan then pour over the chopped chocolate in a heat-safe bowl and let sit for 5 minutes.

8 ounces bittersweet chocolate, 8 ounces heavy cream

Add the vanilla and whisk together until a rich and smooth ganache forms. Allow it to cool for about 20 minutes before pouring it over the top of the mounds of frosting.

1 teaspoon vanilla extract

Add sprinkles if desired and let the ganache cool completely before slicing and serving.

chocolate sprinkles
Notes
Add additional cream or confectioners sugar as needed to reach desired consistency for the frosting.
Hot coffee can be used in place of espresso powder and water in the cake.
Frosting can be made with a hand mixer but will not be as whipped.
The ganache is very rich with a bitter dark chocolate flavor. Feel free to whisk in 1/4 cup of powdered sugar for a sweeter flavor.
Nutrition
Calories: 616kcal | Carbohydrates: 55g | Protein: 8g | Fat: 42g | Saturated Fat: 20g | Cholesterol: 73mg | Sodium: 155mg | Potassium: 223mg | Fiber: 1g | Sugar: 50g | Vitamin A: 845IU | Calcium: 27mg | Iron: 0.6mg