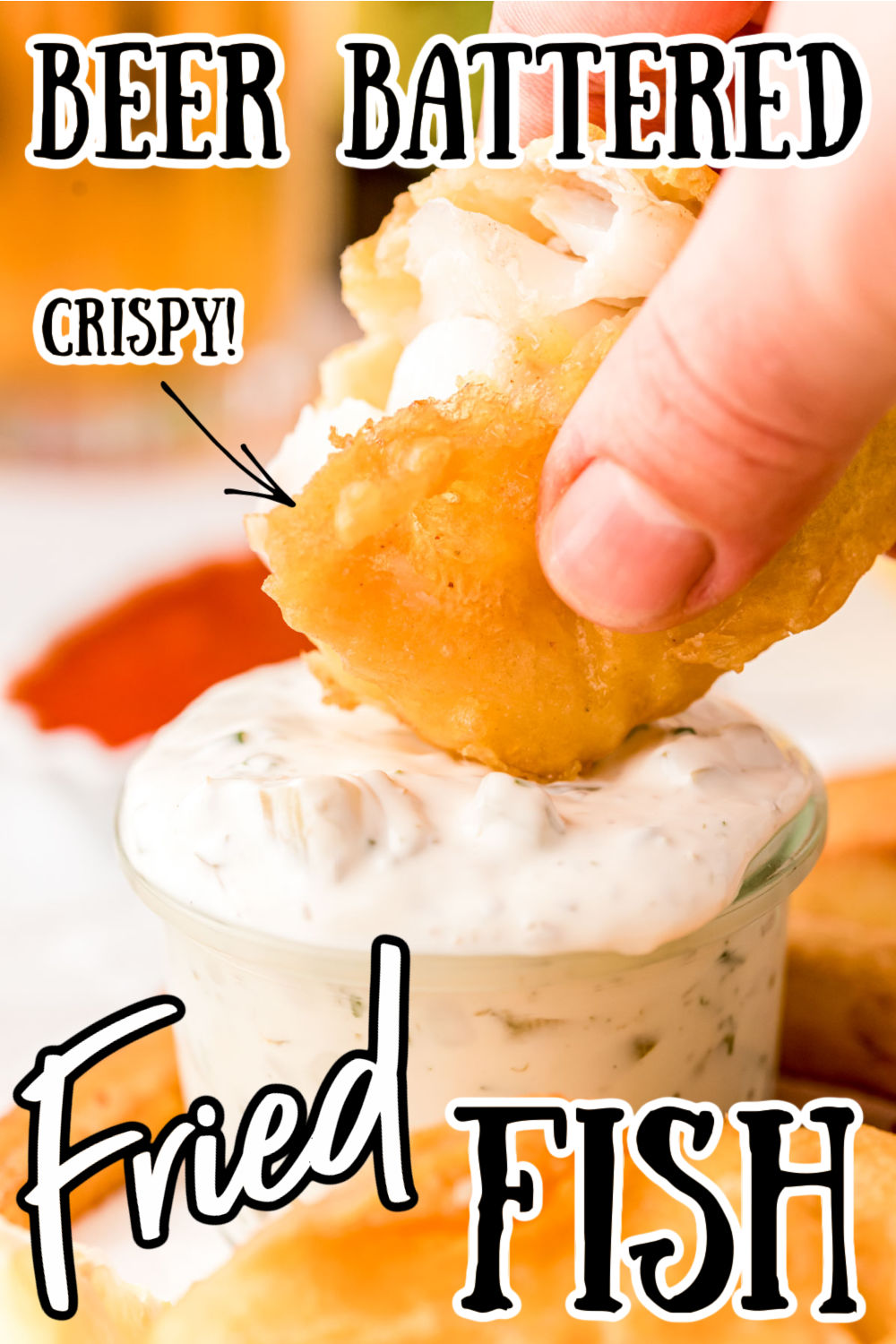 Beer Battered Fried Fish are flaky, fresh fillets seasoned with salt and pepper, hand-dipped in a homemade beer batter, and then deep-fried until perfectly golden brown!
Just thinking about dipping a chunk of this Fried Fish into Tartar Sauce is enough to make my mouth water! Serve it up with Homemade French Fries and you've just created the ultimate Fish and Chips meal!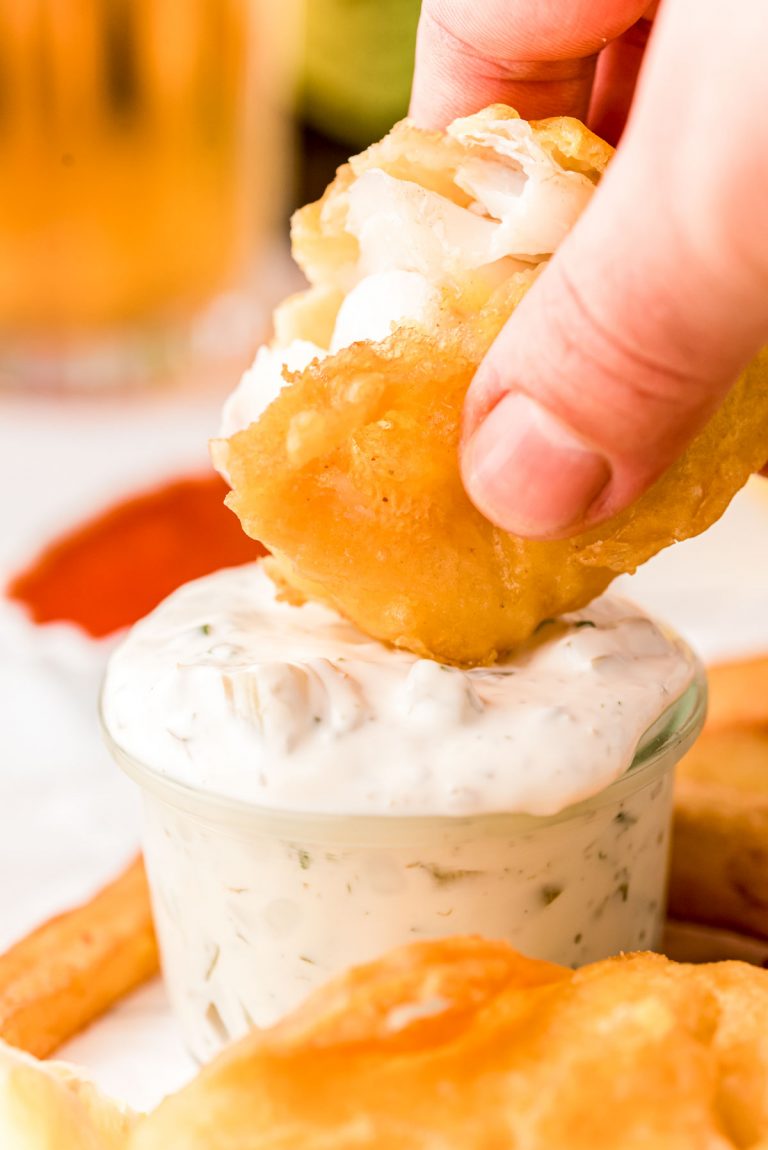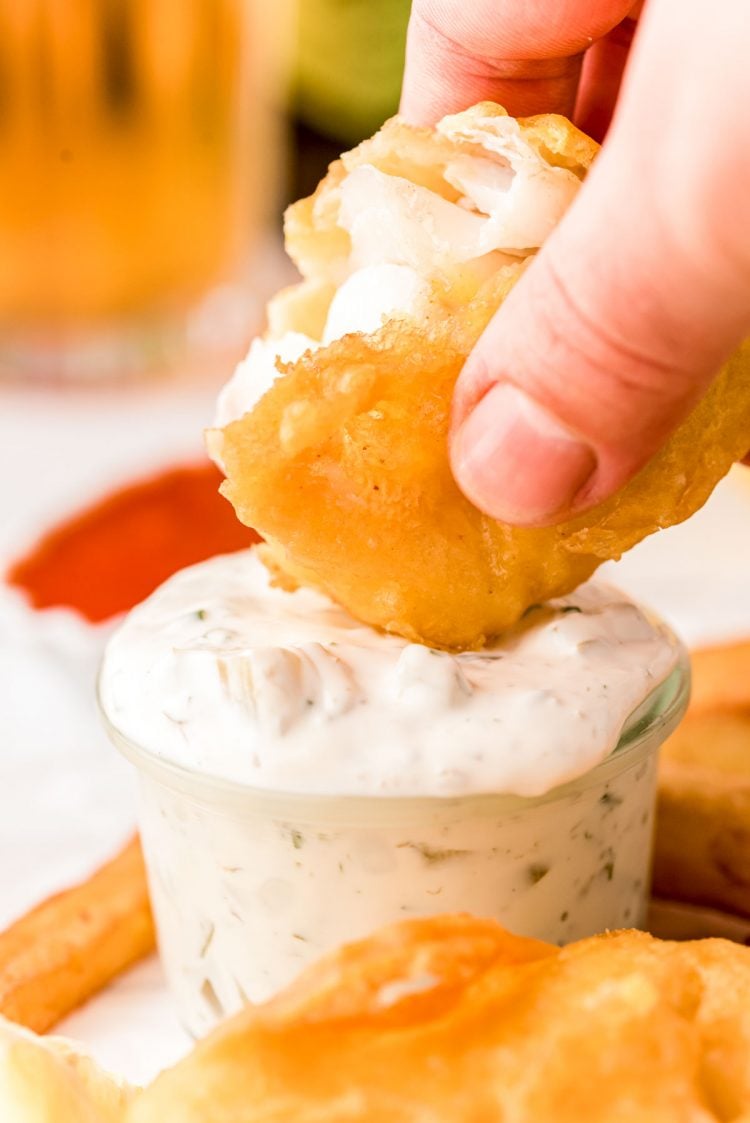 Beer Battered Fried Fish has the salty crunch you love when biting into a flaky piece of fresh white fish! Making it the perfect recipe to use when bringing together friends and family at a big ol' Fish Fry!
The beer in this fish batter recipe is really the key ingredient to an incredibly crispy outside! An airy batter is important for crunch and the fizz from the beer paired with baking powder delivers exactly that.
Since everyone will love this tasty crispy, fried fish recipe it will be one you keep going back to time after time!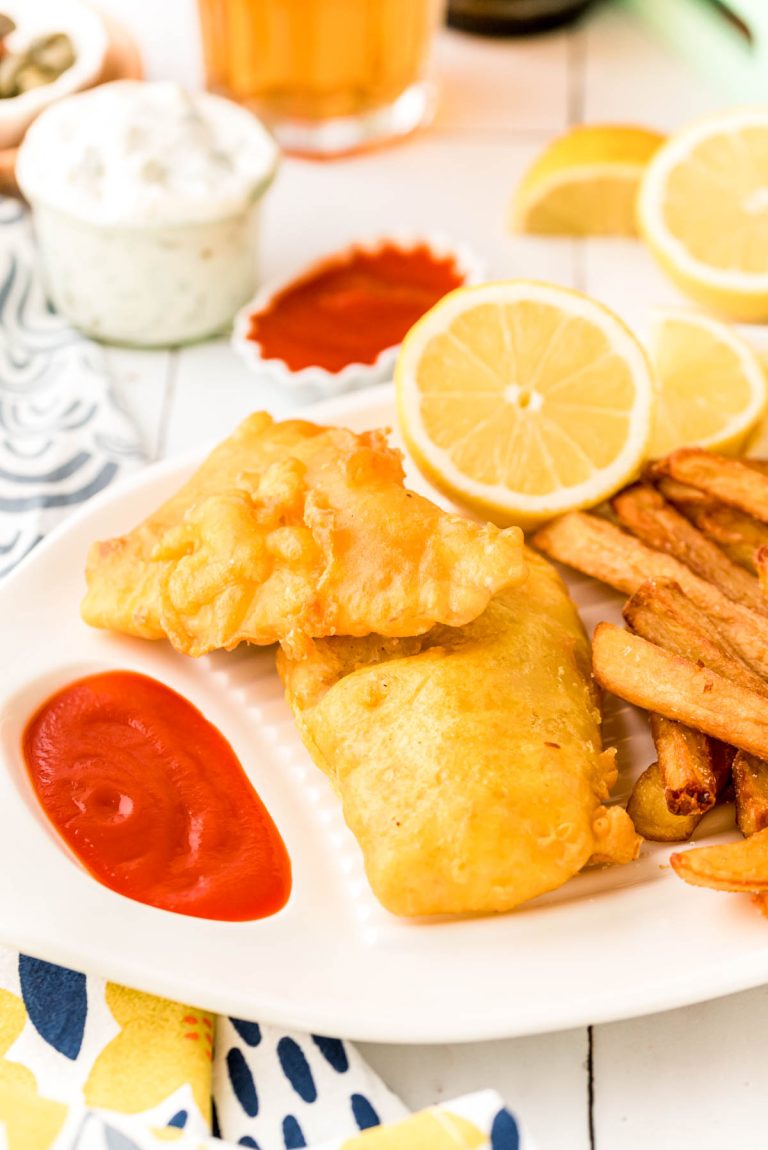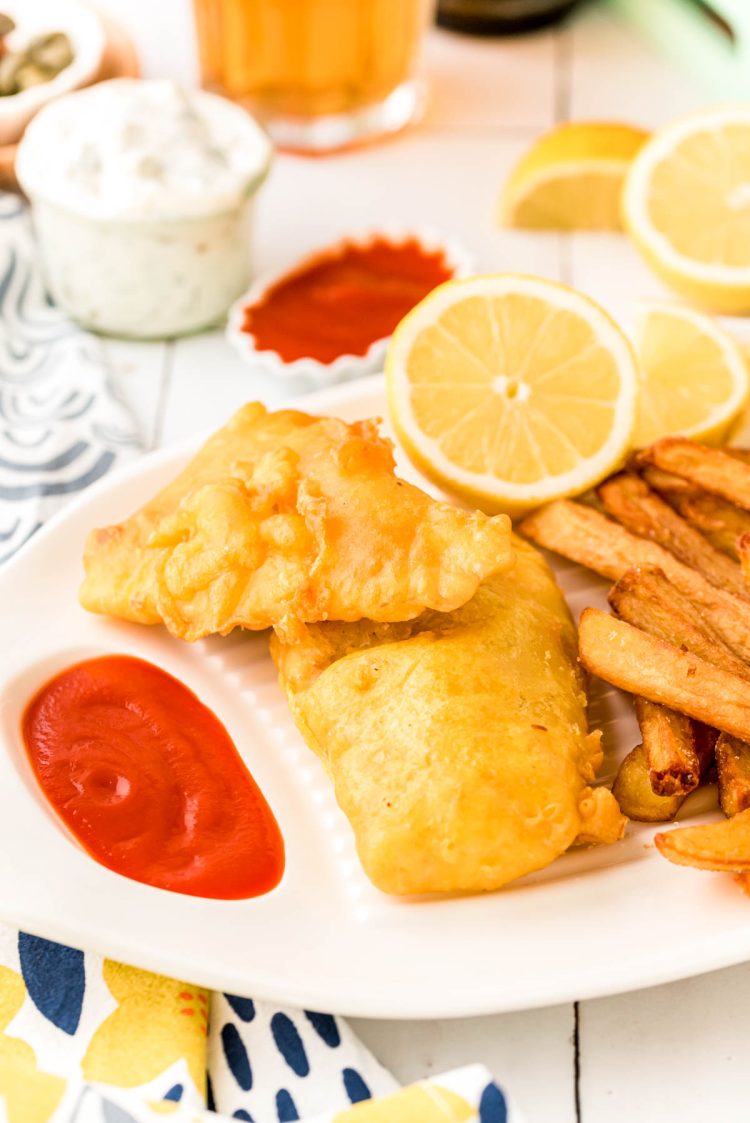 Beer Battered Fish Ingredients
Dip fresh cod or haddock fillets that have been seasoned with salt and pepper into this beer batter that's made of flour, salt, baking powder, turmeric, and beer. I prefer to use an ale beer for this recipe but lager will also work.
You'll also need vegetable oil for frying the fish to a crispy golden brown!
If you're someone that likes spice try adding some chili powder or cayenne pepper into the batter for a kick!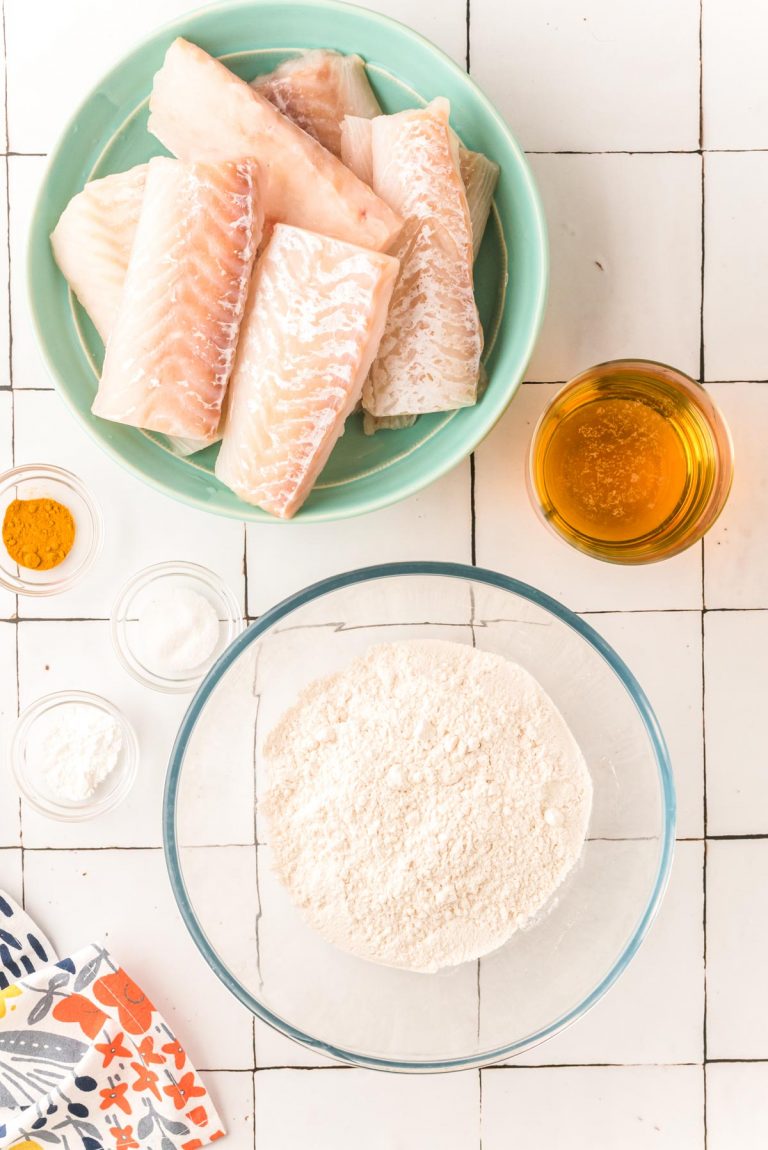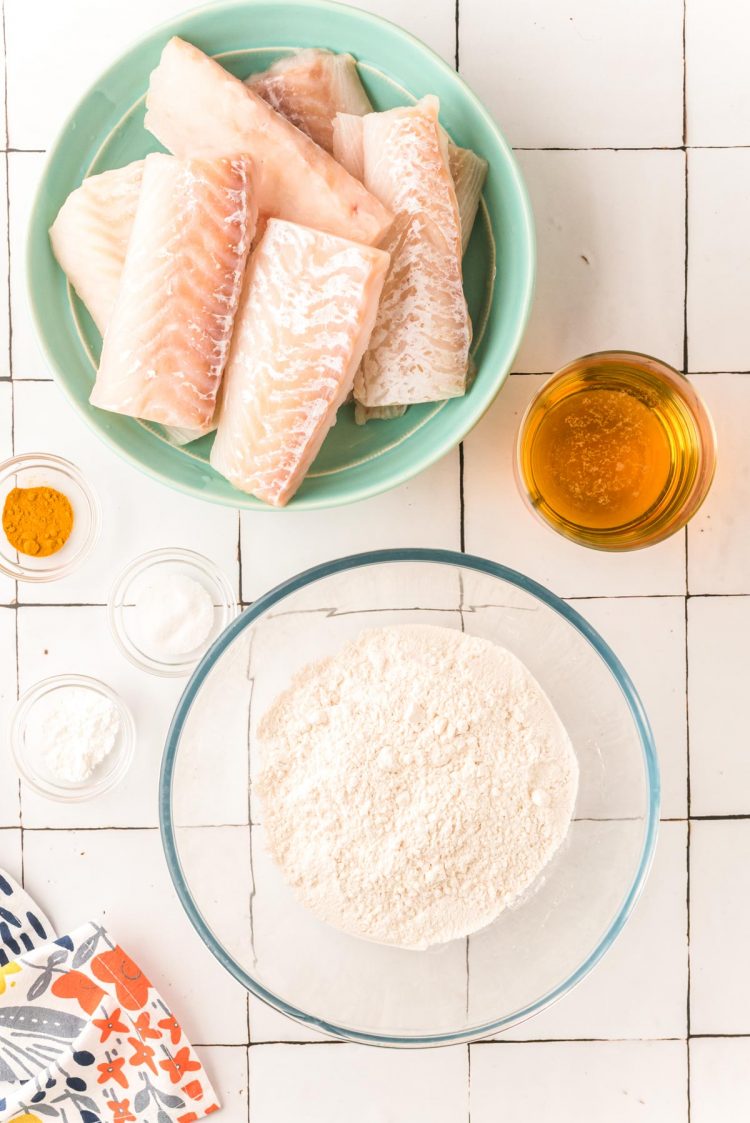 How To Make Fried Fish
Mix up the batter by adding some of the flour, salt, baking powder, and turmeric into a bowl.
Add the beer and mix until it's the consistency of pancake batter, place it in the refrigerator to chill.
Heat the oil up in a large pot on the stove in a dutch oven or in your deep fryer.
Dredge the fish fillets in all-purpose flour
Dip each floured piece into the batter, making sure it's evenly coated.
Fry them carefully in the hot oil until they turn a nice golden brown on all sides.
Serve and enjoy hot with vinegar, lemon juice, and Tartar Sauce! Or if you want something a little different, try my Fish Taco Sauce!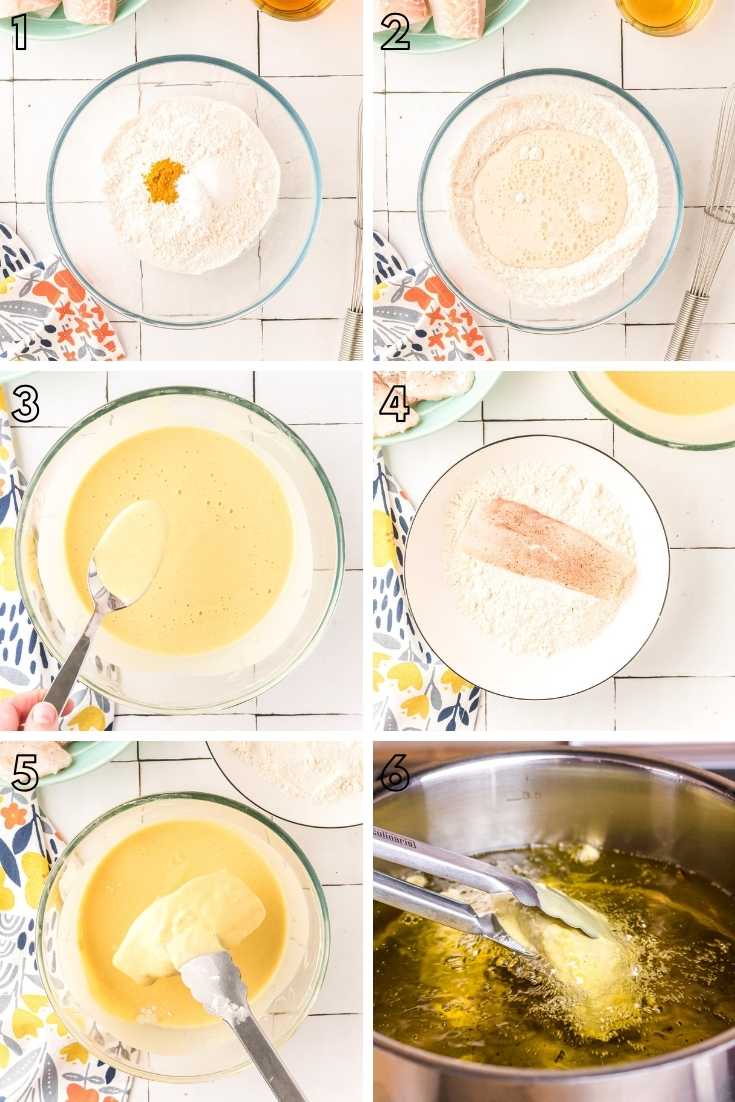 Can I Make This In An Air Fryer?
Unfortunately, it's not recommended to place food with a wet batter into an air fryer, without an oil bath the batter doesn't fry up correctly. This means you won't get that crispy, crunchy fried food that you're aiming for!
Can I Make More Fish and Chips?
Definitely! Just double or triple the ingredients and then fry the fish in batches! And make a double batch of crisp French Fries too!
What Temperature Should The Inside Of Cooked Fish Be?
Fried fish is cooked thoroughly when the internal temperature is 145°F.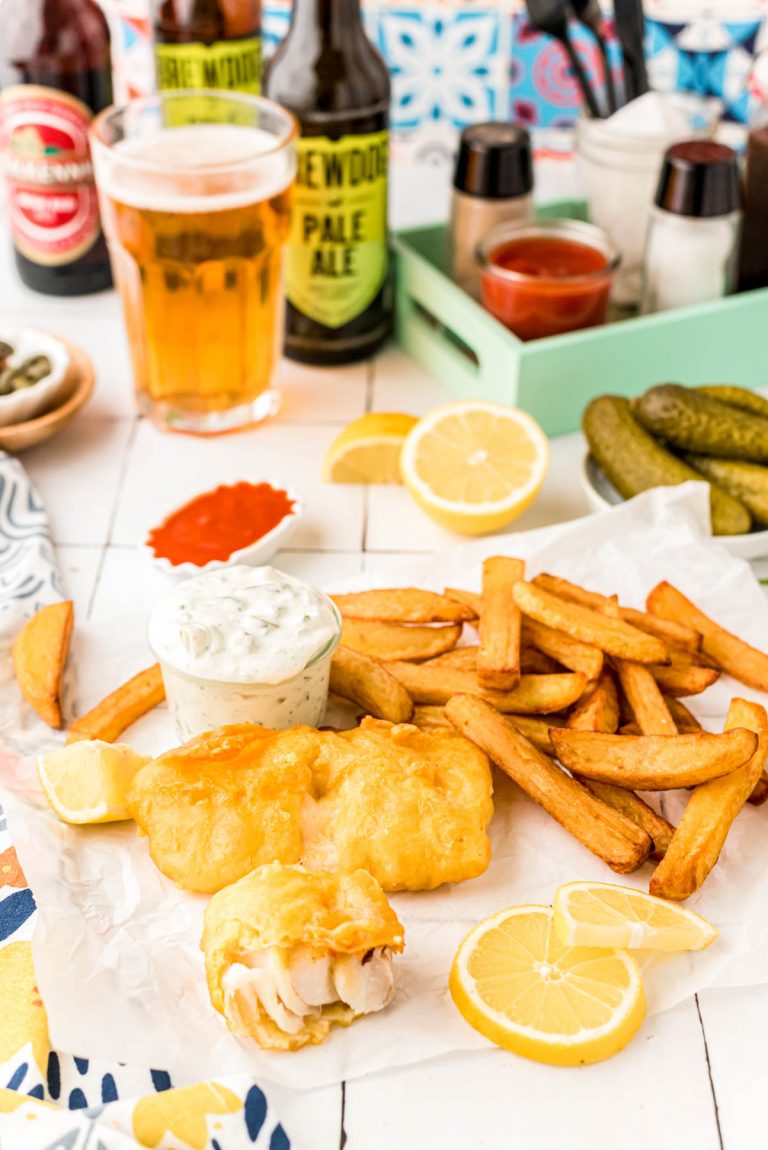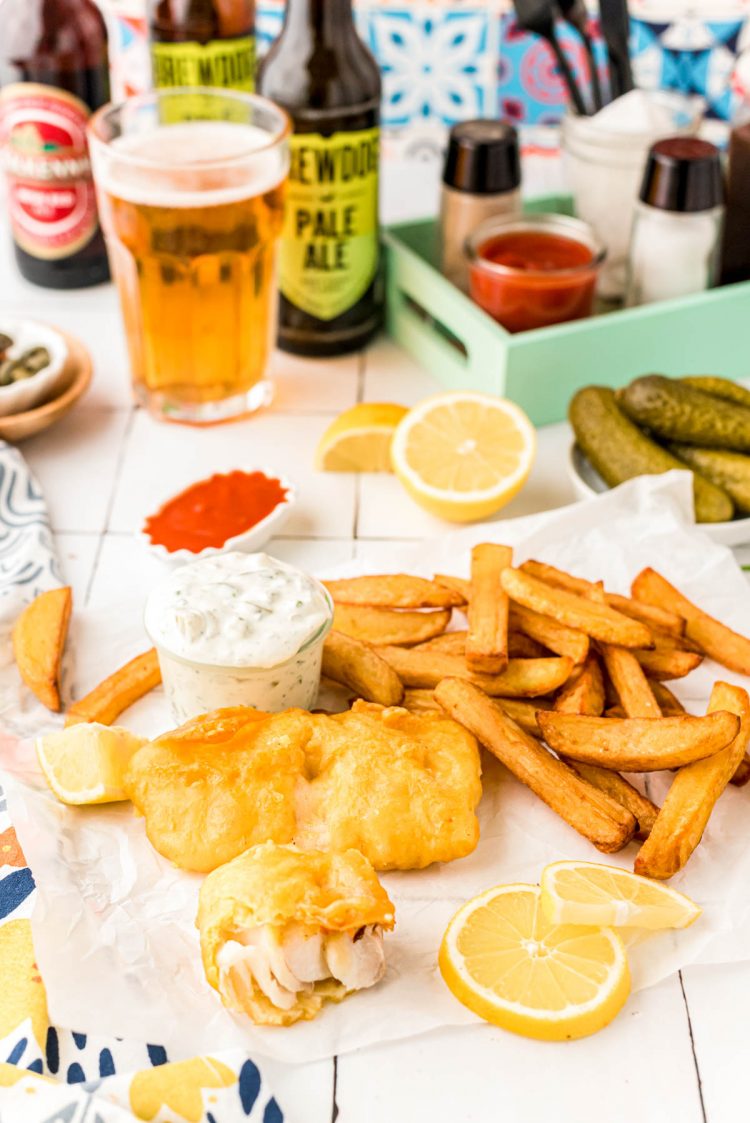 This Beer Battered Fried Fish recipe makes the best fried cod and fried haddock! But if you're looking for other seafood recipes, here are more recipes we've tried and loved so be sure to check them out as well!
Beer Battered Fish
Click the button above to save this delicious recipe to your board!
👋 Let's Connect!
If you've tried this recipe, please let me know how you liked it in the comments below and leave a review; I love hearing from you! And don't forget to tag me – @sugarandsoulco – on Instagram and Pinterest with your photos or join our Busy Family Recipes Facebook Community and share them there!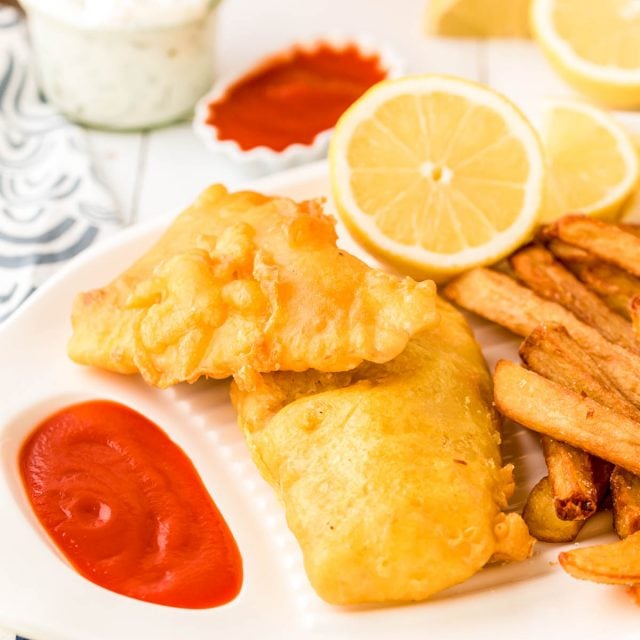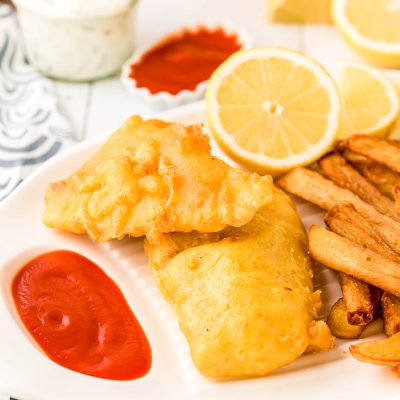 Beer Batter Fried Fish
Beer Battered Fried Fish are flaky, fresh fillets seasoned with salt and pepper, hand-dipped in a homemade beer batter, and then deep-fried until perfectly golden brown!
Instructions
In a large bowl, mix together 1⅓ cup of the flour, ½ teaspoon salt, baking powder, and the turmeric.

Add the beer and mix with a wooden spoon or a spatula. The batter should be the consistency of a pancake batter. Cover and chill in the refrigerator for 60 minutes.

When the batter is ready, heat the oil in a deep fryer to 300-320°F. The oil is hot enough when you add a bit of the batter and it starts bubbling immediately.

Cut the fish into even pieces, if not already, and pat dry with a paper towel and sprinkle both sides generously with salt and pepper.

Add the remaining flour to a shallow bowl and prepare the fish by flouring each piece on all sides and dipping it into the batter.

Then carefully add each piece into the oil and fry for 4 to 5 minutes or until golden brown on all sides. Hold the fish in the middle, dip it in and hold it for a couple of seconds until it starts swimming. Then let go. This helps to prevent the fish from sinking down and the batter sticking to the bottom.

Place cooked pieces of fish on folded paper towels. Serve hot with vinegar, lemon juice, and tartar sauce.
Notes
Serve with French Fries and Tartar Sauce.
How to change it up / variations: Add different spices to the batter. You like it spicy? How about some chili or cayenne? Or try different beers.
Can I make this ahead? Fried food just doesn't taste the same warmed up. You can cut and add salt and pepper to the fish then cover and keep it in the fridge for up to 1 day if the cold chain wasn't interrupted too long. Then go on with the recipe from there.
Can I make more? Totally, just double the ingredients and fry in batches.
Nutrition
Calories:
352
kcal
Carbohydrates:
44
g
Protein:
34
g
Fat:
1
g
Saturated Fat:
1
g
Cholesterol:
92
mg
Sodium:
657
mg
Potassium:
662
mg
Fiber:
1
g
Sugar:
1
g
Vitamin A:
97
IU
Calcium:
70
mg
Iron:
3
mg