These chewy, fun Turkey Rice Krispie Treats will make an exciting and tasty addition to your Thanksgiving dinner plans! Prep a batch of turkeys in just 20 minutes!
For another fun turkey treat check out these easy-to-make Turkey Cupcakes! They're made with a doctored-up boxed cake mix and then dressed up with edible decorations to look like a turkey too!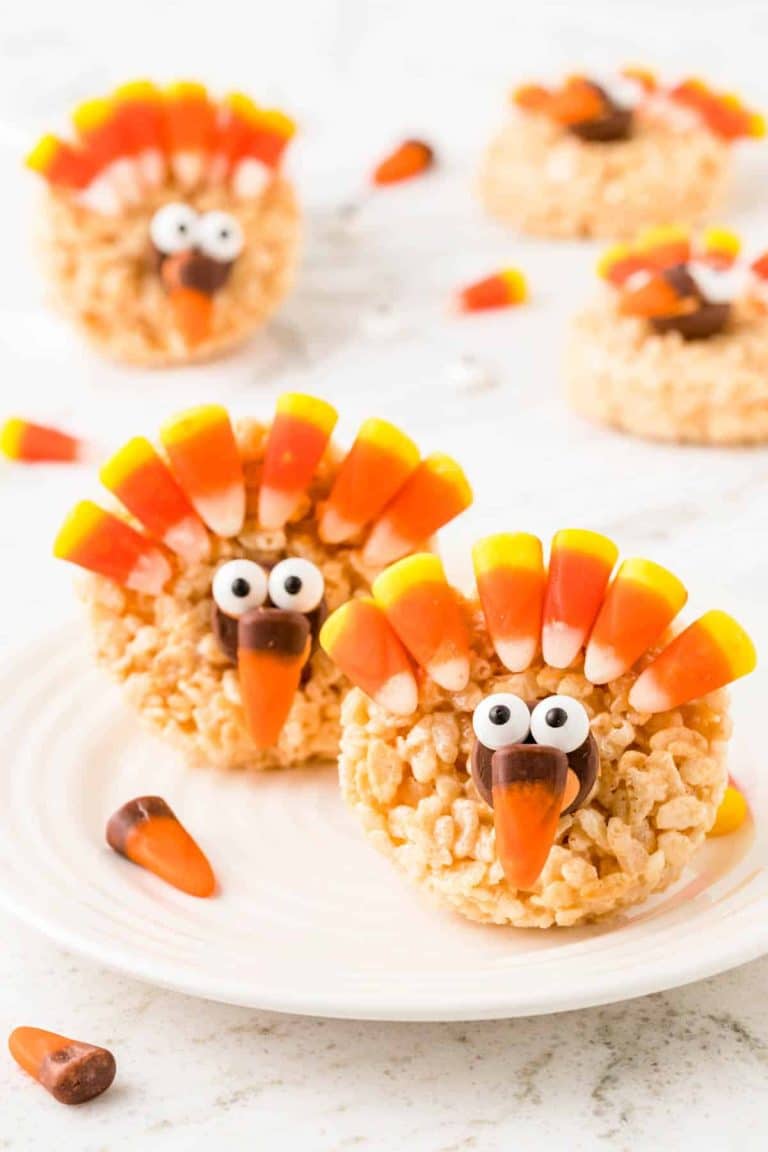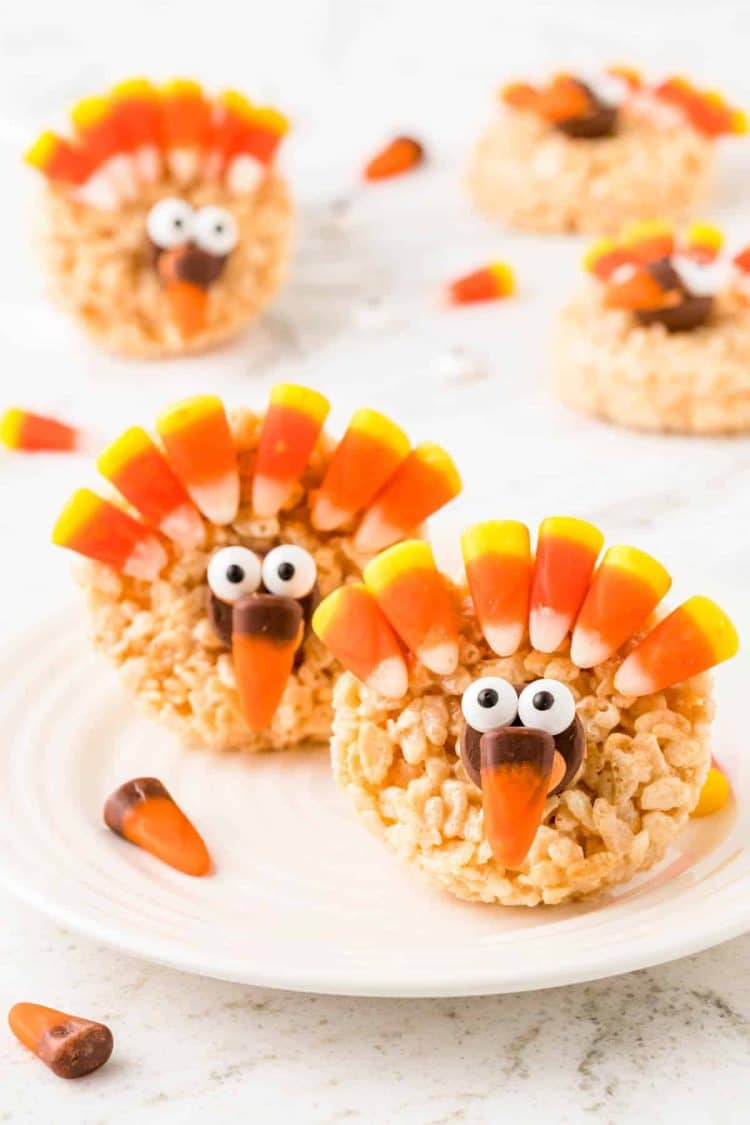 Thanksgiving just got a whole lot more exciting for the kids in your life with these Turkey Rice Krispie Treats! Slide a platter of these onto the table with these Thanksgiving Coloring Pages and a box of crayons for some added easy fun!
I'm the mom that likes to add festive holiday fun for all the kids! But I don't always have a ton of time to do so. But these turkeys make it possible!
Since their easy and quick, they're the perfect go-to when you want to be the Pinterest mom but have limited time!
Tasting The Turkeys
Taste: These Turkey Rice Krispie Treats are filled with all the classic flavor of your favorite childhood treat! All the sticky, sweet marshmallowy goodness but with added candy corns and chocolate!
Texture: Light, airy, and chewy – just the way these Thanksgiving rice Krispie treats should be! With a side of soft candies that match up great with the chewiness!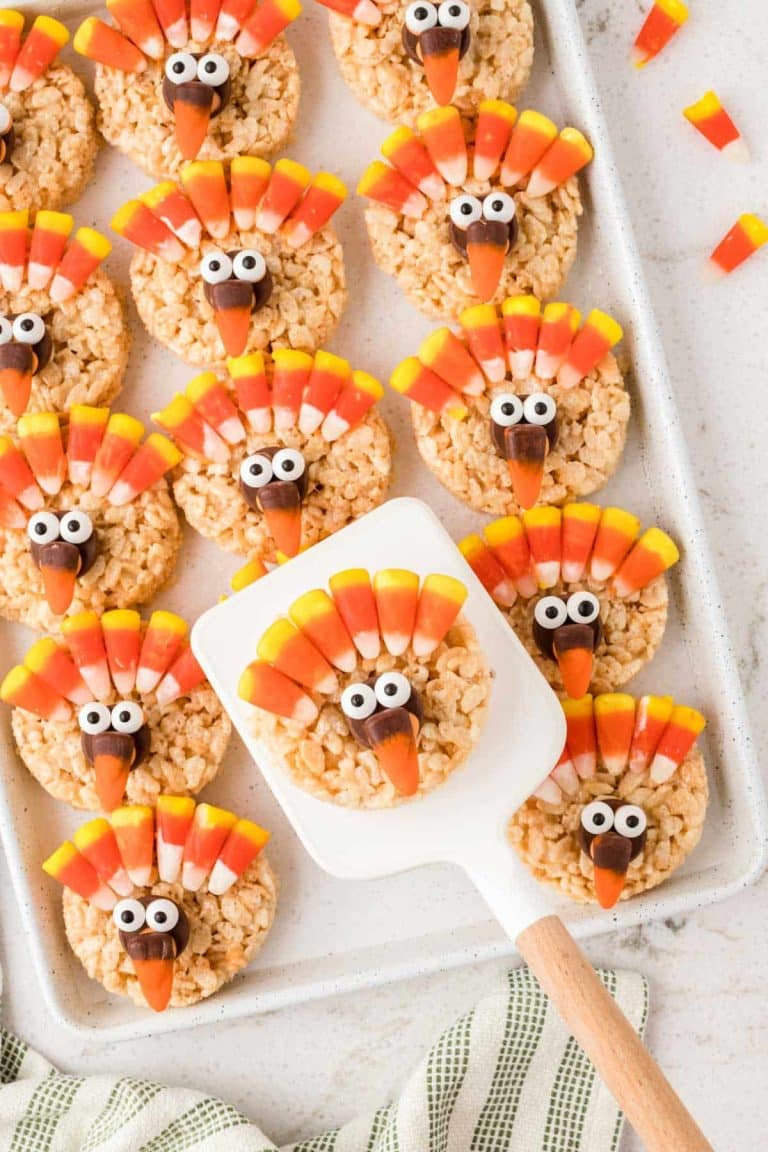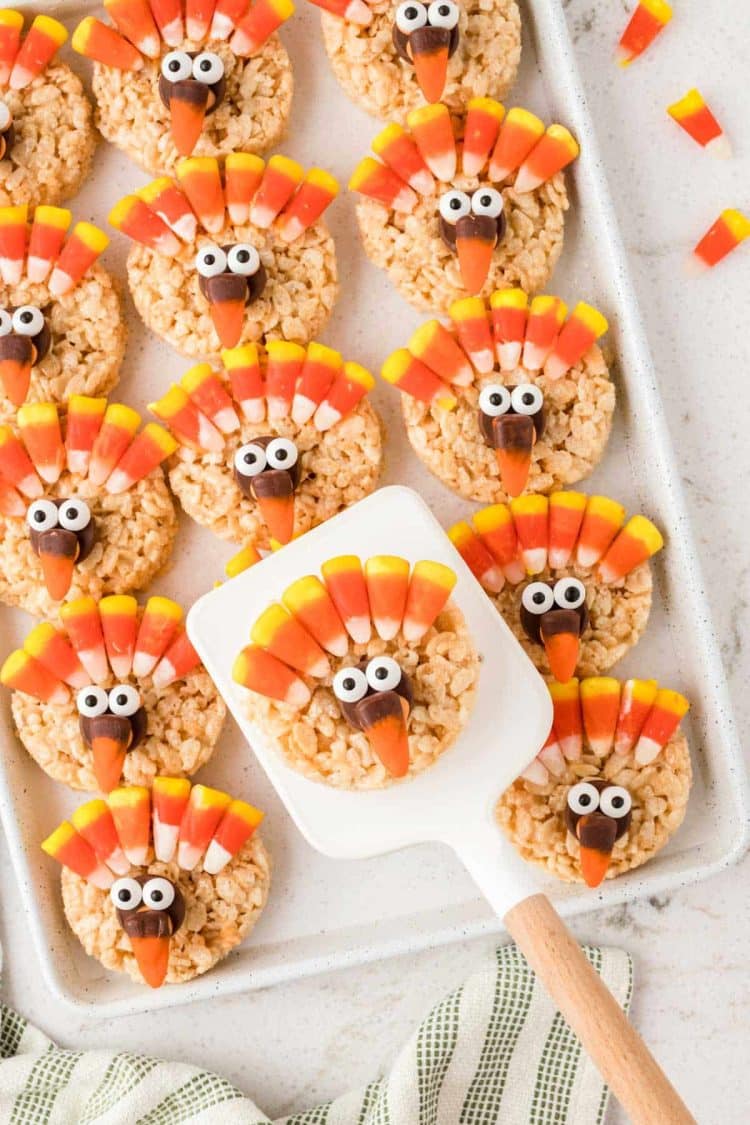 Tips For Making Perfectly Chewy Rice Krispie Treats
I'm sure it's obvious with all of my Rice Krispie Treat recipes that I have a special place in my heart for these childhood favorites. But that also means I've made lots of batches and perfected the tricks on getting perfectly chewy treats!
Cooking Spray – Coat your hands with cooking spray to prevent your fingers from sticking to the mixture. This will make it easier to handle and press into the pan.
Low and Slow – Be sure to melt the marshmallows low and slow. Overcooking the mixture could lead to rubbery turkey rice Krispie treats.
Press Gently – When putting the mixture into the pan be very careful not to press it down too hard. If the treats become too compacted, they'll turn out too hard.
Let Them Rest – I'd suggest allowing the treats to rest in the pan before cutting them out with the cookie cutter. If they're cut too soon, they may not hold their shape.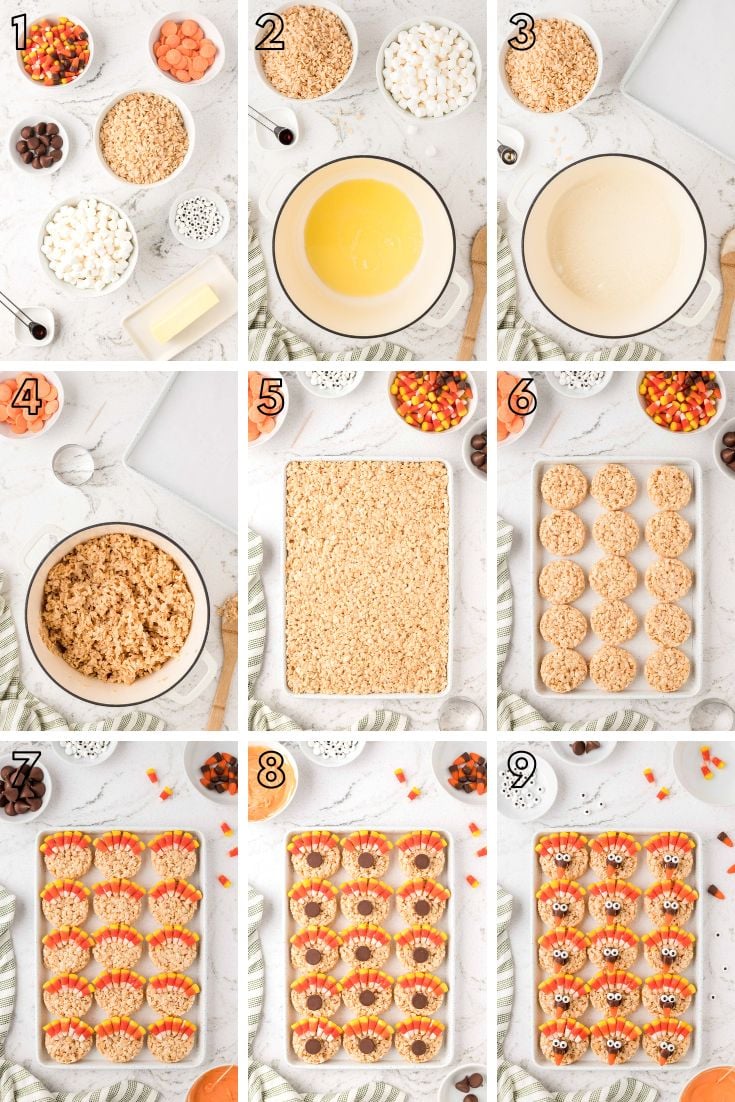 Edible Decorations For Making These Turkey Rice Krispie Treats
Feathers – For the feathers, you'll need candy corn! This seasonal candy is the perfect colorful addition to these turkeys.
Head – The base of the heads are unwrapped chocolate kisses!
Eyes – Candy eyes, these can be found in the sprinkle or holiday aisle at the grocery store. I've also had good luck finding them at craft stores or online (affiliate link).
Nose – For the turkey noses I used more candy corn! I found their shape and color to be the best choice.
Melted Chocolate – Candy melts or chocolate chips are melted down and used as glue. This holds the decorations onto the rice Krispie treats wonderfully!
As always, feel free to come up with other ideas to switch up the candy you use to make the turkeys!
Follow these Rice Krispie Turkey Treats up with my Hot Chocolate Rice Krispie Treats or No Bake Christmas Krispie Treats! Both are just as delicious as these treats yet are a great transition into winter!
If you're busy making the dessert list for Thanksgiving then head straight to my Butterscotch Pie! The rich, silky pie will be a hit among everyone!
For more traditional pies head over to my Homemade Apple Pie or Impossible Pumpkin Pie!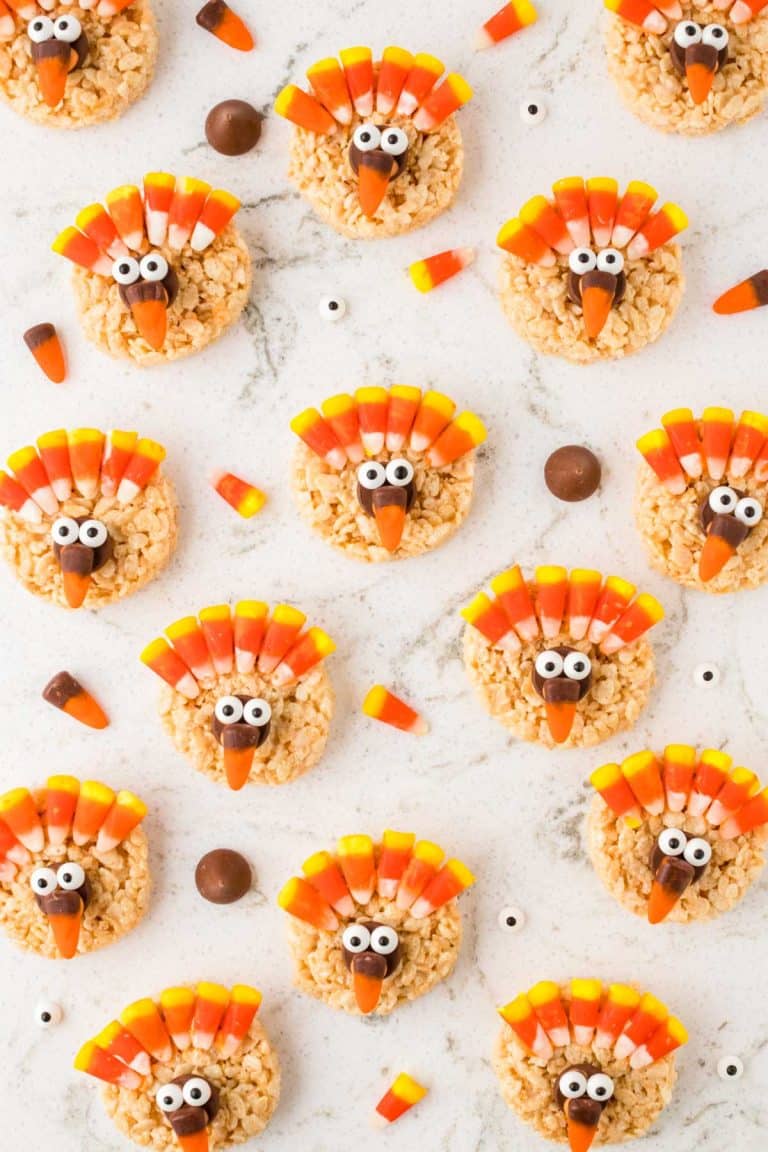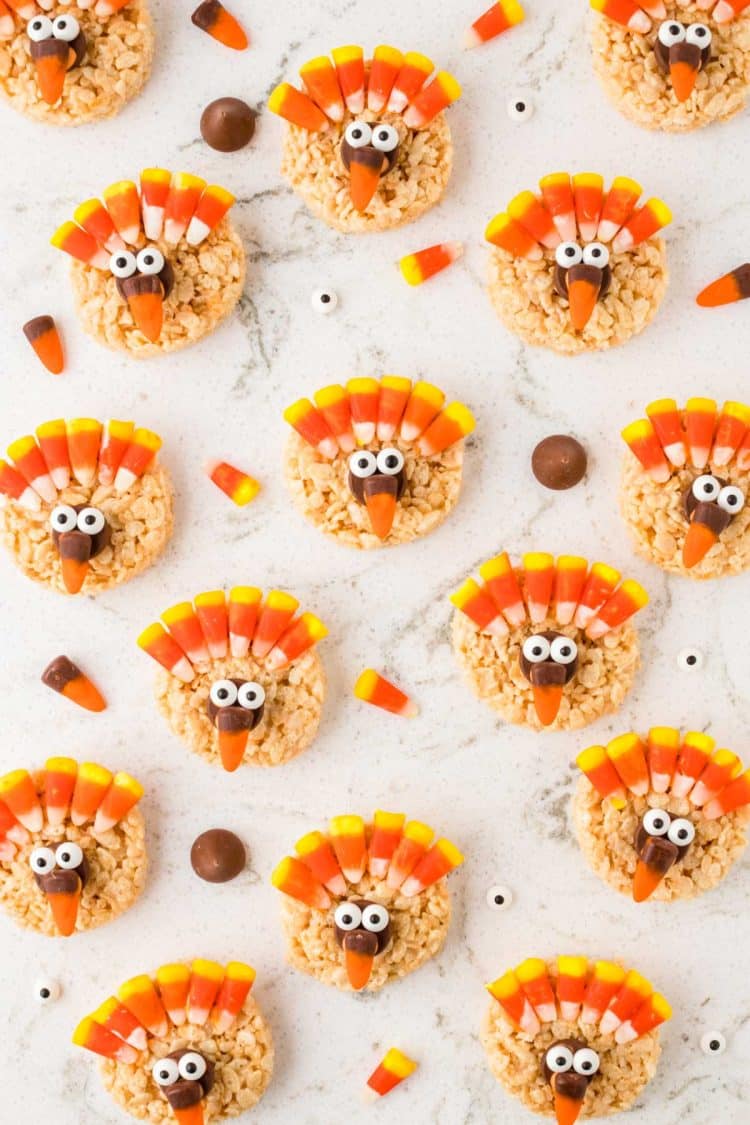 Storage Instructions
Store these turkeys in an airtight container at room temperature for 3 to 5 days.
What Size Circle Cookie Cutter Is Best To Make These Turkeys With?
I prefer using a 2-inch cookie cutter. I find it yields the best size turkey rice Krispie treats but feel free to experiment with different sizes!
Can I Add Food Coloring To The Treats To Make Them Colored Turkeys?
Yes, that would be fine. I'd recommend using gel food coloring if you have that on hand!
Are There Other Shapes I Can Make These Treats Into For Thanksgiving?
Instead of making them into turkeys, you could form the mixture into Turkey Leg Rice Krispie Treats.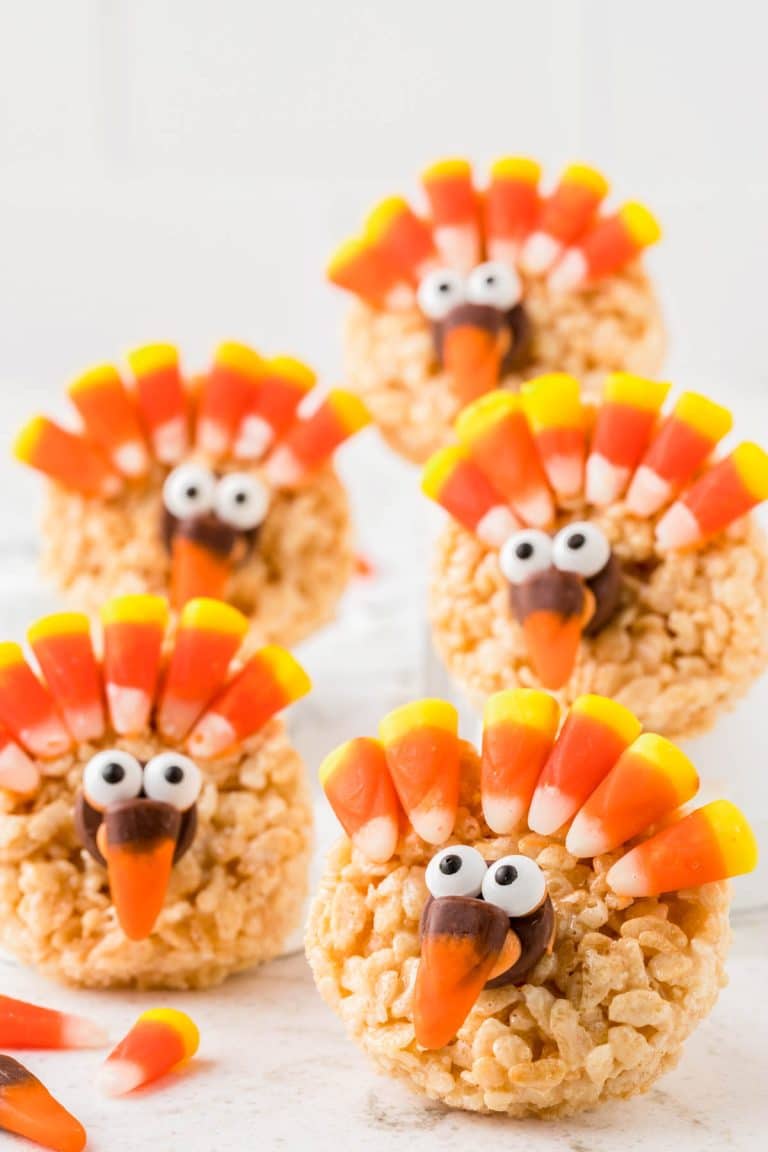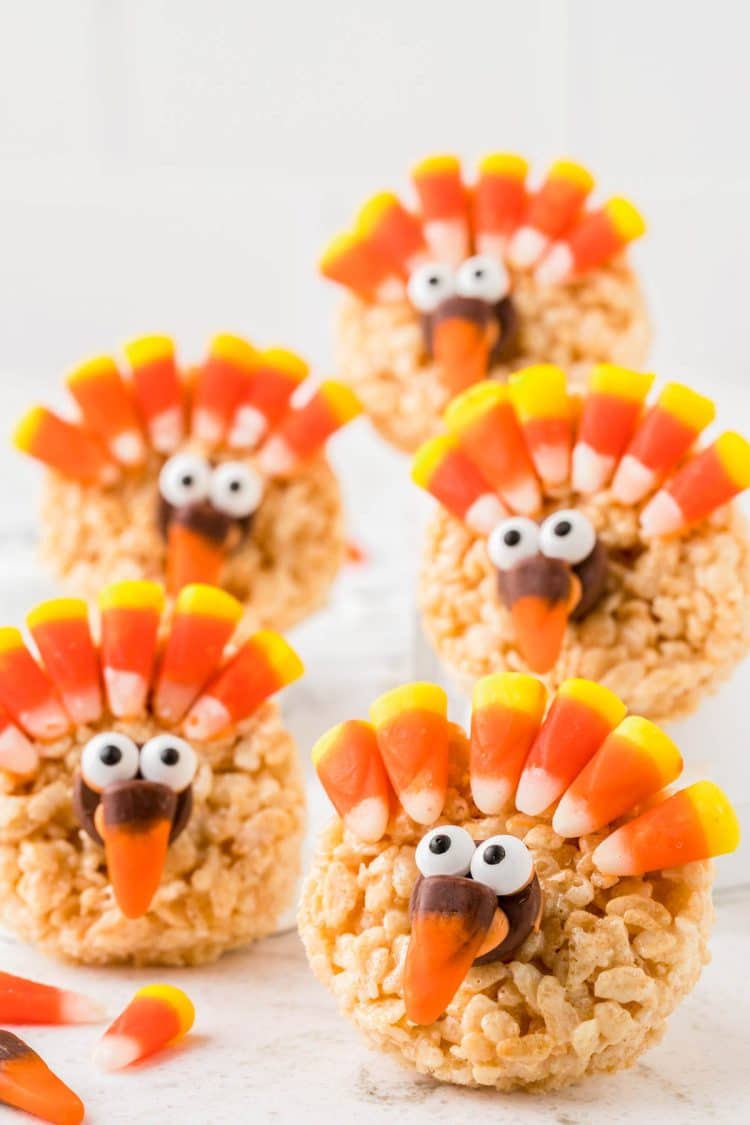 Turkey Rice Krispie Treats
Pin For Later
CLICK THE BUTTON ABOVE TO SAVE THIS DELICIOUS RECIPE TO YOUR BOARD!
👋 Let's Connect!
If you've tried this recipe, please let me know how you liked it in the comments below and leave a review; I love hearing from you! And don't forget to tag me – @sugarandsoulco – on Instagram and Pinterest with your photos or join our Busy Family Recipes Facebook Community and share them there!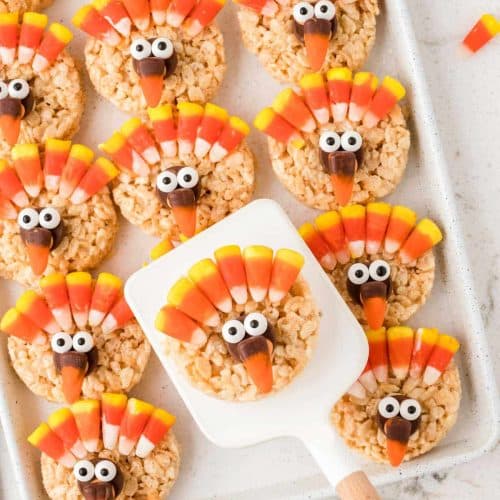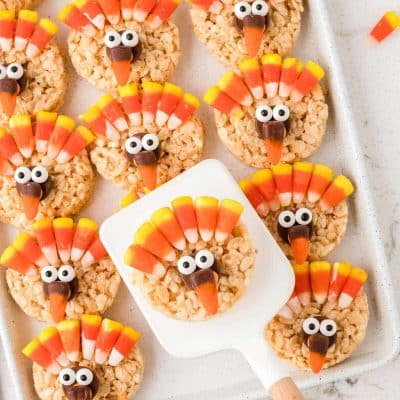 Thanksgiving Turkey Rice Krispie Treats
These chewy, fun Turkey Rice Krispie Treats will make an exciting and tasty addition to your Thanksgiving dinner plans! Prep a batch of turkeys in just 20 minutes!
Equipment
Parchment paper

Large saucepan or dutch oven

Rubber Spatula

Mixing bowls

Measuring Cups

Measuring spoons

Small microwaveable bowl

Spoon

Serrated knife
Ingredients
6

tablespoons

unsalted butter

7

cups

mini marshmallows

½

teaspoon

vanilla extract

6

cups

rice krispie cereal

½

cup

candy melts

91

pieces

candy corn

15

chocolate kisses

unwrapped

30

candy eyeballs
Instructions
In a large saucepan, melt the butter over medium heat. Once melted, reduce the heat to low and add the mini marshmallows. Stir frequently until the marshmallows have melted. Once melted, add the vanilla extract and stir gently into the melting marshmallow mixture. Do not allow the mixture to burn.

6 tablespoons unsalted butter,

7 cups mini marshmallows,

½ teaspoon vanilla extract

Remove the marshmallow mixture from the heat and slowly fold half of the Rice Krispie cereal. Once coated, add the remaining cereal and gently fold until all the cereal is coated. Fold gently so as not to crush them.

6 cups rice krispie cereal

Spread the mixture into a parchment paper-lined 9×13-inch cookie pan. Gently press the mixture evenly into the pan. Use a greased rubber spatula or greased hands for best results. Be careful not to smash or heavily press, as this will cause your treats to be chewy and tough.

With a 2-inch circular cookie cutter, cut out 15 circles. These will be the bodies of the turkeys. Discard the excess from the cuts or save them in an airtight container for snacking.

Next, melt the candy melts in the microwave at 30-second intervals, stirring between each one until smooth. Take six candy corns and dip the backs in the melts to use as "glue" and add them to the top of one of the circles, creating a fan shape for the turkey feathers. Repeat for the remaining circles.

½ cup candy melts,

91 pieces candy corn

Then take an unwrapped chocolate kiss and press it point-side down into the middle of the rice krispie treat using a dab of candy melt on the point for securing the head.

Add a dollop of candy melt "glue" to the back of 2 edible eyes and 1 candy corn, and make a face on the chocolate kiss. Repeat these steps for each turkey. Allow about 5 minutes for the candy melt to dry and the candies to set.

30 candy eyeballs,

91 pieces candy corn
Notes
Cut a piece of wax paper about the size of your baking pan, lightly spray one side with a cooking spray, and press the rice krispie mixture evenly into the baking pan.
Be sure to melt marshmallows low and slow. Do not overheat the marshmallow mixture.
Do not press too hard when pressing the rice cereal into the baking pan. Pressing too hard will result in a chewy treat.
Store at room temperature in an air-tight container for up to 3 to 5 days.
Nutrition
Calories:
219
kcal
Carbohydrates:
39
g
Protein:
2
g
Fat:
7
g
Saturated Fat:
5
g
Polyunsaturated Fat:
0.3
g
Monounsaturated Fat:
1
g
Trans Fat:
0.2
g
Cholesterol:
13
mg
Sodium:
102
mg
Potassium:
17
mg
Fiber:
0.2
g
Sugar:
24
g
Vitamin A:
885
IU
Vitamin C:
7
mg
Calcium:
12
mg
Iron:
4
mg