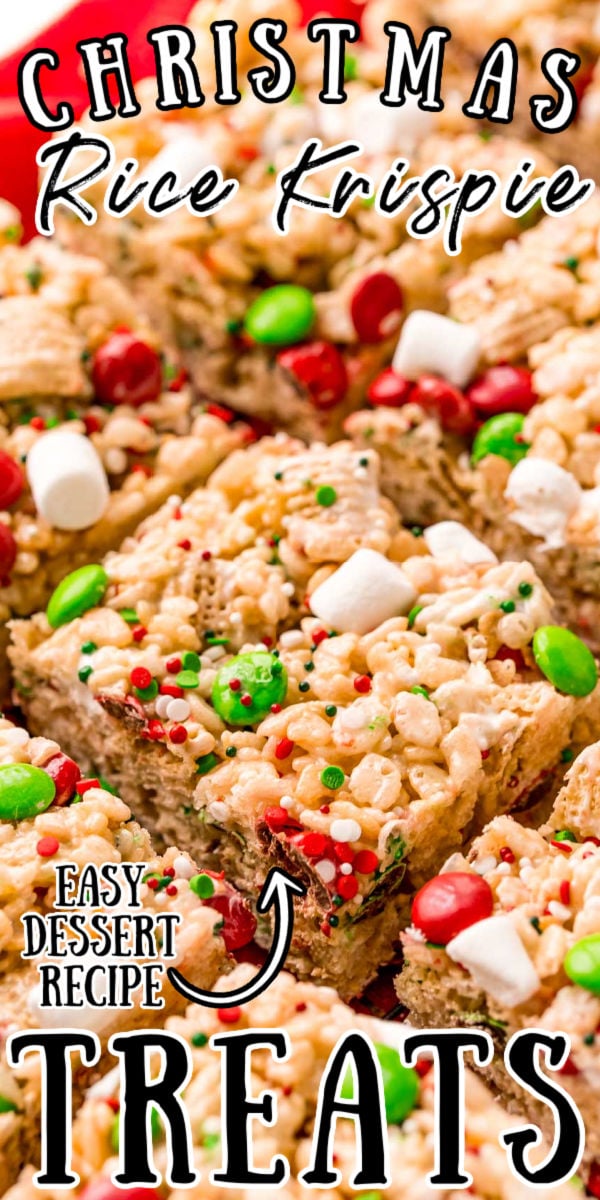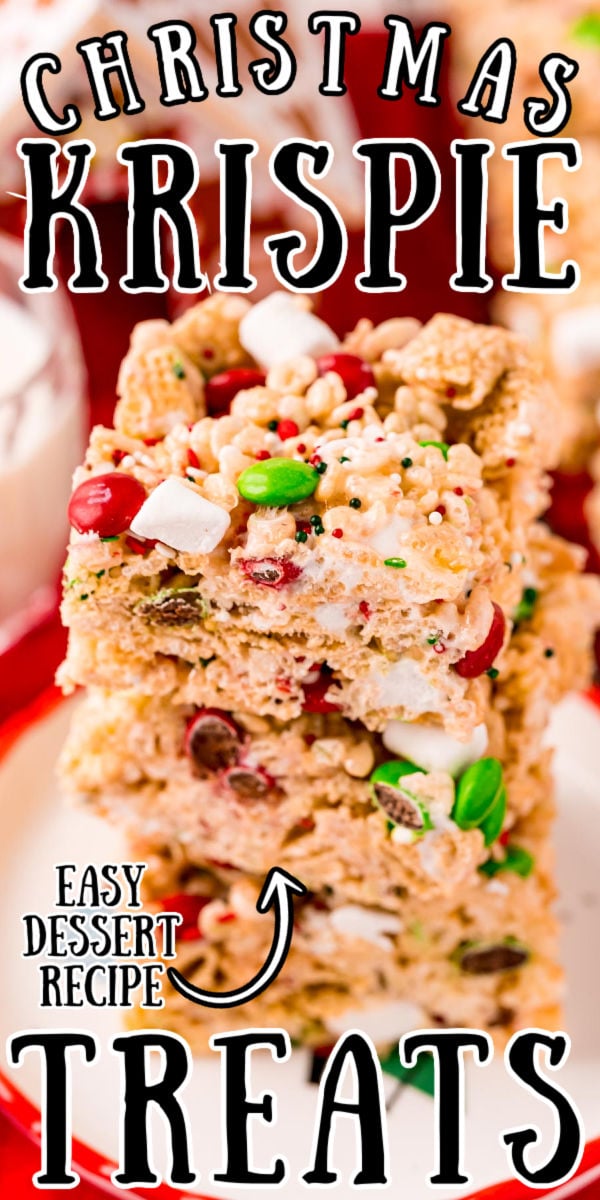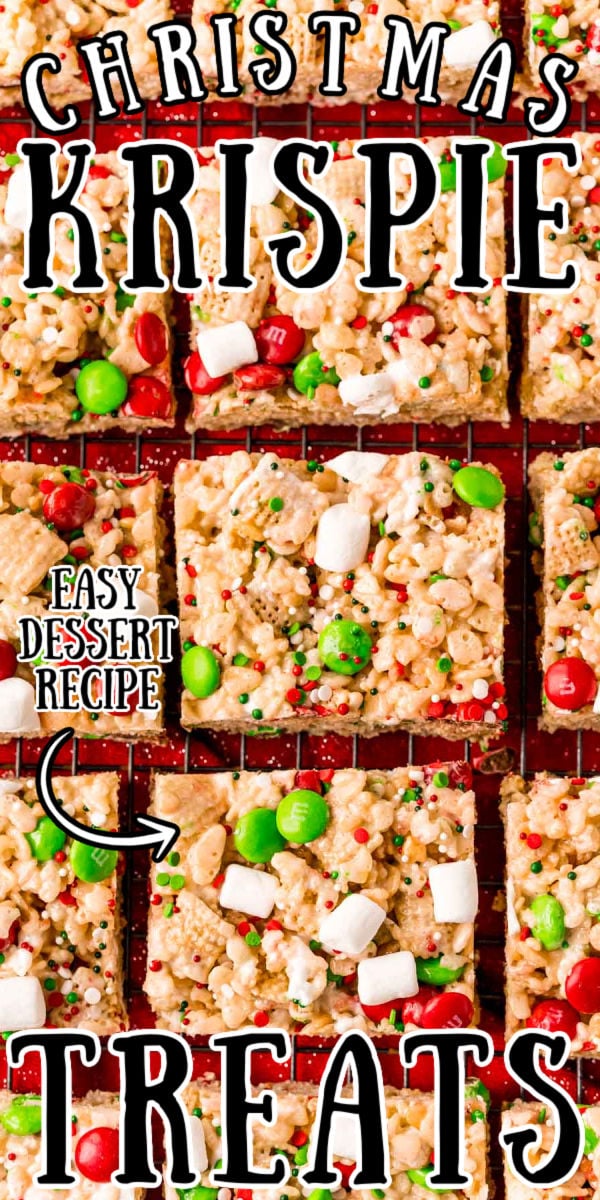 These Christmas Rice Krispie Treats are made with butter, marshmallows, cereal, candy, and more for a festive no-bake dessert that's ready in no time!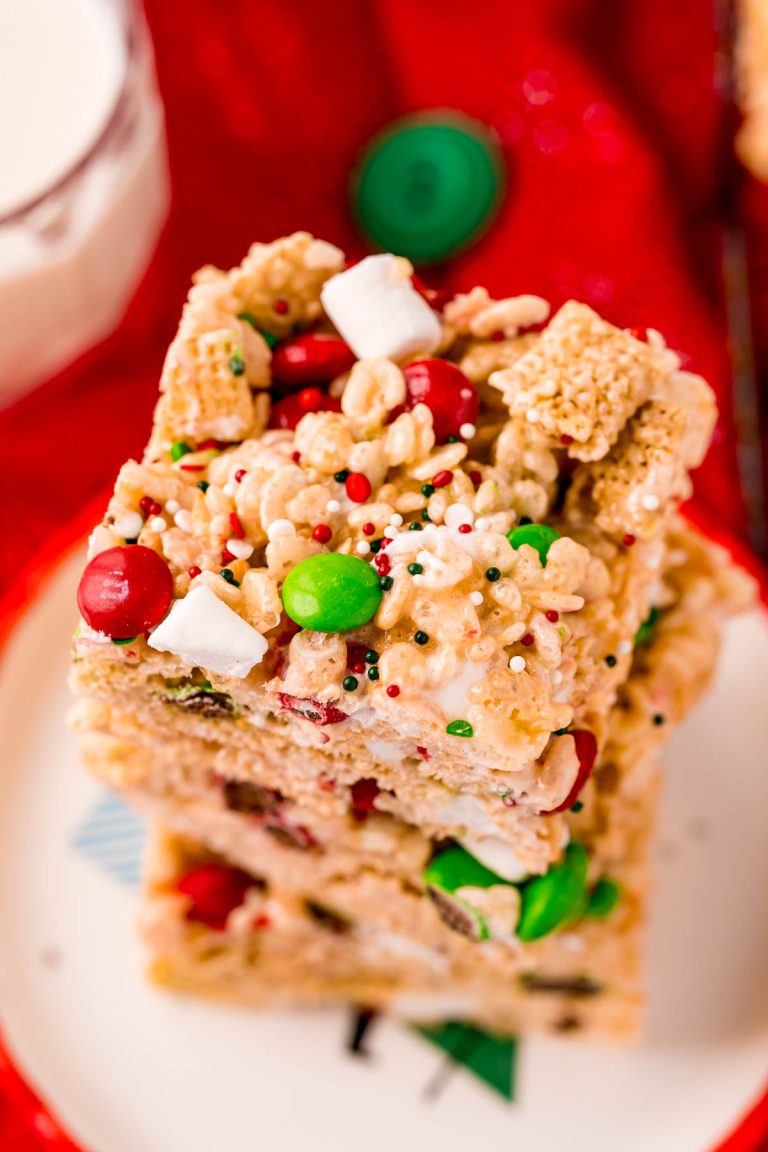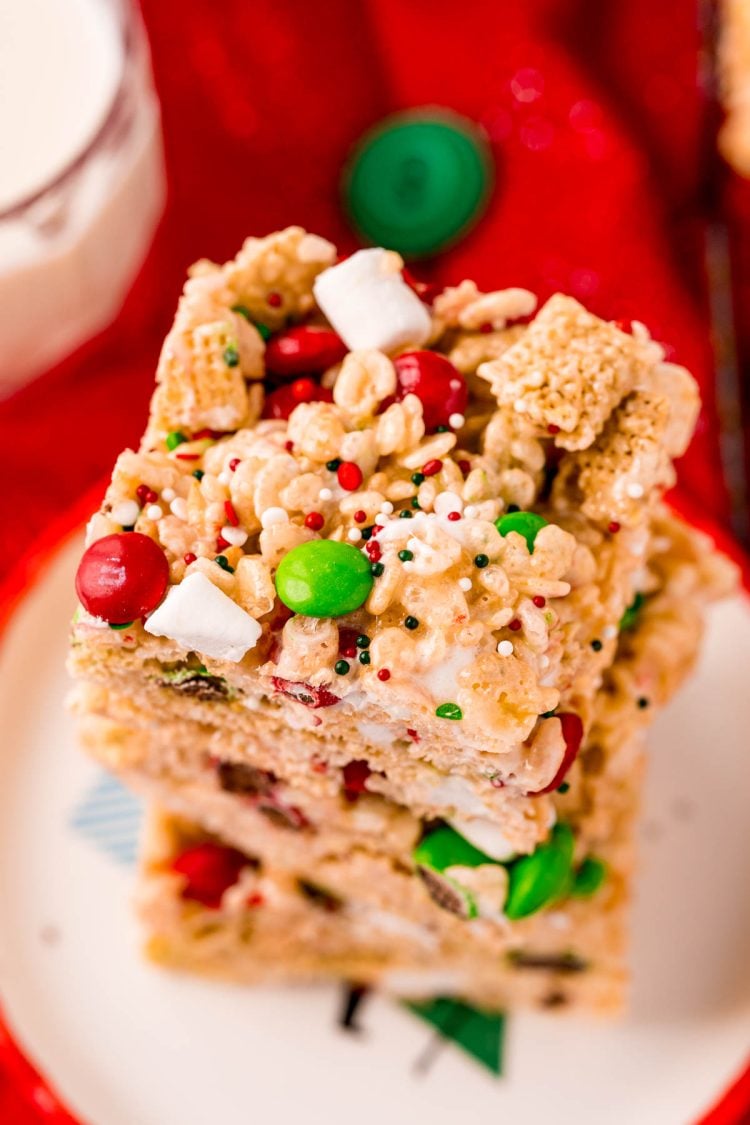 Any Christmas holiday party will be complete with these incredibly delicious cereal treats. Whether you're hosting Christmas parties of your own, need something quick to contribute to a dessert table, or a class treat for your kid's parties at school there's no doubt these will bring joy to anyone who's lucky enough to snag one!
Making this easy holiday treat with store bought ingredients such as mini marshmallows, rice krispies cereal, rice chex cereal, and Christmas M&Ms, allows for plenty of time to put together a Christmas Party Playlist to enjoy throughout the entire holiday season!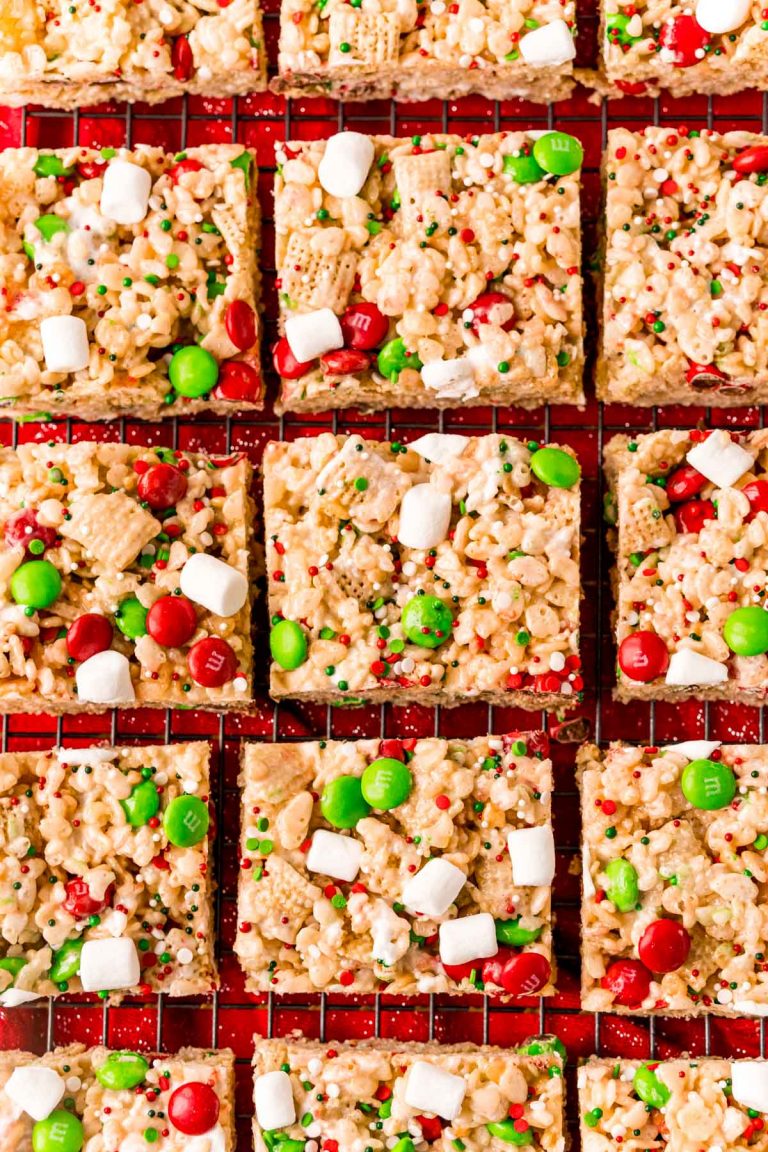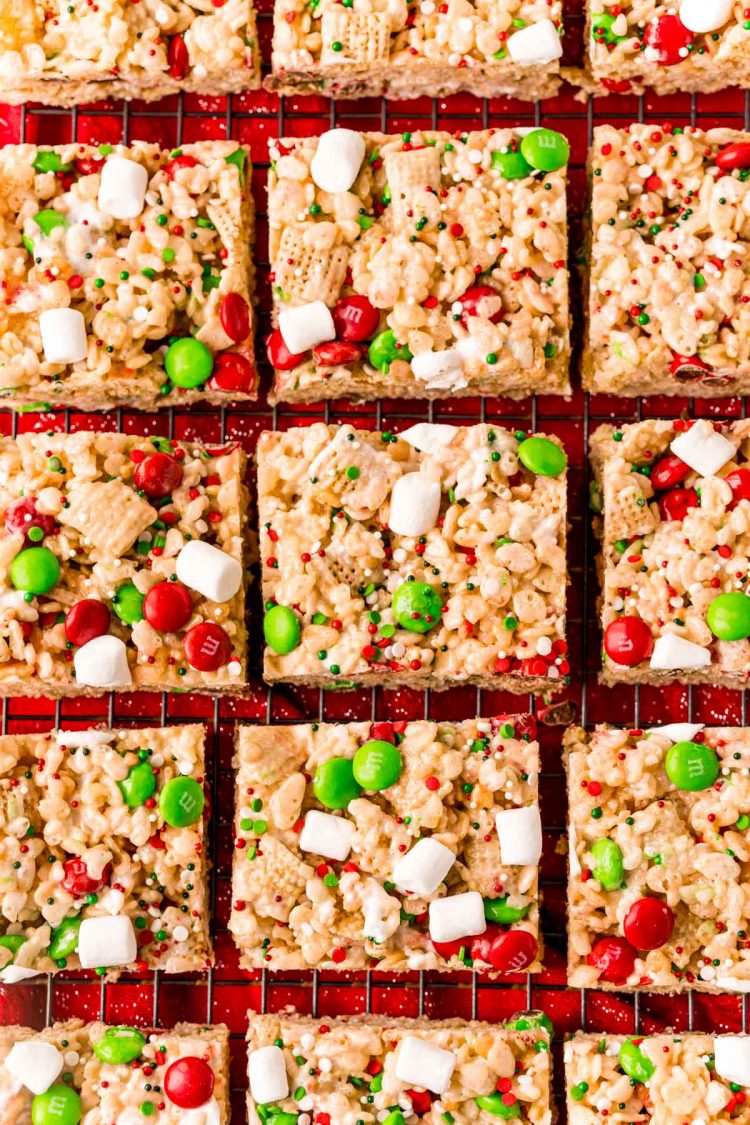 Christmas Krispie Treats Ingredients
This easy Christmas recipe is the dressed-up version of my traditional Rice Krispie Treats recipe. It uses the same base ingredients such as rice krispie cereal, mini marshmallows, vanilla extract, and butter, then adding in rice Chex cereal and salt.
To finish off this cute Christmas dessert simply sprinkle some joy on them by adding in Christmas M&Ms and holiday sprinkles. You could even take it to the next level by adding some red or green food coloring to melted white chocolate and then drizzling it over them!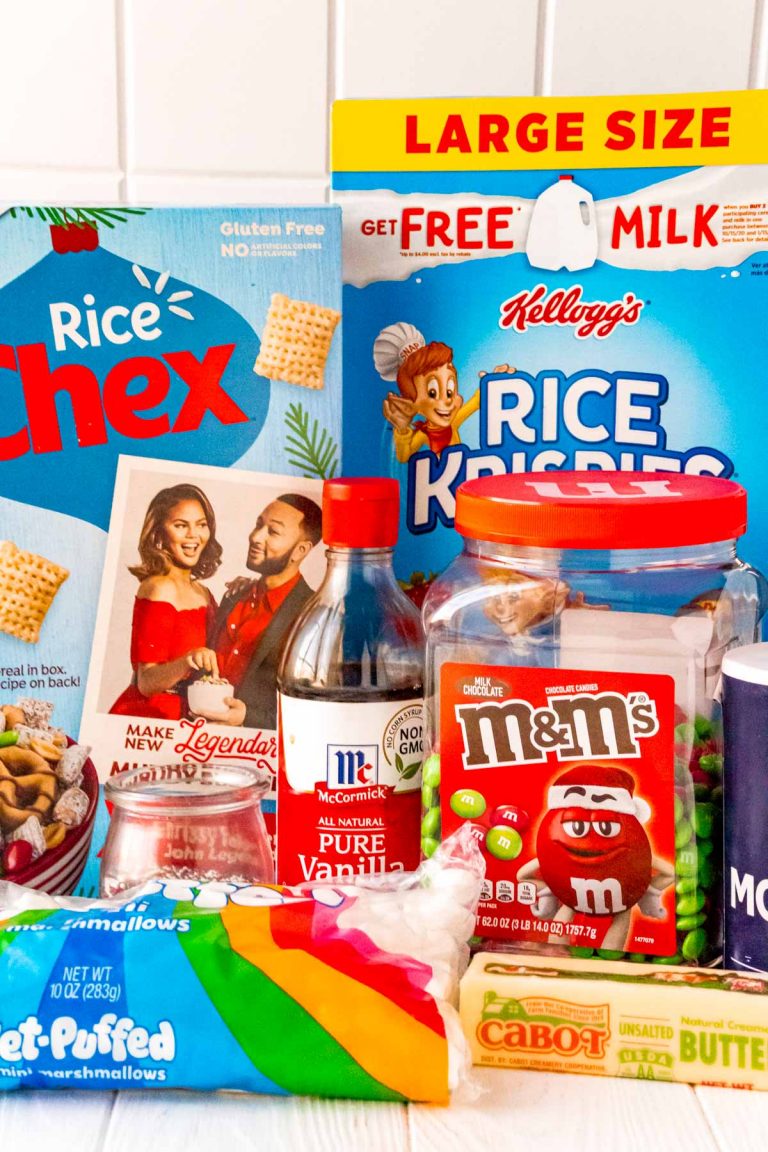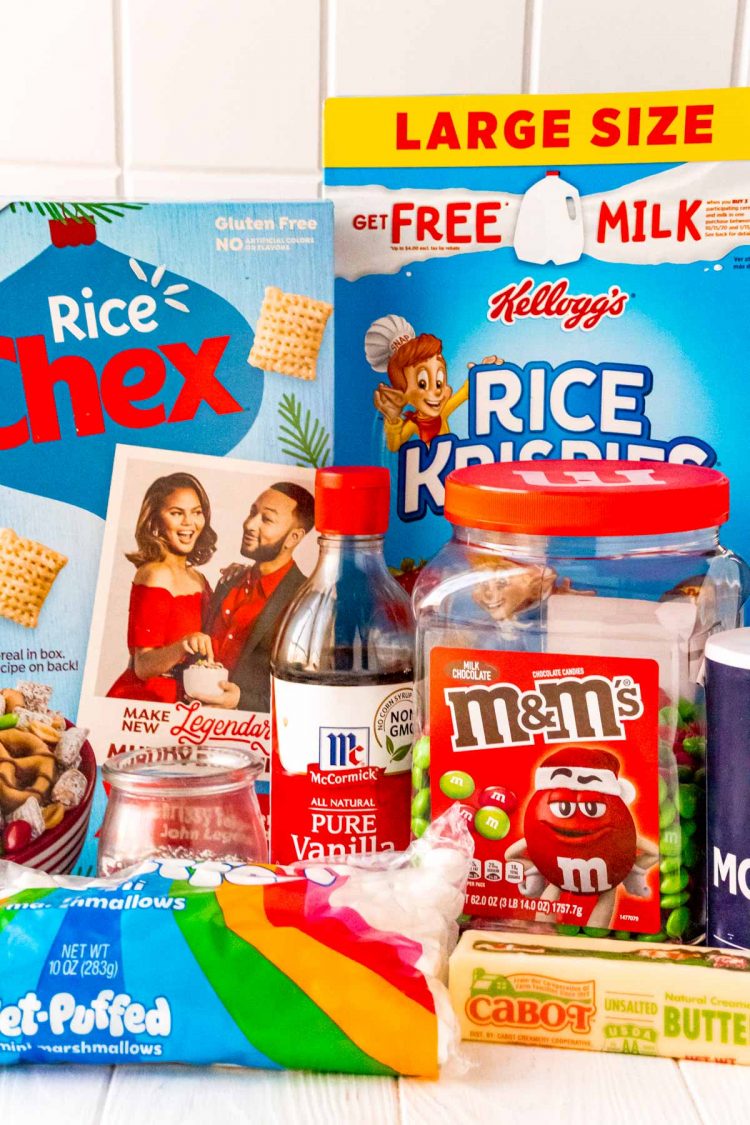 How To Make Christmas Rice Krispies Treats
Begin by measuring out all your ingredients, lining a 9×13-inch baking sheet with parchment paper, and then coating it with non-stick cooking spray. Next, melt the butter, marshmallows, and salt in a large saucepan (1), once it appears smooth take it off the heat to stir in the vanilla, remaining marshmallows, and cereals (2). Lastly, add in the M&Ms and sprinkles (3) before gently pressing it into your prepared dish (4). Once you've allowed it to sit for 30 minutes finish up by cutting your Christmas treats into squares!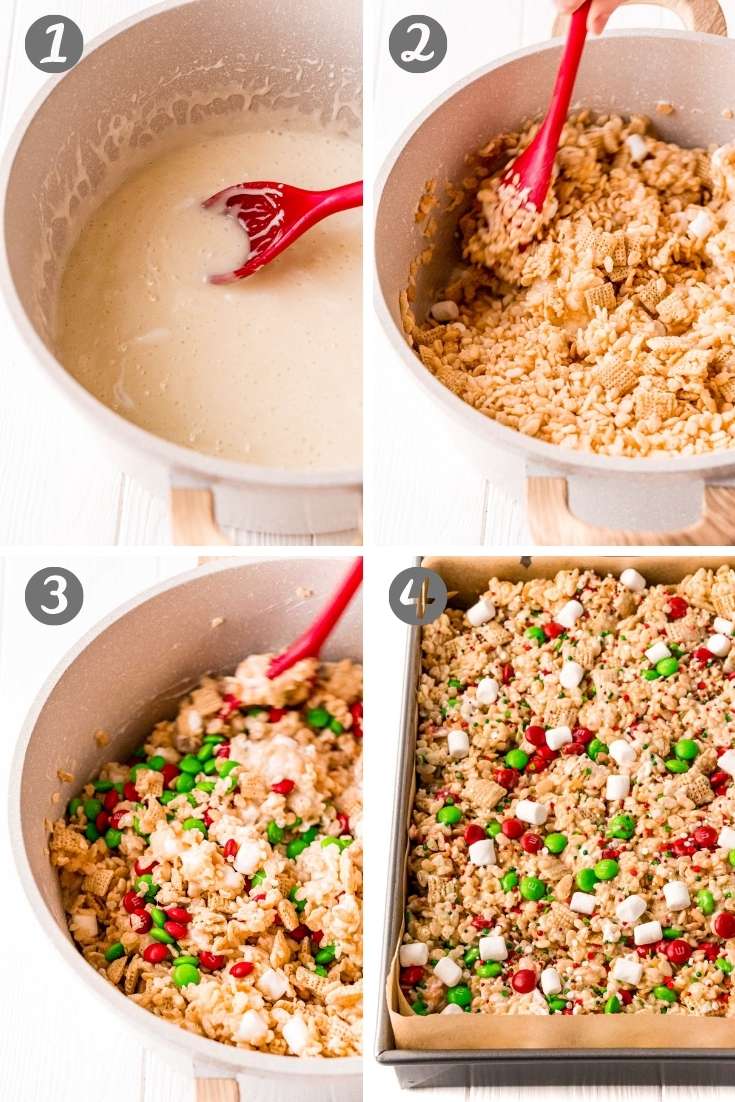 If you're a cereal lover or you simply need a treat that's sure to satisfy your kids, be sure to check out my Cocoa Pebbles Treats and Cap'n Crunch Treats!
Frequently Asked Questions
Why are my rice krispies treats hard?
Either the marshmallow mixture was over cooked, the treats were pressed too hard into the baking dish or they weren't stored in an airtight container.
Can I use salted butter instead of unsalted?
Yes, you can use salted butter. When doing so just omit the salt from the recipe!
How long will these keep for?
They will last up to two weeks in an airtight container kept at room temperature.
How do I neatly cut rice krispies treats?
Make sure the treats have completely cooled before cutting into it with a large knife sprayed with non-stick cooking spray.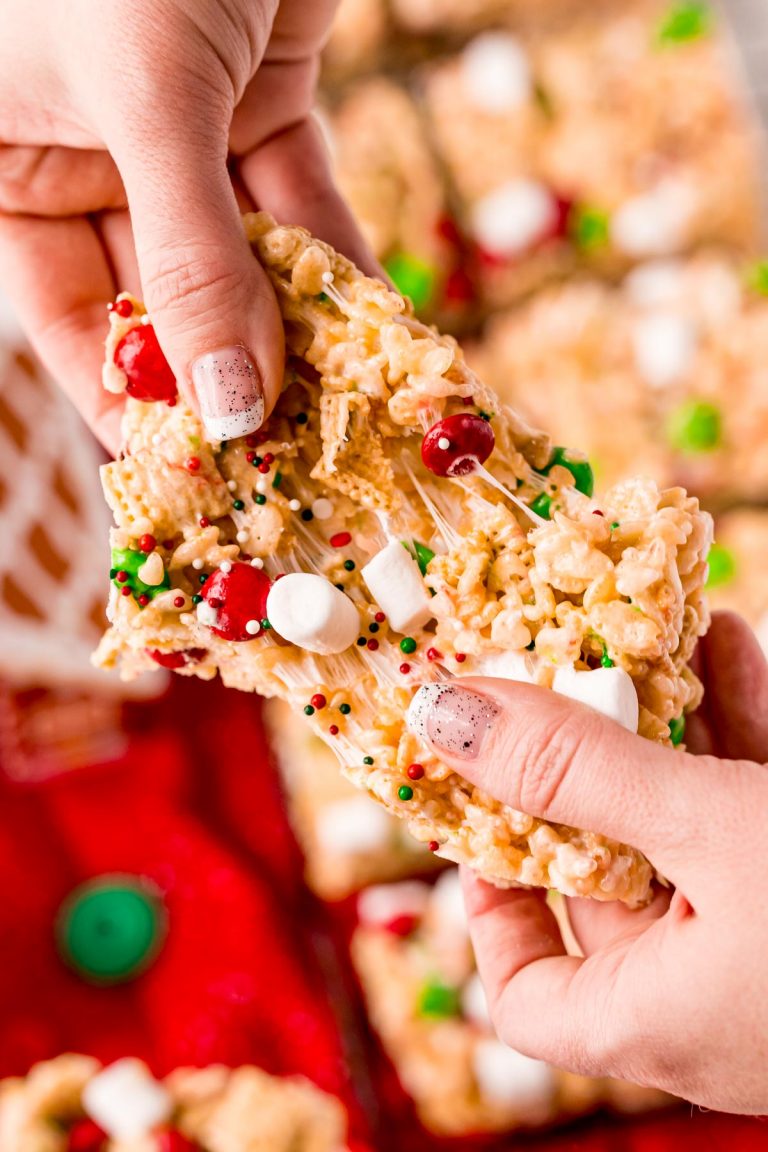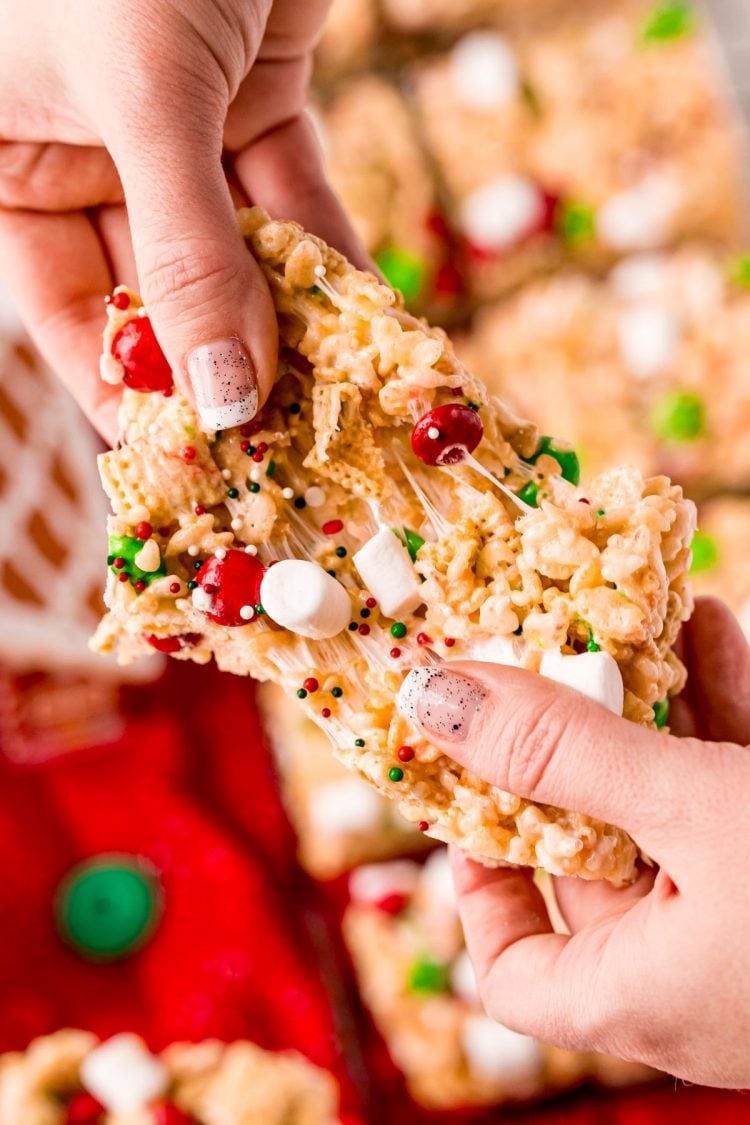 Try Another Cereal Based Recipe!
Christmas Krispie Treats
Pin It For Later
Click the button above to save this delicious recipe to your board!
👋 Let's Connect!
If you've tried this recipe please let me know how you liked it in the comments below and leave a review, I love hearing from you! And don't forget to tag me – @sugarandsoulco – on Instagram and Pinterest with your photos or join our Busy Family Recipes Facebook Community and share them there!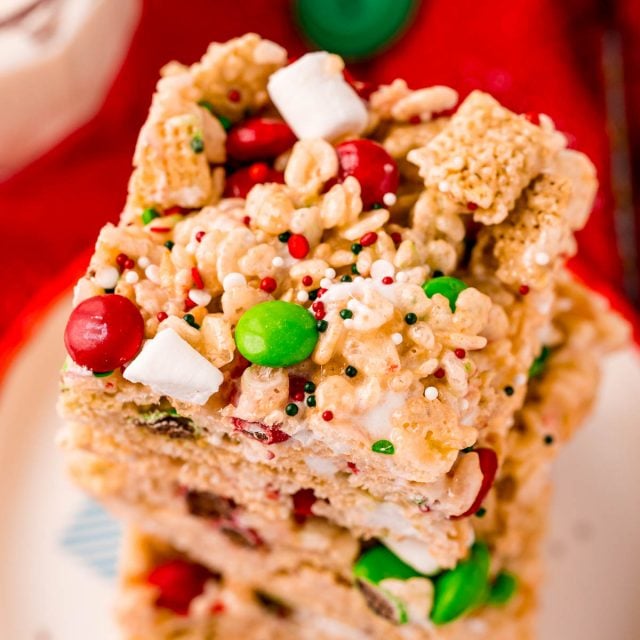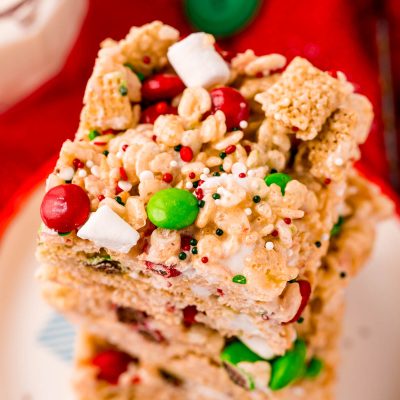 Christmas Krispies Treats
These Christmas Rice Krispie Treats are made with butter, marshmallows, cereal, candy, and more for a festive no-bake dessert that's ready in no time!
Instructions
Premeasure all ingredients before you begin cooking and line a 9×13-inch baking sheet with parchment paper and coat with non-stick spray; set aside.

In a large saucepan, melt the butter, salt, and 8 cups of marshmallows together until smooth.

Remove from heat and stir in the vanilla. Followed but the remaining 2 cups of marshmallows and the cereals until fully coated.

Gently and quickly fold in the M&Ms and sprinkles then transfer the mixture to the prepared baking dish.

Top with extra M&M's and sprinkles, if desired, and use parchment paper or greased hands to gently press the mixture into the pan.

Allow to set for 30 minutes before removing from the pan and cutting into squares.
Notes
Salted butter may also be used.
Corn chex may be used in place of rice chex, but I wouldn't use wheat chex.
Don't add the M&M's in too soon or the color will bleed throughout the mixture.
Don't press too hard on the mixture or it will make them tough and hard.
Store in an airtight container for up to 2 weeks at room temperature.
Nutrition
Calories:
294
kcal
Carbohydrates:
51
g
Protein:
2
g
Fat:
10
g
Saturated Fat:
6
g
Cholesterol:
19
mg
Sodium:
300
mg
Potassium:
23
mg
Fiber:
1
g
Sugar:
29
g
Vitamin A:
1070
IU
Vitamin C:
8
mg
Calcium:
39
mg
Iron:
5
mg