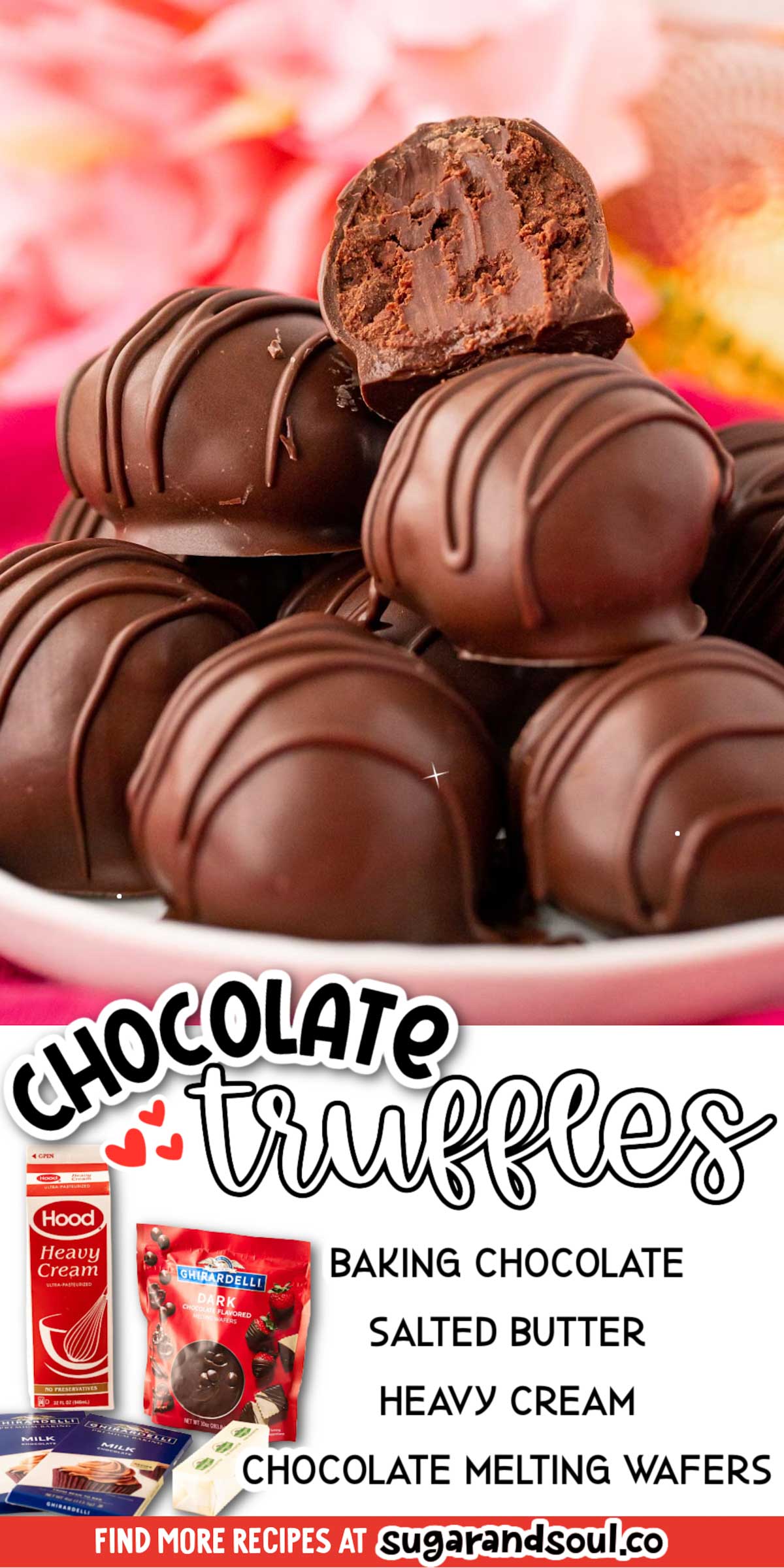 Chocolate Truffles are rich, decadent dessert bites that prep in only 30 minutes using just 4 ingredients! Perfect for Valentine's Day, holidays, or even as a weekend pick-me-up!
Treat yourself to another homemade truffle such as my Easy Oreo Chocolate Truffles or Cookie Dough Truffles! Both easy recipes produce plenty to share with all of your friends and family!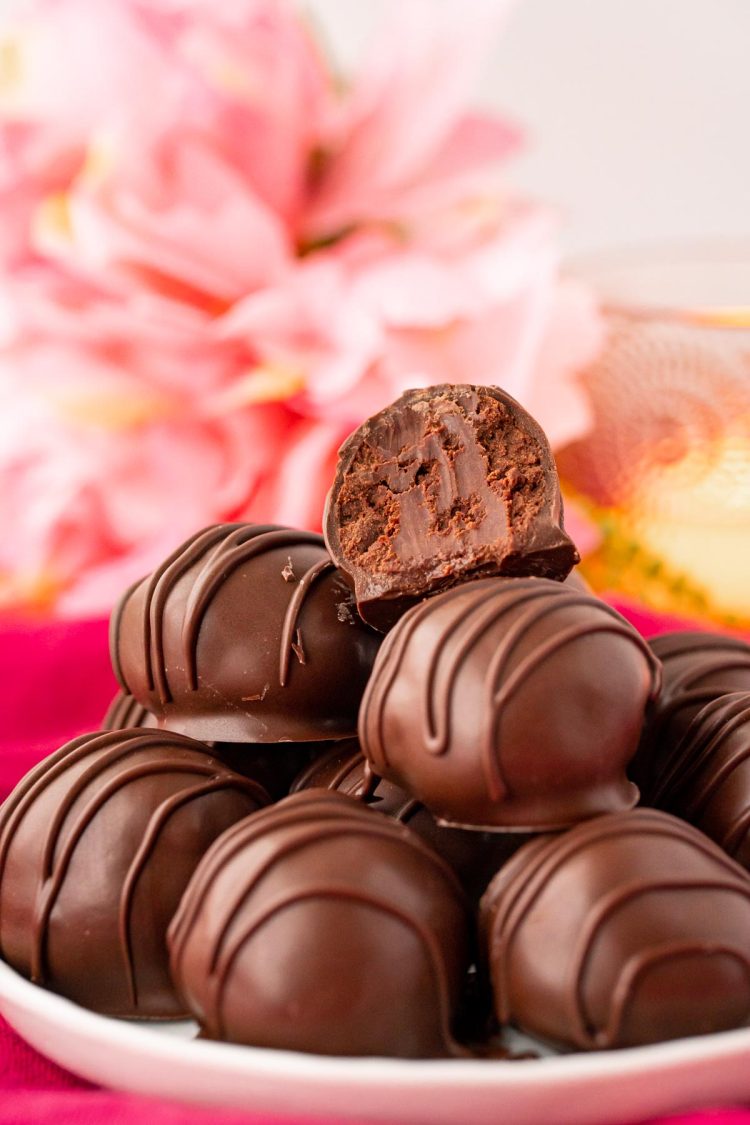 If you're looking to sweeten up a celebration or holiday then look no further than these Chocolate Truffles! They have a smooth, rich chocolate filling that's dipped in melted chocolate, perfect for all the chocolate lovers in your life!
These are even great to surprise your Valentine with! After all, the love that goes into making Homemade Truffles makes them taste better than any overpriced store-bought box of chocolates!
What I love About This Recipe!
Minimal Ingredients! You can't beat any dessert that's made with only 4 simple ingredients!
Easy To Make! Simply melt, chill, roll, and then dip the rolled up in truffles in melted chocolate! They may look extravagant but they're actually quite easy to make!
Edible Gift! Make them for your sweetheart on February 14th or even add them to your holiday tin of treats that you share with friends and family!
Dress Them Up! These truffles can be dressed up for any occasion or holiday just by grabbing sprinkles! Red, pink, and hearts for Valentine's Day, greens for St. Patrick's Day, red, white, and blue for July 4th. The ideas are endless!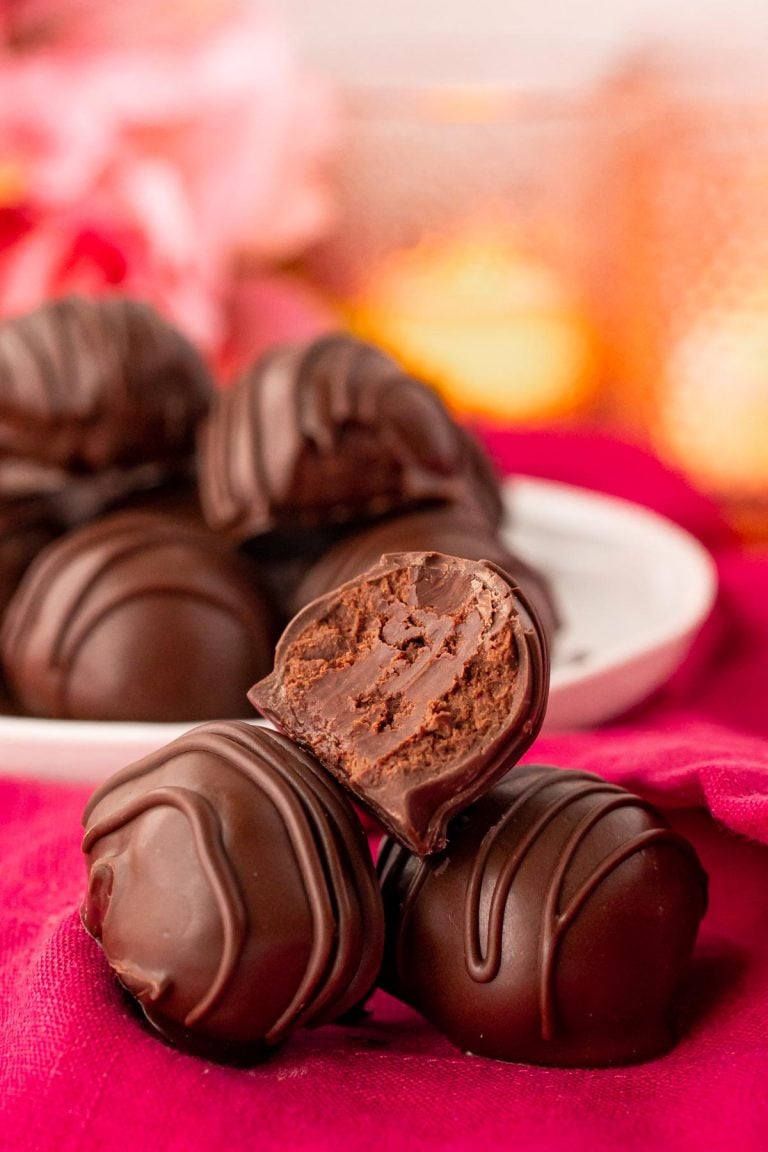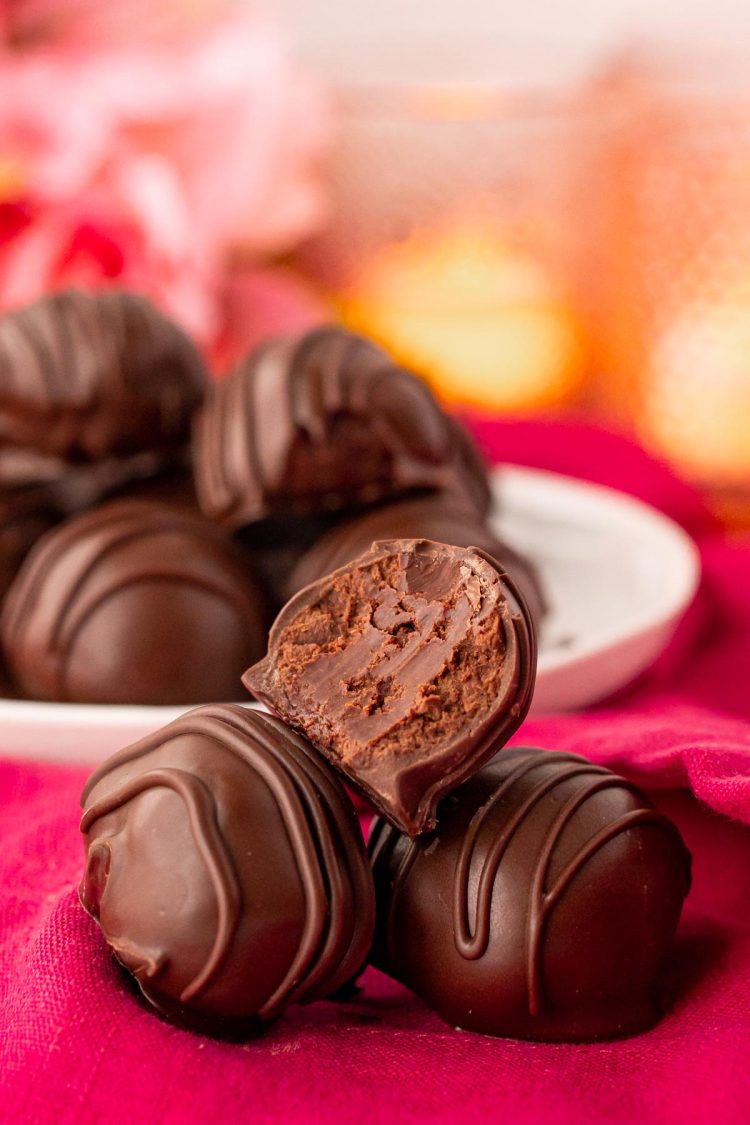 Ingredient Notes
Ready to indulge in a batch of these homemade truffles? To start you'll need baking chocolate that gets broken up into cubes and melted in a saucepan.
When it comes to this Chocolate Truffles Recipe you can use milk chocolate, semi-sweet, or even dark chocolate. However, it has not been tested with white chocolate!
After the cubed chocolate has melted, salted butter and heavy cream are mixed into it. This sweet mixture is then rolled up into balls and becomes the chocolate truffle filling.
Once the balls have gone through the chilling process they're dipped into melted chocolate melting wafers! Then you can finish them off with sprinkles, a chocolate drizzle, or any crushed toppings that you'd like.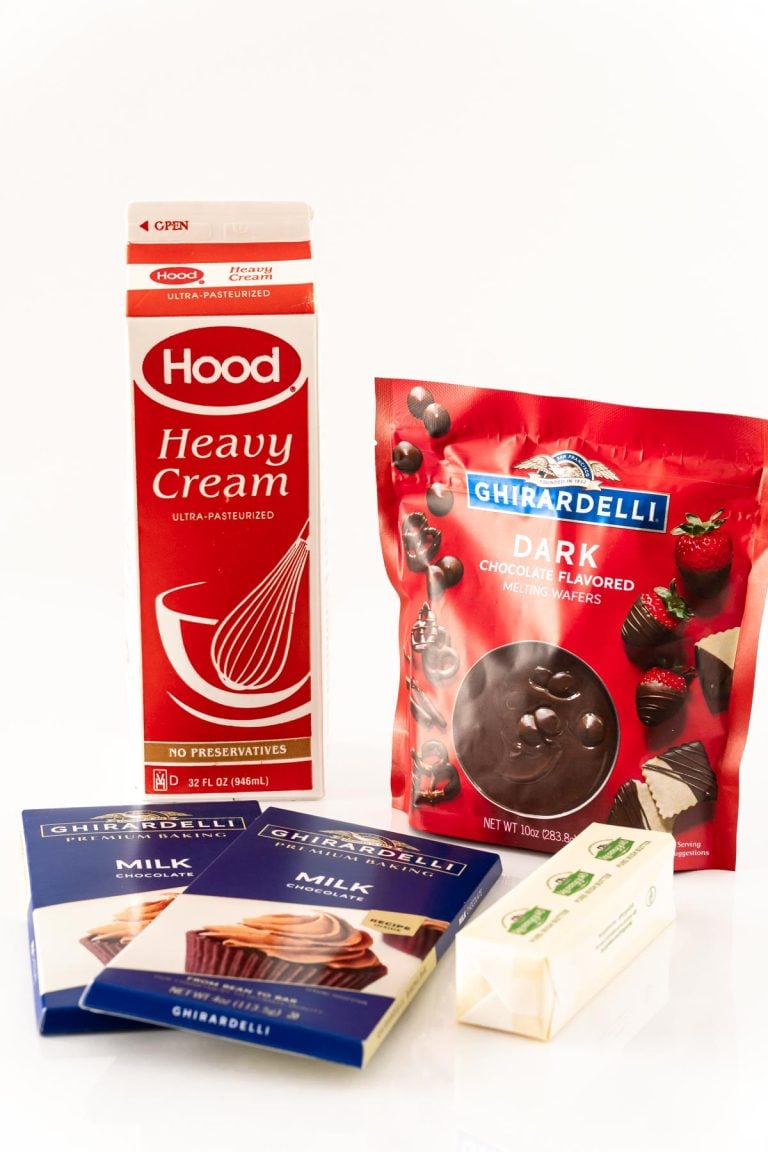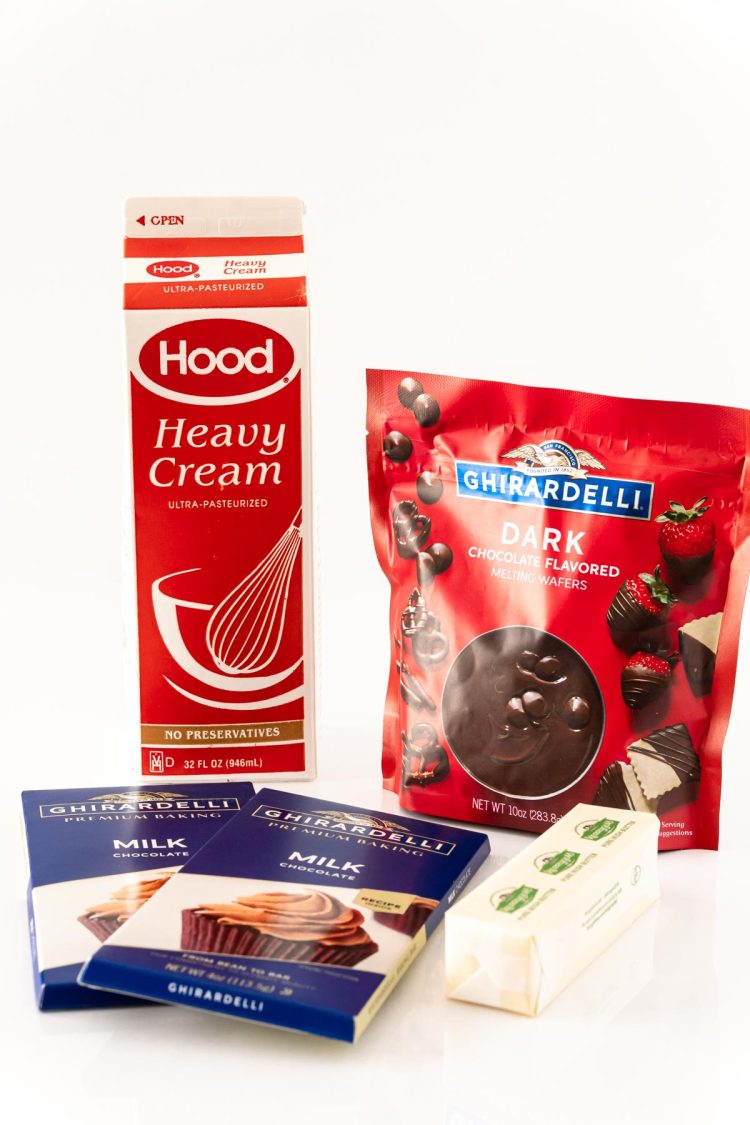 How To Make Homemade Chocolate Truffles
Melt the chocolate cubes in a small saucepan over low heat. Once melted, add in the salted butter and stir until melted.
Remove from the heat and then mix in the heavy cream until a rich chocolate color is formed.
Chill the chocolate mixture in a small bowl in the refrigerator, stirring every few minutes.
Drop balls of the chocolate filling onto a parchment-lined baking sheet. Then transfer the pan to the refrigerator to allow them to chill again.
Remove and then roll each chocolate scoop into balls using your hands. Afterward, place the pan of rolled chocolate balls back into the refrigerator to chill once again.
Melt the chocolate wafers until completely smooth.
Dip each chocolate ball into the melted chocolate and then place them onto a clean piece of parchment paper. Garnish with sprinkles or a chocolate drizzle and then allow them to harden.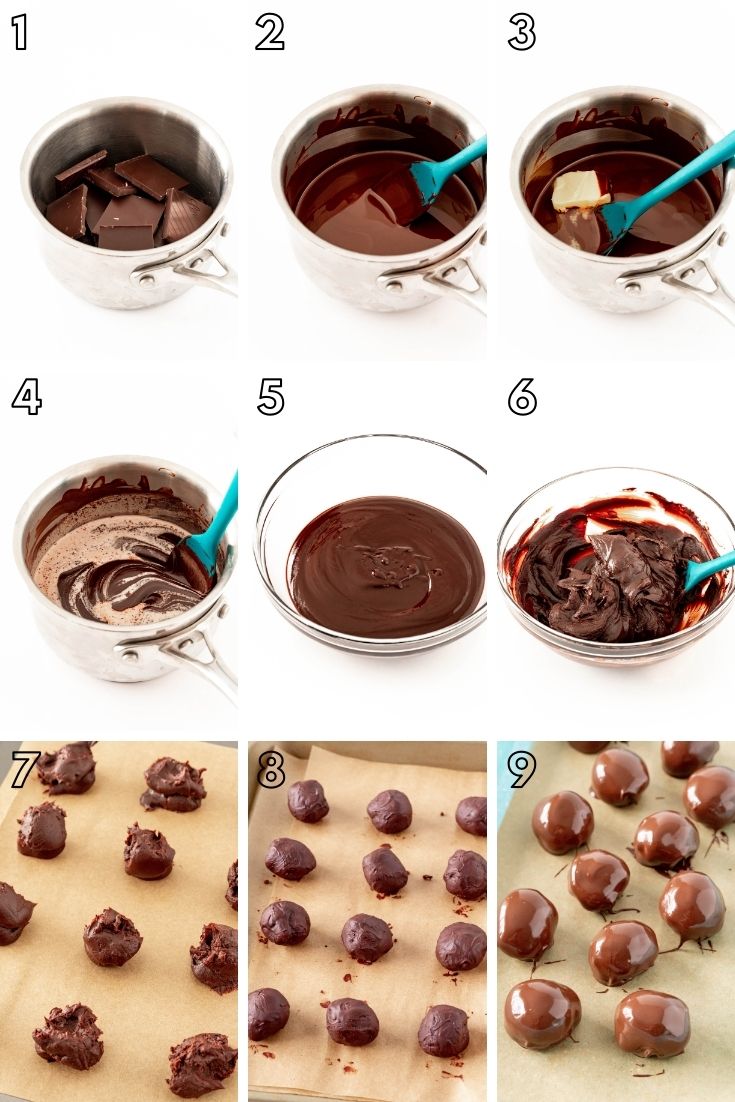 Frequently Asked Questions
How Do I Store These Chocolate Truffles?
Place the truffles into an airtight container and store them in the fridge. Enjoy them for up to two weeks! If you'd like they can also be stored for 4 months in the freezer.
Can I Roll The Truffles Into Toppings Instead Of Dipping Them In Melted Chocolate?
Of course! If you decide to do that just do it immediately after rolling the chocolate filling into balls. No need to chill them for the last 15 minutes.
Is There A Way To Instensify The Chocolate Flavor?
Yes! Simply add 1/4 teaspoon of espresso powder to the truffle filling.
What If My Truffle Mixture Got Too Hard In The Refrigerator?
That's ok, just microwave it at 30-second intervals to soften it back up. Once you've softened it back up you'll need to start the chilling and stirring process over from the beginning.
Can I Use Unsalted Butter In This Recipe?
I wouldn't recommend it. Using unsalted butter may cause the truffles to turn out a bit bland.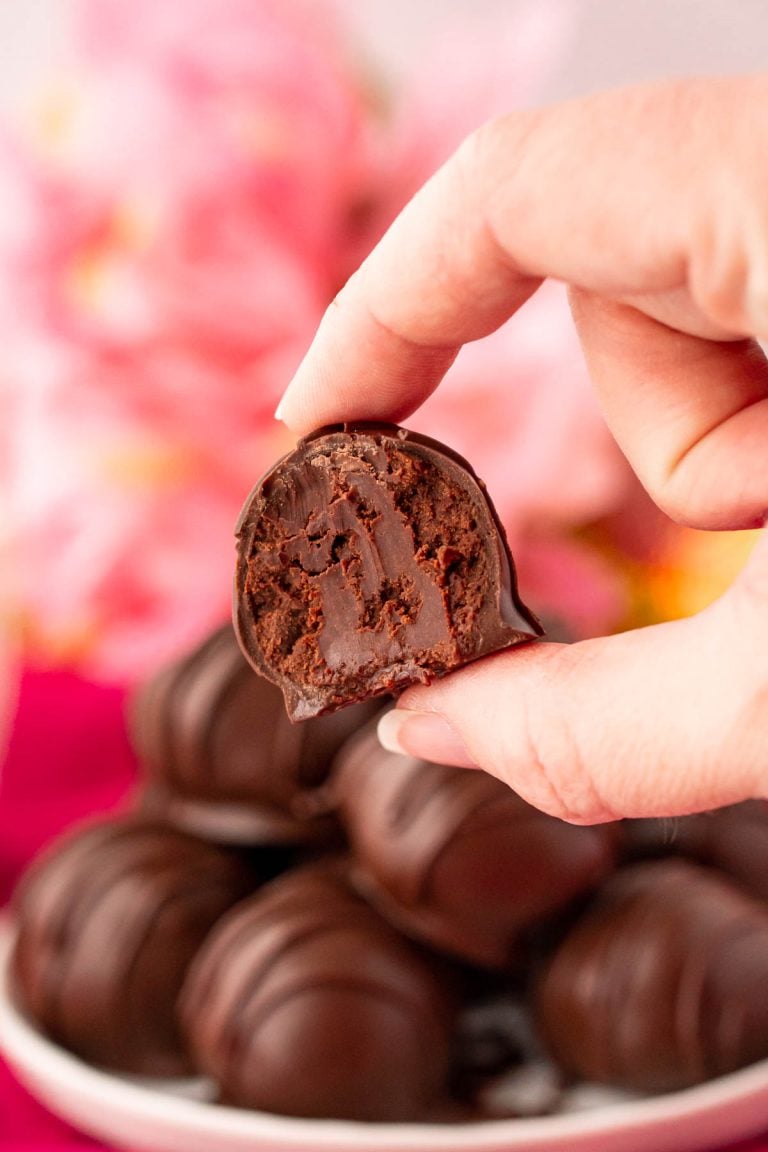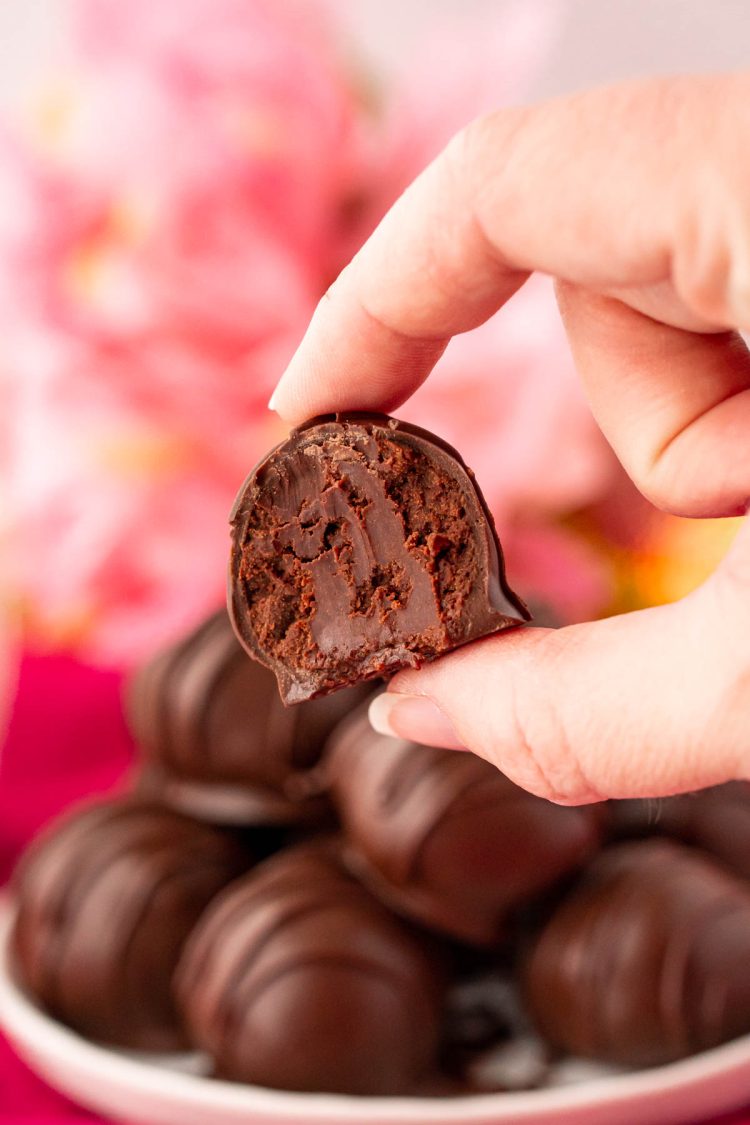 These Chocolate Truffles would make an excellent addition to a dessert platter that you could share with friends and family! Pair them with more of my favorite truffles by grabbing another easy recipe below!
Chocolate Truffles
Pin For Later
CLICK THE BUTTON ABOVE TO SAVE THIS DELICIOUS RECIPE TO YOUR BOARD!
👋 Let's Connect!
If you've tried this recipe, please let me know how you liked it in the comments below and leave a review; I love hearing from you! And don't forget to tag me – @sugarandsoulco – on Instagram and Pinterest with your photos or join our Busy Family Recipes Facebook Community and share them there!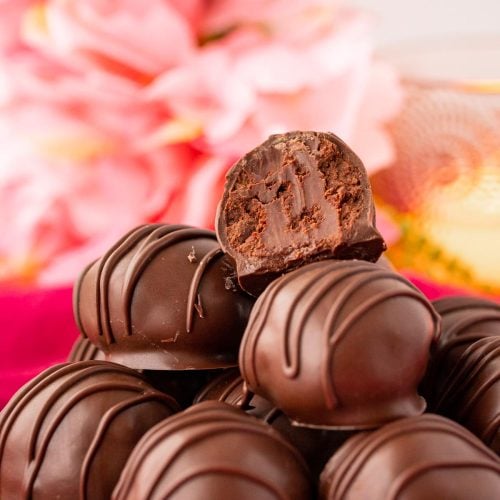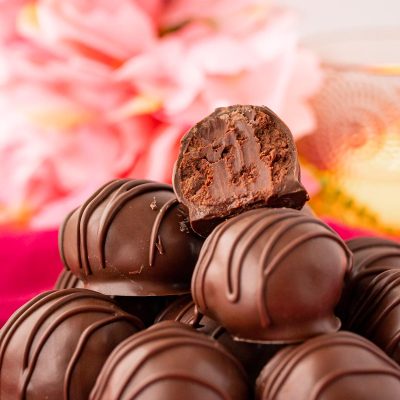 Homemade Chocolate Truffles
Chocolate Truffles are rich, decadent dessert bites that prep in only 30 minutes using just 4 ingredients! Perfect for Valentine's Day, holidays, or even as a weekend pick-me-up!
Ingredients
7

ounces

baking chocolate

broken into cubes

2

tablespoons

salted butter

⅓

cup

heavy cream

10

ounces

chocolate melting wafers
Instructions
In a small saucepan over low heat, melt the chocolate cubes, stirring constantly so the chocolate doesn't burn. Alternately you can use a double boiler.

Once melted, add in the butter and stir until melted. Remove from heat.

Stir in the heavy cream until fully incorporated and back to a rich chocolate color.

Transfer the chocolate mixture to a small bowl and place in the refrigerator for 15 to 30 minutes, stirring every 5 minutes, until thickened but not solid. You want the chocolate to be able to hold its shape when scooped.

Line a small baking sheet with parchment or wax paper and use a small cookie scoop or tablespoon to drop balls of the mixture on the pan. Chill in the refrigerator for an additional 10 minutes.

Remove from the refrigerator and roll the chocolate between your palms to create balls, place back on the baking sheet and chill for an additional 15 minutes.

Meanwhile, melt the chocolate wafers in the microwave in a wide mouth glass at 30-second intervals, stirring between each one, until smooth.

Use a fork or dipping tool to dip the balls in the melted chocolate, then place them on a clean piece of wax or parchment paper and allow the chocolate to harden before serving.

Top with sprinkles before chocolate sets or drizzle with leftover chocolate once it starts to set.
Notes
The timing of these is crucial, do not make them if you do not have a solid hour or so to commit to making them since if the truffle mixture sits too long it can become too hard to work with.
If you do forget about your truffle mixture in the refrigerator, you can reheat it in the microwave at 30-second intervals to soften it back up, but you will need to start your chilling, stirring process from the beginning.
The truffle mixture can be a little messy to work with.
If you would prefer to roll your truffles in toppings instead of dipping, you can do this immediately after rolling into balls – no need to chill for the last 15 minutes.
You can use milk, semi-sweet, or dark chocolate in this recipe. However, it has not been tasted with white chocolate.
These should be stored in the refrigerator for up to two weeks.
Freeze for up to 4 months.
Do not use unsalted butter, otherwise, the truffles can taste bland.
1/4 teaspoon of espresso powder may be added to the truffle mixture to intensify the chocolate flavor.
Nutrition
Calories:
242
kcal
Carbohydrates:
19
g
Protein:
3
g
Fat:
21
g
Saturated Fat:
13
g
Polyunsaturated Fat:
1
g
Monounsaturated Fat:
7
g
Trans Fat:
1
g
Cholesterol:
14
mg
Sodium:
27
mg
Potassium:
211
mg
Fiber:
4
g
Sugar:
12
g
Vitamin A:
155
IU
Vitamin C:
1
mg
Calcium:
27
mg
Iron:
4
mg