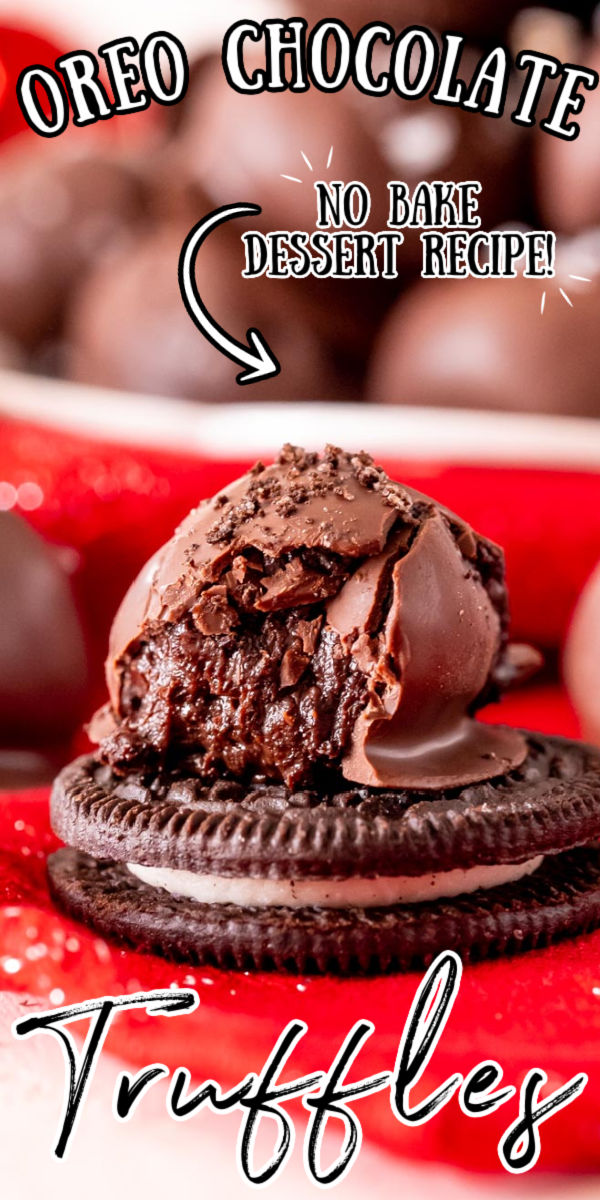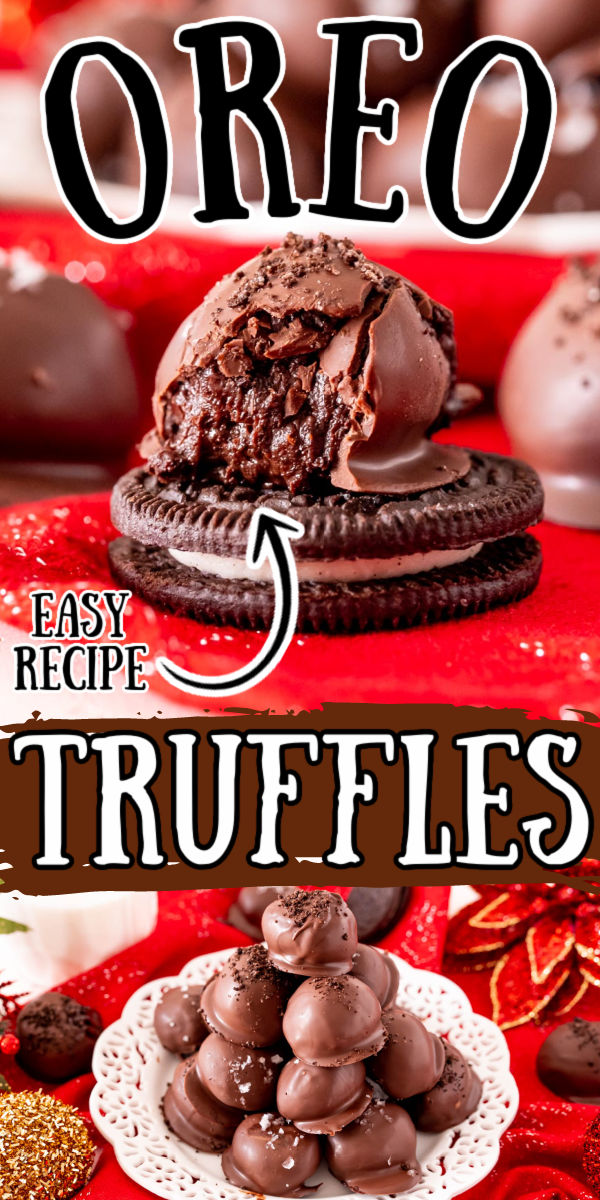 Oreo Truffles are the ultimate family treat this holiday season and they come together with just 20 minutes of prep! Oreo crumbs, chocolate chips, milk, cream, and cocoa powder dipped in chocolate will win the hearts of chocolate lovers everywhere!
Want more Oreo Recipes? We love these Croissookies and this Oreo Poke Cake recipe! Oh, and these Oreo Marshmallow Treats are really popular too!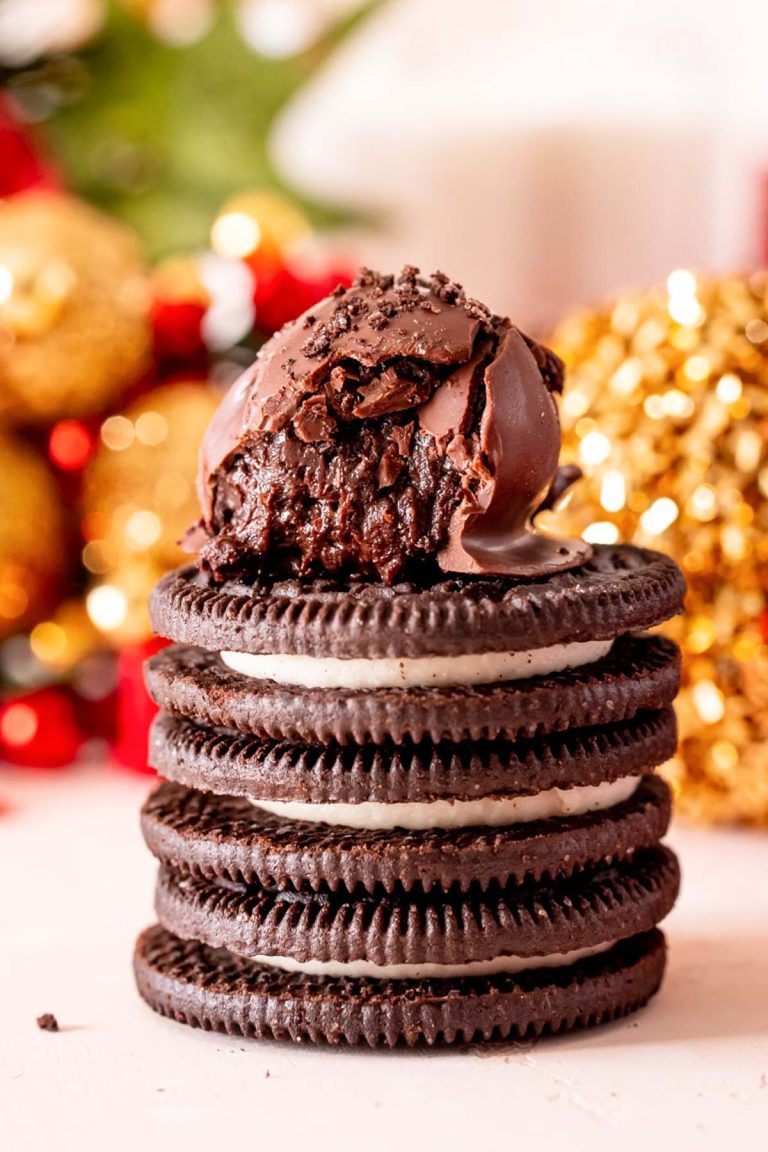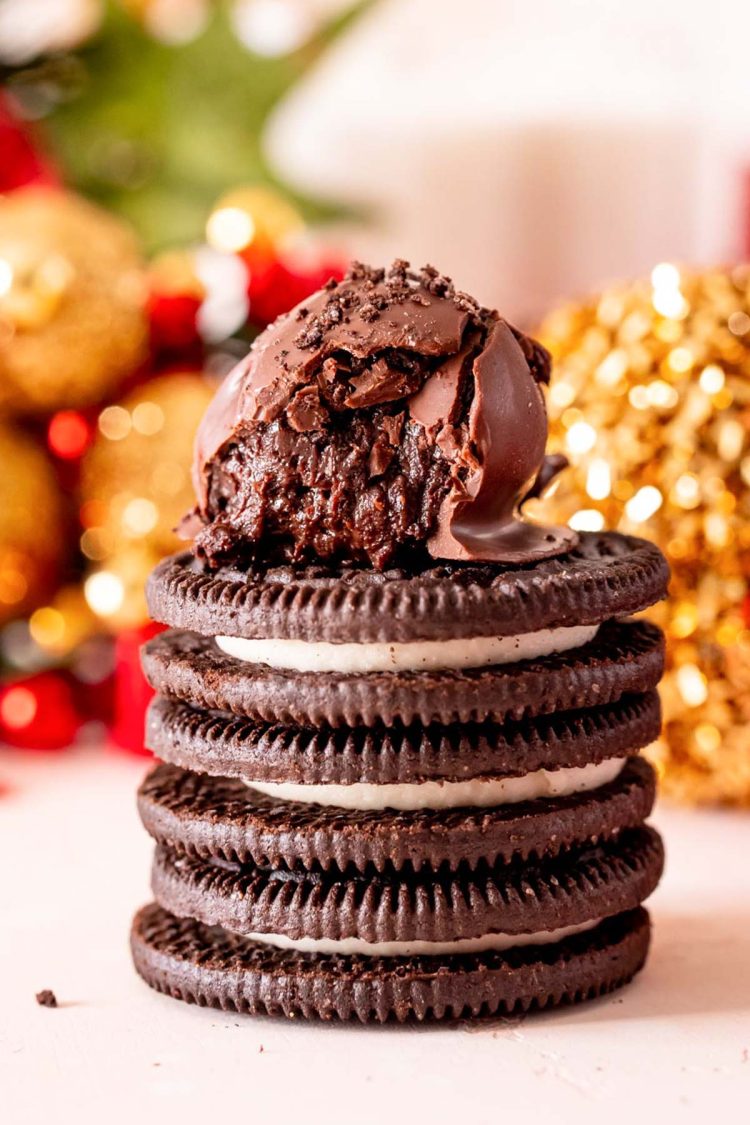 These Oreo Balls may not twist and split like the cookies but that just means you'll only have to share them with a glass of milk! With a fudge-like filling and milk chocolate coating, these truffles will soar to the top of your holiday treat list!
This Oreo Truffles recipe delivers 36 perfectly flavored Oreo treats, enough to share and stash away some for yourself! With an easy ingredients list, nothing is stopping you from making these Oreo Balls all year round!
If that's not enough, let these no-bake Oreo Truffles lead you down the path to my Peppermint Oreo Balls as well! Crushed candy canes AND Oreos in the same dessert, you're welcome!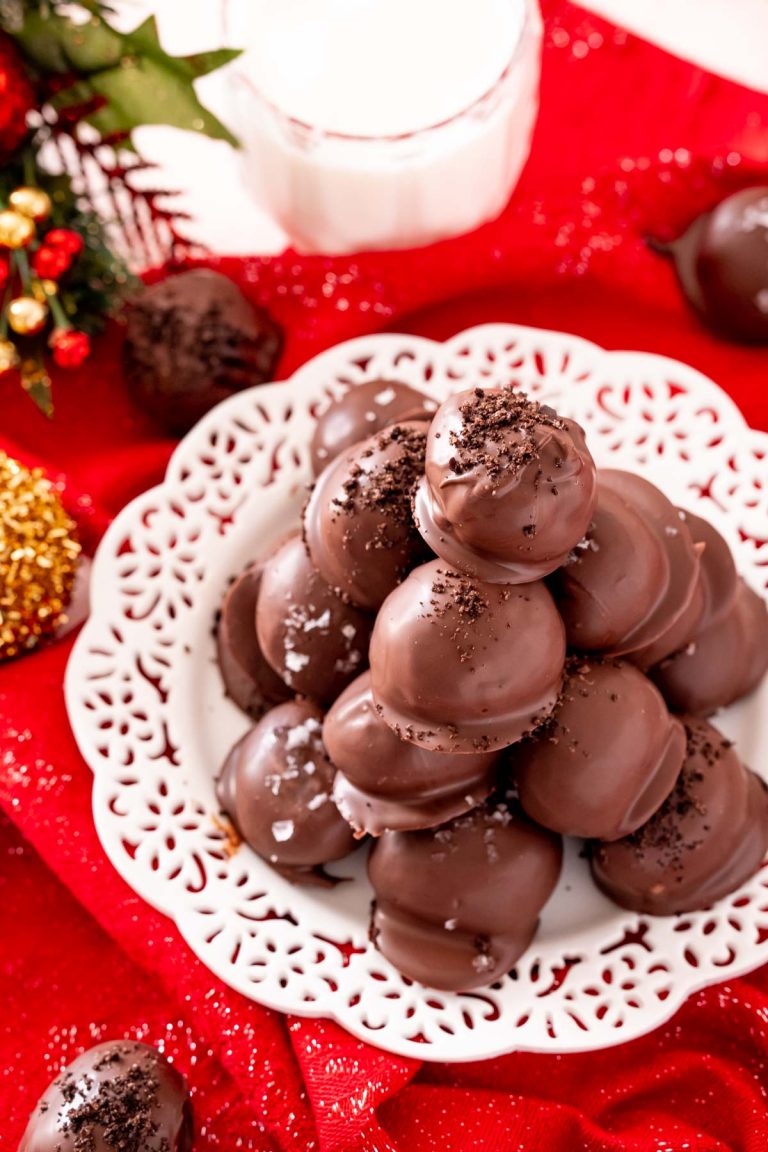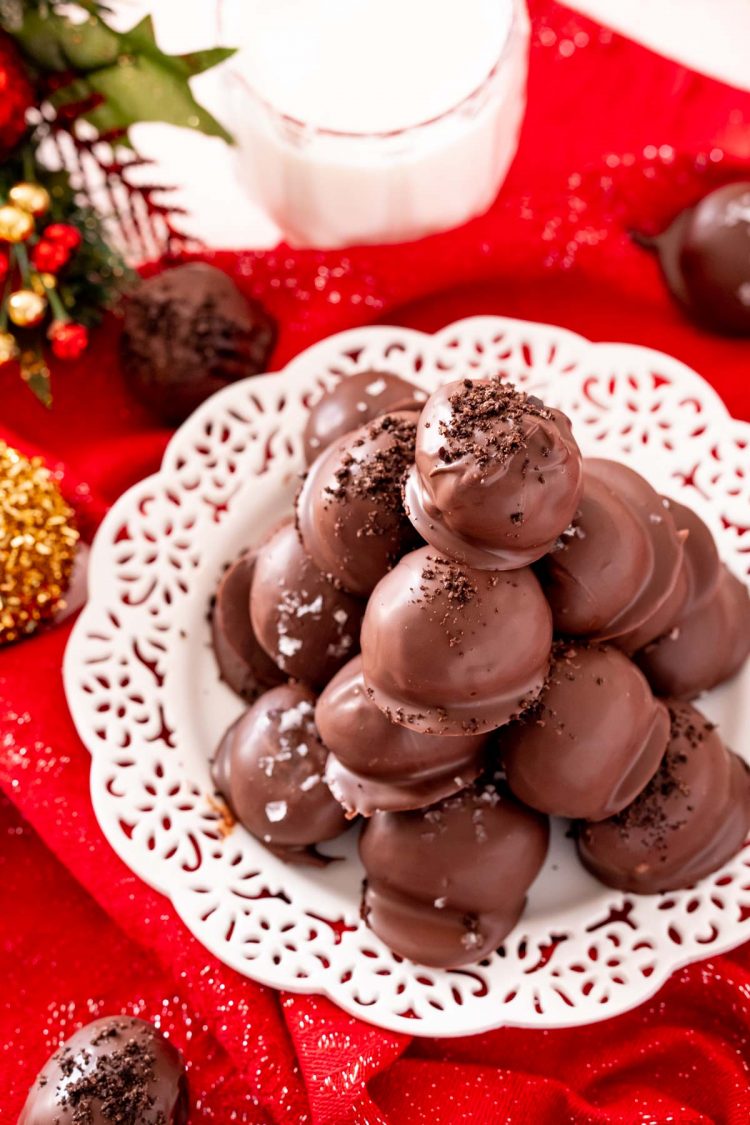 Oreo Truffles Ingredients
The filling will hit everyone's sweet tooth with the taste of smooth oreo laced chocolate that seemingly melts in your mouth! Made up of heavy cream, milk, cocoa powder, salt, chocolate chips, and America's favorite cookie, Oreos!
The sweet chocolate shell is melted chocolate wafers topped with finely crushed Oreos. If needed, almond bark is also a good stand-in option for the chocolate wafers.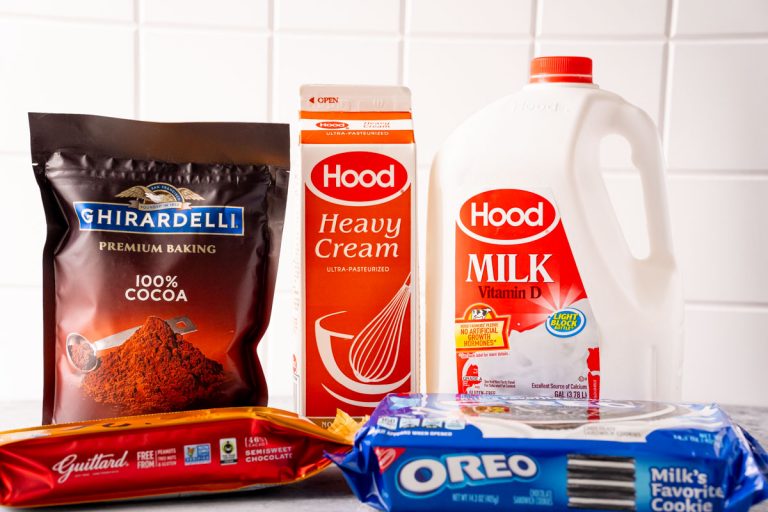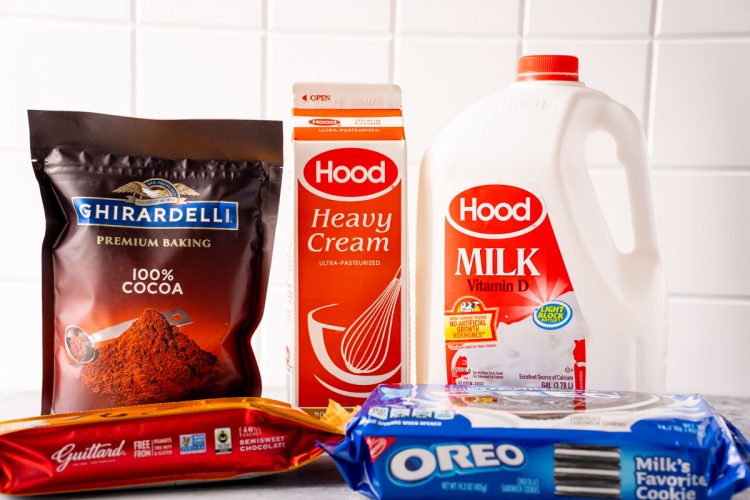 How To Make Oreo Balls
1. Prepare a baking sheet with wax paper and set it aside. Then, using a food processor, take 15 Oreos and turn them into fine crumbs.
2. Mix together the heavy cream and milk in a saucepan to bring to a light simmer on medium-high heat. Once simmering, remove from the heat and add chocolate chips, let sit for five minutes before whisking together.
3. Add in the oreo crumbs, cocoa powder, and salt, stirring until thoroughly combined. Then allow this mixture to chill in the refrigerator for at least 6 hours.
4. Once chilled, roll the oreo ball filling into 1-inch balls and place them on the prepared baking sheet. Place back in the refrigerator for 2 hours.
5. Heat up the melting wafers and then using a dipping tool easily dip the truffles into the melted chocolate. Allow excess chocolate to drip before placing them on a baking sheet with a clean sheet of wax paper.
6. After dipping them in chocolate top them with more finely crushed Oreos. Allow them to set out at room temperature to set up, about 15 minutes.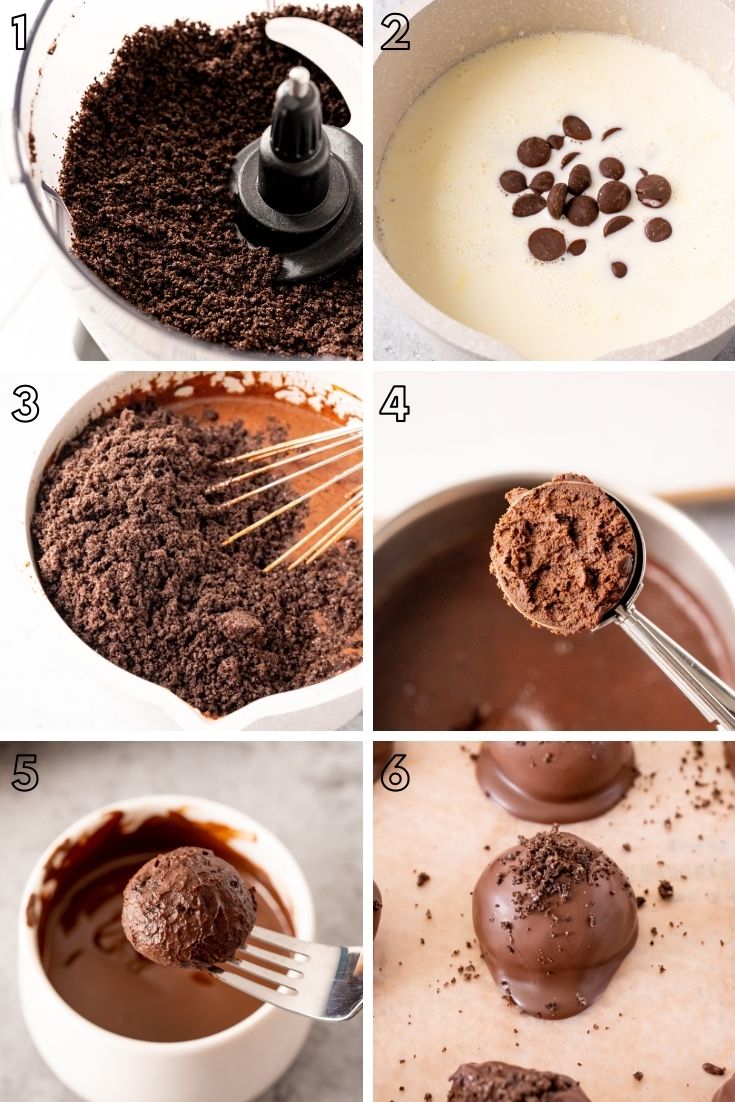 Recipe Variations
A delicious variation of this Oreo Truffle recipe would be dipping them in melted white chocolate instead of milk chocolate.
Easily modify this recipe to give you a hint of peppermint without having to add cream cheese. Simply add in ¼ to ½ teaspoon of peppermint extract to the already delicious oreo mixture filling!
Favorite Truffle Recipes: Peanut Butter Buckeyes | Mint Cookie Truffles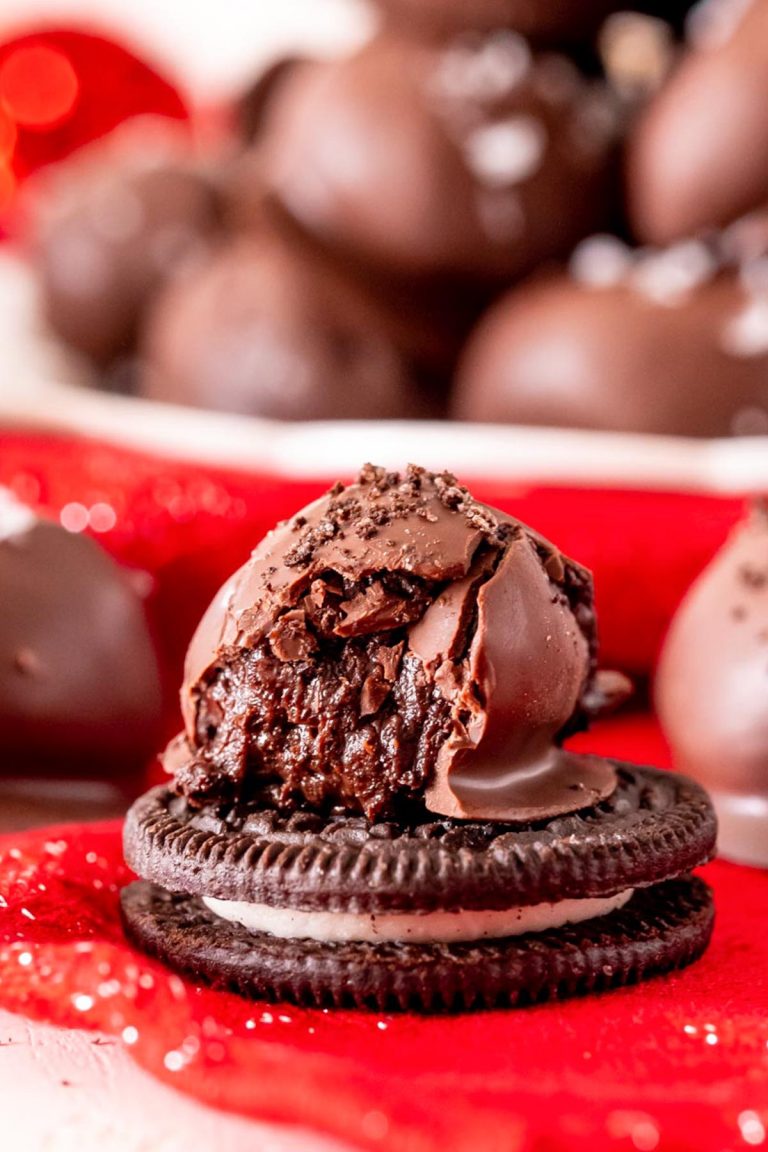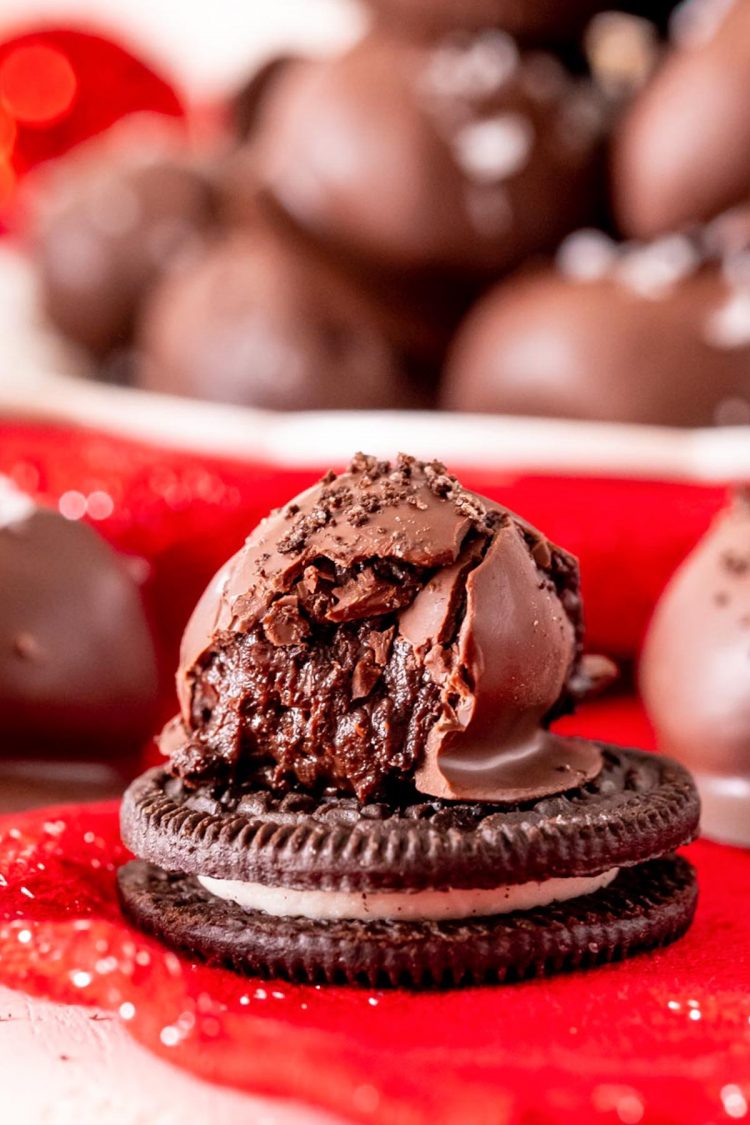 How To Store Oreo Truffles
Store Oreo Truffles in an airtight container for 2 weeks in the refrigerator or 3 months in the freezer.
Regular Oreos Vs Double Stuff
Regular Oreos were used to make these Balls so using double stuff may throw off the ratio.
Chilling Time
The chill time for this Oreo Truffles recipe is lengthy because the filling is so soft and sticky. But I promise it's worth every minute you have to wait until you're able to taste the first one!
Whether you choose a variation or leave this recipe as is, it's sure to be a new family favorite!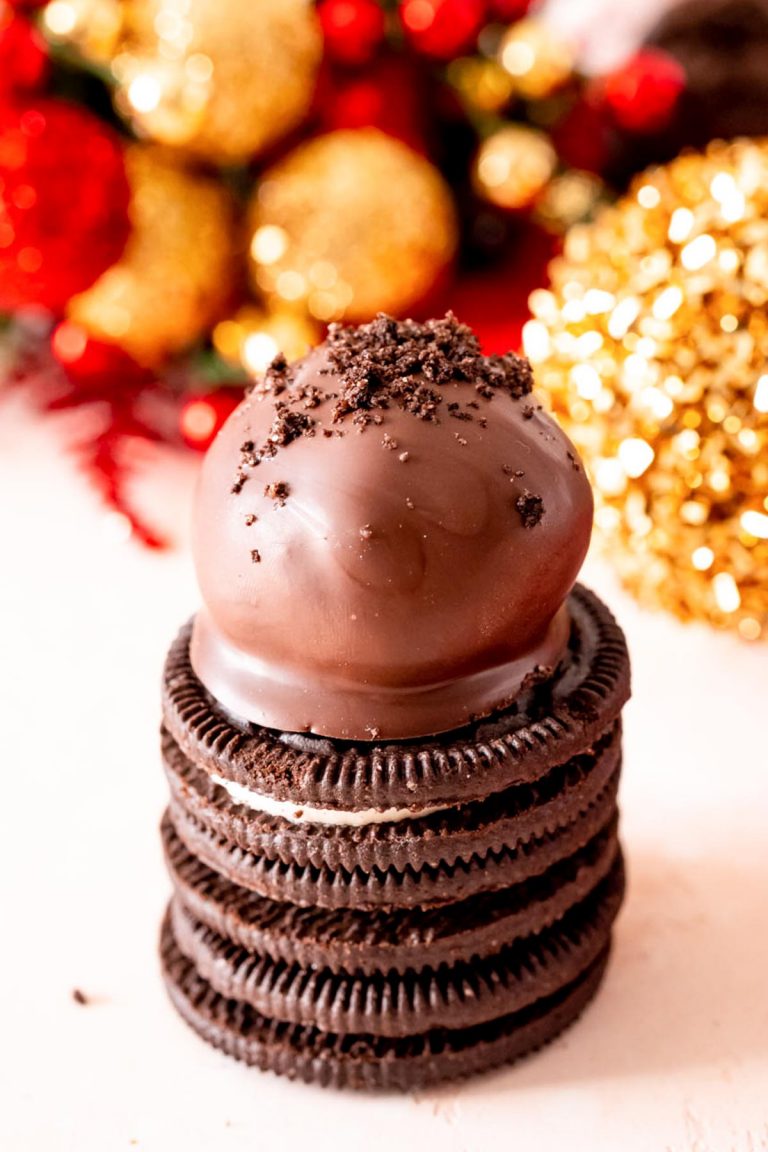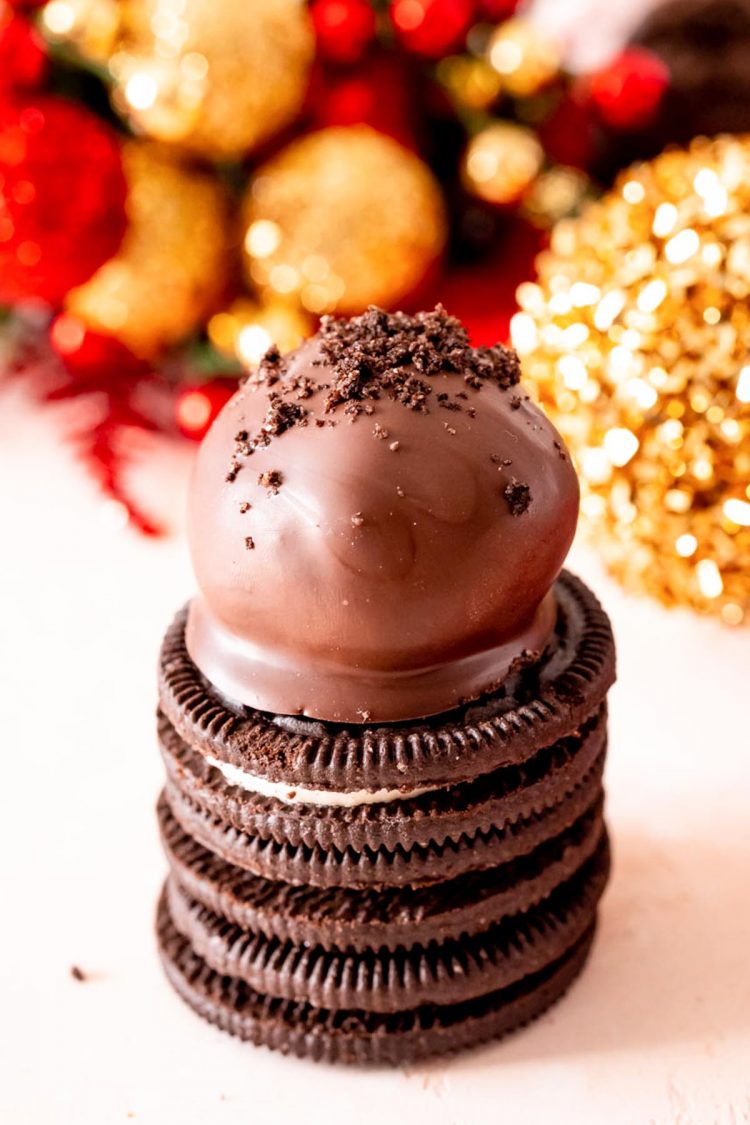 Check out my other truffle recipes to bring to the table as well!
Oreo Truffles
Pin It For Later
Click the button above to save this delicious recipe to your board!
👋 Let's Connect!
If you've tried this recipe, please let me know how you liked it in the comments below and leave a review; I love hearing from you! And don't forget to tag me – @sugarandsoulco – on Instagram and Pinterest with your photos or join our Busy Family Recipes Facebook Community and share them there!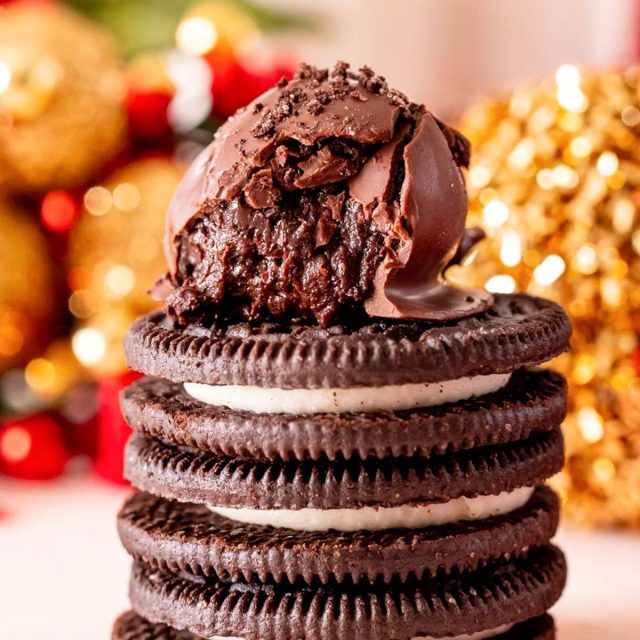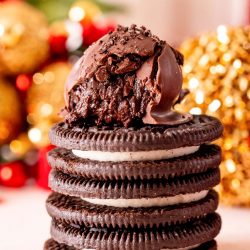 Oreo Chocolate Truffles
Oreo Truffles are made with Oreo crumbs, chocolate chips, milk, cream, and cocoa powder dipped in chocolate will win the hearts of chocolate lovers everywhere!
Instructions
In a medium saucepan, bring the heavy cream and milk to a light simmer over medium-high heat.

Remove from heat and add the chocolate chips, do not stir and let them set for 5 minutes, then whisk together until combined.

Whisk in the cocoa powder, Oreo crumbs, and salt until incorporated.

Pour the mixture into a heat safe bowl and place in the refrigerator to chill for at least 6 hours.

Use a small or medium cookie scoop to scoop out the truffle mixture and roll them between your palms to form a round ball.

Place the balls on a wax paper lined baking sheet and place them in the refrigerator for 2 hours.

Melt the melting wafers in a deep cup or bowl and use a dipping tool or fork to dip the truffles in the chocolate then place them on a clean sheet of wax paper on a cookie sheet and allow to cool until set.

Store balls in the refrigerator in an airtight container for up to 2 weeks or freeze for up to 3 months.
Notes
These truffles are soft which is why they need to be chilled for so long to set up.
This recipe was also tested with bittersweet chocolate chips, I preferred the semi-sweet, but both were very good.
I would run the Oreos through the food processor for best results.
Regular Oreos were used in this recipe, I do not recommend using double stuf because it could throw off the ratio.
You can easily make these peppermint truffles by adding ¼ to ½ teaspoon of peppermint extract.
Nutrition
Calories:
175
kcal
Carbohydrates:
18
g
Protein:
2
g
Fat:
12
g
Saturated Fat:
7
g
Cholesterol:
8
mg
Sodium:
47
mg
Potassium:
135
mg
Fiber:
2
g
Sugar:
13
g
Vitamin A:
86
IU
Vitamin C:
1
mg
Calcium:
21
mg
Iron:
2
mg