These Cookie Dough Truffles are easy to make, safe to eat, and totally addictive! These chocolate-covered treats perfect for parties, game days, or to satisfy cravings any time of the day or night.
These truffles are made with Edible Cookie Dough that's dipped in chocolate and makes a wonderful gift during the holidays!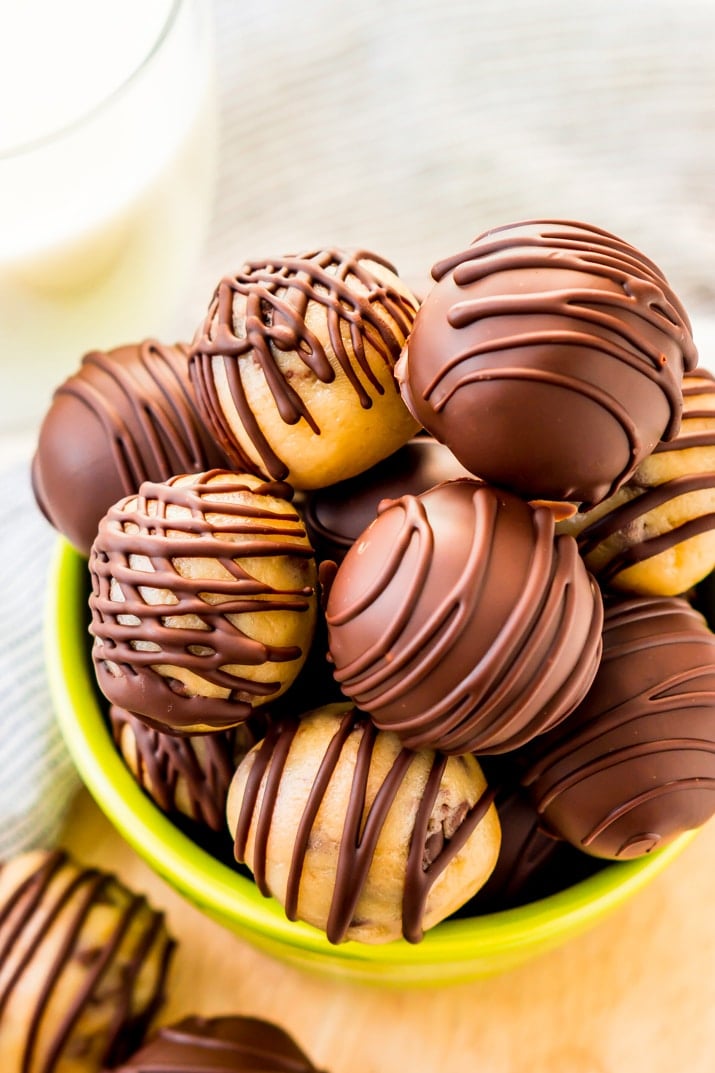 If you're a cookie dough lover and one of those people who can't bake without keeping your fingers out of the batter bowl, you have to try my Edible Cookie Dough recipe.
This recipe avoids the general concern behind raw cookie dough: the raw eggs! With this recipe, you can now safely eat cookie dough! Woot woot!
But if you're looking for something a little more servable — maybe, for a get-together or a big sports game — you have to try these chocolate chip Cookie Dough Truffles for a poppable treat (no spoons required)!
Are Cookie Dough Bites Safe To Eat?
Yes, they are! My egg-free truffles made with Eggless Cookie Dough safely busts those cravings. So you'll want to keep the recipe on hand!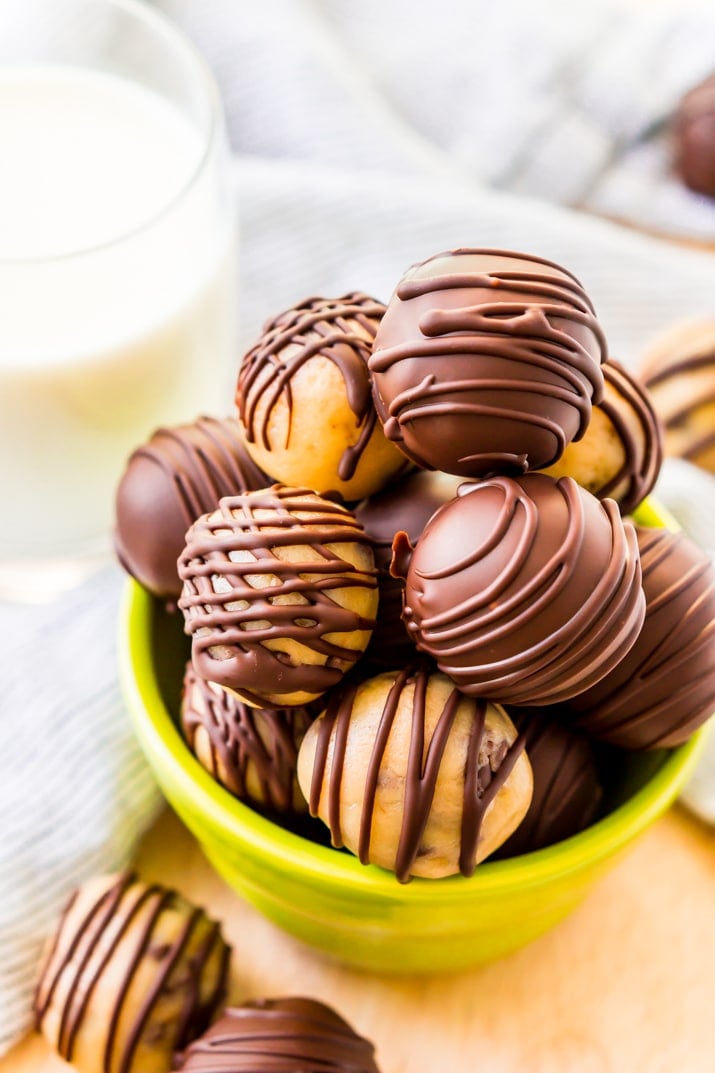 Better yet, these bite-sized bits of Heaven are simple to make and require no baking. (You'll only need to turn on the oven to heat the flour in order to kill any potential germs.)
How To Make Cookie Dough Truffles:
Step 1: The first step is to whip up that chocolate-studded cookie dough by blending butter, white, and brown sugars, flour, vanilla extract, and heavy cream in a large bowl on medium speed. Make sure to follow the directions for flash baking your raw flour!
Step 2: Then, of course, you mix in a generous helping of mini chocolate chips! Use a medium cookie scoop to roll the mixture into 1-inch balls and place them on wax paper-lined baking sheets and refrigerate
Step 3: Melt the chocolate chips (semi-sweet, milk, or dark chocolate is fine) and coconut oil in a medium bowl on 30-second intervals. You can also use chocolate candy coating. After the cookie dough balls have firmed up for about 20 to 30 minutes, use my favorite candy dipping tool or a fork to dip them into rich, melted chocolate and chill until firm.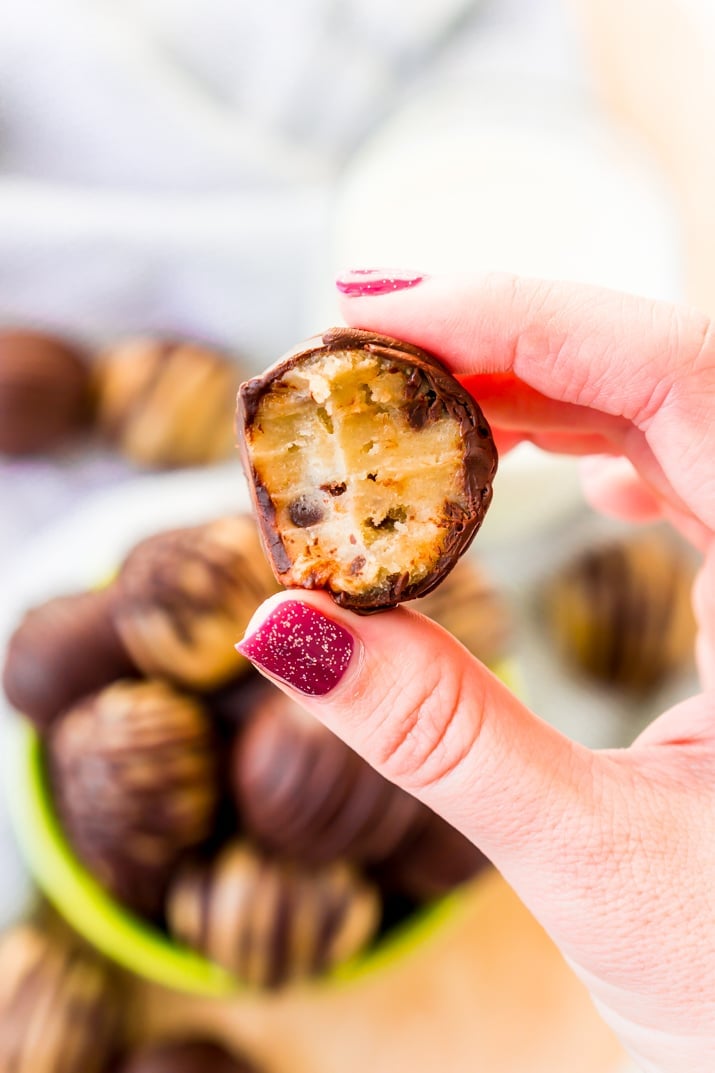 Cookie Dough Truffles have a crunchy chocolate shell on the outside and soft, sugary cookie dough on the inside, making them seriously addictive! I love that they're low-key enough to serve at a barbeque or birthday party, but refined enough to offer guests at a dinner party.
What's more, they travel well and they're the perfect treat to offer a hostess when you're a guest in someone else's home. Of course, you don't need a special occasion to make these no-bake Cookie Dough Truffles; you'll probably want to keep a stash in your fridge!
How Long Are Cookies Dough Balls Good For?
Room Temperature: These will be good for about 6 hours at room temperature. Even though there's no egg, these still contain unbaked dairy products. Plus the chocolate could start to get soft.
Refrigerator: These truffles will last about 1 month when stored in an air-tight container in the refrigerator.
Freezer: The cookie dough balls will stay good for about 3 months when stored in an airtight container in the freezer. If you're using a freezer bag, try to squeeze out as much air as possible before freezing.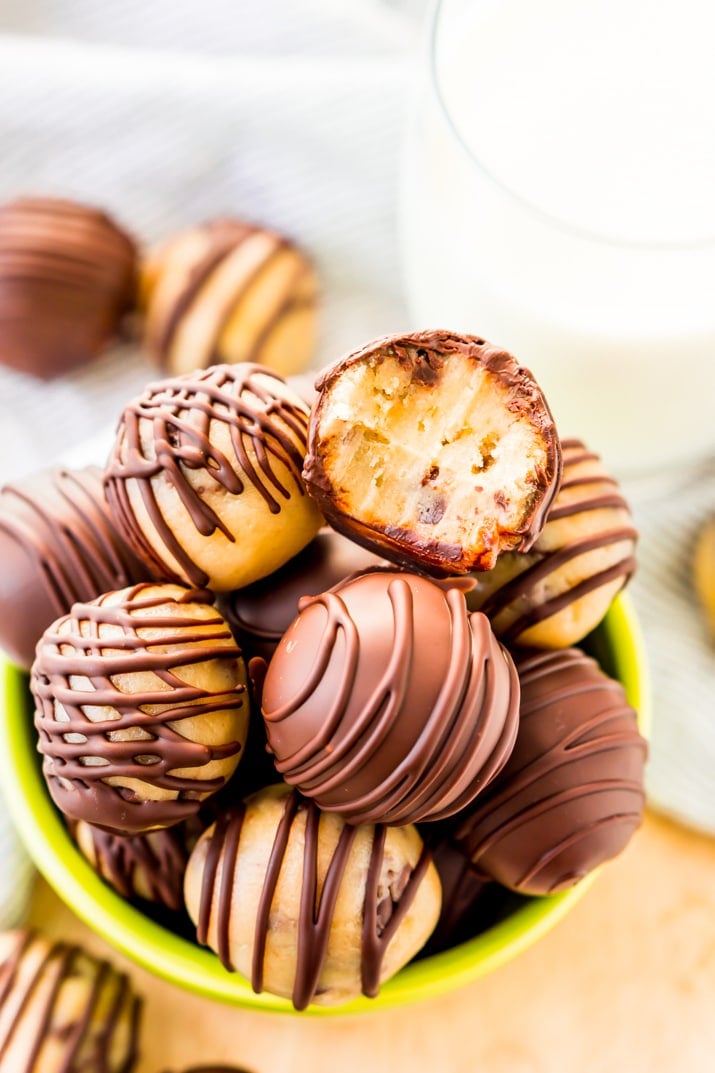 These edible Cookie Dough Truffles are the easy and safe way to indulge your cravings without having to bake a batch of cookies!
If you want to mix this recipe up a bit, try using my Edible Sugar Cookie Dough dipped in White Chocolate!
More Delicious Dessert Recipes:
Cookie Dough Truffles
Pin It For Later
Click the button above to save this delicious recipe to your board!
👋 Let's Connect!
If you've tried this recipe, please let me know how you liked it in the comments below and leave a review; I love hearing from you! And don't forget to tag me – @sugarandsoulco – on Instagram and Pinterest with your photos or join our Busy Family Recipes Facebook Community and share them there!
This post was originally published in January 2018 and was updated in December 2019.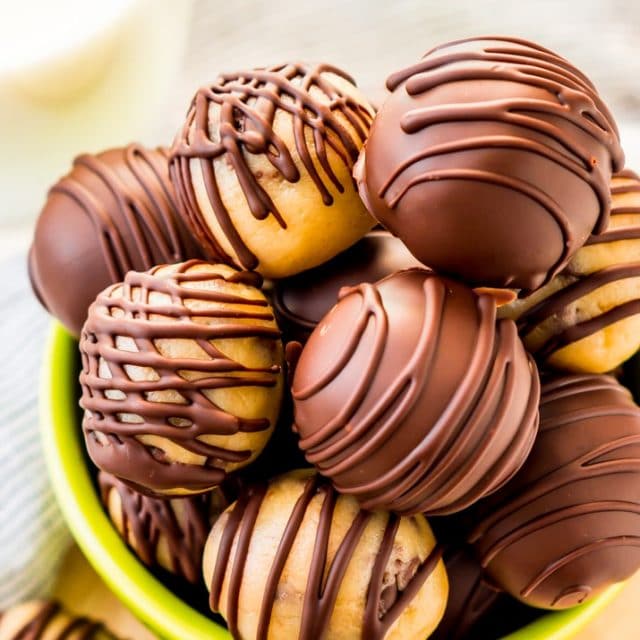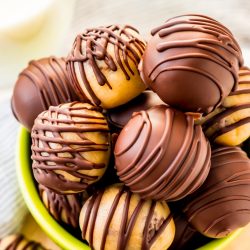 Cookie Dough Truffles
These Cookie Dough Truffles are easy to make, safe to eat, and totally addictive! These chocolate covered treats perfect for parties, game days, or to satisfy cravings any time of the day or night.

Instructions
Spread the flour out on a cookie sheet and bake at 350 degrees F for 5 to 6 minutes, this should get the flour to a temperature of 160 degrees F and kill any bacteria.

In a large bowl with a hand mixer or stand mixer, cream together the butter and sugars until light and fluffy.

Scrape down the sides and add vanilla and heavy cream.

Scrape down the sides again and add flour and salt and mix until combined, fold in the mini chocolate chips.

Line two large baking sheets with wax paper. Then use a medium cookie scoop to scoop balls of dough and roll them between your palms, place them a couple of inches apart on the baking sheet. Place in the fridge for 20 minutes.

Add chocolate chips and coconut oil to a medium bowl and melt on 30-second intervals, stirring after each one, until fully melted.

Use a fork to dip the cookie dough balls in the chocolate, set the ball on the fork and use a spoon to help coat the balls. Use a toothpick or skewer to help slide the ball off the fork after covering and back onto the waxed paper.

After all of the balls are coated, place back in the fridge for about 30 minutes until chocolate has set.
Notes
Chocolate Candy Coating may also be used.
Nutrition
Calories:
142
kcal
Carbohydrates:
2
g
Protein:
1
g
Fat:
7
g
Saturated Fat:
1
g
Potassium:
32
mg
Sugar:
11
g
Vitamin A:
5
IU
Calcium:
4
mg
Iron:
0.4
mg