Use this simple step-by-step guide for How to Cook Spaghetti Squash in the oven for a delicious and healthy side dish, lunch, or dinner recipe!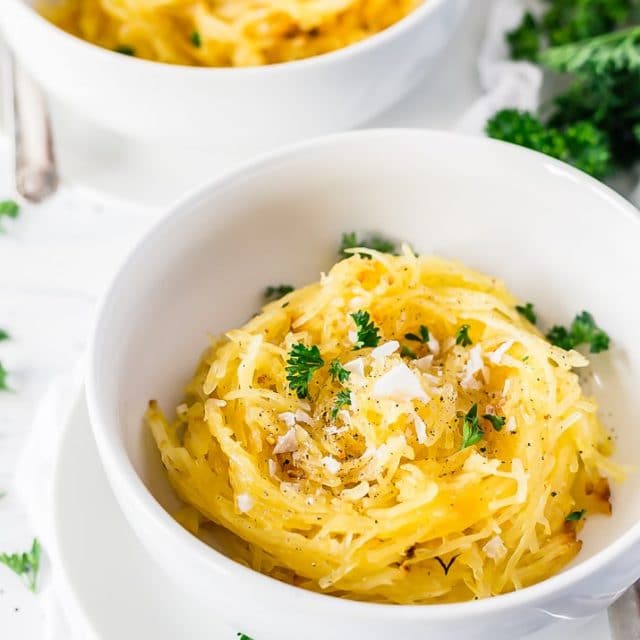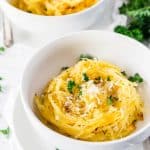 Use this simple step-by-step guide for How to Cook Spaghetti Squash in the oven for a delicious and healthy side dish, lunch, or dinner recipe!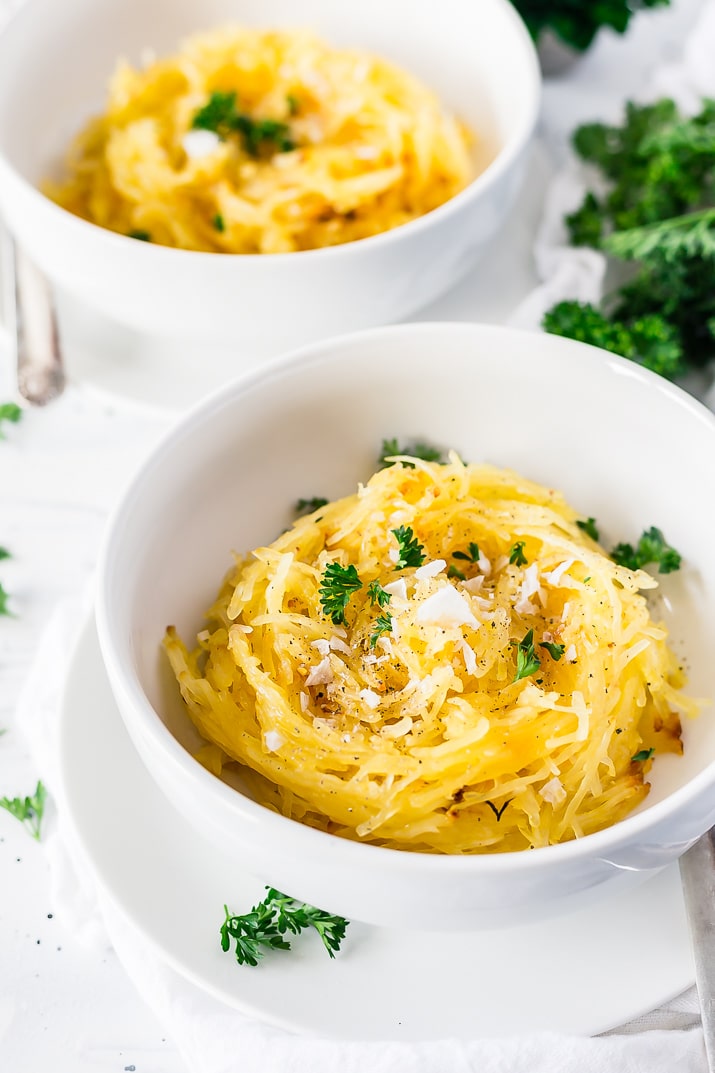 The Spaghetti Squash is an amazing vegetable that doesn't get as much credit as it deserves. It's so versatile, nutritious, and low carb. Many of us love it, but few of us actually know how to cook it! So here it is, my step-by-step guide for How To Cook Spaghetti Squash!
First things first though, let's talk a little about the best method to use for cooking spaghetti squash. You can slow cook it, microwave it, and pressure cook it, heck you could probably even grill it if you really wanted to give it a go. But personally, I think the absolute best way to cook it is in the oven.
I mean, roasted vegetables really are the best, and spaghetti squash is no different. I'll cover a couple different ways tricks for how to cook spaghetti squash in the oven and then you just need to decide what you're looking for out of your squash to decide what's best for you.
I love spaghetti squash and eat it all the time, I grew up eating it pretty regularly and it was always a toss-up be it and Buttercup squash when it came to my favorite, but Buttercup is a little harder to find, so spaghetti squash it is!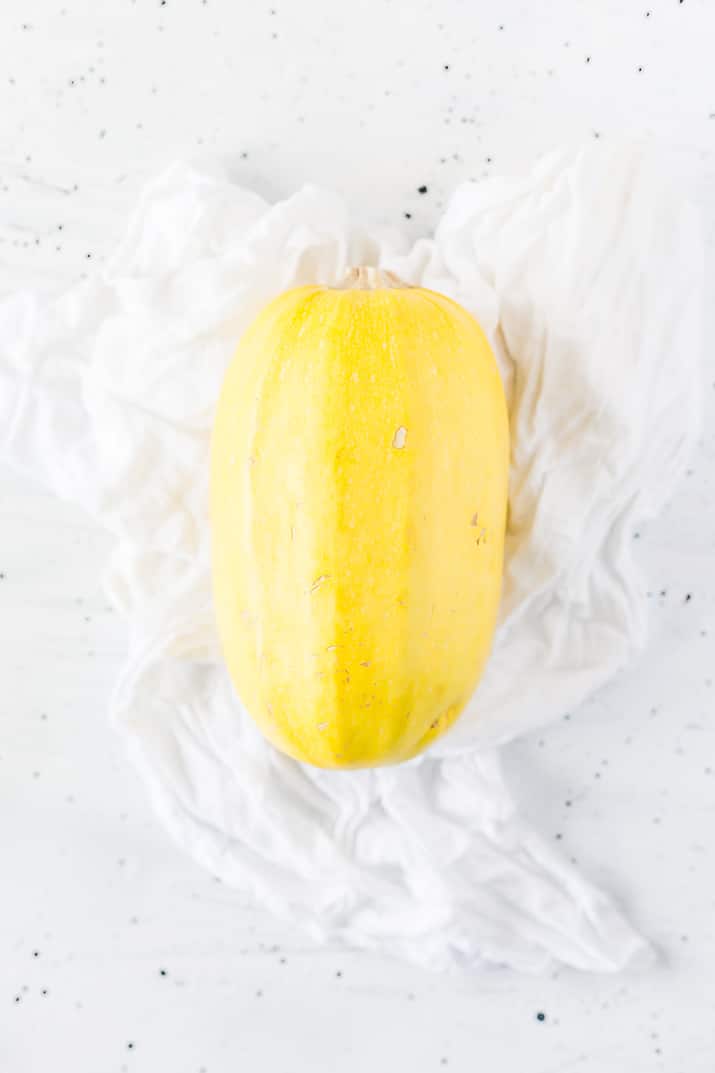 How Do You Pick A Spaghetti Squash:
Things to look for when picking you squash from the garden include:
Squash is golden yellow in color.
The skin is hard and thick and you fingernail can't break the skin.
Spaghetti Squash usually lasts 1 to 3 months in the fridge or on the counter after being picked.
Things to look for when selecting your spaghetti squash at the grocery store include:
You want it to be firm, no soft spots.
You want it to be dry, no cracks.
You want it to be heavy for its size.
You want a firm and dry stem, no stem equals bad news.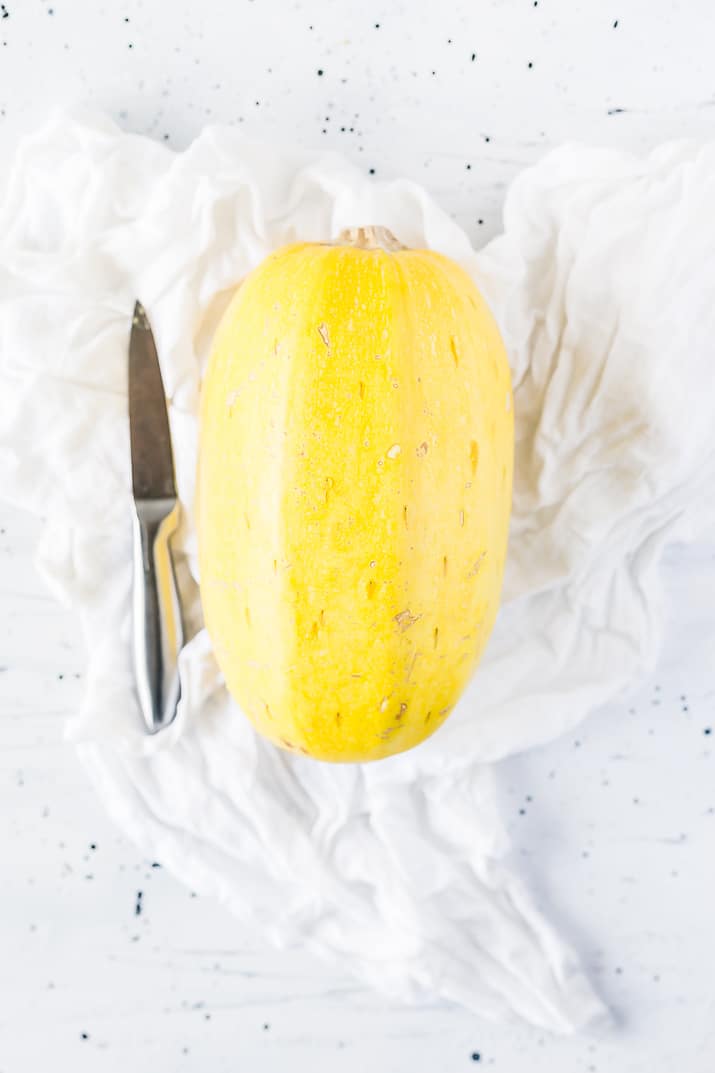 Vent Your Spaghetti Squash:
After picking your squash and bringing it home or inside from your garden, it's time to preheat the oven to 400 degrees F and prep the squash for roasting. It's important that you add vent holes to your squash either using a fork or a paring knife to puncture it all over.
This allows any pressure that might build up during the cooking process to escape and prevent you from having a squashtastrophe <<< why yes, I did just make that work up.
Soften The Rind:
Squash of any kind can be a little intimidating to cut. I promise you're not alone if at one point when cutting a squash you've thought: I guess I should have kept that New Year's resolution and gone to the gym. But here's a little trick to making the rind a bit easier to cut through. Pop that baby in the microwave for 3 to 5 minutes, depending on the size of the squash, this will soften the skin and make it easier to work with.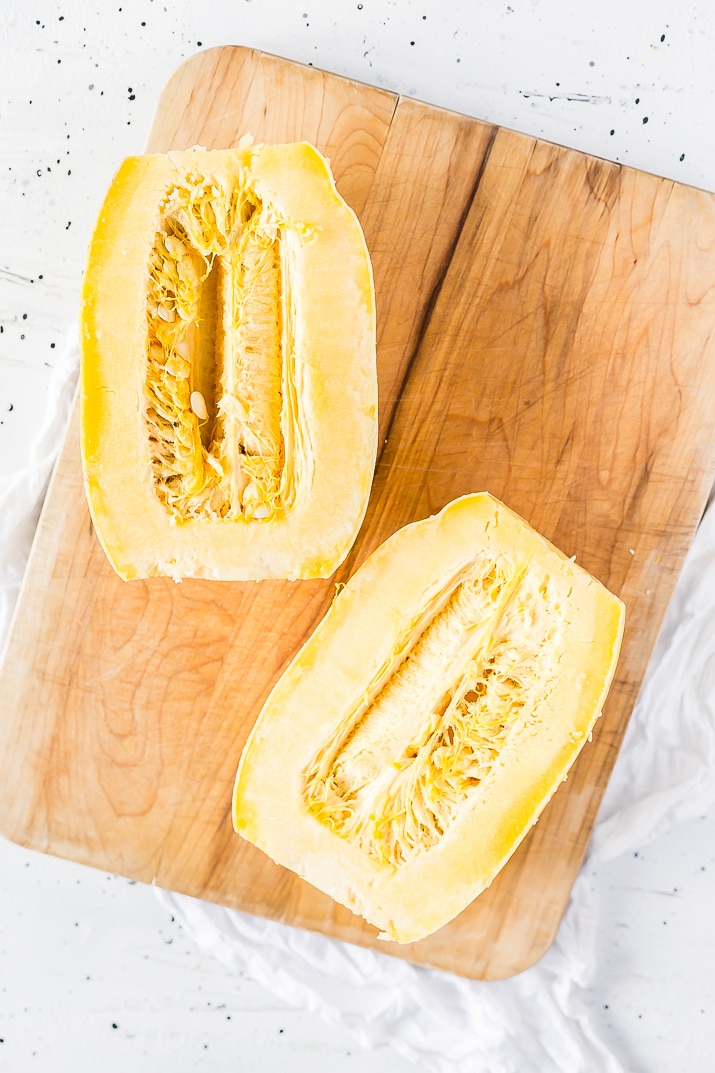 How Do You Cut Spaghetti Squash?
Now that it's softened up a bit, we're ready to get to work. The squash itself can be cut two ways, lengthwise or across. The flesh of a spaghetti squash actually grows circular within, not up and down. So if you want longer strands of spaghetti, cut it across, if you prefer shorter pieces (like me), cut it lengthwise. Either way, You will want to use a large sturdy knife to cut the squash, be very careful because they can be tough little things to slice.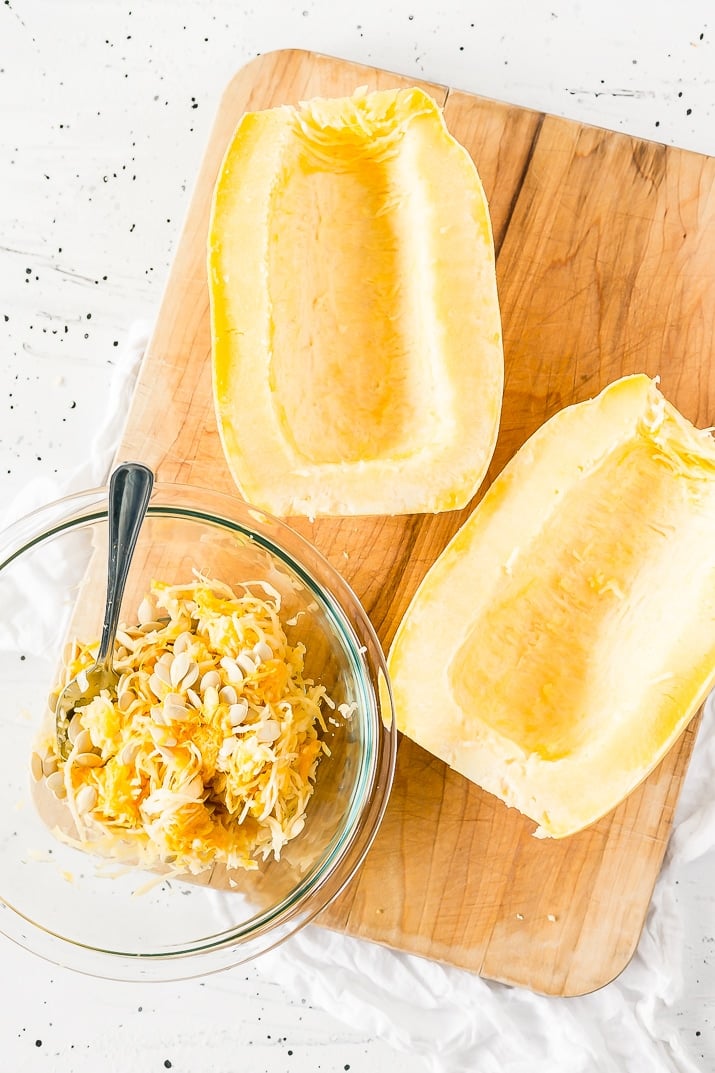 Remove The Seeds:
You can use either a spoon or an ice cream scoop to remove the seeds and the pulp from the center of the squash after you've cut it. You can then roast the seeds or toss them, up to you, just get them outta there!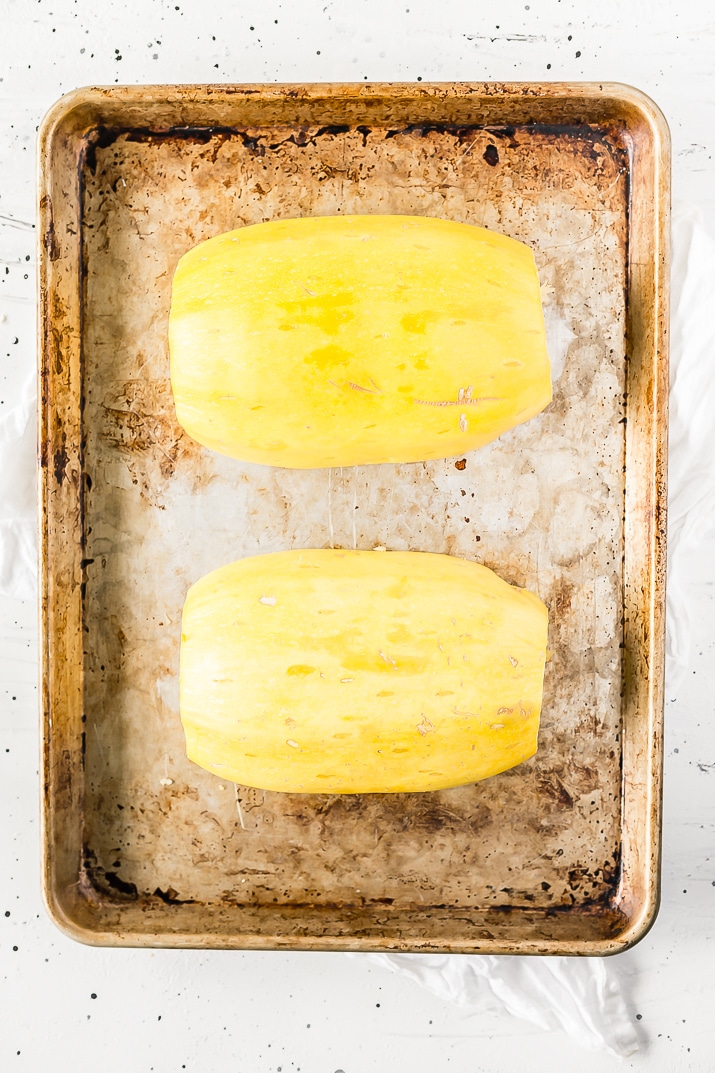 Get The Squash On The Pan!
Here's where you have a couple of different options, let's go over them:
Straight up Roasting: You can simply plop those two halves face down on the pan, and pop them in the oven and call it a day. This method will result in a nice coloring of the edges of the spaghetti squash. Or…
Water Method: If you want ultra tender spaghetti squash, add just enough water to the pan so that it's covered with water, but not deep. MAKE SURE YOUR PAN HAS A LIP! During baking, this water will steam the inside of the squash and make for some really even-colored and tender spaghetti. Note that if you use this method, you may want to cut the cook time by a few minutes.
To Season or not to Season: If you want to just roast them without water, you can season the squash now with a bit of olive oil and salt and pepper, just rub it all over the inside of the squash before placing on the pan. If you're using the water method, wait until after the squash is cooked to add your seasoning.
Bake That Squash:
I usually go with a base bake time of 10 minutes and then another 15 minutes for each pound. So a 2-pound squash usually needs to cook for about 40 minutes. You will know the squash is done when you can easily puncture the rind with a fork.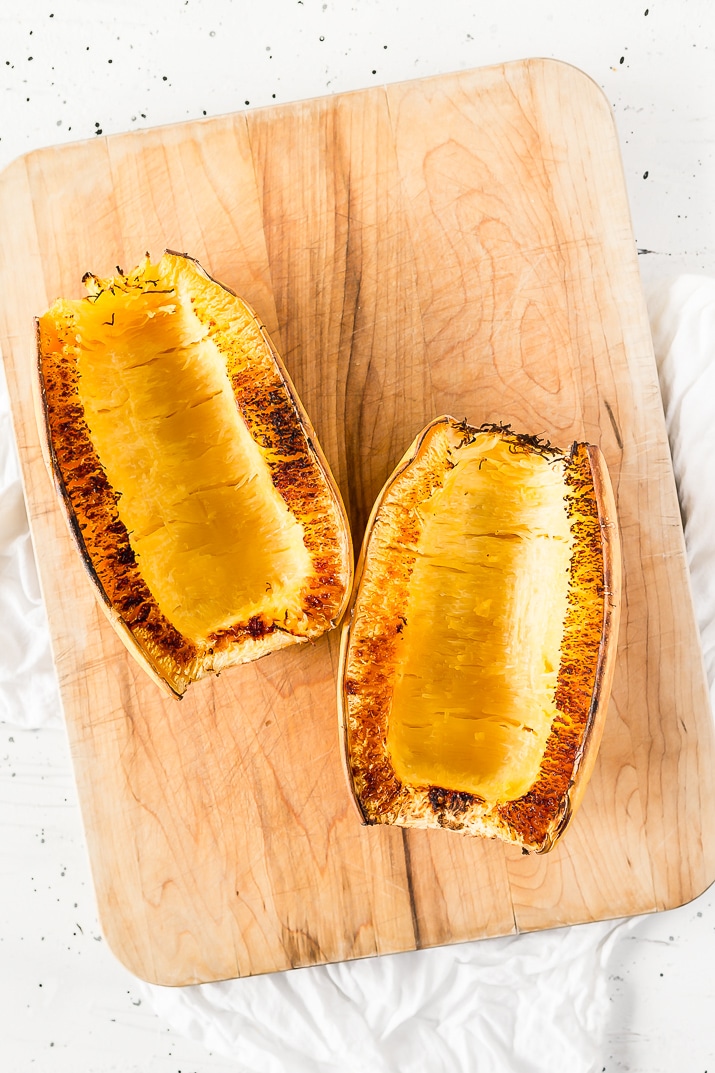 Let Cool:
Squash gets extremely hot when baking because all the heat gets way up in there, so I highly recommend letting cool for 10 to 15 minutes before removing the flesh!
Remove The Flesh!
Once your squash is done cooling, it's time to dig in, literally. Grab a fork and gently pull the flesh from the rind and transfer to a bowl.
Be careful, because there's likely still a lot of steam built up in the squash and you don't want to burn yourself!
Now you can plate it and add whatever you'd like to it, treat it just like spaghetti! Serve it up all on its own or as a side dish to a delicious Rib Eye Steakor top it with Crockpot Meatballs and Sauce!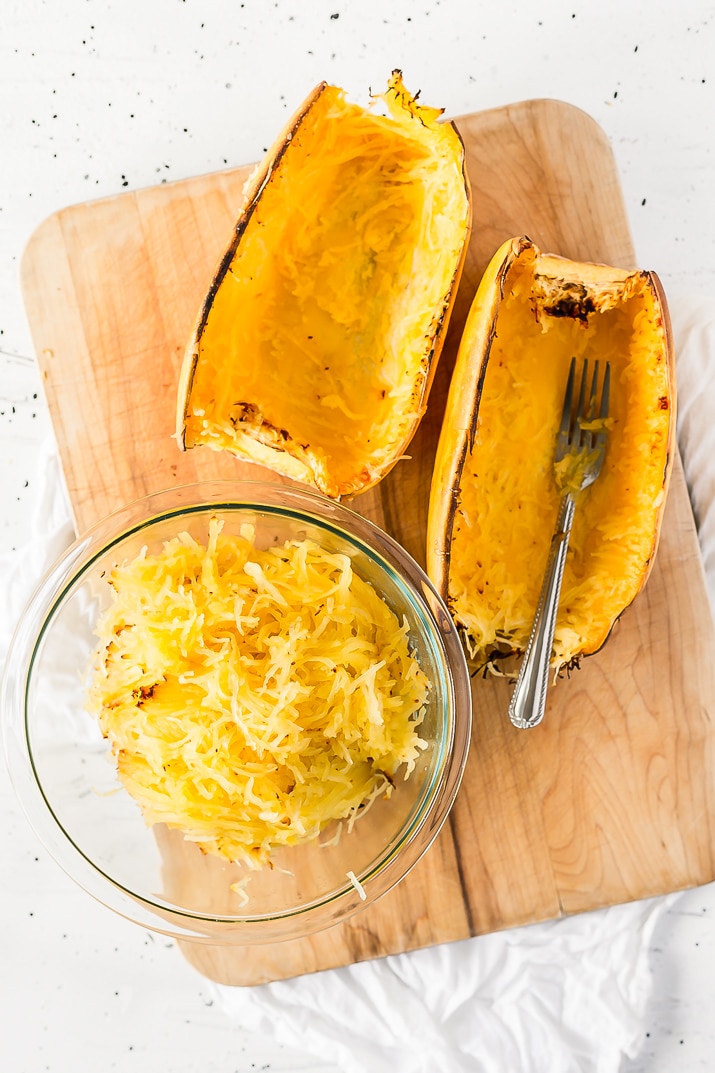 What Do You Season Spaghetti Squash With?
Really, you can season it with whatever you want, be here are some ideas to get you started!
Salt and Pepper – The two obvious choices, but still great ones!
Olive Oil or Butter – I usually use one or the other and I don't think you can go wrong either way!
Onion or Garlic Powder – Add a nice bit of flavor to the rather mild squash!
Marinara – More of a topping than a seasoning, but still a great way to add flavor to your squash!
Cheese – Just like pasta, cheese and squash were made for each other!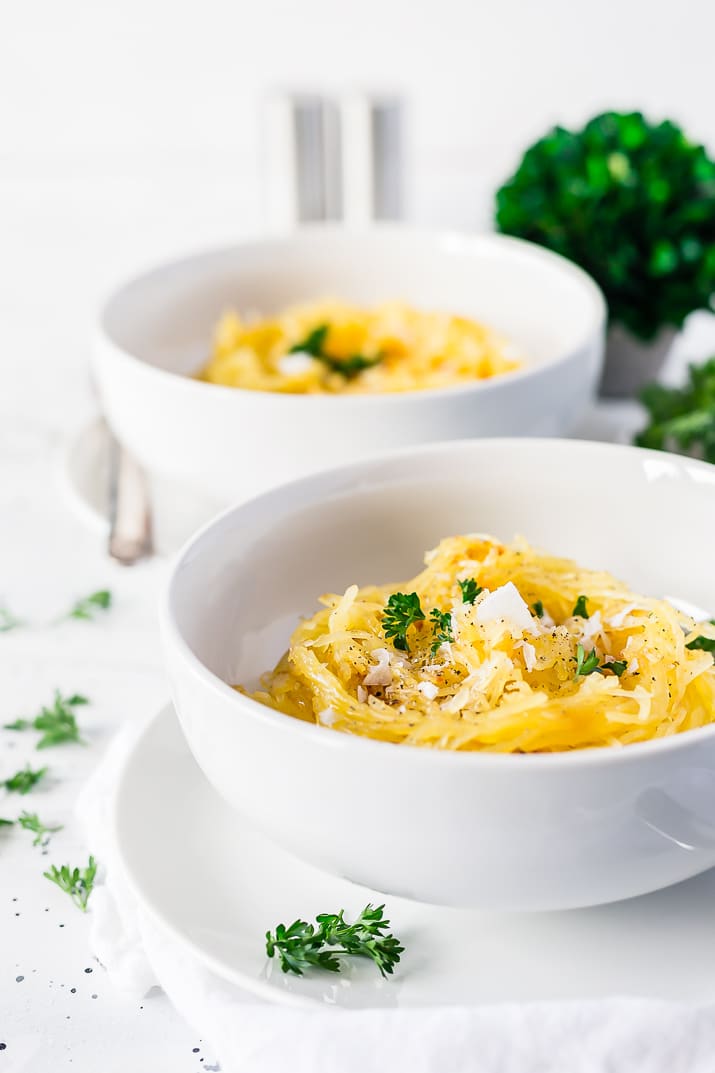 Does Spaghetti Squash Taste Like Spaghetti?
Yes and no, it has a similar shape and texture and with enough seasoning, it makes a good stand-in. But it isn't pasta and likely won't cure a craving for spaghetti and meatballs, but it's still delicious in its own right.
How Do You Reheat Cooked Spaghetti Squash?
It can be reheated with a little water in a saucepan over medium heat or microwaved for 1 to 2 minutes. Because it's so easy to reheat, it makes a good lunch for workdays. Pack the squash in a plastic container with a little olive oil or marinara sauce and Parmesan cheese. Even better, it can easily be made ahead for busy holidays like Thanksgiving and Christmas!
How Long Is Spaghetti Squash Good For?
Fresh From Garden – 1 to 3 months
From Grocery Story – 3 to 4 weeks, depending
Cooked – 5 to 7 days, refrigerated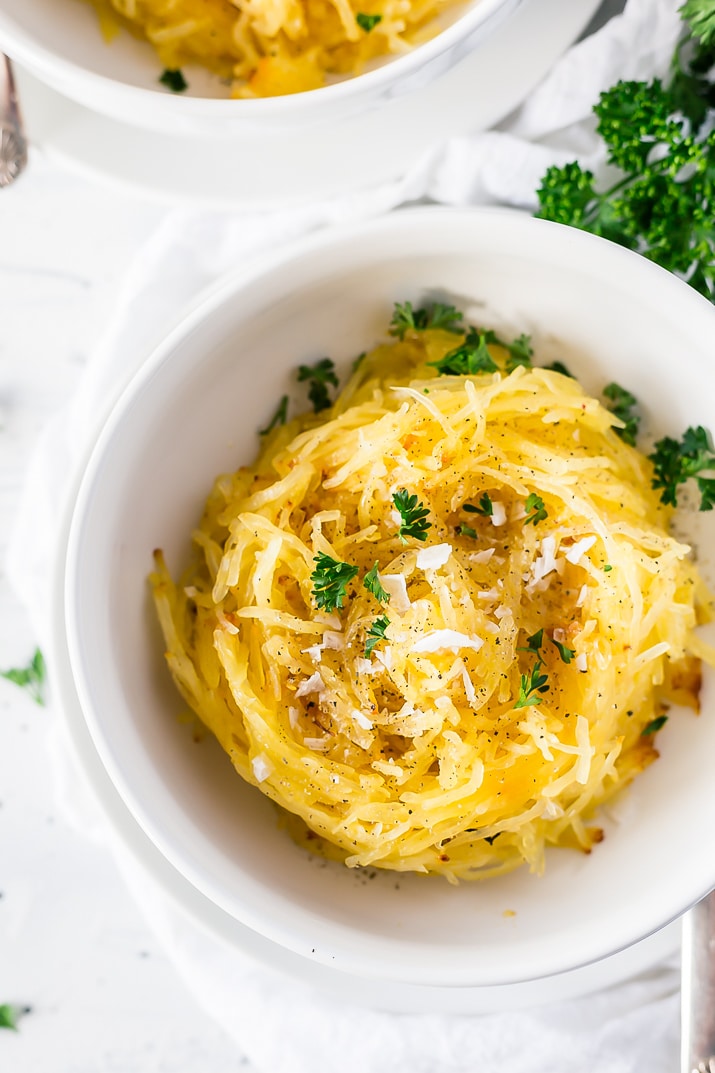 👋 Let's Connect!
If you've tried this recipe, please let me know how you liked it in the comments below and leave a review. I love hearing from you!
Don't forget to tag me – @sugarandsoulco – on Instagram and Pinterest with your photos or join our Sugar & Soul Show-offs Community and share them there, where you can join our recipe challenges!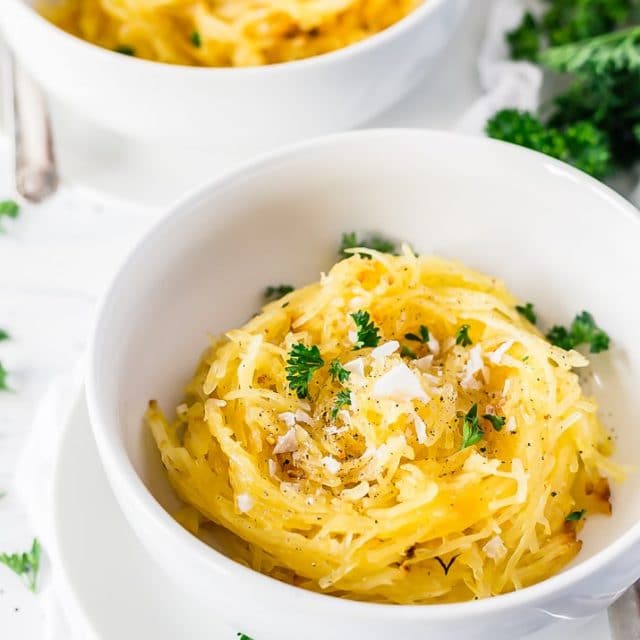 How To Cook Spaghetti Squash
Use this simple step-by-step guide for How to Cook Spaghetti Squash in the oven for a delicious and healthy side dish, lunch, or dinner recipe!
Instructions
Preheat oven to 400 degrees F.

Poke the squash all over with a fork or paring knife and place the squash in the microwave for 3 to 5 minutes depending on size. This will soften the squash and make it easier to cut in half before baking.

Slice squash in half lengthwise and scoop out all of the pulp and seeds.

Place the two halves cut-side down in a lipped roasting pan. (Optional) Pour just enough water into the pan to cover the bottom.

Bake for 30 to 50 minutes depending on the size of the squash. A smaller squash will cook faster.

The squash is cooked once you can stick a fork through the skin.

Use a fork to scrape out the squash halves, the squash should have a stringy spaghetti look to it.

Toss with butter or olive oil and salt and pepper or even marinara sauce and garnish with parsley.

Nutrition
Calories: 299kcal | Carbohydrates: 66g | Protein: 6g | Fat: 5g | Saturated Fat: 1g | Sodium: 164mg | Potassium: 1042mg | Fiber: 14g | Sugar: 26g | Vitamin A: 1160IU | Vitamin C: 20.3mg | Calcium: 222mg | Iron: 3mg