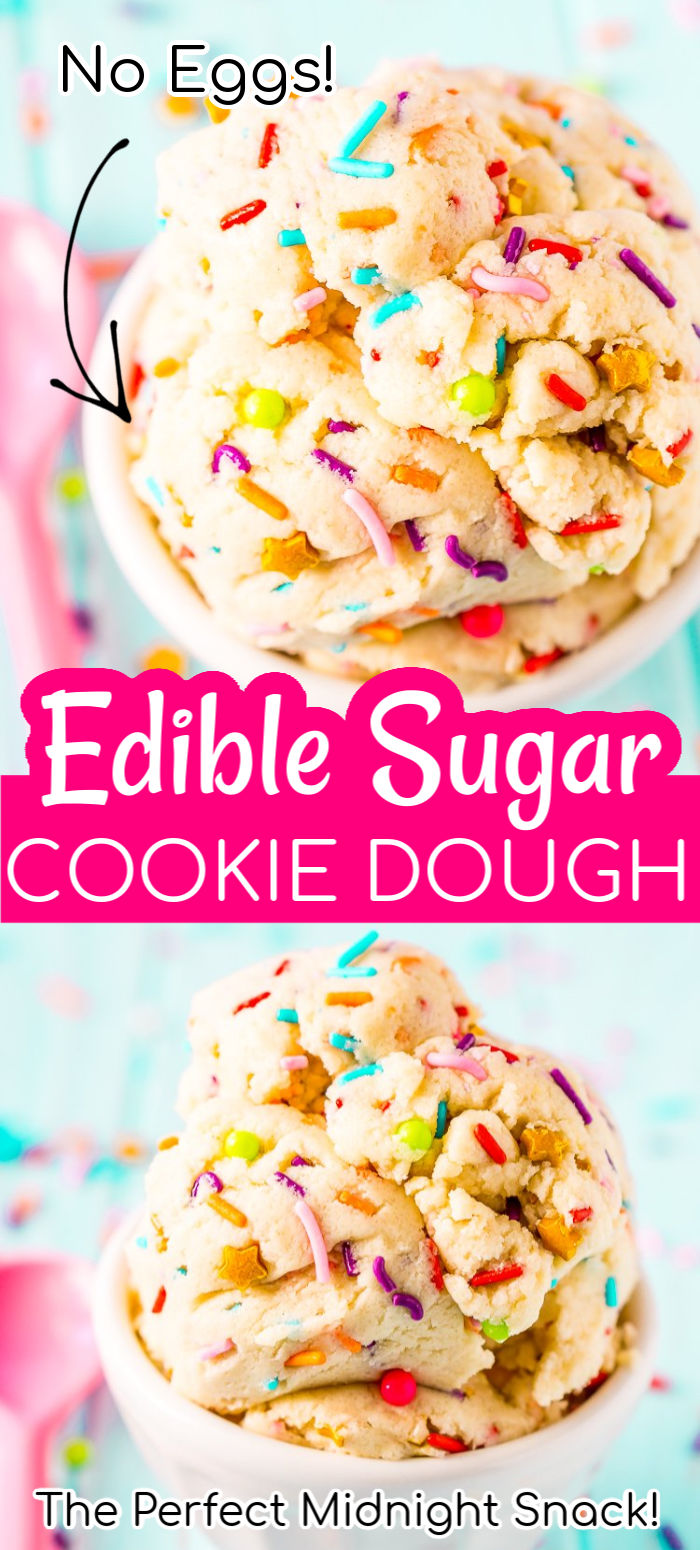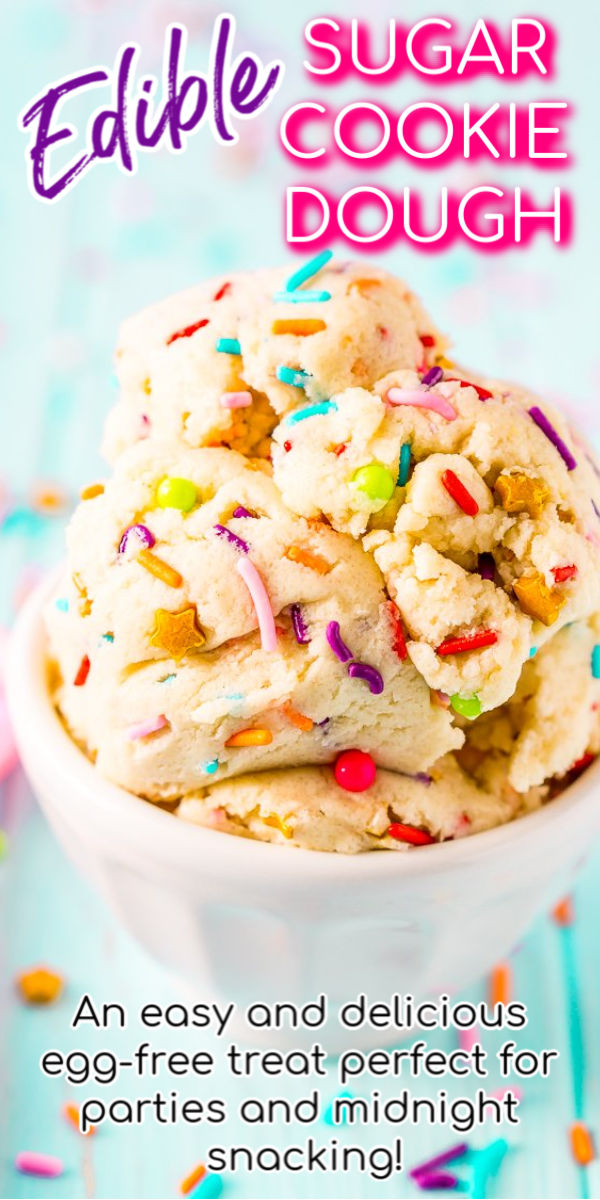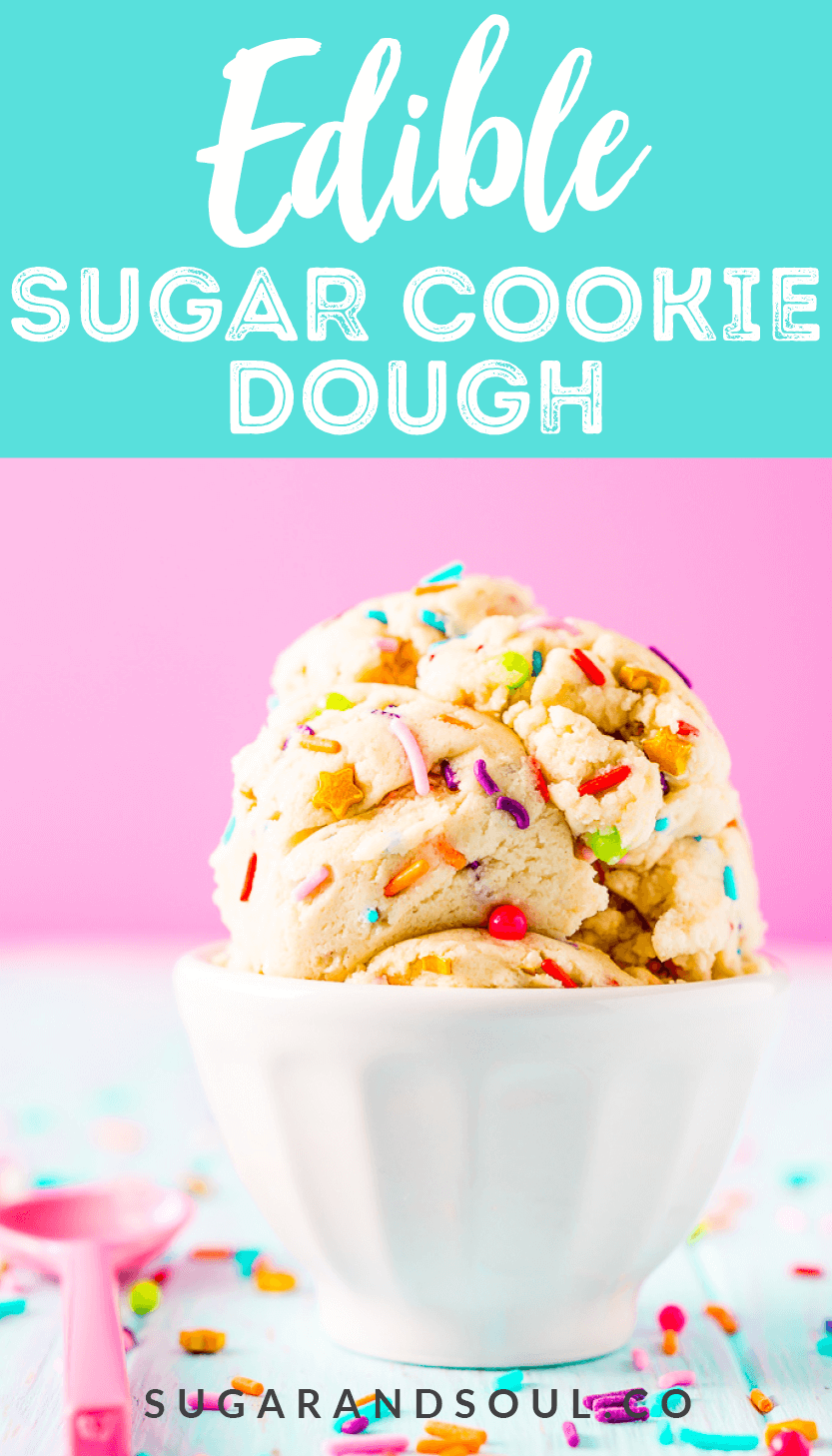 Edible Sugar Cookie Dough is an easy and delicious egg-free treat perfect for parties or just when you're craving something sweet but don't want to wait for cookies to bake!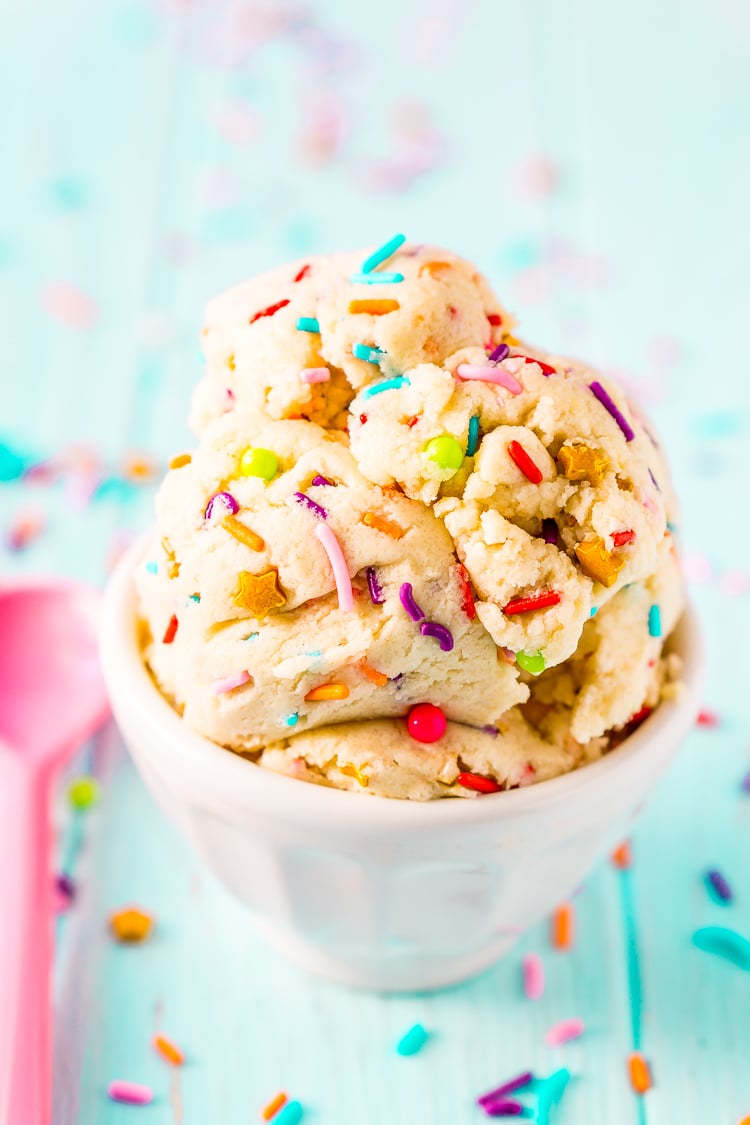 If you can barely get cookies in the oven without sneaking a taste, Edible Sugar Cookie Dough is a tastier, safer way to enjoy the addictive dough of sweetness without baking them!
Have you ever been overcome by a dessert craving and started tearing through your refrigerator, freezer, and cupboards only to find nothing?!
Well, you can whip up a batch of this stuff in 10 minutes or so with ingredients that you probably already have in your kitchen!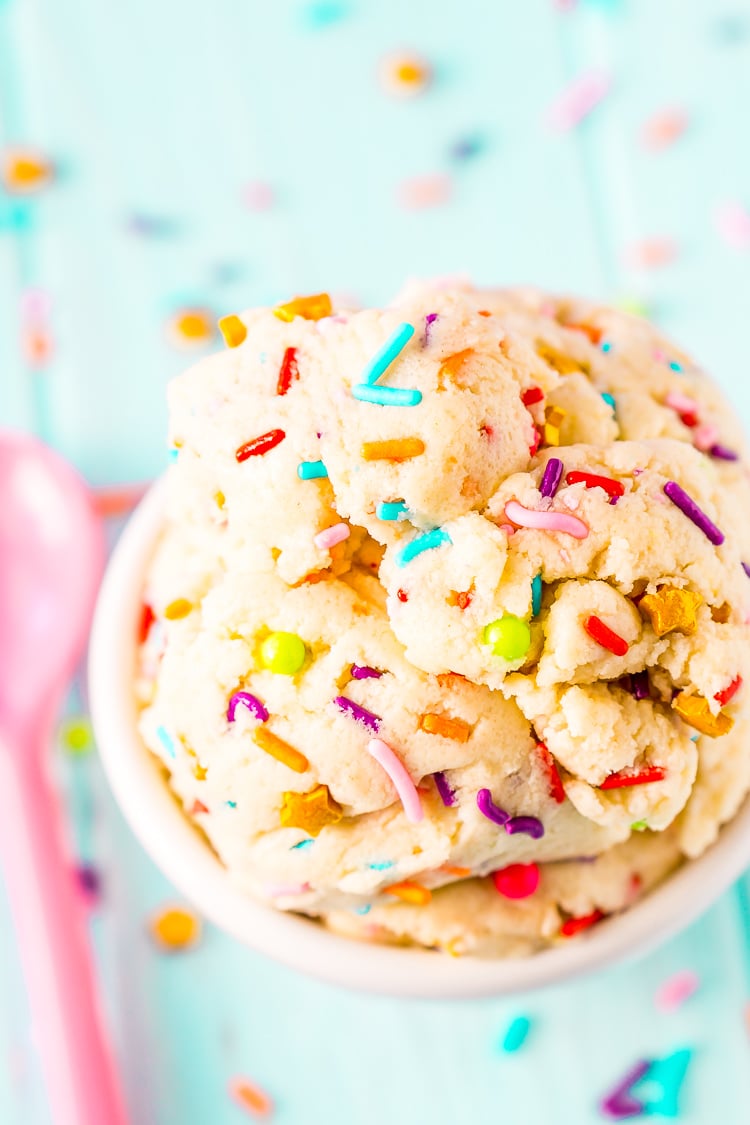 How To Make It:
This Edible Sugar Cookie Dough Recipe is the perfect way to conquer your sweet tooth, especially in a pinch.
Simply mix together flour, butter, granulated and powdered sugar, vanilla and almond extracts, a dash of salt, a bit of heavy cream, and the finishing touch: sprinkles!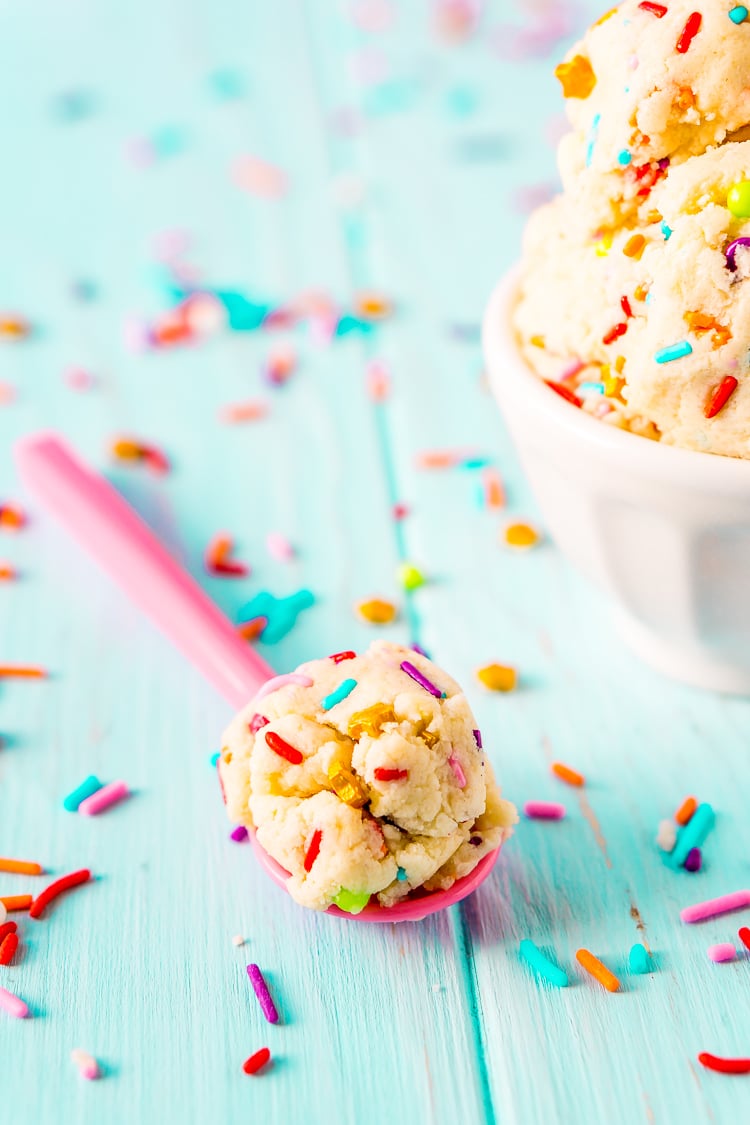 This is an edible cookie dough without brown sugar, unlike many similar versions like my original Edible Cookie Dough recipe.
It also swaps sprinkles for chocolate chips, so it's perfect for anyone who's not a huge fan of chocolate … or if you don't have any in your pantry!
The other important thing to note is that the flour should be baked for a few minutes to kill any bacteria, so you will have to turn on the oven — but not for long! You can also microwave it too!
After all, the thing that makes eggless Edible Cookie Dough edible is that it's safe to eat.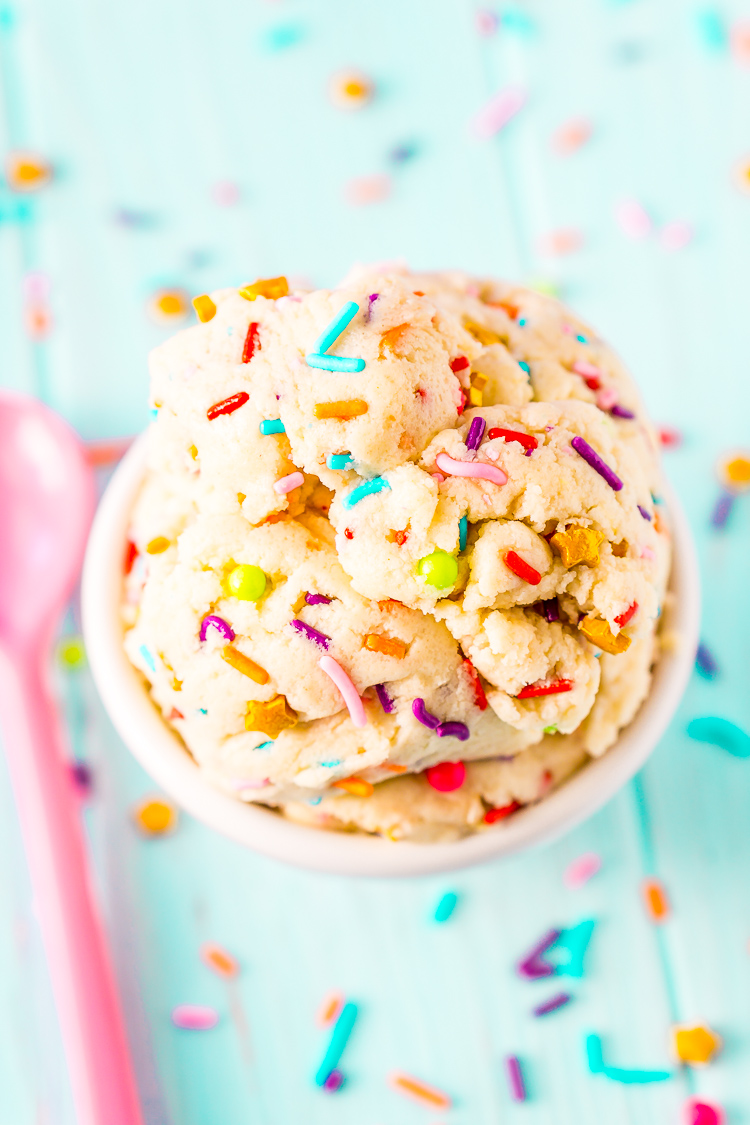 You can roll up a batch of these festive dough balls and serve them at parties with toothpicks for a fun bite-sized treat. Scoop it onto the cutest mini ice cream cones. Or, save it all for yourself and eat it right out of a tub! (the dough will keep in the fridge for about 7 days – if it even lasts that long)!
If you're looking for a fun finger food to serve at a party or you're struck by a sudden craving, this Edible Sugar Cookie Dough won't disappoint! Make it for holidays, a birthday party, or just for yourself — I won't judge!
I also really love packaging up Edible Cookie Dough as gifts and decorating disposable paper containers for the holidays, teacher's gifts, and more!
More Delicious Dessert Recipes:
Edible Sugar Cookie Dough
Pin It For Later
Click the button above to save this delicious recipe to your board!
Let's Connect!
If you've tried this recipe please let me know how you liked it in the comments below and leave a review, I love hearing from you! And don't forget to tag me – @sugarandsoulco – on Instagram and Pinterest with your photos! You can also Subscribe to my Newsletter so you never miss a delicious recipe again!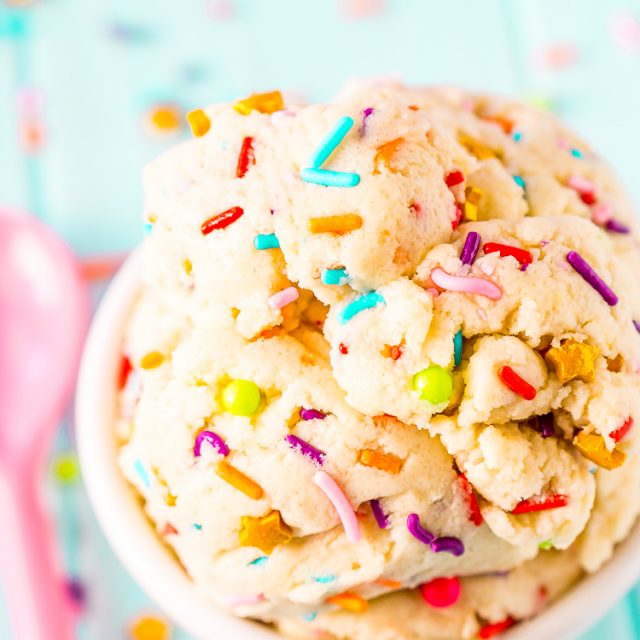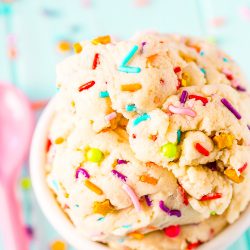 Edible Sugar Cookie Dough
Edible Sugar Cookie Dough is an easy and delicious egg-free treat perfect for parties or just when you're craving something sweet but don't want to wait for cookies to bake!
Instructions
Spread the flour out on a cookie sheet and bake at 350 degrees F for 5 to 6 minutes, this should get the flour to a temperature of 160 degrees F and kill any bacteria.

In a large bowl with a hand mixer or a stand mixer fitted with a paddle attachment, cream the butter and sugars until light and fluffy, about 3 minutes.


Add the heavy cream, vanilla, and almond extracts and mix until combined.

In a separate bowl, whisk together the flour and salt, then add it to the wet ingredients in two separate additions. Mix until fully combined.

Fold in the sprinkles and enjoy immediately or store in an air-tight container in the refrigerator for up to 1 week or in the freezer for up to 6 months.
Notes
Nutrition information is an estimate per cup of cookie dough.
Nutrition
Calories:
957
kcal
Carbohydrates:
141
g
Protein:
7
g
Fat:
41
g
Saturated Fat:
26
g
Cholesterol:
108
mg
Sodium:
302
mg
Potassium:
77
mg
Fiber:
1
g
Sugar:
92
g
Vitamin A:
1245
IU
Calcium:
27
mg
Iron:
2.9
mg