This Funfetti Sugar Cookie Dough Cake is an over the top cake made with two layers of white almond cake loaded with sprinkles and a layer of edible sugar cookie dough, then topped with classic vanilla buttercream!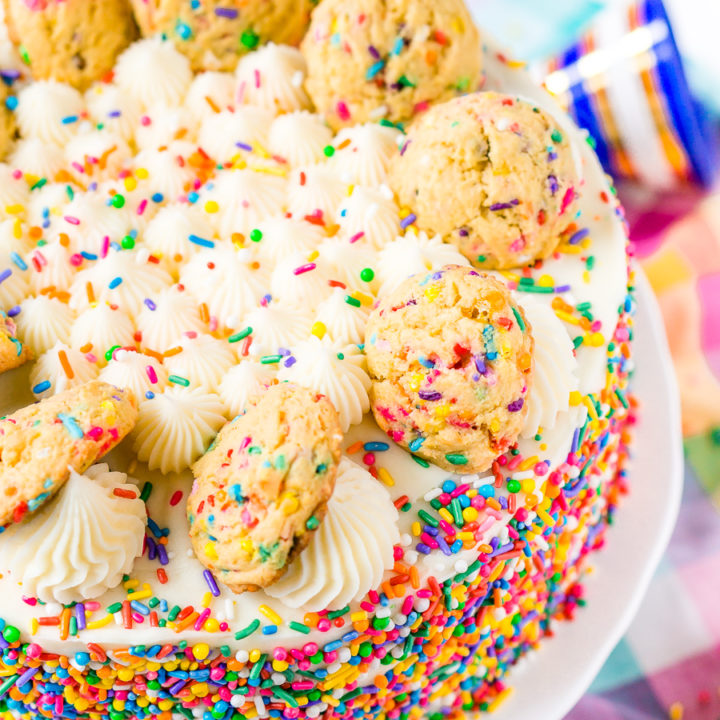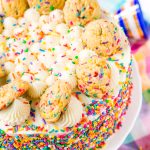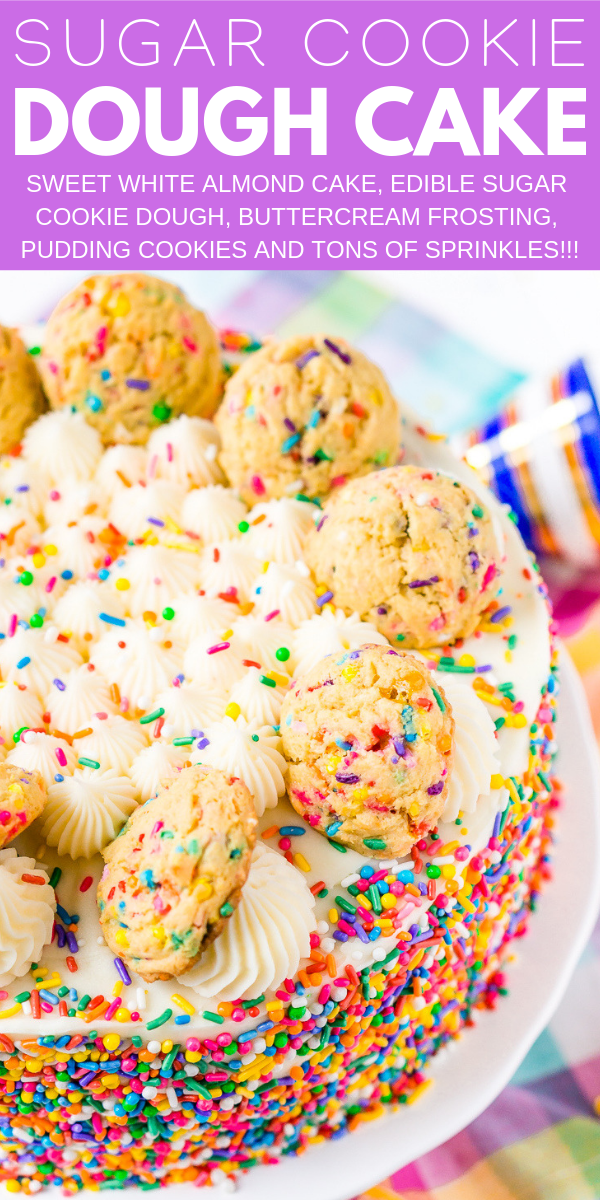 This Funfetti Sugar Cookie Dough Cake is an over-the-top cake made with two layers of white almond cake loaded with sprinkles and a layer of edible sugar cookie dough, then topped with classic vanilla buttercream!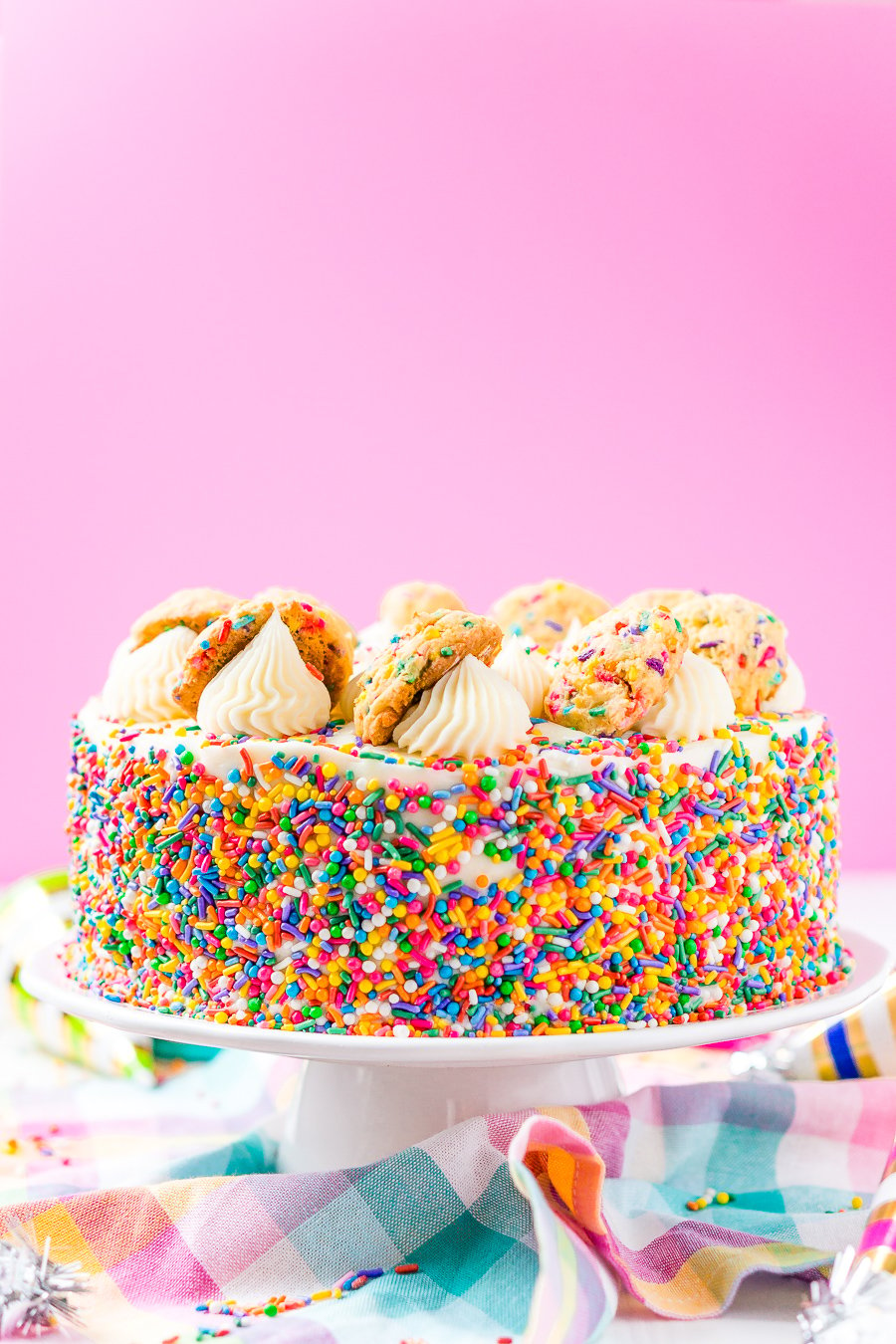 The idea for this Sugar Cookie Dough Cake came about after you guys fell in love with my Chocolate Chip Cookie Dough Cake, and I thought a "vanilla" version was in order.
This is an idea I've had for a while, but today is my birthday, and I figured it was the perfect time to share it. I must say it seems like a pretty solid way to kick off the end of my 20s!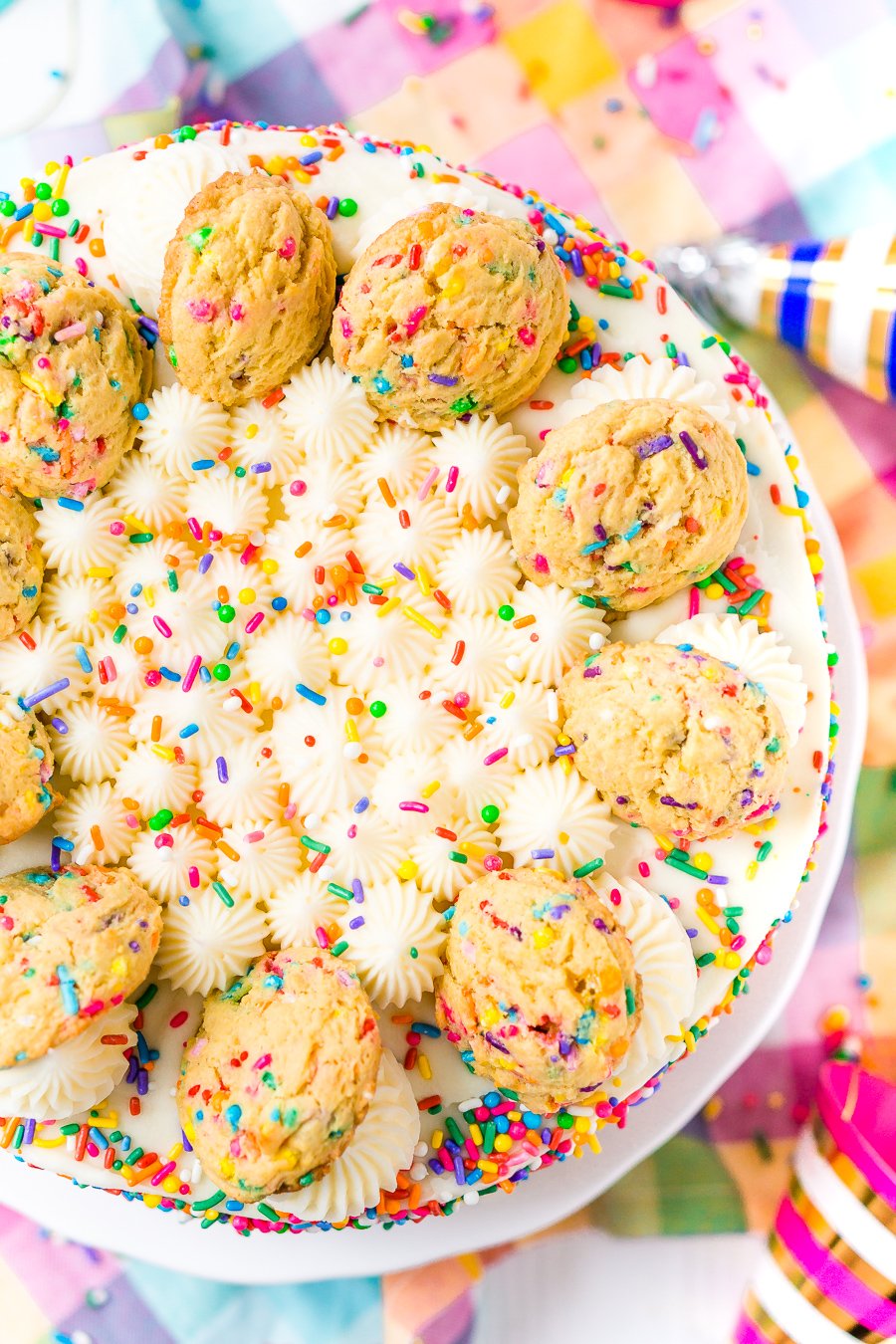 Other than the fact that this cake is totally extra – I mean sprinkle galore, amirite? I'm also including two options for making it. There's the really easy way (hello boxed cake mix) and the "from scratch" way.
Personally, I don't think you can go wrong with either because while the cake is delicious, I think the bigger focus is that it's a really fun showstopper of a cake!
Plus, let's face it, box cake mixes are actually pretty decent, especially funfetti!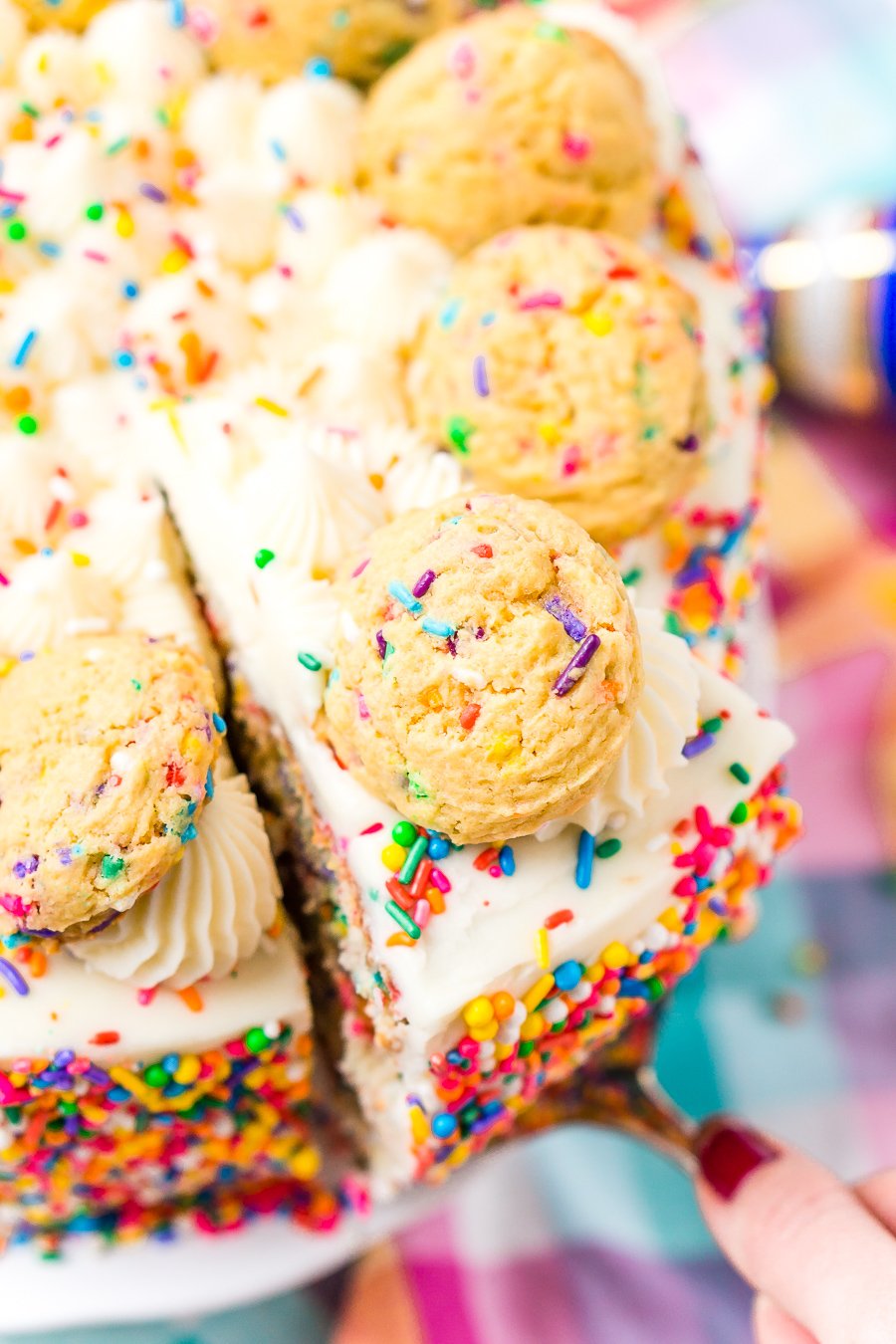 There's a lot going on with this cake, and it will take several hours to make and assemble, regardless of what avenue you decide to take. So plan ahead!
What Is Sugar Cookie Dough Cake?
Helpful Kitchen Tools Include: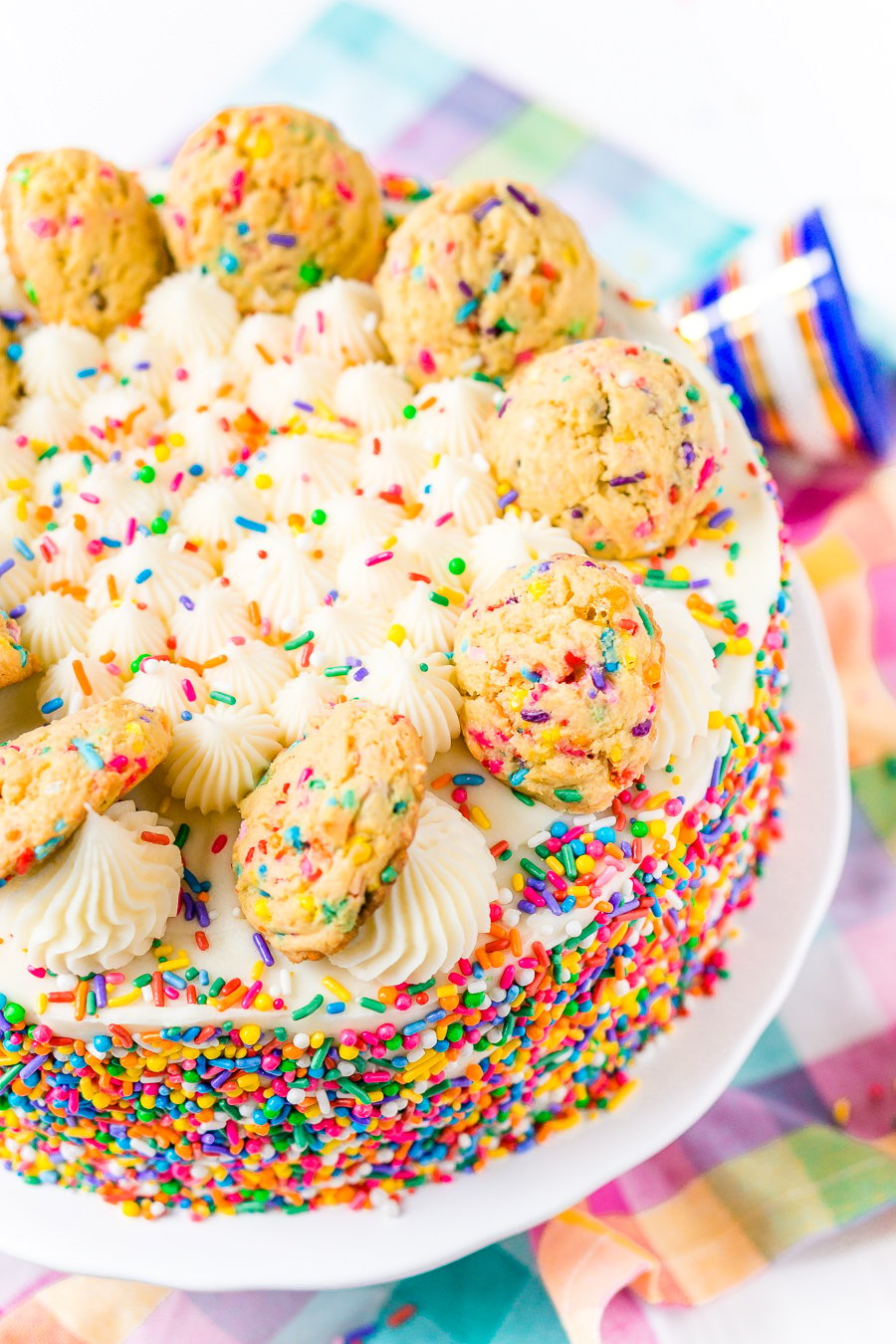 I'm not gonna lie; I'm a huge fan of over-the-top desserts, especially for birthdays!
Last year to celebrate my, my dad, my mom, and my nana's birthdays (we celebrate together because they're all really close together), I made these Peanut Butter Chocolate Cookie Dough Cupcakes.
They were every bit as amazing as they sound!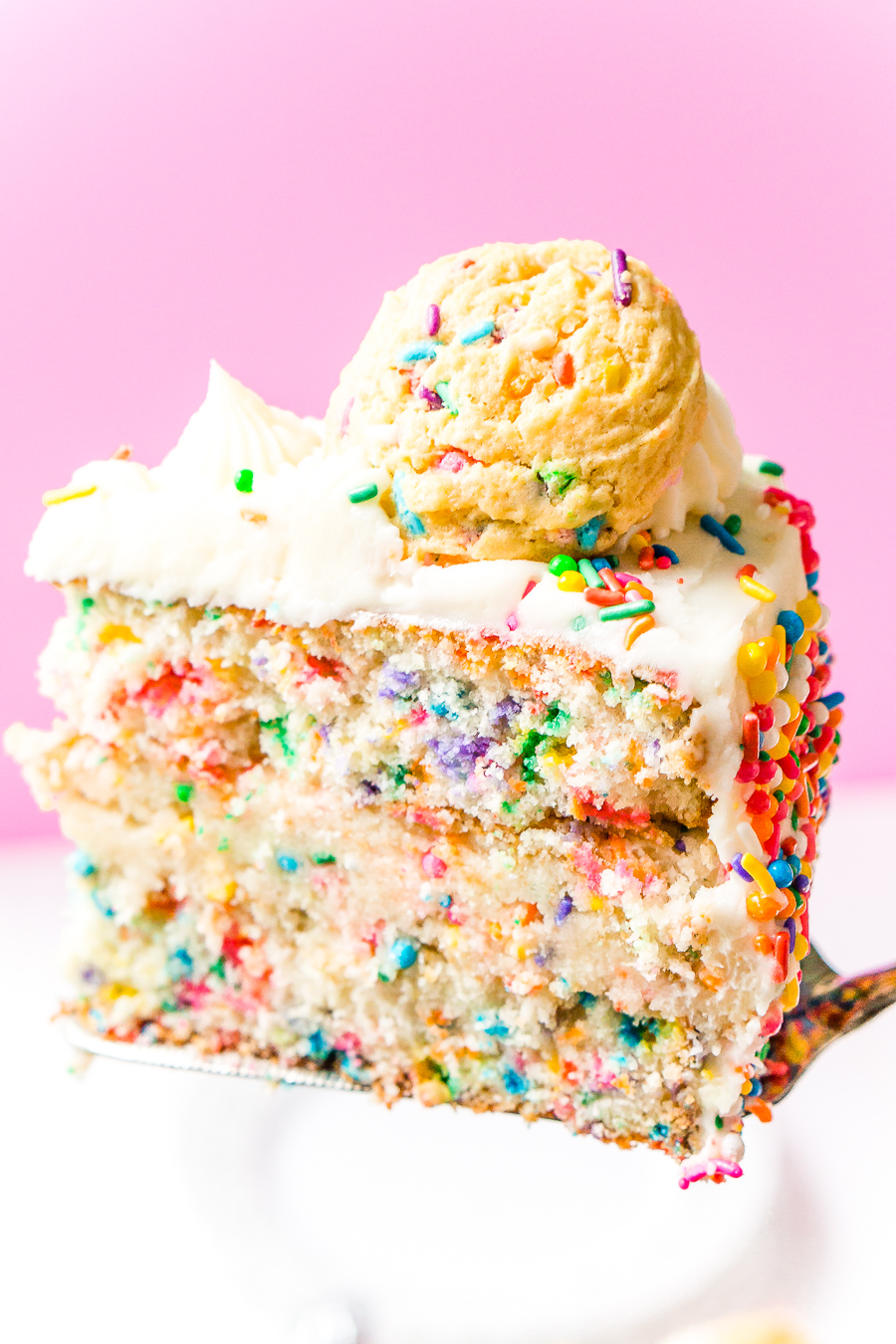 This cake is a total sugar rush and you're pretty much eating the rainbow with all the different layers of sprinkles in it!
And this is a super fun cake for a birthday regardless of age – I mean, who doesn't love cookie dough? And this edible version means you can enjoy it completely guilt free.
Well, almost. Don't look at the calorie count per serving mmm…kay? ?
If you make this cake for someone, I can guarantee they're going to love you for it!
Funfetti Sugar Cookie Dough Cake
1. The cake itself has a slight almond flavor which I love, and if you're making this with a boxed cake mix, feel free to add a teaspoon or two of almond extract to that to get the same great flavor.
2. I say this cake serves 12, but those are actually pretty big slices. I would say you could easily get 20 thinner but still decently-sized slices out of a 9-inch cake.
3. This cake recipe can be made as either an 8 or 9-inch cake. You could make it a 6-inch with three layers of cake and two layers of cookie dough, but the larger cake will be easier. I feel that a 10-inch cake would be a bit too thin, but that's just my personal thoughts.
4. Feel free to leave the sprinkles off the outside or mix the sprinkle colors up (red, white, and green for Christmas, anyone?).
5. This cake can also be made a day in advance, but I highly recommend consuming it within 48 hours once it has been cut into!
6. Do not skip tossing the sprinkles with flour before adding to the cake batter. This helps prevent the sprinkles from sinking to the bottom while baking.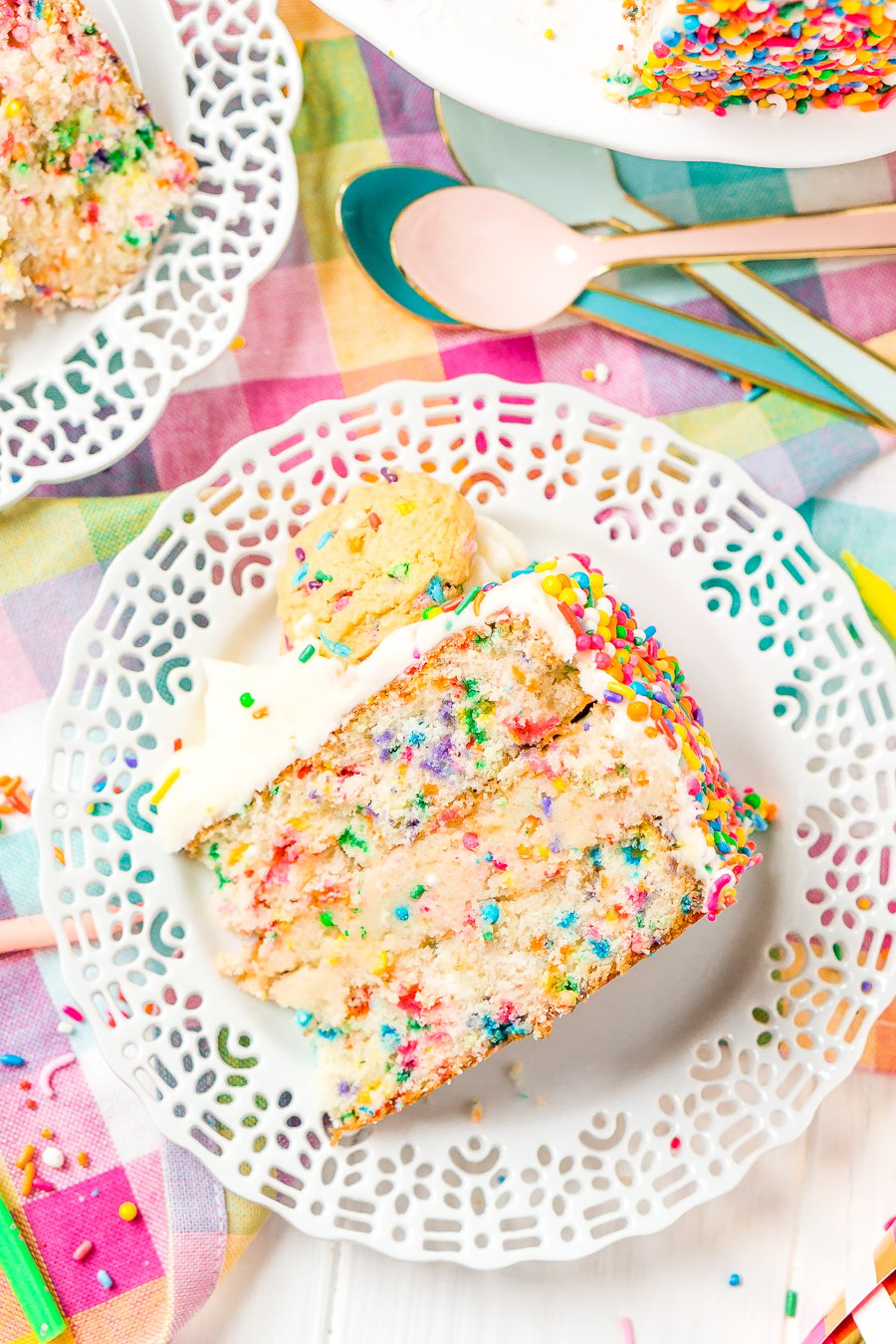 So there you have it, everything you should need to know about this amazing cake! You'll find the full written recipe below.
So anyway, enough about the cake and a little about life.
In a lot of ways, I'm very excited about my 30s, and I think 29 is going to be a great year of letting go of the old me and welcoming the new one.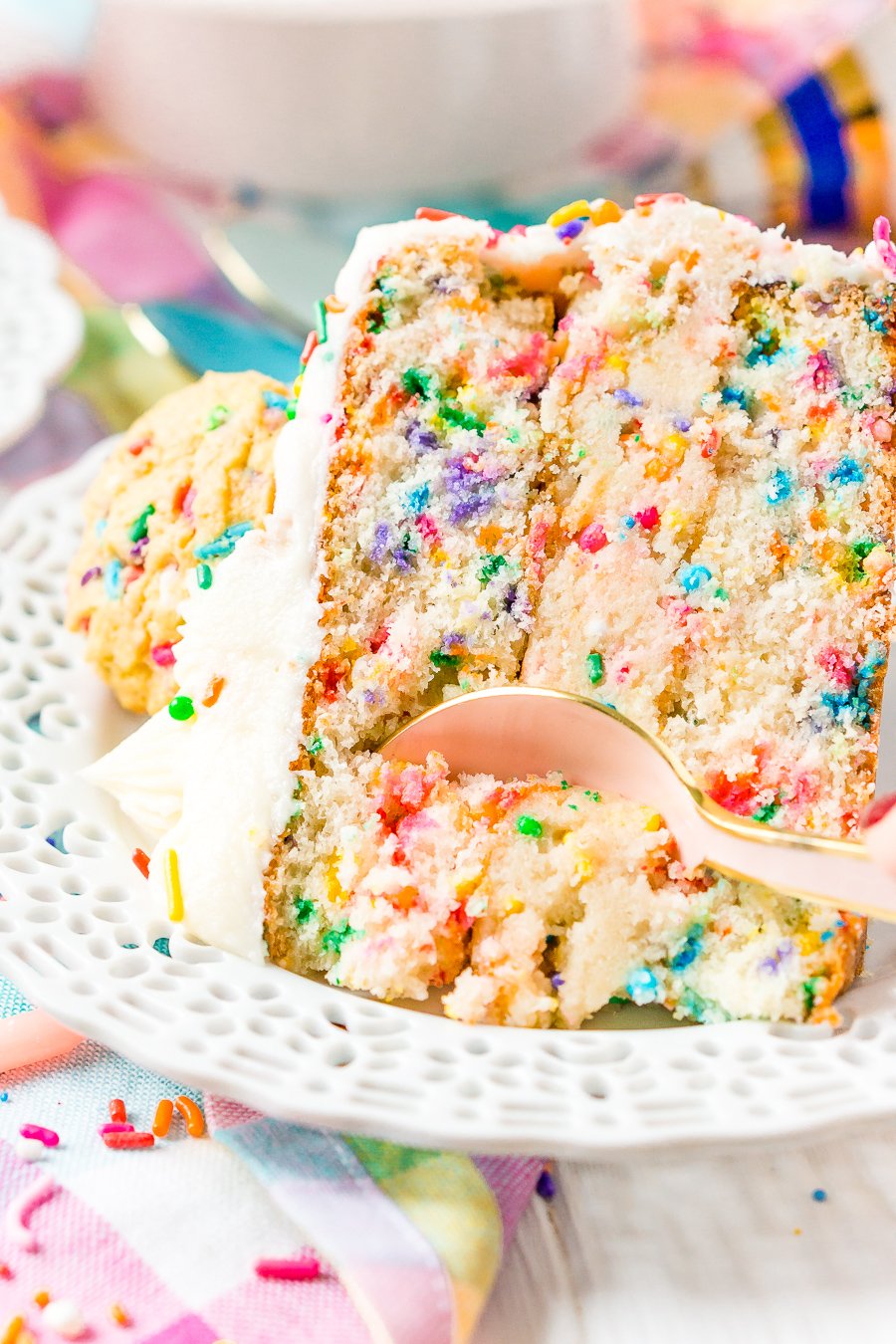 I would say my 20s were fairly balanced, and the last half has been far more exciting than the first half, but it was all the work in the first half that got me there.
When I turned 25, I made a list of the 25 things I wanted to do at that age. And I thought about making a list of 30 things to do before I'm 30, but I've decided that I'm just going to enjoy whatever life has in store for me this year.
I know it sounds cliche, but I truly just want to live each day fully. Taking in every moment and milestone with Evie, letting go of the things that don't really deserve my energy and attention, and loving myself, my family, and my friends more.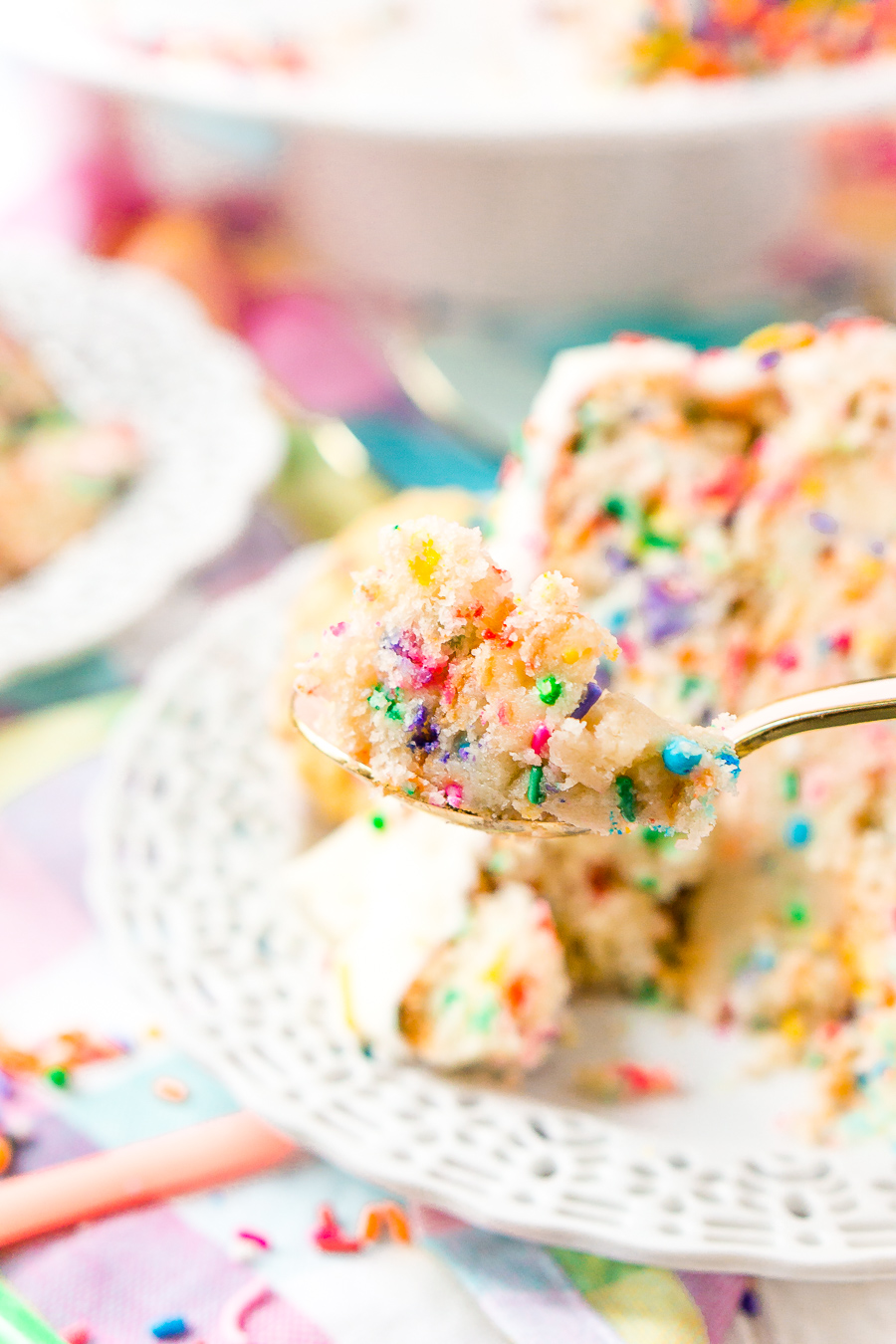 Let's Connect!
If you've tried this recipe, please let me know how you liked it in the comments below and leave a review; I love hearing from you! And don't forget to tag me – @sugarandsoulco – on Instagram and Pinterest with your photos or join our Sugar & Soul Show-offs Community and share them there, where you can join our recipe challenges and win prizes!
More Recipes With Edible Cookie Dough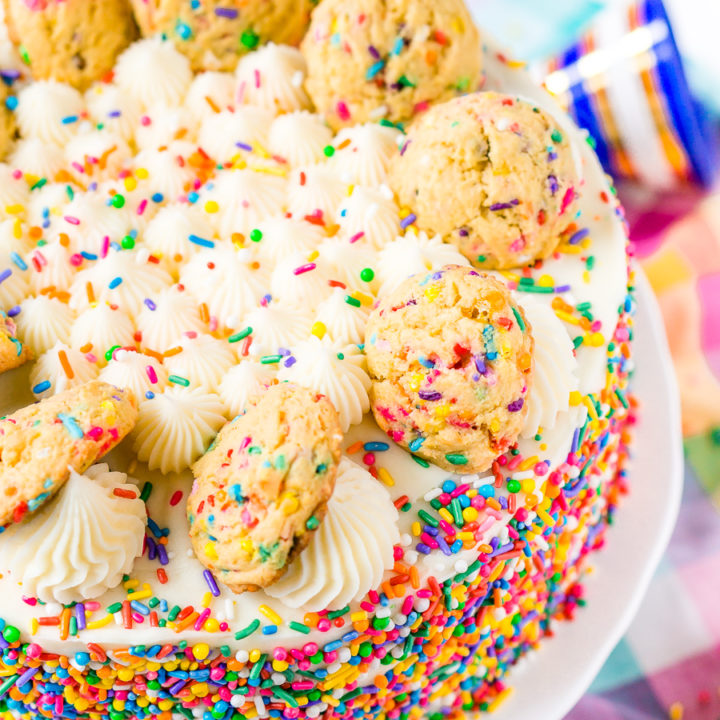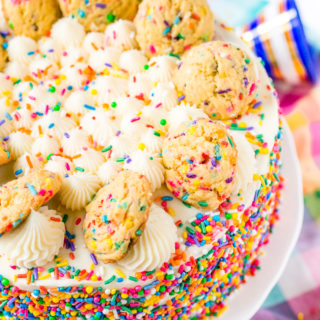 Funfetti Sugar Cookie Dough Cake
This Funfetti Sugar Cookie Dough Cake is an over the top cake made with two layers of white almond cake loaded with sprinkles and a layer of edible sugar cookie dough, then topped with classic vanilla buttercream!

Ingredients
Cake
1 cup whole milk, room temperature
6 large egg whites, room temperature
2 tsp almond extract
1 tsp vanilla extract
2 1/4 cups cake flour
1 3/4 cups granulated sugar
4 tsp baking powder
1 tsp salt
3/4 cup unsalted butter room temperature
1/2 cup rainbow sprinkles
2 tablespoons all-purpose flour
Frosting
1 1/2 cups unsalted butter room temperature
6 cups powdered sugar
6 tablespoons heavy cream
1 1/2 tablespoon vanilla extract
pinch kosher salt
Cookies
10-12 Birthday Cake Cookies, optional topping
Instructions
Cakes
Preheat oven to 350 degrees F.

Combine milk, egg whites, and extracts in a small bowl and whisk together.

In a large bowl or stand mixer fitted with a whisk attachment, add the cake flour, sugar, baking powder, and salt and mix on low speed for 30 seconds.

Cut the butter into small cubes and add to the dry ingredients. Mix on low speed until mixture resembles moist crumbs, about 3 to 4 minutes.

Add half of the milk and egg mixture to the dry ingredients and beat on medium speed for 90 seconds, scrape down the sides of the bowl and then add the remaining milk and egg mixture and beat until fully incorporated.

Add rainbow sprinkles and all-purpose flour together in a small bowl and toss to coat, then add to the batter and mix for about 15 seconds until incorporated.

Evenly divide the batter between 2 9-inch pans.

Bake for 30 to 40 minutes depending on size until toothpick comes clean from center of cakes. Remove from oven, run a knife around the edge of the pan and then flip onto a cooling rack to cool completely.
Cookie Dough
Prepare the cookie dough according to the recipe directions. Lightly spray a clean 9-inch cake pan with cooking spray and press the cookie dough into the pan to shape it. Set aside.
Frosting
Once cakes have cooled, in a large bowl or stand mixer fitted with a paddle attachment, cream butter on low speed until pale and creamy.

Slowly add in powdered sugar and heavy cream a little at a time, alternating between each, while mixing on low over the course of about 3 minutes.

If your frosting needs a more stiff consistency, add more sugar. If your frosting needs to be thinned out, add more heavy cream.

Add in the vanilla and salt and beat on medium-high for about 2-3 minutes until frosting is light and fluffy.
Assembly
Place the bottom cake layer on a plate or cake stand and add strips of wax paper under it on each side about a 1/2 inch in under the cake, this will allow you to pull it away later and have a clean stand/plate when you're done frosting the cake.

Add the layer of cookie dough on top of the bottom cake layer by gently flipping it out of the pan you used to shape it, then add the second layer of cake on top of the cookie dough layer. You can put frosting between the layers if desired.

Use the frosting spatula to add a thin crumb coat around the edge of the cake and chill for 30 minutes.

Then work from the top down the sides of the cake to do the final frosting layer. The sides don't have to be perfect because we'll be covering it up with sprinkles.

Add sprinkles to the sides of the cake by holding sprinkles in your palm and gently pressing them against the side as seen in

this video

.

Add some of the frosting to a piping bag with a large French star tip and pipe along the top of the cake. I like to make bigger piped peaks around the outer edge of the cake to rest the cookies on and then smaller ones in the center, but you can decorate the cake however you desire with piping, cookies, and sprinkles.

Gently pull the strips of wax paper out from under the cake.

Serve as soon as possible or store in the fridge for up to two days.
Notes
Easy Option:
Use a box Funfetti Cake mix and bake in 9-inch pans according to box directions.
Use a storebought frosting – I like to get mine from the deli counter since it tastes better than the stuff on the shelves and you get more for less money.
You do not have to bake cookies, you can leave them off or use storebought cookies or cookie crumbles.
Nutrition
Calories: 1197kcal | Carbohydrates: 127g | Protein: 5g | Fat: 40g | Saturated Fat: 25g | Cholesterol: 106mg | Sodium: 239mg | Potassium: 258mg | Sugar: 107g | Vitamin A: 1240IU | Calcium: 116mg | Iron: 0.4mg