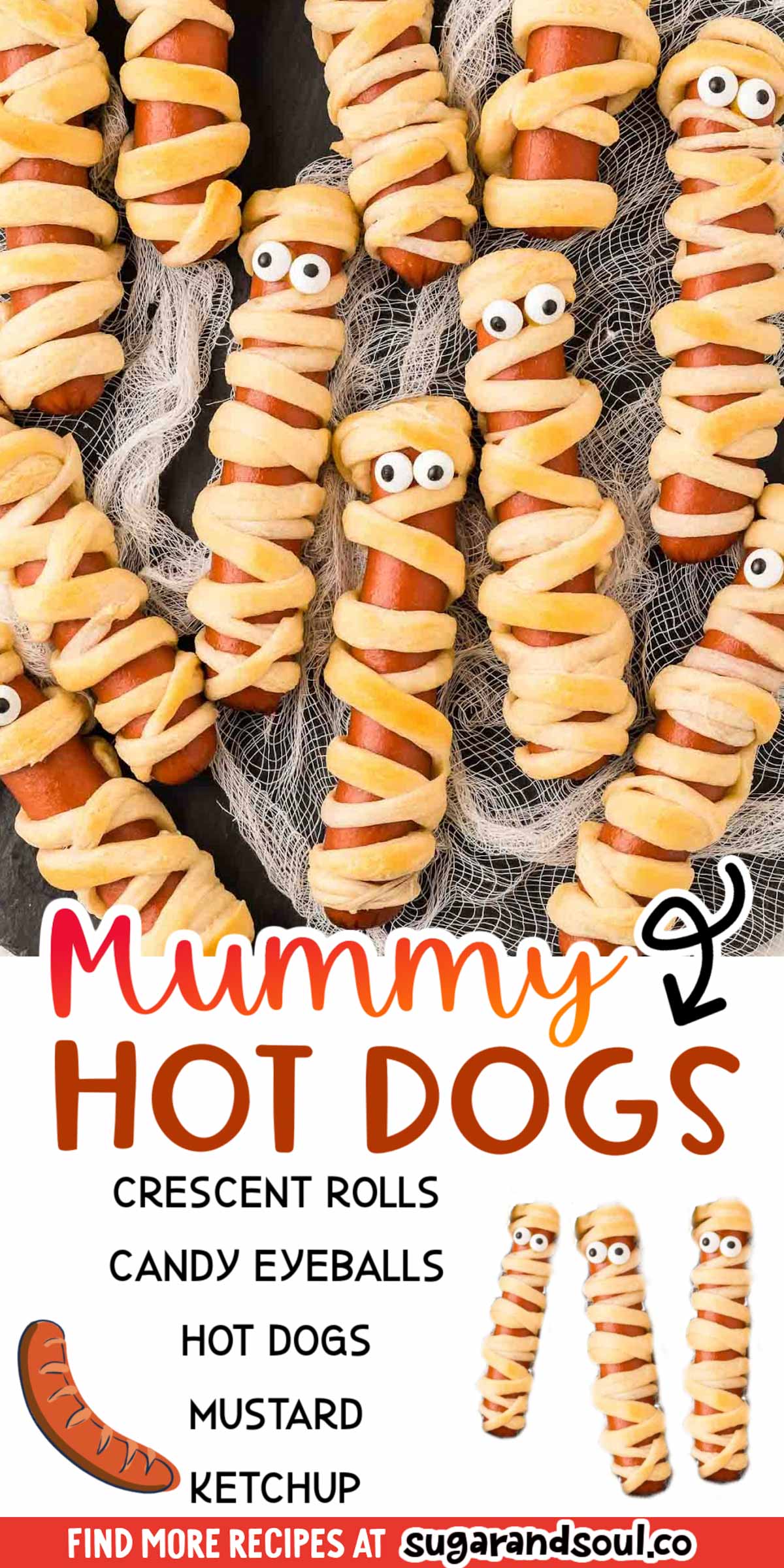 Mummy Hot Dogs are a fun Halloween twist on the classic childhood pigs in a blanket, the perfect appetizer or meal to celebrate October 31st! A batch bakes up in just under 25 minutes!
Follow these tasty Mummy Hot Dogs up with a sweet treat, Mummy Halloween Cupcakes! After all, what kid wouldn't love a fun themed meal?!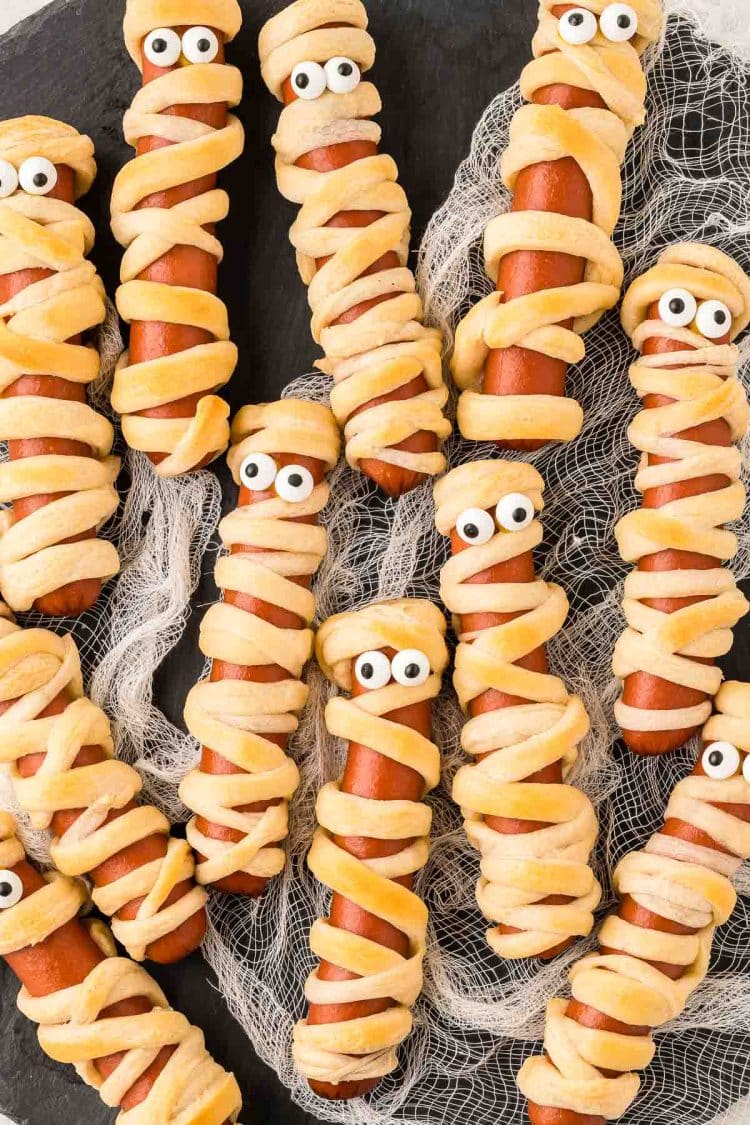 Making a fun, spooky snack to get into the Halloween spirit doesn't get any easier than these Mummy Hot Dogs! They're made with just hot dogs, crescent roll dough, candy eyeballs, and everyone's favorite dipping sauces!
With just 10 minutes of prep time, and 12 minutes of baking, this is a snack anyone has time to make! Whip up a batch for a quick bite to eat before trick or treating or for a Halloween Party!
Munching On A Mummy
Taste: The buttery, slightly sweet, Pillsbury crescent dough hug your favorite brand of hot dogs! Making them perfect for dipping in ketchup or mustard!
Texture: Once baked, the pieces of dough become deliciously golden brown with a slightly crisp exterior. A great texture combination once it pairs with the moist, tender hot dog in the center!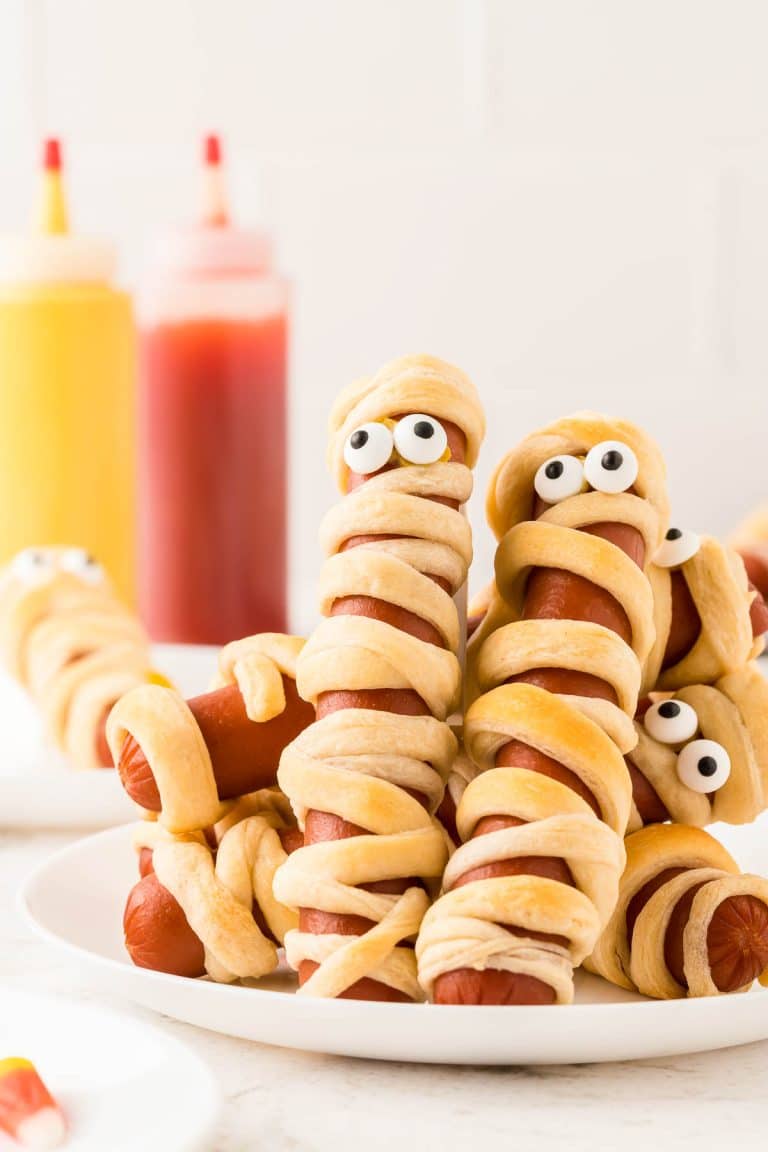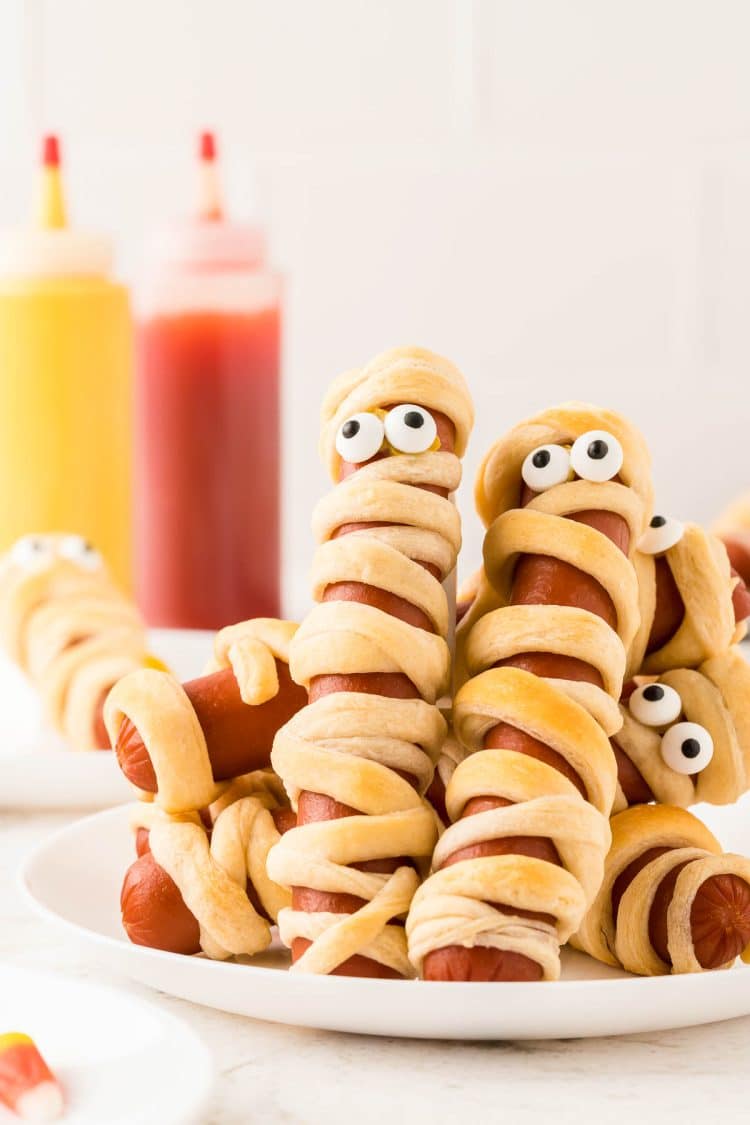 Make These Mini For More Fun!
Everything seems to taste better when they're mini, right? I know this to be true because I can make a bag of mini, snack-size candies disappear in a hurry!
To make Mini Mummy Dogs just grab a package of mini hot dogs. Hillshire Farm Lit'l Smokies would be perfect! I mean, you're really just making Halloween Pigs In A Blanket with the mini version!
Then simply continue to wrap them with the crescent dough the same you would for the full-size hot dogs! The best part about Mini Mummy Hot Dogs is that they'll yield way more, making them a great option for an appetizer at your Halloween Party!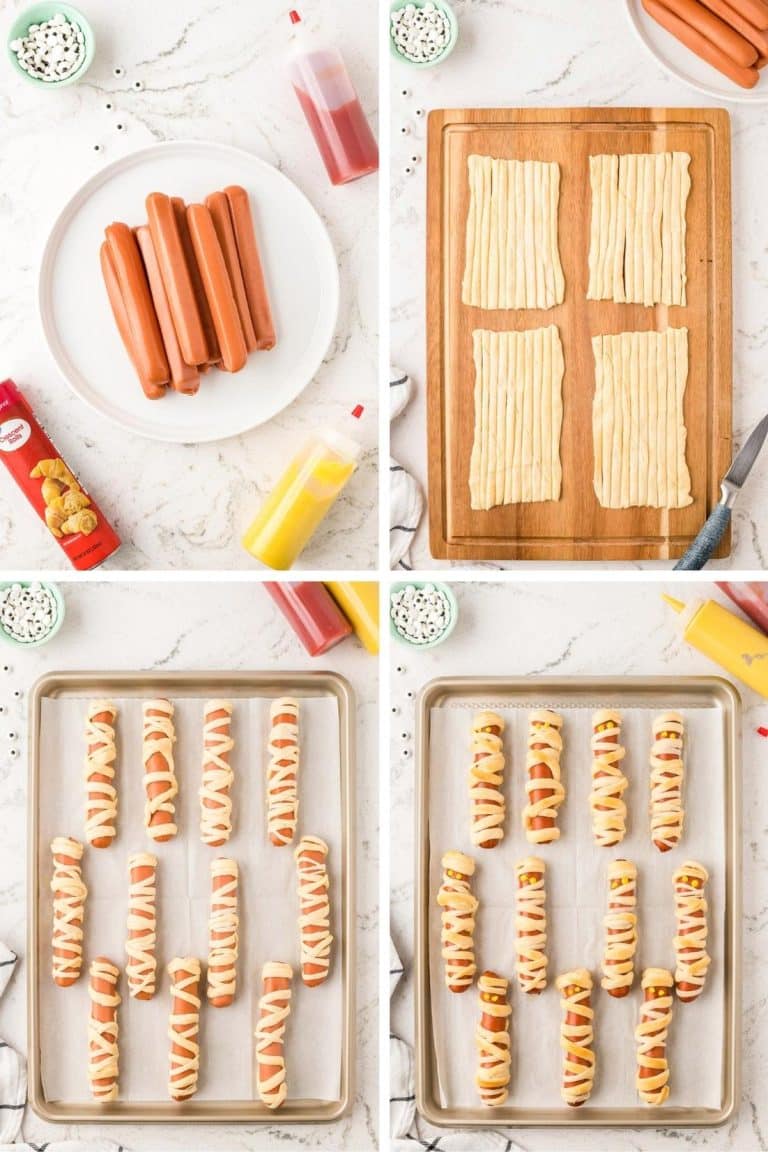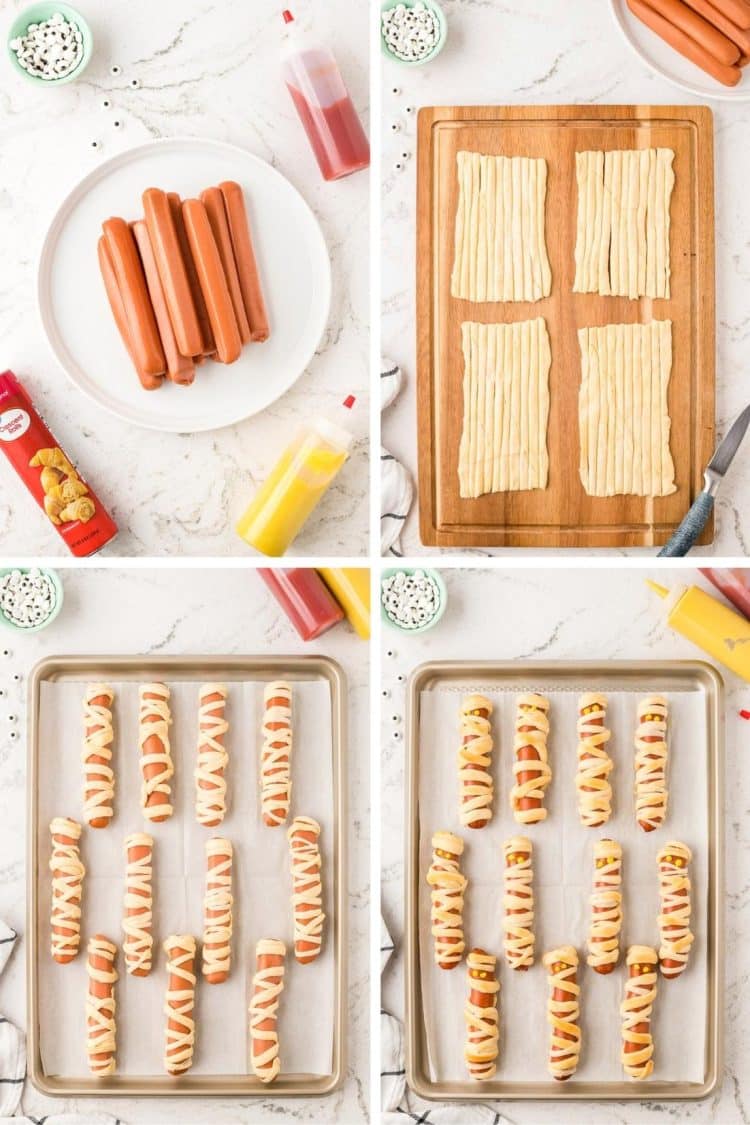 If a Halloween Party is in your future, then be sure to grab some sweet treats to pair with this savory snack! Halloween Dirt Cake and Halloween Monster Cookies are both fun, delicious treats kids and even adults will love!
Then wash all that yummy Halloween food down with a cup of Goosebumps Halloween Punch or Witch's Brew Punch!
Quick Time-Saving Tricks To Make This Recipe
Use a pizza cutter or kitchen scissors to cut the crescent roll dough into thin strips! A sharp knife will do the job, but it will certainly take a bit more time.
Press perforations in the dough together before cutting the dough. This will allow you to have longer strips without them breaking off!
A dab of mustard or ketchup works great for attaching the candy eyeballs! However, if you don't have any candy eyeballs then you can just use mustard or ketchup for the eyes.
If serving these at a party, set out mini plastic cups of dipping sauce. That way guests can grab-n-go even quicker!
For a fun variation, you can add American slice cheese slices! Just wrap the slice of cheese around the hot dog before covering them with the crescent roll dough.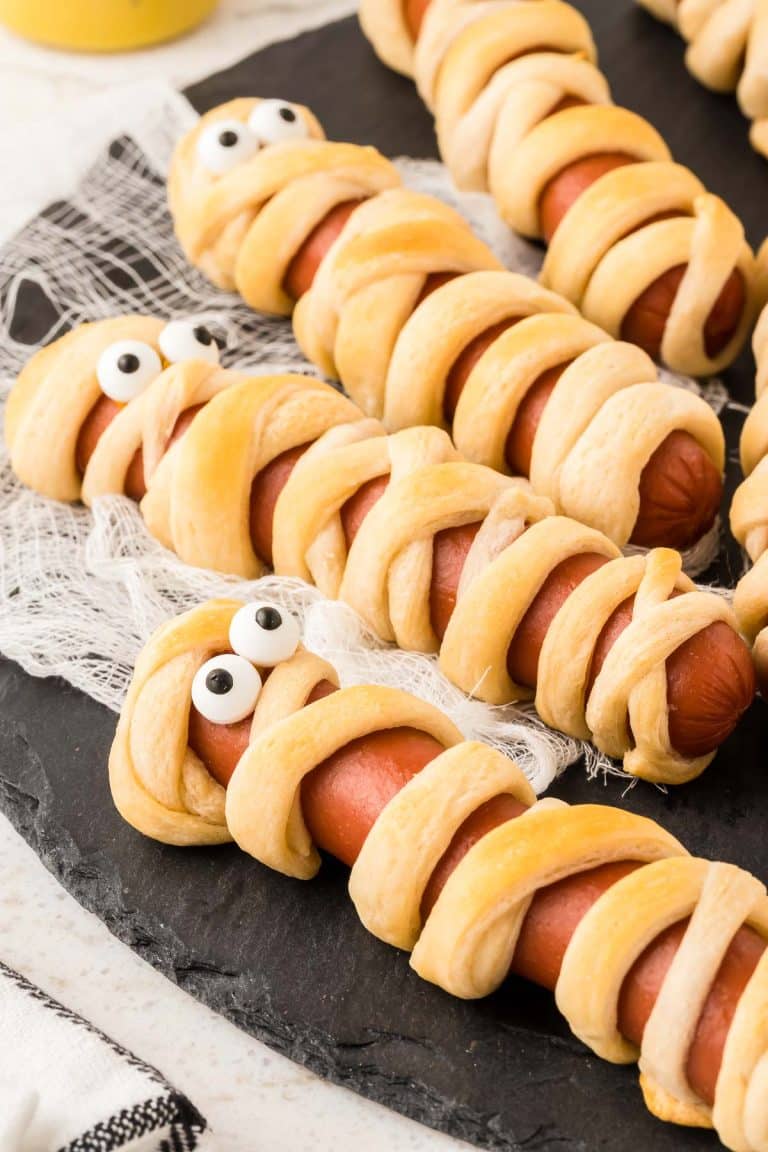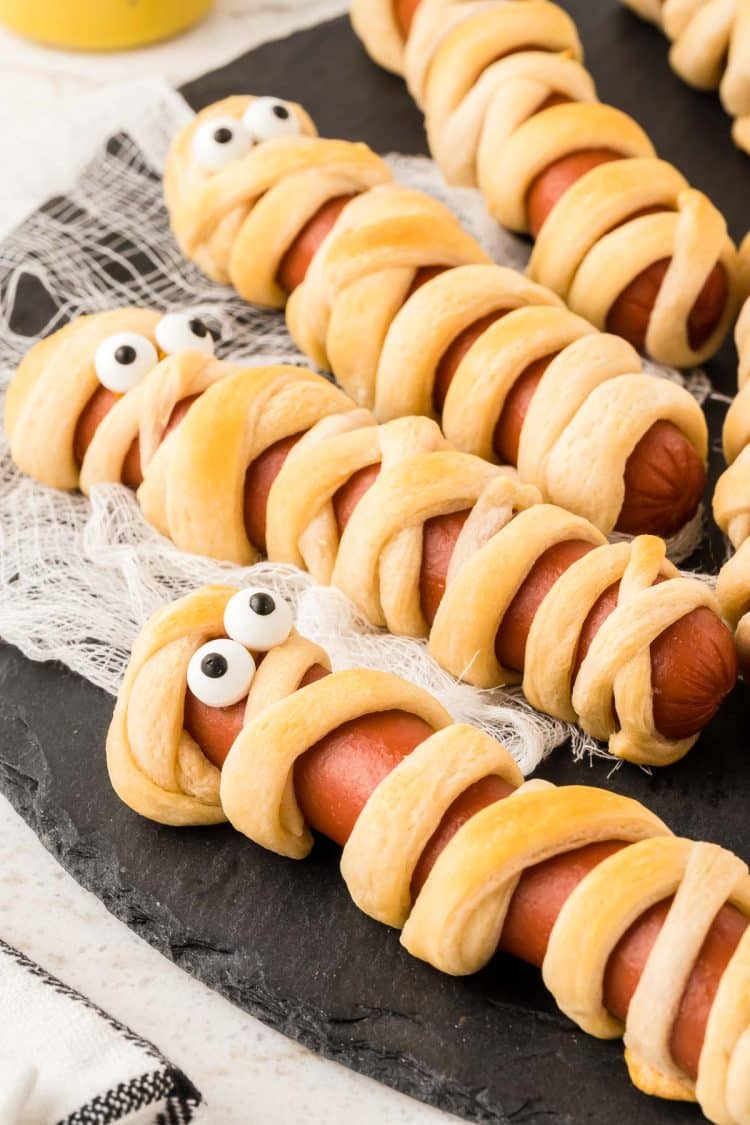 How To Store These Mummy Dogs
Store any leftover crescent-wrapped hot dogs in the refrigerator in an airtight container. Enjoy them for up to 3 days!
Can I Spray The Baking Sheet With Cooking Spray If I Don't Have Parchment Paper?
Yes, that will work just fine!
Where Can I Find Candy Eyeballs?
I've always been able to find them in the baking section at the grocery store. If you can't find them there, oftentimes craft stores carry things like that.
Check out Michaels or Joann Fabrics & Crafts if they're local to you! And of course, there's always Amazon!
Mummy Hot Dogs
Pin For Later
CLICK THE BUTTON ABOVE TO SAVE THIS DELICIOUS RECIPE TO YOUR BOARD!
👋 Let's Connect!
If you've tried this recipe, please let me know how you liked it in the comments below and leave a review; I love hearing from you! And don't forget to tag me – @sugarandsoulco – on Instagram and Pinterest with your photos or join our Busy Family Recipes Facebook Community and share them there!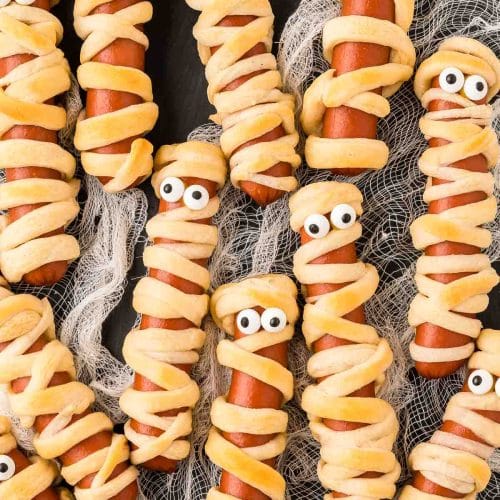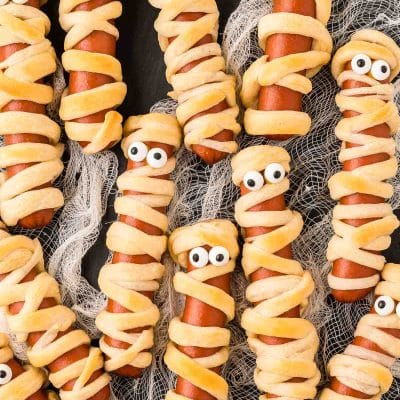 Mummy Hot Dogs
Mummy Hot Dogs are a fun Halloween twist on the classic childhood pigs in a blanket, the perfect appetizer or meal to celebrate October 31st! A batch bakes up in just under 25 minutes!
Equipment
Large cookie sheet

Parchment paper

Kitchen knife
Ingredients
1

(8oz.) can

crescent rolls

10

hot dogs

20

candy eyeballs

Mustard
Instructions
Preheat your oven to 375°F. Line a large cookie sheet with parchment paper.

Remove crescent rolls from the can and unroll them. Carefully separate them at the precut seams into 4 equal rectangles, and then use your fingers to crimp the loose diagonal seams.

1 (8oz.) can crescent rolls

Next, use a kitchen knife to cut each rectangle piece of crescent roll lengthwise into 10 thin strips. Wrap each hot dog with 3 to 4 crescent roll strips, leaving space for the eyeballs at one end. Place the wrapped hot dogs on the parchment-lined cookie sheet.

Bake for 12 to 14 minutes or until the crescent roll strips are golden brown.

Place 2 small dots of mustard in the eye region of the mummy and then place 2 candy eyeballs on the mustard as eyes.

Mustard,

20 candy eyeballs

Serve warm with mustard and ketchup, and ENJOY!
Notes
You can use mustard and ketchup to make the eyes if you are out of candy eyeballs.
You can elevate this recipe by wrapping a slice of American cheese around the hot dog before covering them with crescent rolls.
You can find candy eyes in the baking section of your supermarket. If you do not have candy eyes, use mustard and ketchup to make the eyes.
How To Store Mummy Hot Dogs: You can store these fun hot dogs in the refrigerator using an airtight container for up to 3 days.
Nutrition
Calories:
112
kcal
Carbohydrates:
8
g
Protein:
5
g
Fat:
7
g
Saturated Fat:
2
g
Polyunsaturated Fat:
1
g
Monounsaturated Fat:
3
g
Cholesterol:
20
mg
Sodium:
309
mg
Potassium:
66
mg
Sugar:
0.01
g
Vitamin C:
0.04
mg
Calcium:
11
mg
Iron:
1
mg