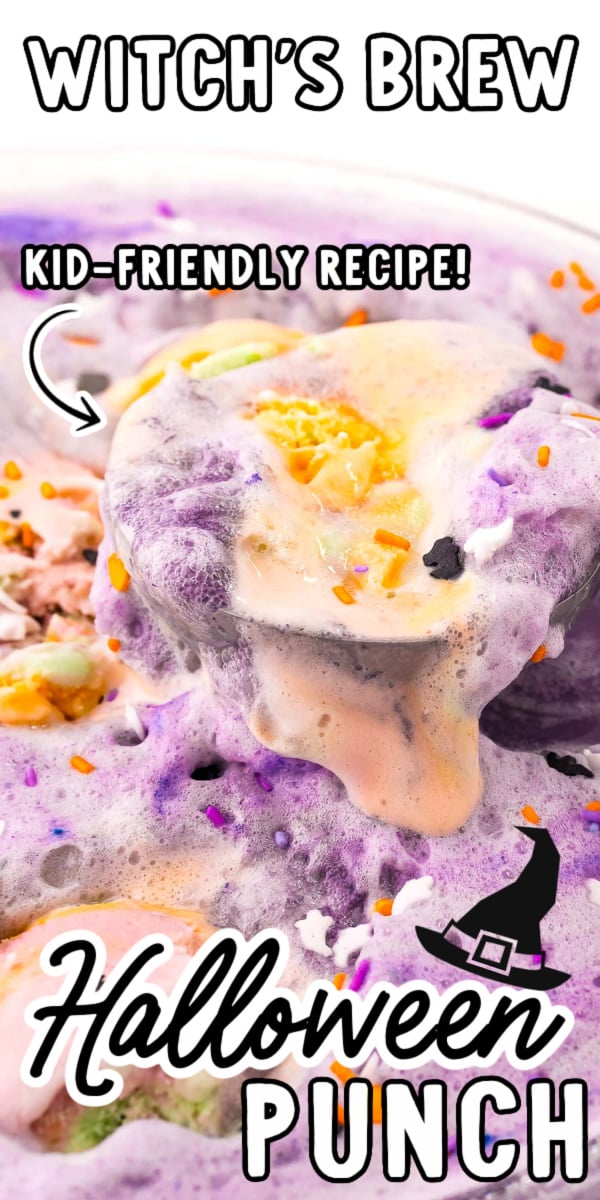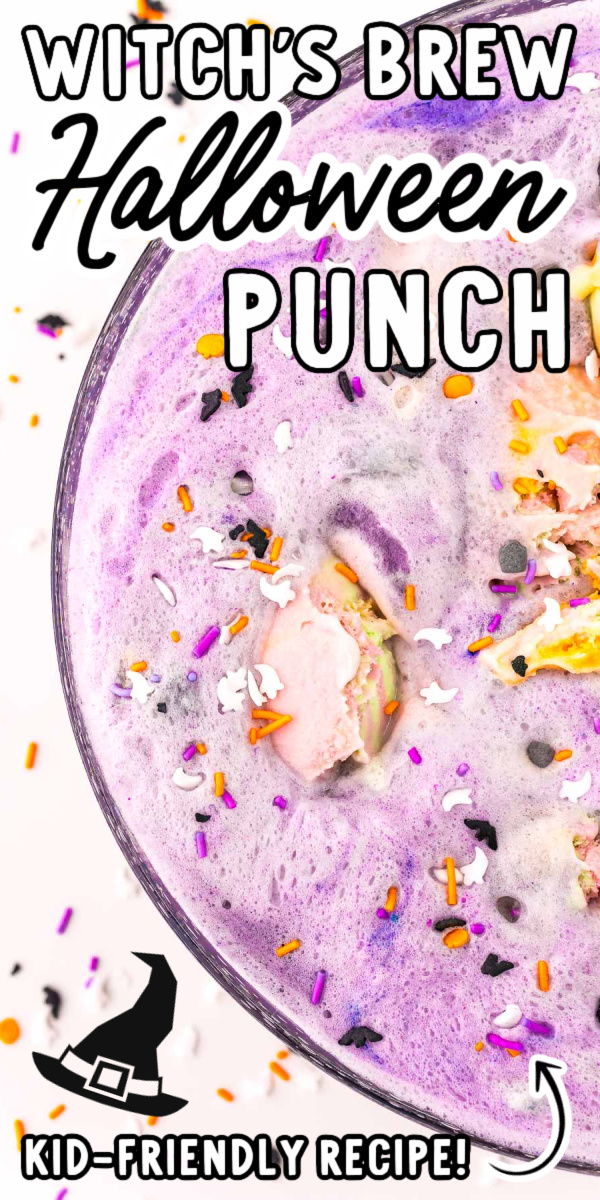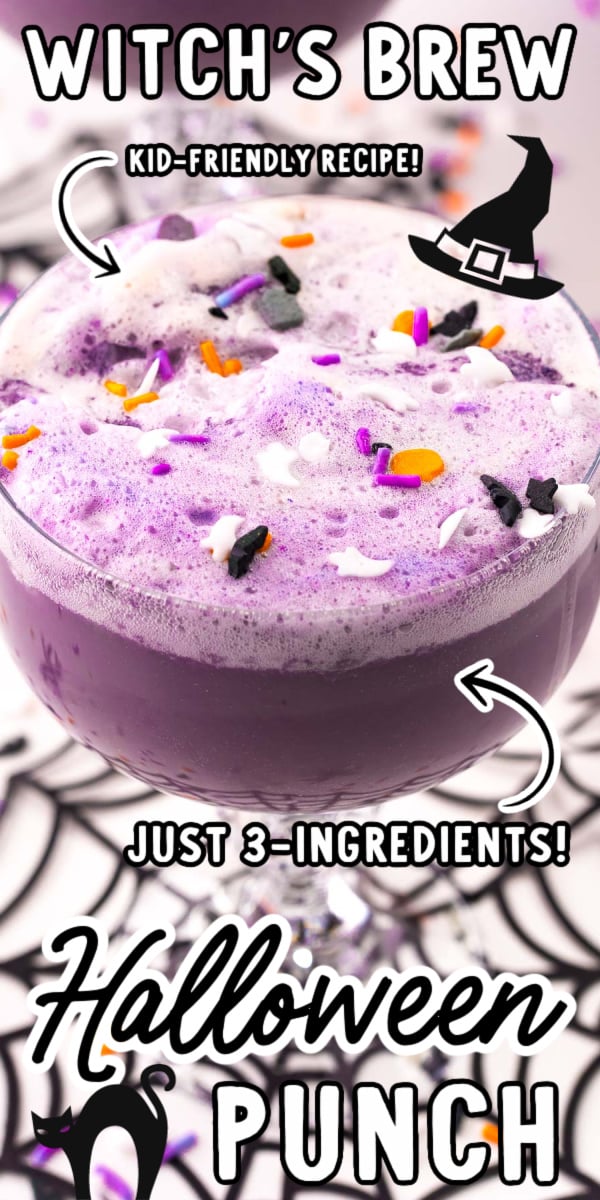 Witches Brew Punch is a 3-ingredient sweet drink that gets covered in rainbow sherbet for a large batch punch both kids and adults will love! Ready in only 5 minutes!
Mix up another delicious Halloween Punch like this Werewolf Punch that's made with gummy worms and shredded coconut or my Shrunken Head Party Punch that has faces carved into baked apples!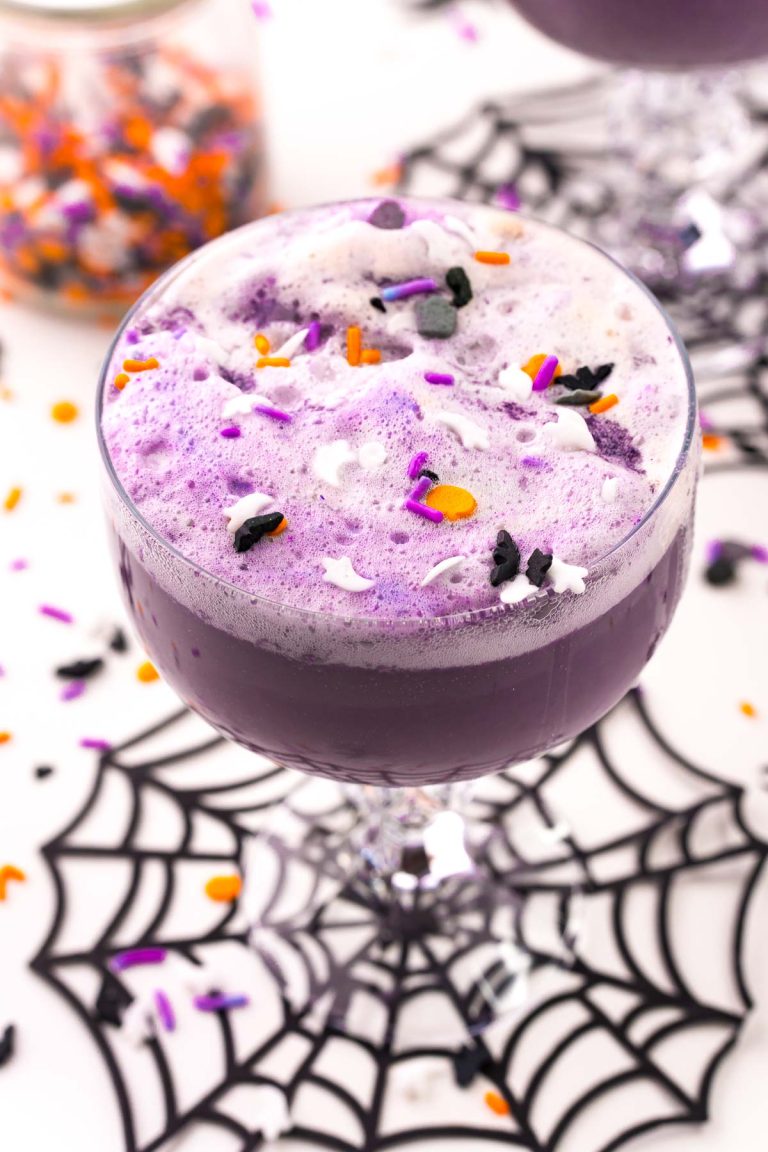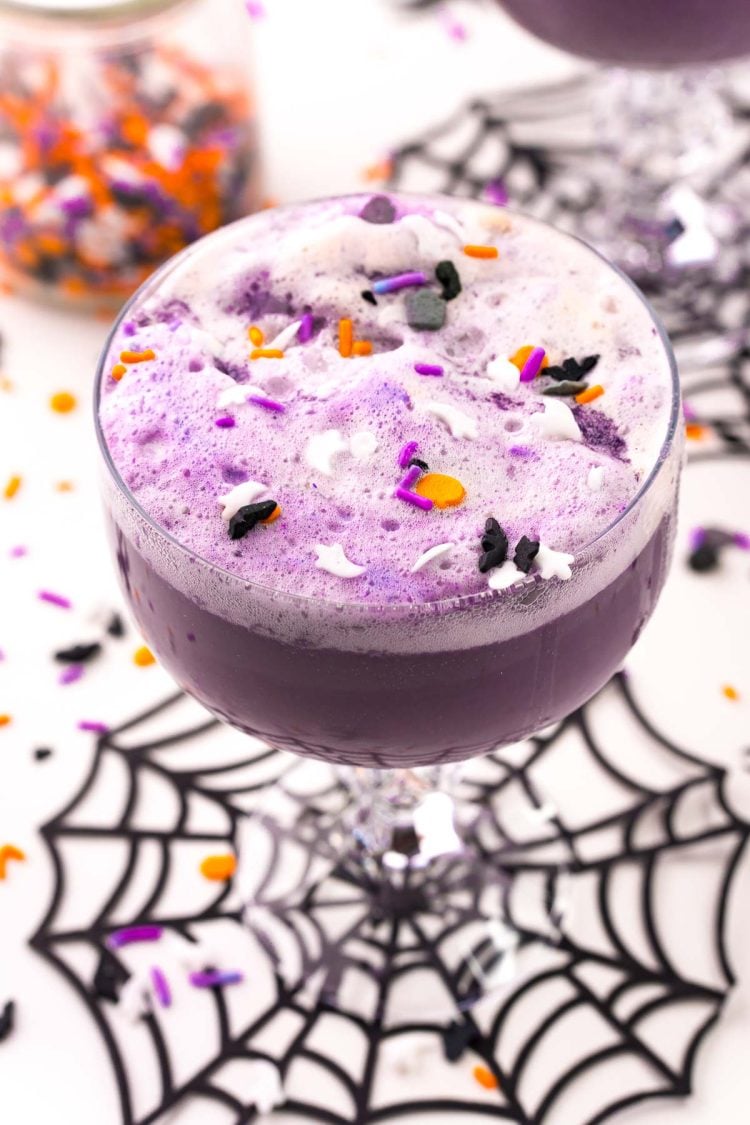 Witches Brew Punch puts an instant spell on your taste buds with this easy-to-make party drink that tastes like liquid candy! The flavor of this drink is like Jolly Ranchers just met Sweet Tarts and together they made this mouthwatering punch!
This family-friendly beverage will be all the talk at this year's costume party! From the sweet slightly tart flavor to the festive color, and fun sprinkles, it's surely an easy way to trick your guests into thinking you've invested hours into every small party detail!
Which surely you have… however, this recipe is literally a dump, scoop, and sprinkle recipe! This leaves plenty of time to throw those goody bags together using my Bugs & Kisses Halloween Printable! See, more time, more details!
It's a never-ending cycle. But it all seems to be worth it when Party Day arrives!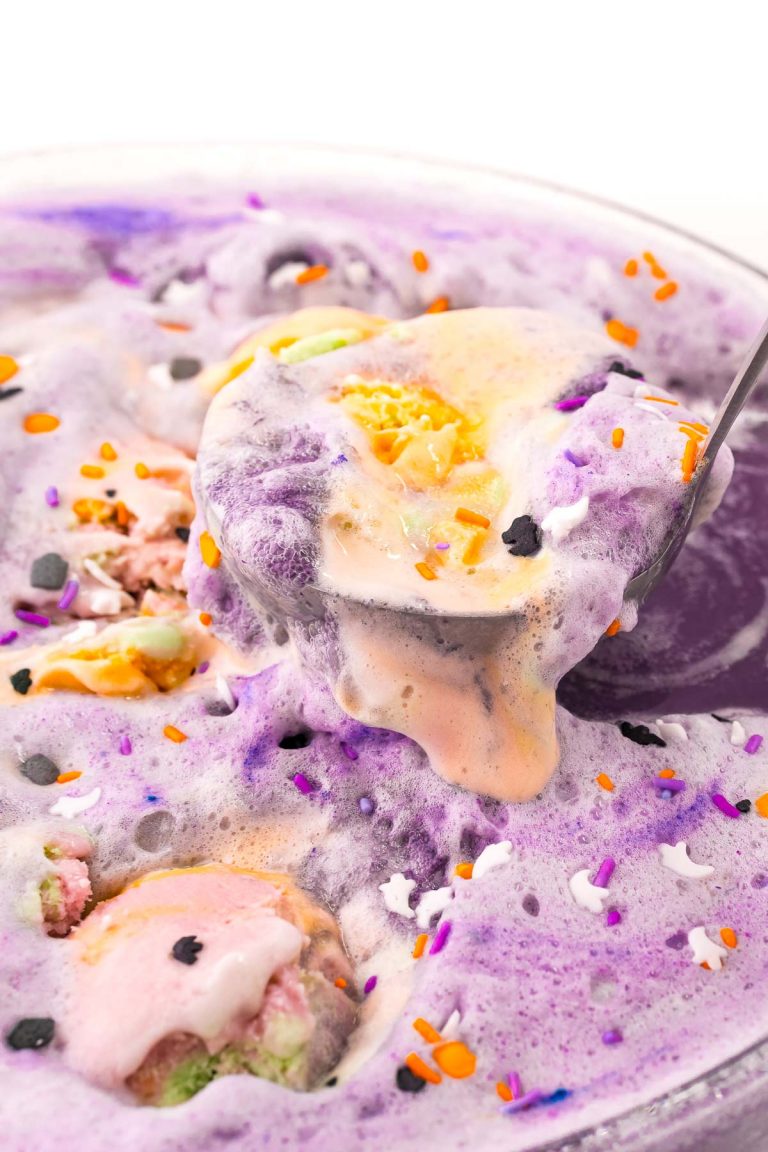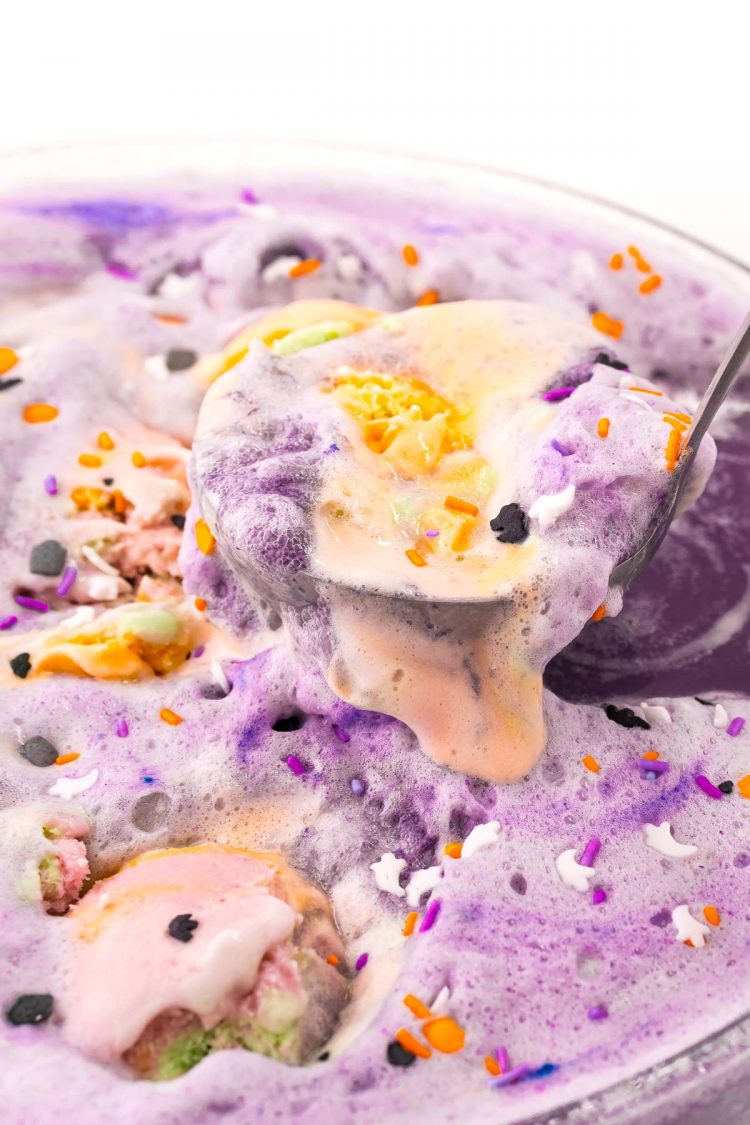 Ingredient Notes
Have no fear, you won't find any magical potions in this Witches Brew Recipe just some good old storebought ingredients! To make this punch all you'll need is:
Soda – Two kinds are used in this recipe, Grape Soda and Club Soda.
Lemonade – I used All Natural Simply Lemonade but use you're favorite! If you feel like going the extra mile you could even make freshly squeezed homemade lemonade!
Sherbet – I chose to use rainbow sherbet but feel free to grab whatever you'd like!
Sprinkles – Grab a bottle of fun Halloween sprinkles to put on top of the punch!
It's best to chill all of the ingredients before making this punch so the drink will be nice and cool for guests to enjoy!
Want to take this drink to the next level? Dip the rim of each glass in black icing or gel and then roll it in Halloween Sprinkles or black sugar!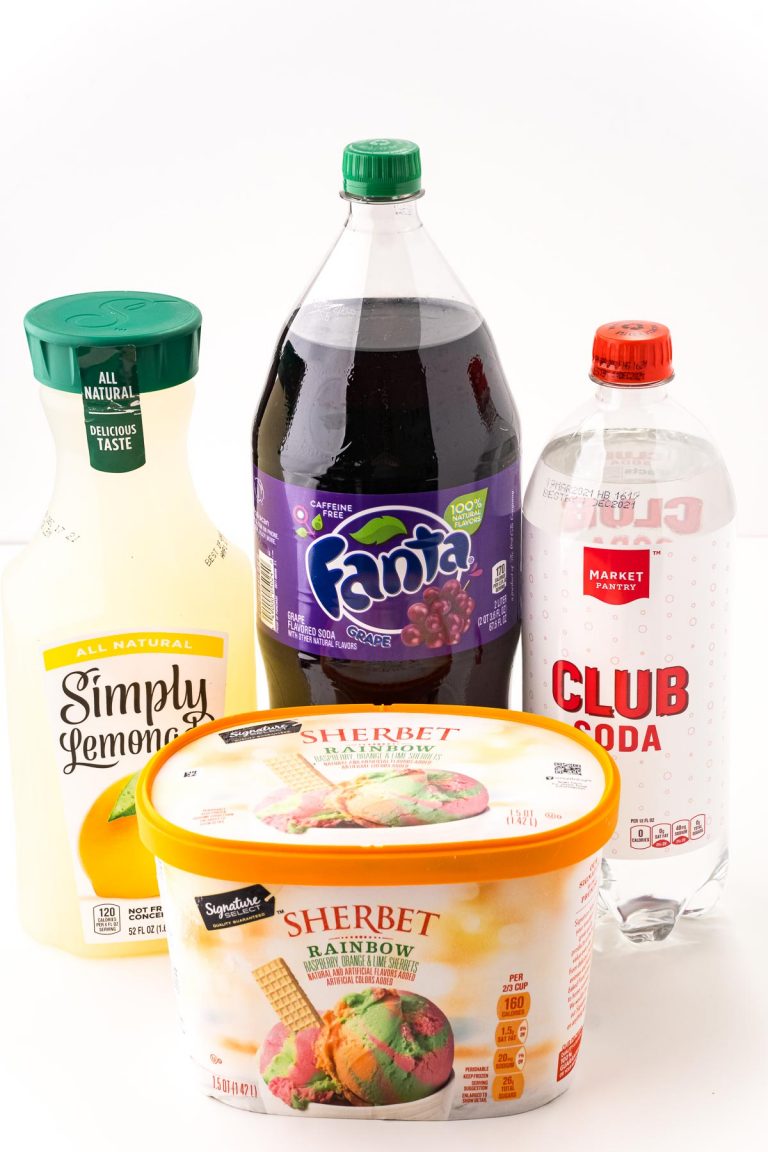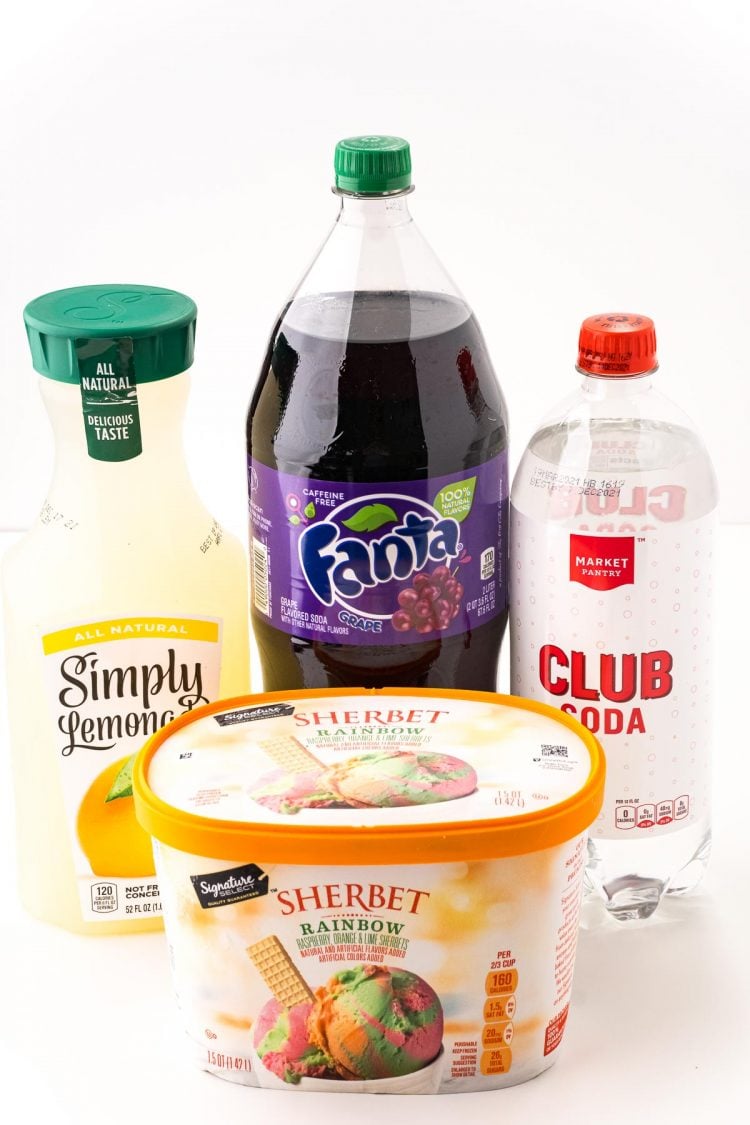 How To Make Witches Brew
Pour the grape soda, lemonade, and club soda into a large punch bowl with ice.
Top with scoops of rainbow sherbet and sprinkles!
Serve with a ladle and enjoy!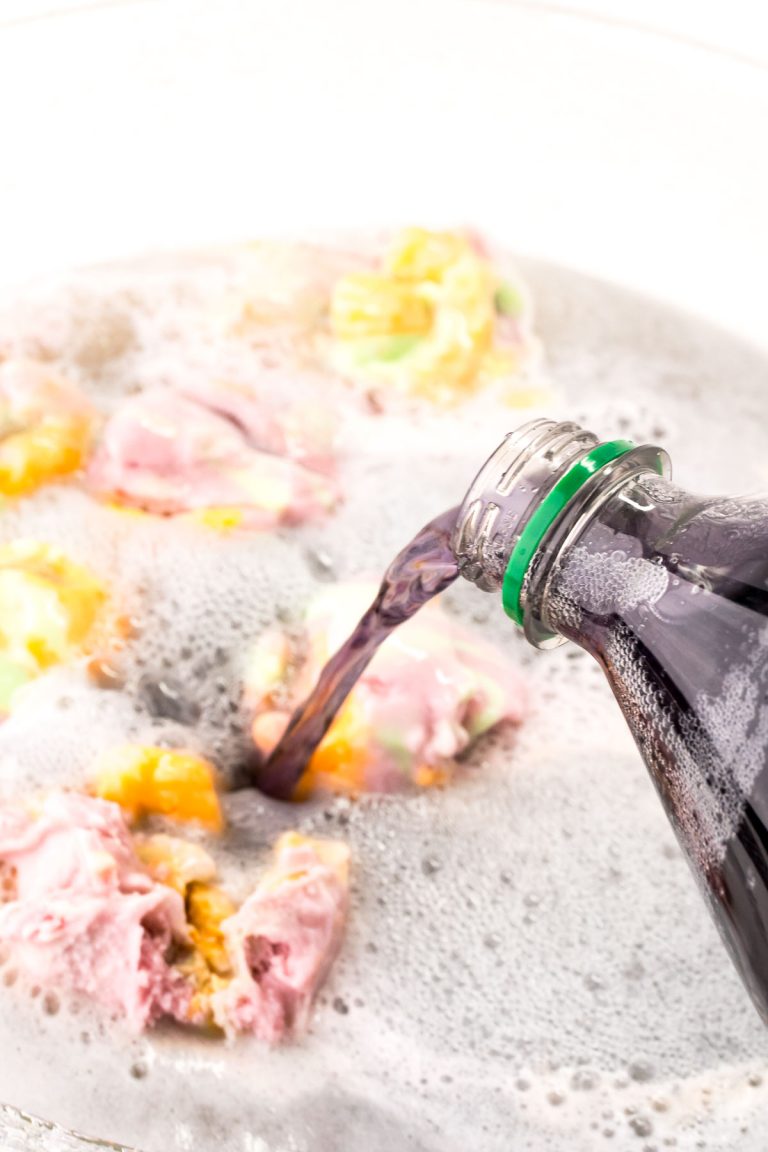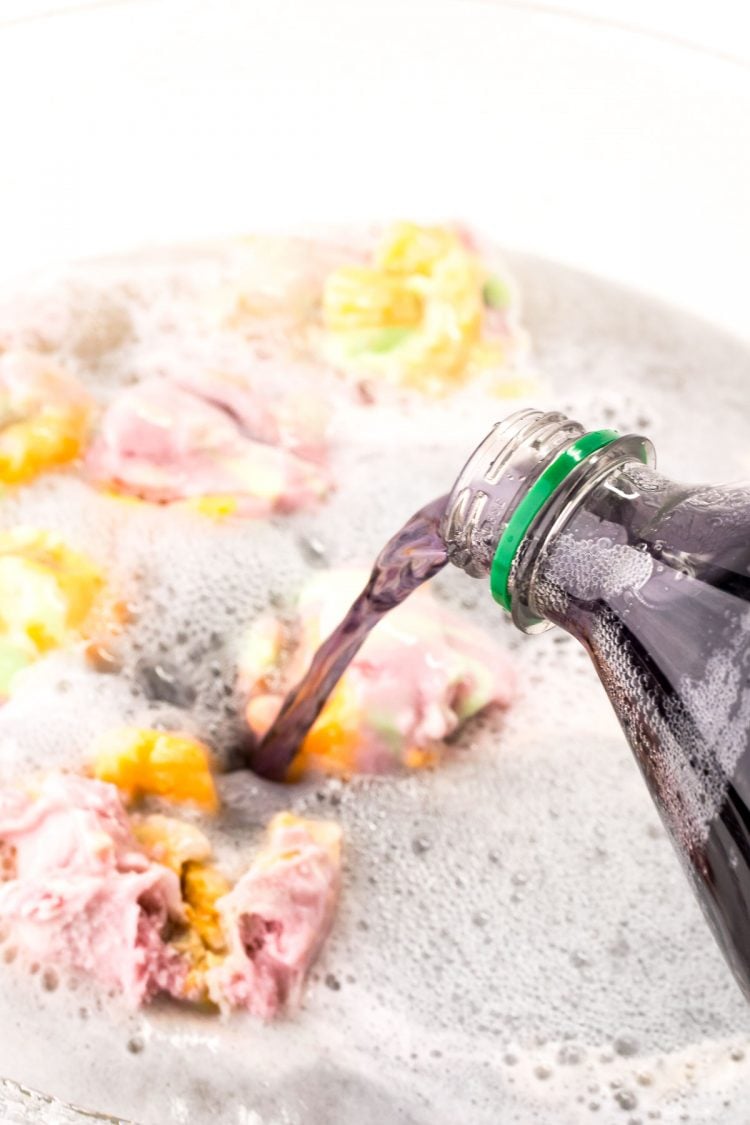 Frequently Asked Questions
Would The Leftovers From This Punch Keep Well?
The leftovers actually do not store well. The soda goes flat and sherbet melts, throwing off the overall taste and appearance of the punch.
Can I Make This Witches Brew Drink With Alcohol?
Yes, you can! To do so just add in 1.5oz of vodka per cup of punch to make it an adult beverage! If you're not a fan of vodka feel free to go ahead and use any alcohol of your choice!
If you're on the hunt for alcoholic Halloween drinks try my Halloween Jello Shots, Blood and Guts Cocktail, or 2-Ingredient Blood Bag Cocktails!
Is This A Punch That Can Be Made Ahead Of Time?
I actually don't recommend making this punch ahead of time. You want the best taste and presentation when serving it and by making it in advance the soda will lose its carbonation and the sherbet will melt.
This whips together super fast so it's really easy to throw it together minutes before guests arrive!
How Can I Make This Drink A Little Less Sweet?
This punch is a bit on the sweeter side so to curb that you can simply leave out the club soda!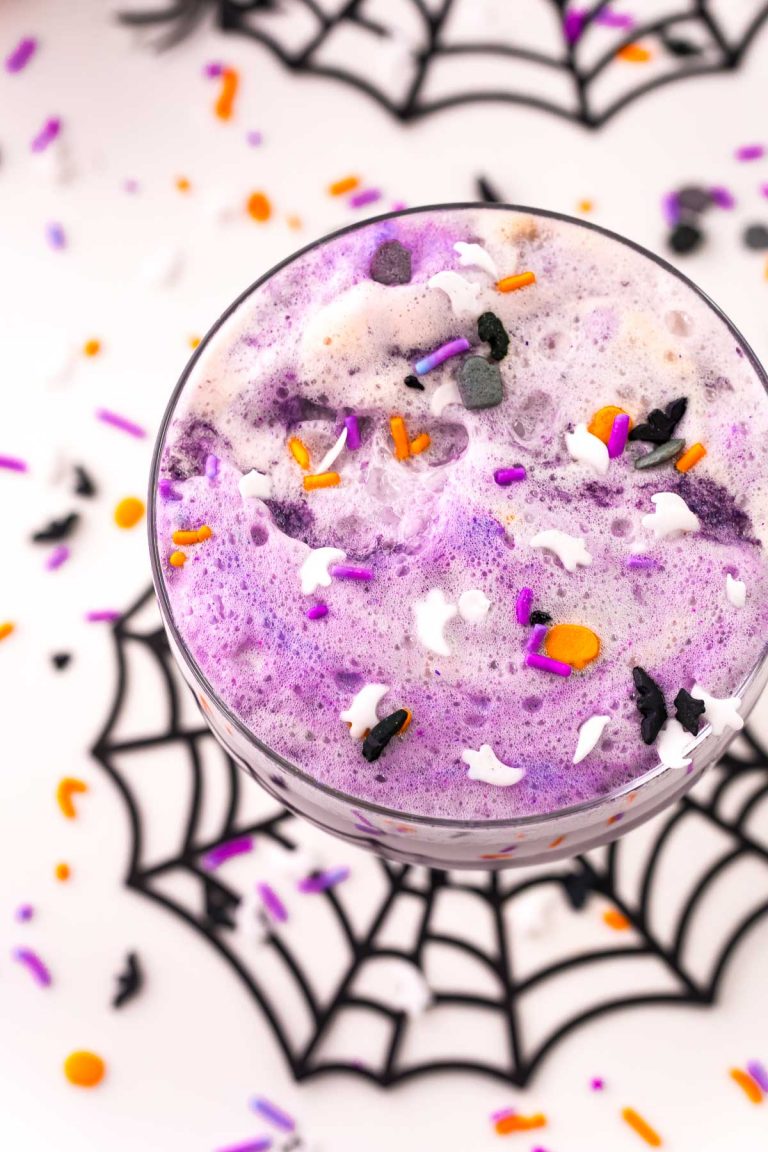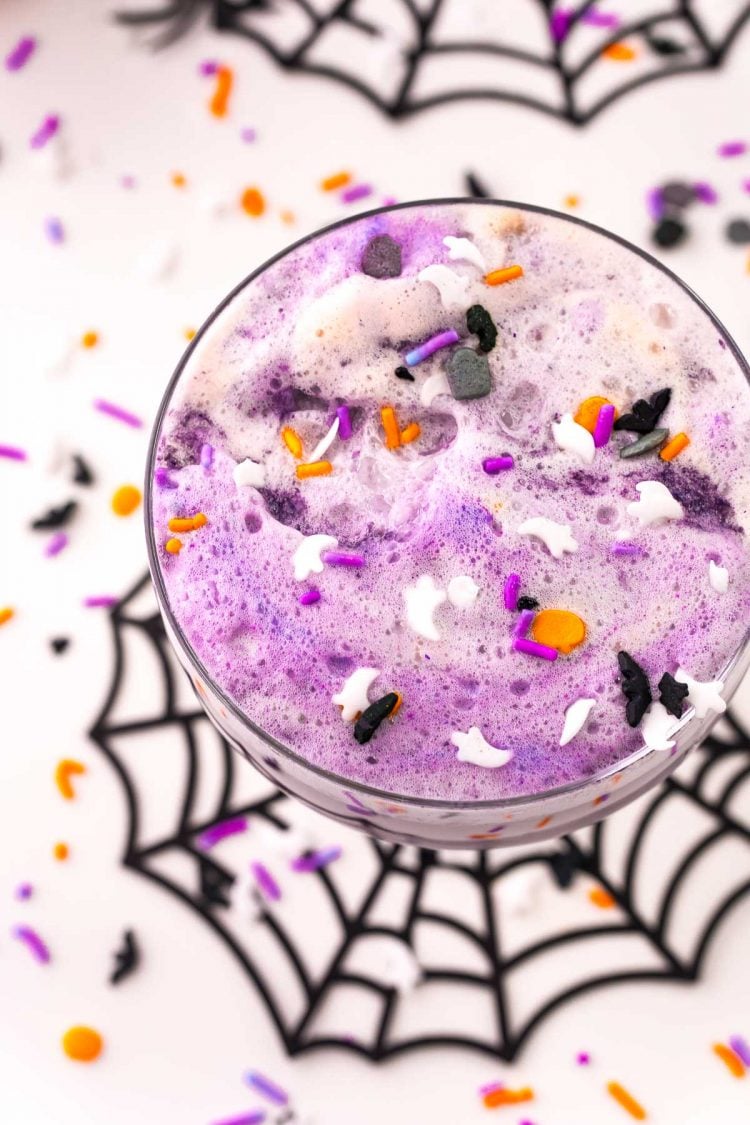 Now that you've nailed down making this Witch's Brew Punch For Halloween it's time to decide what festive treats you'll serve alongside it! Here are some of my popular Halloween dessert recipes for you to choose from!
Witch's Brew Punch
Pin For Later
CLICK THE BUTTON ABOVE TO SAVE THIS DELICIOUS RECIPE TO YOUR BOARD!
👋 Let's Connect!
If you've tried this recipe, please let me know how you liked it in the comments below and leave a review; I love hearing from you! And don't forget to tag me – @sugarandsoulco – on Instagram and Pinterest with your photos or join our Busy Family Recipes Facebook Community and share them there!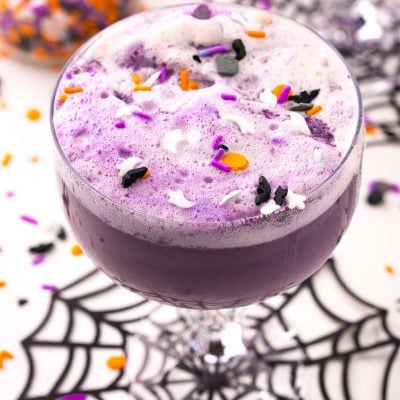 Witch's Brew Punch
Witches Brew Punch is a 3-ingredient sweet drink that gets covered in rainbow sherbet for a large batch punch both kids and adults will love! Ready in only 5 minutes!
Ingredients
2

liters

grape soda

chilled

52

ounces

lemonade

chilled

1

quart

club soda

optional and chilled

1

quart

rainbow sherbet

sprinkles

for garnish
Instructions
Combine grape soda, lemonade, and club soda (if using) in a punch bowl.

Top with scoops of rainbow sherbet.
Notes
Purple gel food coloring can be used to intensify the purple color.
Club soda is optional if you would like a less sweet punch.
Nutrition
Calories:
174
kcal
Carbohydrates:
41
g
Protein:
1
g
Fat:
1
g
Saturated Fat:
1
g
Polyunsaturated Fat:
1
g
Monounsaturated Fat:
1
g
Cholesterol:
1
mg
Sodium:
54
mg
Potassium:
53
mg
Fiber:
1
g
Sugar:
37
g
Vitamin A:
24
IU
Vitamin C:
1
mg
Calcium:
37
mg
Iron:
1
mg